Visit these amazing wineries if you're planning on visiting and drinking wine in Niagara-on-the-Lake, Ontario.  
Just a 90-minute drive from Toronto, you can get to wine country and have a wine tasting in no time. It's the perfect location for a romantic or girls' weekend getaway. 
The best time to visit Niagara-on-the-Lake is in the summer months. You'll get to experience this little town in full bloom and its many colourful flowers.
Ontario's wine country and Niagara-on-the-Lake is home to world-famous VQA icewine, as well as dozens of other delicious varieties of red and white wine. Whether you're a pinot noir fan or you prefer a more fruity blend, there's a Niagara wine for everyone. 
Niagara on the Lake wineries offers some of the best wineries for wine lovers. 
Niagara-on-the-Lake is so charming. You'll enjoy walking down the beautiful Queen Street. It offers cute little boutiques, wine bars and restaurants.
Amazing Wineries To Visit in Niagara-on-the-Lake
Southbrook Organic Vineyards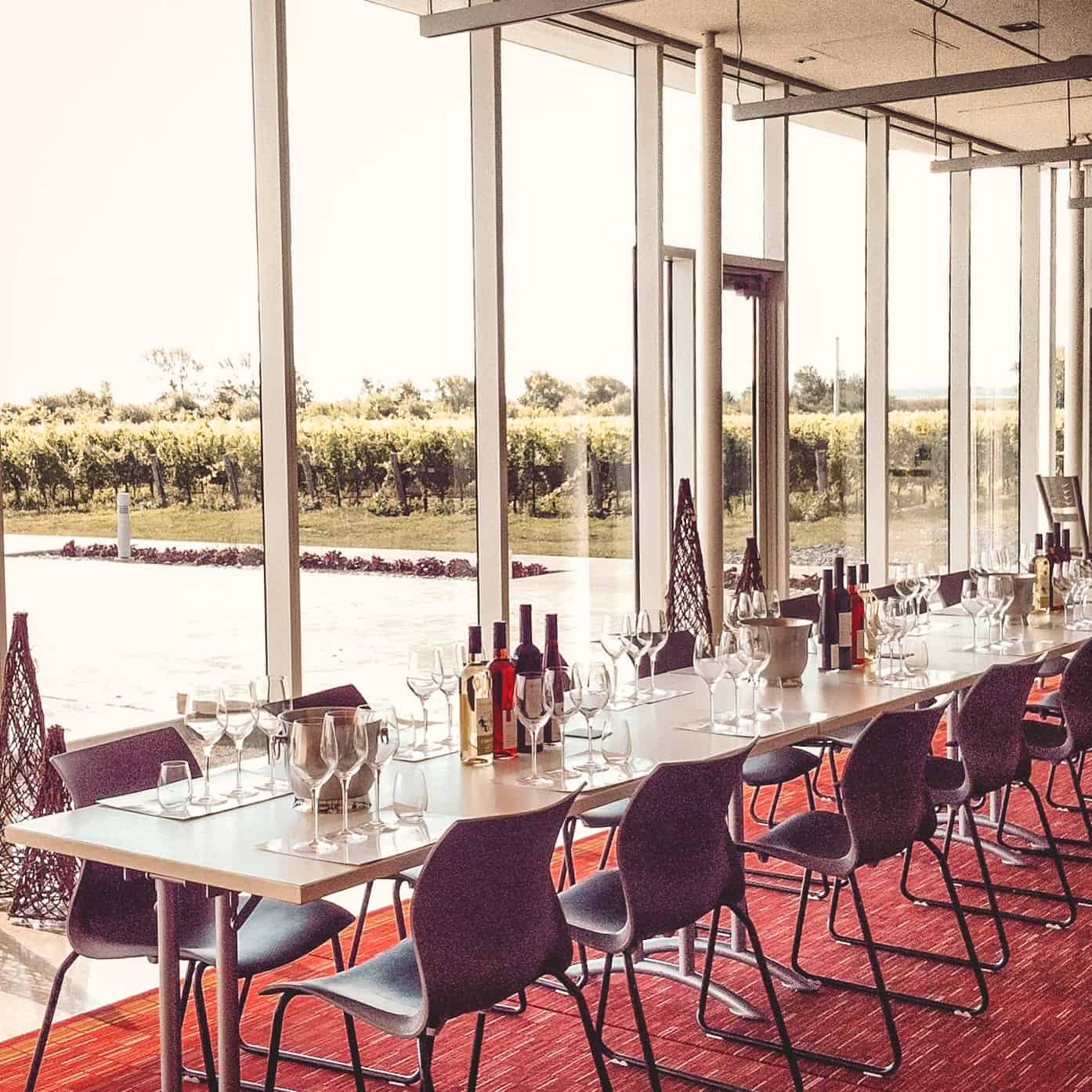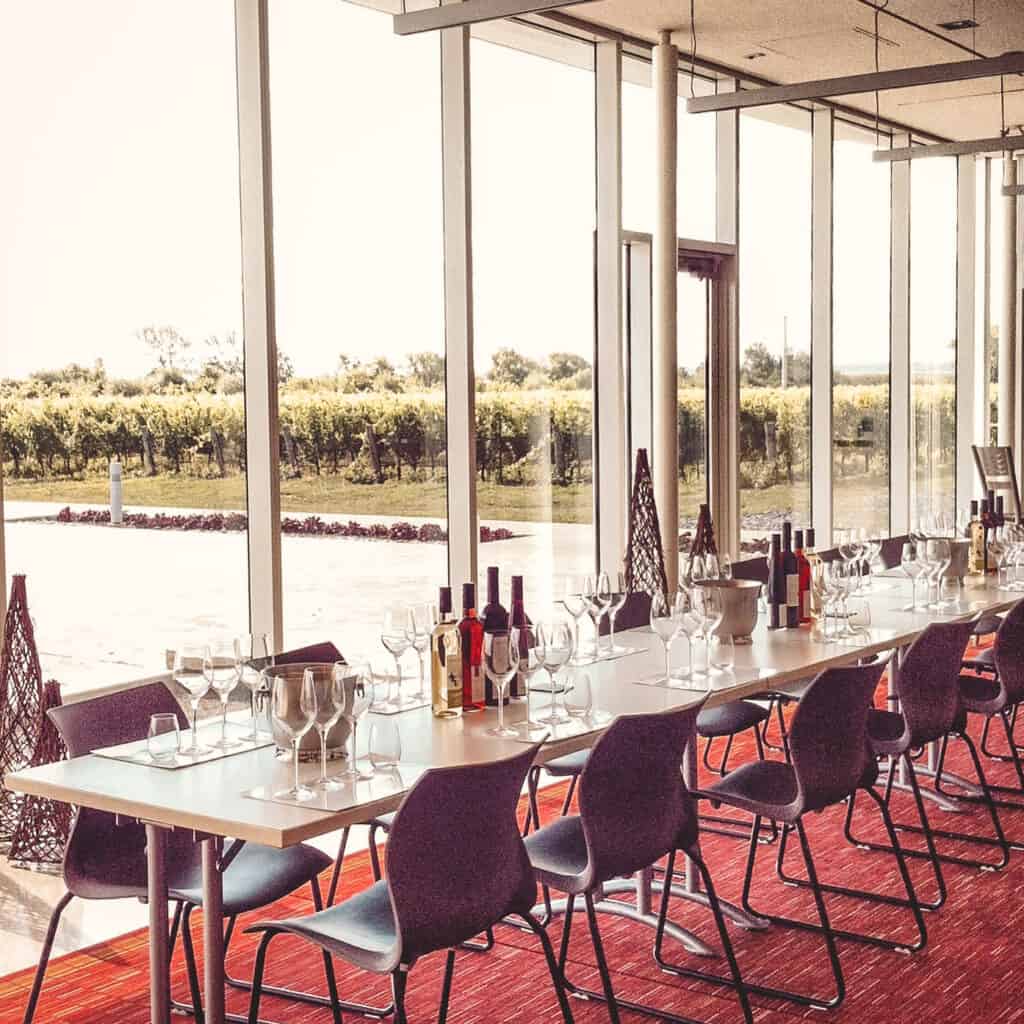 Southbrook Organic Vineyards was the first visit of an all-day wine tour that went from 9 am to 4 pm (!). It was amazing. This vineyard is considered both organic and biodynamic in how they farm and produce their wines.  Southbrook offers Cabernet Sauvignon, Cabernet Franc, Bordeaux blends and Chardonnays.  
Ravine Vineyard Estate Winery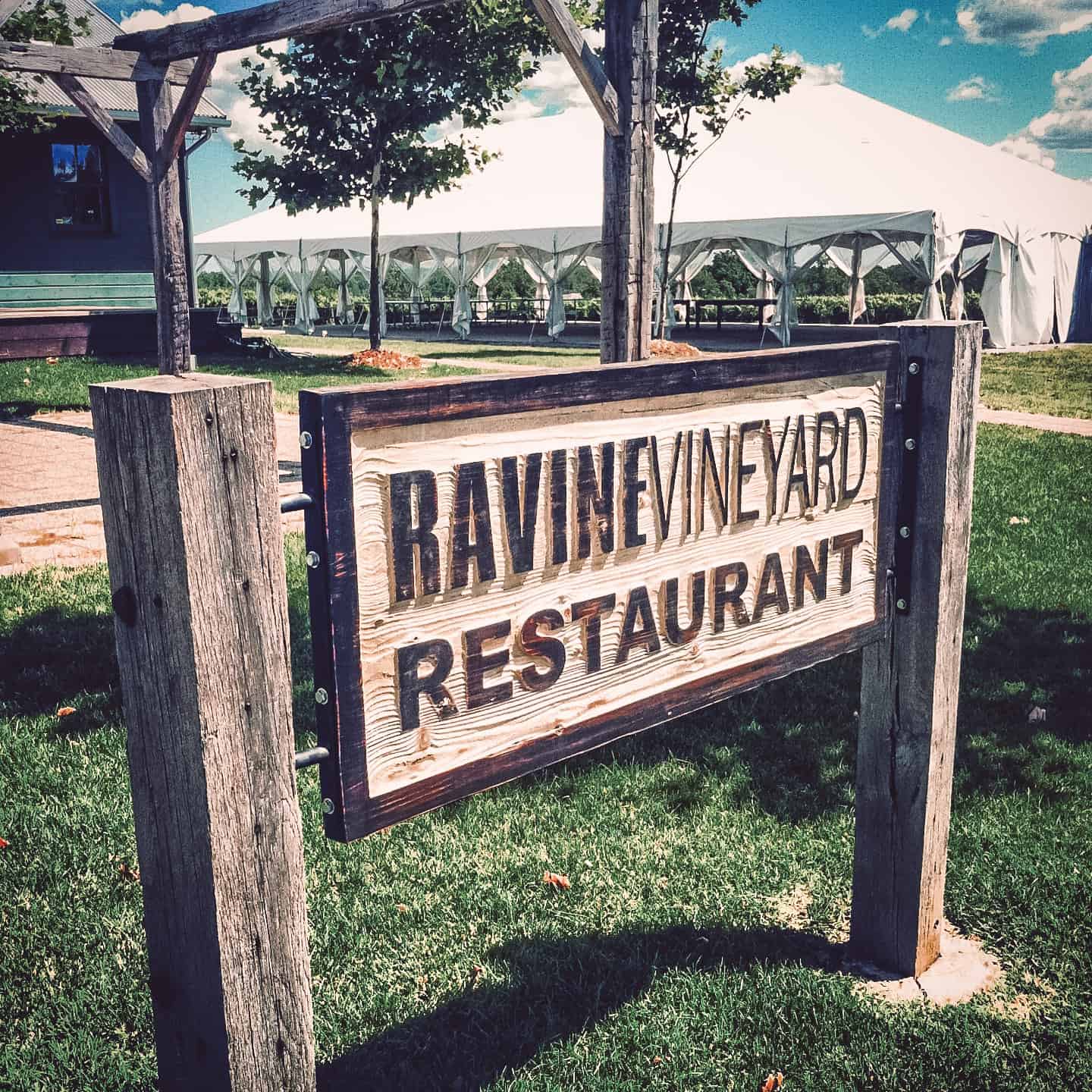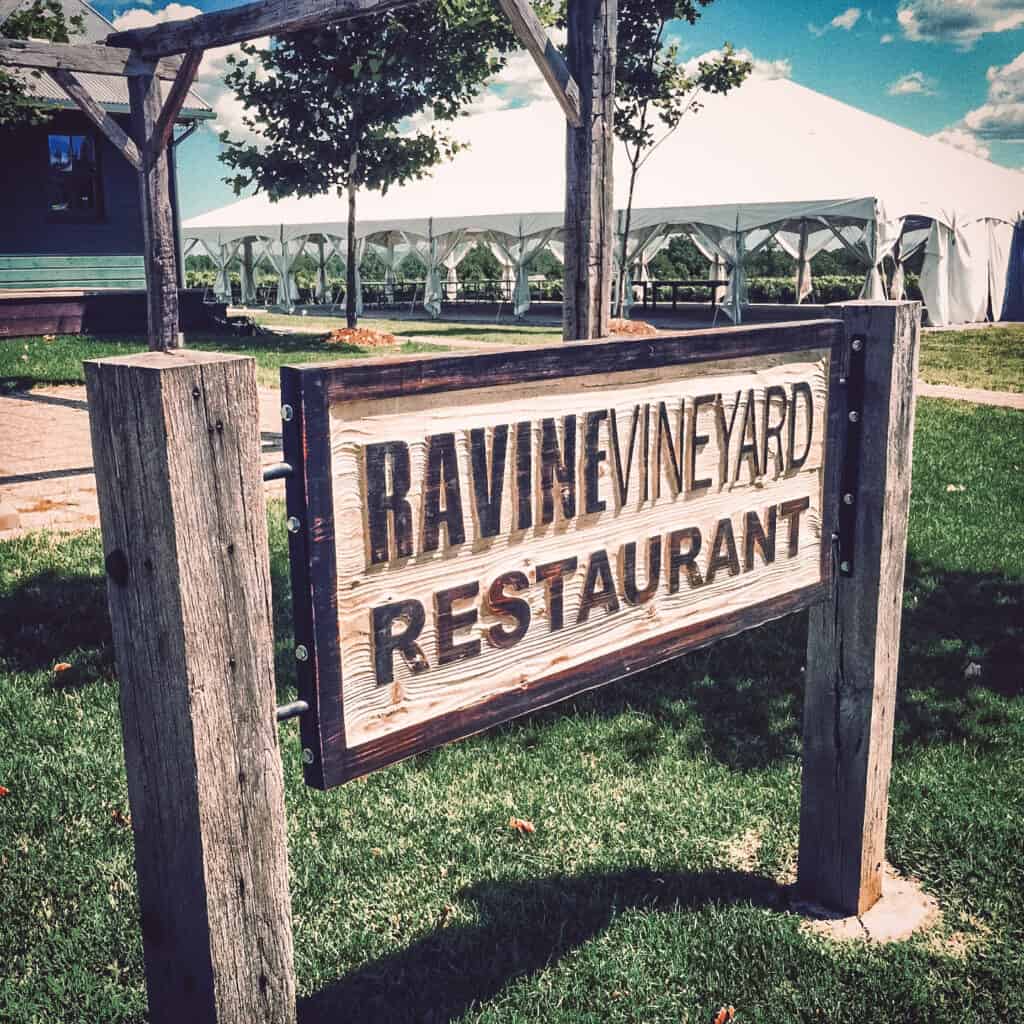 For our second stop, I had the pleasure of having lunch at Ravine Vineyard Estate Winery. We got to taste their farming food and some of their organic wines. This vineyard sits on a farm and is breathtaking. During my visit, they set up a beautiful table overlooking the vines. The food was decadent, and the wine, of course, was fantastic. They offer a dozen different bottles of Rosé, Cabernets, Chardonnay and Riesling.
Pilliterri Estates Winery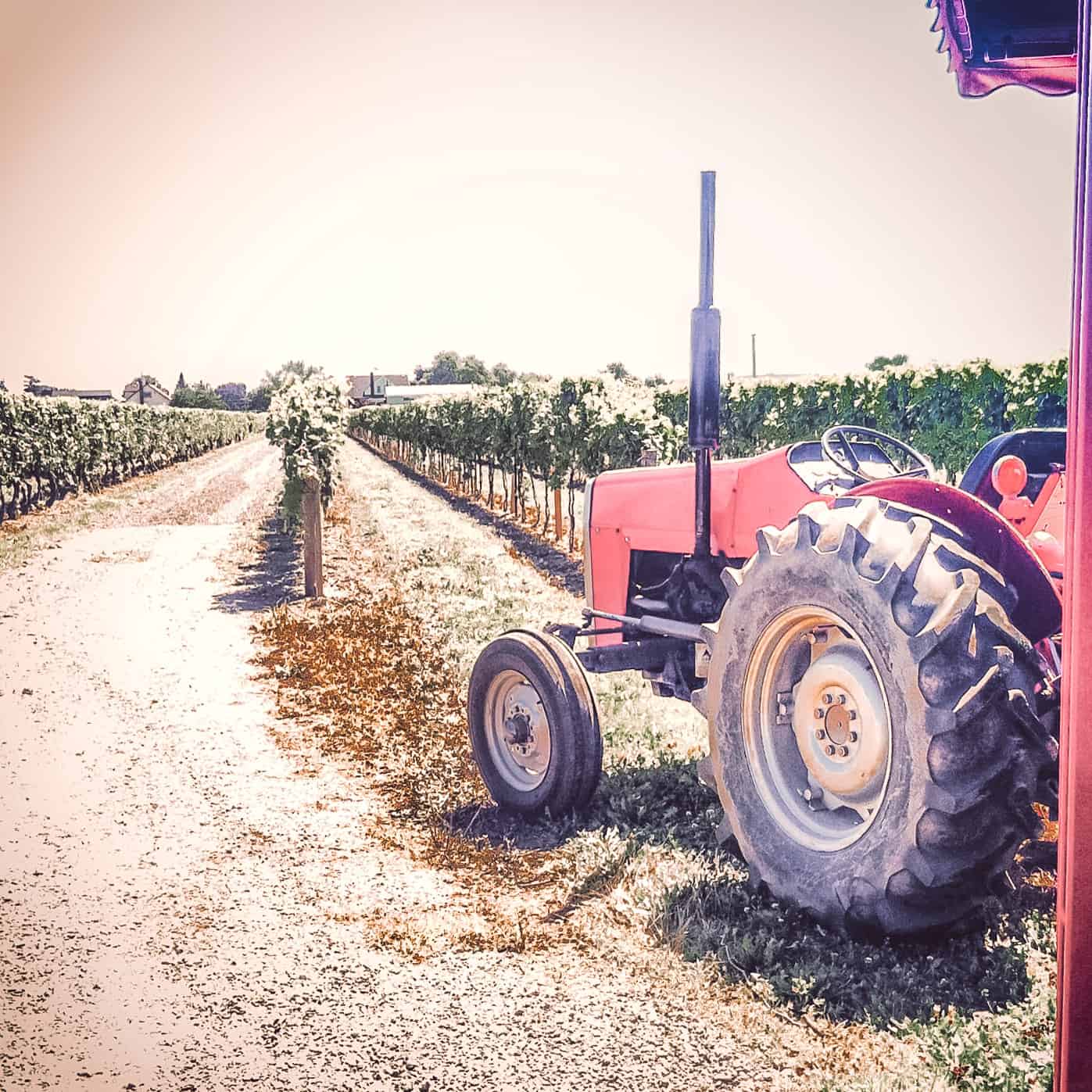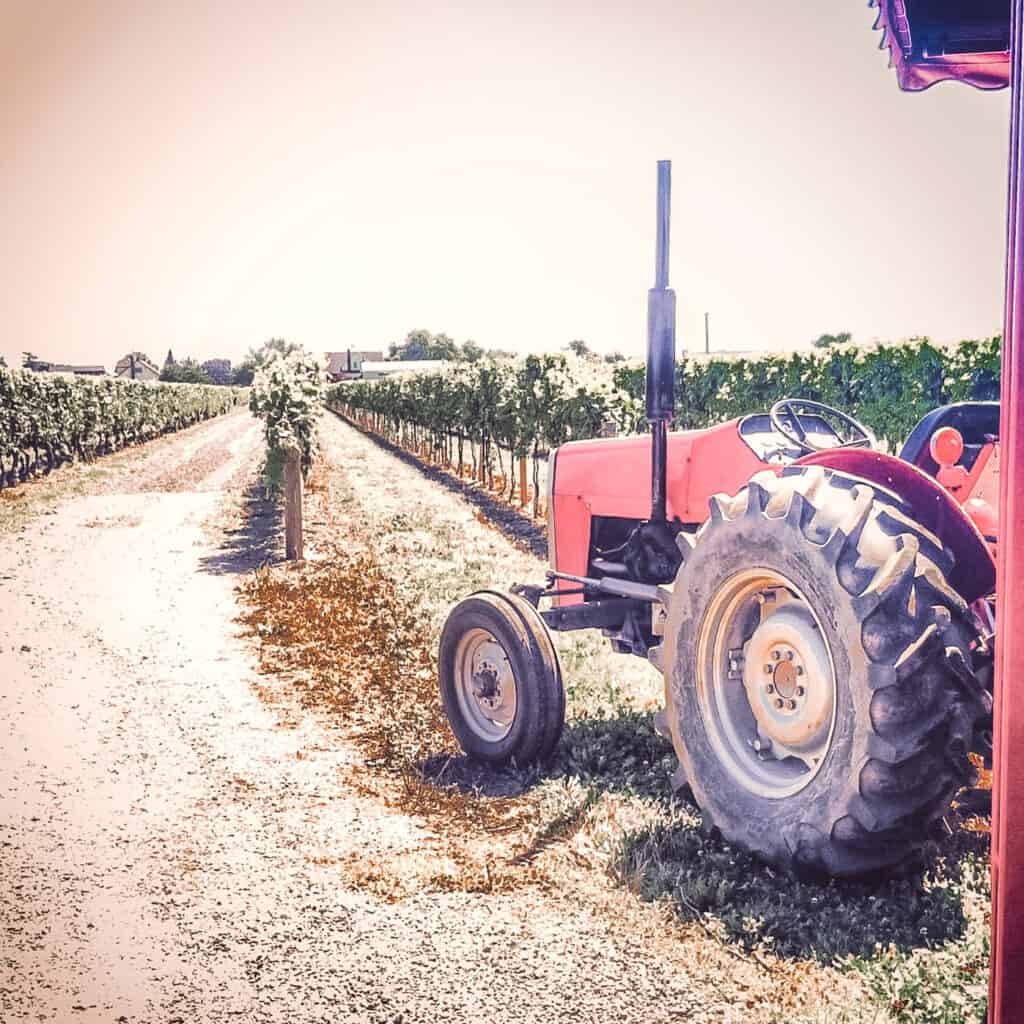 Pillitteri Estates Winery was the last stop on my all-day wine tour, and we got to try their unique icewines. Icewine grapes are harvested when temperatures reach -8 degrees Celsius or colder. They require ten times more grapes than your average wine. Pilliterry ice wines have been recognized worldwide and make for a unique experience. 
Jackson-Triggs Estate Winery 
Finally, sitting on 11.5 acres, Jackson-Triggs Niagara Estate offers a modern and sleek look. It has an open-air amphitheatre where they sometimes host concerts. Their Cabernet Sauvignons are also affordable and some of my favourites.
Where to Stay, What to Do and Where to Eat and Drink
The Prince of Wales Hotel is where we stayed during our visit, and it was great. It's located in a great location, which made it easy to walk to nearby shops and restaurants.
The Niagara-on-the-Lake Golf Club is a beautiful, full-length nine-hole course that runs along the shores of Lake Ontario. Which also offers excellent scenic views.
The town is also home to the Shaw Festival Theatre, which offers productions from April to December. As well as other events and activities.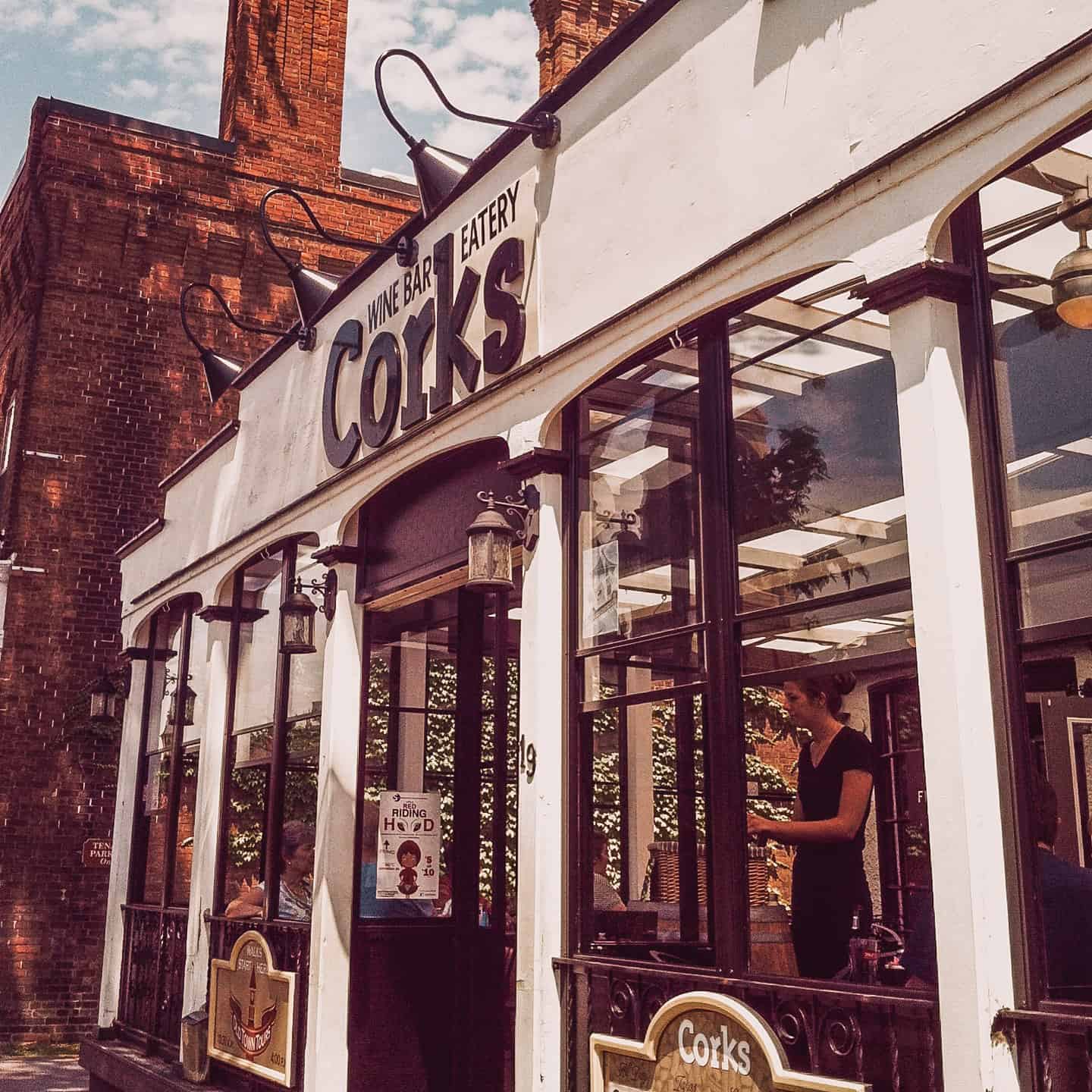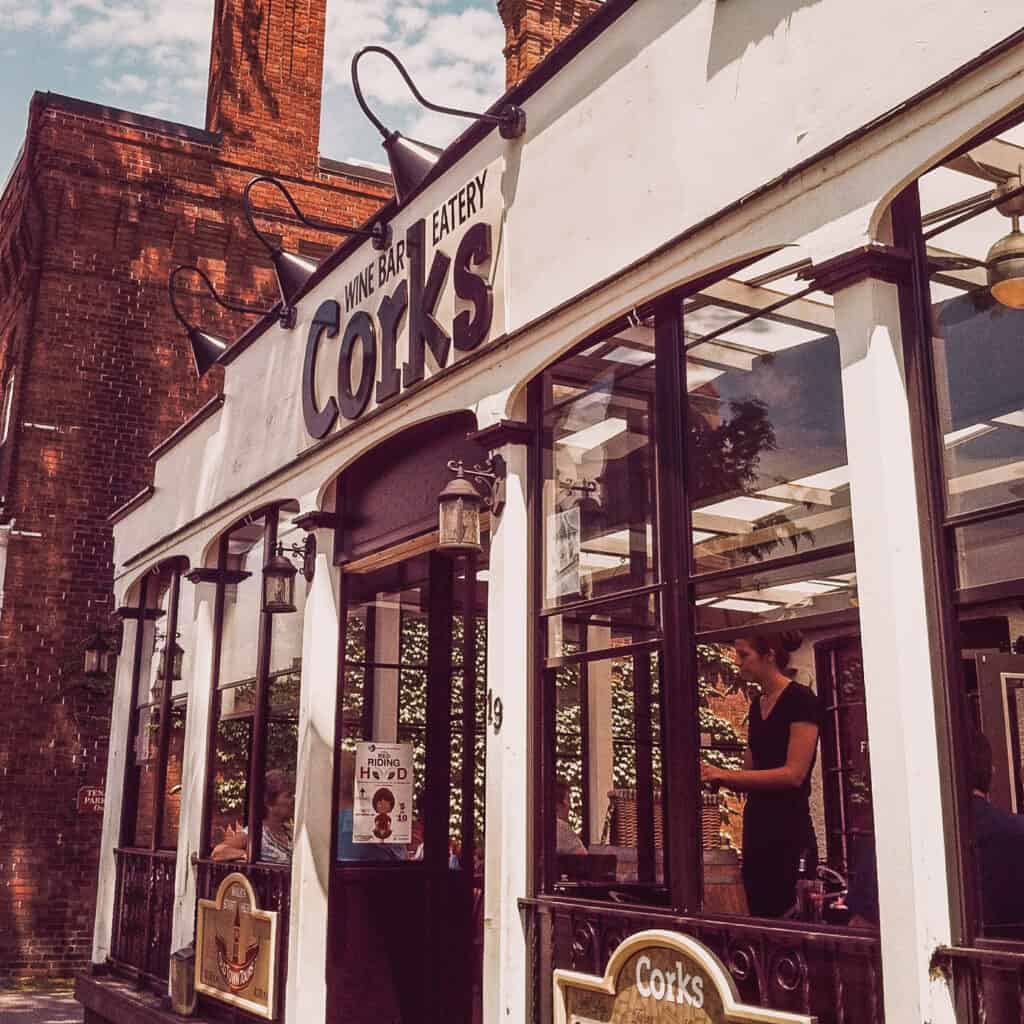 Other favourite places to wine and dine: Shaw Cafe & Wine Bar, Corks Wine Bar and Eatery and The Garrison house. The Olde Angel Inn also offers a great atmosphere.
An interesting fact about this town is that parts of the film Amelia (featuring Richard Gere and Hilary Swank) were shot in this town. 
Biking Niagara-on-the-Lake
Niagara-on-the-Lake is a haven for biking enthusiasts. With its picturesque landscapes, vineyards, and historical sites, the area offers a unique and enjoyable biking experience. Whether you're an experienced cyclist or a casual rider, you'll find plenty of opportunities to explore this beautiful region on two wheels.
The Bike Path Niagara-on-the-Lake
One of the highlights of biking in Niagara-on-the-Lake is the 56 km bike path that runs parallel to the Niagara Parkway. You can start your journey in Niagara-on-the-Lake and travel through the heart of Niagara Falls, eventually reaching the sandy beaches of Fort Erie. Along the way, you will pass many historic sights and attractions that offer a glimpse into the region's rich history.
The Waterfront Trail is another popular route for cyclists. Beginning in Niagara-on-the-Lake at Butler's Park, it stretches 650 km to the Québec border, with 900 km of signed trail. As you cruise along the trail, you'll discover breathtaking views from the shores of Lake Ontario, Lake Erie, and the Niagara River.
eBike Rental Ride Electric in Niagara-on-the-Lake Explore and Tour
If you're not up for a strenuous ride, consider renting an e-bike. Companies offer electric bike rentals that make it easy to explore Niagara-on-the-Lake without breaking a sweat. They also provide guided tours that take you to some of the area's top attractions.
E-Bike Rental Tour and Explore in Niagara-on-the-Lake
Another great option for exploring Niagara-on-the-Lake is to join an e-bike rental tour. These tours are designed to guide you around the region's best sites while providing you with a fun and comfortable biking experience. You can choose from various tour options, each offering a unique perspective of Niagara-on-the-Lake.
Guided Wine Tour on Electric Bike in Niagara-on-the-Lake, St David's Bench
For wine lovers, there's no better way to explore Niagara on the Lake than on an electric bike wine tour. Different companies offer guided tours that take you to some of the region's most renowned wineries located in areas such as St David's Bench. You'll get to sample some of the best wines the region has to offer while enjoying a leisurely ride through beautiful vineyards.
"Big Names" E-Bike Wine Tour in Niagara-on-the-Lake
If you're interested in visiting some of the area's most famous wineries, consider joining the "Big Names" E-Bike Wine Tour. This tour will take you on a journey to some of the most well-known wineries in Niagara-on-the-Lake, giving you an opportunity to taste world-class wines and learn about the region's wine-making process.
With so many biking options available, Niagara-on-the-Lake truly is a cyclist's paradise. Whether you prefer a leisurely ride along scenic trails or a guided tour through vineyards, you're sure to have an unforgettable biking experience in this charming region.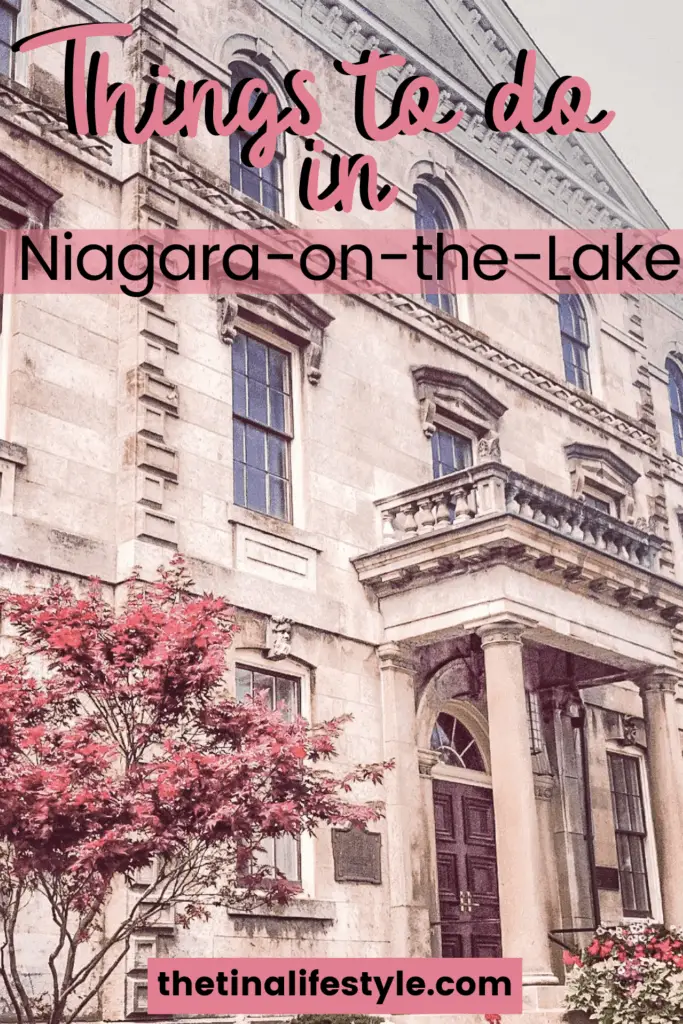 Frequently Asked Questions 
How Many Wineries Are at Niagara-On-The-Lake?
Niagara-on-the-Lake is a renowned wine region and boasts approximately 28 wineries. This includes prominent ones like Konzelmann Estate Winery, Peller Estates Winery, Trius Winery, and Reif Estate Winery. Each offers unique and exquisite wines that reflect the rich terroir of the Niagara region.
Can You Walk Between Wineries Niagara-On-The-Lake?
While some wineries are within walking distance of each other, the distances can be quite far for some, especially if you plan to visit multiple in one day. The region is very bike-friendly, with many visitors choosing to cycle between wineries. Alternatively, there are numerous wine tours that provide transportation, allowing you to enjoy the wine tastings without worrying about the walk or driving.
Can You Visit Wineries in Niagara-On-The-Lake?
Absolutely! Visitors are welcome at most wineries in Niagara-on-the-Lake. Many offer wine tastings, tours of their vineyards, and wine-tasting bars where you can sample a variety of their offerings, including their signature ice wines and sparkling wines. It's always a good idea to check the websites of the specific wineries you wish to visit for their current visiting policies and hours.
Do You Need Reservations for Niagara Wineries?
While it might be possible to do a walk-in tasting at some wineries, it is generally recommended to make a reservation, especially during peak season or for larger groups. Some wineries require reservations for their tours and tastings, and places like Peller Estates Winery and Trius Winery can get particularly busy. Making a reservation ensures you'll have a spot and won't be turned away at the door.