Going on a helicopter ride is a once-in-a-lifetime experience. It makes sense that you'd want to look your best on your sky-high adventure. However, some clothing items and accessories are good for wearing, and some are not so good. If you are planning on going on a helicopter flight soon, this post will help you know what to wear on helicopter tours and what not to do.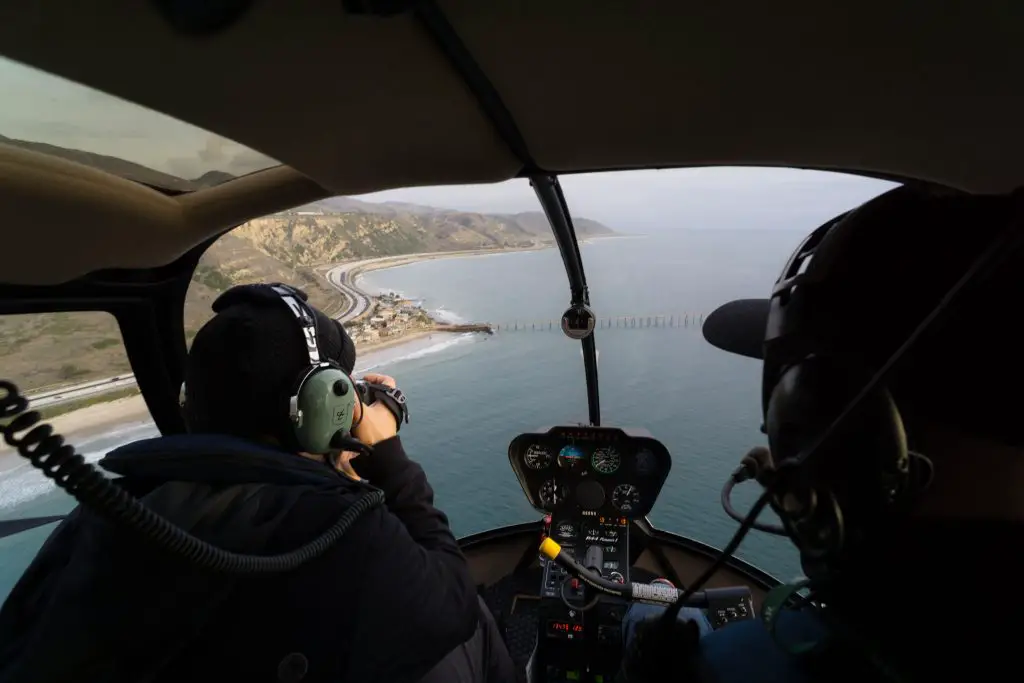 On a helicopter ride, it's best to wear dark-coloured clothing along with a light jacket, jeans, and closed-toe shoes. Riders shouldn't wear white or light-coloured clothing, open-toed shoes, loose-fitting clothes, loose accessories, or open-bottomed clothing like skirts and dresses. Bringing a lanyard can help protect glasses and cameras. It is also advisable to keep long hair pulled back.
When I visited the Hawaiian Island of Kauai last year, I got to experience a doors-off helicopter charter. It was the highlight of our trip and one of the best experiences of my life. 
Before take-off, the company went over the safety instructions and made us feel confident about the experience we were about to experience. They put the seat belt for us, ensuring every passenger felt safe. I was lucky to have the perfect seat assignment on the front of the aircraft, which allowed me to have the perfect aerial view. Our pilot was incredible. He was very knowledgeable and gave us lots of interesting information throughout the flight.
Read on to learn more about the best clothing choices for touring in a helicopter. 
This post contains some affiliate links. If you click on the product links and make a purchase, it allows me to make a small commission at no extra cost to you! In return, it helps me in maintaining this site to continue to help you!
What to Wear on Your First Helicopter Ride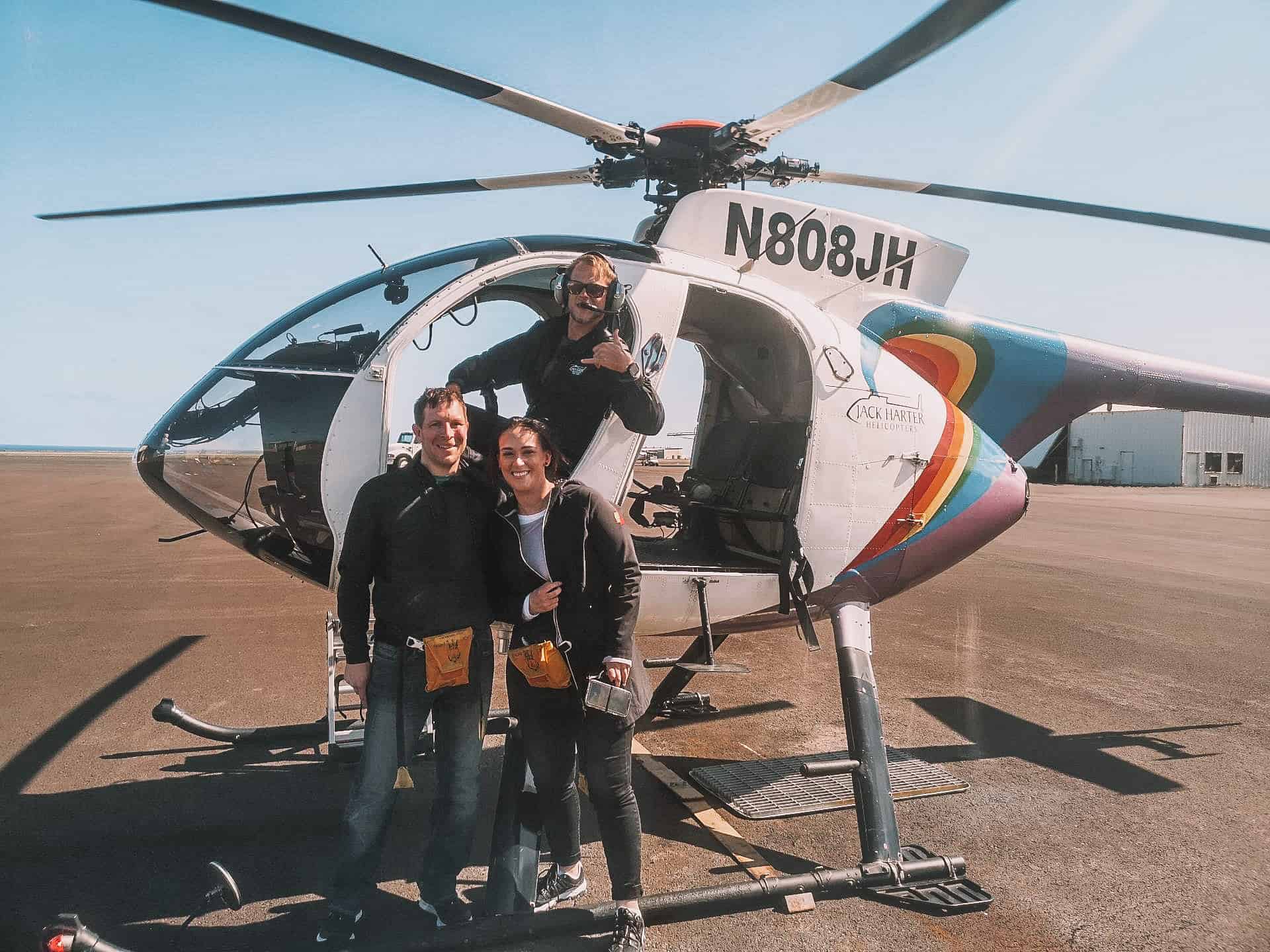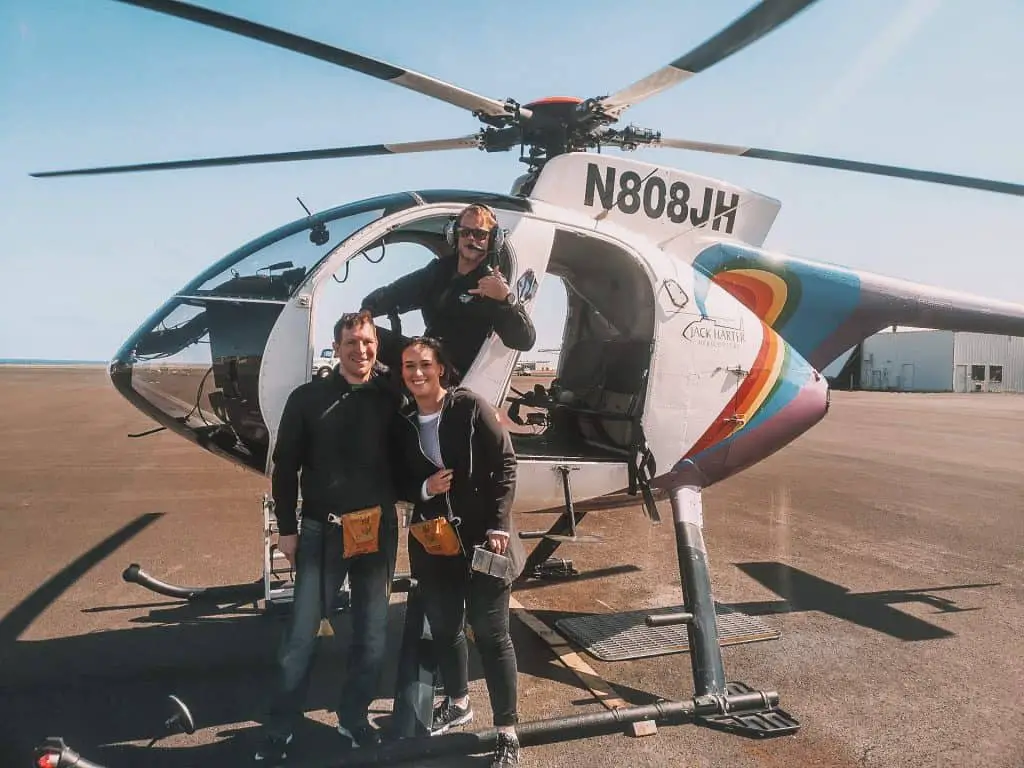 When you're preparing for a helicopter ride, a few clothing items are better choices than others. It depends on the time of year that you're going to be riding in a helicopter. If you're going in the winter, layering with an extra tee shirt under a long-sleeved sweatshirt with a light jacket can help keep you from getting chilly. In the summer, you'll want to wear less to keep cool. 
Below you'll find recommendations for some of the best items to wear on your first helicopter ride. 
Wear Dark Clothing
Of all the recommendations for clothing to wear on a helicopter tour, wearing dark clothing takes the top spot, and this is because dark clothing is crucial for seeing clearly out the helicopter's windows.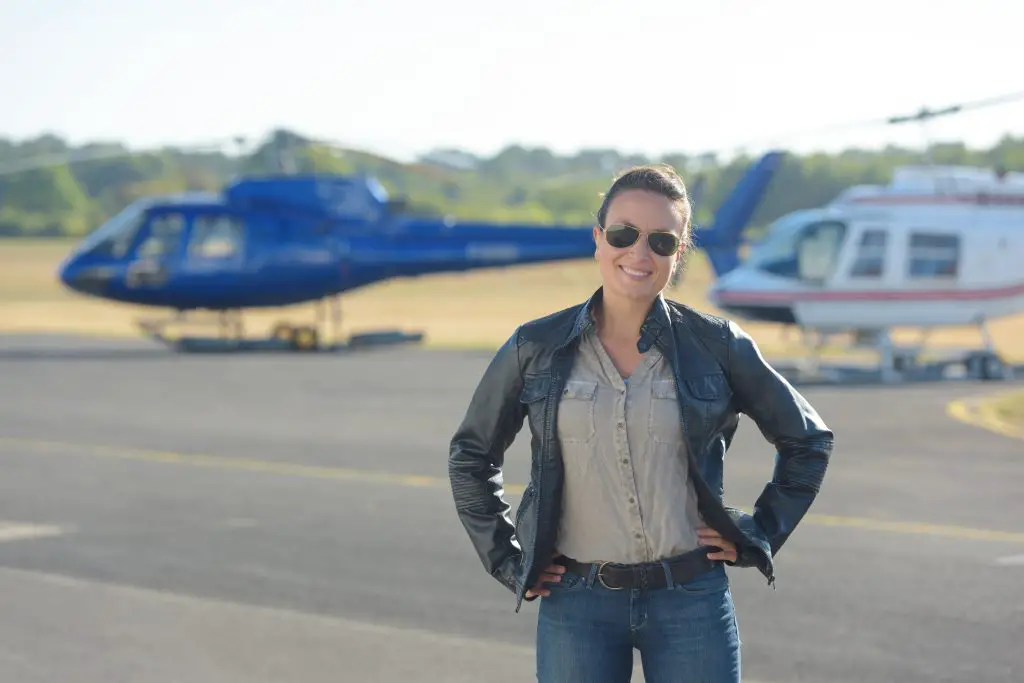 Wear Sleeved Shirts
Sleeved shirts are great to wear on a helicopter tour, and they can prevent your arms from getting cold in the buffeting wind from the helicopter's rotors. 
Windburns or sunburns can easily occur on longer helicopter rides. Protect yourself against exposure by wearing sleeved shirts. Wearing a sleeved shirt with buttons on the wrists can help prevent your sleeves from flapping. 
Wear Jeans or Long Pants
The best options for pants on a helicopter tour are jeans. They are comfortable to move around in, and they're suitable for either warm or cool weather. Jeans can also work well with various outfits, which makes them versatile on the style front as well.
Windbreaker
Wearing a windbreaker or other light jacket is a good idea not just to keep from getting cold but also to keep the helicopter's wind from hitting you while you're flying. A good windbreaker can make your helicopter ride less distracting, leaving you free to enjoy your helicopter tour in comfort. Check your fabric choices on a windbreaker to choose a fabric that won't make any annoying flapping noises.
Put on Sneakers or Hiking Boots
Close-toed shoes, especially those that fight snugly at the ankle, such as boots, are the best option for when you're going on a helicopter tour. You'll want to choose shoes that will stay securely on your feet even if you're dangling them out the helicopter's sides. 
Hook Your Glasses to a Lanyard
If you have prescription glasses or would like to wear sunglasses on your helicopter tour, it's a good idea to wear them attached to a lanyard. Wearing your glasses on a lanyard can prevent them from being lost from the helicopter if they accidentally slip off your face. Lanyards are also a good idea for your cell phone or camera. 
You might also enjoy: Helicopter Tours to Try in the USA
What Not to Wear on a Helicopter Ride
Some clothing choices are best for wearing on a helicopter. Many helicopter tours outrightly ban some items, however as they are a bad choice for either safety or practicality.
There are also other things you can't bring, like backpacks, loose jewelry, loose keys, books and other items that can interfere with the safety of the helicopter ride. 
Going on helicopter rides with loose, open-toed shoes like sandals and flip-flops is a bad idea. It is easy to stub your toes on many of the metal outcroppings in the cabin of a helicopter. 
Your shoes are also bound to get lost if you dangle your flip-flops off the side of a helicopter. It's a bad choice to wear any shoes that you can't lace to your feet on a helicopter ride. 
Loose-bottomed outfits like skirts and dresses aren't a good idea for helicopter rides because of all the wind. Any kind of loose, flowing clothing is a bad idea for riding on a helicopter.
You shouldn't wear any kind of accessory on a helicopter tour that has straps or will take up a lot of space in the cabin. It's also a bad idea to take a purse if it falls out or you accidentally leave it behind. 
Do everything you need to do (apply your lipstick, comb your hair, etc.) before you get on the helicopter. Then, there'll be no need to carry a backpack or purse. 
You are putting your life in danger if you wear a hat on a helicopter ride, and some rides forbid them as a safety hazard. This is because the hat can be pulled off a person's head by the force of the helicopter rotors. A crash can happen if the hat gets jammed in the rotor. Leave all hats on the ground before you leave for your helicopter tour. 
Just as dark clothing is recommended for helicopter rides for the sake of a person's bird's-eye view, white clothing is a bad choice to wear. If you wear white, this can cause reflections on the windows that make it hard to see out.
Along with loose shoes, loose jewelry is also a no-no on helicopter tours. Anything dangling or loose is inherently dangerous on a helicopter. Moreover, there's a risk that it will come off and be lost during the ride. If you lose an heirloom necklace during a helicopter tour, good luck finding it. 
Extras to Bring for a Helicopter Ride
There are a few carry-on items you may want to consider packing for your helicopter tour, even though you might not want to bring them with you on the tour itself. Here are some things you might want to consider packing: 
Because helicopters have a swooping motion that involves quick shifts in altitude and sharp maneuvers, they can make people motion sick quickly. If you don't know whether you get motion sick or not, and you've never been on a helicopter, taking some motion sickness medication or ginger pills before your tour can help prevent discomfort.
Many helicopter tours operate in areas such as the Grand Canyon, where exposure to sun and wind is intense. Wearing sunblock before your helicopter tour can help prevent any sunburn you might get during your trip.
You should pull long hair back with hair ties on a helicopter tour, and this will prevent you from having to worry about it slapping you in the face the whole time you're trying to see out the helicopter windows.
It is easy for your phone or other devices to drop mid-air if they are not well fastened to you. A phone lanyard will allow you to even take photos on your phone without the risk of it falling through helicopter windows. You can wear the lanyard over your wrists, crossbody or neck.
 If you take your tour during the winter, you will need to wear gloves on your helicopter ride. Temperatures also change as you go up, and you might need gloves and dress in layers even during summer or other seasons. 
These simple accessories won't make or break a helicopter ride, but they can go a long way toward making your ride progress smoothly. 
How to Capture Pictures/Videos on a Helicopter Tour
A helicopter ride offers gorgeous aerial photography of the beautiful landscape beneath you. A helicopter ride is a unique experience and, for some, a one-time life activity. You want to bring photography and videography equipment to capture breathtaking views as you fly through the sky.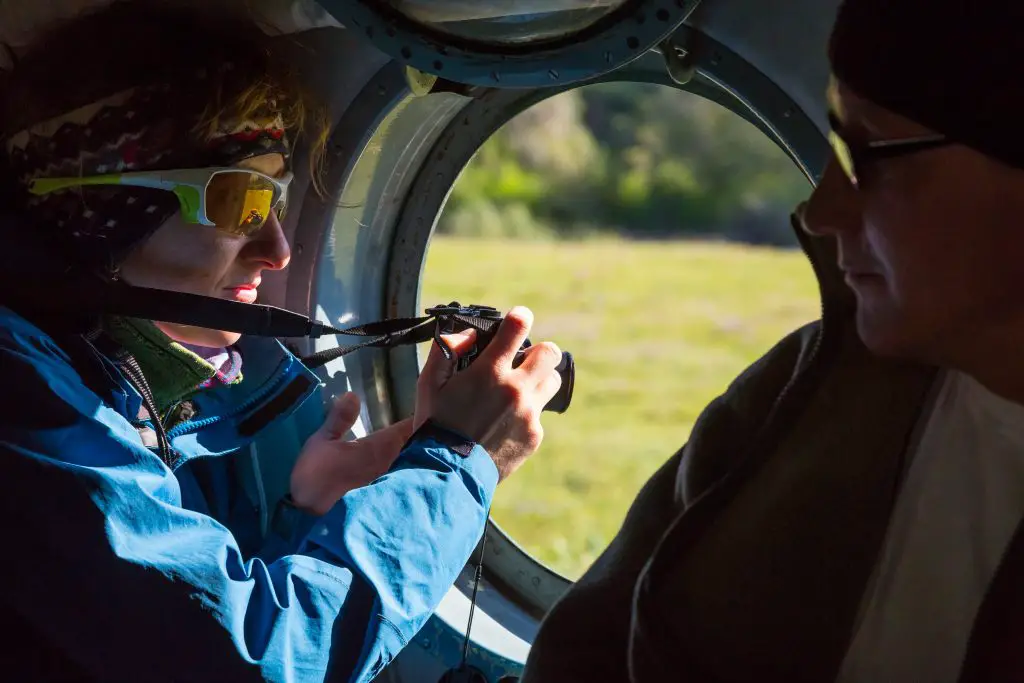 While you can use your phone for taking pictures and videos to take aerial photography, recommended devices for high-quality pictures and videos during your helicopter ride include:
A DSLR camera like the Sony A7 III will take top-notch pictures compared to your phone's camera. You will appreciate having high-quality and fast aperture lenses, which give you great optics when taking photos from a helicopter. 
A GoPro is every serious traveller's best friend. It records high-resolution pictures and videos to give you crisp, clear, quality footage of your adventure. It can also capture a range of angles with its ultra-wide-angle capability.
A drone is great for post-helicopter tour fun- if you enjoyed the landscapes from above, you could get image and video footage with your drone for a keepsake. For safety reasons, you cannot fly a drone when the helicopter tour is ongoing, and if you can, the drone has to be quite a distance away from the helicopter. 
Ensure your cameras and drones are fully charged, and also bring extra batteries in case of an emergency. 
You might also like the following:
Travel Essentials List: 38 Essentials for Travel
8 Locations to Watch Kauai Sunsets
Wear the Right Outfit on Helicopter Rides
Whether you're flying in a helicopter tour over the Grand Canyon or exploring the beautiful sky over the Hawaiian Islands, wearing the right outfit can make your ride much more enjoyable and comfortable. Follow the dressing tips above, and you will be set for the best helicopter ride. 
Most helicopter flights offer sunset flights which could be a once-in-a-lifetime experience to experience bright colours and make for a great experience your first time on a helicopter flight.