Going on a helicopter ride is a once-in-a-lifetime experience. It makes sense that you'd want to look your best on your sky-high adventure. However, there are some clothing items and accessories that are good for wearing on a helicopter ride, and some that are not so good. 
This site uses affiliate links and I may earn a small commission when you use my links and make a purchase without incurring additional fee yourself. Many thanks for supporting this website.
On a helicopter ride, it's best to wear dark-colored clothing along with a light jacket, jeans, and closed-toe shoes. Riders shouldn't wear white or light-colored clothing, open-toed shoes, loose accessories, or open-bottomed clothing like skirts and dresses. Bringing a lanyard can help protect glasses and cameras.
When I visited the Hawaiian Island of Kauai last year, I got to experience a doors-off helicopter ride. It was the highlight of our trip and one of the best experiences of my life.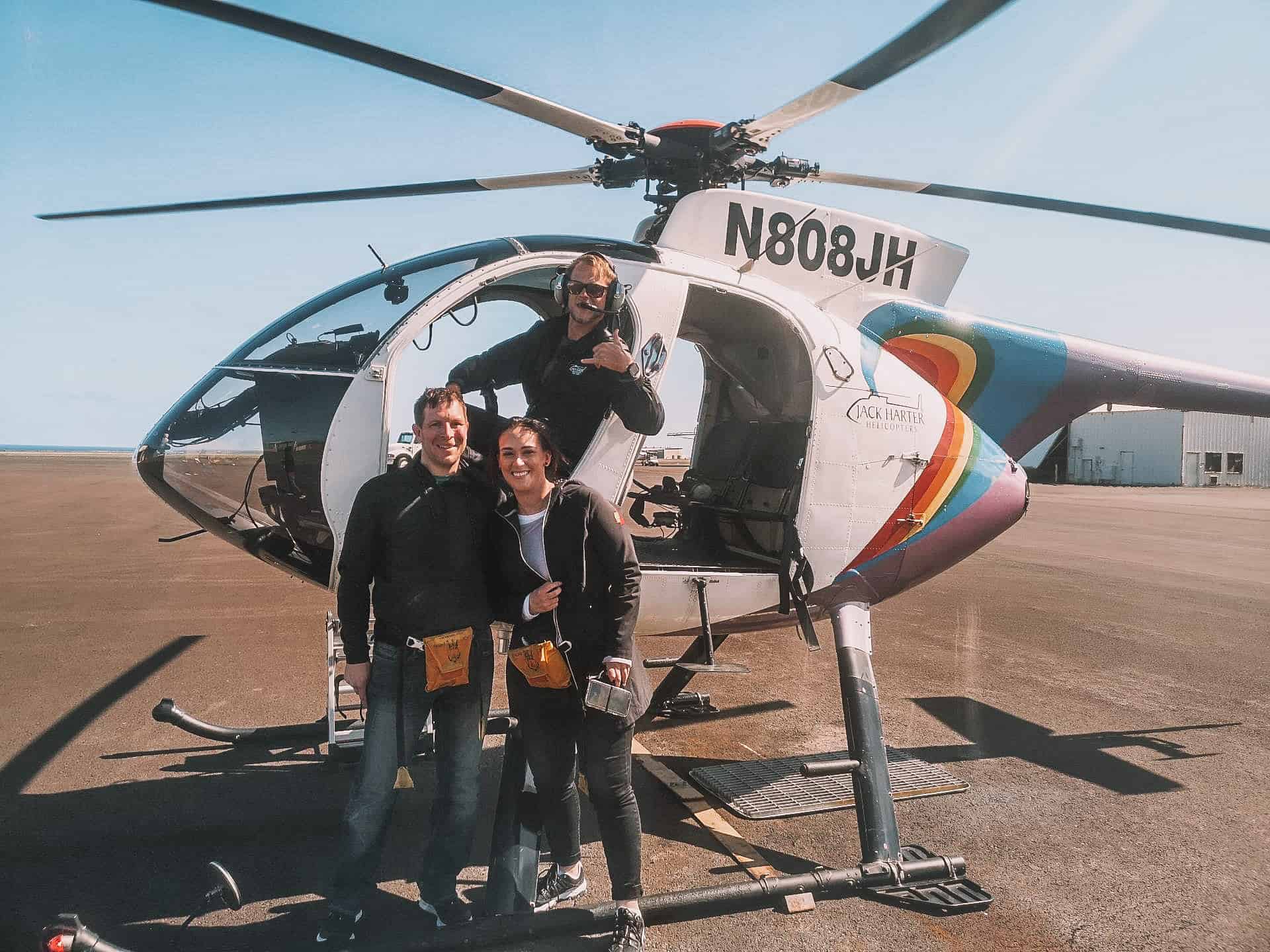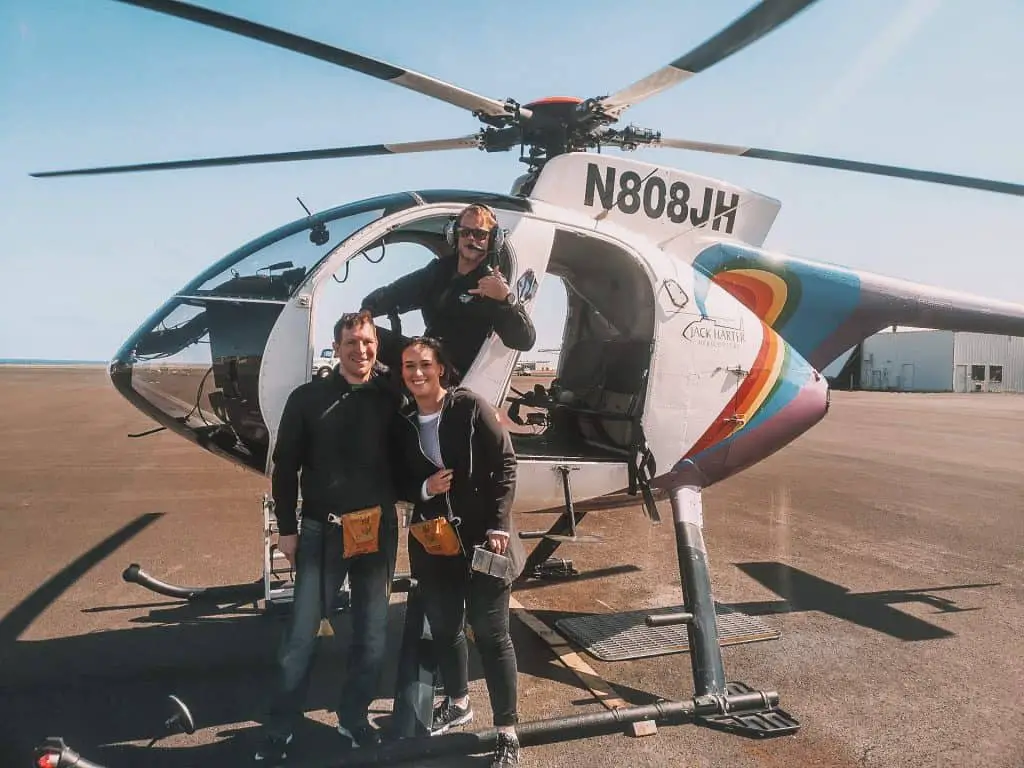 When you're preparing for a helicopter ride, there are a few items of clothing that are better choices than others. It depends on the time of year that you're going to be riding in a helicopter. If you're going in the winter, layering with an extra tee-shirt under a long-sleeved sweatshirt with a light jacket can help keep you from getting chilly. In the summer, you'll want to wear less to keep cool. 
Below you'll find recommendations for some of the best items to wear on a helicopter ride. 
Dark Clothing
Of all the recommendations for clothing to wear on a helicopter tour, wearing dark clothing takes the top spot. This is because dark clothing is crucial for being able to see clearly out the windows of the helicopter.
Sleeved Shirts
Sleeved shirts are great to wear on a helicopter tour. They can prevent your arms from getting cold in the buffeting wind from the helicopter's rotors. Since it is also easy to get windburned or sunburned on longer helicopter rides, sleeved shirts can also protect against exposure. Wearing a sleeved shirt with buttons at the wrists can help prevent your sleeves from flapping. 
Jeans
The best options for pants on a helicopter tour are Jeans. They are comfortable to move around in, and they're suitable for either warm or cool weather. Jeans can also work well with a variety of different outfits, which makes them versatile on the style front as well.
Windbreaker
Wearing a windbreaker or other light jacket is a good idea not just to keep from getting cold but also to keep the helicopter's wind from hitting you while you're flying. A good windbreaker can make your helicopter ride less distracting, leaving you free to enjoy your helicopter tour in comfort. Check your fabric choices on a windbreaker to choose a fabric that won't make any annoying flapping noises.
Sneakers or Boots
Closed-toed shoes, especially those that fight snugly at the ankle, such as boots, are the best option for when you're going on a helicopter tour. You'll want to choose shoes that will stay securely on your feet even if you're dangling them out the helicopter's sides. 
Lanyards
If you have prescription glasses or sunglasses you'd like to wear on your helicopter tour, it's a good idea to wear them attached to a lanyard. Wearing your glasses on a lanyard can prevent them from being lost from the helicopter if they accidentally slip off your face. Lanyards are also a good idea for your cell phone or camera. 
What Not to Wear on a Helicopter Ride

Some clothing choices are best for wearing on a helicopter. But there are also some options that are either a bad idea or are banned outright on many helicopter tours. Most of these clothing items are a bad choice for either safety or practicality. 
Open-toed Shoes
Loose, open-toed shoes like sandals and flip flops are a bad idea on helicopter rides. It is easy to stub your toes on many of the metal outcroppings in the cabin of a helicopter. And if you dangle your sandals off the side of a helicopter, you're bound to lose your shoes fast. It's a bad choice to wear any type of shoes that you can't lace to your feet on a helicopter ride. 
Skirts and Dresses
Loose-bottomed outfits like skirts and dresses aren't a good idea for helicopter rides because of all the wind. Any kind of loose, flowing clothing is a bad idea for riding on a helicopter.
Purses and Backpacks
You shouldn't wear any kind of accessory on a helicopter tour that has straps or will take up a lot of space in the cabin. It's also a bad idea to take a purse in case it falls out, or you accidentally leave it behind. Do everything you need to do (apply your lipstick, comb your hair, etc.) before you get on the helicopter. Then, there'll be no need to carry a backpack or purse.
Hats
Hats are considered dangerous clothing for a helicopter ride, and some rides forbid them as a safety hazard. This is because the hat can be pulled off a person's head by the force of the helicopter rotors. And if the hat gets jammed in the rotors, this can cause a crash. Leave all hats on the ground before you leave for your helicopter tour. 
White Clothing
Just as dark clothing is recommended for helicopter rides for the sake of a person's bird's-eye view, white clothing is a bad choice to wear. If you wear white, this can cause reflections on the windows that make it hard to see out.
Loose Jewelry
Along with loose shoes, loose jewelry is also a no-no on helicopter tours. Anything dangling or loose is inherently dangerous on a helicopter. Moreover, if you're wearing loose jewelry, there's a risk that it will come off and be lost during the ride. If you lose an heirloom necklace during a helicopter tour, good luck ever finding it. 
Extras to Bring for a Helicopter Ride

There are a few extra things you may want to consider packing for your helicopter tour, even though you might not want to bring them with you on the tour itself. Here are some things you might want to consider packing: 
Motion sickness pills: Because helicopter tours involve quick shifts in altitude and sharp maneuvers, they can make people motion sick quickly. If you don't know whether you get motion sick or not, and you've never been on a helicopter, taking some motion sickness medication or ginger pills before your tour can help prevent discomfort.
Sunblock: Many helicopter tours operate in areas such as the Grand Canyon, where exposure to sun and wind are both intense. Wearing sunblock before your helicopter tour can help prevent any sunburn you might get during your trip.
Hair ties: Long hair should be pulled back with hair ties on a helicopter tour. This will prevent you from having to worry about it slapping you in the face the whole time you're trying to see out the helicopter windows.
These simple accessories won't make or break a helicopter ride, but they can go a long way towards making your ride progress smoothly. 
Whether you're flying in a helicopter tour over the Grand Canyon or exploring the beautiful sky over the Hawaiian Islands, wearing the right outfit can make your ride much more enjoyable and comfortable.