Aloha! So you're going to Maui? Let me give you a few tips for what to wear in Maui and what to pack before your trip.
In one of our earlier blog posts, we covered what to pack for a Maui vacation here.   But, what kind of clothes do you really need when you are going on a trip that involves beach and water sports and that would be specific to Maui?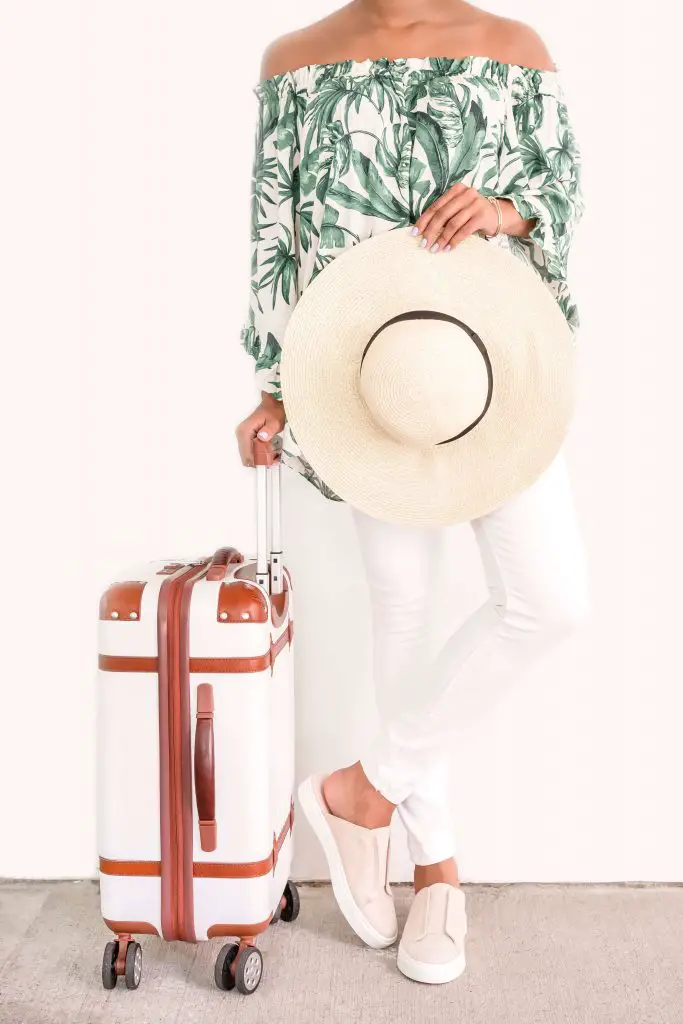 What is Maui Like: A Description of the Island
Maui rises from the crystal blue Pacific waters. Sandy beaches and cliffs outline the shores. The lush vegetation contrasts with the shore in varying shades of green and is dotted with colorful and fragrant flowers.
Rising from green Ovaltine pools in the west, the ancient mountain, Mauna Kahalawai, rises and cascades into deep valleys. In the east, the island rises again, to the summit of Haleakala, before flowing back to the ocean.
What To Wear in Maui
For the most part, when you are on the island, you need to dress in light clothing. You will rarely need any heavy clothes. Many women will wear lightweight sundresses every day on the island. There are also some other very important things you consider when it comes to what to wear in Maui Hawaii, such as:
Sarongs – One of the most versatile and essential pieces of island wear is Sarongs. They can be used as a bathing suit cover-up, a shawl, a bag, and a covered place to sit on the ground. Both women and men use them.
More on Clothing and What to Wear in Maui
Lightweight shorts – Cotton and other thin materials such as bamboo and rayon are ideal. They are very breathable.
When talking about your clothes, you also want clothing that doesn't cling to you. Instead, opt for clothing with a bit looser fit to allow air to circulate through your clothing, helping you feel dry and comfortable.
Think "resort casual" when it comes to packing. Basically, nice, summer casual clothing is what you want. It's okay to show some skin. These are the islands. People dress to be comfortable in this environment.
You will want cotton undergarments. The cotton breathes where synthetics won't. It is especially important to wear cotton underwear in humid climates. Synthetics can trap moisture.
Shirts & Tops
An essential top is a lightweight style like a v-neck tunic or a casual resort tank. The island breeze will find its way under the shirt, cooling you quicker. You should also make sure to bring T-shirts. Not every day, nor every place you visit, will be as hot or humid as the next. 
A couple of clean and comfortable t-shirts are essential to any wardrobe. Wearing a t-shirt and jeans while horseback riding or hiking the slopes of Haleakala will help keep you comfortable.
Dresses & Skirts
Lightweight dresses or skirts: Dresses and skirts are truly a personal choice. If you prefer to wear a dress, by all means, pack dresses for your trip. Lightweight dresses are easy to pack and wear. They don't take much room, and you can wear them to the beach and into town. 
I recommend a dress for each day, plus one that is a bit more formal if you feel like "dressing up." Just be sure you include a couple of pairs of shorts and at least one pair of pants.
Bottoms
You will want enough shorts for you to change into them daily during your vacation.  Having a change of clothes with you after a day of whale watching or walking through a botanical garden can also be handy.
Lightweight men's beach casual pants or women's beachside pants. Having a pair of pants that you can easily fit in a bag you are carrying around can be handy should you get chilled or need a little extra protection from the elements. If they are nice-looking casual, they can easily be worn to the restaurant as well.
A pair of jeans. All this talk of lightweight clothing, why would you need jeans? Jeans are an essential item. You may want to go horseback riding or hike through lava fields. Some nights may be a bit cooler, and a pair of denim jeans will keep you warm. 
Swimsuits
When it comes to swimsuits and swim trunks: Yes, pack more than one for your beach vacation! Otherwise, bring two so you can rotate daily. Hand wash your bikini or bathing suit from the previous day and hang it to dry. This way, you will always have one ready to go.
You will use your swimsuits more than you think. In Maui and the rest of the Hawaiian islands, people spend a great deal of time outdoors in activities in or near the water, whether you are at the beach swimming or hiking to a hidden waterfall. Many people wear them under their clothing because you never know when you will find a great swimming spot on the islands.
Do I Need Water Shoes in Maui and What Other Shoes Do I Need?
The type of shoes you need to bring to Maui depends on what activities you will be doing. If you have space and plan to do all sorts of adventures on your vacation, you may want to pack a little bit of everything, including:
Water Shoes 
When traveling to Maui, an island, you may wonder if you will need water shoes. After all, Hawaii is not your average beach but a tropical paradise that has many chances for you to get your feet wet. Not only are there sandy beaches, but you will also find sharp rocks and densely wooded areas, not to mention all of the sharp lava rock found around the island. All of which may be better to walk around when using water shoes.
With water shoes, you will not only get better traction walking on slippery areas, but you will also not have to deal with sore feet. If you were to get a normal pair of tennis shoes wet, your feet could: become sore, form blisters or even get a foot fungus. 
Finding a comfortable pair of water shoes is a must when considering what to wear in Maui.
Flip Flops & Sandals
Locals wear flip-flops. In the islands, they are called slippers. They are ideal footwear. You can wear them at the beach, walking through town, even to the restaurant. Slippers are easy to take off and put on. It is custom to remove your shoes before entering a person's home in Hawaii. 
Slippers will be seen next to the front doors. 
Most flip-flops can withstand getting wet, and it is easy to rinse sand and mud off of them. They are thin and lightweight. Though pahoehoe (basaltic lava) is smooth, it can become slippery as waves or rain wash over it. Sometimes it will be cracked or broken, and these areas of rock could be sharp enough to cut bare feet. 
Hiking Shoes
Bring a pair of hiking shoes or a good pair of all-terrain running shoes. You will need close-toed shoes with traction when you are out, adventuring the island's interior. There are many fun hiking trails and excursions that can be found on the islands.
If you plan on doing any of these, you will need a nice and comfortable pair of hiking shoes. It is a good idea to get a pair at least a month before so you can get them worn in before the trip. You do not want to walk around for hours in a brand-new pair of shoes. 
Dress Shoes
These are completely up to you as many people may not go somewhere on the island where there are dress codes. Some restaurants may have a dress code, or you may feel like dressing up one night. A simple pair of heels or dress shoes that can fit in your bag is good enough.
For women in heels, one thing to keep in mind is one second you could be walking through the resort, the next walking on the beach. Trying to walk on sand, uneven rock, or even through the grass in spiked heels can be treacherous on the ankles.
Athletic Shoes 
You may have hiking shoes and water shoes but don't forget your running shoes. They will be the most comfortable shoe you can wear walking around the island, as they can work as hiking shoes, daily wearing the shoe and everything in between. They are also easy and comfortable to wear on the plane. 
Ultimate Maui Packing List
Now let's look at the ultimate packing list for taking a trip to visit Maui. You now know the essentials, but this will show everything else you need to bring with you on this trip. For a comprehensive list of what to pack for Maui, make sure to check out this post.
While this list will be different for every person, this is just an overall view of what to expect the type of list. Some travellers will take much less while some take more; it's a good idea to ask yourself these few questions:
How long do you plan on staying?
What activities will you be enjoying?
Where will you be staying? 
What To Bring on the Road to Hana
Of all the road trips you might do in your lifetime, this is one for the books. This trip is highly recommended and breathtakingly beautiful. Bring gear for all kinds of adventures, from swimming and surfing to hiking and more. Bring your beach bag to carry back things you may purchase at any of the tiny shops along the way.
What To Bring For a Day on The Beach in Maui?
These things will help you enjoy your Maui beach day. Don't forget your swimwear and water shoes, of course, and also remember:
Beach mat – One that is small enough not to take up much space in your bag
Beach towels – some hotels offer these to take and bring back, so be sure to check before wasting space in your suitcase
Sunscreen – This can't be said enough. Protect your skin from the tropical heat and check that it is reef-safe sunscreen. Many have been banned due to destroying the coral reef.
Beach bag – To help transport everything to and from your hotel room. Plastic bags have been banned on the island, so your beach bag will also double your market bag for shopping.
Convenience kit – Small travel-size kits that are already filled with shampoos, conditioners, etc. They are also TSA-approved.
Laptop, charger, and storage
Camera – Camera lenses, tripod, charger, storage devices
Go Pro – or another all-weather sports camera, charger, and accessories.
Other Essentials to Pack for Maui Vacation
When it comes to what to wear in Maui and what to pack, these items might prove useful either for the plane ride if you're planning on going on some hiking adventures, visiting the Haleakala Crater, or any other activity where these could be a game-changer. You'll be happy to have not forgotten about packing these in your carry-on or your luggage.
Hiking boots
Sweater
Sleeve shirts
Light rain jacket
Credit cards
Fan
Bug Spray
Beach cover-up
Weather in Maui
The weather in Maui is like no other. It's really warm and breezy but the air up on the mountain can be much cooler.
The weather is sunny and dry most of the year.  The temperature ranges between 70-80F/21~27C during the day.  Maui is nice year-round with tradewinds blowing all year long ensuring at least moderate temperatures all over the island
Final Thoughts on What to Wear in Maui
We hope you found this blog post helpful. No matter your travel style, you're now ready to start packing for this dream vacation and should know what to wear in Maui.