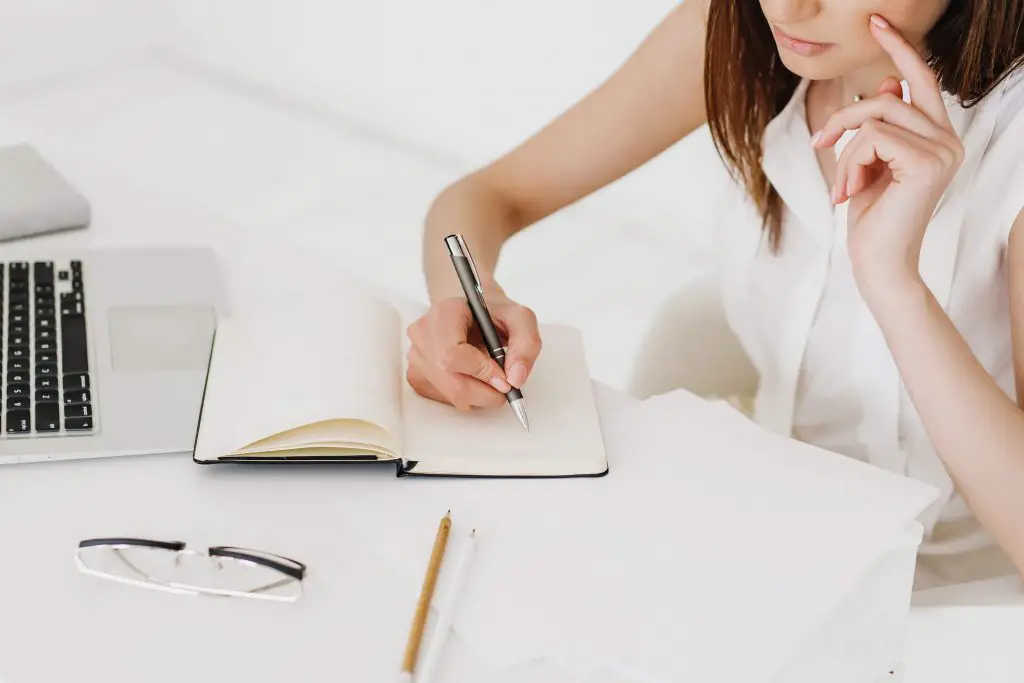 Journaling is a great way to get your thoughts out of your head and onto paper. It can help you sort through feelings, process events that have happened in the past, or even free up some mental space so you can focus on whatever needs your attention most. Many types of journaling exist for different types of writing styles and journal styles; this blog post will discuss 13 of them!
You'll be able to find the right type of journaling for you with this guide! Whether it's something simple like the bullet journal method or more complex like art-based journals, there's something here for everyone. The best part about these different kinds of journaling is how they all work together – one might be better at helping you organize while another might be better at getting creative ideas flowing again. Whatever kind of writer or artist you are, there's a style here waiting just for you! 
This post contains some affiliate links. If you click on the product links and make a purchase, it allows me to make a small commission at no extra cost to you! In return, it helps me in maintaining this site to continue to help you!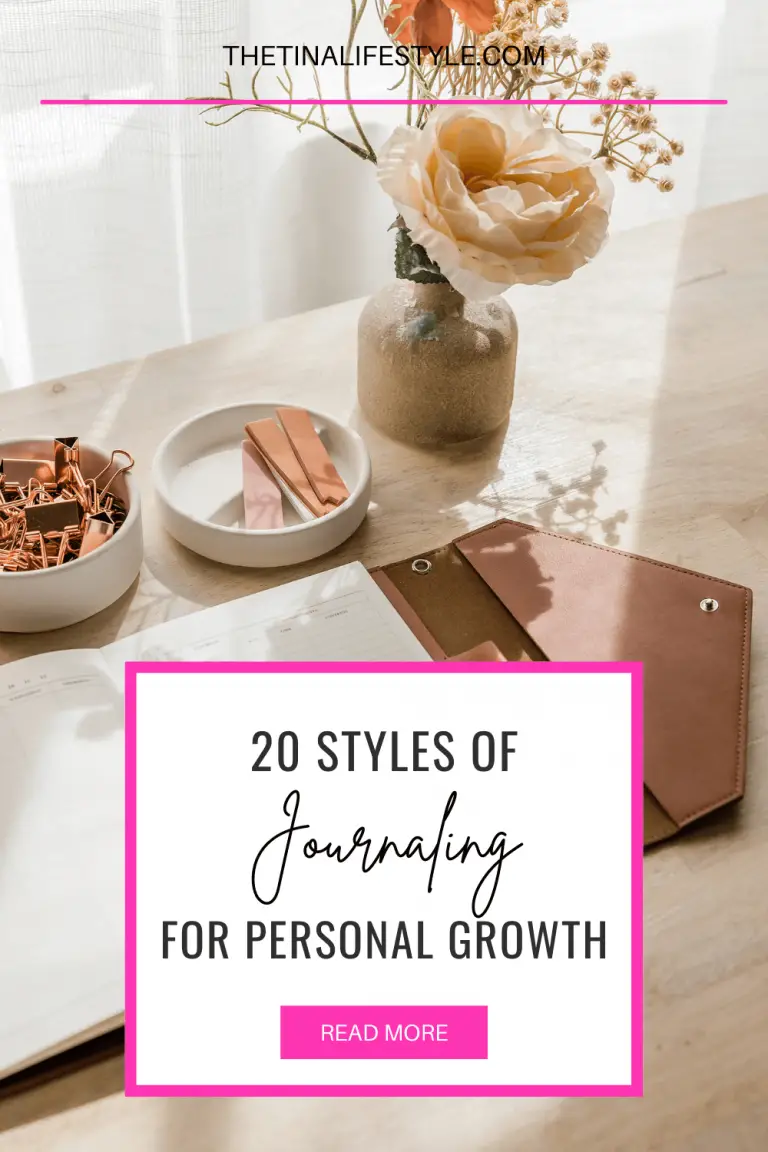 How Do I Find My Journaling Style?
The strength of a journal or notebook will depend on your style. Ask yourself a few questions to help you determine which journaling style is the right one for you.
What medium do I enjoy? Paper and pen, or computer? How often would I like to journal? How much time can I commit each day/week to reflect deeply on my feelings and thoughts?
Some keep journals on scraps of paper, and others use journals made with special pens. Some people write answers to questions posed by themselves or someone else, and others might create lists about their day to read later when they need the distraction (or would like some perspective).
Journaling is a very personal thing, and the way you journal can change from day to day, depending on what you're looking for. 
No matter your style, be sure to find the one that will make you feel like documenting your thoughts will be enjoyable.
Benefits of Journaling for Your Mental Health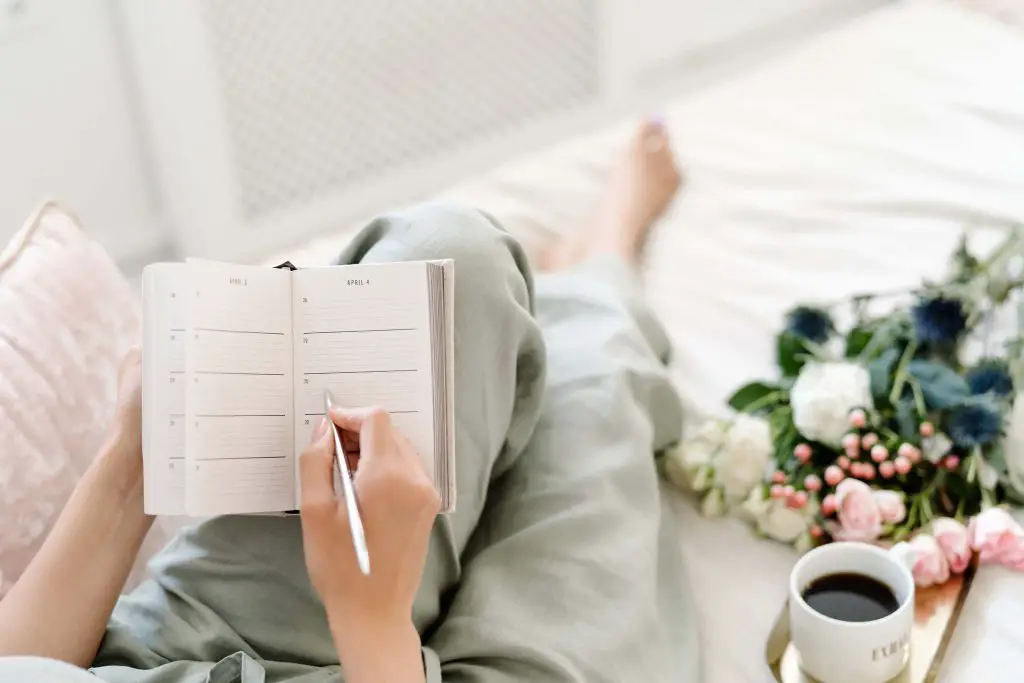 Keeping a journal can help with mental health.
Journaling helps you process your emotions and learn more about yourself.
Journaling is a way of recording anything that happens in our lives, from the mundane to the exciting.
Writing in a journal daily can cause people to become healthier because it allows for "everyday" worries and stresses to be let out (the type of things we wouldn't tell others). 
Journaling can help get thoughts or events off someone's chest so they are not building up inside – such as stress, anxiety, anger, and sadness. 
What Are the Different Types of Journaling?
Basic Journaling
As the name suggests, this is the most basic journaling, just writing down how you feel. This can help in several ways–it can be therapeutic and release tension and anxiety, or it can provide an outlet for processing difficult emotions.
It's important to keep in mind that this type of journaling will be very negative by default because it will only consist of what isn't going well on a given day and doesn't gloss over emotional pain and distress.
Morning Pages
Morning pages are when you write three pages in the morning about anything that comes into your head.
Also called free-form journaling, the intent is for you to write whatever comes out, without any order to it and with no time limit restrictions on how much you take or how often you subject yourself to exploring your thoughts in this way.
Structured journaling
Structure journaling is where you have a specific goal or topic, so for each session, you jot down a few notes before moving onto the next one to explore another idea. 
Journal prompts can be helpful with this type of journaling as journal prompts can use them to inspire creativity and encourage new ways of thinking about old problems.
A journal prompt is sometimes written as an affirmation or question to help promote reflective thought related to a specific life issue or topic.
Diary Journal
Diary is mainly a journal in which one records events of personal interest or significance. This can include daily accounts for certain periods of time, such as following one's mental, emotional, and physical states.
It can also account for encounters with individuals who are significant to the individual, such as lovers, family members, or friends.
Bullet Journal
Bullet journaling is a system of organizing and tracking events, ideas, projects, tasks, or whatever else your heart desires that allows you to customize it as you see fit.
Bullet journals are great for people who want to become more organized, creative, and productive. You can use your bullet journal for anything from managing mental health or weight loss to tracking household budgets. The best part is that bullet journals can be adjusted based on your needs.
For your own bullet journal, you can choose an organizational layout depending on the type of project you're working on and go!
Some layouts used for bullet journaling include :
Daily Layout – Separate sections for your calendar, tasks, notes, and events that take place today 
Monthly Layout- Sections for each day with space to record important dates or events 
Yearly Calendar- One page per year with space to record monthly checklist items and important dates
Gratitude Journal
Using a gratitude journal for Gratitude journaling is a simple but powerful activity you can do to help stop focusing on yourself and start counting your blessings. 
At the beginning or end of each day, this gratitude journaling entails writing down 3 things you're grateful for. It doesn't matter what they are; be clear about exactly what made you feel grateful. This can range from things like finding money in your pocket after flipping over a parking meter to having a conversation with someone who understands what's going on in your life right now.
It can do wonders if done with consistency.
Dream Journal
Dream Journaling is when you take a few minutes to write down your latest dream. The purpose of the dream journal is to give more information about the kinds of dreams you are having, get some insight into your thinking, and help yourself figure out what this might all mean.
Travel Journal
Travel journaling is the act of keeping a log of your journey as you travel. A travel journal often includes important dates, physical and emotional memories, and descriptions of nature or different places through which you have traveled.
Mind Mapping Journal
Mind mapping is accomplished by starting with a central idea, and then, as you continue to branch out, you connect these ideas with real-time observations. This specific type of journaling aims to organize thought patterns, keep track of thoughts and prompts for later use, and help build critical thinking skills.
A mind map is used to visualize where all the pieces go in your head.
Art Journal
Art journaling is where you use art supplies to create drawings and paintings. The purpose is to give yourself a release from the emotional burden of your day while also helping you explore personal themes, feelings, or memories through images.
Prayer Journal or Bible Journal
A Prayer Journal or a bible journal is a place where you can record your personal prayers. This can be done in any way that works for you–you could write, draw pictures, and more. 
Prayer Journals can be important tools used for spiritual growth and transformation. They can also provide the space to record a prayer or some observations on the scriptures or lessons learned in a personal study.
Project Journal
Project journals are a way to keep track of your progress on a project throughout its lifecycle. They can be handy for collaborative work.
Project journals help with knowing what the next steps are and how far along in those steps the current task is progressing.
Food Journal
A food journal is a way of tracking what and how much you've eaten, when, and why.
Food journals can help you track your food intake or find out which foods your body responds to best on different days (maybe some days you're better with grains than animal protein or vice versa) so that over time, your diet feels personalized rather than having the same thing every day.
It also helps prevent mindless eating because it forces you to think about what you're putting in your mouth and whether or not it's something worth consuming if desired. 
Scrapbook Journal
Scrapbooking can be a type of journaling. Scrapbooking journaling is the process of documenting your timeline, memories, milestones, and projects.
It usually takes place in an album or scrapbook. Scrapbooks are often used for personal histories, life journals, photo albums, or travel logs. Typically they incorporate participatory techniques such as cut-outs from photographs/clippings from magazines and drawing/painting.
Reading Journal
A reading journal is a tool for book enthusiasts to record their thoughts, impressions, and reflections about the books they've read. The format of a reading journal can vary greatly depending on personal preferences. It could be as simple as a list of books read, with titles, authors' names, and dates read, or it could be more elaborate, including favorite quotes, detailed reviews, star ratings, and even personal reactions and insights gained from the reading.
Pregnancy Journal
A pregnancy journal is a personalized record book where expecting mothers can document their journey through pregnancy. It serves as a space to capture all the emotions, experiences, milestones, and anticipations that come along with the journey of bringing new life into the world. Expectant mothers can jot down their thoughts, feelings, doctor's appointments, ultrasound pictures, baby bump growth, and even cravings.
The aim of a pregnancy journal is not just to record medical details but also to capture the personal experiences and transformations that occur during this special period. This keepsake can later provide a beautiful walk down memory lane, remembering the unique journey of pregnancy.
Photography Journal
A photography journal is a curated collection where photographers can showcase their work, document their artistic journey, and express their thoughts and insights related to their craft. It can include photographs, annotations about the technical details of each shot (such as camera settings), reflections about the inspiration behind the images, notes on the locations and conditions under which the photos were taken, and even sketches or plans for future compositions.
A photography journal serves not only as a portfolio of one's work but also as a personal space for introspection, growth, and creativity in the field of photography. This visual diary can be a powerful tool for photographers to track their progress, experiment with different styles, and articulate their unique perspective through the lens.
Mood Journal
A mood journal, also known as an emotion or feelings journal, is a personal tool used to track, document, and reflect on one's emotional states over time. It typically involves daily entries where individuals record their emotions, triggers, thoughts, and behaviors.
The goal is to identify patterns, triggers, and improvements in emotional health over time. This self-awareness tool can help individuals better understand their emotional responses and manage their mental health more effectively. For instance, it can help pinpoint stressors, help manage anxiety, depression, or mood swings, and promote positive mental health practices. It's a valuable resource for therapists and counselors as well, providing insight into their clients' emotional patterns.
Weight Loss Journal
The purpose of a weight loss journal is to increase self-awareness about lifestyle habits, identify patterns that contribute to weight gain or hinder weight loss, and stay motivated toward achieving weight loss goals. By providing a comprehensive view of one's health behaviors, a weight loss journal can be an effective aid in making healthier choices, staying accountable, and maintaining progress on the path to weight loss.
Wine Journal
A wine journal, also known as a wine-tasting journal or log, is a tool used by wine enthusiasts to document their experiences and observations with different wines. In this journal, individuals can record details such as the name of the wine, the winery, the type of grape, the region it comes from, the vintage year, and its price. More importantly, they can note down their personal impressions about the wine's appearance, aroma, taste, and aftertaste. This could include descriptions of the wine's color, clarity, intensity, complexity, balance, body, and finish.
What Are Different Types of Journals?
There are two types of journals: physical journals and digital journals.
Physical journals can either be bound or stapled. Physical journaling has lasting benefits over digital journaling, but both have their strengths and weaknesses.
Digital journal entries can also be stored, accessed, and shared easily from wherever. No need to carry your physical journal around with you everywhere you go. If you have a smartphone or a tablet, you can access apps specifically for journaling.
Leather Journal with Lined Pages :
What Is a Journal-Style Entry?
A journal-style entry is a form of diary writing where all or most entries are written with the date at the top, and each day is treated as an individual entry.
What Is Creative Journaling?
Creative journaling is a process that combines writing and art activities. It's a great way to help express oneself creatively, practice creativity with the written word, and keep an emotional record of one's daily experiences. The idea is to combine what you learn about yourself or from your observations in writing with some form of artwork on paper or canvas that reflects those thoughts. Creative journaling can mirror how we think, feel, act or want to expand ourselves spiritually.
You might also enjoy: 67 Daily Journal Prompts to Grow as an Individual
Final Thoughts on the Different Types of Journaling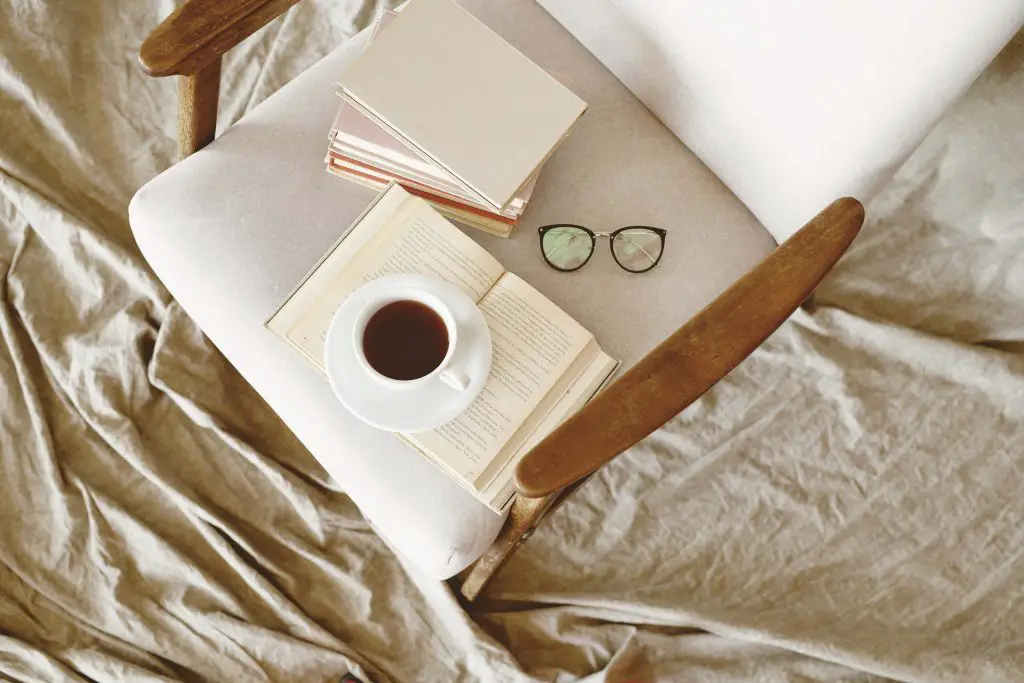 Journaling can be so powerful for anyone who wants to do some self-reflection.
We've given you a range of different styles of journaling, and now it's up to you to choose which one is best for your own needs. There are many ways that writers can organize, get creative ideas flowing again, or have some fun with their writing, so we encourage everyone who wants to write more often – no matter what style they prefer! What type of journaling do you think will work best for your needs? Let us know in the comments below!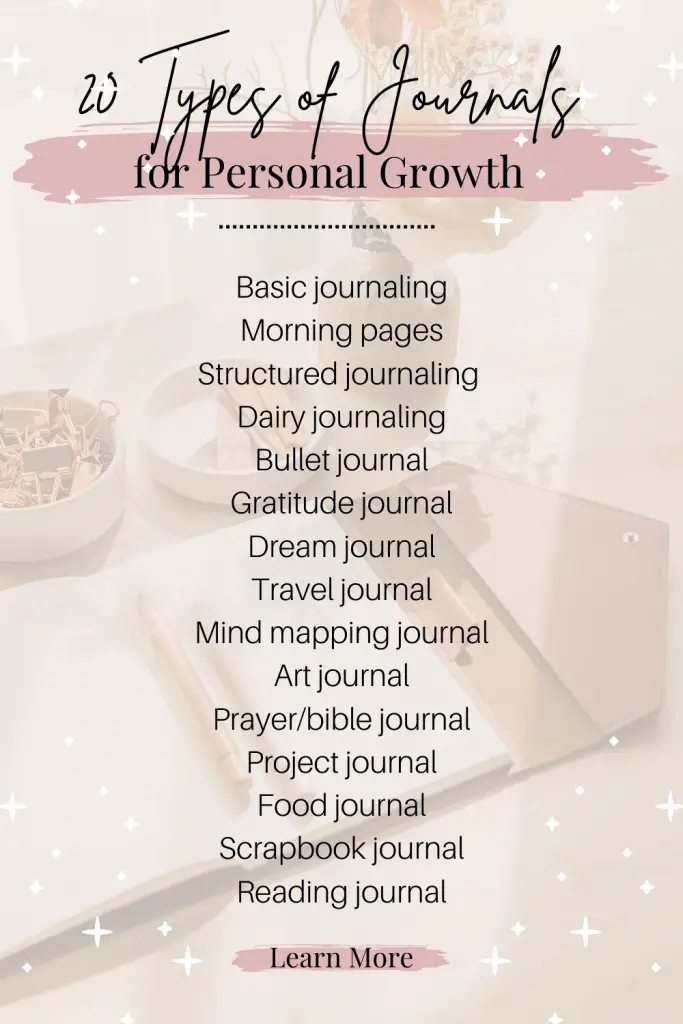 Frequently Asked Questions
What Type of Journaling Is the Best?
The best type of journaling depends on individual preferences and journaling goals. A personal journal, for example, is great for introspection and personal reflections, while a productivity journal might be more suitable for those seeking to enhance their efficiency in daily tasks.
How Many Types of Journals Are There?
There are countless types of journals, each with its own unique purpose. From traditional 'dear diary' formats to more specific types, such as a nature journal or a productivity journal, the possibilities are endless.
What Are All the Different Types of Journaling?
There are many types of journaling, including personal journaling, nature journaling, travel journals, productivity journals, and more. Each type offers a unique way to engage with your thoughts, feelings, and experiences.
What Is a Journal Writing Format?
The format of journal writing can vary depending on the journaling technique used. It could be a traditional 'dear diary' format, a structured layout with sections for different topics, or a free-write style where you simply fill the blank page with your thoughts.
What Is The 321 Method Journaling?
The 321 method is a journaling technique designed to streamline the process and make it more effective. It involves writing down three things you're grateful for, two things you want to improve, and one thing you're looking forward to.
How Do You Layout a Daily Journal?
A daily journal layout can include sections for dates, to-do lists, personal reflections, and happy moments. The layout can be customized according to your journaling practice and what you hope to gain from it.
Is There a Journal Template in Google Docs?
Yes, Google Docs has several journal templates that you can use to start your journaling journey. They range from simple blank pages to more structured layouts.
How Do You Start a Journal for Beginners?
Starting a journal for beginners can seem daunting, but a good first step is to decide on the type of journal you want to keep. From there, you can choose a blank notebook that suits your needs, and start by writing about your day, your thoughts, or your future self.
How Many Types of Journals Are There?
There are countless types of journals available, each designed to serve a specific purpose or cater to a particular interest. From personal journals for self-reflection to productivity journals for managing daily tasks, the options are limitless.
What Are the Different Types of Writing?
Different types of writing include narrative, descriptive, expository, persuasive, argumentative, reflective, analytical, critical, creative, poetic, technical, and report writing.
What Are the Different Styles of Writing?
The different styles of writing include the narrative, descriptive, expository, persuasive, argumentative, reflective, analytical, critical, creative, and technical styles.
What Are the Major Writing Styles?
The major writing styles are descriptive, narrative, expository, persuasive, and creative. Each style has its own purpose and techniques.
What Are Different Kinds of Journals?
Different kinds of journals include personal journals, productivity journals, travel journals, nature journals, dream journals, gratitude journals, and more. Each type of journal serves a unique purpose and can enhance different aspects of your life.
What Are Journaling Techniques?
Journaling techniques range from free writing (writing continuously without worrying about grammar or punctuation) to more structured techniques like the 321 method, bullet journaling, or using prompts to guide your writing.
What Is the Simple Journal Method?
The simple journal method involves dedicating a few minutes each day to write freely about your thoughts, feelings, and experiences. This technique encourages consistency in journaling practice and can be a great way to gain insight into your inner self.