You should always bring a jacket with you when you travel, but you probably do not have room for a heavy winter coat. It would be best to bring a lightweight travel jacket for women that will work for cool days as well as cold weather or nights. You just never know what the weather is going to do when you travel.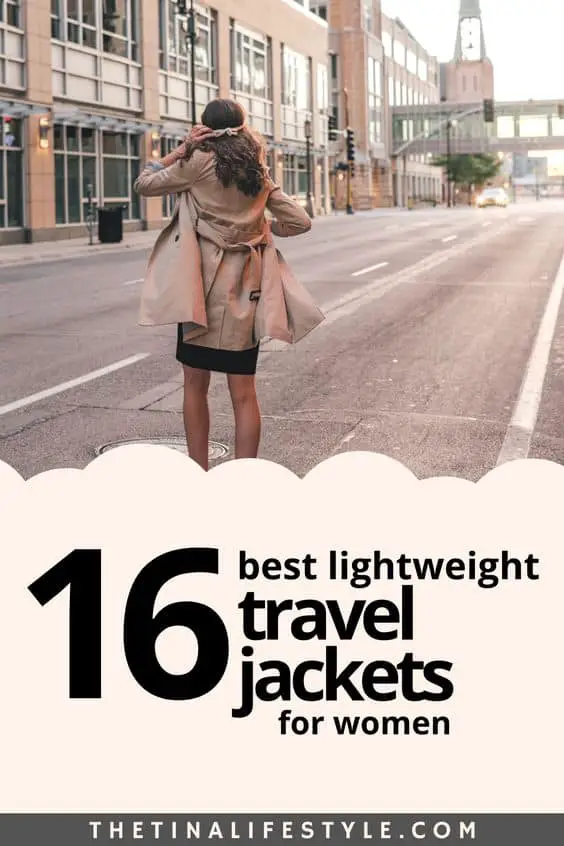 We are going to go over your different options for a lightweight jacket for women for traveling that is easy to pack and go. There are several different types and styles. In this article, we will include:
Rain jackets
Stylish jackets
Trench coats
Windbreakers
Before talking about the best travel jackets for women, you first need to know what you should be looking for and want to find. Do you want a thin coat that you can toss in your suitcase or a lightweight but warm winter coat? The material makes a big difference, as does the water and wind resistance. Let's look at how to choose the best lightweight women's jackets for travel. 
This post contains some affiliate links. If you click on the product links and make a purchase, it allows me to make a small commission at no extra cost to you! In return, it helps me maintain this site to continue to help you!
You might also enjoy: Travel Essentials list: 36 Essentials for Travel
Choosing the Best Women's Lightweight Jacket for Travel 
There are many different things to consider when choosing a lightweight travel jacket for women. Once you figure out where you are going, you can usually decide pretty easily. 
But what if you are traveling the world? Regardless, the weather can be difficult to predict even for the best meteorologist, so you may need more than one. The best is to choose a packable jacket that is lightweight. Lightweight jackets for traveling should be thin enough to pack or stuff in a bag. 
The Material Makes a Big Difference
The material used for the travel jacket may just be the most important factor. After all, you want something that is strong and durable without being heavy or bulky. Here are some of the best materials for a women's travel jacket.
Canvas is a good light material that is good for layering and can keep you warm. It can also be made weather and water-resistant with the right coating.
Cotton is nice and soft but does not do well resisting water and weather. It absorbs moisture and does not let your body breathe well. 
Gore-Tex is a high-performance product used in making quality jackets. They can be lightweight as well as warm and water-resistant.
Nylon is one of the best materials used for women's travel jackets. It is weather and water-resistant. It is also thin and breathable, and it can be layered without taking up much room.
Polyester is a nice material but is not typically water and weather-resistant on its own. It has to be coated in some kind of waterproof material or component.
Does it Need to Be Waterproof?
Those who say no to this question have probably never been caught in a surprise rainstorm while traveling. In fact, even if you do not get caught in the rain, you can get wet just from certain activities like boating and hiking. 
Can Your Body Breathe?
Your body has to breathe even when you are out in the cold. Otherwise, you are most likely going to be hot and sweaty underneath your jacket. Some jackets have a mesh inner layer that gives the best breathability while still being lightweight. 
Does it Have Enough Pockets?
No matter where you are going, you can never have too many pockets. You need a spot for your phone and your wallet. You may also need to carry a hat or gloves with you. An extra pocket or two for your hands can also be good. Inside pockets are really great for important items like money, tickets, and passports.
Can You Layer it?
You may be traveling in an area where the temperature is below freezing in the morning and heats up to the 70s by lunch. Then, it may drop to freezing again by dinner. Layering several thin jackets can be the perfect way to deal with this problem.
How Packable is it?
Some windbreakers and raincoats can be packed into a tiny bag you can put in your pocket. Compression bags for thin jackets are amazing for those who need extra room for other things. If it is thin enough, you can just lay it at the bottom of your suitcase, and it won't take up any room at all.
Top Lightweight Women's Jacket for Travel
Now we can look at the best travel jackets for women. These are the top-rated travel jackets. Women's jackets can be attractive as well as functional, so you may want to consider that too. The best jackets for travel can depend on your needs and where you are going as well. 
Rain Jackets for Women
With 30 colors to choose from and 4.8 stars, the North Face Resolve 2 is one of the best light rain jacket. Made with waterproof and breathable material, you can stay dry and comfortable all day. Check out these features:
10 sizes
100% windproof and waterproof
30 color choices
Adjustable hood fits everyone
DryVent Nylon ripstop 2L fabric
Has durable water-repellent finish and sealed seams
Storm flap keeps water out
Zip hand pockets keep your items safe
The Marmot comes with 4.7 stars and has a variety of color and size choices. You do not have to worry about getting wet with the high neck and lined patented polyester MemBrain material. And the Velcro cuffs and taped seams help you stay dry too. It also makes for a great lightweight spring jacket. Here are the details:
100% MemBrain polyester and velour inner layer
Six sizes
Six colors
The attached hood can be rolled up and the jacket packs into the neck pouch
Breathable Nanopro material
Drawstring hem for the perfect fit
Seams are taped to prevent leaks
Stay dry with this lightweight rain jacket from Charles River Apparel. With 4.6 stars, it has many colors and sizes to choose from, and it is very stylish. Don't worry about packing because it is thin enough to take up no room at all. Here are the main features:
10 sizes
100% polyurethane
28 colors
Adjustable cuffs
Covered zipper side pockets
Front vents for breathability
Heat-sealed seams
Lined with mesh for airflow
Reflective stripe for safety
With another rating of 4.6 stars, the Parka in a Pocket is the perfect travel companion since it fits inside its own pocket. And it is double-layered with two zippers to keep the water out. The adjustable drawstrings make the fit perfect and stylish. Here are some other features:
100% wind resistance
Three color choices
Five sizes
Attached hood with a drawstring
Packs into its own pocket for easy traveling
Water-resistant layers
Top Choice for Rain Jacket for Women
North Face is the winner in this category. Not just because it has a better rating but for the amazing choice of colors and sizes as well as the 100% wind and waterproof seams and material. Also, the DryVent Nylon ripstop 2L fabric is great for hiking and other rough activities.
Suggestion of Hands-Free Helper When Traveling: Custom Lanyards
A lanyard will help you greatly, in addition to a practical waterproof jacket while traveling. You can hang your key-chains, boarding pass, and even cell phone around your neck to free your hands.
Especially when you encounter rainy days, you will definitely appreciate the lanyards that help free up your hands to hold an umbrella.
Custom lanyards can not only provide you with convenience but also beautify your travel wear. You can put your imagination and creativity to work on custom lanyards to create recognizable lanyards.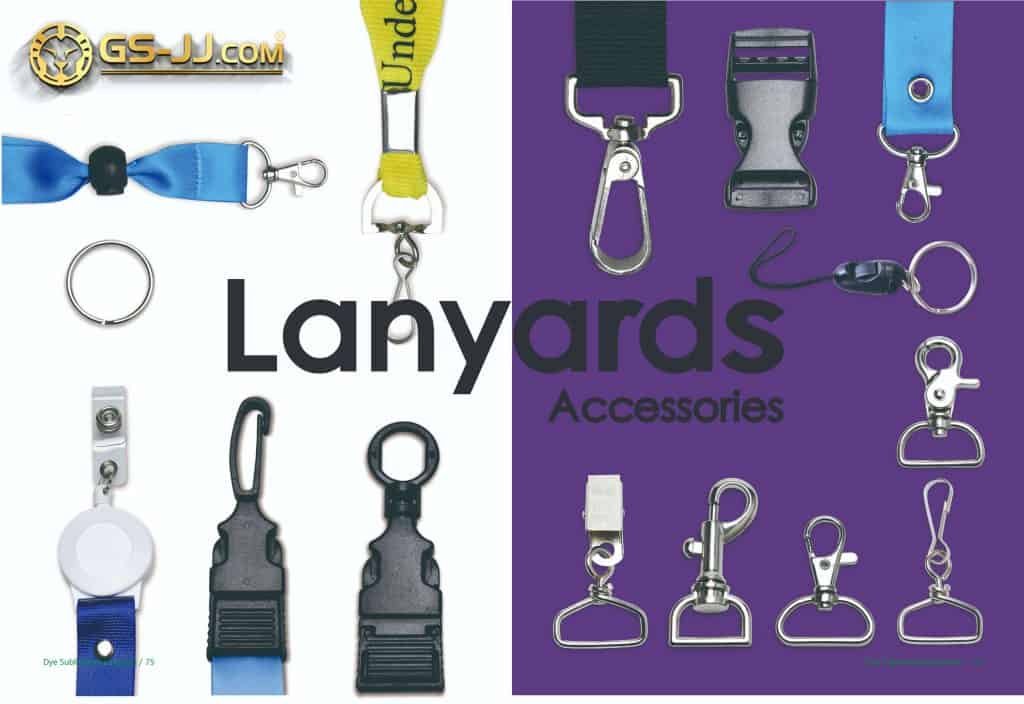 Stylish Jackets for Women
The Columbia Heavenly women's travel jacket earned 4.8 stars for its warmth as well as its style. Their patented Omni-Heat reflective lining provides extra warmth, but the breathable fabric helps keep you from getting too hot. Check out some of the main stats:
100% polyester Omni-Heat with Storm-Lite DPII
Five colors
Five sizes
Fits great for style as well as warmth
Has 100% synthetic down for insulation
Zippered side pockets keep your belongings safe
What gives this jacket 4.7 stars is the many color choices, so you can get several to match your outfits. And they are so thin you can just lay them on the bottom of your suitcase, taking up no room at all. It actually fits into the hand pocket if you would rather do that. Here are some other cool features:
100% nylon 2L fabric with a 100% polyester mesh lining 
35 color choices
Adjustable hood
Drawstring hem
Has zippered pockets for keeping items safe
Omni-Tech material is waterproof and breathable 
Packs into pocket
Volcom gets 4.7 stars, too, with its stylish polyester taffeta women's travel jacket. It comes in several stunning colors, even camouflage if you want to go hunting. And with all the size choices, you are sure to find the right fit. Look at some of the other features:
100% polyester coated taffeta outer shell
100% polyester mesh lining
28 sizes
Nine color choices
Drawstring hood
Keeps out wind and rain
Zip and button closures
The puffy and satiny North Face ThermoBall is stunning and has patented Eco Insulation made from recycled materials. The synthetic insulation keeps you warm, and the durable water-repellent finish keeps you dry. The slim fit lets you move around easily and packs into the hand pocket for convenience. Check out the features:
10 colors
100% polyester outer shell
100% water repellent
Seven sizes
Corded waist for a tailored fit
Eco insulation made of recycled materials
Fits into pocket
Lightweight
Zip pockets keep your important items safe
Top Choice for Stylish Jacket for Women
The Arcadia is the clear winner here since we are going for style, and this one has 35 color choices. It is also waterproof and packs into a pocket or will lay flat on the bottom of a suitcase. The durable 100% nylon 2L fabric is also a plus, and the breathability is a bonus.
Trench Coats for Women
With 4.6 stars, Helly Hansen's Long Belfast is not just waterproof and windproof but also stylish, so it almost ended up in the stylish category. But make no mistake, this long coat goes down to your knees and keeps your legs warm too. Here are some of the features:
100% polyester outer shell
15 colors
Nine sizes
Has a sporty design and adjustable fit
The mesh lining keeps you from getting too warm
Waterproof and windproof
Zippered pockets for keeping items safe
Another 4.6-rated jacket, the Pardon My Trench rain jacket, is adorable and comes in many colors. It also has a belt, which is something not seen on many jackets nowadays. The length keeps your legs warm, and the lightweight fabric is not too heavy. Look at some of the main features:
100% polyester fine mesh inner layer
100% polyester outside shell
18 colors
Six sizes
Adjustable hood and cuffs
Removable belt
Water-resistant
Zipping pockets to keep items safe
The Lomon gets a 4.6 rating too, and it deserves it with all of the nice features and styles. The length is perfect to keep your legs warm and dry, and the quick-dry material is good if you get caught in a rainstorm. Here are the details:
100% wind and waterproof
15 color choices
2% spandex and 98% polyester
Five sizes
Adjustable waist and hood for a perfect fit
Breathable pinstriped inner liner
Lightweight and easy to pack
Keeping you covered with a 4.6-star rating, the Zcfire covers your upper legs and provides excellent waterproof and windproof protection. The pinstriped inner lining is soft cotton, so it is as stylish as it is warm. Here are some of the features:
100% waterproof and windproof
Five colors
Five sizes
98% polyester and 2% spandex for room to move
Adjustable drawstring waist for extra style
Breathable for comfort
Button and zipper front
Button side pockets
Cotton-lined hood
Top Choice for Trench Coat for Women
The Columbia Pardon My Raincoat is number one here because of all the features as well as the very stylish belt that none of the others have. It comes in many colors and sizes as well and is adjustable to fit anyone. 
Windbreakers for Women
With 4.8 stars, this adorable women's lightweight travel jacket is very stylish and has many features. It doesn't just keep out the wind; it also keeps out rain and allows your body to breathe too. The two-color style is especially cute. Check out the details:
100% polyester
Four color combinations
Five sizes
Packs easily into the small chest pocket
Patented Omni-Shield advanced water and wind repellent
Patented Omni-Wick EVAP technology
Zipper pockets to keep items safe
Helly Tech is known for its three levels of protection, and it got 4.7 stars for this mid-layer jacket. Helly has been providing this unique technology in all its jackets and coats for many years. This keeps the wind and rain out where they should be while keeping you comfortable and looking good. Here are the specs:
100% polyester coated in the Helly Tech membrane
Five colors to choose from
Six sizes
Extra breathable for sports and hiking
Reflective tape on the back for safety
Zippered side pockets for keeping your valuables safe
The Charles River Pack-N-Go got 4.7 stars, is available in many colors and sizes, and is a fantastic lightweight travel jacket for women. The pullover style has a front pouch pocket for your hands with a zippered front pocket where you can keep your phone or other important items. Here are the other details:
10 sizes
100% patented Softex polyester
17 colors
Adjustable hood with shock cord
Breathable and lightweight
Packs in its own zippered front pocket
Another one with 4.7 stars, the Burton Sadie jacket, will keep you dry and comfortable no matter what you are doing. The patented lining helps regulate your body temperature, and the extra-long back will keep your back end warm and dry, too, even if you sit down. Check out these features:
100% nylon is water-resistant
Seven sizes
Nine colors to choose from
The attached hood is adjustable for a perfect fit
Button side pockets to keep your items safe
Drawcord at the waist and adjustable cuffs for style and function
Patented Dryride double-layer polyester inner is breathable and dries fast
The patented Living Lining has nylon taffeta for consistent temperature
Top Choice for Windbreaker for Women
Because of the triple levels of protection from Helly Tech, the Helly Hansen Women's Crew Midlayer Jacket is the winner in this category. It does the job of keeping out the wind as a good windbreaker should, but it also goes further with the Helly Tech membrane. It is also very stylish and comes in some great colors. 
The Best Lightweight Travel Jacket for Women 
The winner was hard to choose, but the North Face Women's Resolve 2 Waterproof Hooded Rain Jacket has the best features and color choices. The DryVent 2L fabric is also 100% waterproof and windproof, so you can stay dry and warm. But it also has DryVent ventilation so your body can breathe no matter what you are doing. Of course, the choices are not that simple for everyone. Depending on where you are headed and how much space you have, your choices may be different. But these lightweight travel jackets for women each have at least a few of the main features you need, and you can rest assured that they have all been authentically reviewed.
You might also enjoy the following: