Yellowknife locals are known for their friendliness, and they know how to make visitors feel welcome. Built on the shore of the Great Slave Lake, Yellowknife, Northwest Territories, is perfect for vacationers who love all the activities the great outdoors offer, but there are plenty of indoor activities to keep busy with if the weather gets too harsh. There's never a shortage of fun to be had in this unique city.
With a population just over 20,000, Yellowknife is the capital and only official city in Canada's rugged Northwest Territories. The city started as a mining town in the 1930s and has maintained its frontier-like qualities in many ways.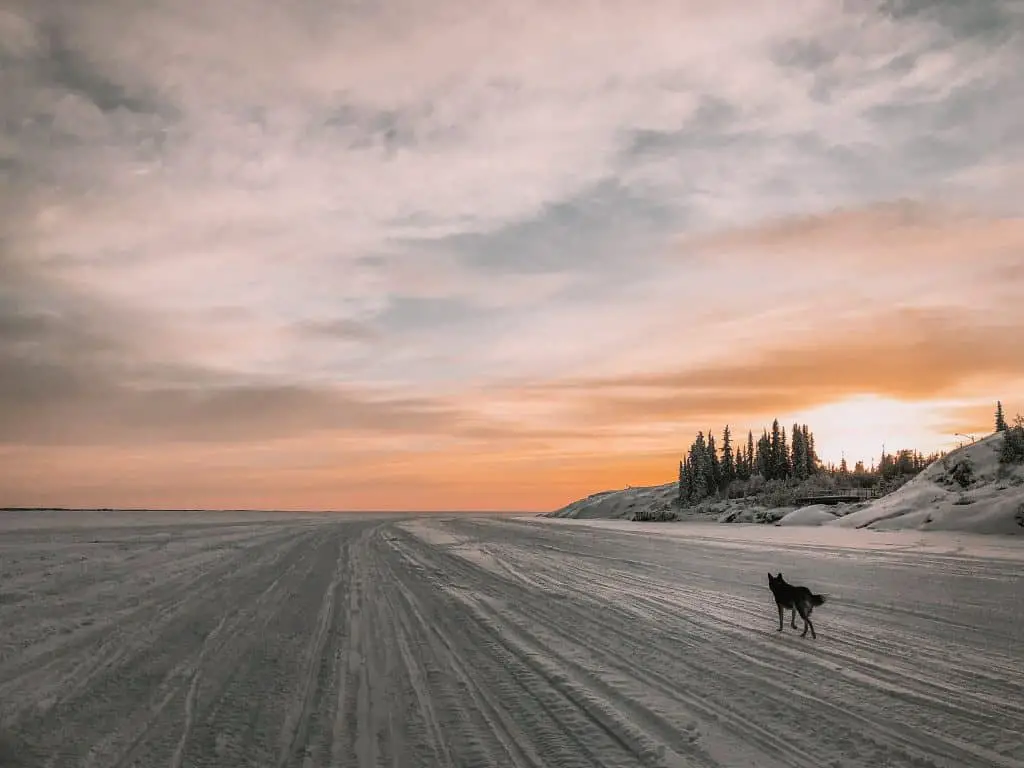 This site uses affiliate links and I may earn a small commission when you use my links and make a purchase without incurring additional fee yourself. Many thanks for supporting this website.
I moved to Yellowknife in 2018 for a new job and I absolutely love the lifestyle up here. I've been able to slow down and experience the outdoors like never before in my life. I'm so excited to share with you all the fun things you can do in Yellowknife.
You might be wondering if the TV Series Gold Rush was filmed in this part of Canada's North, but in fact, it was mostly filmed in the region of Dawson City in the Yukon.
20 Things to Do in Yellowknife
Yellowknife is the perfect winter adventure destination for cold-weather fun. From December to March, temperatures range on average from -10F to -2F degrees, guaranteeing a frozen playground for the usual frosty outdoor activities as well as some unique ones.
If you'd rather be basking in subzero temps faster, Yellowknife's regional airport serves flights from Calgary, Edmonton, and Vancouver. You can fly in from the Alberta cities in less than 3 hours, and from Vancouver in 7 hours.
The list that follows has been separated into "indoor" and "outdoor" activities, so you can quickly find what you're looking for depending on your mood or the temperature.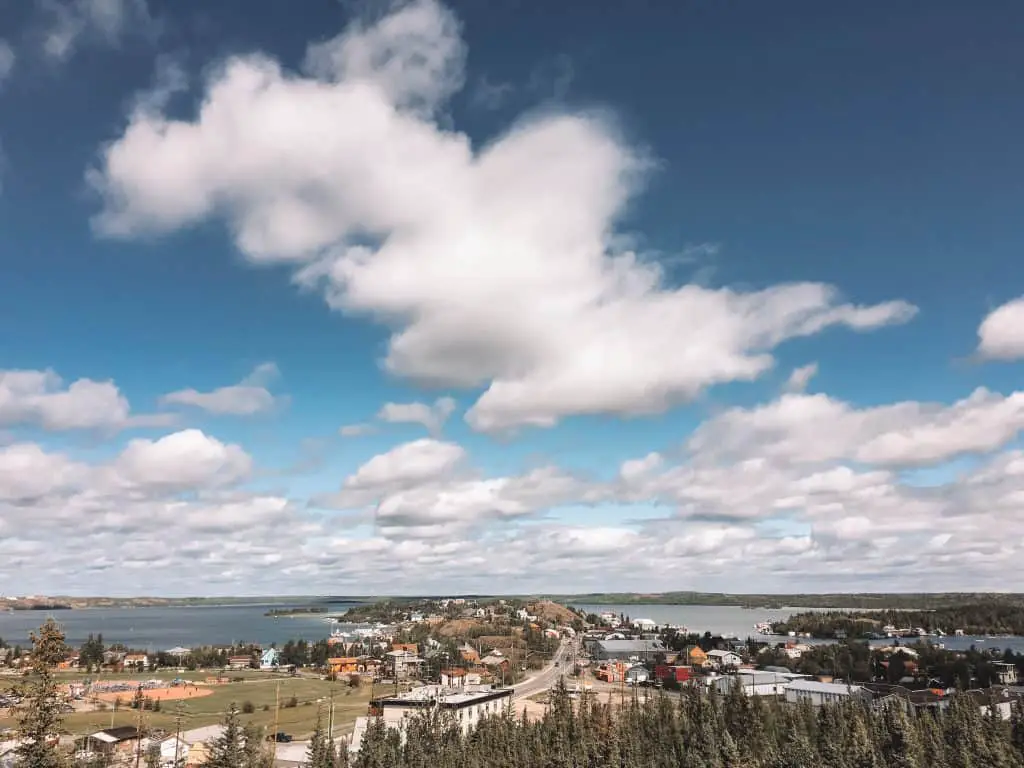 Indoor Activities to do Yellowknife
If you don't want to step foot outside, it's still possible to keep yourself entertained. Below are a handful of some favorite indoor spots to check out while visiting Yellowknife.
Gallery of the Midnight Sun
For over 30 years now, Gallery of the Midnight Sun has served as Yellowknife's premier fine arts gallery and crafts shop. Located in Old Town Yellowknife, this trading post carries all things from the North:
Arts and crafts
Clothing
Jewelry
Books
Souvenirs and gifts
The shop features items from local artists from across the North and gives workshops and demonstrations by appointment. Take your time browsing their extensive collection, or ask one of the helpful staff members to help you pick out the perfect gift.
Prince of Wales Northern Heritage Centre
The Prince of Wales Northern Heritage Centre, located near downtown on the shores of Frame Lake, is a museum celebrating the Northwest Territories' heritage and culture. The exhibitions center around the natural and cultural history of the area, from its Innuit peoples to the founding of Yellowknife. There is also photography and artwork by local artists.
The museum is free of charge and features a cafe and occasional events. It's definitely worth stopping by; plan for two to three hours if you want to see everything.
Legislative Assembly Building
The Legislative Assembly Building is the heart of the territory's government, where all the important decisions are made. It's a pretty interesting place to visit. They offer guided tours where you can learn more about the Northwest Territory's consensus government.
Some of the many things the building has to offer:
Stunning architecture built with local materials
Impressive great hall with a view of downtown
Local flora and fauna outside
Artwork and artifacts
Cafe
Outdoor Activities to do Yellowknife
It'd be a shame to visit a city like Yellowknife, that's smack dab in the middle of the boundless rolling beauty that is the Northwest Territories, without taking the chance to explore nature's glory all around you. Whether you're looking for adventure or just a nice view, we've got you covered.
You've come all this way to a beautiful frozen wonderland. It's time to discover what makes Yellowknife extra special. From festivals to dog sledding to the Northern Lights, Yellowknife offers some truly unparalleled opportunities for the winter visitor.
Aurora Borealis also known as Northern Lights
Early December through mid-April, with clear, cold 18-hour nights, offers you an excellent chance to be mesmerized by the majestic beauty of the dancing lights. 
Time your trip right, and you can enjoy the NAKA (meaning Northern Lights) Festival. Held during March, NAKA is Yellowknife's newest festival, a showcase of all that's great about the city. 
Dog Sledding
A not-to-miss event is the annual 150-mile season finale of the Canadian Championship Dog Derby, happening over three days in late March. It's an unforgettable moment when the gun sounds, and dozens of sled teams pulled by yowling dogs take off across the lake. 
To try dog sledding, check out Becks Kennels.
Snowking Festival
Yellowknife's annual Snowking Winter Festival is a sight to behold: a month of art and cultural events all held inside an enormous castle built of snow and ice. The winter Snow King festival is a perfect example of something you're not likely to find outside of Yellowknife, so take advantage of the opportunity to experience it if visit Yellowknife in the month of march.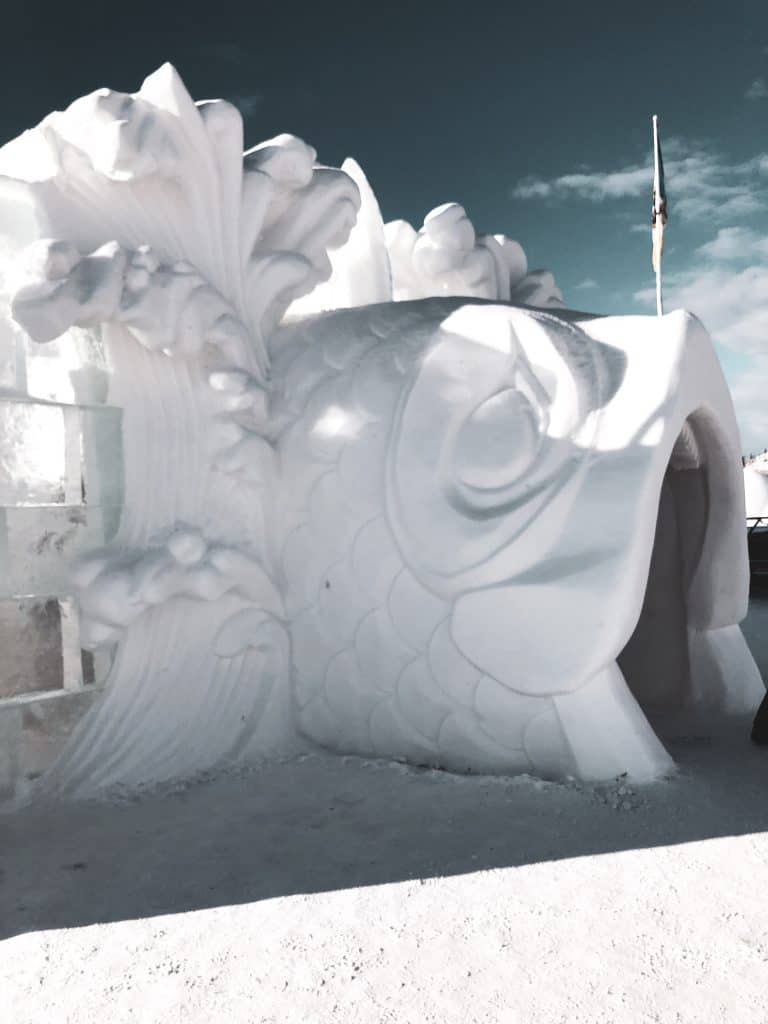 The festival has something for kids and adults of all ages:
Live music
Film festival
Live theatre
Ice slide
Art exhibitions
Workshops
Magic
Dance
This is just a small sample of everything offered in this winter wonderland, perched on Yellowknife Bay. The festive atmosphere, combined with the unusual location, make this festival an experience you won't soon forget.
Long John Jamboree
Another winter event held on Yellowknife Bay, the Long John Jamboree, is a winter festival complete with:
Ice carving
Artists' market
Dog Sled races
Carnival rides
Ice skating rink
Naturally, there are plenty of food vendors as well.
Crystal Grottos
Across Back Bay at Jackfish Draw Cliffs, view surreal ice formations and caves by exploring a grotto of ice.
Skijoring and Kite Skiing
This is similar to cross-country, but the skier is pulled by dogs or by kites. You'll find all the information you need such as how and where to skijor in Yellowknife here.
Bush Pilot's Monument in Old Town
Bush Pilot's Monument is a stone memorial to all the brave pilots (many of whom lost their lives) who made it possible to expand into the great Northwest. The simple monument is at the top of "The Rock" above Old Town and can be reached by a zigzagging staircase.

Because it's so high up, it offers a panoramic view of the city and surrounding wilderness, so it's definitely worth the climb.
Explore the Great Slave Lake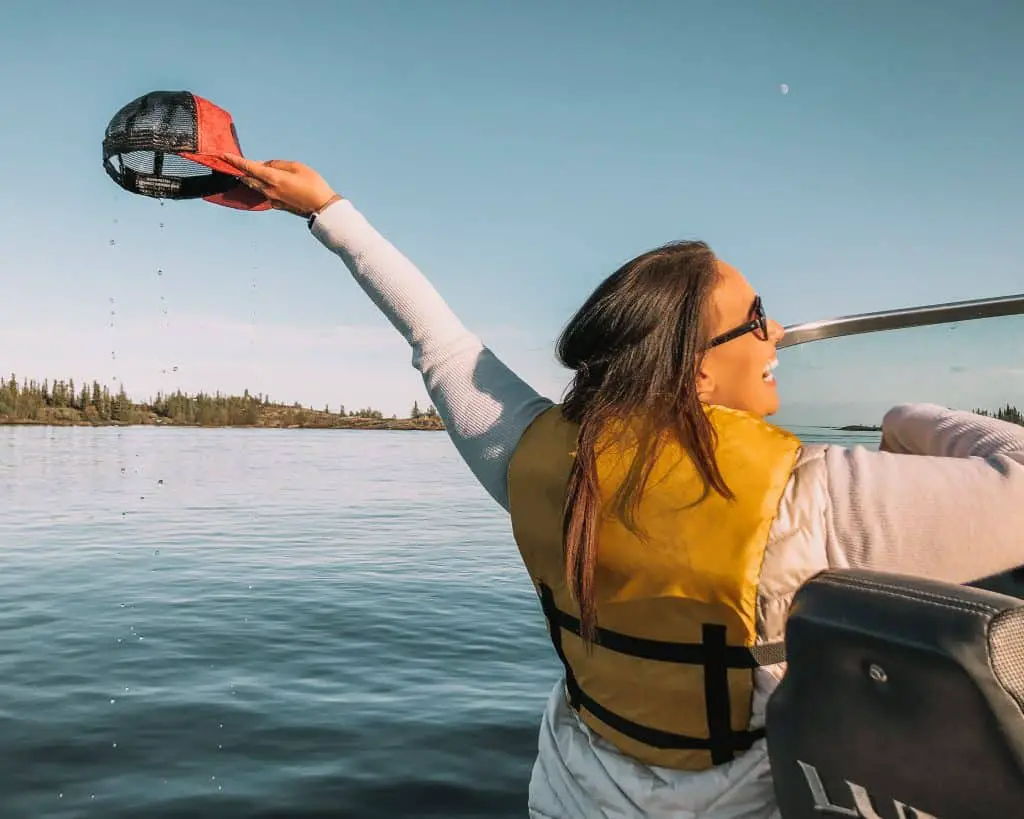 The Great Slave Lake is one of the largest lakes in the world and the deepest in North America. This lake has a history all its own, not to mention breathtaking scenery. From fishing to boat tours, there's plenty to do.
Outdoor lovers, history buffs, and adventurists will all find something to do on the shores of Great Slave Lake.
Aurora Village
Because Yellowknife is so far north, daylight ranges from five hours in the winter to 20 hours during the summer months, which can take some adjusting to. The stunning Northern Lights, or aurora borealis, can be seen in fall and winter months, though, arguably making up for the cold temperature.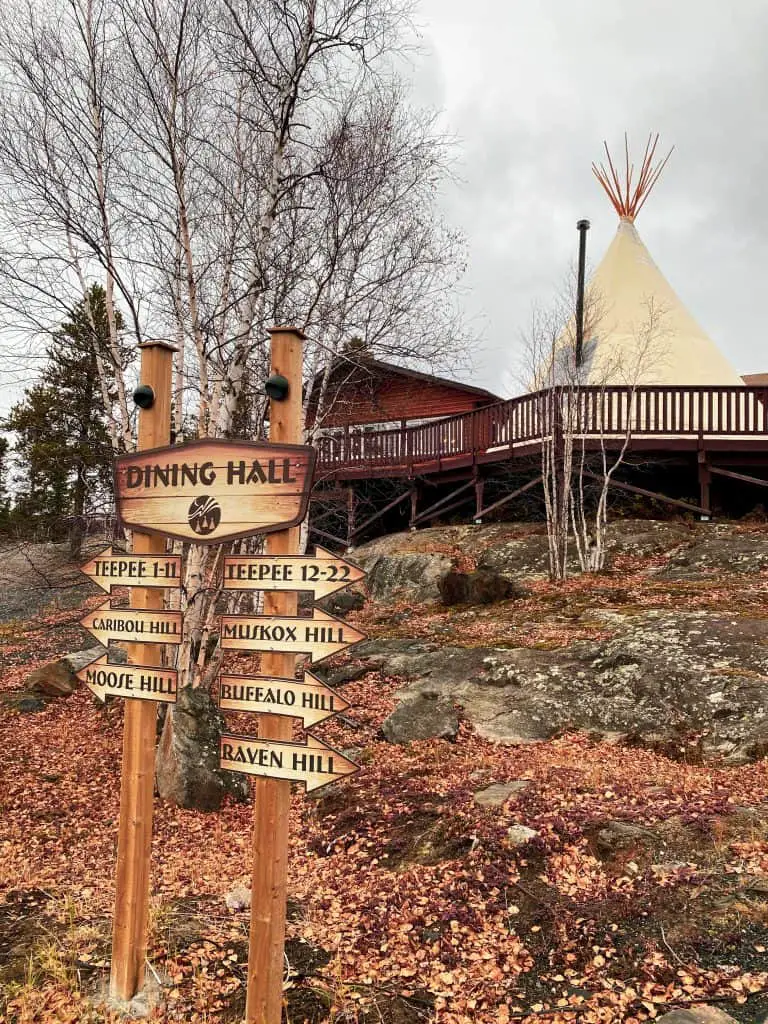 Aurora Village offers visitors year-round guided tours and activities as well as an unbeatable way to view aurora borealis. Activities include:
Aurora borealis viewing packages
Dog sledding
Snowshoeing
Ice fishing
Wildlife experience
Just about half an hour drive from Yellowknife, you'll find a teepee village designed with sustainability and convenience in mind, the teepees, dining hall, and outdoor restrooms are all heated, providing visitors a chance to thaw out in between activities. They've thought of everything, even offering rented winter wear.
Hiking
The best way to take advantage of Yellowknife's beauty is, of course, to explore it on foot. A couple of favorite hikes in Yellowknife are:
Frame Lake Trail: Frame Lake Trail circles the perimeter of Frame Lake, which you can loop around in about 45 minutes. It will have you walk by City Hall, the legislative assembly and the Prince of Wales Northern Heritage Centre. The trail is paved in some places and is appropriate for children. It's perfect for those who want to see a bit of wildlife without straying away from the city.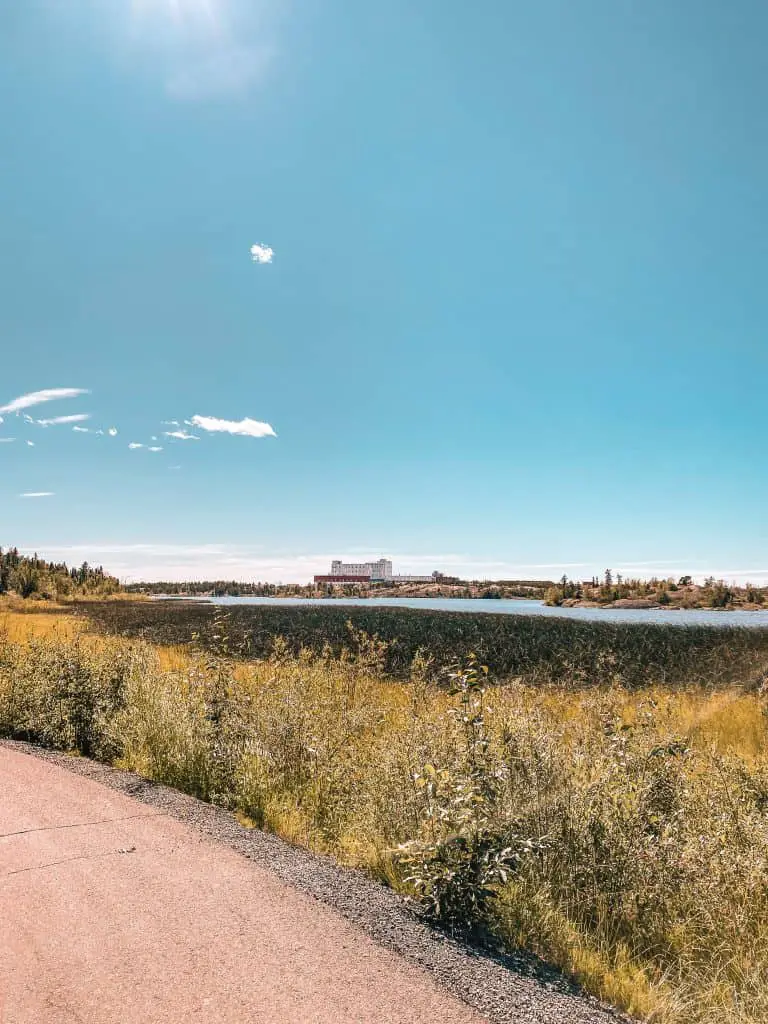 Cameron Falls Trail: Cameron Falls is a moderate hike just under 50 km outside of Yellowknife. The trail only takes about 15 minutes to complete but ends at a spectacular waterfall that makes the trip more than worth it.
Catching the sunrise and the sunset
What I love most about Yellowknife is the extra daylight that you get for a few months of the year.
On the official start to summer and the longest day of the year, the sunrise is around 3:39 am, and the sunset that day will be around 11:38 pm. That's 20 hours of daylight.⠀
Of course, you don't get all this daylight without getting a lot of darkness during the winter months. What's really neat about that time of year is that you get to witness the sunrise and the sunset every day.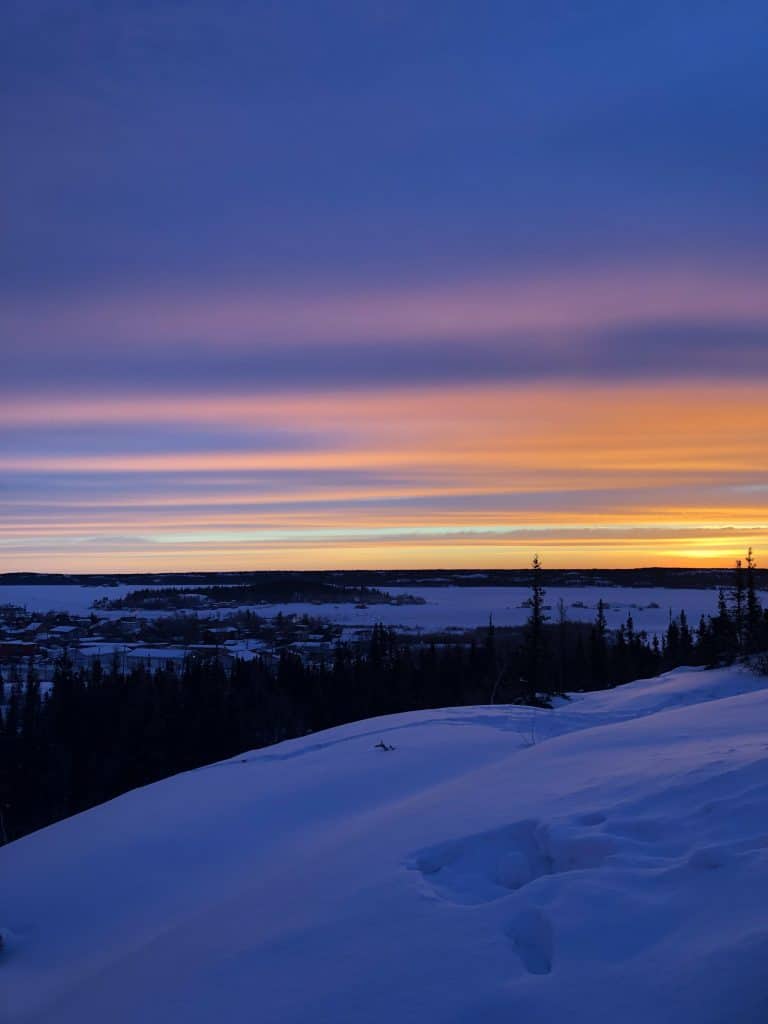 The sunsets and sunrises are something else here. They last longer, they are more colourful, and they take a lot more space in the sky. It's one of my favourite parts of living in Yellowknife.⠀
Where to stay in Yellowknife
There are two hotels that I would recommend in Yellowknife. The first one is The Explorer Hotel, and the second one is the Chateau Nova Hotel. They are both located in downtown Yellowknife, a great location. If you chose the Explorer hotel, try to get a room on the side overlooking Great Slave Lake. You'll be in for a treat.
Where to eat in Yellowknife
We have lots of favourite places in the city for takeout of to treat ourselves to dinner in town. The NWT Brewing Company is a favourite amongst locals. They brew their own beer and offer a great menu and atmosphere. For the best sushi, check out Such Cafe. For some wood-fire pizza, check out the Copperhouse, and for fabulous authentic Ethiopian food, you'll want to go to Zehabesha restaurant. And finally, for a unique experience, a must-go-to place during your stay is Bullocks Bistro.
Final Thoughts on Visiting Yellowknife, Northwest Territories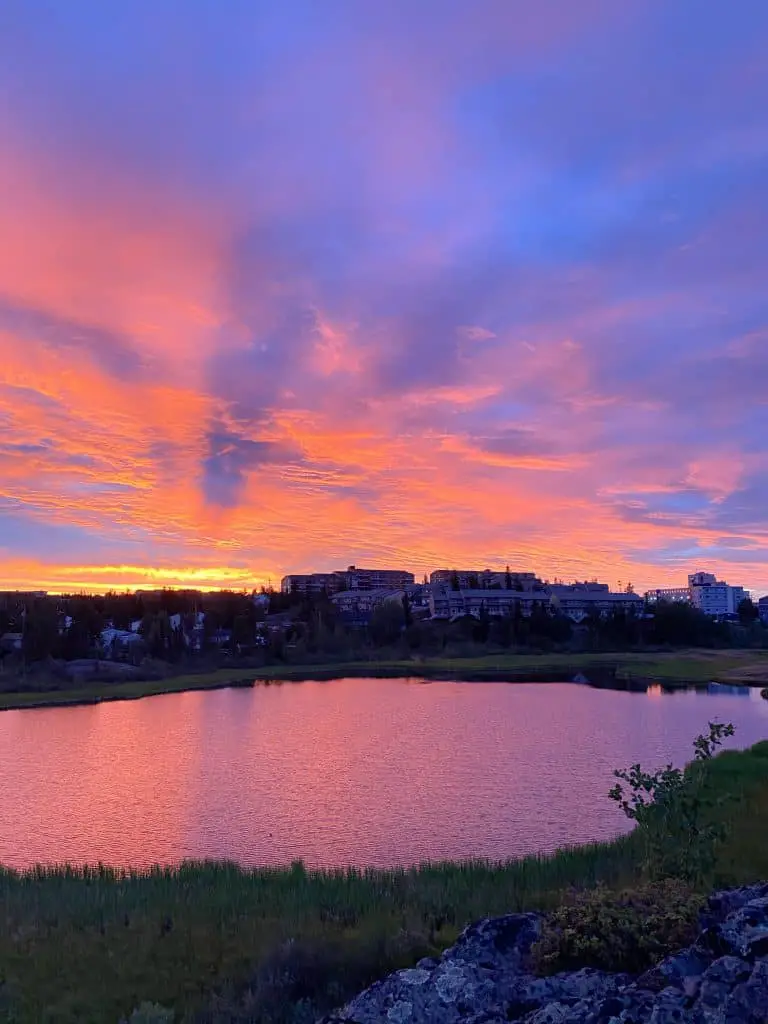 We hope you use this list as a guide when you decide to explore the raw beauty of Yellowknife for yourself and experience all that this unique city has to offer. A lot is waiting for you up North!
Frequently Asked Questions 
What Is Yellowknife Canada Known For?
Yellowknife is the capital of Canada's Northwest Territories. It is located on the shores of Great Slave Lake, about 500 miles north of Edmonton. The city gets its name from the Yellowknife tribe of indigenous people who have lived in the area for centuries. European settlers arrived in the early 1800s, and Yellowknife quickly became an important trading post for furs and minerals. Today, Yellowknife is a modern city with a population of just over 20,000 people. However, it still retains its small-town charm. It is a great place to see the northern lights and enjoy the long summer days. Yellowknife is also home to some of Canada's best-preserved national parks, making it a popular destination for outdoor enthusiasts. Whether you're looking for adventure or just want to relax in a beautiful setting, Yellowknife has something to offer everyone.
Is Yellowknife Worth Visiting?
Yellowknife is definitely worth visiting! This small city in the Northwest Territories is situated on Great Slave Lake and is known for its unique landscape and northern lights. Visitors can enjoy hiking, canoeing, and fishing in the summer months, and cross-country skiing and dog sledding in the winter. Yellowknife is also home to a variety of shops and restaurants, as well as a number of tourist attractions such as the Prince of Wales Northern Heritage Centre and the Somba K'e Park. With its beautiful scenery and variety of activities, Yellowknife is definitely a city worth visiting!
Is Yellowknife a Good Place to Live?
There is no doubt that Yellowknife is a great place to live. The city has a lot to offer, from its stunning natural scenery to its vibrant culture and community. And, of course, the Aurora Borealis is an incredible sight that can be seen from Yellowknife on clear nights. Overall, there are many reasons why Yellowknife would be a great place to call home.
How Cold Does Yellowknife Get?
Yellowknife, the capital of Canada's Northwest Territories, is no stranger to cold weather. Situated just north of the Arctic Circle, Yellowknife experiences an average of 327 days with temperatures below freezing each year. Although Yellowknife is one of the coldest cities in Canada, it is also one of the sunniest cities in the country, with an average of 2,157 hours of sunlight per year. Yellowknife is also home to Aurora Borealis, or the Northern Lights. This natural light show can be seen from September to April and is one of the main attractions for tourists visiting the city.
How Many Days Should I Spend in Yellowknife?
The length of your stay will depend on what kinds of activities you want to do and whether you are visiting in the summer or winter. However, we recommend that you spend at least three days in Yellowknife so that you can experience all that this amazing city has to offer. Depending on when you visit, there are a variety of activities to enjoy. In the summer, you can explore the great outdoors, go fishing or hiking, or take a scenic boat tour. In the winter, you can try your hand at dog sledding, snowmobiling, or ice fishing. No matter what time of year you visit, there is always something to do in Yellowknife. 
If you're primarily interested in seeing the aurora borealis, then you'll need to plan your trip around the aurora season. The best time to see the northern lights is typically from late August to early April. 
What Is Yellowknife Most Known For?
For many people, the first thing that comes to mind when they think of Yellowknife is the Aurora Borealis, or Northern Lights. Indeed, this natural phenomenon is one of the main reasons why tourists flock to the city each year. However, there is more to Yellowknife than just the Northern Lights. The city is also home to a thriving arts and culture scene, with numerous galleries and museums to explore. Outdoor enthusiasts will enjoy hiking and camping in one of the many nearby parks and wilderness areas. Whether you're looking for a breathtaking natural wonder or a vibrant cultural experience, you'll find it in Yellowknife.
Can You See Northern Lights in Yellowknife?
One of the best places to see Northern Lights is in Yellowknife, Canada. Situated near the Arctic Circle, Yellowknife offers clear skies and dark nights, both of which are ideal for aurora watching. In addition, there are a number of tour operators in Yellowknife that offer aurora-viewing excursions. So if you're looking for an unforgettable experience, be sure to add witnessing the Northern Lights to your bucket list.
What Is the Best Month to See Northern Lights in Yellowknife?
The best time to see the Northern Lights in Yellowknife is typically between August and September. During this time of year, the nights are long enough to provide plenty of darkness for optimal viewing conditions, but the weather is not as cold as it is in winter. Late August and early September are typically the best months to catch a glimpse of the aurora borealis. However, it is important to keep in mind that the Northern Lights are a natural phenomenon, and their appearance is impossible to predict with 100% accuracy. Even if you visit Yellowknife during the ideal time of year, there is no guarantee that you will see the Northern Lights. However, your chances of seeing them are significantly higher the darker and clearer the sky. 
Can You See the Northern Lights Every Night in Yellowknife?
Yellowknife is one of the best places in the world to see the Northern Lights, due to its location and clear night skies. However, the Lights are not visible every night. Solar activity varies, and even when there is high activity, clouds can block the view. The best time to see the Lights is typically between September and April, when there is less daylight and more darkness. During peak activity, the Lights can often be seen multiple nights in a row. However, there is no guarantee that they will be visible on any given night. For those hoping to catch a glimpse of this stunning natural phenomenon, patience and flexibility are key.
Can You Fly From Whitehorse to Yellowknife?
Yes, you can fly from Whitehorse to Yellowknife. However, there are no direct flights at the time of writing this, so you will need to check with the airlines for flight options. Air Canada, West Jet and Canadian North are you best bets for flight options from Whitehorse to Yellowknife. If you're looking to travel between these two great cities, be sure to check out the flight options with the airlines first.