Kennebunkport, Maine, is an idyllic small town in southern Maine with less than four thousand residents. It attracts tourists from all over the country for quaint and cozy getaway vacations. Situated right on the New England coast, Kennebunk has a unique atmosphere and natural wonders that keep tourists coming back. Travelers can relax, walk along the beach, shop, and experience provincial life at its finest. We hope you'll enjoy all the things to do in Kennebunkport, Maine, that we have to suggest for you. 
Kennebunkport, Maine's most popular attractions include shopping in Dock Square and walking along Parson's Way for gorgeous views of the coast. This small town has plenty of lodging options, restaurants, museums, and galleries where visitors can get to know the town and enjoy a quiet weekend escape from the city. 
While Kennebunkport's most popular attractions are worth checking out, there are also plenty of hidden gems that some visitors often miss when they stay in town for the weekend. Check out this list of fantastic attractions, hotels, and restaurants to explore while visiting Kennebunk.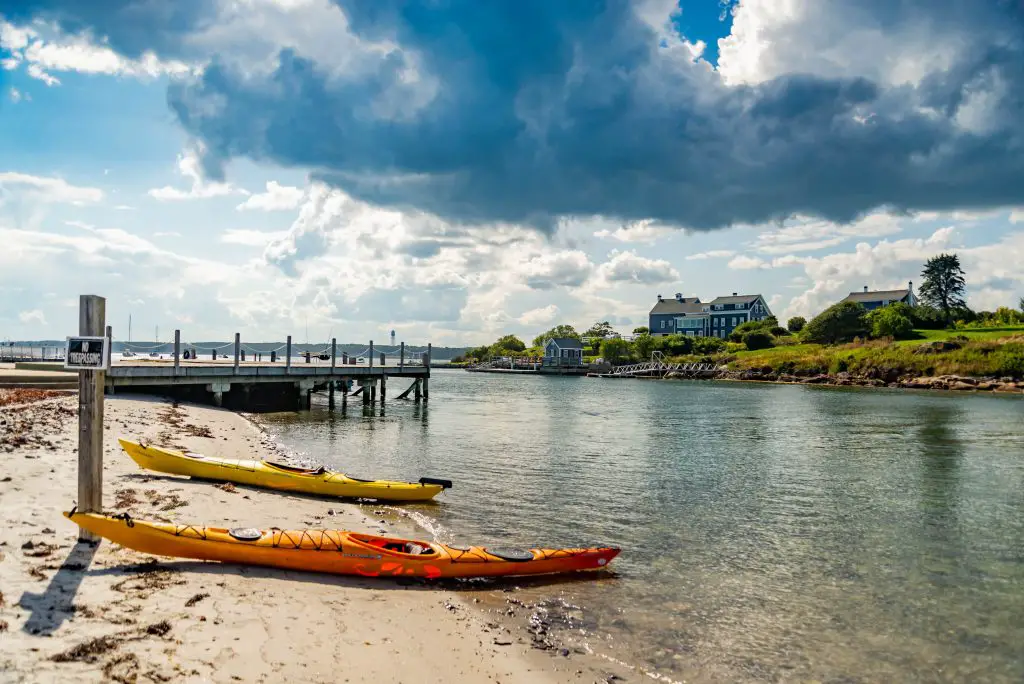 This post contains some affiliate links. If you click on the product links and make a purchase, I can make a small commission at no extra cost! In return, it helps me in maintaining this site to continue to help you!
What is Kennebunkport Famous For?
Kennebunkport is known as your ideal beach town where seafood restaurants are abundant, and spending time along the water, whether strolling along the beach, whale watching or sailing, are many residents' and tourists' most favourite activities. 
Along with the popularity of water activities, Kennebunkport is also known for its small-town atmosphere. Representing many New England towns where everyone knows each other, and tourists often enjoy the casual and friendly atmosphere. 
However, if you're looking for a weekend of luxury, then Kennebunkport has also got you covered. It's home to many wealthy east coast residents because of the pristine location; the Bush family even vacation here at their compound at Walker's Point.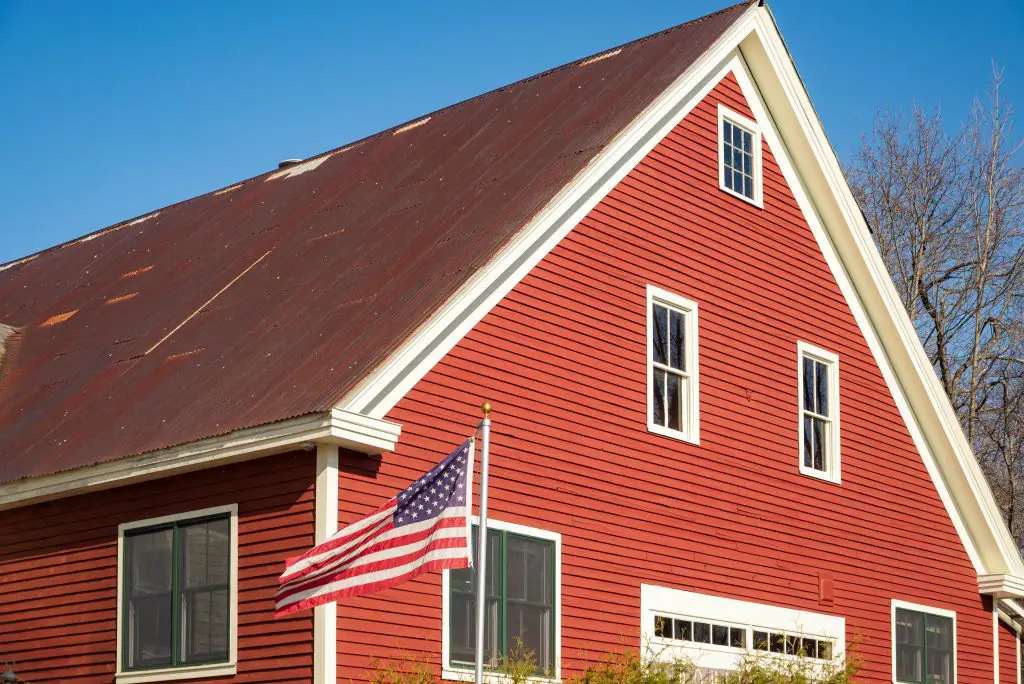 Kennebunkport Hotels to Consider
Maine is known for its small-town charm. Meaning that it is brimming with rustic and warm inns, cottages, and bed and breakfasts. Many lodging options don't have too many rooms, but the hospitality you'll experience while staying at any Kennebunkport hotel is sure to be amazing. 
For a comprehensive list of fantastic places to stay in Kennebunkport, check out this list of many visitor's favorite places to stay. 
Options like the Captain Lord Mansion and the Colony Hotel are Kennebunkport staples. They seamlessly blend historic architecture and style with luxury amenities. No matter what type of lodging is your preference, there is a hotel in Kennebunkport to meet your needs.
Kennebunkport Attractions that Should Be at the Top of Your Bucket List 
Practically every square inch of Kennebunkport consists of immaculate coastal views and charming small-town streets. 
Listed here are some of the best views and attractions you should put at the top of your itinerary during your stay. 
Drive Down Ocean Avenue
A perfect way to get a lay of the land in Kennebunkport, Maine, is to drive down Ocean Ave. This two-mile route connects the popular shopping district Dock Square to Cape Porpoise. Along this drive, you can get a glimpse at plenty of other extremely popular destinations such as Walker's Point and St. Ann's Church. 
Walker's Point is the famous peninsula where the Bush compound is located. You can't tour the compound, of course — the Secret Service might have something to say about that.
However, the magnificent beauty of this root is at its peak during sunset. You can enjoy bright pink, orange, and purple sky while the sun sets along the water.  Walker's point is also a vantage point for absorbing many scenic views around, especially early in the morning.
Driving along Ocean Avenue is a great way to see what your stay in Kennebunkport could entail.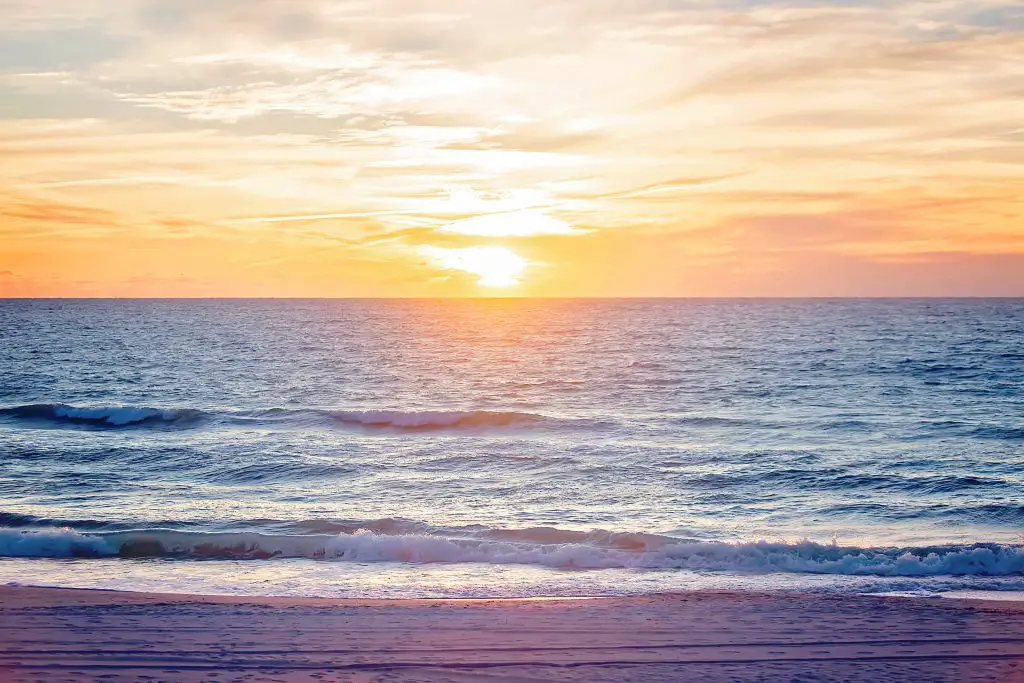 Do you and your loved ones enjoy the beach? You might want to check out this guide of 34 World's Best Beach Gifts
Put on Your Hiking Boots and Walk Along Parson's Way 
You'll find incredible views of the Maine coastline along Parson's Way, a natural trail parallel to Arundel Beach. If traveling with a dog, it's a great place for a walk as well as to look at the luxury cottages that line the trail. 
There are a few different beaches you're likely to come across if you walk this trail. The most popular are Mother's Beach, Colony Beach, Middle Beach, and Gooch's Beach. Many of them include facilities and small benches where you can relax with a view. 
If you're curious about the infamous Bush family retreat at Walker's Point. It's a paved trail, which makes it a great leisurely stroll along the rocky Maine coastline.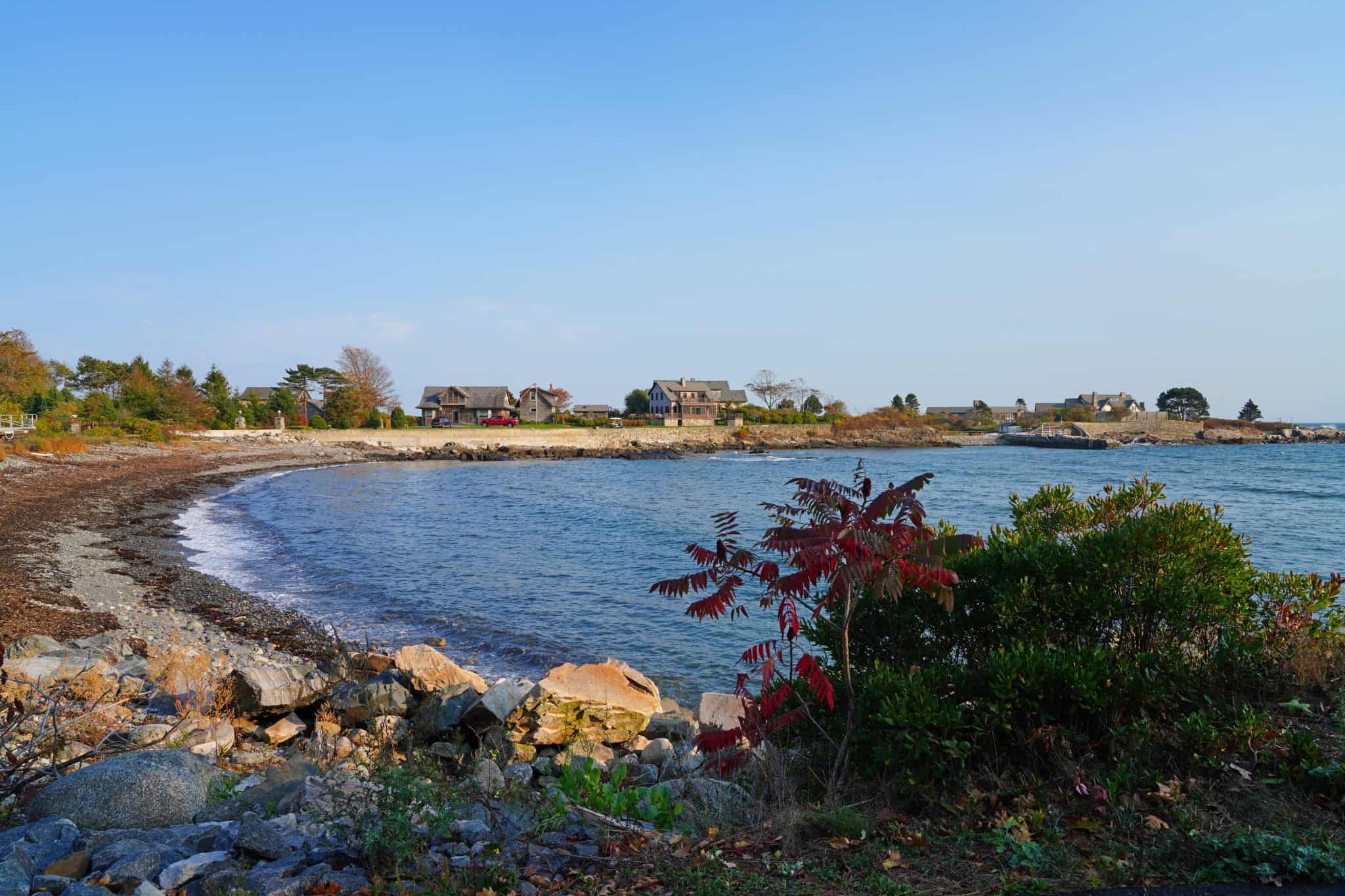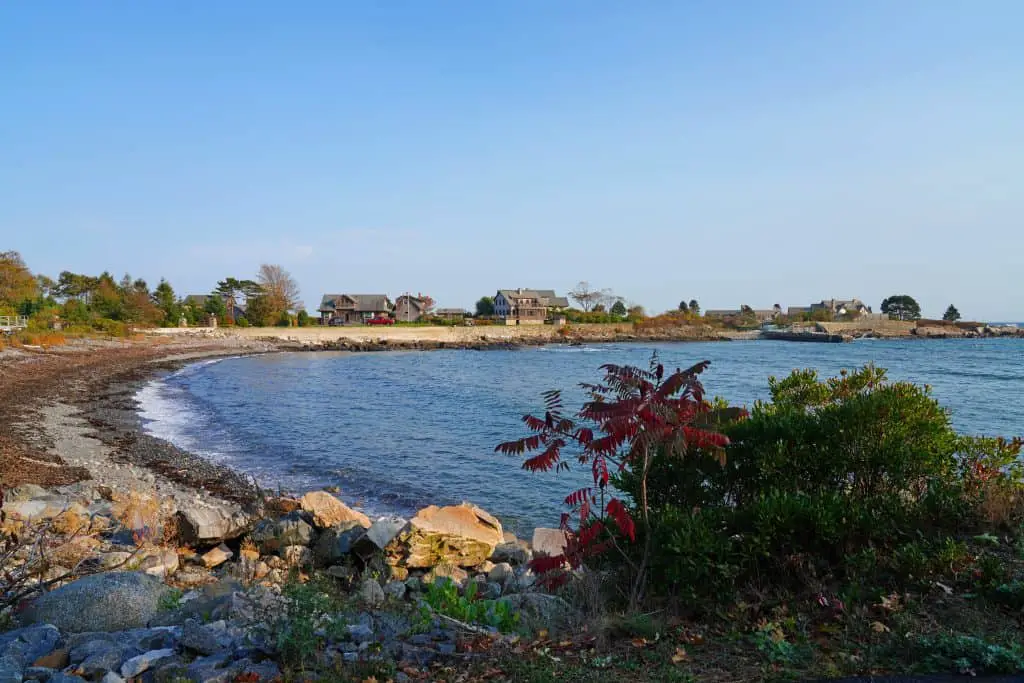 Tour Saint Anthony's Monastery 
For a breezy and serene walk through natural paths and the beauty of Kennebunkport, you have to take a tour through Saint Anthony's Monastery. 
The friars are very welcoming to visitors who are free to explore the gardens, chapels, and any number of pathways that lead through the incredible architecture and natural beauty of the campus. Enjoy the sounds of the rushing water of the nearby Kennebunk river and hear the birds chirp as you explore this beautiful site. 
Take a Sailing Tour of Coastal Maine
If you're ready to stop gazing at the water from the coast and want to venture out into the ocean for some adventure, you have to take a sailing tour of the Kennebunkport shore. 
The Pineapple Ketch sailing tours are some of the most popular and beautiful options for anyone looking to enjoy top-notch views of the coast. The Pineapple Ketch provides plenty of options for sailing times to suit every visitor's needs. Whether you need a serene sunrise or sunset sail along the coast or a choppier and more adventurous type of experience, you can set sail doe a relaxing cruise in the afternoon.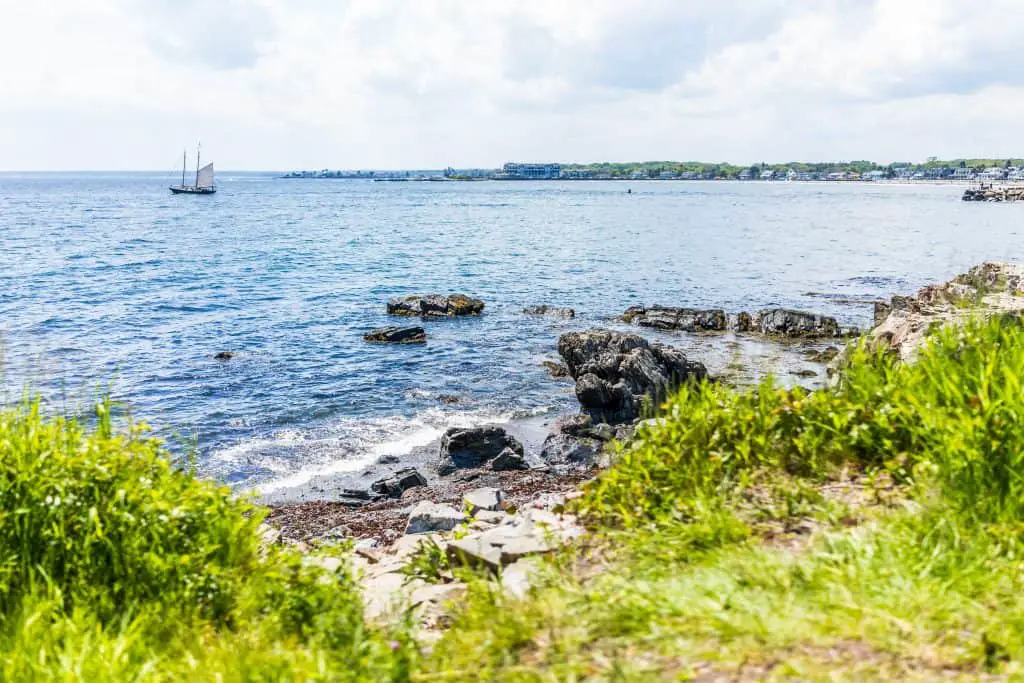 There's even complimentary water and soda provided, but guests are also more than welcome to bring their own snacks and drinks along the way for these 2-hour excursions along the water. 
Sailing is part of this town's history and culture, so you will not be disappointed if you choose to take a sailing tour.
Go Shopping at Unique Boutiques in Dock Square
Dock Square is located right at the heart of Kennebunk, which makes it a prime location to get a sense of the town and shop through the local boutiques, walk through beautiful art galleries, and see more of the iconic New England architecture style.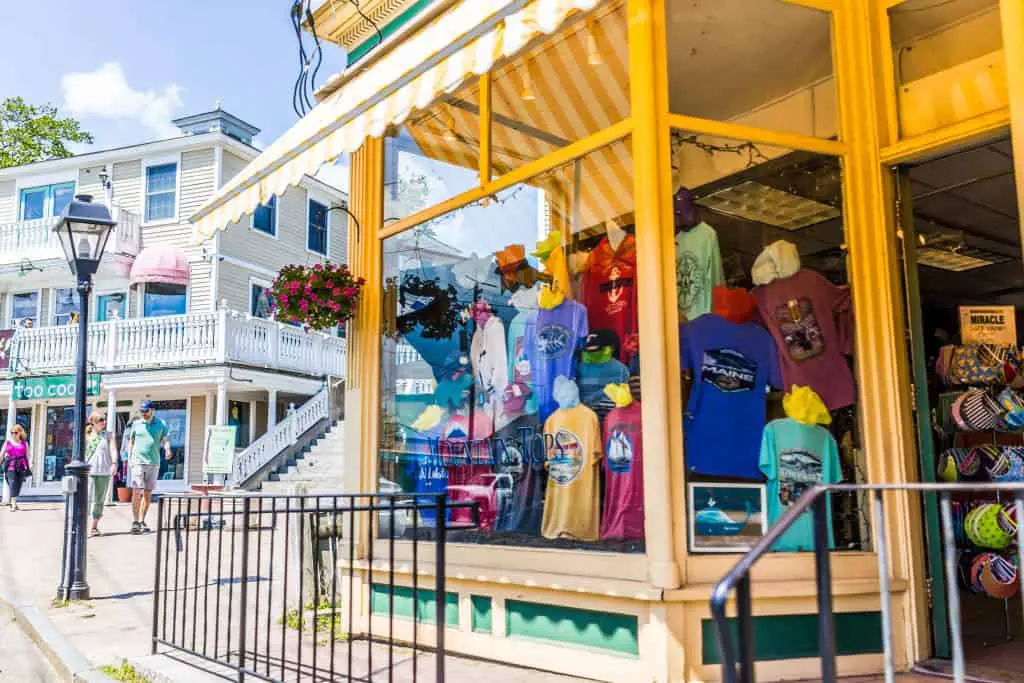 If you get tired of walking through the streets and need a place to rest, there are plenty of cafés with tasty coffee and pastries. If you fancy a foodie tour, you can have a heartier lunch in Dock Square.
Dock Square caters to every type of visitor, and the views are to die for. The Wedding Cake House found in Dock Square is the most photographed house around. The house is light yellow and has a whimsical wedding cake shape; worth seeing.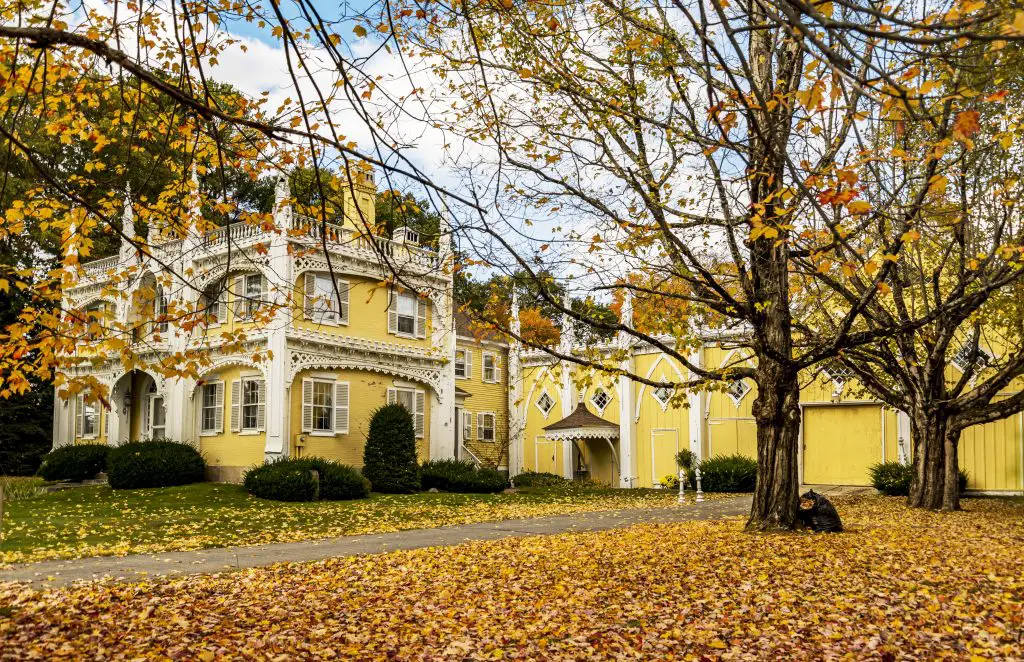 The food, museums, and small-town charm are abundant in Dock Square, not to mention it's the best place to support local businesses and shops and some amazing boutiques. Visitors can buy incredible hand-crafted art, gifts, and jewelry in any number of the shops that line the streets of Dock Square. Here, you'll find everything from unique souvenirs, to fine art, to specialty foods.
You can easily spend an entire day walking in and out of the stores and galleries, especially with plenty of options to replenish with a cup of coffee or a good cocktail and great local food options. 
Visit the Clam Shack
Travelers and locals alike say you can never go wrong with a meal at the Clam Shack. Grab an authentic New England lobster roll here and eat it outside under the breeze and the sun for the perfect afternoon. 
A Maine Foodie Tour is a visitor's favorite, and you will get to sample the best lobster from one of the most popular spots in town, the Clam Shack. The samples from a food tour might not be big enough to satiate lobster cravings. To get a full-sized Main style lobster roll that will make you full, be sure to visit the Clam Shack early when it's opening to avoid queues.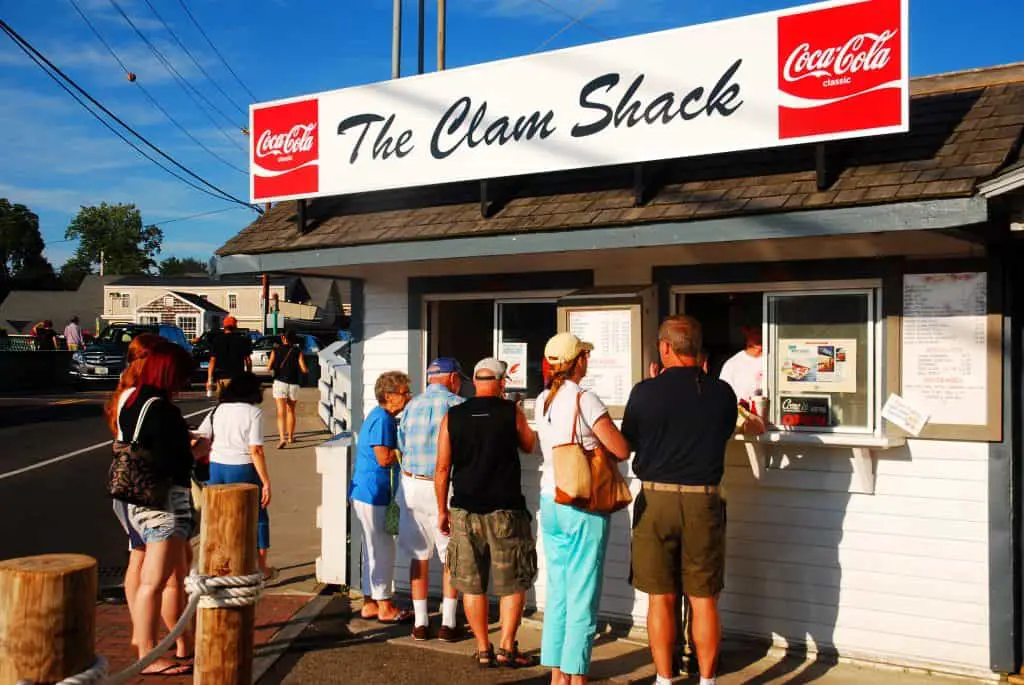 Visit St. Ann's Episcopal Church 
St. Ann's Church is an Episcopal church located right on the coast of Maine. This church's rustic stone architecture and greenery of the surrounding area make it a fantastic spot to explore and learn more about Kennebunk's history. 
Every once in a while across the year, the church chooses a vantage point where they host outdoor mass, allowing visitors to enjoy picturesque gardens and grounds that encircle the building. 
Built in the late 19th century, this church welcomes visitors from all walks of life and regularly uses donations to benefit the surrounding Kennebunkport community. This is a great way to give back to the town and support the residents as a traveler.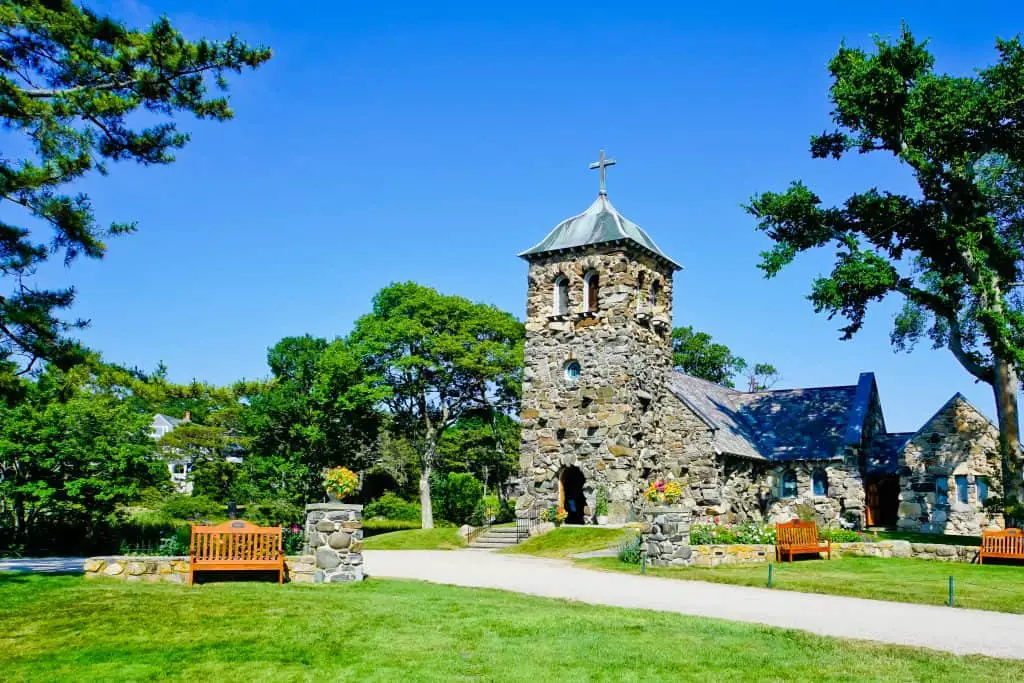 The beautiful architecture is definitely worth seeing, and the fact that it's located right along the coast also makes it a beautiful spot to enjoy some fantastic views as it overlooks the Atlantic Ocean and Kennebunk River.
The architecture of the chapel, the stained-glass windows of the interior, the lush green gardens and grounds that surround the area, along with the breathtaking coastal views make St. Ann's Church a must-see spot while visiting Kennebunkport, Maine. 
Stroll Along Goose Rocks Beach 
You can't visit a coastal town like Kennebunkport and not visit at least one of the pristine beaches available to the public. 
Goose Rocks Beach is a three-mile stretch of soft sand where visitors can bathe in the sun's glow and relax along the water. 
Especially if you're traveling with your family, including children, Gooch's beach is lauded by visitors as one of the safest and most family-friendly beaches of the New England coast. The sand is comfortable enough, and the water feels just right so that visitors can lounge on the beach while kids splash and play in the water all day. 
When swimming isn't the best idea during high tide, you can stroll along the stretch of sand and come across small hermit crabs and beautiful seashells.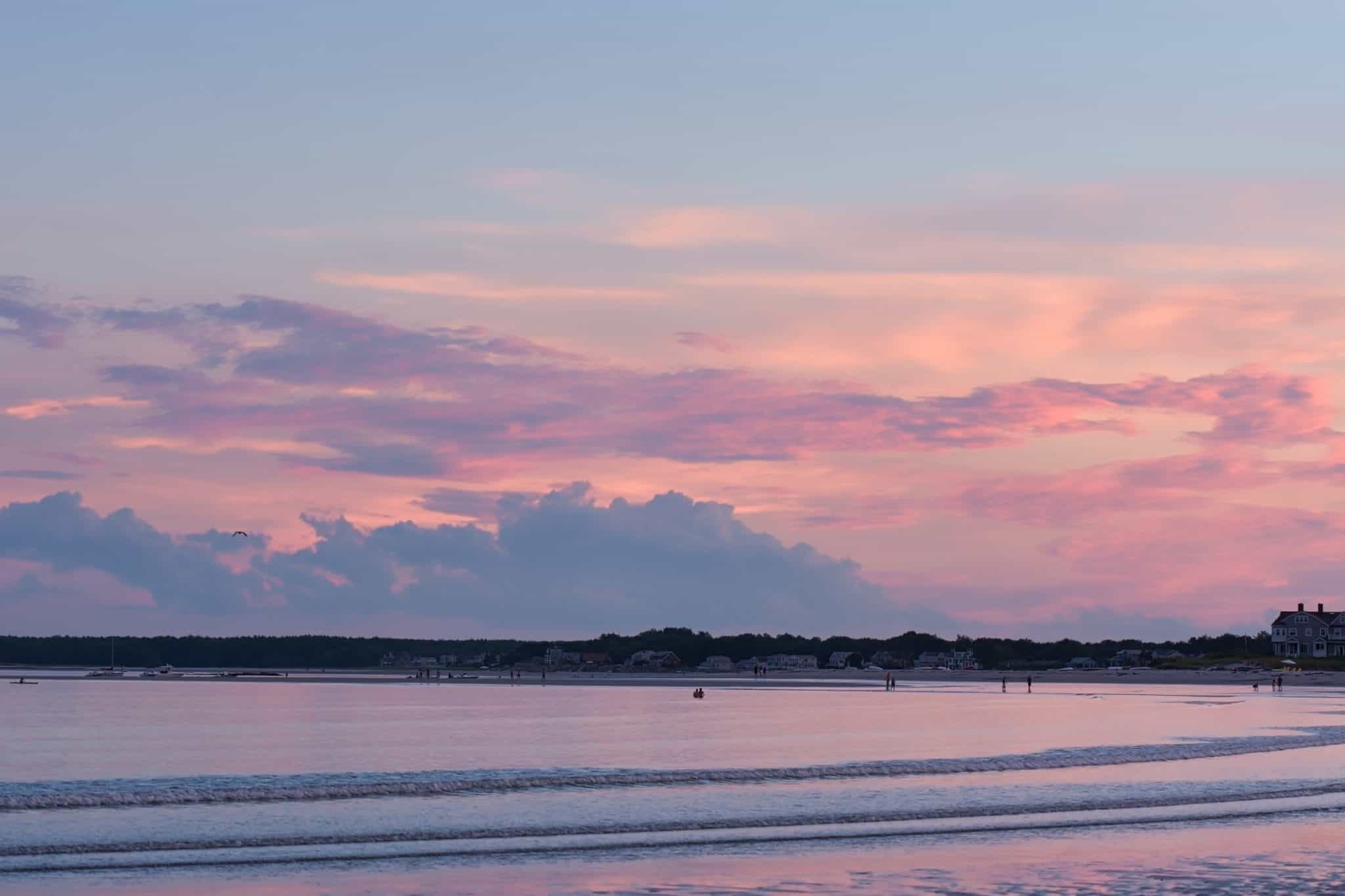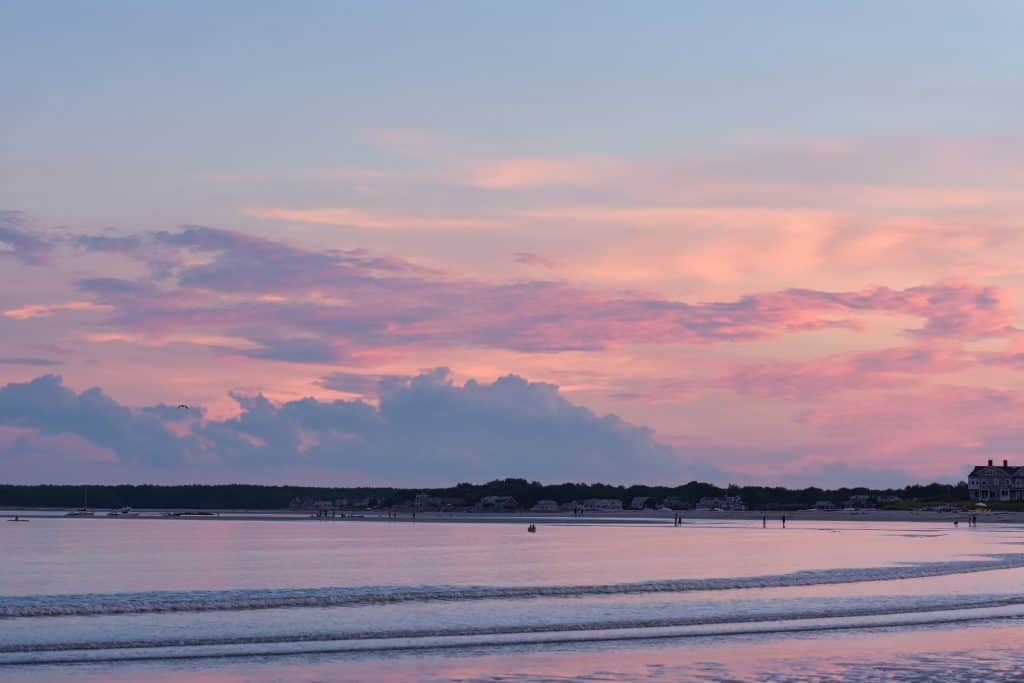 If you decide to drive over to this beach, the parking can be a bit pricey. Still, one insider tip is that during the fall season, the parking permit prices can fall dramatically because it's during the offseason when most locals, as well as tourists, have left in search of warmer weather. 
Parking can be a bit tricky in Kennebunkport, where everything is situated pretty tight. But you can rent a bike. Rent vintage bikes for a few hours from Coastal Maine Kayak. Coastal Maine Kayak & Bike has several bike options for rent, but I loved the vintage beach cruisers, which come in fun colors and are perfect for photo ops while cycling around town. 
No matter when you choose to visit Kennebunkport, if a tranquil walk along a soft sandy beach is on your to-do list, search no further than Goose Rock Beach. 
Go on a Whale Watching Tour
When it comes to things to do in Kennebunkport, Maine, you'll love going on a whale-watching Kennebunkport tour. The marine culture and wildlife of the Atlantic are abundant and rich, which means many people that visit the New England coast have the chance to set their sights upon amazing animals like whales and dolphins. tic are abundant and rich, which means many people that visit the New England coast have the chance to set their sights upon amazing animals like whales and dolphins.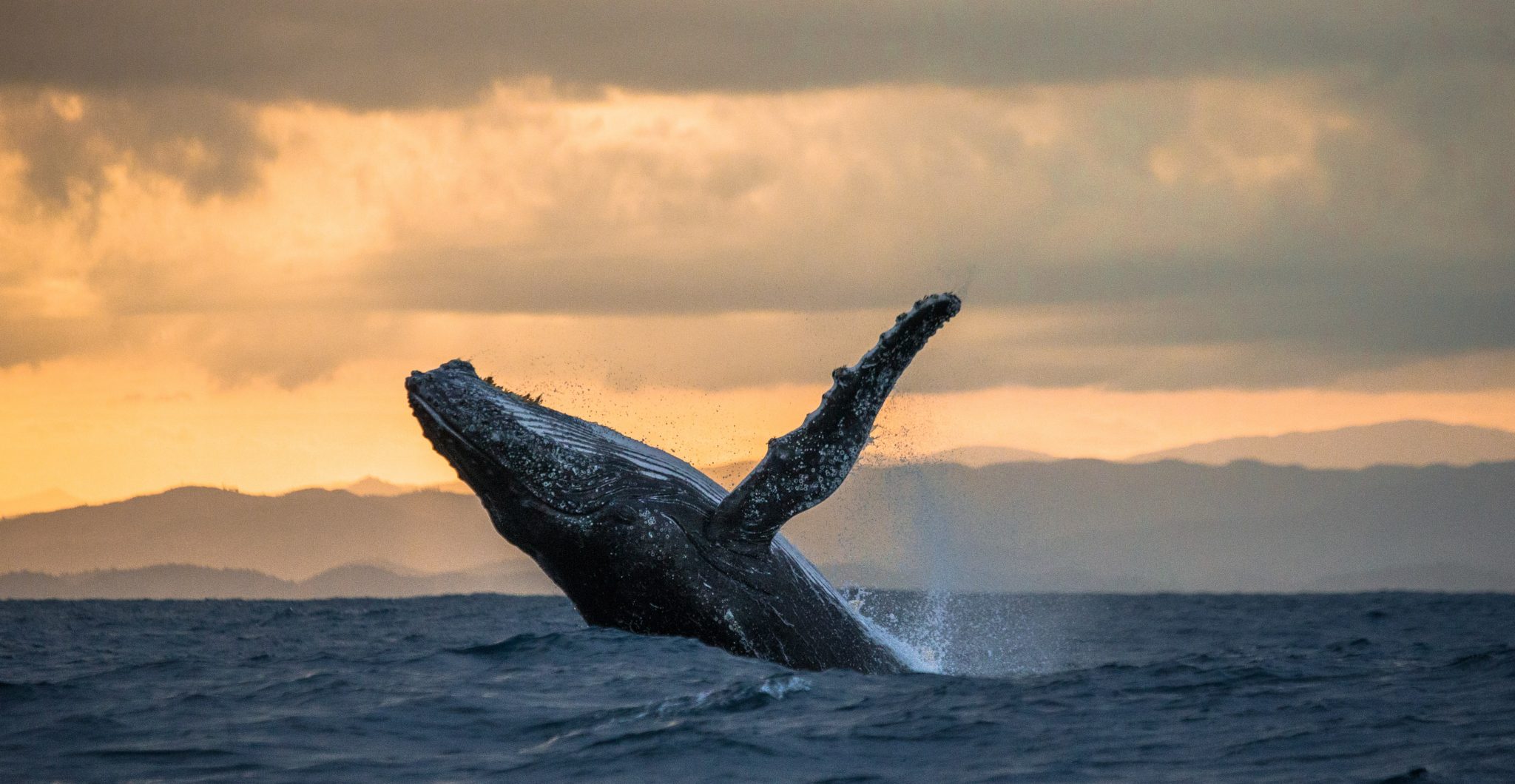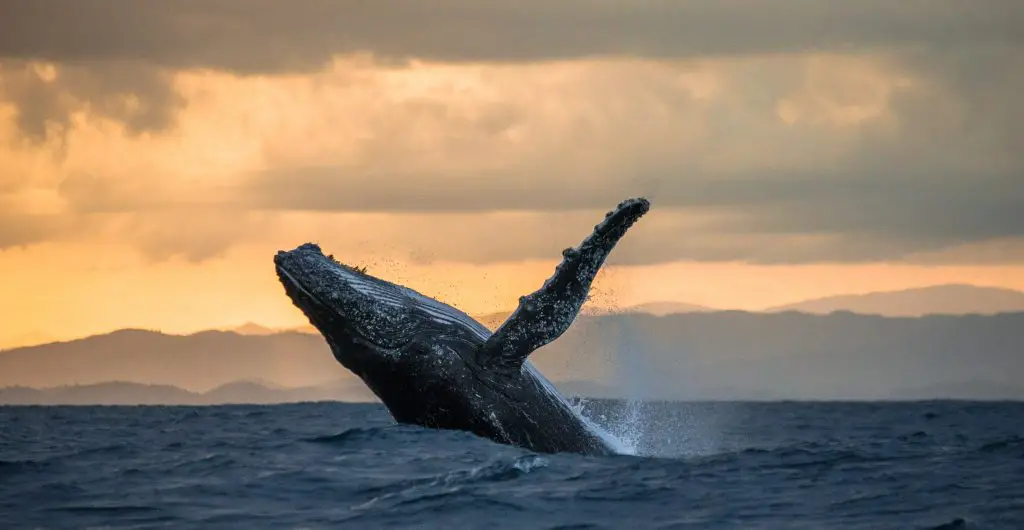 The sublime experience of sighting a whale out in the sea is not one that you want to miss out on. 
First Chance Whale Watch has a couple of sailboats and fishing boat options that enable them to take visitors on boat tours of the Atlantic Ocean in the hopes of seeing the beautiful sea life that inhabits the coast. 
These boat tours are also a fantastic way to get some amazing photos of the Maine coast right from the water. 
Book your reservation for whale-watching here. 
Ride on a New England Wooden Lobster Boat on Kennebunk River
This tour will have you tour the scenic Kennebunk River is a classic New England Wooden Lobster Boat. If you wish, you can get your hands dirty on this cruise by helping the fishers haul lobster traps.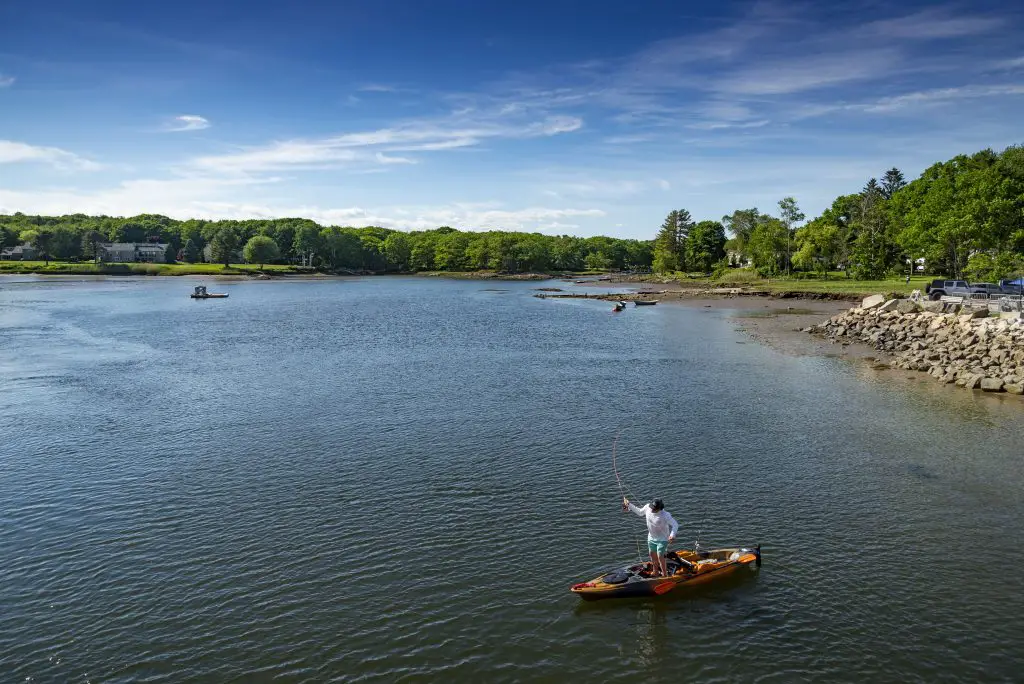 Romantic Things to Do in Kennebunkport 
While the activities listed above are perfect for every visitor vacationing in Kennebunkport, this town is especially incredible for couples looking for a romantic getaway. Kennebunk's quaint and cozy atmosphere makes it inviting and welcoming, making it a great spot to escape the hustle of the bustle of real life and relax. 
The slow-paced lifestyle of the town and the beautiful views of a warm and inviting beach town will make you feel like you walked straight out of a Nicholas sparks novel.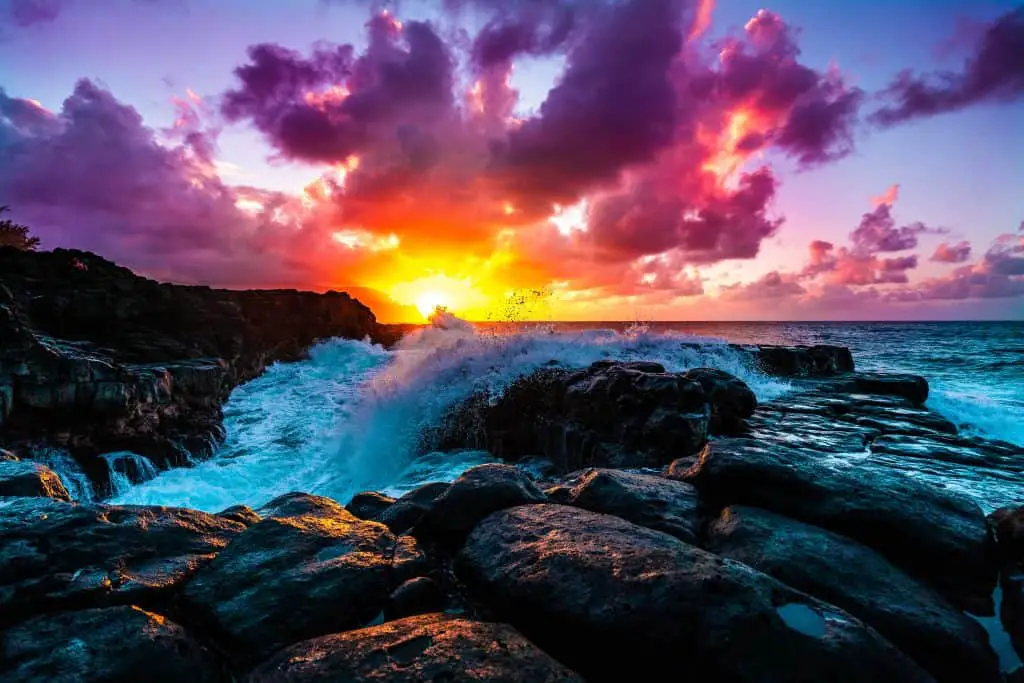 Winter is truly a time when the romantic scenes of downtown Kennebunk shine, but there are tons of romantic activities to do all year round. Check out these lovely attractions you can do as a couple in Kennebunkport. 
Experience Kennebunkport's Paint the Town Red Event 
Kennebunkport leans into its reputation as a romantic small town, and if you're looking for things to do in Kennebunkport in February, the month of love, you can see the town get painted red! Well, not literally. During this town, even local businesses put up red decorations and sparkling red lights to welcome couples for many romantic activities.
You won't be able to turn a corner without seeing flashy red hearts! There will also likely be freshly laid snow throughout February to cover the town, which adds even more to the romantic atmosphere of places around town like Dock Square. 
If you're in Kennebunkport during February, don't miss out on walking through downtown and checking out all of these amazing decorations. Not to mention, different galleries, spas, hotels, and boutiques sometimes offer discounts during February as a way to celebrate love and romance. 
The Kennebunkport residents really love celebrating love. This excitement is definitely palpable if you choose to venture into this quaint coastal town around Valentine's Day. 
Dine in a Private Igloo Together 
What could be more romantic than having a private igloo all to you and your partner while you enjoy a tasty meal of lobster roll together? Of course, this isn't a real igloo made of ice. It's rather an enclosed bubble with breathtaking views of the ocean and plenty of blankets, drinks, and incredible food to keep you company. 
Visitors can make reservations for these private igloos at Striper's Waterside Restaurant here. 
With cozy and romantic decorations and amenities such as twinkly lights, ornaments, and fireplaces, you can enjoy a warm and snug night with your favorite person. 
Striper's offers a few different options for their private igloo dining experiences. They range from ones available to larger groups to ones that are perfect for a couple to enjoy a private and beautiful night together. 
Not only can you enjoy the unique experience of dining inside an igloo, but you can also have a view of the beautiful Atlantic coast at the same time. 
The ambiance of this experience really can't be beaten. Make sure to make a reservation for you and your partner before arriving at Kennebunk. 
Visit Vinegar Hill Music Theater
 Enjoy a live performance at Vinegar Hill Music Theatre and indulge in this beautiful town's unique entertainment experience. This historic barn strewn with charming bistro lights first caught our eyes while driving by on our way into the heart of Kennebunkport town. It looked like a wedding venue or someone's cute, not-so-little summer home. This theatre is nothing like your typical performance hall—it used to be a barn built in the late 1800s and has served its original purpose for over a century. In 1997 the barn was given a new life and was transformed into a theatre. Since then, this historic house has delivered high-quality performances enjoyed by the local community and the visitors of Kennebunkport. This old building has witnessed the dawn of the 19th century in this quaint town.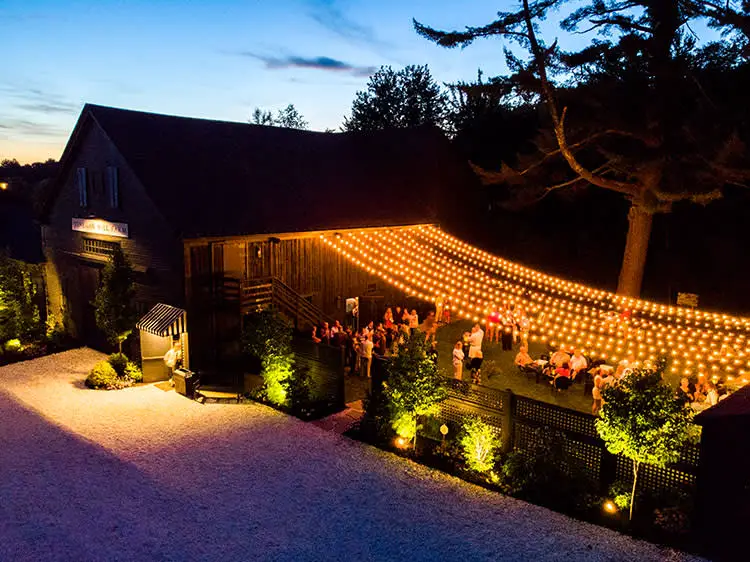 Go on a Romantic Horse Drawn Carriage Ride Through Town
While you can go on a horse-drawn carriage ride through Kennebunkport any time of year, this activity is particularly magical if you're able to vacation in the wintertime.
The soft snow lining the streets and the chance to bundle up in cozy scarves, gloves, and hats while you tour through the town make for one of the most romantic things to do in Kennebunkport. 
Rockin Horse Stables in Kennebunkport, Maine offer horse-drawn carriages, sleighs, and wagons, so you have plenty of options. Rides generally last around 30 minutes and end back at the company's reception area, where guests are welcome to warm up around the fireplace with a piping hot cup of hot cocoa. 
Along the ride, guests can look upon the looming pine trees as they're full of snow and enjoy the puffy white landscape of Maine. It's an extremely tranquil and romantic activity so make sure to put in that reservation as soon as possible!
Walk around Cape Porpoise
Cape Porpoise homes the Goat Island Lighthouse, one of the oldest lighthouses in Maine. You can rent a Kayak and get on the water and tour one of the Islands of the Cape Porpoise, maintained by the Kennebunkport Land Trust. Cape Porpoise is also ideal for biking as it is less trafficked than downtown Kennebunkport and Dock Square.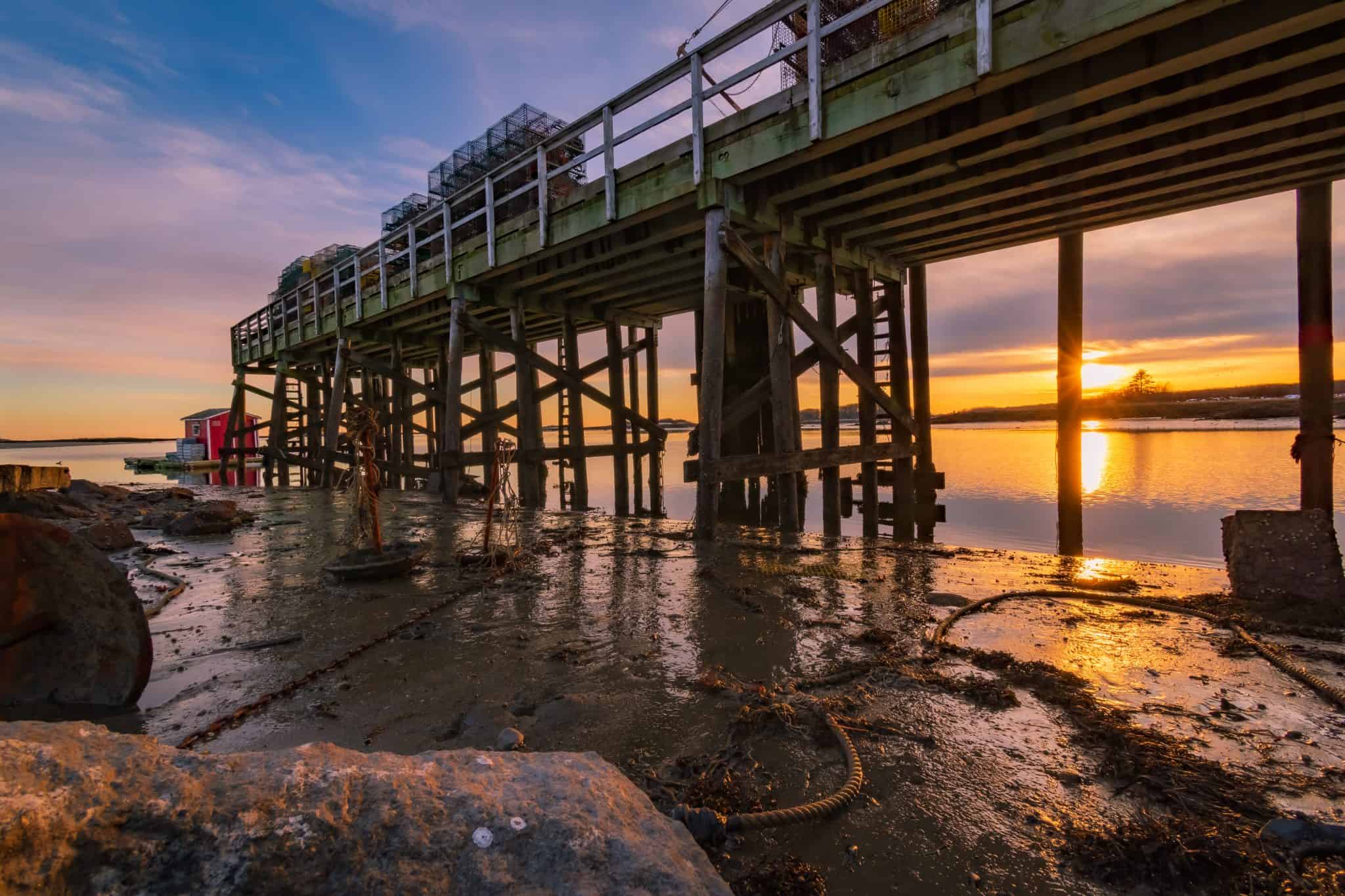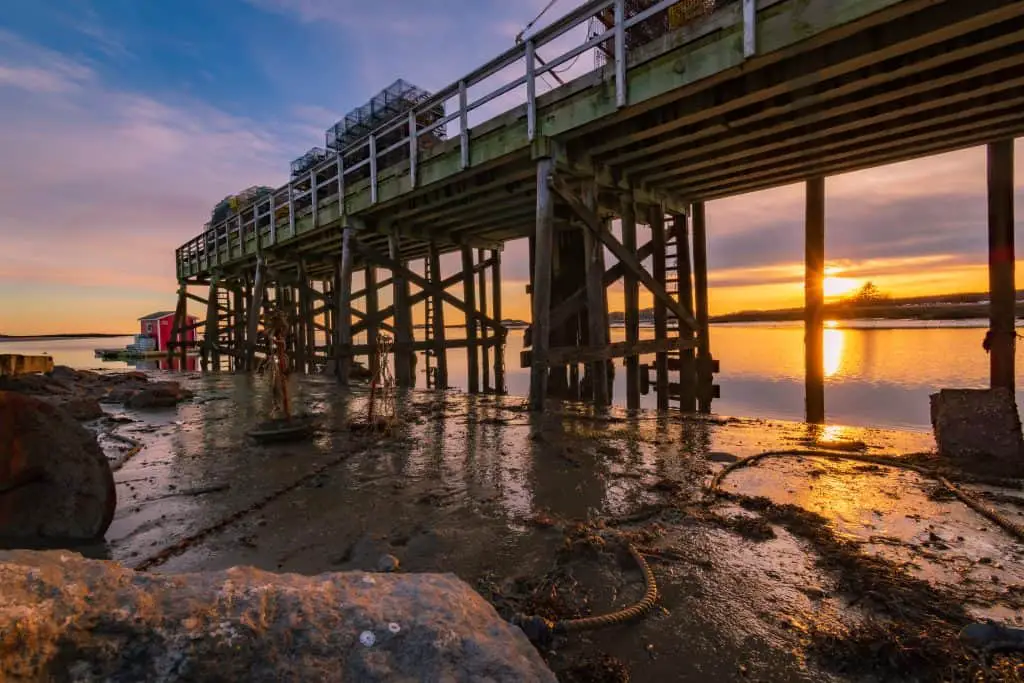 If you take Pier Road on Highway 9, it will lead you to the pier, the best location to see the Goat Island Lighthouse. You can also rent a boat that will take you to see the lighthouse up close to Goat Island. When Bush took office, the lighthouse served as a watchtower for his Secret Service Agents.
Things to do in Kennebunkport, ME in the Winter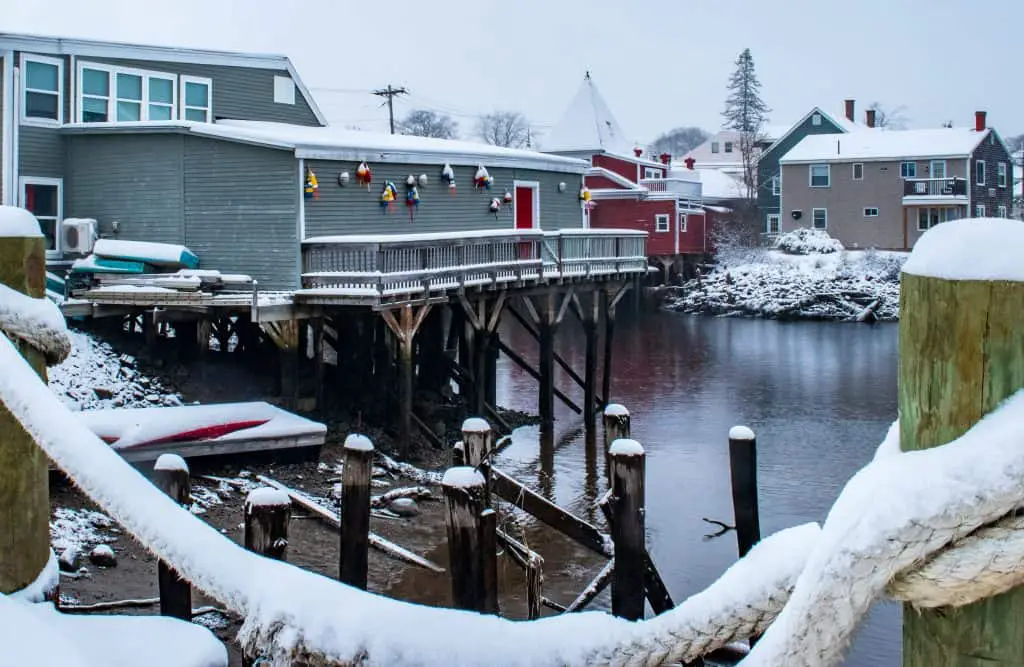 Kennebunk really welcomes romance during the winter months.
Maine often gets a healthy amount of snow, so there are plenty of exciting activities anyone will enjoy.
Check out some of these fun activities you can do during the wintertime that will appeal to anyone's adventurous spirit. 
Go Ice Skating at The Waterfront Ice Rink 
For an ideal winter activity, head on over to The Waterfront Ice Rink. You'll get to skate around in their large arena. It's a large rink, so you'll have plenty of space to skate around and feel the ice beneath your feet. 
Located in Kennebunkport's central downtown area, this is a great spot to escape the cold outside and have fun skating. 
Go Cross Country Skiing Through the Wilderness 
At Harris Farm in the nearby town of Dayton, visitors are welcome to rent skis, snowshoes, and other equipment as they explore and travel through this farm's trails. 
You will have tons of fun winding through the different pathways. You'll be able to look upon nature and take in all the amazing fresh air. This isn't just an activity that tourists enjoy immensely. 
Harris Farm is often described as a Kennebunk local favorite. There are so many ways to explore the farm. You can enjoy the winter snow and take in all the amazing views of the tree branches full of snow. Winding up and down on your skis or a pulk sled is an activity that every visitor will enjoy. 
After spending a day enjoying the snow and exploring the trails, visitors can head back to the farm's sunroom to grab some snacks. 
Check out the Harris Farm website here to see what other products and activities they offer. You can also see what times during the week their trails are open to exploring. 
Things to Do in Kennebunkport When it Rains 
While Kennebunkport's outdoor water and winter activities are ones you don't want to ignore, sometimes it's a good idea to escape the weather and head inside for some relaxing activities. 
Especially if you're visiting during the spring or summer. It's more likely to rain, and it's good to have some ideas about indoor activities that you can retreat to.
Check out these indoor activities to do in Kennebunkport, Maine. 
While Kennebunkport's outdoor water and winter activities are ones you don't want to ignore, sometimes it's a good idea to escape the weather and head inside for some relaxing activities. 
Especially if you're visiting during the spring or early summer. It's more likely to rain, and it's good to have some ideas about indoor activities that you can retreat to.
Check out these indoor things to do in Kennebunkport, Maine. 
Get a Massage or Facial at Cottage Breeze Day Spa
If you're in Kennebunkport for the quiet atmosphere and looking to sit back and relax or replenish during your vacation, consider booking an appointment at the Cottage Breeze Day Spa. 
This spa and boutique offer facials, massages, manicures, and plenty more. It's a great place to retreat to for a relaxing afternoon. 
Book your next massage or check out the list of their other services at their website here. 
Check out the History of Trains at the Seashore Trolley Museum
The Seashore Trolley Museum in Kennebunkport, Maine, is the oldest running and largest museum of public transportation. 
Visitors to the museum can take a tour to learn about the significance of mass transit in the nation's history. You can also take a ride in a vintage trolley themselves. This museum has over 300 mass transit vehicles on display! 
After looking through the different trolley cars that have been restored and exhibited throughout the museum, guests can take a peek through the museum store and pick out different train-themed souvenirs and merchandise. 
Make sure to check out the museum's website here. It has more information about upcoming events and activities that are great for kids and family excursions.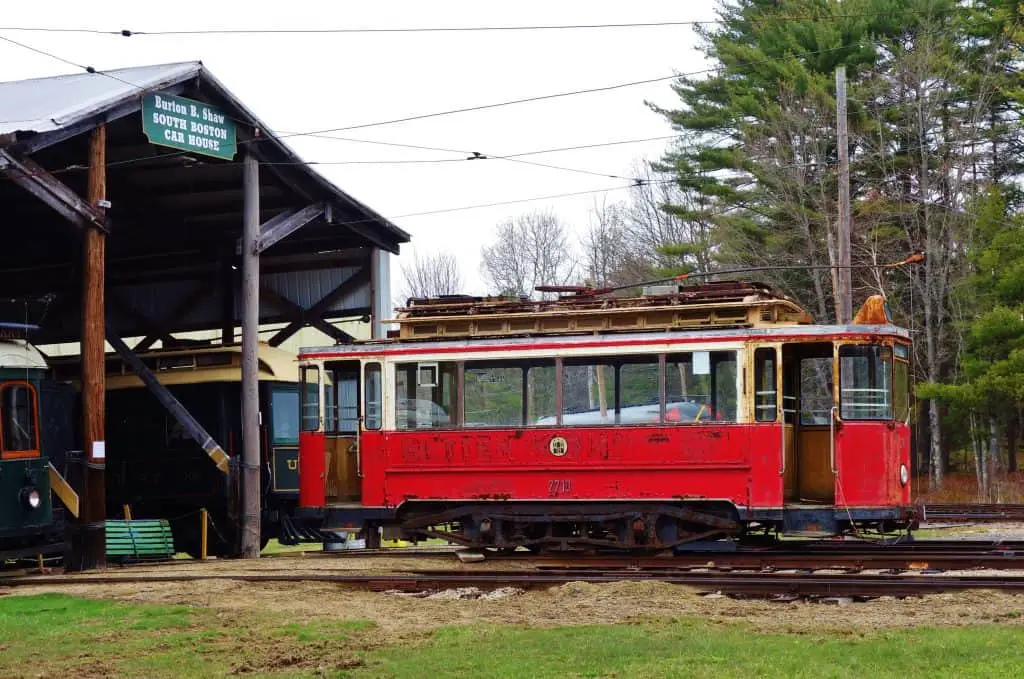 Step Into Kennebunk History at the First Families Museum
If you're looking for a fun activity indoors, you might want to walk through the First Families Museum. You'll get to learn more about the history of the town. 
Visitors can take a guided tour or roam freely and gaze upon the variety of exhibits and artworks. They showcase the culture and history of this charming town. It's a very quaint and cozy museum. There are plenty of photos and even a small video to help educate visitors about the history of the architecture. 
Best Restaurants in Kennebunkport
A vacation in a new town is not complete without a food tour. Nothing beats having some fresh seafood in a beautiful restaurant right off the New England coast. There's no shortage of incredibly delicious cuisine options, from varieties of authentic Maine-style lobster roll to elegant farm-to-table dishes. 
Maine Foodie Tours is an unforgettable experience, with authentic and tasty dishes at these amazing Kennebunkport restaurants: 
Ocean Cape Arundel Inn
Earth at Hidden Pond
Salt and Honey
Other Favorite Inns: The White Barn Inn, Maine Stay 16 Captain Jefferds, 1802 House and, Federal Jacks Restaurant
From white tablecloth fine dining to casual and laid-back comfort food, Kennebunkport has restaurants, cafés, and diners that serve mouthwatering dishes. 
You might also like:
Things to Do in Kennebunkport Final Thoughts 
Kennebunkport has no shortage of options for incredible hotels, restaurants, outdoor activities, and relaxing amenities. It is an ideal spot to plan your next vacation. 
Not to mention it's home to President Bush's compound and one of the most romantic towns in the country to spend a cozy getaway weekend away. This guide should definitely encourage you to plan your trip and visit Maine today.