California offers vast and wild beauty. Visitors continue to fall under the spell of its diverse regions and all they have to offer. With twelve distinct regions covering nearly 164,000 square miles, the diversity in geography, culture, and activities guarantees something for everyone with this California bucket list. 
If you're planning a trip to this huge state, you first need to decide what places to travel to in California. Below, we'll help you create your own bucket list of beautiful places to visit and top things to do in the Golden State!
California Bucket List by Regions
Exploring California is a golden opportunity to soak in the history and natural beauty that defines each of its regions. From sunsets on a rocky beach to winter sports in the High Sierra, the things to do in California far exceed a lifetime of visits.
With that said, seeing it all in one trip is not very practical unless you've got weeks to spare. California's grand scale means long distances between major points of interest, and you need to take time to enjoy the scenery, food, and culture along the way. 
But don't let that stop you! Whether you plan a solo California road trip from LA to San Fran, or backcountry hiking in Yosemite, you'll find plenty of perfect things to do in Cali. Use this California bucket list guide as a starting point and begin checking off your list!  
California North Coast Bucket List
The North Coast stretches from San Francisco to Oregon. Miles of rugged coastline, redwood forests, quaint towns, and wineries greet you as you leave the hustle and bustle of the Bay Area for the beckoning lighthouses of Crescent City, only 20 miles from Oregon. There are plenty of things to do in Northern California.
Point Arena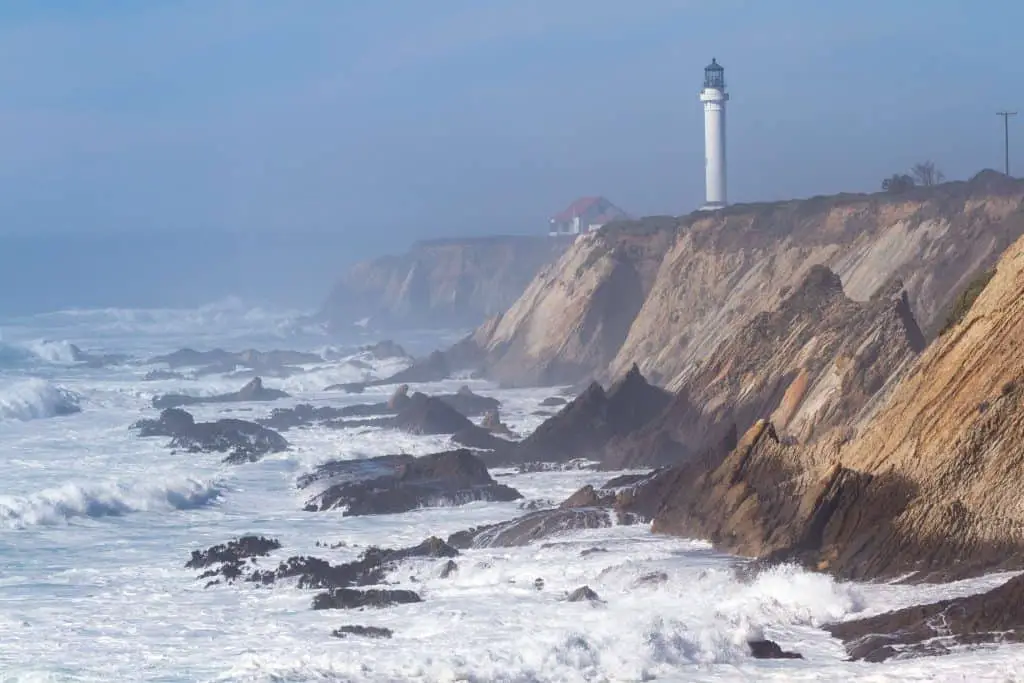 Just a two-hour drive from Santa Rosa, Point Arena is part of the California Coastal National Monument. Point Arena is 1700 acres of wild natural beauty. Take a hike along one of its trails, and you may be rewarded with sightings of peregrine falcons and migrating whales. 
Mendocino and Mendocino Headlands State Park
Perched on high cliffs overlooking the pounding Pacific surf, the town of Mendocino beckons artists and romantics with its quaint cottages, delicious cafes, and boutiques. Your first stop should be the Ford House on Main Street. It's the Visitor's Center for the park and surrounding area. 
Just off Highway One, the Mendocino Headlands State Park is home to quiet beaches, rugged coast, and miles of meandering trails with rewarding views of the Pacific. Don't miss the stunning views at Agate Beach. 
Marvel at the Majestic Redwoods
No visit to California is complete without staring up at the tallest trees on earth—the California Redwoods. Multiple state and national parks preserve these woodland giants for present and future generations. A visit to one of these parks might find you hiking, biking, camping, or cruising in your car for a few hours or a few days. 
Go Back in Time in Seaport Towns
Along the North Coast, you'll find quaint small towns that have kept their old-fashioned seaport vibe. Charming Victorian sea cottages on sleepy streets recall by-gone days while modern breweries and fine dining delight 21st-century tastes.
On the drive on Highway 101, also known as the Redwood Highway, a few towns worth mentioning, in addition to Mendocino, include:
Eureka: Situated on Humboldt Bay with shops and restaurants in the Old Town, Eureka is still an active fishing seaport. (Get Directions)
Ferndale: Only one square mile in area, Ferndale is a treasury of Victorian architecture. Visit art galleries and nearby Lost Coast Headlands National Monument. (Get Directions)
Crescent City: You're nearly to Oregon if you make it this far. Visit this lovely town's two lighthouses, the northernmost stations in California. (Get Directions)  
San Francisco Bay Area Bucket List 
With the iconic Golden Gate Bridge as a backdrop, San Francisco delights all ages with its hilly streets and plenty of unique things to do. If you've got limited time, check out this itinerary for four days in SF.  
Ride a Streetcar
Sure, it's the touristy thing to do, but hopping on a streetcar for a ride is a memorable must-do in the city. Take in the scenic views as you crest a hill, then hang on as the car glides its way downhill.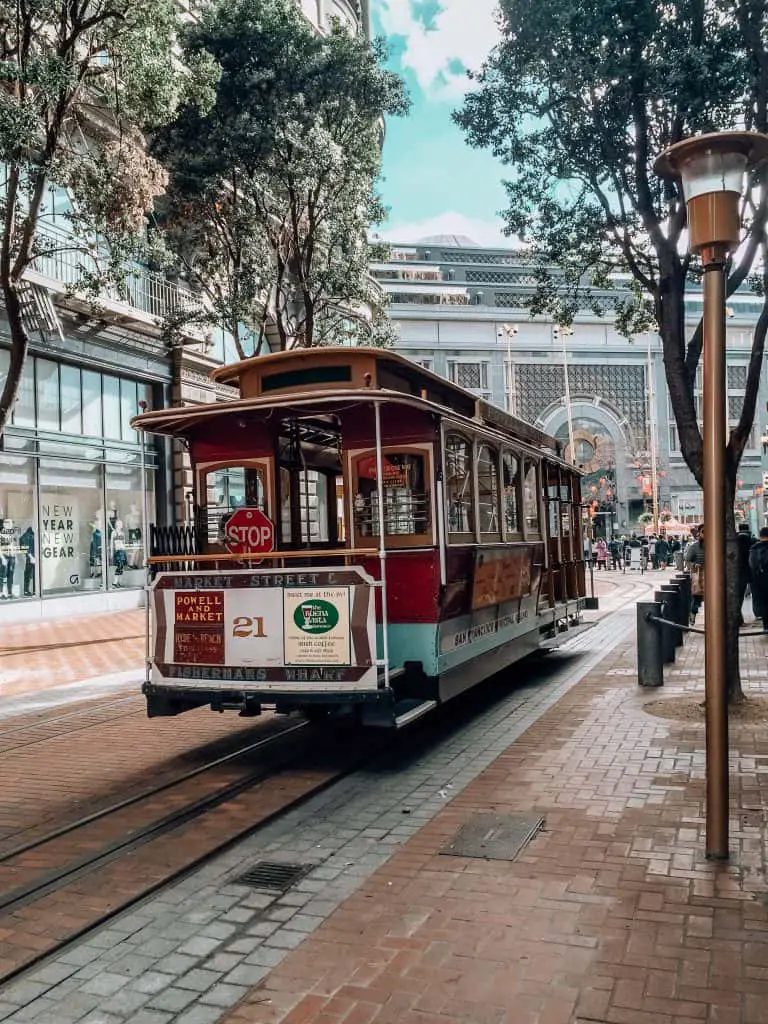 Pedal Across the Golden Gate Bridge
For another unforgettable memory, rent a bike for a few hours from one of several vendors in the downtown area and ride across the big red bridge. The views of the bay and the pacific ocean beyond are out of this world. It can be super windy, so hang on tight.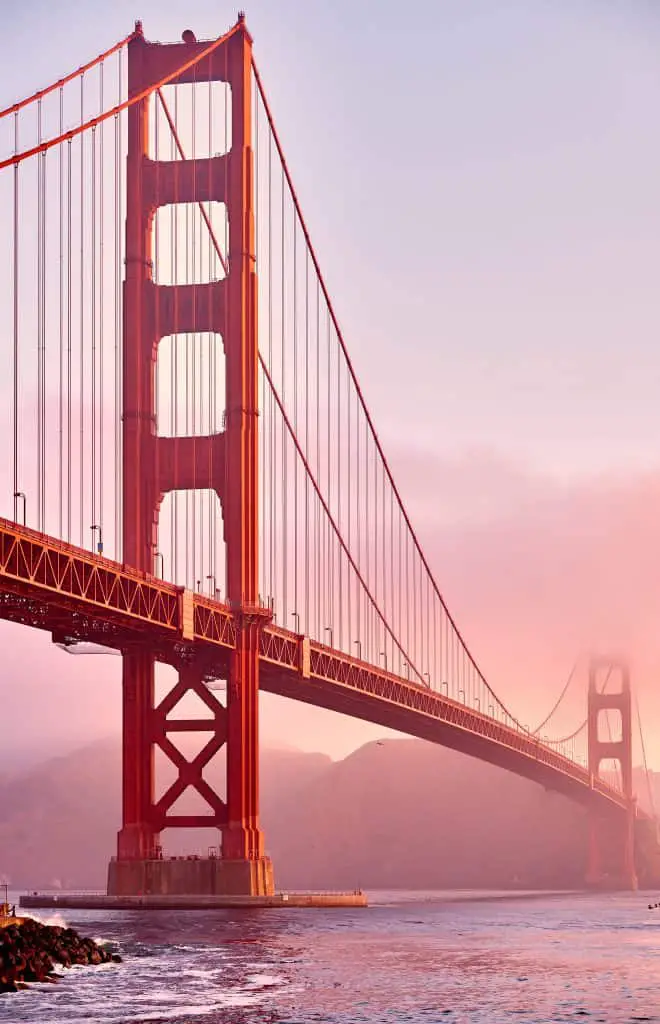 Stroll Fisherman's Wharf
Pier 39 and Fisherman's Wharf invite visitors to stroll along, stopping to shop or dine. Hearing (and smelling) the world-famous sea lions enthrall young and old alike. Be sure to enjoy a bread bowl of warm clam chowder you can get from one of the many street vendors. 
Experience Alcatraz
Just a short boat ride from the city, Alcatraz Island is a fascinating place of legend and lore. Visit this former (supposedly inescapable) prison where you can stand behind bars and look longingly across the bay towards freedom.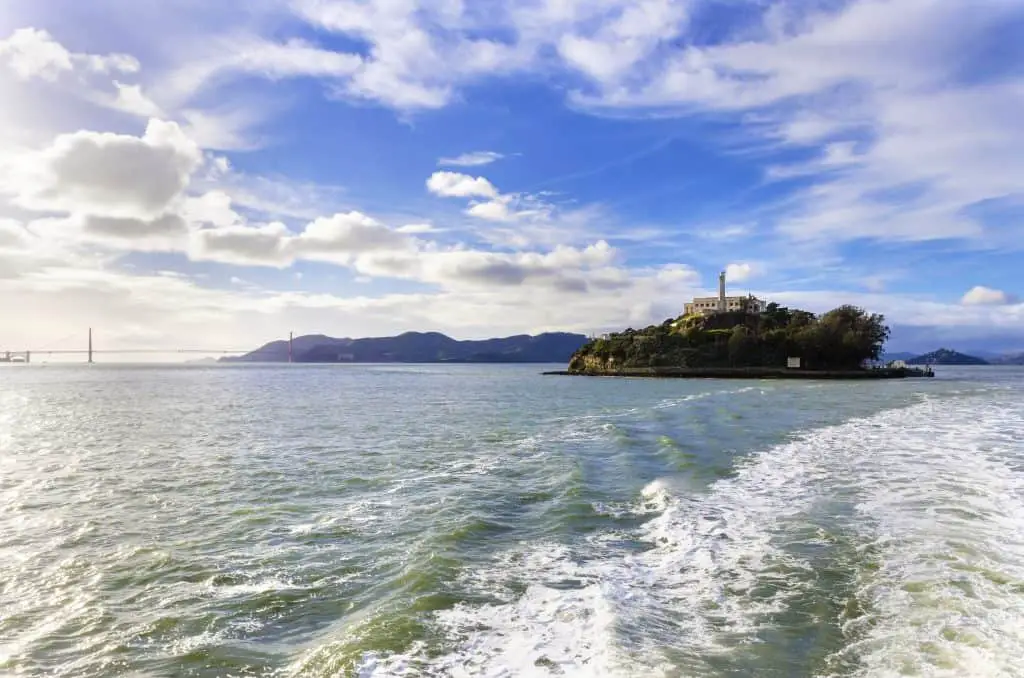 Napa Valley and Sonoma County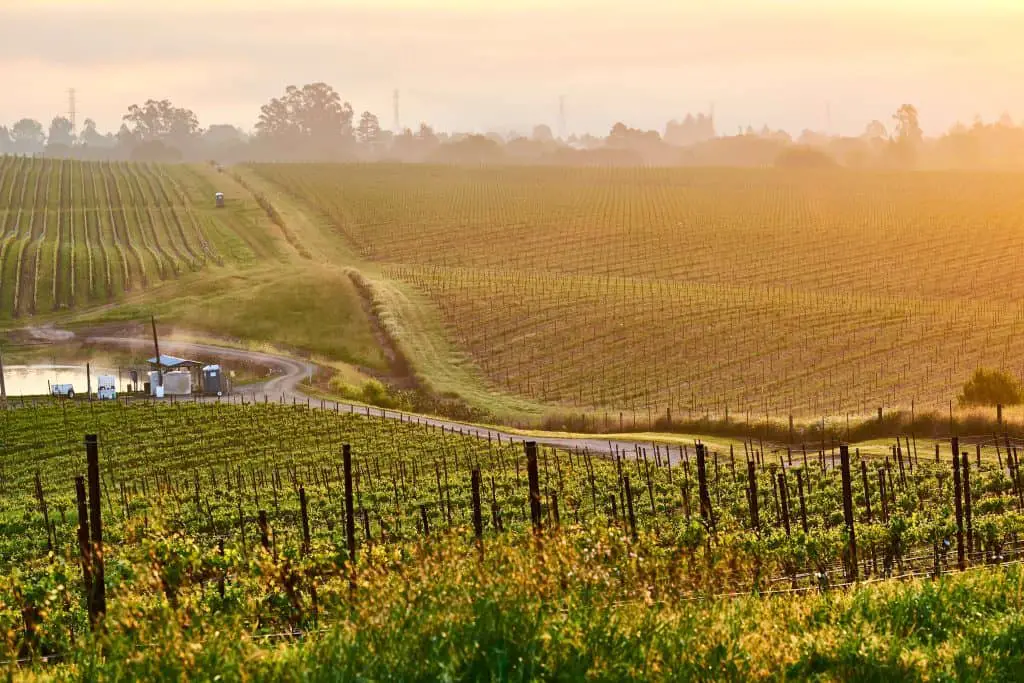 Wine lovers, rejoice! You're now entering Vino Paradise. Between them, these two famous wine regions boast over 800 wineries and a plethora of grape varietals. Visiting one or both is a must anytime you're in the San Francisco Bay area. The geography of jagged ocean cliffs, quiet valleys, forests, and fields is, by itself, enough to warrant a place on your bucket list.
The real draw, however, is the wine. With so many vineyards and wineries, there are tours galore and ample opportunity to sample some of the best wines anywhere. Tour lengths and styles are as varied as the wine, so you can find plenty of options that keep you sampling the wines for as long or short a stay as you have.
Sonoma County 
One unique way to visit a few wineries and enjoy the sights is to sign up for a Segway tour. Departing from the town of Sonoma, you'll ride your own Segway along slow country lanes and stop for a picnic lunch and sip wine at various wineries.  
Napa Valley
All aboard! Jump on the Napa Wine Train for a unique way to roll through the countryside while enjoying a gourmet lunch. Or take the Open Air Wine trolley for stops at three renowned wineries, scenic views, and a picnic lunch. 
California Central Coast Bucket List
The Central Coast has been nicknamed the "American Rivera" for good reason. Hugging the Pacific from Big Sur to Santa Barbara, it is a playground for the well-to-do with spas and links dotted among the wild and scenic beauty.
Drive Along Pacific Coast Highway One
For the ultimate California bucket list item, head south from San Francisco for a Pacific Coast Highway road trip and a guaranteed drive of a lifetime. The route hugs the Pacific coast along high cliffs overlooking the ocean surf. Along the way, be sure to allow time to stop at some of the overlook points, some of which offer trails down to the small rocky shoreline. Get Directions
Grab some lunch and browse the boutiques and art shops in Monterey. Spend a night or two in a rustic cabin at Pfeiffer Big Sur State Park. Monterey bay aquarium is also a nice visit if you have time. 
Tour the Hearst Castle
The Hearst Castle, a 165-room mansion on 125 acres near San Simeon, is a stunning glimpse into the vast wealth of William Randolph Hearst. Enjoy a stay at one of the area's oceanfront motels and then plan to spend half a day touring the Castle. 
Soak up the Scene at Pismo Beach
Further down Highway One, the jagged coast gives way to the classic sandy beaches of California movies. Fresh seafood paired with local wines and a great sunset view makes Pismo Beach a relaxing stop on the Central Coast. Get Directions
For the adventurous, take a horseback ride through nearby dunes or kayak into the sea caves dotting the coast. Maybe even try your sea legs with a little surfing action!
Los Angeles and Orange County Bucket List 
LA is home to movie stars and the epicenter of the film industry. With its glitz and glamour, world-class dining scene, and epic shopping, Los Angeles invites visitors to sample the West Coast lifestyle, even if it's just for a day or two. Two days tackling your Los Angeles bucket list, and you'll already be planning your return.
See the Sights in Hollywood
A trip to LA is not complete without a sightseeing tour of celebrity homes and famous places. You'll be glad to let someone else do the driving in the insane LA traffic as the guided tour rolls past iconic spots like the Hollywood sign, Sunset Boulevard, and Rodeo Drive. Get Directions
Be sure to make time for a stop at the Hollywood Walk of Fame and find your favorite actor's star. Speaking of acting, movie buffs and even casual filmgoers will thrive on the insider tidbits you'll pick up on a tour at one of these well-known studios:
Paramount
Warner Bros.
Universal City  
Theme Park Thrills
Los Angeles and nearby Orange County are a mecca for thrill-seekers. You'll have trouble deciding which park to visit :
If you're looking for sheer entertainment, you can't beat a theme park as one of the most fun things to do in California. 
People Watch at the Shore
One of the best things to do in California is to revel in the sunny days and mild climate by spending time at the beach. Bucket list choices include Venice Beach. Its bohemian air and people-watching make for a rewarding afternoon. Get Directions
Another bucket lister, Santa Monica Bay, offers 50 miles of shore and 22 separate beaches. You'll find space to roll out your towel and soak up some rays! Make sure to check out the Santa Monica Pier.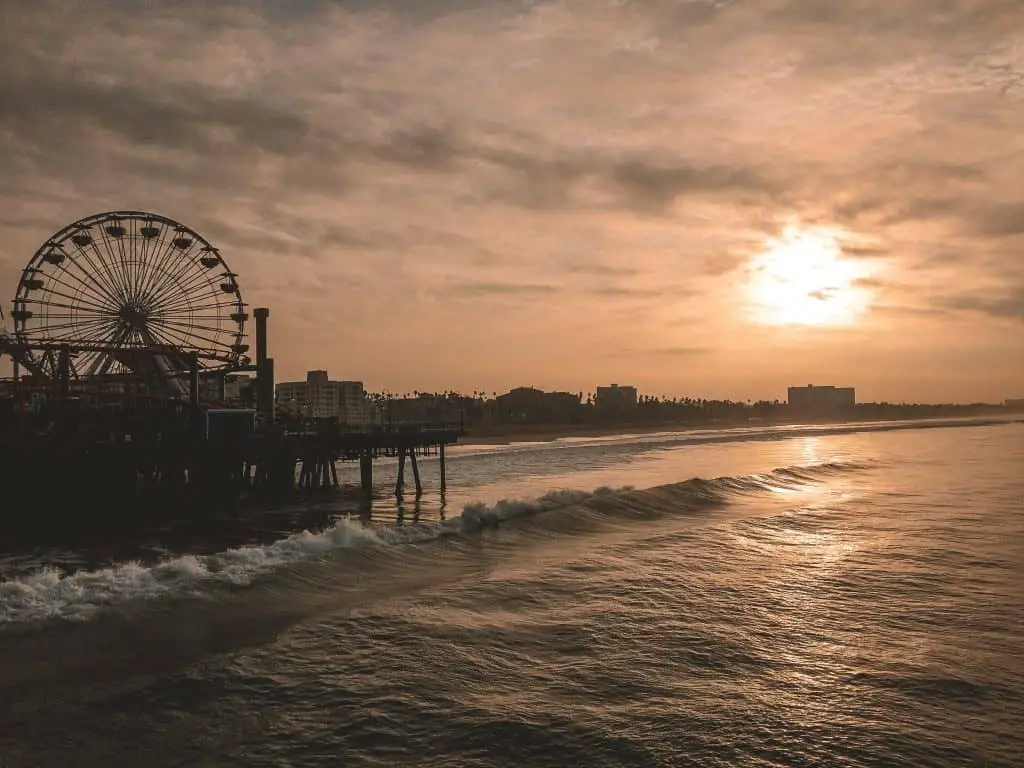 San Diego Bucket List 
The last bit of California before the Mexican border, San Diego's year-round sun, and perfect temps draw locals and visitors outside to bask in the glory of its great weather. San Diego offers plenty of unique things to do for your Southern California bucket list. 
Balboa Park and the San Diego Zoo
Take advantage of the sunny climate and spend the day at Balboa Park. The park offers walking paths, gardens, several performing arts theaters, and seventeen diverse museums. Get Directions 
Balboa Park is also home to the renowned San Diego Zoo, a 100-acre spread that houses over 3700 rare and endangered animals. Resident wildlife is exhibited in natural settings, easily enjoyed on a stroll along the zoo's many walkways.
Set Sail in the Bay
Join a sailboat excursion out into the San Diego harbor. You can join in the search for dolphins, sunfish, maybe even a whale or two. Time your tour just right and marvel at the sunset as you glide along.
Experience Coronado Island
Only a short, two-mile drive over the landmark Coronado bridge and you'll be transported back in time to a classic beach town. Forget the "real world" while you eat, shop, and beach it here. If you can, book a stay at the Hotel del Coronado, a historic property (1888) made famous in the movie Some Like It Hot. 
The Deserts Bucket List 
Heading east away from the coast brings you to the Desert region. Anchored by Death Valley National Park and Joshua Tree National Park, the California desert region is one of the most unique places to visit in California. 
Joshua Tree National Park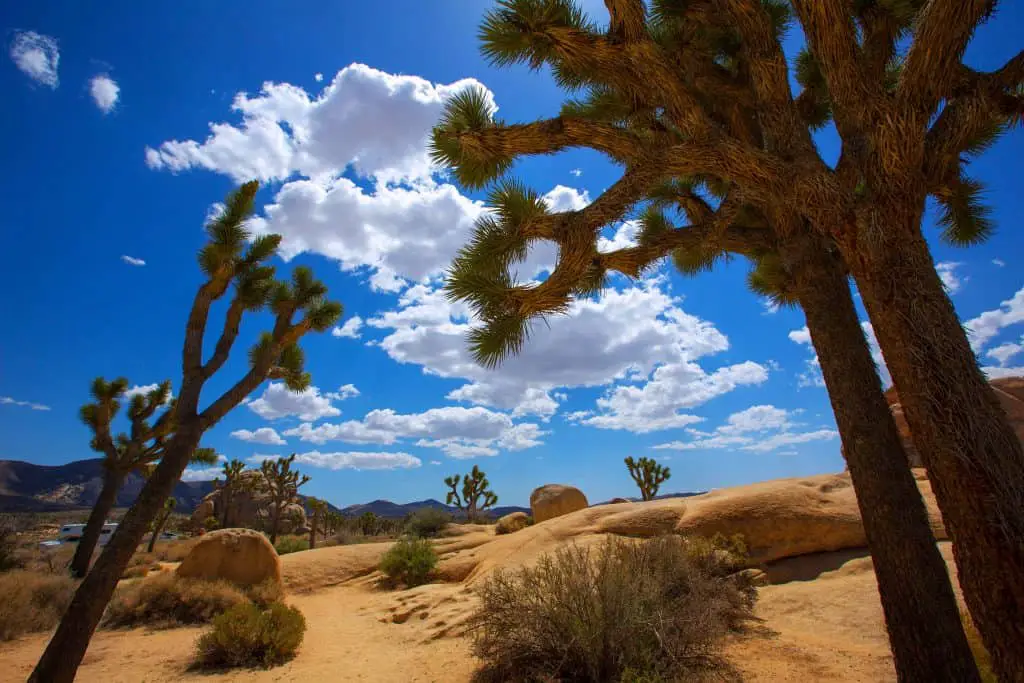 Joshua Tree National Park is at the intersection of the Mojave and Colorado deserts. You'll find unique rock formations and desert wildlife in its 800,000 acres. Hike for a day or camp for a week; there's plenty of nature to see. Viewing the night sky without light pollution is a must. Just be sure to plan ahead for a viewing location and changing weather. 
Death Valley National Park
Death Valley is the hottest, driest, and lowest park in the national park system. The hottest air temp ever recorded in the park was 134° in 1913. Spend some time exploring some of the park's highlights. 
Be prepared with plenty of water and use caution when being active in the extreme heat. 
Hit the Links
If golf is more your thing, the California desert is loaded with top-notch courses in the Greater Palm Springs area. With 124 golf courses to choose from, golf enthusiasts can tee off on several bucket list-worthy greens with unique mountain and desert views. 
La Quinta's PGA West
Indian Hills
Mountain View and Firecliff courses at Desert Willow
Silver Rock Resort
Escena Golf Resort
Central Valley Bucket List 
The 400-mile long Central Valley rests between the coastal headlands and the massive mountain wall of the Sierra Nevada. It's not often recognized as a premier destination in its own right, but there is plenty to see and do here.
As you crisscross California from sea to mountains, you'll find yourself in the valley, so why not enjoy what it has to offer. The Central Valley is an agricultural jewel, and its bountiful harvests feed millions of people across the country.
Travel the Fresno Blossom and Fruit Trail
Fresno is the hub of agriculture in the Central Valley. The city has lots to offer, but so does the countryside. If you visit in the spring, drive the 62-mile Blossom Trail (or bike it if that's your thing) and enjoy the beauty of blooming fruit and nut trees. 
Once summer arrives, the same route becomes the Fresno County Fruit Trail. You'll find multitudes of produce and fruit stands with some of the freshest, tastiest bounties you've ever had. 
Gold Country Bucket List
Known as Gold Country because of its part in the gold fever that swept through in 1849, this region provides fun time-travel back to the old West. Dotted with California Gold Rush towns and museums that tell the now-abandoned mines' stories, Gold Country is definitely a bucket list destination.
The Golden Chain Highway winds its way for 300 miles through old Gold Rush towns and mining communities. You have several opportunities to tour the former gold mines as well as enjoy boutique shopping experiences and fine dining in places like Nevada City and Placerville.
Empire Mine State Historic Park
Stop at the visitor's center to get a great overview of the significance of the Empire Mine, which is one of the oldest, deepest, and richest mines in the state. A scale model of the mine's interior gives you a sense of the scope of this vast underground treasure. 
Whitewater Rafting on the American River
The American River is one of the most popular rafting rivers in the West. With three distinct forks to choose from, you can ride the rapids at your pace, from leisurely fun to heart-pounding excitement. El Dorado National Forest offers good access to the South Fork stretches. 
High Sierra Bucket List 
The 400-mile long Sierra Nevada mountain range rises to heights of 14,000 feet along California's eastern side as part of the "backbone" of the American West. As bucket lists go, the High Sierra region is at the tiptop of the list! The only way to truly appreciate the vast Sierra Nevada mountains and its wilderness is to see it for yourself.
Sequoia and Kings Canyon National Parks
Home to several groves of the world's largest tree, the Giant Sequoia, these two parks are worth the travel time to get there. When you get your first glimpse of even one of these gentle giants, much less walk among them in a grove, it will take your breath away. 
Get Directions (Sequoia National Park)
Get Directions (Kings Canyon National Park)
In addition to the Sequoias, you'll find deep canyons and impressive rock outcroppings in the 900,000 acres of these adjacent parks. With 800 miles of hiking trails, fishing the glacial lakes, or gazing up at the dark, starry sky, staying indoors just isn't an option. Winter brings snowshoeing or cross-country skiing along those same trails amidst the soft blanket of snow.
Visiting requires careful planning since there are not many lodging or dining options in these parks. But, it's definitely worth the effort.
Yosemite National Park
With nearly 1200 square miles of the most amazing landscape in the world, Yosemite cannot be missed. Walls of sheer granite that tower over deep valleys, waterfalls thundering over the cliff's edge, and wildlife encounters come together in a vast wild place, leading John Muir to say, "The mountains are calling, and I must go." Get Directions
Allow several days to visit Yosemite; you're guaranteed to begin planning a return visit while you're still there. Accommodations range from tent camping (in permanent tents on platforms) in Curry Village to the luxury of the Ahwahnee Hotel.
A few must-do, must-see highlights within Yosemite National Park include:
Day hike past nearby waterfalls: Vernal and Nevada Falls or Mirror Lake Loop
Apply for a permit to hike Half-Dome, the iconic granite peak in all the pictures
Spot rock climbers dangling high up on El Capitan
Take one of the half or full-day tours to Glacier Point or Tuolumne Meadows
Visit Hetch-Hetchy Valley for stunning scenery and hikes
Lake Tahoe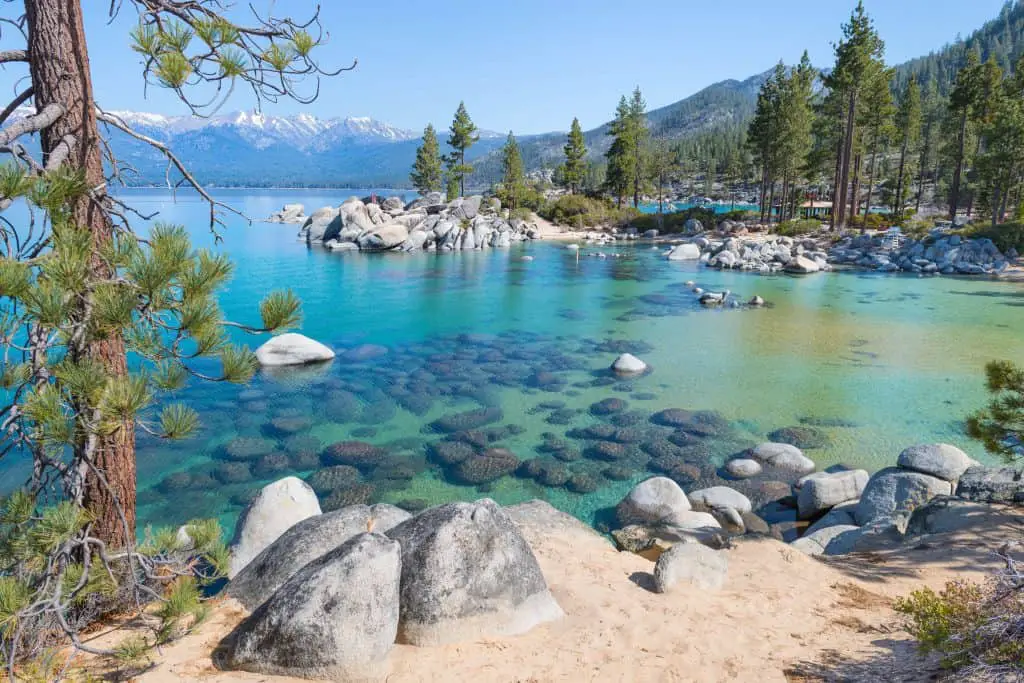 Lake Tahoe welcomes over 2.5 million visitors every year. When you finally see the incredibly blue lake surrounded by granite cliffs and mountains, you'll understand why. Tahoe boasts 300 days of sunshine annually, providing outdoor opportunities in every season. 
Snow skiing
Camping
Boating and kayaking
Sunsets over Emerald Bay
Hiking
The best way to appreciate the rugged beauty of this area is by heading out on one of the plentiful hiking trails. Some favorites include the views along:
Rubicon Trail: Easy to moderate hike with access to the last remaining lighthouse on the lake
Mt. Tallac Trail: Moderate to challenging 12-mile trek with rewarding views
Lower Eagle Falls: Good family hike; falls are best after the snowmelt
When it's time to head indoors, Tahoe offers luxury accommodations, casinos, and fine dining at different spots around the lake. Whether you head north or on south lake Tahoe for the bulk of your stay, there are two things you must do to take in the scenic beauty of Tahoe:
Drive around the lake on the 72-mile loop road.
Ride the gondola at Heavenly, which rises 2400 feet above the lake.
Shasta Cascade – Northern California Bucket List
Known as Upstate California, the Shasta Cascade region covers 20% of the state's land area. It's not on the radar of many visitors, so it's quieter and less touristy than other parts of California. Still, there plenty of things to do in this part of Northern California that make it worth a stop. 
Lassen Volcanic National Park
Situated an hour's drive east of Redding, the unofficial heart of the Shasta Cascade region, Lassen Volcanic National Park is home to Mount Lassen, the southernmost active volcano in the Cascade Range. Its most violent eruption occurred in 1915. Get Directions
To get a feel for the park, enjoy the 30-mile drive that winds through the east side of the park. There are plenty of photo-op pull-outs along the way. Be sure to stop at Sulphur Works, one of several hydrothermal areas of boiling mud and hissing steam.
And, as with many parts of California, there are excellent hiking trails and fishing and boating opportunities. Camping in one of the seven campgrounds will have you gazing at the stars every night.
Mt. Shasta and Siskiyou County
Traveling sixty miles north of Redding brings you to Mt. Shasta in Siskiyou County, the crown jewel of Upstate California. At 14,179 feet, this volcanic mountain towers over the valley, while the town of Mt. Shasta is the gateway to the spectacular natural beauty of the area.
Outdoor enthusiasts will drool at the chances to hike and backpack the wilderness, fish the alpine lakes, bike the twisting mountain roads during the summer, and enjoy cold-weather sports in the winter.
Be sure to take in the area's waterfalls with a picnic lunch and short hikes:
McCloud Falls: You'll get three falls in one with this stop – Upper, Middle, and Lower.
McArthur-Burney Falls: At 129 feet high, it's not the highest, but some say it's the prettiest in the Upstate.
Hedge Creek Falls: Stagecoach robber, Black Bart, may have hidden in a cave behind these falls!
California Bucket List Final Thoughts
California is calling you! From the coast to the mountains and the valleys and deserts in-between, there's something for everyone with unique things to do in California.
A California bucket list could be as long as the state is big and take years to see. Hopefully, this guide has given you a starting point to begin your own California journey when the "golden" opportunity arises.