Whether you're a van-lifer or just enjoy the exciting feeling of wanderlust, road trips are perfect for anyone to get away. The feeling of wind blowing through your hair on the interstate keeps many addicted to these magical trips. A solo road trip from Los Angeles to San Francisco or from SF to LA is the perfect drive if you're hoping to hit the road soon.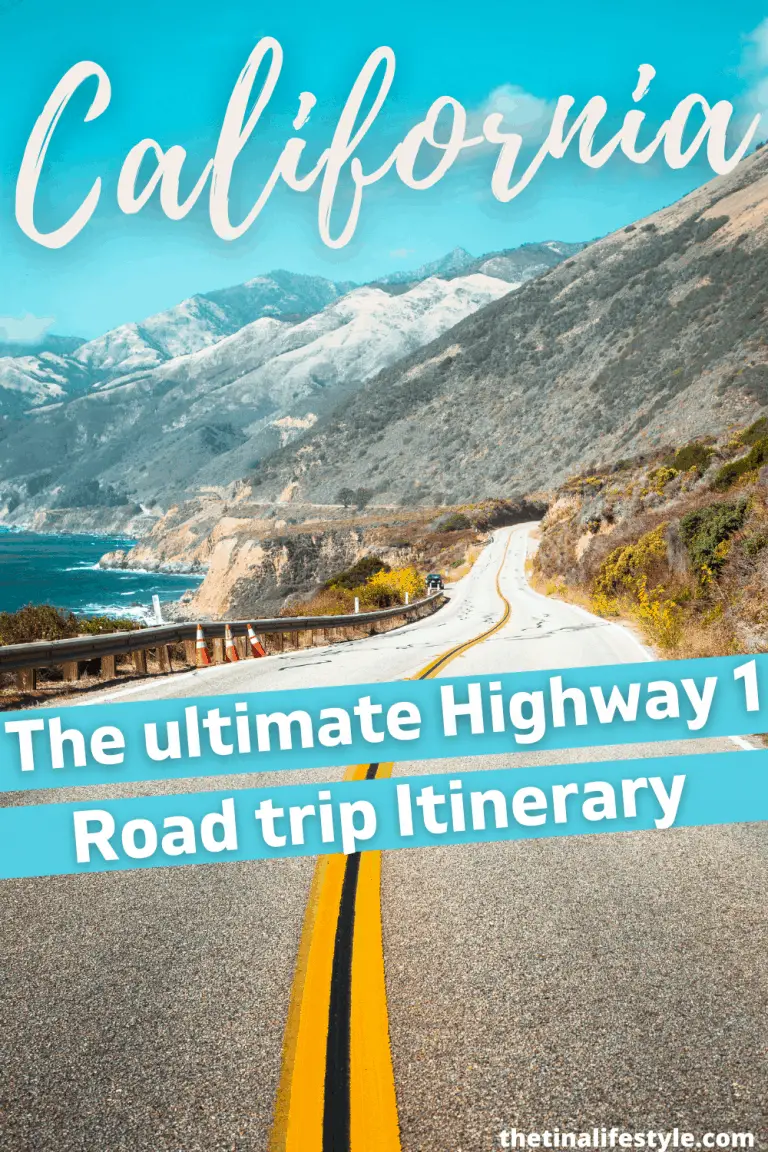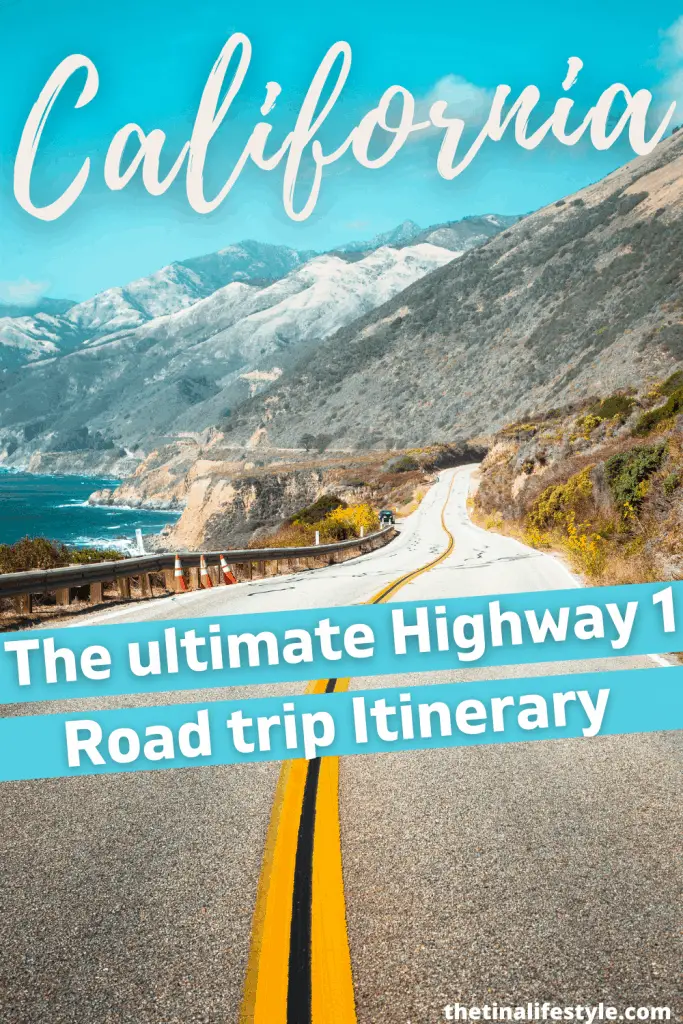 A solo road trip from Los Angeles to San Fransisco will take you along the Pacific Coast Highway, through Santa Monica, Santa Barbara, Morro Bay, San Simeon, Big Sur, Monterey, Santa Cruz, and, of course, San Fransisco. 
If you're interested in making this trip yourself, keep reading to find out what my experience was like and my recommendations to make your road trip from Los Angeles to San Francisco unforgettable. 
What a Solo Los Angeles to San Francisco Road Trip Looks Like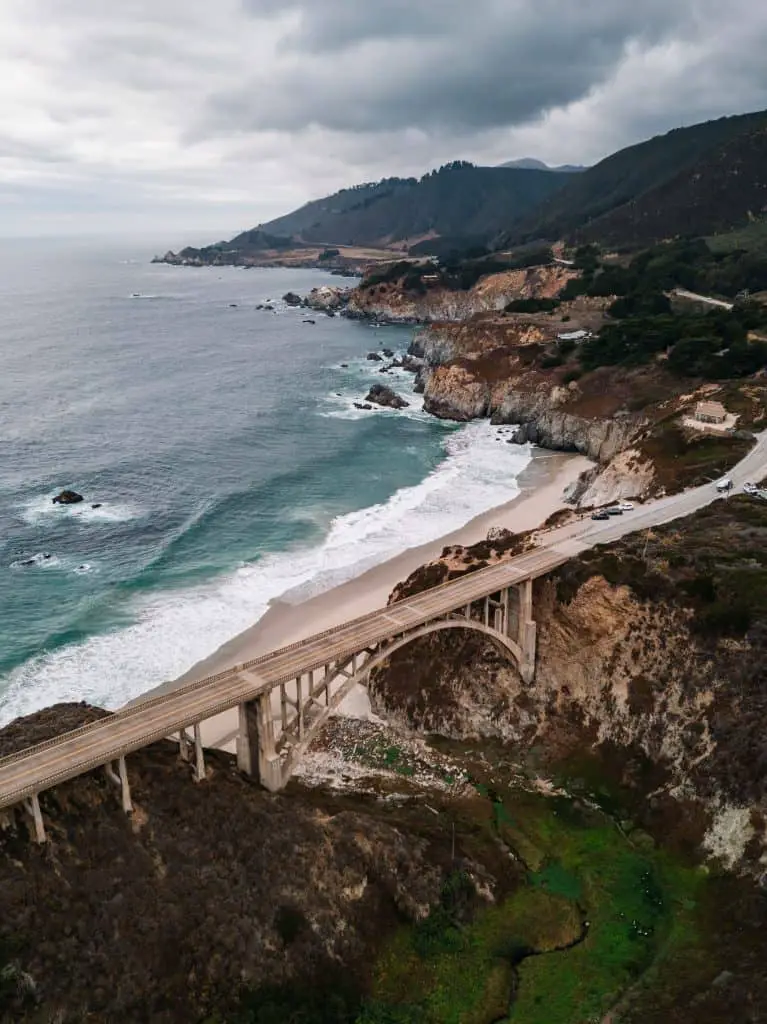 The shortest way you can get to San Francisco from Los Angeles is to take I-5 North to get you there in about 5 hours and 50 minutes. But, road trips are all about the stops along the way. I took the US-101 North/California State Route 1 route, also known as the Pacific Coast Highway. This made sure I'd be getting views of the California coast even though it adds a few hours to the trip. 
Santa Monica (16 Miles)
After spending a couple of days in Los Angeles, our roadtrip begins by departing Los Angeles for a short drive west towards beautiful Santa Monica.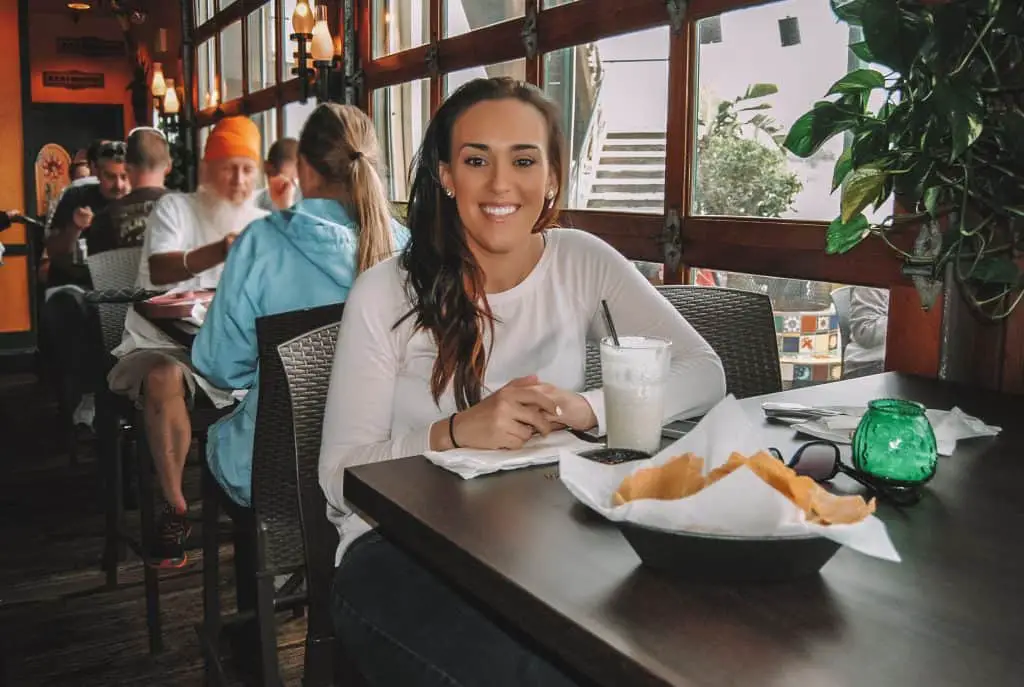 Upon arriving, I spent some time shopping downtown and visited the iconic Santa Monica Beach, which is within walking distance from the popular shops and restaurants. You'll want to check out the Santa Monica Pier, home to an amusement park, an aquarium and many more tourist attractions.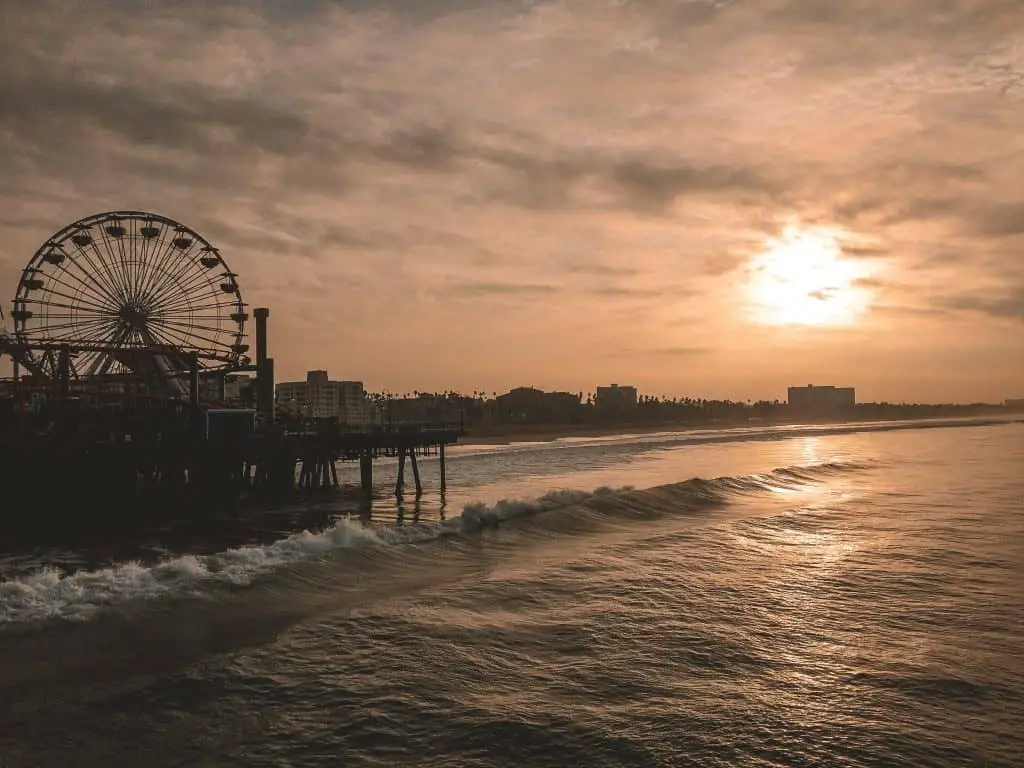 I stayed in Santa Monica for one night and had a lovely dinner downtown at the sophisticated Hillstone restaurant. I would highly recommend it.
Santa Barbara (95 Miles)
From Santa Monica, we head north on US-101 towards Santa Barbara. This stretch of road provides beautiful vistas of the California coast on the left and the Los Padres National Forest on your right.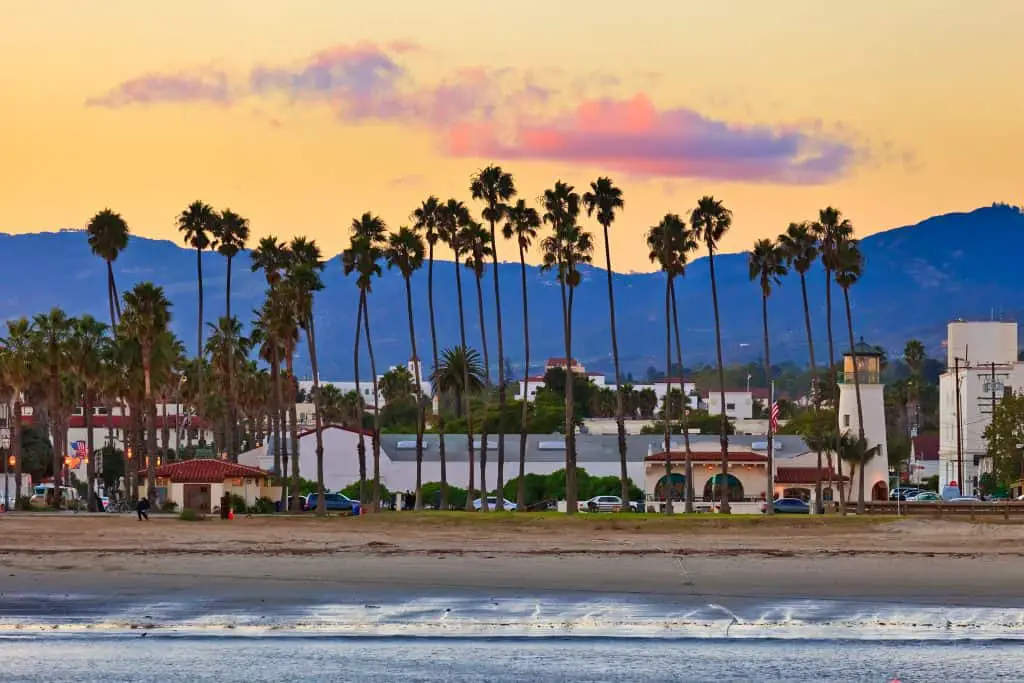 Morro Bay (202 Miles)
Upon arriving, you can spend some time shopping downtown Santa Barbara or visit the beach to enjoy the 360-degree views of the Pacific ocean and mountains. 
From Santa Barbara, I continued on US 101 North. If you have time before merging onto CA 1 from US-101 North, stop in San Luis Obispo for a bite to eat and to see the city's famous locations. 
Make sure to visit the bubblegum wall to pretend you're in Seattle for a little while. 
Also, a stop at Pismo Beach is well worth your while. While the immense number of beaches, caves, and coves for one to explore here are enough to attract any visitor, this place is actually best for…wine and…. butterflies?
This beach town is home to the Monarch Butterfly Grove, a shelter for Monarch butterflies that migrate to the area during the cooler months. You can see them on your visit from late October through February. 
Pismo Beach is also home to three notable California vineyards, so visit a winery or sign up for a wine tasting session to enjoy all the flavors this location has to offer. 
But, as you continue on to Morro Bay, the journey will take you through sweeping valleys with vegetation and agricultural land lining you on either side. You might have trouble focusing on the road as you strain to capture the beauty of it all. 
I stayed in Morro Bay for one night and had the best Thai food for dinner at Thai Bounty.
Morro is a small coastal city with a population of about 11,000. You'll be spending most of your time at Morro Bay State Park. Here, beaches and natural areas are largely unperturbed. I was able to enjoy the views without worrying about getting bothered. You could even stop here to camp if you're looking for an inexpensive way to make your trip last longer.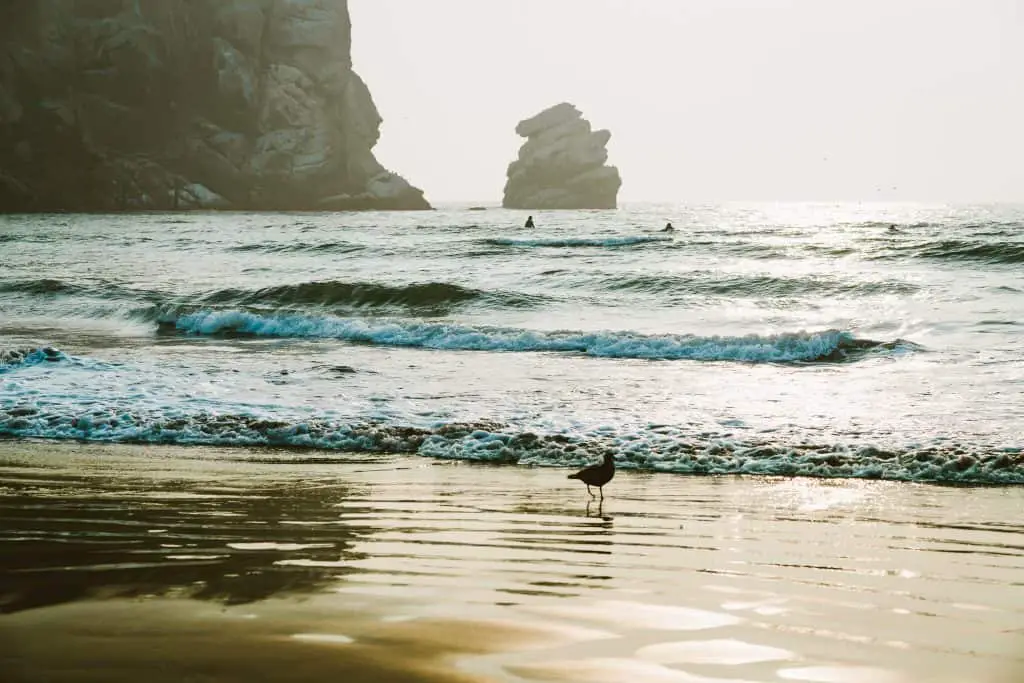 San Simeon (240 Miles)
Not even 40 miles away from Morro Bay is the beautiful San Simeon. On the way, you'll have stunning views of the sparkling ocean to your left with plenty of dirt stop-offs on the side of the road to snap some photos at. 
San Simeon is another small beach town, famous for its crystal clear waters. One activity it's most famous for is elephant seal viewing. You can access free rookeries where you can view wild elephant seals up close!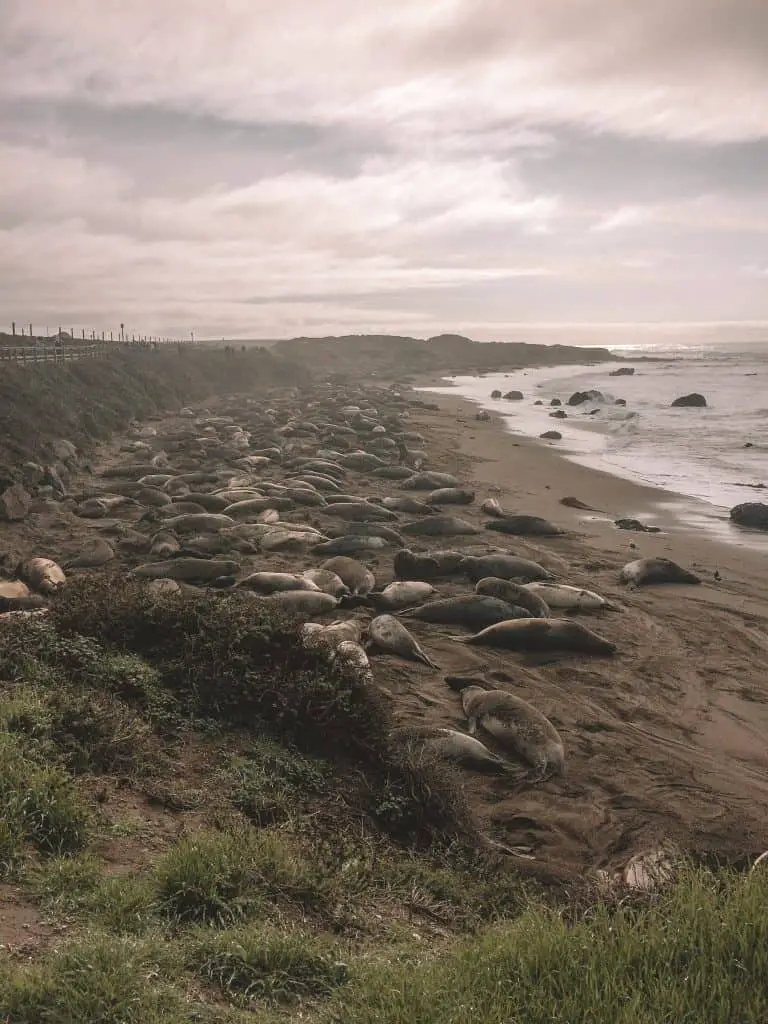 Hearst Castle is perhaps the most famous landmark in San Simeon. It's sure to grab the attention of lovers of history and extravagance. 
This castle was constructed in the early-mid 1900s and features dramatic, ornate aesthetics fit for a king and queen. You can take tours of the grounds and envision that you yourself are the resident of the estate! 
Big Sur (270 Miles)
I hope you aren't afraid of heights. 
The next 30 miles on the trip take us to Big Sur. A famous stretch of road on the Pacific Coast Highway that winds through the Pfeiffer Big Sur National State Park which features the iconic 715-food long Bixby Bridge.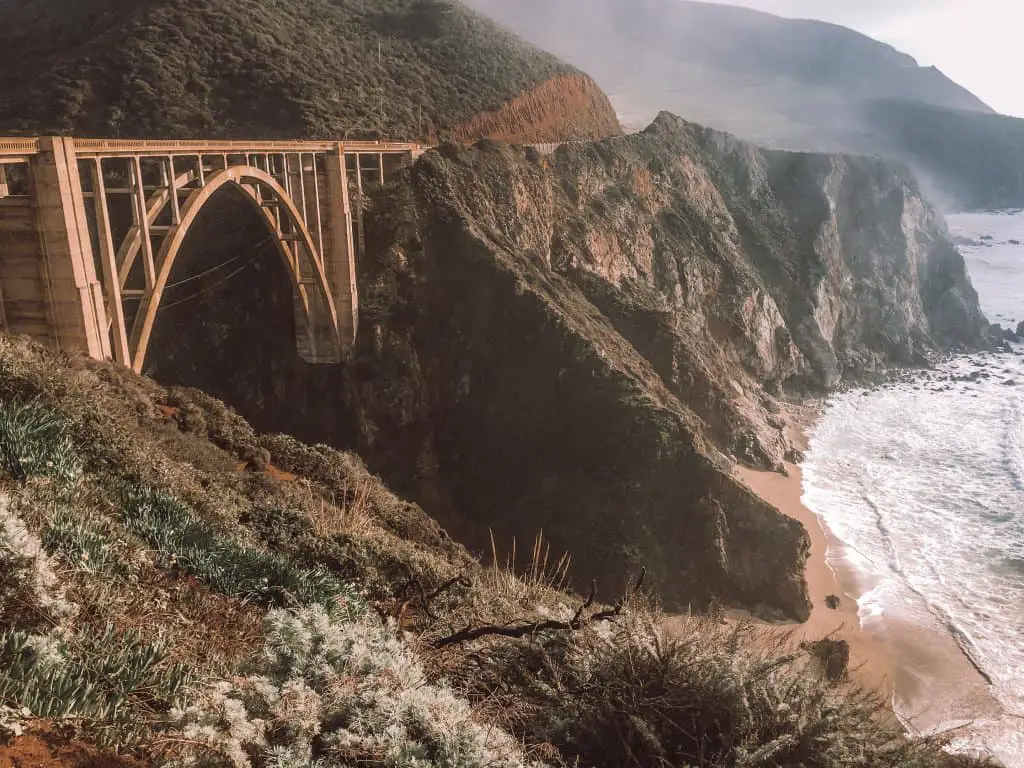 The journey on the Big Sur itself is plenty gorgeous. It took me through dynamic areas of forest with lush vegetation.
Make sure to grab a bite to eat at Nepenthe. Perched on a Big Sur cliffside, you'll be spoiled with outstanding views eating from their patio. They have a Cafe that serves breakfast and lunch as well as a beautiful shop.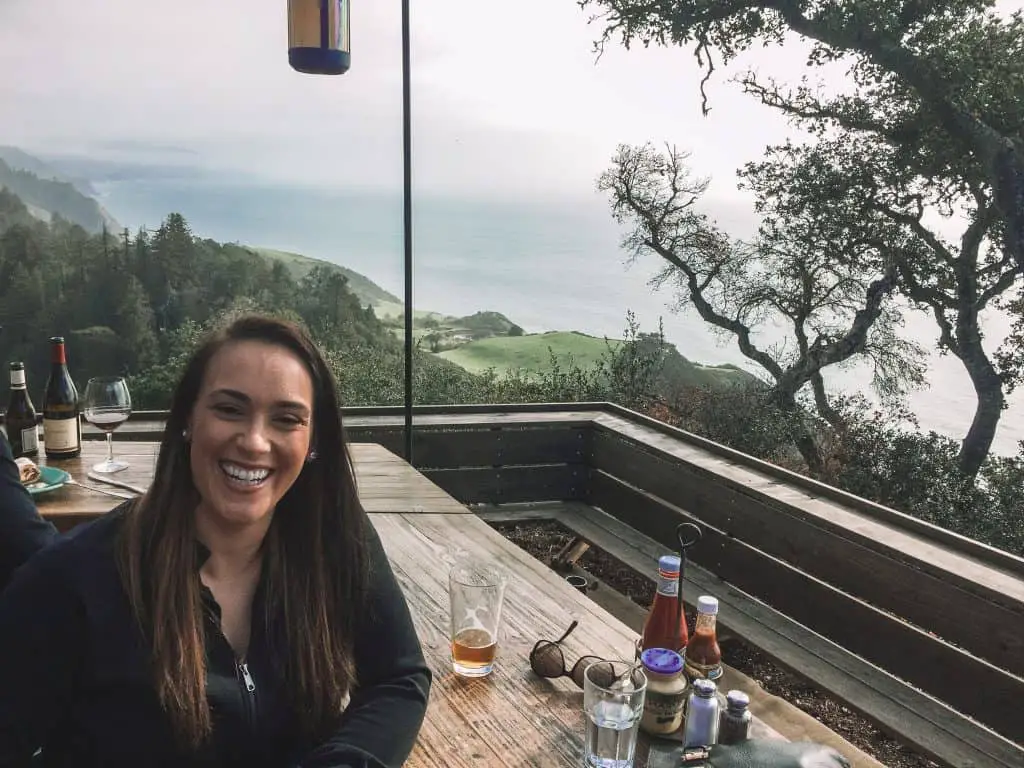 Monterey (319 Miles)
If you're a fan of John Steinbeck's books, this is a stop you can get excited about. 
For the next 50 miles, enjoy more coastline views as you continue on CA 1 to Monterey, the site of John Steinbeck's famous "Cannery Row" novel. Cannery Row is a stretch of shops and bars/restaurants that offer daytime and nighttime entertainment. 
There's also ample opportunity to see some whales and dolphins! If you're more of an indoor person, get your fill of sea life at the famous Monterey Bay Aquarium.
I chose to stay in an Airbnb in Seaside, a town close to Monterey on my road trip. The one I stayed at operates more like a traditional bed and breakfast in a historic home only 1.5 miles from the beach. It was the perfect place for me to stay on my trip due to its location, quality, and price.
If you're making a solo trip from LA to SF, I recommend breaking up the trip by stopping at a nice Airbnb's like this one along the way to rest up and make some special memories. 
Santa Cruz (341 Miles)
After my stop in Monterey, I continued along CA 1 to a location just before San Francisco- Santa Cruz.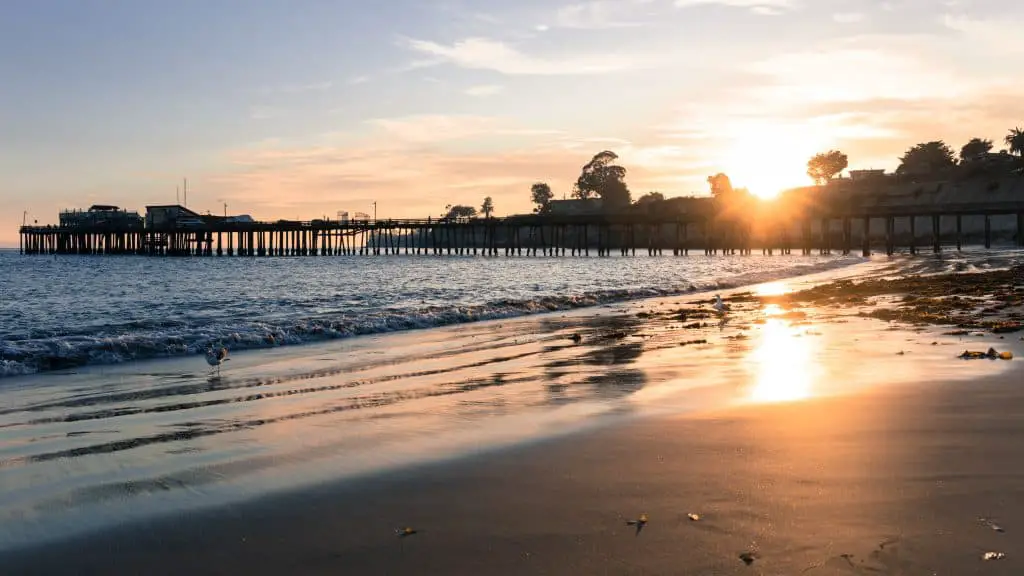 Santa Cruz has a famous boardwalk with attractions and roller coasters to help you let loose a little. You can also opt for nature trails, as there are hiking trails and opportunities to explore rock formations along the beach. 
San Francisco (430 Miles)
After continuing on the beautiful Pacific Coast Highway for the rest of your trip, you'll have arrived at San Francisco! Now that you've arrived, you can drop off or pick up a rental car if you need to. 
Needless to say, I couldn't fit all the amazing attractions of San Francisco here- but I'll recommend some of my favorites.
If you've never visited a Chinatown, you've got to try out San Francisco's. It's one of the biggest and most famous Chinatowns in the world. If you're a fan of Chinese food, you can't find anything more authentic in the States than the food here. 
The Golden Gate Bridge is clearly another must. Take lots of photos and bask in the expansive views here.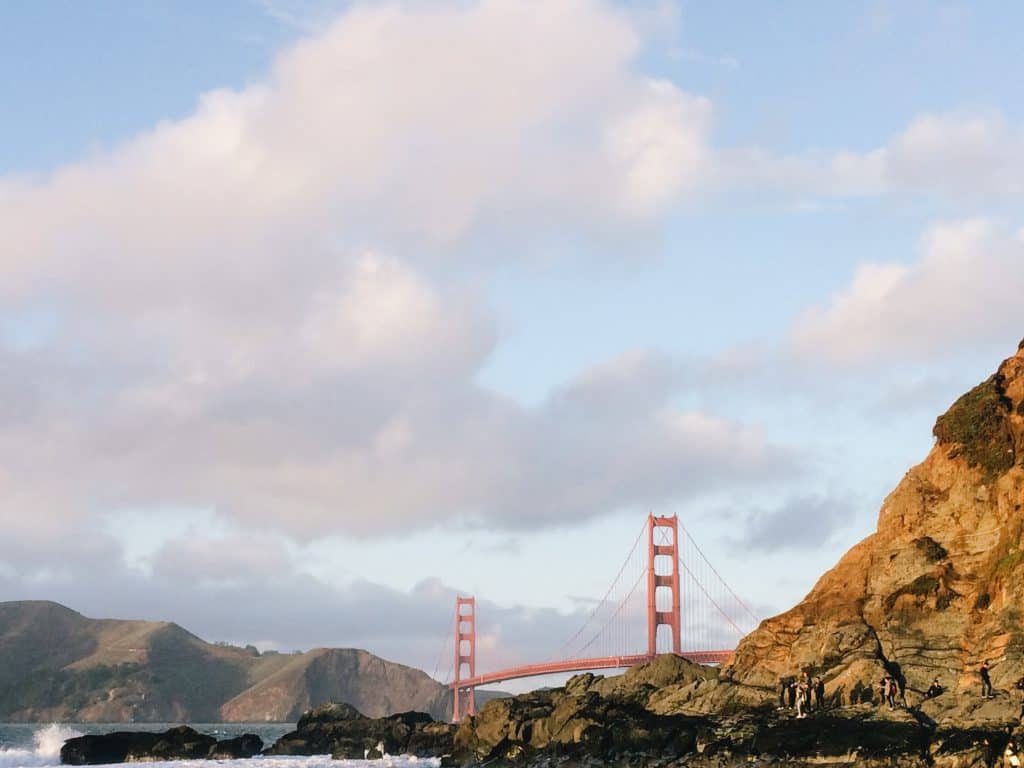 For my retail-therapy lovers out there, Union Square offers the best shopping opportunities you'll find in the city. This area shows the magnificence of this modern city for those who love the hustle and bustle of downtown. 
For a nice a diner and glass of wine, I really enjoyed the Boulevard Restaurant.
Tip – make sure to pack a light jacket, as it can get chilly in San Francisco depending on the time of year you're visiting.
Enjoy Your Solo California Road Trip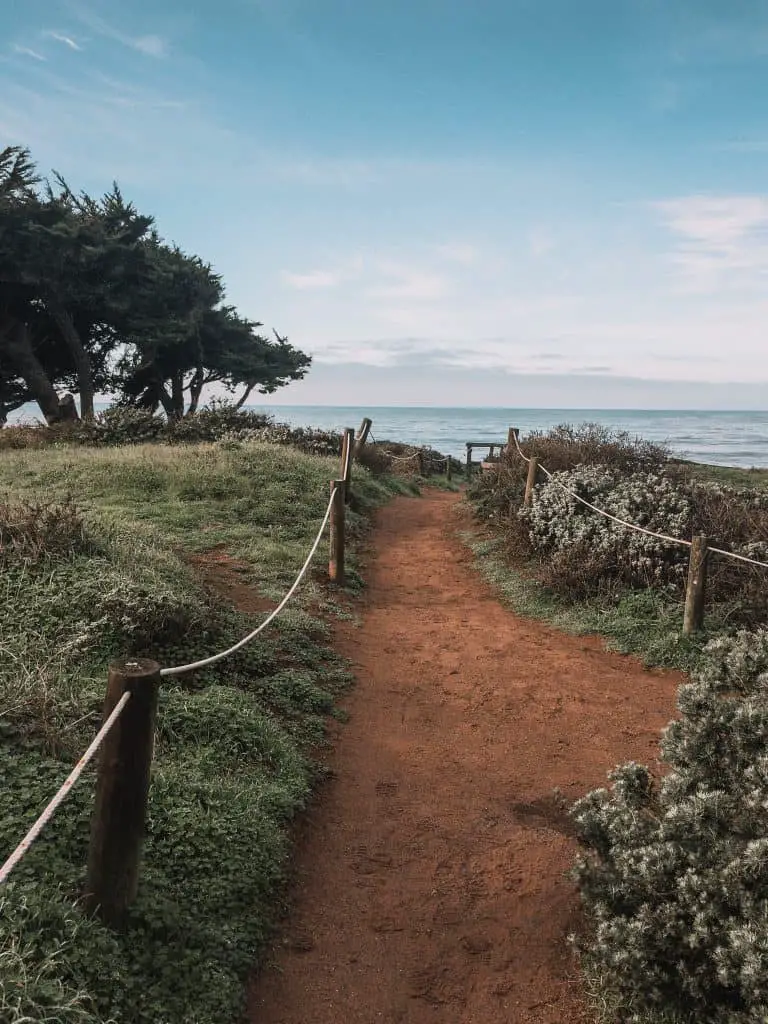 Now you have all the tools you need to make sure your solo road trip from Los Angeles to San Francisco goes as smoothly as possible. Make sure you stop at all the recommended sites for the best views and activities to enjoy on your journey.
For a full list of all the California State Parks you can access along the way, make sure to check out this article which features a full list organized by region and county with links to articles that feature the parks. There is also a California state parks map on the bottom so that you can visualize where all of the parks are located.
I cannot wait until I get to visit California again. Joshua Tree National Park is definitely on my bucket list. So is San Diego would also make a great place to start a California road trip toward San Francisco.
Happy travels! 
Frequently Asked Questions
How Long Is the Scenic Los Angeles to San Francisco Drive?
Of course, it depends on several factors. The average driver can expect to cover the distance in approximately 10 hours, not including stops for gas or food. But if you want to truly enjoy the journey, it's best to allow yourself a few extra days. That way, you can make frequent stops to take in the sights and sounds of California's coast. The Los Angeles to San Francisco drive is one of America's most popular road trips. Stretching along the coast for over 650 miles, the journey takes travelers through some of the most beautiful scenery in the country. 
Is San Francisco Good for Solo Travel?
San Francisco is one of the most popular travel destinations in the world, and for good reason. The city has something to offer everyone, whether you're interested in exploring San Francisco and its vibrant nightlife scene or taking in the stunning natural beauty of the Bay Area. However, solo travelers often find themselves at a loss when trying to navigate the city. From crowded sidewalks to steep hills, San Francisco can be a daunting place to explore on your own. But with a little planning and preparation, solo travelers can learn to love the city just as much as everyone else. With its endless opportunities for exploration, San Francisco is the perfect destination for those who enjoy traveling solo.