White Fragility by Robin Diangelo was published in June 2018. I had never heard of it until attention towards the Black Lives Matter movement peaked at the beginning of June 2020. It was one of the first books I ordered when I felt a heavy responsibility, as a white woman, to learn more about racism and how to be a better ally. I hope you enjoy this review of White Fragility.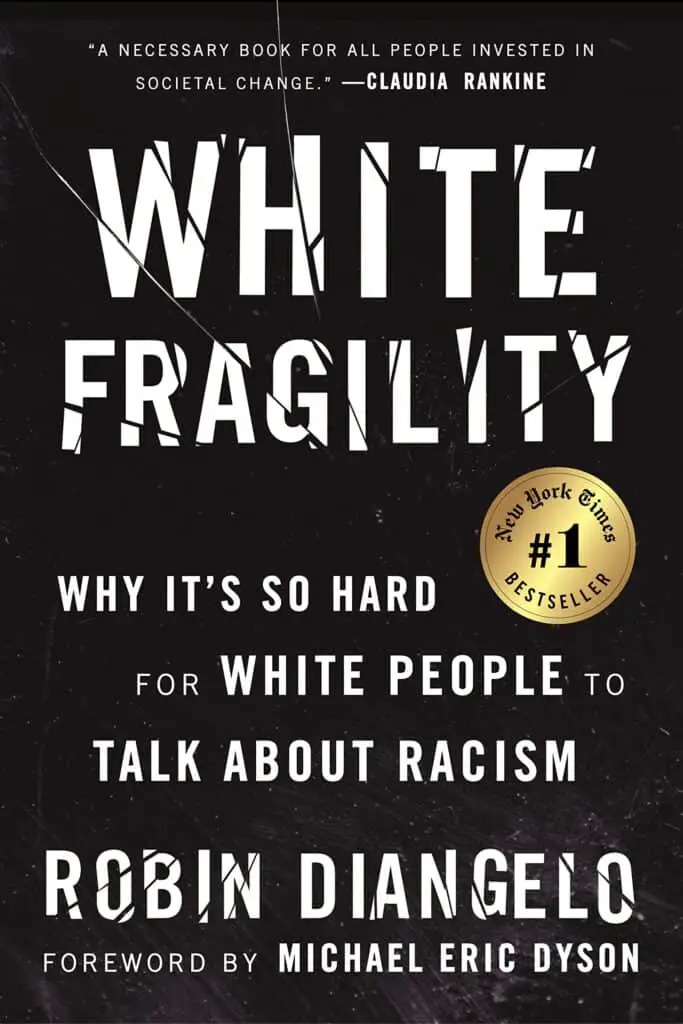 Read the Goodreads description of White Fragility here.
This book was on what felt like all the recommended reading lists I saw online. Shortly after ordering the book, I started seeing many posts and Instagram stories asking people not to buy this book because a white woman wrote it and that we should try and only be purchasing resources offered by Black people. 
Because of this, I wondered if I should read this book when it arrived home. I felt guilty about having ordered it. Around the same time, I had also picked up the book Me and White Supremacy by Layla F. Saad. She's a Black New York Times Best-Selling author, speaker, and teacher on race (I highly recommend this book). I noticed that the book had a forward by White Fragility author Robin Diangelo. It gave me what I needed to give this book a chance.
Here's a list of black-owned bookstores where you can find and purchase your books. 
Review Of White Fragility
You might also enjoy: Putting an End to Racism
Diangelo describes the term white fragility as: "(…) the defensive reactions so many white people have when our racial worldviews, positions, or advantages are questioned or challenged. For a lot of white people, just suggesting that being white has meaning will trigger a deep, defensive response. And that defensiveness serves to maintain both our comfort and our positions in a racially inequitable society from which we benefit." 
The book gave me a better understanding of what triggers white fragility and made me realize that we all have racism patterns.
Understanding what triggers white fragility
"Prejudice is foundational to understanding white fragility because suggesting that white people have racial prejudice is perceived as saying that we are bad and should be ashamed. We then feel the need to defend our character rather than explore the inevitable racial prejudices we have absorbed so that we might change them. In this way, our misunderstanding about what prejudice is protects it." – ROBIN DIANGELO
As white individuals, we fear being told that something we have said or done is racially problematic. When this happens, we tend to respond in defensiveness and denial. 
Understanding how white fragility shows up makes it easier to take then the necessary actions to address it. 
Recognizing our blind spots
Diangelo writes about the importance of not letting our egos get in the way: "Stopping our racist patterns must be more important than working to convince others that we don't have them. We do have them, and people of color already know we have them; our efforts to prove otherwise are not convincing."
Diangelo does an excellent job of reminding us that we all have blind spots and unconscious investments in racism. That our system was built to benefit us unfairly and that we all use it to our advantage. Ultimately, we are responsible for interrupting it. 
You might also enjoy : 19 Books To Add To Your 2020 Reading List
Acknowledging that our race gives us advantages
"We must continue to ask how our racism manifests, not if." – ROBIN DIANGELO
We must start by acknowledging that our race gives us advantages. White culture has made it that people don't realize the benefits they receive because of systemic racism. Diangelo's book provides examples to contextualize and help understand some of the advantages we benefit from daily. 
"In the same way that a pier sits on submerged pillars that are not immediately visible, the beliefs supporting our racial claims are hidden from our view. To topple the pier, we need to access and uproot the pillars." – ROBIN DIANGELO
We did not set up this system. But we do benefit from it every day. We all have an individual responsibility to do what we can to dismantle it. Being able to acknowledge that we benefit from it is crucial if we want to help move the needle.
White progressives and being a true ally 
"I believe that white progressives cause the most daily damage to people of color. I define a white progressive as any white person who thinks he or she is not racist, or is less racist, or in the "choir," or already "gets it." White progressives can be the most difficult for people of color because, to the degree that we think we have arrived, we will put our energy into making sure that others see us as having arrived. None of our energy will go into what we need to be doing for the rest of our lives: engaging in ongoing self-awareness, continuing education, relationship building, and actual antiracist practice." – ROBIN DIANGELO
We must encourage white people to talk about racism and do what they can every day to support Black, Indigenous and People of Colour (BIPOC). We may consider ourselves white progressives, or we may say we're against racism. But we're failing the BIPOC community if we're unwilling to acknowledge our white privilege and admit that racial hierarchy (where we consider some racial groups to be superior to others) is a real concept. 
If not now, when? 
It's sad to see what is happening in the United States with Donald Trump as president. I hope that white Americans will take this opportunity to exercise their right to vote in the upcoming 2020 election and use it to talk about racism and send a message that they support Black people and people of colour and that systemic racism needs to end.  
Of course, here in Canada, we are far from being perfect. We tend to think that we're better because we don't hear about racism as much on TV or in the news. But as mentioned earlier, racisms manifests itself in all of us. No matter where we live, we all have to do the work in recognizing when racism is benefiting us and doing what we have to do to become an ally. 
Pin it for later :
Star Rating ⭐️⭐️⭐️⭐️
I hope you enjoyed this review of White Fragility. To my white readers, of course, I highly recommend this book. It's a great book option if you're a white person genuinely wanting to embark on a journey of self-understanding how racism manifests itself and how we can stop our racist patterns. It won't give you all the hows, but it's one resource you should highly consider adding to your list. Racism is highly complex, and the journey to learning will never end. This is a great place to start. 
Of course, this should not be the only resource you consume on this topic, and please ensure that you are indeed consuming resources from the BIPOC community. Other educational books I have since read that I highly recommend: So You Want to Talk About Race by Ijeoma Oluo, and Me and White Supremacy by Layla F. Saad. 
Here's a list of black-owned bookstores where you can find and purchase your books.