For a relaxing retreat, consider visiting one of the many peaceful islands on the East Coast. Year-round, these islands offer activities and seclusion from the bustle of everyday life.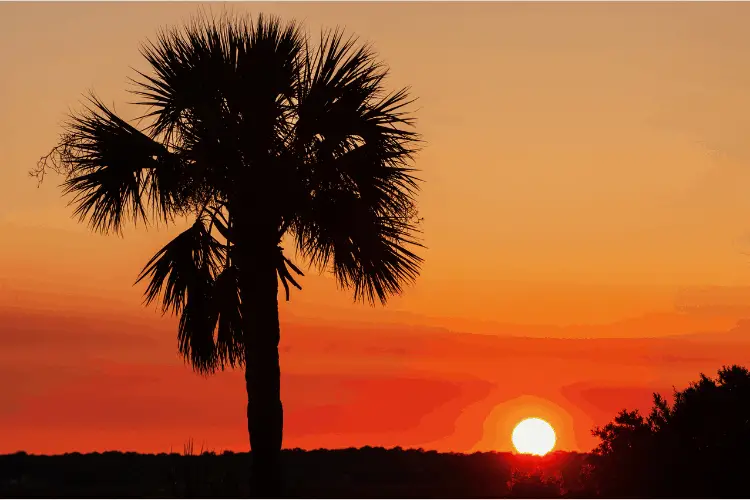 Peaceful islands on the East Coast have long been tourist destinations. From Florida to Maine, East Coast beach vacations offer something for everyone. Whether you prefer sailing or sunbathing, these islands are a great choice for your next vacation.
Tourists choose island vacations for many reasons. Sometimes it's to enjoy the beautiful, natural scenery, and other times for access to great restaurants and fun activities. The East Coast has peaceful islands from top to bottom. Here are a few to consider when planning your trip.
What is a Barrier Island
Many of the islands on the East Coast are barrier islands situated to protect the main coastline from hurricanes and other storms. Other islands, such as Long Island, are peninsulas separated from the mainland by a small amount of water. Islands can be big or small; the size will often determine how much development and activity there is.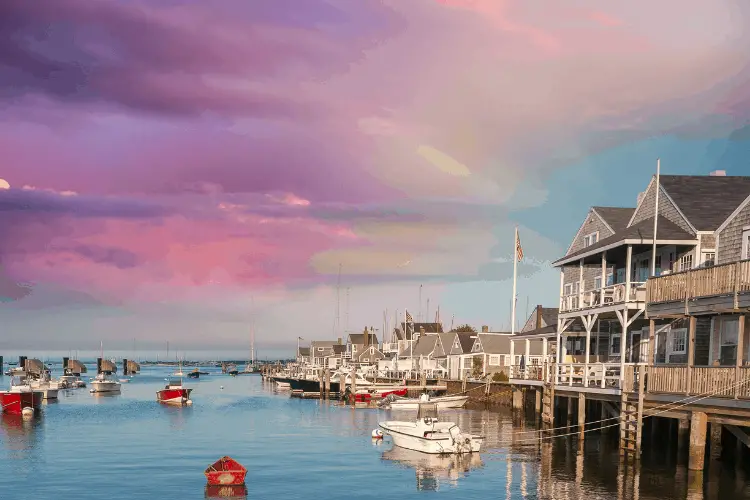 The East Coast as a Beach Destination
Like coastal areas around the country, the East Coast of the United States has long been a travel destination for visitors in search of beautiful beaches.
There are sunny, tropical beaches in the South and rugged, lighthouse-dotted beaches in the North. Some of the most popular beach locations are in:
The South: The beaches of Georgia, South Carolina, and North Carolina beaches are family-friendly locations for nature lovers.
Mid-Atlantic: Delaware's beaches are a weekend escape for DC-area residents, while Long Island offers a peaceful retreat for New Yorkers.
New England: All year round, beaches in Massachusetts, Rhode Island, and Maine are also a seaside delight.
If you are thinking about making your visit to one of these islands a longer trip, consider a vacation rental. You can enjoy the beach lifestyle in your own home and not have to worry about hotels.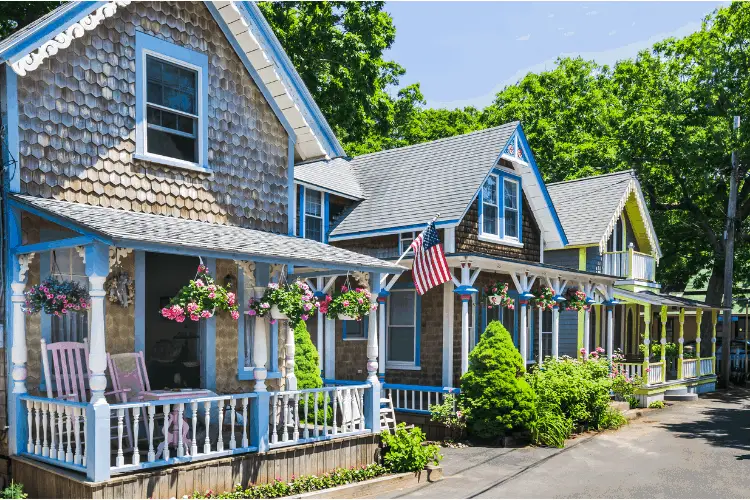 Georgia's Coastal Islands
Some beach areas on the East Coast are notoriously overdeveloped and have thousands of visitors each beach season. Georgia has managed to keep its beaches unspoiled, perfect for those who are looking for nature instead of a boardwalk.
Two beaches that offer a peaceful refuge from the hustle of daily life are Tybee Island and Jekyll Island.
Tybee Island
Located a short distance from Savannah, Tybee is packed with things to do. Climb to the top of the lighthouse to get unbelievable views of the island. Visit Fort Screven, constructed in the 1890s to protect the mouth of the Savannah River from invasion.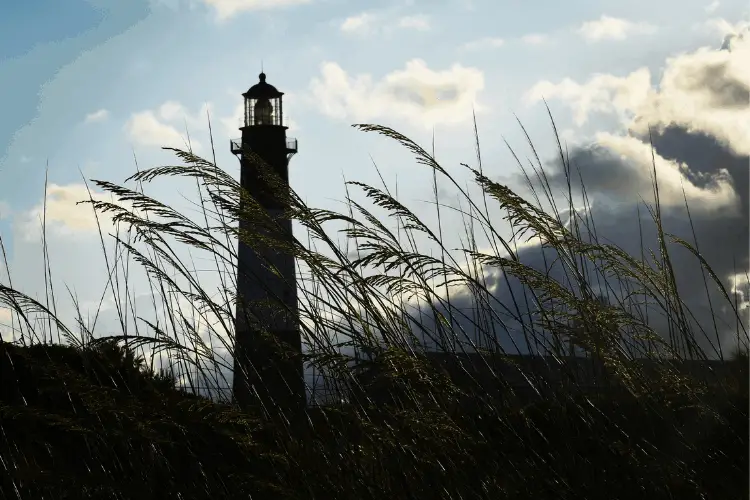 Tybee Island is popular with locals and tourists, but finding a peaceful beach space is not hard. Do some beachcombing in the beautiful white sand and watch for dolphins that migrate along the coast.
Jekyll Island
Jekyll Island is a state park located in the Golden Isles chain and offers visitors a chance to enjoy nature at its best. The island is a stopping point for migratory birds, so birdwatchers, in particular, will enjoy their visit. The turtle rehabilitation center offers visitors information on conservation efforts.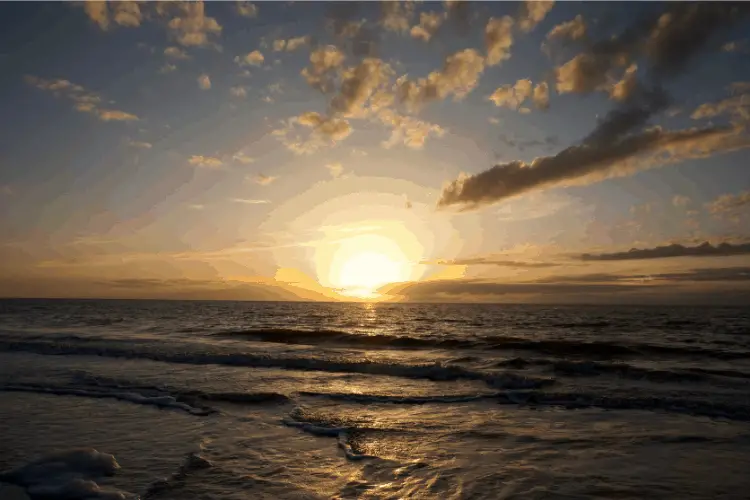 Sea Island
Nestled off the coast of Georgia, Sea Island is a barrier island that has long been a favorite destination for vacationers seeking a taste of the American South. The island is home to miles of pristine shoreline, towering live oak trees, and endless opportunities for outdoor recreation.
Visitors can enjoy fishing, boating, and golfing or simply relax on the beach and soak up the warm Southern sun. Despite its remote location, Sea Island is also home to a number of luxurious resorts and restaurants that offer the perfect place to unwind after a day of exploration. Whether you're looking for adventure or relaxation, Sea Island is sure to offer something for everyone.
Simons Island
Simons Island is located in the Atlantic Ocean. It is a barrier island that is 24 miles long and 3 miles wide. The island is situated between Savannah, Georgia, and Charleston, South Carolina. Simons Island is a popular tourist destination because of its beaches, golf courses, and restaurants. The island also has a rich history dating back to the early 1600s, when it was first settled by the English. In 1742, the island was named after John Simons, an Englishman who owned a plantation on the island. During the American Revolution, Simons Island was occupied by British troops. In 1808, the island came into the possession of Moses Medyar, a Jewish merchant from Charleston. Medyar eventually erected a synagogue on the island, which is believed to be the first synagogue in America. Today, Simons Island is home to a variety of businesses and attractions, including Fort Pulaski National Monument and the Tybee Island Light Station.
South Carolina's Islands
Tourists in South Carolina should take the time to visit the many islands off the coast.
The charm of Charleston extends to the coast, especially to Hilton Head Island. It is a family-friendly destination with activities for all ages.
Hilton Head
Hilton Head is located less than an hour away from Savannah, Georgia. Vacationers can spend time doing various outdoor activities, including golfing, kayaking, and bicycling. It is also a great spot for destination events like weddings.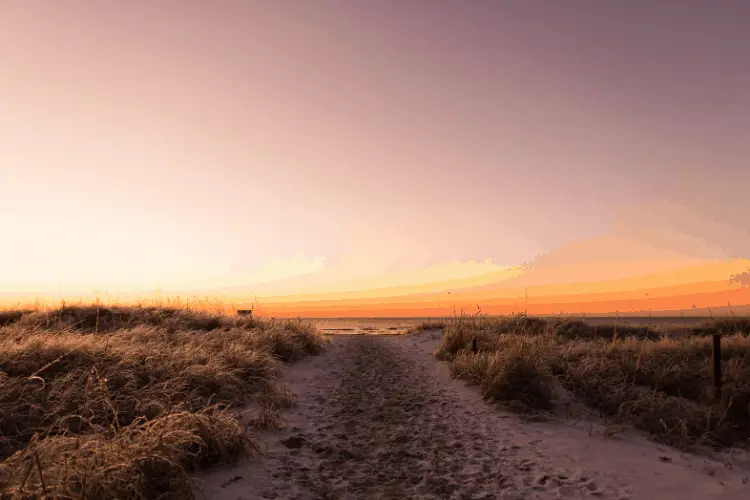 Kiawah Island
Kiawah Island is a barrier island off the coast of South Carolina. The island is home to several resort communities, including the Kiawah Island Golf Resort. Kiawah Island is known for its luxury accommodations and championship golf courses. The island's sandy beaches and lush vegetation make it a popular destination for vacationers from around the world. In addition to its natural beauty, Kiawah Island is also home to a variety of wildlife, including loggerhead turtles, alligators, and dolphins. Visitors to the island can enjoy many activities, such as golf, fishing, and kayaking. With its abundance of amenities and natural beauty, Kiawah Island is an ideal vacation destination for those who appreciate luxury and relaxation.
North Carolina's Barrier Islands
Much of northern North Carolina's coast is protected by barrier islands, which have been developed into popular tourist destinations. 
Cape Hatteras and the Outer Banks offer peaceful havens for vacationers.
Cape Hatteras
The island of Cape Hatteras is part of the National Park Service. It is the first national seashore and was established to protect this fragile ecosystem. Constantly being reshaped by storms and winds, this island is home to different wildlife habitats.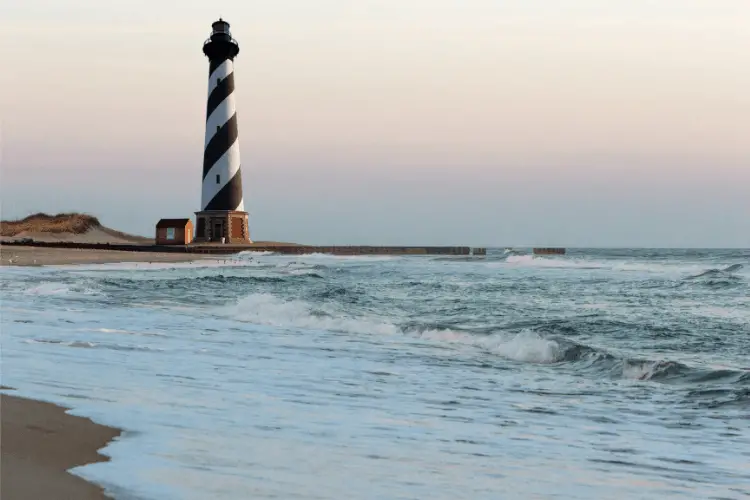 Animal lovers will get the opportunity to see seals and turtles. Adventurers can go hiking, horseback riding, surfing, and snorkeling. The beaches are also the perfect location to just lounge with a book and relax.
The Outer Banks
Further up the North Carolina coast are the Outer Banks. These are a chain of barrier islands along the coast. Full of history, the Outer Banks is where the English first settled in North America at the lost colony of Roanoke.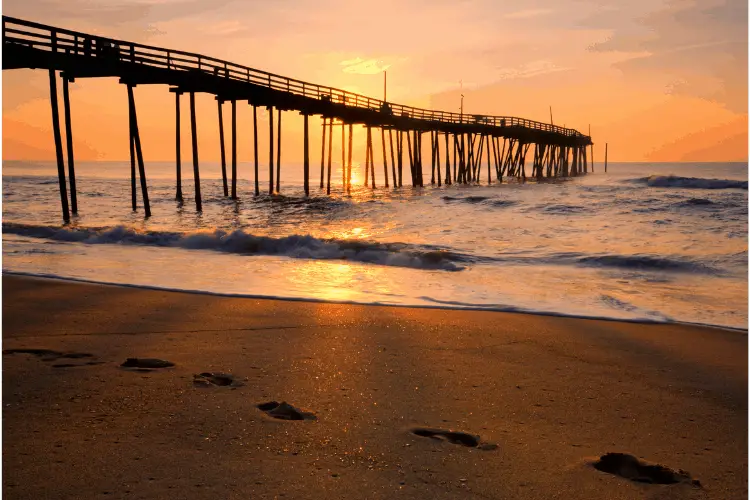 History lovers will also enjoy visiting Kitty Hawk, where the Wright brothers took their historic flight, and historic Fort Raleigh, which preserves the colonial and Native American history of these islands.
The Outer Banks on Google Maps
Delaware's and New York's Islands
For centuries, people living in urban areas have longed for a peaceful place to escape their busy city lives.
For residents of the Washington, DC area, Delaware is a popular place to escape to, while New Yorkers make summer pilgrimages to Long Island and Fire Island.
You might also enjoy: 5 Beautiful Places To Visit In Washington DC
Delaware's Barrier Islands
The barrier islands that protect Delaware's coastline run from Rehoboth in the North to Fenwick Island in the South and offer beautiful beaches and cute communities to visit.
Bethany Beach is on this barrier island and is connected to the mainland, making it easy to get there. Music lovers should plan on visiting on Labor Day weekend for the annual Jazz Funeral, when residents and visitors celebrate the end of summer and send it off in style.
Long Island
Long Island is a peninsula extending from New York City up along the Connecticut Coast. With Long Island Sound on one side and the Atlantic Ocean on the other, plenty of beaches exist to enjoy.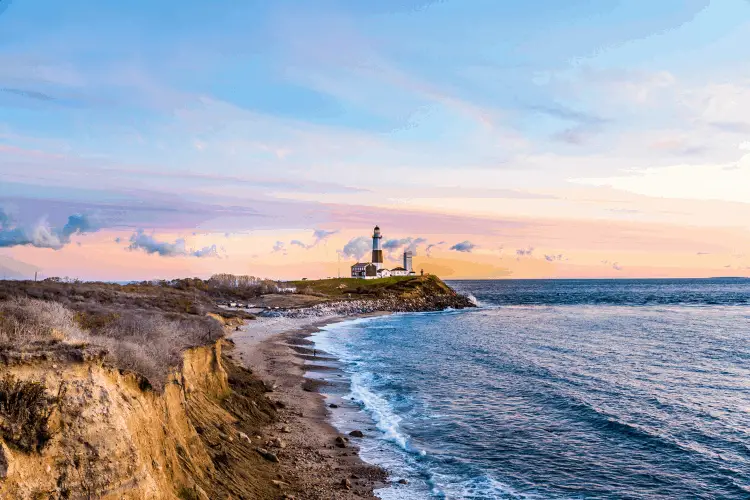 There are also other opportunities to be outside, including a variety of golf courses, horseback riding trails, hiking paths, and wildlife refuges. Food lovers will be able to sample some world-class dining during their visit.
Fire Island
Fire Island is off the southern coast of Long Island. Cars are rare on this island, and visitors arrive by ferry from Long Island.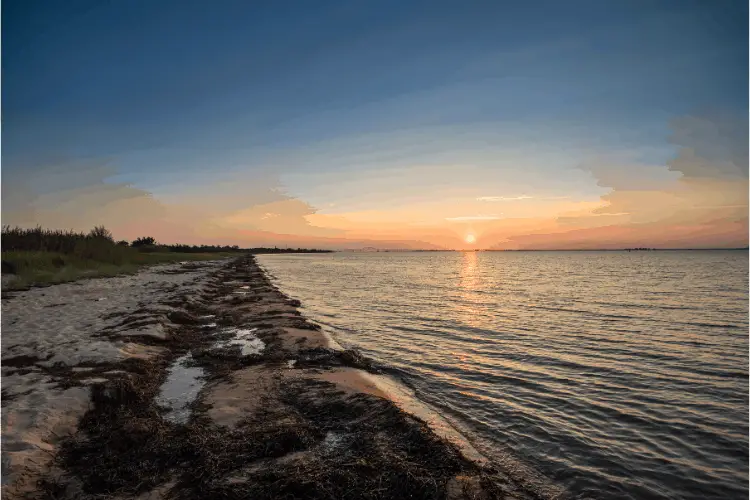 If you want a slower pace of life on your vacation, this is the place for you. Rent bicycles to get you from excellent restaurants to beautiful beaches and nature preserves. There are plenty of hotels and vacation rentals for you to choose from to make your trip complete.
New England's Islands and Beaches
New England has a long connection with the ocean, and its beaches and islands reflect that. Originally fishing villages, these communities have embraced visitors and enjoy sharing their culture and history. 
Massachusetts
Massachusetts's beaches and islands have been popular destinations for centuries.
Cape Cod
Nantucket
Martha's Vineyard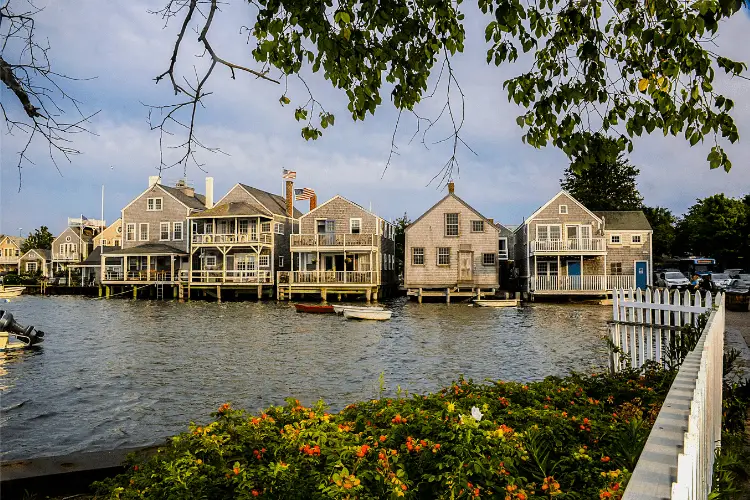 These charming spots welcome visitors year-round and offer something for everyone.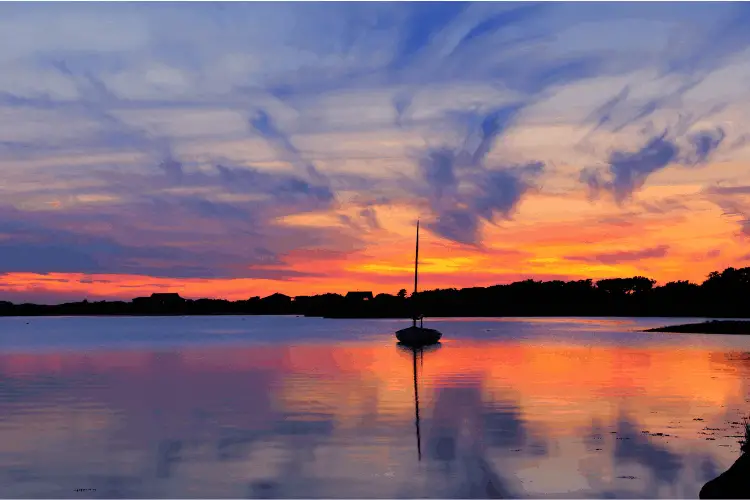 Cape Cod is an arm of land that extends out into the Atlantic Ocean. Popular towns to visit on the Cape are Provincetown, Truro, and Eastham. These are located in the beautiful Cape Cod National Seashore, a federally protected natural area.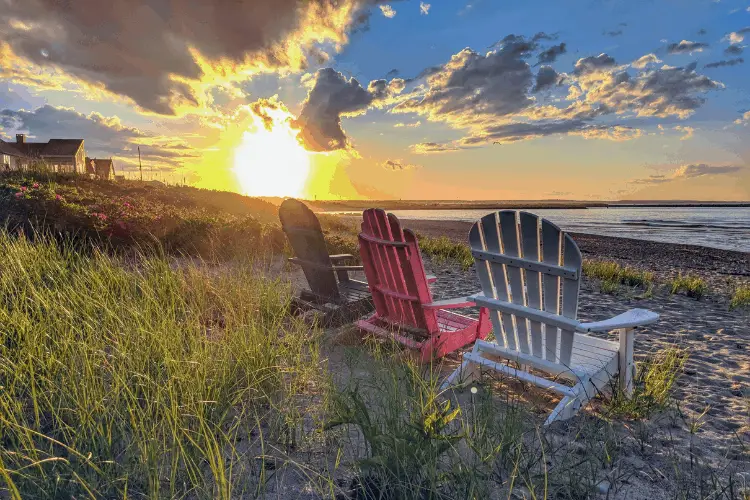 Rhode Island
Rhode Island is known as the Ocean State for a good reason. Despite being the smallest state in the nation, it has miles of coastline. 
Block Island is just off the coast of the Atlantic Ocean, east of Long Island. With 17 miles of public beach space, Block Island is perfect for sunbathers and water sports enthusiasts. Other activities include horseback riding, kayaking, bird-watching, and fishing.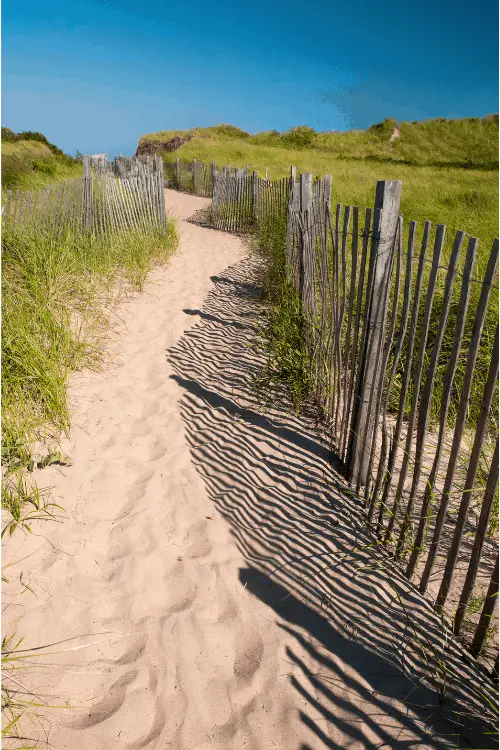 Maine
You might also like: The most beautiful place to stay when visiting Kennebunkport Maine
Maine's coastline is perhaps the most rugged and natural of all those presented here. 
Vacationers considering Maine should think about adding Mt. Desert Island to their destinations. Home to the town of Bar Harbor and Acadia National Park, this island is a treat for nature lovers.
There is plenty of accommodation, from bed and breakfasts to campgrounds. Visitors will have their pick of restaurants and stores. Enjoy some Maine lobster before heading out into the National Park!
Mount Desert Island
Mount Desert Island is one of the most beautiful places on earth. It is home to Acadia National Park, which is known for its stunning views of the ocean, its hiking trails, and its abundant wildlife.
The island is also home to several small towns and villages, each with its own unique character. In addition to its natural beauty, Mount Desert Island is a popular destination for artists, writers, and musicians in addition to its natural beauty.
The island has been the inspiration for many works of art, and it has been featured in several films and TV shows. Whether you're looking for a place to hike, a place to relax, or a place to create Mount Desert Island is the perfect destination.
Islands off the East Coast of the USA for Your Next Island Getaway
Now, more than ever, vacation planners are looking for a peaceful location away from the crowds of tourist hot spots. Islands are a perfect option, and the ones on this list offer seclusion while also being easily accessible. Plan your trip today, and before you know it, you'll be relaxing on a quiet beach.
If you're considering a vacation on the other coast, consider visiting Hawaii and one of its Hawaiian islands for your next vacation. You might also want to go to the San Juan Islands in Washington State.