Hawaii is a dream vacation for many. With the beautiful beaches, delicious foods, the pacific ocean, and unique experiences, it is truly a tropical paradise that is unlike any other. No matter which island you plan to visit, the most important way to make your trip enjoyable is to come prepared. We hope you find this Packing List Hawaii useful.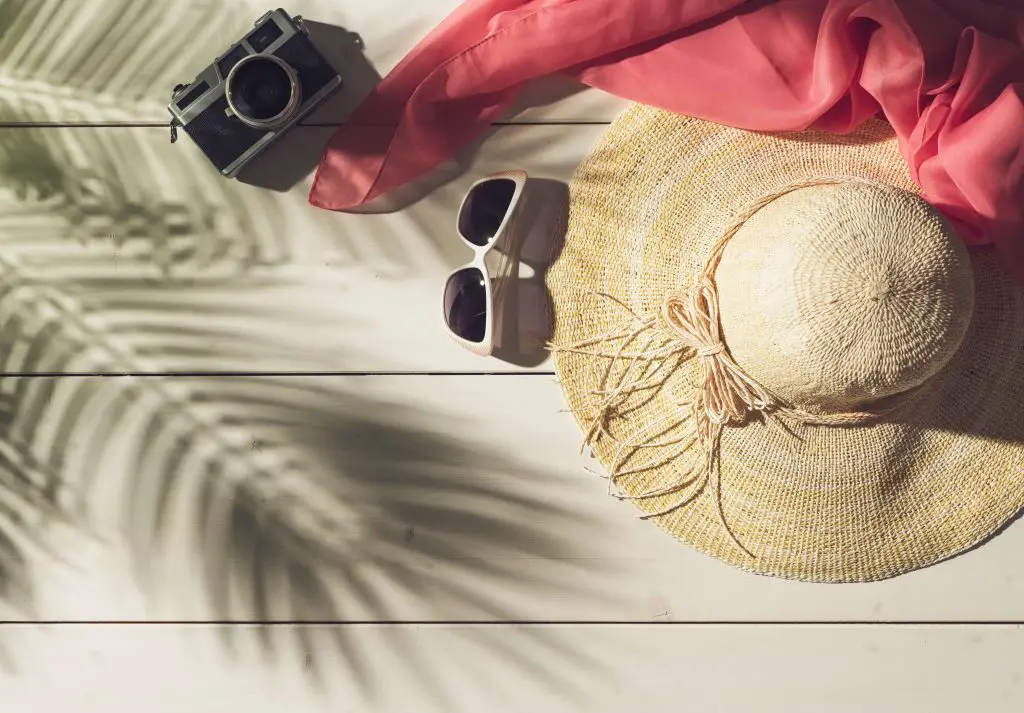 Packing for your dream Hawaii vacation can be a bit challenging, especially if you have never traveled to the area. However, with our help, you will have everything you need to make your trip simple and unforgettable.
Hawaiian Island Packing List – What to Pack to Visit Hawaii? 
Packing for a tropical Hawaii vacation will look a bit differently for everyone. The first step to packing for your getaway is establishing exactly how much you need to take.
For example, packing for a honeymoon will look much different than a girl's trip or a family getaway. 
To make things simpler, we will break down the basics of what is needed for the perfect Hawaii trip. You can customize this list to fit your specific needs. Some things to keep in mind are:
What activities will you be doing while you stay? – Some activities will require you to pack a bit more. For example, if you plan to hike you will need hiking shoes and athletic gear.
How long will stay? – Someone who is staying only a few days can pack light compared to someone who is staying for an extended trip. You will want to multiply your clothing and toiletries to fit the days you will be gone.
Where will you be staying? – While most of Hawaii has everything you will need in relatively close proximity. Some areas will make finding your necessities easier should you forget an item or want to pack more lightly.
Overall, your packing list may look a bit different than what we recommend here. However, sticking to our basic list and doing your own alterations based on your trip needs will guarantee you have everything you need! This applies whether you're traveling to the Big Island, Kauai, or Maui. 
Packing For The Hawaiian Islands – The Ultimate Hawaii Packing List
When it comes to creating your packing list for your Hawaii trip, you will want to ensure you bring a few key things.
You will want to start by deciding how many suitcases you wish to bring and can afford to take on your flight. Then ensure you have these few key things to ensure success on your trip:
Ticket Confirmation and Resort Information – The most important thing you will want to bring on your trip is your ticket confirmation for your flight and any excursions you may do while you are away. Also having your resort or hotel information saved both on paper and digitally is a great idea. Most material things can be purchased while you are away, but these items are a necessity.
Identification – If you are a U.S. citizen, your needs will be much lower in this category as you can easily travel to Hawaii. However, you do want to ensure that you have your photo identification ready for your flight and if needed while away. Those from other countries will want to have their passport ready.
Credit Cards and Cash – Unfortunately, money is a big part of any vacation and it is important that you have these financial aspects squared away before visiting. Some credit and debit cards will require you to alert your bank before traveling out of your normal area, which you will want to do beforehand.
While you will clearly want to pack more than those simple items, these are the three items that you truly cannot travel without.
You can pick up extra clothing or necessities while in Hawaii, but these items cannot be replaced.
Packing for Hawaii – Beach Necessities
Of course, one of the main reasons that many come to Hawaii is for the beautiful beaches and watersports found on the islands.
When packing for your trip, much of your thought should go into your beach attire and what you need to pack fr your beach vacation.
Whether you plan to simply go for a few hours or enjoy the many watersports found on the islands, some beach time necessities you need to pack are:
Sunscreen
This should be top of your list as sunscreen is vital for combatting the hot Hawaiian suns and keeping your skin safe.
You will want to go with a reef-safe sunscreen option to ensure the safety of the beautiful wildlife found on the islands. You should also bring multiple reef-safe sunscreen options for everyone traveling with you.
Beach Bag
Of course, one thing you will want to bring is a bag to throw all your beach gear into for these days on the sand. Grab an easy-to-fold tote that you can store away in your luggage and use as needed. Opting for a mesh option that is easy to rid of sand will make travel even easier.
Beach Towels
Some resorts will supply you with towels for the beach and pool areas. However, it is always a good idea to grab a few towels of your own for your getaway.
There are even sand-free beach towels that you can get for less mess.
Bathing Suits
You will want to bring a couple of bathing suits for each member of your party. Some resorts will have laundry service, but most bathing suits can be worn multiple times with proper care. You will want to bring a bathing suit that fits your needs, depending on which water activities you want to do.
Beach Cover Ups
A great way to make your beach day simple is to bring an extra cover-up such as swimsuit cover-ups or a simple dress to throw on while enjoying the water.
This is a great way to feel comfortable walking from your resort to the beach or enjoying a restaurant near the water.
Collapsible Bucket and Shovel
You may not want to crowd your suitcase with a ton of beach gear, but a collapsible bucket and shovel set is great for those with children.
These buckets can be flattened out for easy storage and then used while you are away.
Sun Hat or Visor
If you are worried about the sun while you are enjoying your beach day, a large sun hat or visor is a great option. Not only do these look cute, but they can block out harmful rays while you are outside.
Waterproof Phone Case
Of course, you will want to document your time at the beach and any wildlife you may encounter. However, you never want to ruin your phone with a stray wave.
Purchasing a waterproof phone case can protect your phone and ensure you get the pictures you need.
Beach Shoes
Flip-flops are a great shoe for any beach day and can easily be rinsed off when leaving the sand. The same goes with water shoes. If you have extra room, you may want to bring along some water shoes to wear while you are enjoying the waves.
Sunglasses
One thing that is vital to a beach day is protective eyewear. You never want the sun's rays to harm your eyes, which is why bringing along sunglasses is a must. 
Of course, if you plan to do more elaborate water sporting activities during your beach days like snorkeling, you may want to bring additional gear like snorkeling gear including a snorkel mask. However, the list above is a great way to ensure you have all the necessities for your beach day without overcrowding your suitcase! 
Clothes for Hawaii Trip
When it comes to clothing, Hawaii is a simple destination with just a few key needs.
Most of the places you will visit in Hawaii are very casual and you can get away with wearing anything lightweight and simple. However, there are some nice restaurants and some nightlife that may require you to do a bit of dressing up.
The main key to ensuring you feel comfortable in Hawaii is wearing things that are designed for the hot weather and fit your personal style.
You will want to pack an outfit for every day that you are away unless you plan to do laundry during your stay. You always want to remember to pack undergarments for the days you are gone.
Some basics you want to ensure you bring along are:
Breathable Undergarments
Of course, you will want to bring undergarments along, but for women particularly wearing cotton breathable undergarments is a must.
You may want to bring along a sports bra for any outdoor hiking or more adventurous excursions. 
Swimsuits
As mentioned, you want to bring along at least a couple of swimsuits for each member of your group. You can handwash your suits and hang them to dry if you do not have room for several.
T-Shirts
We will break down some specific outfits you may want to bring, but grabbing a few t-shirts is a great way to be prepared for your trip.
These are great to sleep in or throw on over a bathing suit. They can be worn in Hawaii's weather and you will stay relatively cool.
Tank Tops
While each individual has their own style, tank tops are often seen around the islands.
This is one of the easiest ways to stay cool while on your trip and work well during day-to-day activities. Whether you are hiking or enjoying lunch, a tank top is a great option. 
Shorts
Bringing along a few pairs of shorts is a must when traveling in Hawaii. You may want to bring a few pairs or denim shorts along with some athletic short options.
This is a great way to stay cool during your daily adventures.
Pants or Jeans
While staying cool is the main concern for many visiting Hawaii, you may want to grab at least one pair of pants or jeans.
These can be worn in the evening when the weather cools down a bit or if you are getting a bit too much sun exposure. Pants should not take up your entire luggage but are a great addition.
Hiking Shoes
If you plan to go horseback riding, go on a waterfall hike, or visit one of the many national parks in the area, you may want to bring along some hiking shoes. These tend to take up a decent amount of room, so only bring them if you think you will use them.
Hiking shoes are a must for many traveling to Hawaii.
Sandals
While we have already mentioned flip flops, you may also want to grab a nicer pair of sandals for your trip. These can be paired with the clothing items mentioned above to create the perfect outfit or be dressed up for a night out.
Dress Shoes
Of course, you may want to bring a nicer pair of shoes for a fancier dinner.
For men, this can be nicer dress shoes and for women, it may be high heels. Whatever you decide to bring, make sure they are comfortable and easy to wear.
Pajamas
A final thing you want to ensure is in your suitcase for your big trip is enough pajamas. You want to pack cool pajamas that will be easy to throw on each night. 
You will want to ensure that you have enough clothing to last your entire trip.
While clothing can take up much of your luggage space, it is clearly a necessity. If you are staying at a resort that offers laundering services, you may be able to lower your packing list. 
Outfits for Hawaii Vacation
Of course, you do want to plan some outfits out for your Hawaii trip.
While packing a handful of shorts, t-shirts, and tanks is a great idea, having some more formal outfits is also a good idea.
For the most part, you can keep things casual, but you may want a few more specific outfits for outings while you are away.
Some outfit ideas to keep in mind when packing your clothing are:
One Warm Outfit – You will want to bring at least one warmer outfit for the cooler evenings. Whether this be a sweatshirt or thin jacket, some Hawaii evenings can be cooler than expected. You may want to bring a pair of jeans or longer pants as well.
Dresses and Skirts – For women, dressing up can be simple and keep you cool with a nice dress or skirt. Dresses are great for a dinner out or can be worn for daily activities to stay cool. Adding a couple of sundresses to your luggage is a great option. 
Plan for Excursions – It is important to plan out your itinerary and pack outfits accordingly. If you are going on a helicopter tour, make sure to avoid loose clothing, while a hike will require hiking shoes and athletic gear. Overall, ensure you have something for any special occasions. 
Packing at least one outfit per day is ideal for most.
If you do not have room for this many outfits, you will want to plan for laundry services while you are away. Packing outfits together is an easy way to ensure you are bringing enough for your entire trip.
You might also enjoy :
Hawaii Checklist
While most of what we have mentioned will cover your trip to Hawaii and any minor things you may have forgotten can be picked up at a local grocery store. However, there are a few odds and ins that may not fit the before mentioned categories. Some extra items that you may want to bring along on your Hawaii trip are:
Toiletries – Bring along shampoo, conditioner, toothpaste, toothbrushes, floss, and any other small toiletries that you will need for the stay.
Contacts, Glasses, or Other Eyewear – While sunglasses are a must, some will also need to bring along extra contacts or corrective eyewear. Bringing along a contact lens case and solution is also important. 
Bug Spray – Depending on where you are traveling to on the island, you may want to pack a small can of bug spray.
Portable Phone Charger and Portable Battery – Of course, charging your phone, watch, or other devices while you are away is important. You will want to bring along any phone battery that are needed.
Portable Fan – If you have children coming along or plan to do a lot of outdoor activities, you may want to grab a portable fan. These can often be battery charged and will help keep you cool during warm days.
Aloe Vera Gel – While sunscreen has been mentioned, one thing that may also need to make an appearance in your luggage is aloe vera gel. This is a great option for any pesky sunburns after a long day in the Hawaiian sun.
Makeup and Hair Products – Beyond your daily toiletries, you may also want to bring some makeup or hair care items. These can come in handy when enjoying a more formal dinner where dressing up is recommended.
For ideas on vacation rentals, visit this Visit Hawaii article. 
Final Thoughts on What to Pack for a Hawaii Vacation – Hawaii Packing Checklist
Of course, you may have more unique items that fit your specific needs, especially for those with children. However, this basic list of items is a great place to start when it comes to Hawaii essentials when visiting Hawaii. It goes without saying that packing cubes are great to save space in your luggage, so you can bring it all for your perfect Hawaii vacation. 
The major islands are very abundant in shops and other services, meaning practically anything you may forget can be purchased while on your trip, but this will add to your overall travel costs.