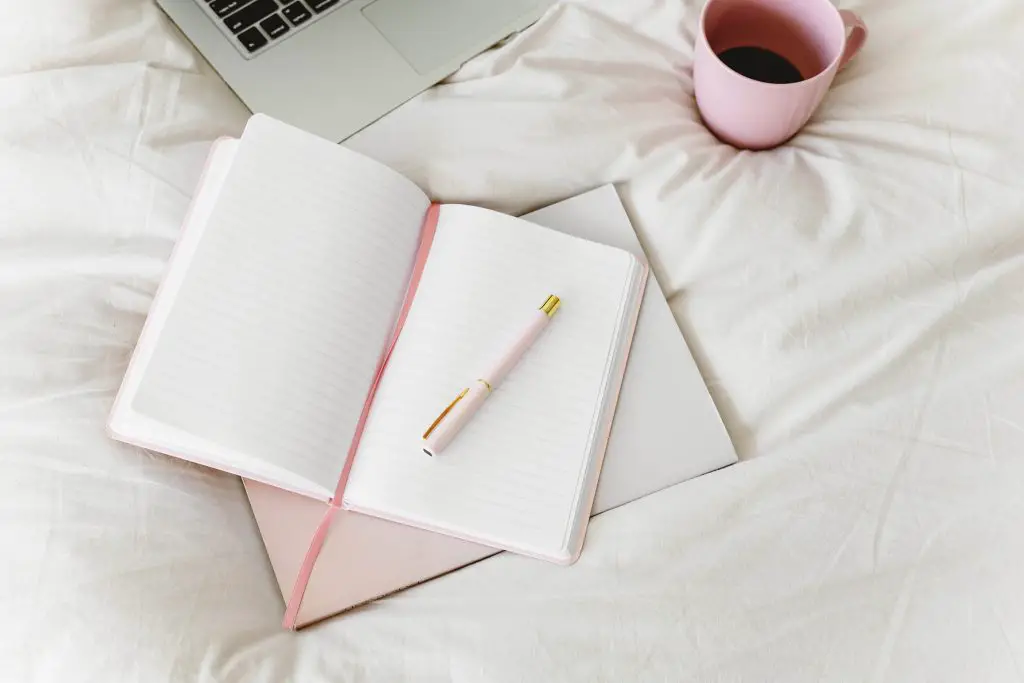 We all have empty notebooks or blank journals lying around our house or office. Empty journals are some of my favorite things because they are so versatile. Many people don't know what to do with them, but I've come up with different empty notebook ideas for your blank notebook or journal!
We hope you enjoy this blog post and find notebook ideas to use all those blank pages you have lying around.
This post contains some affiliate links. If you click on the product links and make a purchase, I can make a small commission at no extra cost! In return, it helps me in maintaining this site to continue to help you!
Different Types of Notebooks
There are many different types of notebooks available on the market today. The three most common types are bullet journals, lined notebooks, and blank notebooks. Each type has its unique uses and benefits.
Bullet Journal
A bullet journal is a type of notebook used to track tasks, appointments, and to-do lists. It can help keep track of everything in one place. It is different from other notebooks because it allows you to use bullets and symbols to denote different types of information.
Lined Notebook
A lined notebook is a type of notebook that has lines printed on each page to help you write in a straight line. It can help take notes in class or write essays or other documents. Lined notebooks can be smaller in size than blank notebooks, making them perfect for carrying around with you.
Blank Notebook
A blank notebook is what it sounds like, a notebook with no lines or pre-printed grids on any of the pages. These are fun to have on hand because they can be used for many different purposes, from writing or drawing ideas to keeping a journal to taking notes in class.
Create Your Own Dedicated Journal | 52 Ways to Use Empty Journals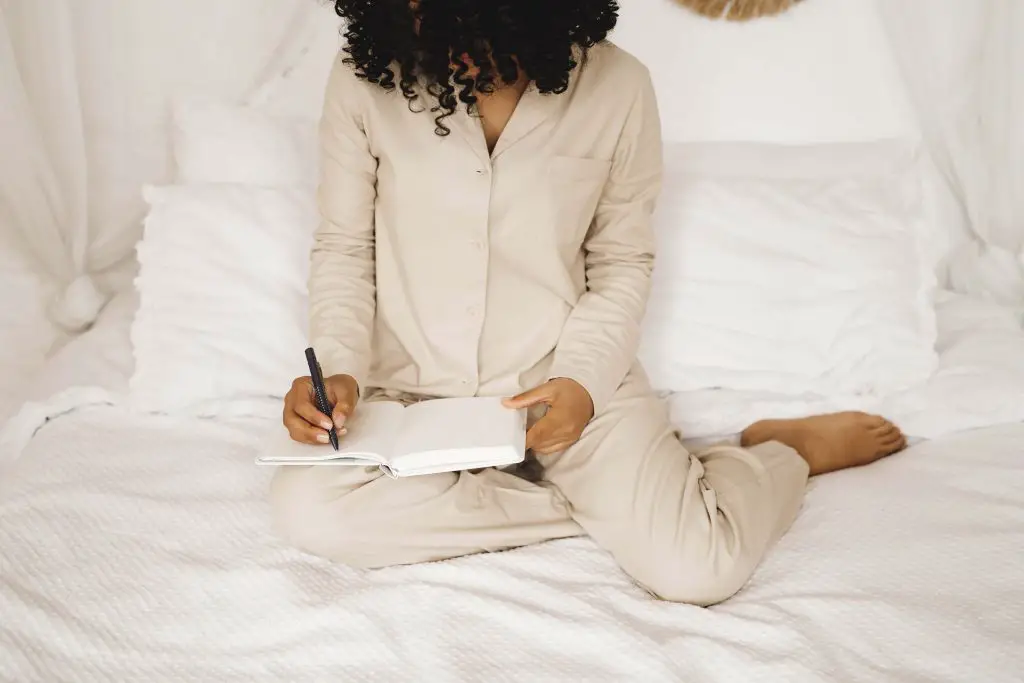 For Your Creative Ideas
An empty notebook is a perfect place to pour out your thoughts and ideas. It's a great tool to use for any creative endeavors, whether you're writing, drawing, or doodling. And since it doesn't have an agenda, you can use it in many different ways!
Doodling Book
Fill this book with drawings, sketches, and other doodles. It is a wonderful way for kids (and adults) to have fun and unleash their creative side. It can also be a great tool for teaching art to younger children!
Sketchbook
An open-ended sketchbook gives you the freedom to experiment with different media types such as pencils, charcoal, watercolors, and crayons. Your empty notebook is your canvas!
Poetry Journal
Empty journals are the perfect place to jot down your poetry and song lyrics. Creating a dedicated space for these keepsakes encourages you to continue writing and provides a neat place to store everything.
Art Journal
An art journal can be used as inspiration for your creative projects or simply as a place to collect and display your artwork. Use it to document and remember your favorite works of art or develop your unique style.
Music Journal
Record the ideas you come up with during music class or compose lyrics for songs in this notebook. This journal is the perfect place to put down your musical inspirations so you can refer back to them later.
Write Short Stories
Get into the habit of writing short stories for fun and practice your storytelling skills. This journal is a great place to start and encourages you to continue writing even when you don't have time for a novel!
Lettering Practice Book
Improve your doodling skills with lettering practice. Use this notebook to create different fonts and complete pages filled with words, phrases, and sentences.
For Dreaming about Your Future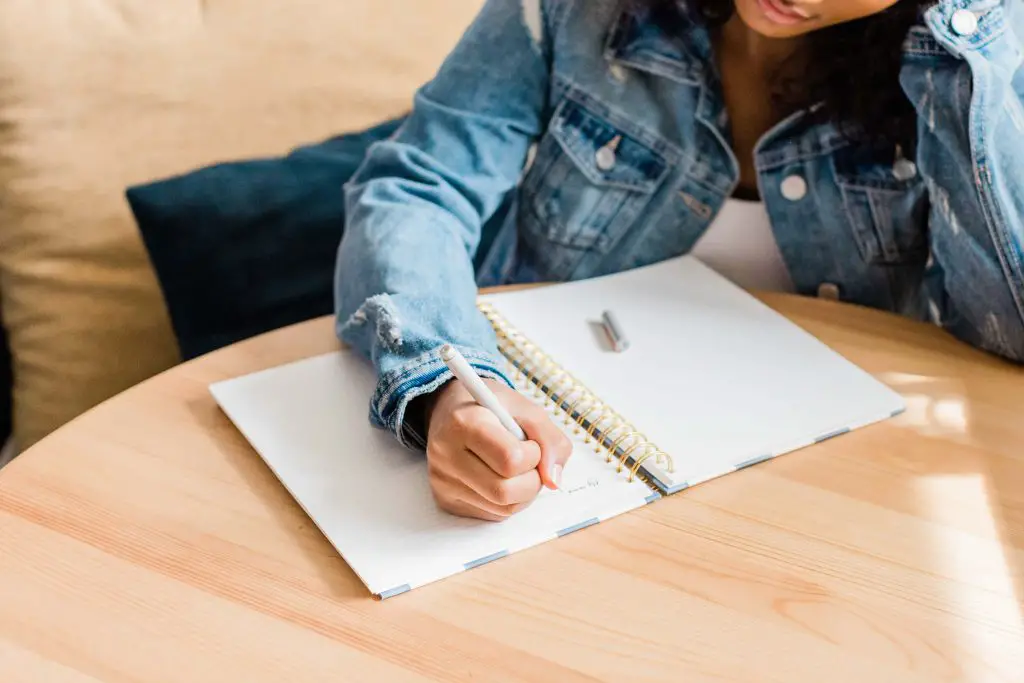 Vision Board
A vision board is a great way to plan and dream about your future. All you need is an empty notebook and some magazines or newspapers that have images and words that inspire you. Cut out the images and words that resonate with you, and then paste them into your notebook. Look at your vision board every day, and let the images and words motivate and inspire you to achieve your goals.
You might also enjoy The Power of Manifestation Journaling & How to Use Manifestation Journals.
Vision journal
A vision journal is a perfect tool for achieving your dreams! A vision journal is a great way to document your goals and dreams, as well as track your progress over time. It's also a great way to keep yourself motivated and on track. By writing down your goals and dreams, you are more likely to achieve them because you have a clear plan of action. And by tracking your progress, you can celebrate your accomplishments and stay focused on what still needs to be done.
For Your Wellness
A blank notebook is an excellent way to keep track of your moods and emotions, tell yourself what you're grateful for, or explore new ways of being happy. It's up to you how you want to use it!
Mood Board
A blank notebook is perfect for making an emotional journal that records your daily moods. Use words or pictures in any combination that best captures your current state – whether happy, sad or anything in between. The only rule is that every page has something on it.
Gratitude Journal
If you focus on the good things in your life every day, it'll better equip you to handle tough times. An easy way to do this is by keeping a gratitude journal – write down what you're grateful for along with how it makes you feel. This activity aims not to dwell on problems or why you don't have certain things but to focus on all the wonderful things.
Happiness Journal
Make an effort to achieve happiness by following these three steps every day: Express gratitude, practice optimism and take inspired action. An excellent way to follow through with this is by writing about it in your notebook. Use words or pictures to describe how you're feeling and what you're grateful for, why you're optimistic about the future, and what inspired action you took.
Morning Pages Journal
This journaling technique is simple to do but very powerful! It involves writing three pages in your notebook every morning when you first wake up – whatever comes to mind, no matter how messy it seems. Your only responsibility during this time is to "dump" whatever thoughts are in your head. Once you're done writing for the morning, you can go about your day feeling better because it's all out of your mind.
You might also enjoy: 13 Great Morning Routine Ideas To Adopt
Habit Tracker
Use your notebook to record your daily habits! Every day, write down which habits you're doing and how long it took you to do them. It's important to record the habit and what made it easy or hard for you. After a few days of keeping track, look for patterns in your habits and any obstacles getting in the way. Use this information to make changes as needed until you've settled into a routine that works well.
For Your Health and Fitness
Fitness Tracker
A fitness tracker or a fitness journal can be a great way to keep track of your progress and stay motivated with goals for yourself. It's also a good place to document how you're feeling day-to-day – what foods you ate, how much water you drank if you exercised or not.
Grocery Price List
Grocery price lists are another great thing to do on paper – they save time from having to look up prices each week at the store and make meal planning a breeze. Seeing the prices of every item on your list all in one place will save you from buying something more expensive than what you had originally planned with little savings.
Shopping Lists
Grocery lists or shopping lists are also a good way to keep track of any recipes you want to try and organize them by aisle, so it's easier for you to get through the store without forgetting anything.
Recipe journal
Having your recipe book is a great way to store all of your recipes that you know and love and those that haven't been tried before but might still end up being a family favourite.
Meal Planning
It will help you stay focused on your goals and help ensure that you have everything for juicing or smoothie recipes. It's also a good place to write down what ingredients you need.
Food Journal
A food journal will help you keep track of what you eat, how much water you drink, what time of day it is or if you exercised or not.
For Your Spiritual Needs
You can use a notebook for a variety of spiritual purposes. For example, it can be used as a prayer journal to document prayers and thoughts, as an astrology journal to track the movements of the stars and planets, or as a spiritual journal to record insights and meditations.
Prayer Journal
A prayer journal is a notebook that can document prayers, thoughts, and inspirations. It is a great way to record your experiences with a prayer to recognize patterns.
Astrology Journal
An astrology journal is a notebook you can use to track the movements of the stars and planets. By recording when certain celestial events happen (such as meteor showers or conjunctions), you can begin to notice patterns and correspondences.
Spiritual Journal
A spiritual journal is a blank notebook that can be used to record your experiences with the divine, as well as insights and meditations on various topics. You can also use it as a place to document dreams, prayers, inspirations, and other phenomena.
For Your Business Ideas
A blank notebook is a great place to start brainstorming new business ideas or strategies, as well as ways to improve your current company's product or service offerings. You should also use this notebook for specific things like taking notes at meetings or recording feedback after presentations with clients or prospects–whatever it takes to generate creative solutions that will drive revenue growth in the future.
Side Hustle Journal
A side hustle is a business that brings in extra money on top of your full-time job, and a journal is a great place to record the process from beginning to end. Take notes on your idea for this venture, then fill out how much time it takes per week/month/year to run the side hustle. You can also make notes about your progress (such as how much revenue you've generated) and what helps (like good ol' Google). If you have multiple side hustles, keep separate notebooks for each one or use different colors of paper.
Business Journal
A business journal is great for strategizing in-depth business plans. Cover everything from your mission statement to your target market, along with specific marketing strategy plans for each segment. You should also keep track of how much money you're spending and what your projected revenue is–and when it's time to take that million-dollar idea to the next level, this journal will be invaluable in bringing everything together in one place.
For all Your Learning
Classes or Courses You Take
You can also use a notebook for classes or courses you take. Take notes on what the professor is saying and any homework or reading assignments. You can also use it to keep track of your grades in each class.
Language Journal
A blank notebook can be used for learning a new language. By writing down new words and their definitions and practicing writing out sentences with the new words, you can learn a language more effectively.
For Your Favorite Things
Quotes Journal
Having a blank notebook to keep track of your favorite quotes is a great way to look back and remember how far you've come, as well as the good advice you've received from others. It's also a special place for inspiration and goals!
You might also enjoy :
Favorite Songs
Listing out all of your favorite songs in a single notebook and referencing it when you're in a tough spot is a great way to stay positive and harness that power of music!
Sticker Collection
Starting a sticker collection is a fun way to show off your favorite things in a creative way also it's something that can be passed down through generations.
For Your Lists, Ideas and Productivity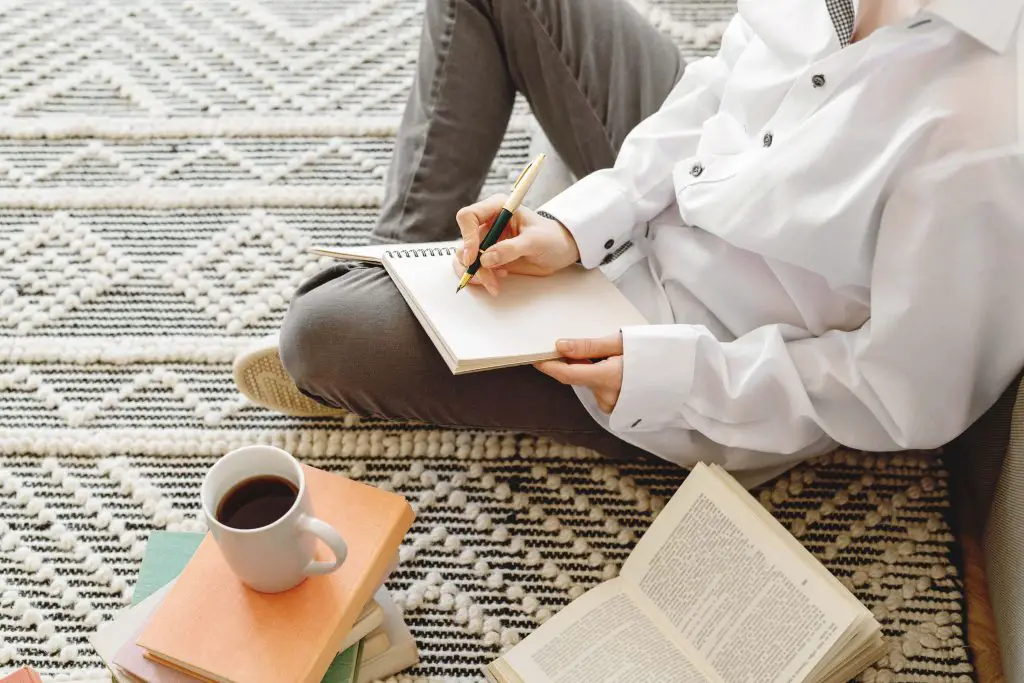 Garden Ideas
An empty notebook can be useful for keeping track of your garden ideas. You could write down everything you want to do in the garden that year, like planting flowers or vegetables.
Lists
When making lists, it is helpful to keep them separated by category. For instance, you might have a list of groceries, items to purchase for your home, and books to read.
To-do lists
Empty notebooks can also be used as a to-do list. You could write down only the tasks that need to get done today or place an "x" next to all of the completed tasks once they have been finished.
Brain Dump
An empty notebook can be used to write down all of your thoughts, ideas, and any other information you want to remember.
Hobby Journal
A notebook is great for keeping track of your hobbies. You can even decorate the pages with stickers or pictures representing what you like to do most.
Project Journal
If you are busy planning a project with several steps, you can use an empty notebook to write everything down. You can even prioritize the items on your list, with "A" being the most important and "C" being the least important.
Event Planning
You can use a pretty journal that is empty for keeping track of all of your event planning ideas. You can write down everything you need to do before an event, what would make the event better, and any other details you might want to remember about it.
Books
To keep track of all of your books, write down the name of each book you read on a separate page in your notebook. You can also use this space to record why you enjoyed or did not enjoy the book, as well as any recommendations you might have for others.
You might also enjoy :
For all Your Administrative Needs
2-minute Tasks
Some things that can be done in 2 minutes or less may not seem worth writing down, but if you can get into the habit of recording them, you'll find that over time they add up. A good example is drying your hands on a paper towel – it only takes a few seconds, but if you don't do it, you'll end up with wet hands.
Phone and Address Book
A phone book is handy for having all of your contacts in one place and can be especially useful if you lose your phone or run out of battery. If you keep a notebook for this purpose (and some pens), you can save paper and ensure that your phone contacts are up to date.
Last Time I Did…
Some things are worth remembering but not always worth noting down immediately after doing them. By keeping a blank book of notes, you can remind yourself about the things you've done recently.
Passwords
If you don't want to write your passwords down on a scrap of paper that could be easily misplaced, it's a good idea to keep a notebook nearby where you can store them. A key benefit of using a book as opposed to your phone is that there are multiple ways of gaining entry – you can either use the lock and key function, or if someone finds out your password, they still won't be able to access anything without your physical presence.
Budget Journal
A blank notebook can be used as a journal to record your income and expenses, helping you keep track of how much money you have on hand at any given time. Using this method will be easy to see what areas of your spending need more attention or may need to be altered for you to reach your financial goals.
For Creating Memories
One Sentence a Day Journal
This journaling technique is the most straightforward. Write one sentence per day in a designated notebook or section of your existing favorite notebook. If you follow this consistently, you can look back on your experiences to see how far you've come. In more recent years, the One Line a Day™ Journal has been published as a commercial product, but you can just as easily create your own with an empty notebook.
Travel Journal
A travel journal is a great way to record memories of your adventures without the fuss of a more formal diary. A simple notebook with plenty of pages will be perfect for this purpose – open it at the beginning of your trip and jot down a few notes before each entry, or wait until the end to add some final thoughts.
Memory Book
Many parents choose to create a memory book for their children while they're still in their baby stages, so there are plenty of pages left by they grow up. The best way to go about this is to start with a notebook or bullet journal and decorate the cover with some beautiful pictures of your baby (and parents). Add photos throughout, along with plenty of captions. If you have kids, you can create a similar memory book.
Daily Events
Keeping track of daily events in one place is very helpful, and a notebook is a perfect way to do so. As you go about your day, record important things such as meeting up with friends or finishing tasks.
Other Notebook Ideas
Smash Book
A smash book is a type of journal to let your creative juices flow. You can rip, tear, and cut up the pages to create a fun and unique book.
Funny Words
Write down funny words that you see or come up with yourself. Try coming up with sentences using as many funny words as possible.
Junk Journal
A junk journal is great for collecting things like ticket stubs, postcards, or any other little pieces of paper you can find. You can glue them into the book or tie them to the pages with string.
Money Journal
This type of journal takes some creativity because it's not about recording information but exploring different aspects of money through prompts that help people examine their relationship with finances in new ways.
Dream Journal
An empty notebook is a perfect place to keep a dream journal. Every time you have a dream, write down as much detail about it as you can remember. This will help you remember your dreams better, and over time, you may start to see patterns in your dreams that can tell you something about yourself. Dreams are a powerful tool for self-discovery, so don't underestimate their importance!
Beautiful Notebooks To Add To Your Collection
With all those new ideas, perhaps you're looking for a few notebooks to start incorporating the wonderful ideas into your daily routine. You might like these journal favourites :
You might also like :
Using All These Notebook Ideas to Create Your Own Journal with Your Blank Notebook
How many empty notebooks can one have? I know I can't be the only notebook hoarder out there! 😉
Who knew there could be so many notebook ideas for all your blank journals and empty notebooks. Thank you so much for taking the time to read this blog post. We hope you enjoyed this blog post and found one notebook idea to start using all those blank pages you have from so many journals and so many blank notebooks lying around the house and your office.
Whether you use your bullet journal as a travel journal or a recipe journal or for morning pages or to create your vision board, know that you can use the same journal to incorporate all your favorite notebook ideas.