You might be wondering if it is possible to find movies like Eat Pray Love. This is a fascinating and thought-provoking film that details what it's like to suddenly find your life turned upside down.
There are many other movies with a similar theme as that of Eat Pray Love. These movies are meant to motivate and inspire you to look at life from a different view and remind you that anything is possible if you put your mind to it and have genuine motivations. 
Eat Pray Love is a movie of hope and inspiration that stars Julia Roberts and takes place in Italy, India, and Bali. It is also a story of self-discovery and serves as a reminder to us all that there is a reason we are alive. We just have to go out there and find it.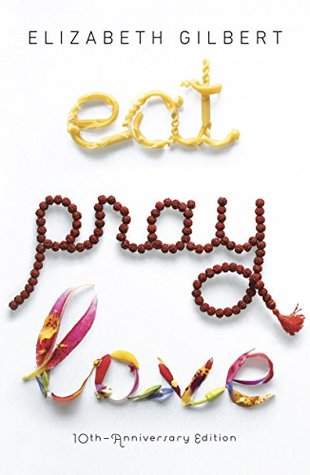 You might also enjoy: How To Read More Books: 12 Easy Ways
Movies Similar to Eat Pray Love
If you liked Eat Pray Love, then you will love the following inspirational movies as well. The films listed have the potential to motivate you when you are feeling like there is no point in moving forward. 
They also show the power of true love and how life can work out positively if you work hard and don't give up even when, at times, it seems as though the world is against you. 
Some of these movies will cause you to become introspective so you can better understand yourself and move on from things that may be holding you back in life.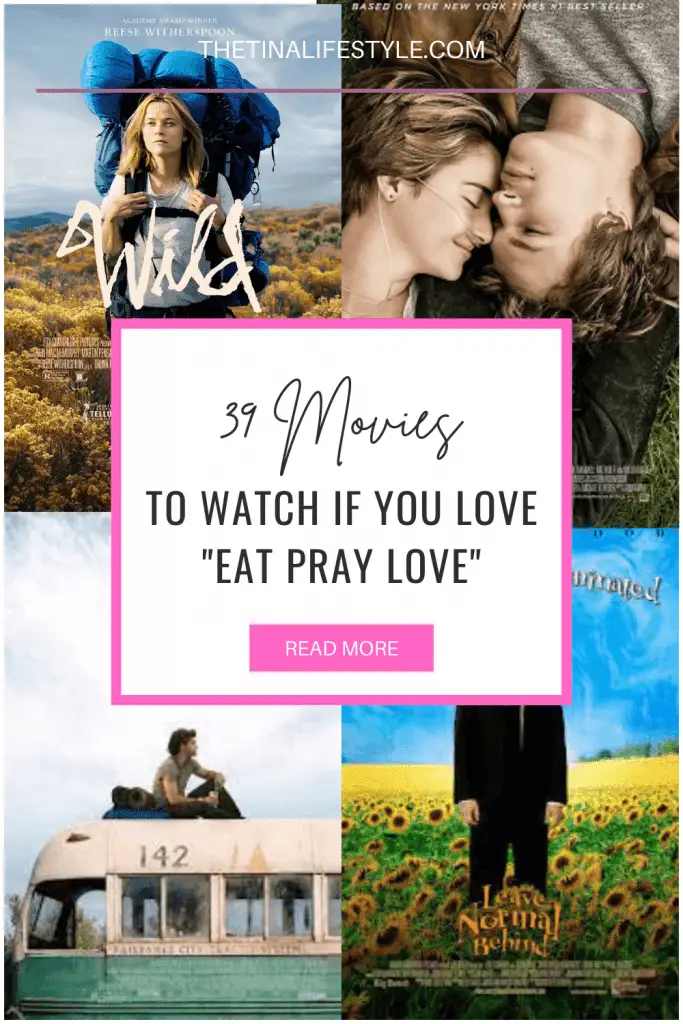 Inspirational Movies that Provide Adventure
The following section will highlight inspirational movies with action or adventure elements in them. 
Into the Wild
This is a true story to truly motivate you. Giving up all of his money and possessions, Christopher Mccandless, a fresh college graduate sets out on an adventure of self-discovery and a walk of a lifetime.
He is happily surprised as he encounters amazing people along the way that will forever imrct his view on life and the world. This movie will inspire you to take chances and open your heart and mind to new possibilities. 
Wild
The movie Wild is set on the Pacific Crest Trail and is based on a true story and is a good example of getting up after you are thrown from the metaphorical horse, dusting yourself off, and moving on to discover what you are really made of. 
In this movie, the main character has just gone through a heartbreaking divorce and lost her mother at the same time. It shows how she decides to let go of the life she was used to and see where her legs can take her. 
The next section will discuss an inspirational movie from the fantasy genre. 
The Secret Life of Walter Mitty
The Secret Life of Walter Mitty is a story about overcoming obstacles and finding a way to stand up for yourself along the way in this crazy judgmental world. This story takes you on a journey with a man and his fantastical thoughts and shows how things can turn around for the positive if you persevere. 
Everything Is Illuminated
In Everything is Illuminated young Jewish American man ventures to Ukraine seeking out the woman who saved his grandfather during World War II. This movie features great adventures along the way. This is a great story that teaches you how the past can illuminate the present and dictate the future
Tracks
This movie is an inspiration to those who are finding that they are lost in this world. It tells a great story of the journey of finding oneself and how beautiful the outcome can be. 
The Pursuit of Happyness
The Pursuit of Happyness is available to watch on Netflix. You can preview the trailer here and get excited about what you are about to see. One of the best quotes from the film is "You got a dream…You gotta protect it". This will give you some motivation to go out there and take life by its horns. When you seem to be down and out, this movie gives you the hope you need to change things around for the better. 
Forrest Gump
You can easily stream Forrest Gump on Amazon Prime. If you have never seen this classic movie, take a look at the trailer to find out what you have been missing. With quotes like "My mama says that stupid is as stupid does", you know that you are in for a series of one-liners that you can begin to use on your friends. The storyline is also inspiring and reminds us of the good that exists in the world. 
Movies Similar to Eat Pray Love with Romantic Overtones
Just about everyone likes a good romance movie from time to time. These are the types of love stories that really seem to get our emotional juices flowing. These romantic movies similar to Eat Pray Love should give you those warm and fuzzy feelings all over again. 
Midnight in Paris
Midnight in Paris features Woody Allen and is a romantic comedy about how sometimes you need to follow your own dreams even if it means sacrificing love because you cannot truly be in love if you are not happy with yourself.
Eternal Sunshine of the Spotless Mind
You can rent or buy Eternal Sunshine of the Spotless Mind on Amazon. This is a movie that will help you remember all of the great aspects of romance once again. When one of the characters remarks, "Constantly taking isn't necessarily communicating", you might just have yourself examine your own relationships in a new and fresh light.
The Fault in our Stars
You can stream The Fault in our Stars on Netflix, so get the popcorn and the tissues ready. This is a story of two teenagers who have been diagnosed by cancer and how they travel to see an author in Amsterdam. With quotes like, "You gave me a forever within the numbered days, and I'm grateful", you will find yourself appreciating the days you have on Earth in a new perspective. 
The Vow
This is a movie that restores your belief in the institution of marriage. You can watch The Vow by renting or buying it on Amazon. One of the quotes that illustrates just how powerful this movie is, and why it is so much like Eat Pray Love, is "I vow to help you love life, to always hold you with tenderness, to have the patience that love demands, to speak when words are needed, and to share the silence when they are not, to agree to disagree about red velvet cake, to live within the warmth of your heart, and always call it home". Watch it and enjoy. 
Pretty Woman
Proving that opposites can really attract; Pretty Woman is a movie that is just like Eat Pray Love. You will appreciate the way that the main characters obviously care for one another. This is illustrated by the following quote: "It must be difficult to let go of something so beautiful". You will feel enriched as a result of watching this movie on Amazon or Hulu. 
The Before Trilogy
The Before Trilogy is readily on Amazon Prime. This is a love story of epic proportions, where you will follow the main characters from the first time they met and then all the way through various episodes in their life where they question their very existence. This even leads one character to proclaim that "Isn't everything we do in life a way to be loved a little more". This is so profound and true.  
Soul-Searching Movies like Eat Pray Love – Movies When You Are Getting Over a Break-Up
It is important to take stock of yourself when you are getting over a breakup. These types of soul-searching movies like Eat Pray Love really encourages us to do that. They also give us the encouragement to get out there and enjoy life once again. 
Away We Go
In Away We Go, you have found a great romantic comedy film about a young expecting couple whose plans have been turned upside down at the last minute. 
This movie is a great example of taking lemons and making lemonade. The story involves this young family taking an epic road trip to interact with long-lost family and friends as well as taking the opportunity to develop new relationships along the way. 
It teaches the importance of perseverance and looking at the bright side of things for a positive outcome in life.
Lion
This great movie is about knowing where you want to end up, but not where you need to start. This movie will inspire you to dig deeper into your life and never stop fighting until you have found what you are looking for.
Under the Tuscan Sun
Under the Tuscan Sun is truly a movie that depicts rebirth. In this movie, a woman who has been done wrong by her man spontaneously leaves San Francisco (San Fran) starts a new life in Italy in the Tuscan countryside only to discover that sometimes you just have to sit and wait for the ladybugs to crawl on you. Only then will you realize your true meaning and achieve real happiness. 
500 Days of Summer
You can't help but feel better about your broken relationship after you watch 500 Days of Summer. You can find this one on Amazon Prime. When you are searching for your life partner, remember this line: "Just because she likes the same bizzarro crap you do doesn't mean she's your soul mate". 
Movies Highlighting the Beauty of the Cinema
These movies similar to Eat Pray Love highlight just how wonderful cinema quality films can be. They are based on classic scenes that continue to captivate audiences to this day. You will not be disappointed when you take time to watch any of these movies. 
Paradiso
Sometimes, we all just need an escape from our life. That is what you will get when you watch Paradiso. You can rent or buy it on Amazon. When you hear the line that, "Life isn't like in the movies", you will begin to pay attention to the separation between reality and fantasy. If you have a difficult life today, this movie will inspire you to move and find something better. 
Hugo
Netflix is now streaming Hugo, which is definitely a movie like Eat Pray Love. You will fall in love with the main character, who is an orphan trying to find his way in this world. As one quote in the movie says, "If you ever wonder where your dreams come from, look around: This is where they're made". 
Coming of Age Movies Like Eat Pray Love 
Life is continually evolving. We move from one state to another and are expected to conform accordingly in society. The following movies are like Eat Pray Love and illustrates how different people come of age and find great success and fulfillment throughout the process. 
Perks of Being a Wallflower
Currently available to stream on Netflix, Perks of Being a Wallflower is a relatively new movie that will leave you motivated to tackle whatever life may throw at you next. It is filled with a star-studded cast, has a captivating storyline, and is very much like Eat Pray Love. A great quote from the movie is, "There's nothing like deep breaths after laughing that hard". You will definitely be doing your fair share of laughing as you watch this one. 
Self-Discovery Movies – Movies About Finding Yourself
These self-discovery movies really have us altering our perception of the world. They take a look at society and help mold our opinions and morals. These are movies about finding yourself and coming out the other side a better person. 
Films Like Eat Pray Love With Subtitles
Foreign movies hold a great deal of value. These movies with subtitles are similar to Eat Pray Love. You will love the storylines and the way that they capture your attention right from the very first scene. 
A Separation
This is a movie that details the conflict that occurs when one wants to leave a difficult situation yet is forced to remain because of family responsibilities. There is so much hope and inspiration in A Separation that you can't help but identify with each of the main characters. As one of them says, "What is wrong is wrong". This is a foreign movie that is available on Netflix with English subtitles. 
Intouchables
Available on Netflix, Intouchables is the story of a friendship that develops between an immigrant and a member of the French noble class who happens to be a quadriplegic. They help each other through some pretty traumatic moments in their lives, as reflected by the great one-liner "The pain goes away, but the thoughts are still here". It is currently streaming on Netflix. 
Blue is the Warmest Color
Blue is the Warmest Color is a foreign film that explores true love and what happens when relationships go against the mainstream. You can't fight love, as reflected by the following quote from the movie: "I have infinite tenderness for you, and I will my whole life". You can now watch this movie on either Netflix or Amazon Prime. 
Amelie
This is yet another foreign movie that is similar to Eat Pray Love in terms of its quest on the part of the main characters to find happiness. Amelie is the story of a waitress who goes out of her way to help others around her find their motivation for living. Saying that "Without you, today's emotions would be the scurf of yesterday's", she ends up finding her own lasting love in the process. You can rent or buy this film on Amazon. 
La Vita e Bella
Available to rent on Amazon Prime, La Vita e Bella takes viewers on a journey with a Jewish family that is forced to live through the trauma of Nazi death camps everywhere they turn. Humor is used to get through many of the toughest situations that the main characters encounter. One uplifting quote from the movie is, "Nothing is more necessary than the unnecessary". 
Musical Movies Like Eat Pray Love
You do not always have to go to a live theater to enjoy the great musicals of our era. These musical movies will have you singing and dancing for weeks after watching them. 
Sound of Music
You are now able to watch Sound of Music with an Amazon Prime membership. You will be singing alongside the Von Trapp family as they go through life during the era preceding World War II. One of the more memorable quotes you will hear is "To refuse them would be fatal for all of us. And joining them would be unthinkable". 
My Fair Lady
Available to stream on Amazon Prime, you will love watching My Fair Lady and singing along to the various tunes that have been popular through the years. It is follows along with the character's quest to turn from a working-class girl into someone fitting of cultured society. As the quote says, "The rain in Spain stays mainly in the plan". 
La La Land
La La Land is a recent musical hit that is now streaming on Netflix. Viewers are confronted with love affairs, dreams that are falling apart, and so much more. This is why the quote, "I'm letting life hit me until it gets tired" is so fitting within the context of this movie. 
Movies Like Eat Pray Love on Amazon Prime Video
If you have an Amazom Prime Video membership, you can watch the following movies for free or subscribe for your FREE Amazon Prime Video Trial and watch the movies below.
Into the Wild
Tracks
Forrest Gump
Midnight in Paris
The Vow
Perks of Being a Wallflower
Freedom Writers
Films Like Eat Pray Love on Netflix 
If you're looking for a quick list of the movies similar to Eat Pray Love on Netflix that appeared in our list above, you can find them here with a link to its corresponding trailer. 
Hugo
Hugo Trailer. 
The Pursuit of Happyness
The Pursuit of Happyness Trailer. 
The Fault in our Stars
The Fault in our Stars Trailer. 
Perks of Being a Wallflower
Perks of Being a Wallflower Trailer. 
A Separation
A Separation Trailer. 
Intouchables
Intouchables Trailer. 
Blue is the Warmest Color
Blue is the Warmest Color Trailer. 
Inglorious Bastards
Inglorious Bastards Trailer. 
Taxi Driver
Taxi Driver Trailer. 
La La Land
La La Land Trailer.
Additional Eat Pray Love Movies Worth Checking Out
Although this is a pretty extensive list of inspirational movies, there are still some that were not mentioned that are certainly worth watching, especially if you are on a journey of self-discovery or feeling like you need some motivation to tackle the goals in your life: 
Grab your favorite movie-watching snacks and make a weekend of watching movies that will inspire you. Explore these movies to see for yourself how great they are and try to apply the lessons you learn from them to your own life so you can continue to better yourself and those around you.
You might also enjoy :
Final Thoughts on Eat Pray Love Movies
As you can see, the movies listed in this article all have a very similar theme. That is to remain true to yourself and never give up on something that you want or believe in. Ultimately, you are in charge of your life. If you don't like something, change it so you can be happy and fulfilled. 
We hope you found inspiration on your search for some movies similar to Eat Pray Love. From comedy-drama to inspirational travel movies, to love movies and life-changing true stories. Which trailer caught your attention?
Do you have it on your bucket list to one day get out of your comfort zone and do a cross country trip or a trip around the world similar to the eat pray love movie?