Packing for your trip to Maui, Hawaii, can be exciting and overwhelming. It is important to take the time to get ready for your trip. I wish I would've had this guide to help me prepare for my first Hawaiian vacation. Are you wondering what Maui is like and what to bring? We're here to help answer your questions with this Maui packing list.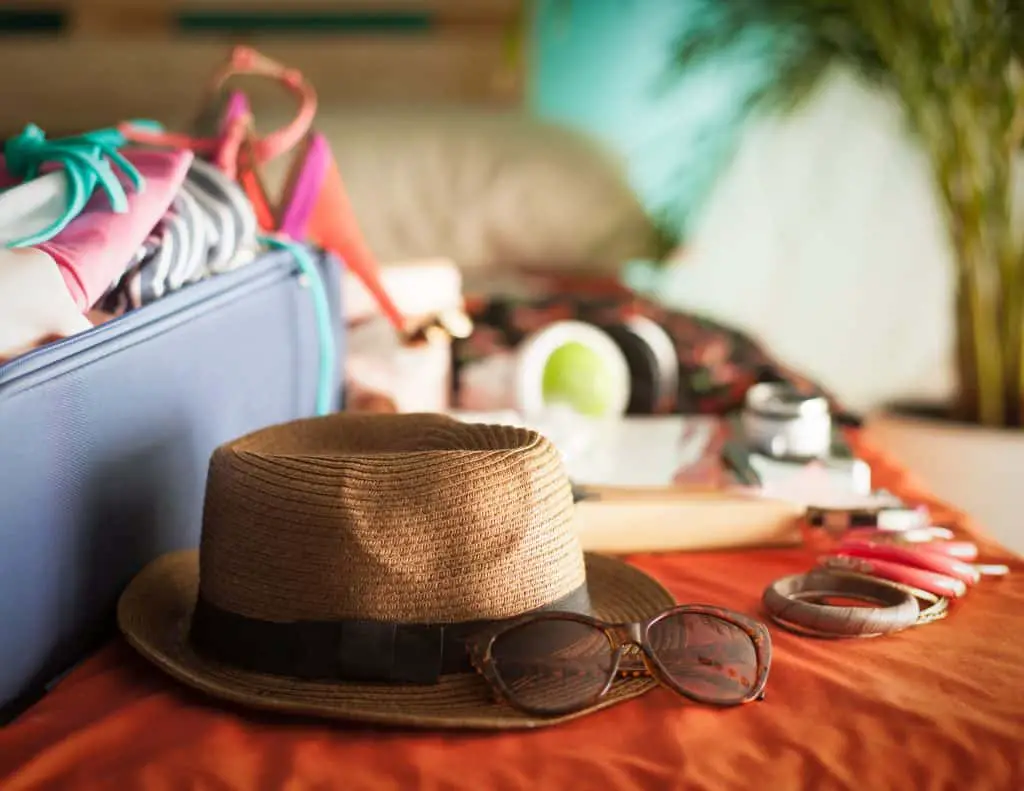 This site uses affiliate links and I may earn a small commission when you use my links and make a purchase without incurring an additional fee yourself. Many thanks for supporting this website. Please see my legal page for more details.
Maui Packing Essentials | What To Pack for Maui?
When travelling to Maui, you may find yourself wondering what exactly you should be bringing along.
After all, when you fly someplace so far away, you want to make sure you thought of everything. You don't want to spend your time running around looking for items.
Everyone's trip to Maui may look different but let's look at the basics you will need to pack for your trip to Maui:
Clothing
First aid/ survival kit
Flashlights
Insect repellant, once you are away from the ocean breeze, the mosquitoes will find you. 
Phone, camera gear, GoPro accessories, selfie stick, and all of their chargers
Shoes for all types of terrains you will travel on (flip-flops, hiking sandals or boots, water shoes, sturdy shoes, etc.)
Sunscreen because everything you do on the islands will most likely involve the Hawaiian sun.
Umbrella, light rain jacket, or a rain poncho for those unexpected downpours
Water bottle
Waterproof cases
Now that you know the essentials to pack on your trip, you are one step closer to having the time of your life.  
Keep on reading as we will go into more details about what exactly to pack for your Hawaii vacation, including a Hawaii packing list for you to print. We'll also share some helpful packing tips.
Covering The Basics – Essentials You'll Need for Your Maui Vacation
It may seem redundant, but it can be easy to leave something important behind when a person is excited.
Airport and TSA Checklist
The first thing to do is make sure you have what you need to board the airplane or cruise ship. 
Ticket Confirmation: Do you have confirmation of your ticket(s)? If not, or if stored on your phone, take a moment and print out your travel itinerary. We suggest packing a hard copy just in case you cannot retrieve this data from your phone for any reason. 
Terminal Maps: You will also want to find and print out maps of the airports you will be using while travelling through the area. The maps are important to help you move quickly and with as little effort as possible through the airport. We have included a link to maps of Maui's airport at the beginning of the post for your convenience.
If you fly to Maui, you will land at Kahului Airport. This airport is not huge and fairly easy to navigate. Here is a link to the airport maps that you can print out. If you Cruise to Maui Island, you will dock at Kahului Port. 
Identification: Next, let's collect your necessary documentation. If you are a U.S. citizen, this will be your photo Identification.                                                                                                                                                                             
If you are visiting from outside the U.S., you will need Photo identification; Passport, Travelers Visa, or equivalent.
Travel Attire
Going through airport security can seem overwhelming, but all you will need to do is follow a few simple steps, and you will be good to go.
First of all, be prepared to remove your shoes. Plan on wearing comfortable, sensible shoes that you can easily slip on and off in a standing position. 
Wear comfortable clothing on your long plane ride. You may be leaving a much cooler climate than Maui, and the air conditioning in the airplane may be a bit chilly too. If this is the case, you will want to be comfortable on the flight and when you land.
Dress for your destination, but bring some warm clothes such as a sweater and warm socks in your carry-on luggage.
Carry-on Bags and Personal Contents
There are regulations on how large your carry-on and personal bags can be and how much they weigh. They will allow you to have one carry-on and one personal bag. You will also be allowed to carry a jacket, something to read, and food.
You may be asked to empty the contents of your carry-on luggage.
Everything you have in your carry-ons and your pockets is subject to removal and inspection. Prepare for this by separating everything into categories and using clear zip-lock baggies to store your items easily.
This way, you will not be trying to stuff all of your loose items back into your bags from the bins.
Remove all metal: 
Belts with metal buckles 
Coins
Hair accessories
Jewelry
Watches
To help you move more efficiently through security, make sure your loose change is in a clear baggie. Do not wear jewelry or metal hair accessories. If you want these items handy, keep them in a baggie too.
Make certain you do not have anything that you are NOT allowed to keep or could get you into trouble. Here is the TSA Checklist.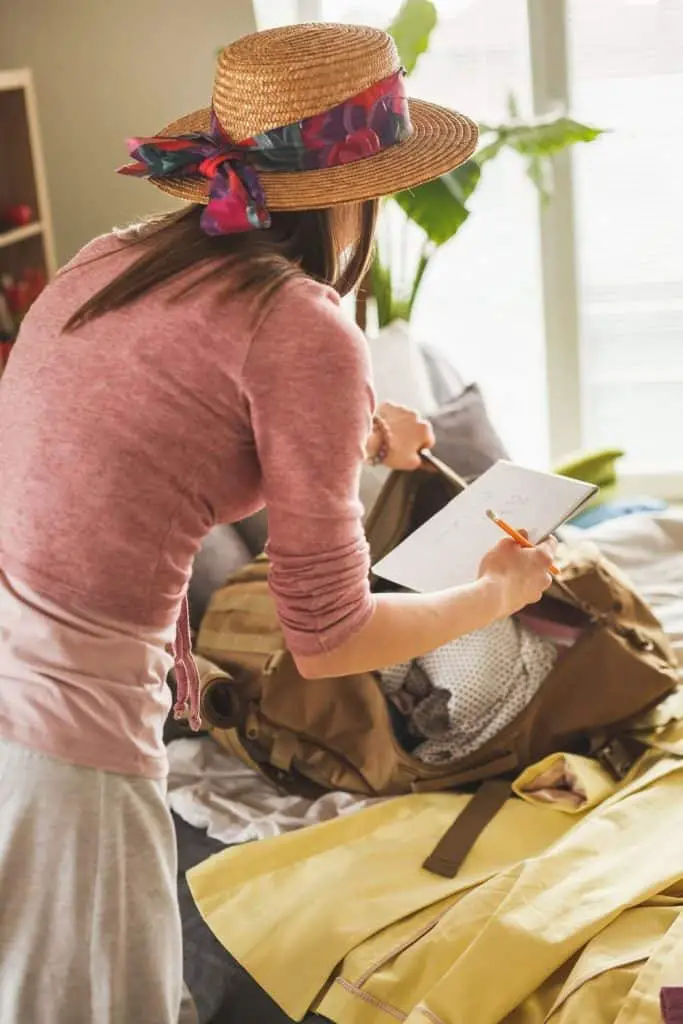 Checked Luggage
Airlines have limits on how many suitcases you can have and how much they can weigh.
Typically you are allowed two suitcases per person that do not exceed 50 pounds each.
If your suitcase exceeds the weight limit or you have more than two suitcases, you will be charged extra for transporting it. Check with your airline(s) to learn more about these additional fees.
The same applies if you bring something unusually long, like a surfboard, or oddly shaped, like golf clubs.
Hawaiian Airlines gives examples and additional costs of such items for their flights; check your airline's fees and regulations with a quick google search using keywords: "[Your Airline] flight to Maui, surfboards and odd-shaped cargo."
Packing Your Bags – The Ultimate Maui Packing List
Now that you know all about FAA and TSA regulations, it will make it easier to choose the luggage you will bring.
When you make it to baggage claim, you want to be able to grab your bags with ease. Get an easily recognizable luggage set.  This set has beauty and function. It is also lightweight.
To further utilize your packing space, use packing cubes to separate and organize your belongings.
To ensure your bags do not exceed the weight limits, you can buy an inexpensive luggage scale and weigh your bags as you pack.
You will most likely want to bring your electronic devices and their accessories in your carry-on luggage. These could include:
Laptop, charger, storage
Tablet, charger, storage,
Camera lenses, tripod, charger, storage devices
Phone, charger, storage device, or phone case(s)
Go Pro or another all-weather sports camera, charger, and accessories.
It is also a good idea to: 
Take a change of clothing
Bring an extra pair of shoes
And bring TSA-approved toiletries, for example, travel-size shampoo, conditioner, toothbrush, and toothpaste, lotion. Tip: Bring a new, unopened set, such as this men's convenience kit or women's convenience kit
With so much to include in your carry-on luggage, it is a good idea to find a bag that will hold all of this in an organized manner.
Something like this computer backpack will hold most of your items. Or use packing cubes in your carry-on luggage to help separate and protect your items.
Clothing
When choosing clothing for what you'll wear in Maui for your vacation, you will want to have lightweight and breathable fabrics that will keep you comfortable in the tropical air.
Choose items made of : 
Lightweight cotton
Chambray
Bamboo
Rayon
You also want clothing that doesn't cling to you. Instead, opt for clothing with a bit looser fit to allow air to circulate through your clothing, helping you feel dry and comfortable.
Think "resort casual" when it comes to packing. Basically, nice, summer casual clothing is what you want. It's okay to show some skin. These are the islands. People dress to be comfortable in this environment. 
Undergarments
You will want cotton undergarments. The cotton breaths where synthetics won't. It is especially important to wear cotton underwear in humid climates. Synthetics can trap moisture.
Swimsuits
This is not a destination where you want to forget your swimsuit! When it comes to bringing your bathing suit, swim shirt, swim trunk, or a rash guard: Yes, more than one!
If you can, bring a set for each day of vacation. Otherwise, bring two so you can rotate daily. Hand wash the previous day's swimsuit and hang it to dry.
You will use your swimsuits more than you think. On the Hawaiian island, people spend a lot of time outdoors in activities in or near the water.
Tank tops
An essential are tank tops, especially loose-fitting, lightweight styles like this v-neck tunic or a resort casual tank. The island breeze will find its way under the shirt, cooling you quicker.
T-shirts
You should also make sure to bring T-shirts. Not every day or place you visit will be as hot or humid as the next.
A couple of clean and comfortable t-shirts are essential to any wardrobe. Wearing a t-shirt and jeans while horseback riding or on your hiking adventures on the slopes of Haleakala will help keep you comfortable.
Shorts
You will want enough shorts for you to change into them daily during your vacation. 
Having a change of clothes with you after a day of whale watching or walking through a botanical garden can also be handy.
Pants
Lightweight men's beach casual pants or women's beachside pants.
Having a pair of pants that you can easily fit in a bag you are carrying around can be handy should you get chilled or need a little extra protection from the elements.
If they are nice-looking casual, they can easily be worn to the restaurant as well.
Short sleeves
Resort shirts or/and short-sleeved blouses can be worn with anything. They also make a great outer layer over a tank top.
Dresses and skirts
Dresses and skirts are truly a personal choice.
If you prefer to wear a dress, by all means, pack dresses for your trip. Lightweight dresses are wonderfully easy to deal with. They don't take much room, and you can wear them to the beach and into town. These Boho dresses are perfect island wear.
I recommend a dress for each day, plus one that is a bit more formal if you feel like "dressing up." Just be sure you include a couple of pairs of shorts and at least one pair of pants.
Jeans
All this talk of lightweight clothing, why would you need jeans? Jeans are an essential item.
You may want to go horseback riding or hike through lava fields. Some nights may be a bit cooler, and a pair of denim jeans will keep you warm. 
Shoes
Flip Flops
Locals wear flip-flops. In the islands, they are called slippers. They are ideal footwear. You can wear sandals at the beach, walk through town, and even to the restaurant. 
Slippers are easy to take off and put on. It is custom to remove your shoes before entering a person's home in Hawaii. Slippers will be seen next to the front doors. 
Most flip-flops can withstand getting wet, and they are easy to rinse sand and mud off. They are thin and lightweight. 
Water shoes
Do bring a pair of water shoes. Protect your feet from cuts and more by wearing water shoes while swimming.
Though pahoehoe is smooth, it can become slippery as waves or rain wash over it. Sometimes it will be cracked or broken, and these areas of rock could be sharp enough to cut bare feet. 
Hiking shoes
Bring a pair of hiking shoes or a good pair of athletic shoes or all-terrain running shoes. You will want to wear hiking or close-toed shoes with traction when you are out adventuring the island's interior.
Dress shoes
These are completely up to you. These casual dress sneakers would be ideal for men's island dress wear. They are dressy enough to feel a little fancy, yet they are comfortable for walking and more.
When it comes to women's dress shoes, some people can move effortlessly through any kind of terrain in spiked high-heels. However, you might want to prefer to wear flats or a wedge heel.
One second you could be walking through the resort, the next walking on the beach. Trying to walk on sand, uneven rock, or even through the grass in spiked heels can be treacherous on the ankles. 
Consider one of these incredible Maui activities :
Beach Day Necessities
Hawaii offers the best beaches, including Ka'anapali beach, Little Beach, Makena beach, and Kapalua beach.
What should you bring for a day on the beach in Maui? Don't forget your swimwear and water shoes. These things will help you enjoy your Maui beach day.
Beach mat
A beach mat is highly recommended. It's nice to have a dry, sand-free place to sit and relax after swimming or snorkeling.
Sunscreen
Hawaii-approved sunscreen such as this reef-safe sunscreen. The coral reefs were dying off in the islands. It was found that ingredients in sunscreens were causing the death. This resulted in a sunscreen ban in an attempt to protect the reefs. There are certain sunscreens that the State of Hawaii has approved for use.
Beach hat
A beach hat or sun hat to keep the sun out of your eyes and off your face and neck.
Beach towel
A beach towel to lay on, dry off with, and wrap up in. Resorts in Hawaii often have towels you could borrow and bring back, but having your own is nice.
Waterproof phone case
To keep your phone dry and free of sand, consider a waterproof phone case.
Sand finds its way into everything, including any open areas of your phone, for example, charging ports and speakers. It can also scratch the lens.
Portable power cell Charger
A portable power cell charger phone in case you need a portable phone charger on the go. 
Beach bag
A versatile Maui trip essential is a Beach bag.
It will be more useful than you may guess. It will hold everything when you go to the beach and double as a market bag.
Plastic bags have been banned in the islands, so be sure to bring your reusable bag when packing light and simply bring a few things or your own food. I'm a huge fan of beach bags.
Water bottle
Be sure you stay hydrated during your vacation with a water bottle.
Dehydration can sneak up on you. With the tropical air, you may not even realize how much you are sweating.
Drink water, and drink it often. It's also a good way to save money and avoid trips to the grocery store for bottles of water.
Sarongs
One of the most versatile and essential pieces of island wear is Sarongs.
They can be used as a swimsuit cover-up, a shawl, a bag, and a covered place to sit upon the ground. Both women and men use them.
Beach toys
You may also want to bring beach toys and activity items, such as snorkel gear, mask, fins set, Bodyboard, surfboard, or sup. It is not necessary to bring your own boards. Many places in Maui rent and sell anything you want for water sports fun.
JUST IN CASE ITEMS TO INCLUDE ON YOUR MAUI PACKING LIST
When you are traveling on Maui, you are bound to encounter a variety of climates. You need to be prepared for cooler temperatures and breezy conditions if you are heading up the mountain. The following items might prove handy :
Jeans 
T-shirt
Long sleeve shirt
Hiking shoes and socks
A jacket and maybe a warm hat
Flashlight
Water bottle
Snacks
Phone, camera, chargers
Rainforest excursions may also bring surprise weather and environmental factors you should be prepared for:
Umbrella and or a rain poncho for those unexpected downpours
Long sleeve shirt and long pants to help keep insects off of your skin and protect you from getting scratched by any plants you may pass.
Insect repellant, once you are away from the ocean breeze, the mosquitoes will find you. Cactus Juice is a natural insect repellent that has worked well for me, and I wish I had been able to find it when we lived in Hawaii. 
Don't forget your: 1st aid/ survival kit, Water bottle, Flashlight.
Maui Packing List Printable
We have a useful Maui packing list printable that you can get below to ensure you bring everything you need and anything you want for your Maui vacation.
For more travel tips for when you'll be visiting Maui, check out my post about my week in Maui. 
Weather On Maui Island
The weather is most often beautiful. Throughout the day, there will be sun and possibly some passing showers. The rain doesn't often last long, and then the sun returns with rainbows. Of course, this typically depends on where you are on the island.
Some areas like Kapala and Hana will receive much more rain, and more often, this is because they are on the island's windward side. Areas such as Lahina and Kihei are drier as they are on the leeward side. It is important to look into the weather in the area you will be visiting. 
Ocean temperatures are perfect for swimming and playing. The ocean is typically around 80°F. It's comfortably warm but maybe a little uncomfortable for those not used to it and consider it hot weather. The good side is you can swim year-round.
It is a good idea to prepare for the unexpected, especially when it comes to the weather. Be sure to bring a lightweight jacket and a small umbrella. 
The shoulder season of spring or fall is when many vacationers like to visit Hawaii as there tend to be fewer crowds, and you can avoid higher rates on vacation rentals, for example. This might be a game-changer when planning your trip to the west coast.
What Activities Does Maui Offer? 
Maui has many different activities to meet anyone's agenda. They can be easy and laid back or heart thumping and thrilling.
There is something for everyone to enjoy regardless of how long you will be on the island. There will be something to fill every part of your day. Some of the activities on the island include:
Explore tide-pools
Fishing in Hawaii
Go Cliff Jumping
Go on a Whale watching and Dolphin watching tour
Outrigger canoeing and kayaking
Picnicking
Relaxing
Snorkeling
Suba Diving
Stand up paddleboarding
Sunbathing
Surfing
Swimming
Taking a walk through a botanical garden
Visiting the Maui Ocean Center
Walking on a gorgeous beach
Windsurfing
Whale season if traveling to Maui between November and May
The ocean offers unforgettable experiences, and there are amazing adventures to be had in the Inland areas, too. Think about the lush rainforest and volcanic mountains you have yet to meet.
Note that you are able to rent gear pretty easily so need to bring all the water equipment if you don't want to.
Traveling the Road to Hana 
The road to Hana is a nice but long road trip. It is worth the drive, and you definitely should make the trip while visiting the island. Taking the road to Hana, you will be able to visit beautiful places along the way that will allow you to have a once in a lifetime experience in such as: 
Garden of Eden Arboretum
Hana Lava Tube
Honomanu Bay
Paia Town
Upper Waikani Falls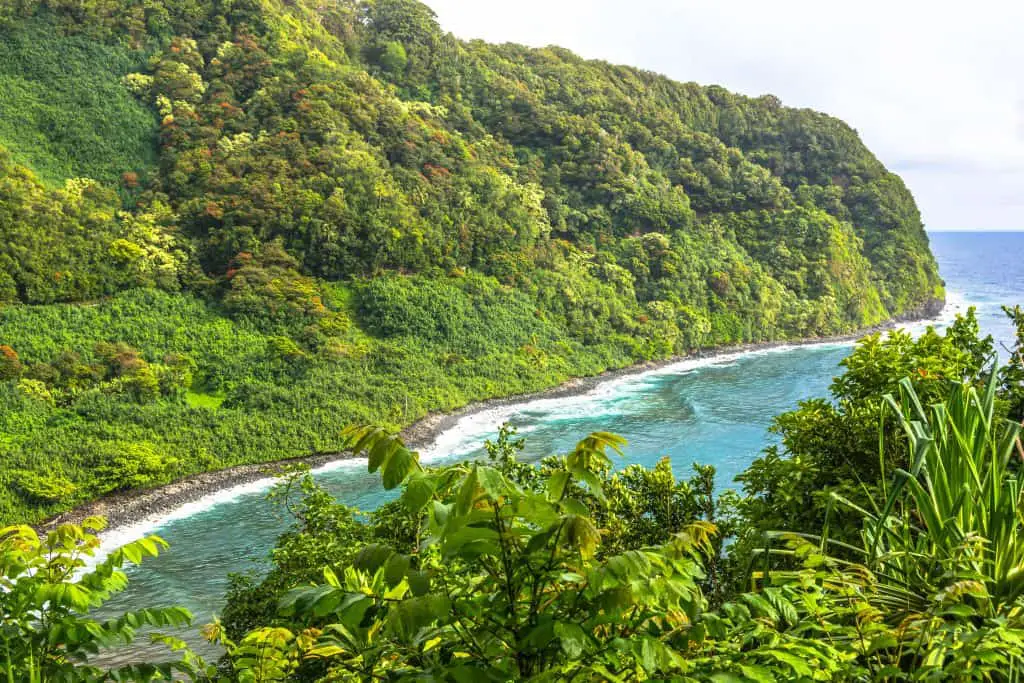 Visit Haleakala 
Haleakala offers many tours. There are also numerous hikes you can go on. Visit the crater and watch the sunrise or sunset from a 10,000-foot elevation. The views are unbelievable and very well could be the most beautiful sunset and sunrise you will ever see.
You can also go to Kipahulu, on the flanks of Haleakala, where you will see waterfalls cascading into the ocean and many more wonderful sites. Due to dangerous currents, swimming in the ocean here is not recommended, though. Instead, you might want to consider:
Bird Watching
Horseback riding
Walking trails
Ziplining
There are so many activities to do on all of the islands that you may not be able to see it all in one vacation. This only means you will need to come back more and more to take in every breath-taking moment of the beautiful islands of Hawaii. 
Visit Maui's Quaint Towns 
Maui has quaint Towns that beckon the traveler to explore Hawaii and its culture. There is a feeling that washes over you as you explore the communities. There are also many different activities in those towns such as:
Cool off with some shaved ice
Enjoy some malasadas
Get some Ono Grinds. (Ono grinds mean delicious food.) There are many wonderful restaurants where you can eat and find fares from seafood, tropical fish, local favorites, and more. 
Go out for a night on the town
Go to a Luau
Have some Maui Coffee
Learn to weave
Take a free hula lesson at Lahaina Cannery Mall
Check out the sea turtles
There's so much that can be done when you visit Maui. You don't want to forget anything! You don't want to forget anything! This is why it is important to create a list of everything you want and need to bring 
Useful Maui Travel Tips
Maui and the Hawaiian Islands are like no other place. Don't be surprised if you are greeted with a hug and a kiss on the cheek. This is an island way. Locals may refer to you as Aunty, Uncle, or cousin. These are terms of respect. 
Be respectful. Do not climb on or in any way desecrate any heiau or monument. Do not litter. Help keep the islands beautiful. If there is not a trash can, pack it out with you. 
Be safe! Stay on marked trails. Use extreme caution near the ocean and near streams and rivers.
Rogue waves do happen, and they will sweep you off of cliffs or across rocks. Rains can quickly cause streams and rivers to flood.
If you are near a waterway and it begins to rise, Do Not Cross It. Wait for the water to recede.
You might also enjoy: What To Wear in Maui + Packing List Printable
If you're still on the hunt for a rental car or want to check our rental car prices for different car rental companies, click this image :
Final Thoughts For Planning Your Maui Visit with the Ultimate Maui Packing List
When you visit Maui, you will be happy to have had this guide when planning the trip of a lifetime and a vacation you will never forget.
Keep in mind that you may not fit everything in a carry-on bag and may need to check luggage. It is also good to leave space for the items you will most likely buy when on the island.
With the information in this article, you can now plan your trip to Maui with ease. You not only will know what to pack but also where to sightsee.
Maui is a beautiful place to visit, and there are hundreds of activities to do. As long as you plan and pack accordingly, you will be just fine.
If this is your first trip, I'm so excited for you; you are going to have so much fun!