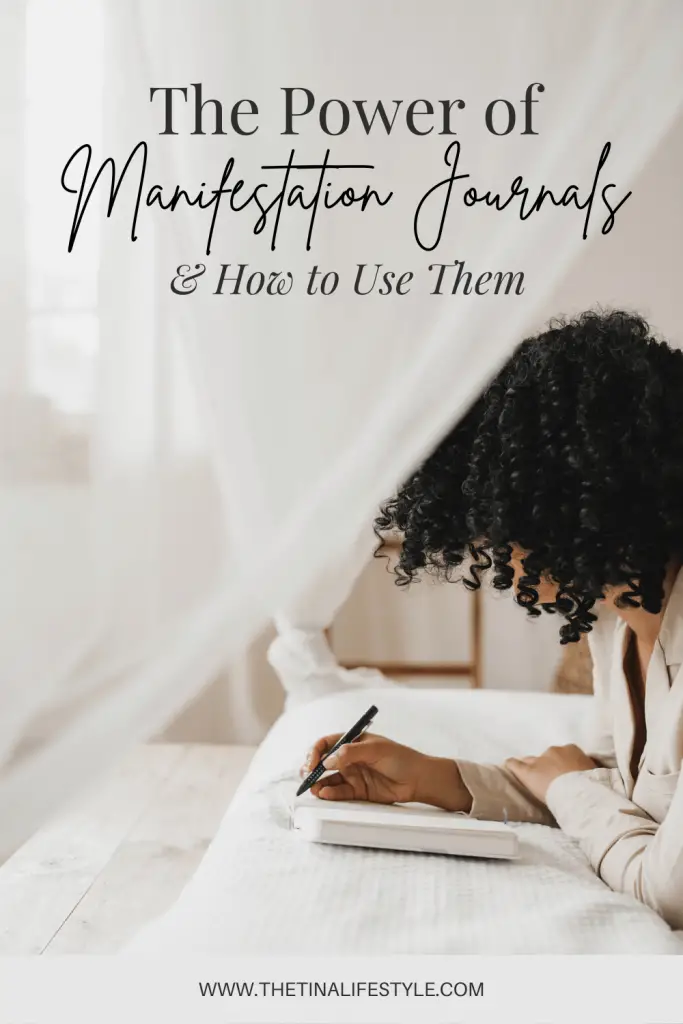 Do you want to live a more fulfilling life? One of the best ways to do this is through manifestation journaling. Manifestation journals are designed for self-reflection and introspection, which can be empowering when used correctly! This blog post will explore what manifestation journals are, how they work, and why they are so powerful.
You might already practice some form of attraction work via meditation or by writing positive affirmations in an affirmation journal as part of your daily personal development. However, if you want to take your manifesting journey to the next level, you'll find inspiration with this post.
This post contains some affiliate links. If you click on the product links and make a purchase it allows me to make a small commission at no extra cost to you! In return, it helps me in maintaining this site to continue to help you!
What Is a Manifestation Journal?
A manifestation journal is a mindset-focused journal that helps you intentionally create your reality. 
You can include prompts that get you thinking outside the box, turning your self-limiting beliefs around. 
This will help you focus on what you want (not what you don't want).
A manifesting journal can help you to stay vibrational aligned with your dreams and also keep focus. 
Journaling for Manifestation
In recent years, the act of journaling has gained more of a following. 
One common misconception about manifesting is that you can make anything happen by simply wanting it. On the contrary, the best way to manifest anything you want is to live your truth. The more fluid you become in these actions, the easier it will be for you to consistently manifest things into your life.
How Manifestation Journaling Works 
Manifestation Journaling is a 'mindful' journaling method approach to manifesting positive change in one's life. It involves consciously giving attention to thoughts and feelings that correspond with the changes being manifested.
Manifestation journaling also includes writing down affirmations, resolving conflicts, and identifying blocks. It also helps coming up with actionable steps per day to meet your life goals.
There are many benefits of manifestation journaling. It will help you develop emotional awareness and establish your focus, making it easier for you to achieve your desired results. Can You Manifest In Journal?
What Should Be Included in a Manifestation Journal?
One thing is to write out what you want in hopes that this will help you articulate and visualize what it really is you're hoping to manifest.
You might want to write prayers for things you want to manifest in your life, positive messages, or inspirational quotes with which you associate yourself or surround yourself. 
How Often Should You Journal For Manifesting?
A manifestation journal or law of attraction journal can be a powerful attraction tool to use as part of your manifestation process. Admittedly, there are many variables and many different ways you can incorporate them into your life. There is no "right" answer or a specific way that works for everyone, so experiment with what feels best for you!
For some people, journaling just once per day proves effective – perhaps at night before they go to bed. For others, writing down goals in the mornings may work better since it sets them up for the rest of their day. Whatever's right for you, be sure to be patient and gentle with yourself. As you get started, keep practicing because this may not feel easy at first, but it will eventually will.
Manifestation Journal Ideas & Manifestation Planners | Manifestation Journal Examples 
The Law of Attraction Planner is more than just a planner – it's everything you need to create your most compelling life.
It includes all the tools to achieve your short and long-term goals like wealth-building principles and self-motivation. This journal offers features that both new and experienced manifestation creators will need. There are a variety of elements. For example snapshot pages for clipping pictures, daily goal pages to set intentions, and progress charts to track goals achieved. There are also pages for vision boards for visualizing what you want life to look like in the future.
The undated 100-Day Guided Manifestation Journal helps guide you through 100-days of the law of attraction with tips and quotes. 
Each page of this creative journal is beautifully styled. It also has a thoughtful quote or explanation followed by blank dotted lines for your thoughts.
Full of helpful guidance–they don't leave anything out to help bring to life a successful manifestation.
A guided journal helps you cultivate gratitude through the exercise of mindfulness and journaling. 
It is designed to give you a clear path to creating a daily gratitude practice that will positively impact your life. Every morning, you will be guided to write in your manifestation journal and review the affirmations that support your goal all day. In the evening, you will reflect on your day and pick one good thought to carry you to bed.
Imagine a daily planner that will help you plan every part of your life. From finding your life purpose, crafting a vision, setting big goals, creating a step by step plan, making a vision board, setting priorities, scheduling appointments, creating positive habits, reprogramming your subconscious mind for success, and using the law of attraction to make all your dreams come true.
Achieve Your Dream Life In 30 Days! The Law Of Attraction Daily Life And Success Planner is the only book that will help you design an action-plan
Journaling Prompts for Your Manifestation Journey
Journaling is a great tool and form of self-care. Whether it's to improve your mental health, fight negative thoughts, practice gratitude journaling, or increase your vibrational energy and your burning desire to realize your dream life. Journaling for manifestation can be a powerful tool.
If daily journaling or writing prompts are part of your daily practice, please use these journal ideas and journal prompts to work on your higher self and subconscious mind.
Make sure you write the free journal prompts in the present tense as if the universe has already given you your dream life.
What is your goal for this year?
How will you know when you have reached your goal?
Write down 10 things that are already manifesting in your life.
Why do you want to reach your goal?
Write down 10 things that would make it easier to reach your goal and how they can come true. 
Write about how it feels when something good happens. Or when you get an opportunity, and then think about how it will feel once it's happened.
Make a list of all the things you want in life, whether they are tangible or not. 
If money was no object, what would you be doing right now? 
What do you want your life to look like 1 year from now? 
If I were granted anything in the world, what would I ask for and why.
Final Thoughts on Manifestation Journaling and Manifestation Journals
Whether you are starting your own manifestation journal or looking to improve the one that you already have, we hope this blog post has been helpful. Now start manifesting your dreams, personal transformation, happiness, more money, abundance, desires, and all the things now!
Choose a manifestation planner, a digital planner, or a blank notebook with the attraction technique that will make you begin a daily routine with intentional actions for your manifestation journey on your way to the best version of yourself.
Frequently Asked Questions 
Do Manifestation Journals Work?
Some people have tried to put the Law of Attraction into practice through manifestation journals. The basic idea is that you will be more likely to achieve by writing down what you want to manifest in your life. No scientific evidence supports this claim, but many people swear by the practice. Some say that writing down their goals and dreams helps keep them focused and motivated. Others believe there is power in putting their desires into words and making them concrete. Whether or not manifestation journals work is still up for debate. But for many people, simply writing down what they want is enough to help them make it a reality.
Can You Manifest by Writing in a Journal?
Some people believe it is possible to manifest your desires by writing them down in a journal. The theory is that writing helps clarify your goals and put them into a concrete form. This, in turn, makes it easier for the Universe to align with your desires and help you achieve your goals. There is no scientific evidence to support this claim, but many people find that it helps them to feel more focused and motivated. Journaling can be a helpful way to organize your thoughts and intentions, but it is not a magic wand. Whether or not it can help you manifest your desires is up to you. If you decide to try it, be sure to be specific about what you want to achieve and be realistic in your expectations.
How Do I Write Out My Manifestations?
Writing out your manifestations is a powerful way to ensure that your subconscious mind is working in alignment with your conscious desires. By clearly articulating what you want to achieve, you are sending a strong message to your subconscious that this is something you are committed to manifesting. Additionally, the act of physically writing out your manifestations can help to increase your focus and clarity, as well as provide a tangible reminder of your goals. To get started, find a quiet place where you can sit comfortably and allow yourself to relax. Then, begin writing out your manifestations in the present tense, as if they have already been achieved. 
For example, if you manifest abundance, you might write, "I am so grateful for the abundance of money that flows into my life." Keep your statements positive and focused on what you want to achieve rather than what you don't want. After you have finished writing, take a few deep breaths and give thanks for everything coming into your life. Remember, the more specific and realistic your manifestations are, the more likely you are to achieve them. So be creative, be bold, and most importantly, believe in yourself!
Do You Need a Specific Journal for Manifesting?
The act of manifesting is the act of bringing something into being. You can do this through Visualization, Affirmations, and/or Goal Setting. There are many ways to go about Manifesting, but one common method is to use a journal. A Manifesting journal is a specific type of journal that is used to help you bring your desires into reality. The idea behind a Manifesting journal is to write down your goals and desires and then work on them daily. As you work on your goals, you Visualize them coming true. This helps to focus your energy and Intentions on what you want to achieve. While there is no wrong way to manifest, using a Manifesting journal can be a helpful tool in achieving your goals.
What Time of Day Is Best for Manifesting?
The best time of day for manifesting your desires depends on what you are trying to manifest. If you are trying to manifest something that requires action on your part, then it is best to do it during the daytime when you are alert and able to take action. If you are trying to manifest something that does not require any action on your part, then it is best to do it at night before you go to sleep. This is because your subconscious mind is more active at night and can more easily receive messages from your conscious mind. Regardless of when you choose to manifest your desires, the most important thing is to be clear about what you want and believe that it is possible to achieve it.
How Do I Make Manifestations Work Immediately?
The short answer is that you don't. To manifest your desires, you must be patient and open to receiving whatever you've asked for. The Law of Attraction states that like attracts like, so if you're trying to manifest something that you don't believe is possible, then it's unlikely that you'll be successful. Manifestations also require action on your part; simply visualizing what you want isn't enough. You must take steps toward your goal for the Universe to align and deliver what you desire. So if you're wondering how to make manifestations work immediately, the answer is that it takes time, effort, and a lot of faith. Trust that what you want is on its way, and have patience as you work towards your goals. The manifestations will come in due time.