If there is one place that everyone needs to experience at least once in their lifetime, it's London. While you're there, don't just stop in for a day. Take in all of the fairytale magic of walking through a city that has existed for over a thousand years. You will be happy that you did and explored all things on your London bucket list.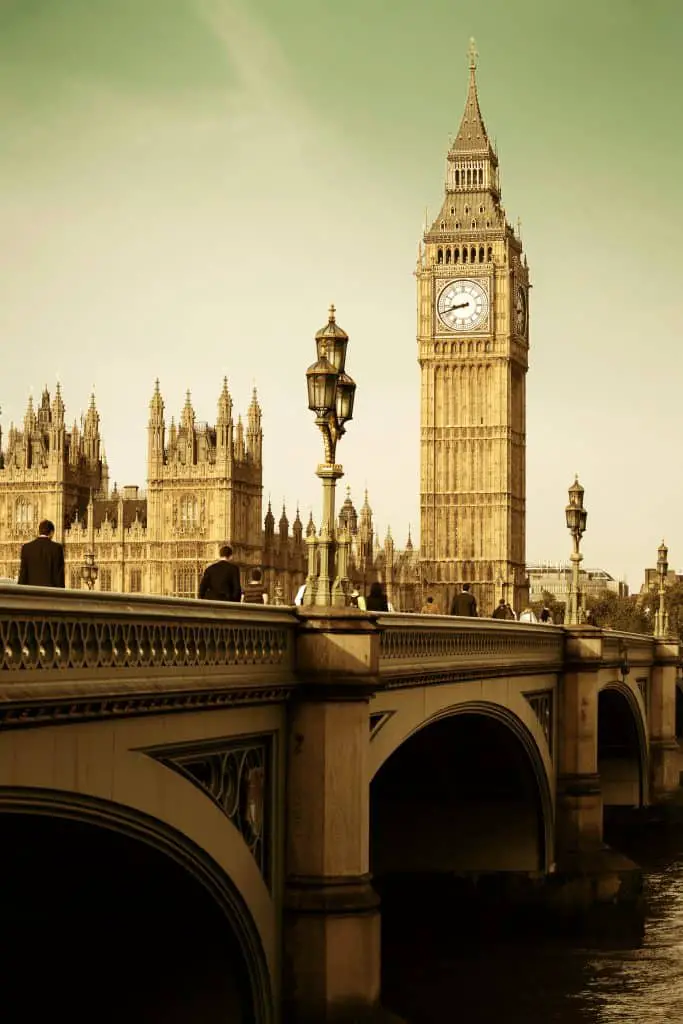 This site uses affiliate links and I may earn a small commission when you use my links and make a purchase without incurring additional fee yourself. Many thanks for supporting this website. Please see my legal page for more details.
The first time I visited London was after spending a week with some friends in Spain. I wanted to take full advantage of my time in Europe and visit another country or city that I never visited before. For a long time, London had been high on my bucket list, so it was an easy decision. My London leg was spent solo, and it was an incredible time exploring the city for the first time by myself.
Spending five days in London really opened my eyes to its beauty. I have compiled this guide to give some suggestions for people who have considered visiting but don't know where to begin.
You might also enjoy : 25 Hidden London Gems
Bucket List London: 42 Things To Do In London
I will share quite a few locations in London in this guide, probably more than you could hope to visit in a single trip! This should give everyone an opportunity to find something that speaks to them here so that you don't have to waste any of your precious trip wondering what to do next. 
Later in this post, I will also be covering some additional useful information such as how to get to London, how to get around the city of London and where you can stay, shop and eat. I hope you will feel inspired by some of these places when planning your next family trip.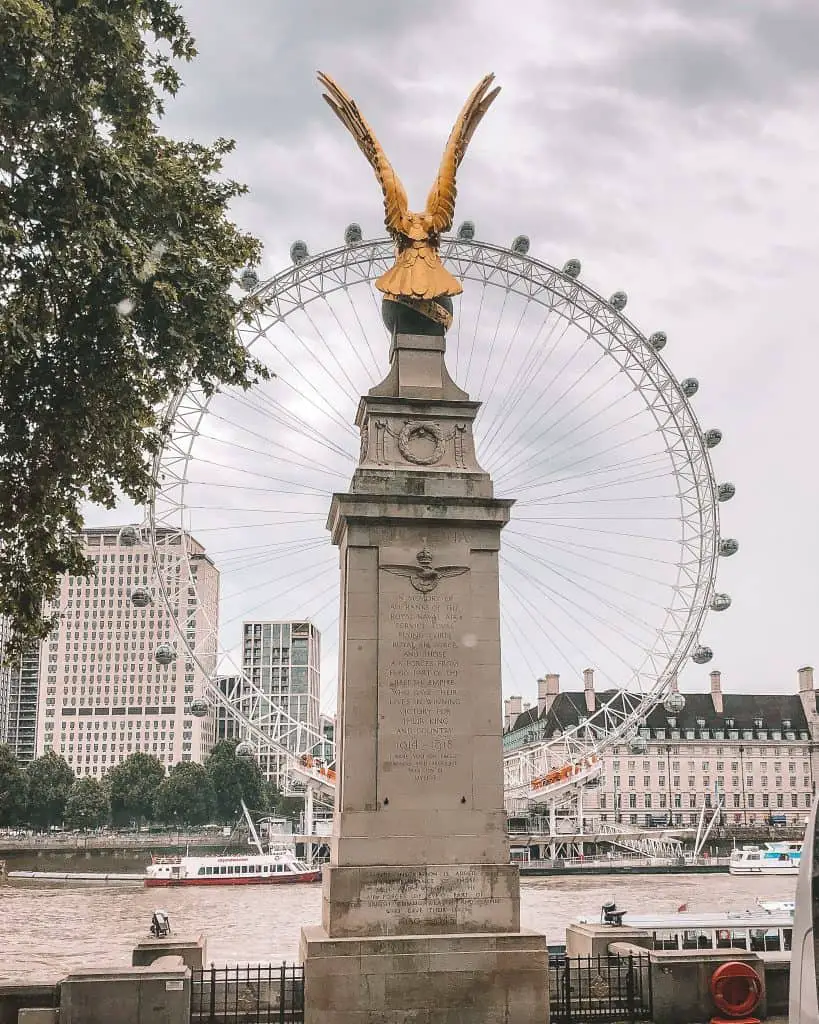 London Eye
Located in Lambeth, the London Eye, or the Millenium Wheel, is an enormous Ferris wheel. When you are at the top, on a clear day, you can see most of London laid out before you.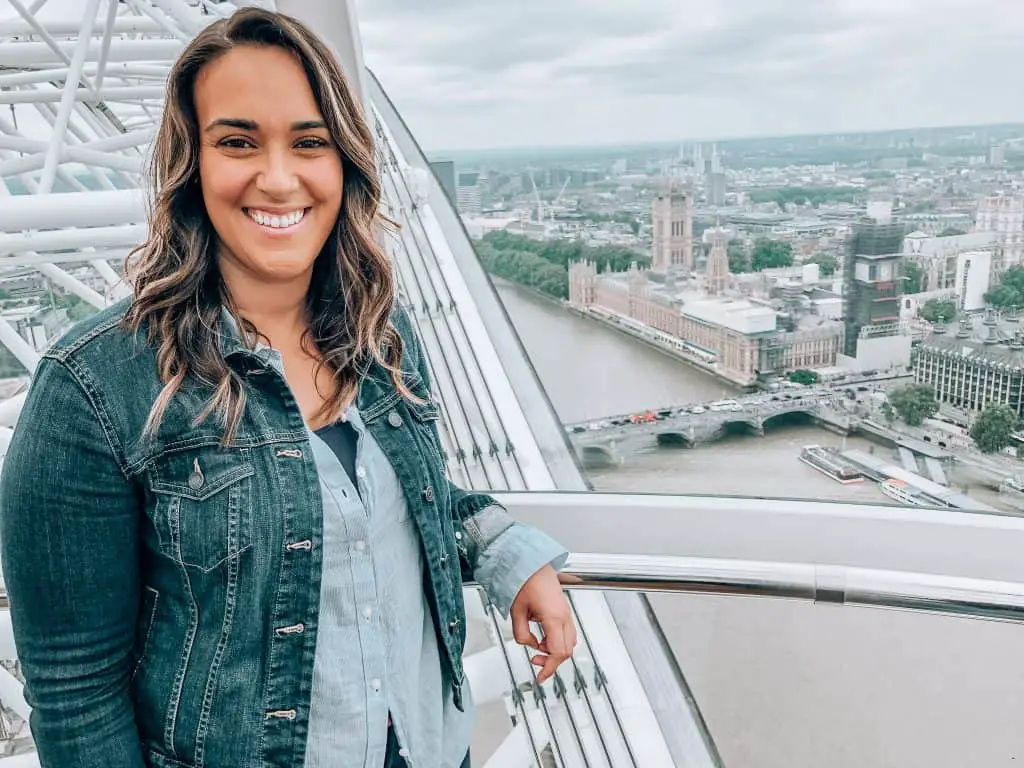 Hyde Park
The largest of the four royal parks in London, Hyde Park, is the perfect place to enjoy a long walk and take in the majesty of central London. Since 2007, it has been the host of a Winter Wonderland event that happens during the holiday season. Over the years, it has become one of the largest Christmas events in all of Europe, with a giant ice rink and circus performers to boot.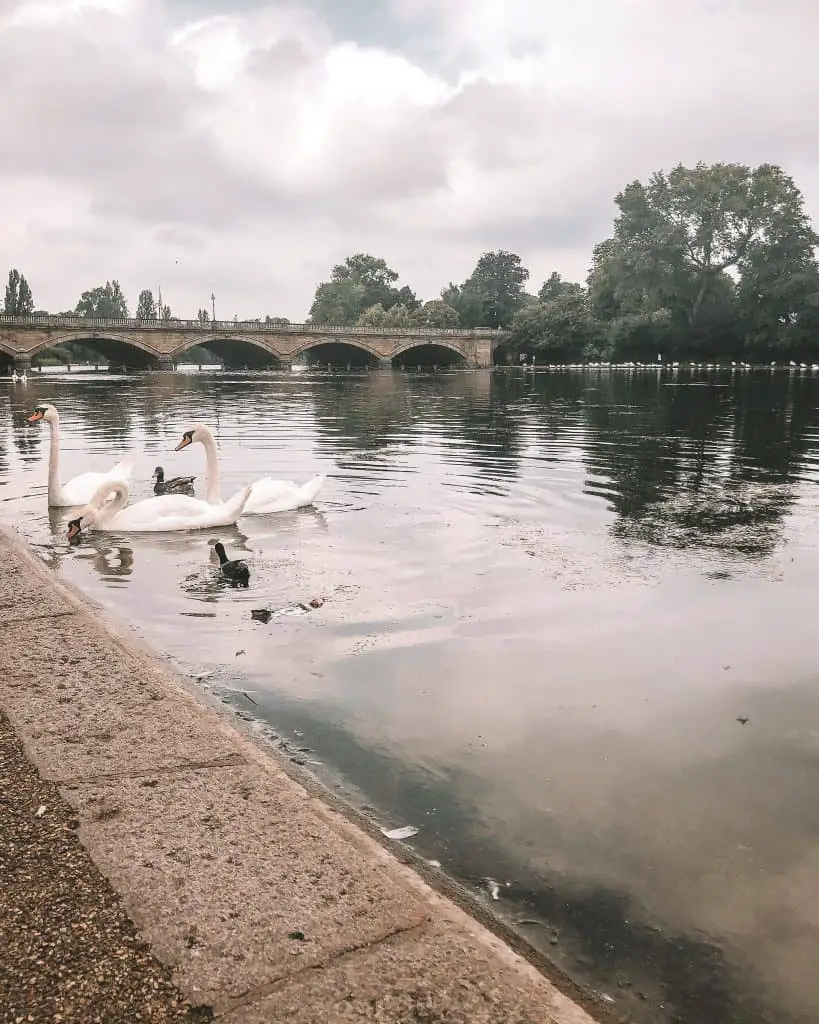 If you love lots of greenspace and spending time outdoors, you might also enjoy visiting Mudchute Park & Farm.
Kensington Gardens
Once part of Hyde Park, Kensington Gardens helps form a barrier of lush greenery around Kensington Palace. It isn't just a garden, though. The Serpentine Galleries feature several contemporary art and architecture installations for people who are artistically inclined. In the Diana Memorial Playground, kids can romp around a giant pirate ship too. 
If you're wanting to visit more beautiful gardens, consider Kew Gardeusns, a Unesco World Heritage Site.
Kensington Palace
Although this palace is the Duke and Duchess of Cambridge's current residence, certain parts are open to the public. Initially commissioned by King William and Queen Mary, Kensington Palace was finished in 1689, and the royal couple moved in on Christmas Eve. This stately palace has been updated since then, but it retains its historic charm. I really enjoyed touring the parts of the Palace that is open to the public and would highly recommend it if you've always been intrigued by the Royals.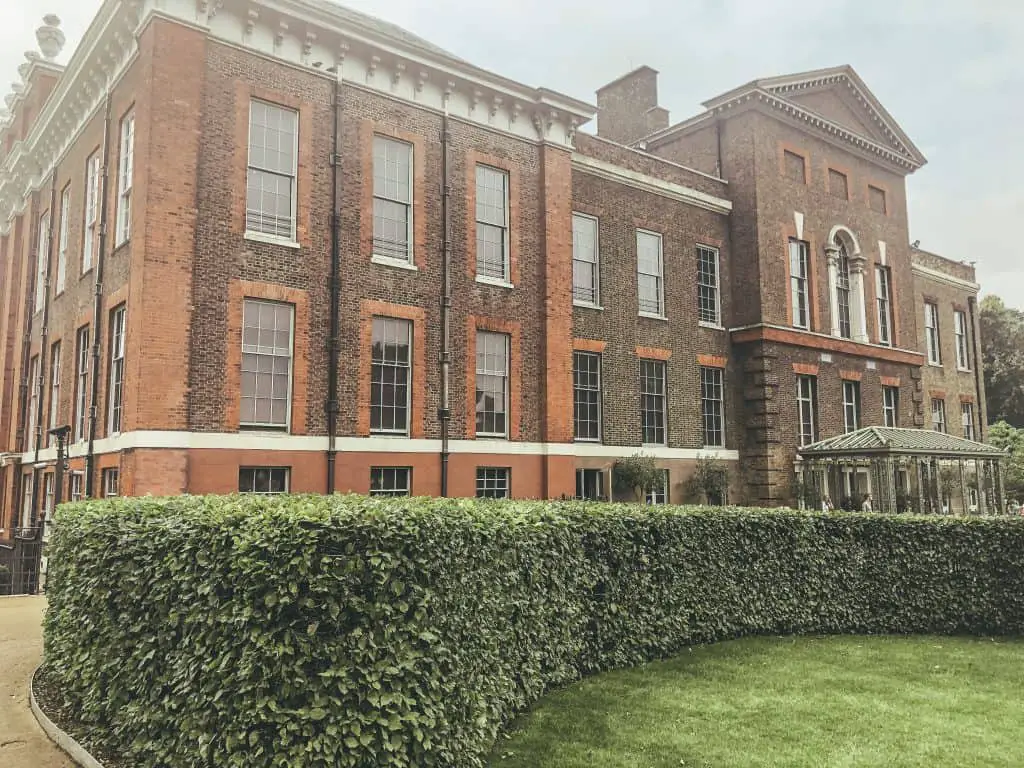 Neal's Yard
Tucked away in Covent Garden, Neal's Yard is a small courtyard filled with colorful buildings and small shops for you to explore. This place is a real treat for people who don't want to shove through the crowd of people to get anywhere. You always feel like you have discovered a hidden gem in Neal's Yard. It's a great place to stop for an afternoon snack. I had never heard of Neal's Yard until a friend told me I had to make sure to visit this place during my stay in London. I'm glad I did. While you're there, make sure to try a slice of pizza at Homeslice Pizza.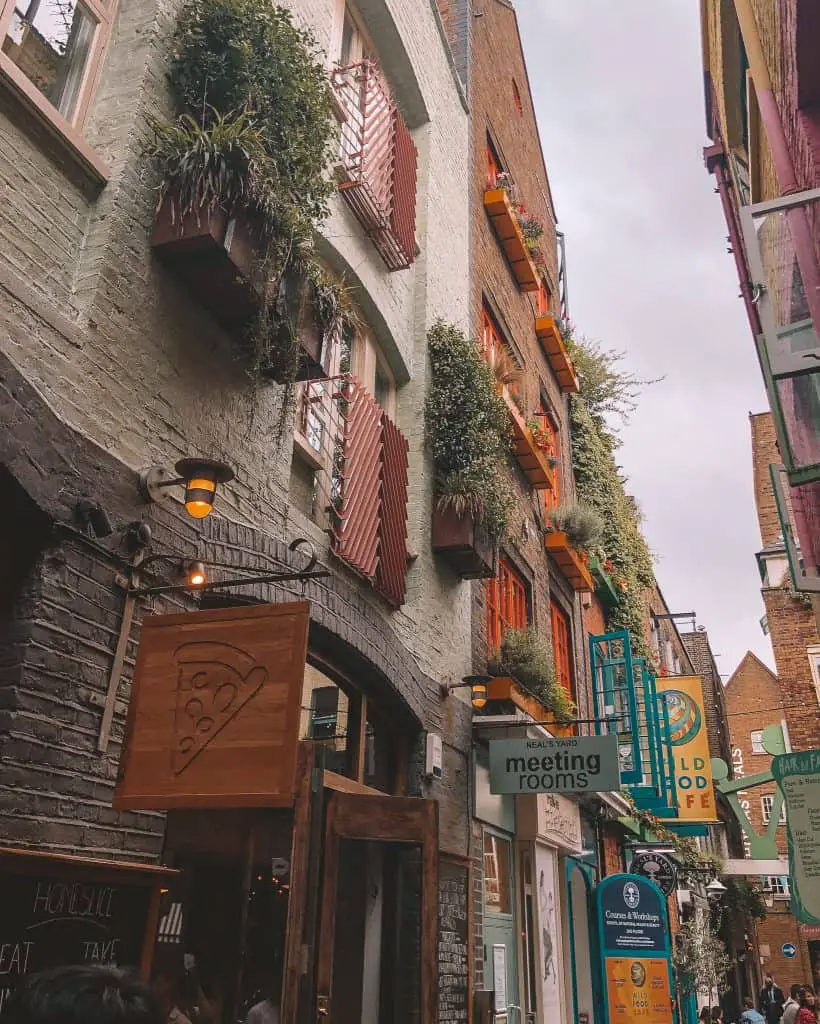 Tower Bridge
Not to be confused with the London Bridge, Tower Bridge is named for its proximity to the Tower of London. Tower Bridge has a deck that is available to pedestrians and is a ton of fun to walk across if you are looking to stretch your legs and want an incredible view along the way. There are still engine rooms from the Victorian era that you can check out.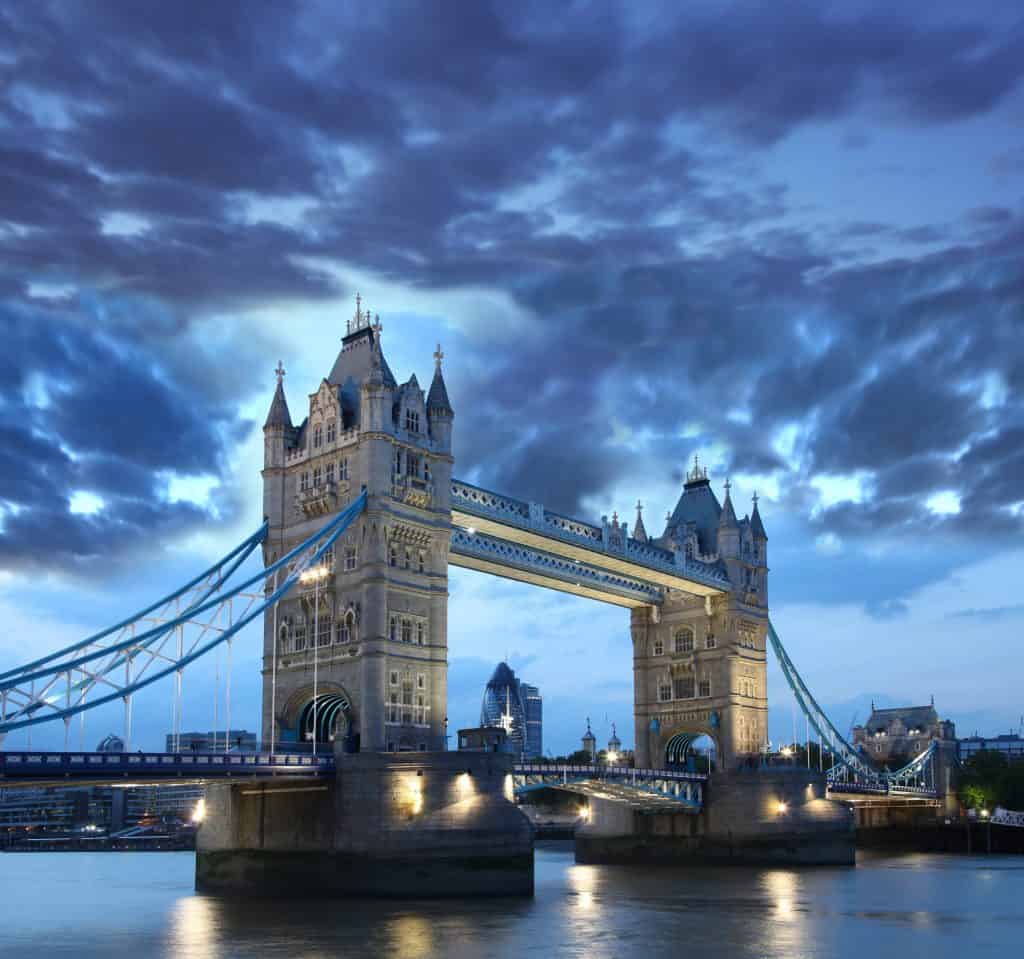 If you're looking to do the Queen's Walk, make sure to check out the best areas to walk along Bankside and the Southbank from Tower Bridge to Westminster Bridge.
South Bank 
South Bank is home to so many entertainment and shopping options in London. It runs along the river Thames and is where you find the London Eye, the National Theatre, the Jubilee Gardens, and the London Dungeon. The South Bank area is a prime place for sightseeing, eating, and shopping.
If you can find an Airbnb near the South Bank, you will be in good shape for your trip! 
Tate Modern 
As the name suggests, the Tate Modern is a collection of modern art. It is part of the four art galleries that are held by Tate Galleries throughout London. Located in Southwark, the Tate Modern is one of the largest contemporary art museums in the entire world. For the main displays, like other museums in England, there is no admission charge. You only have to pay to see temporary exhibitions. 
Natural History Museum 
Located near Kensington Gardens, the London Natural History Museum has scientific specimens. There are three museums in the area: the Science Museum and the Victoria and Albert Museum. You can visit all three of them in one day if you want to since they are so close, but each museum is large enough to be its own day trip.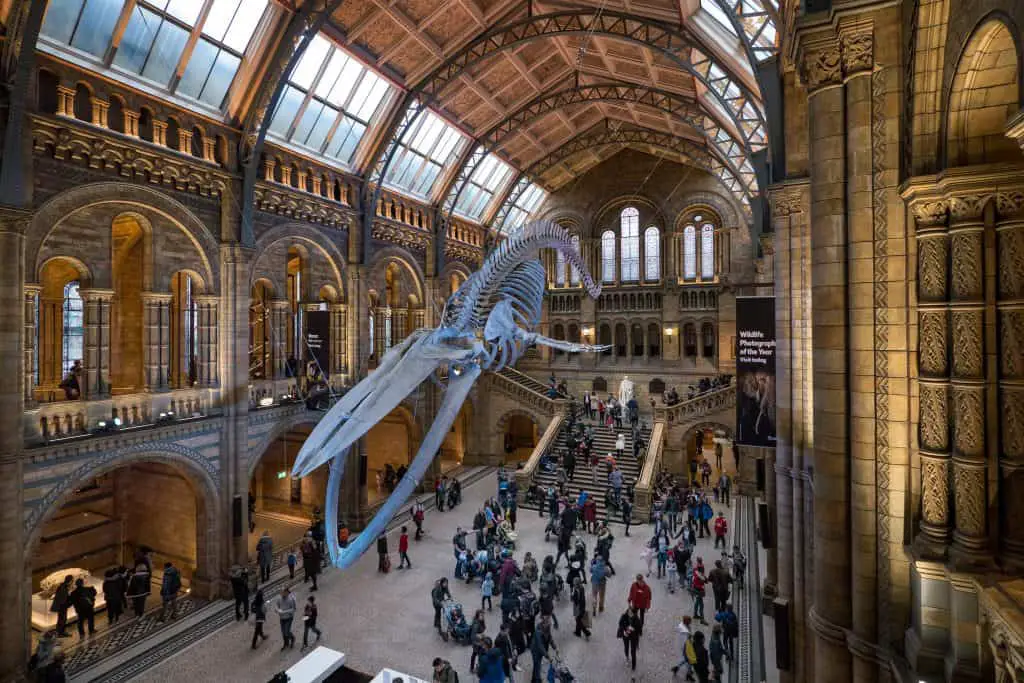 Tower of London
The official name is Her Majesty's Royal Palace and Fortress of the Tower of London, but that's a real mouthful to say. It was used in the 1500s as a place of imprisonment, torture, and execution. Guy Fawkes, a figure so popular that an entire holiday was named after him, was executed thereafter confessing to treason.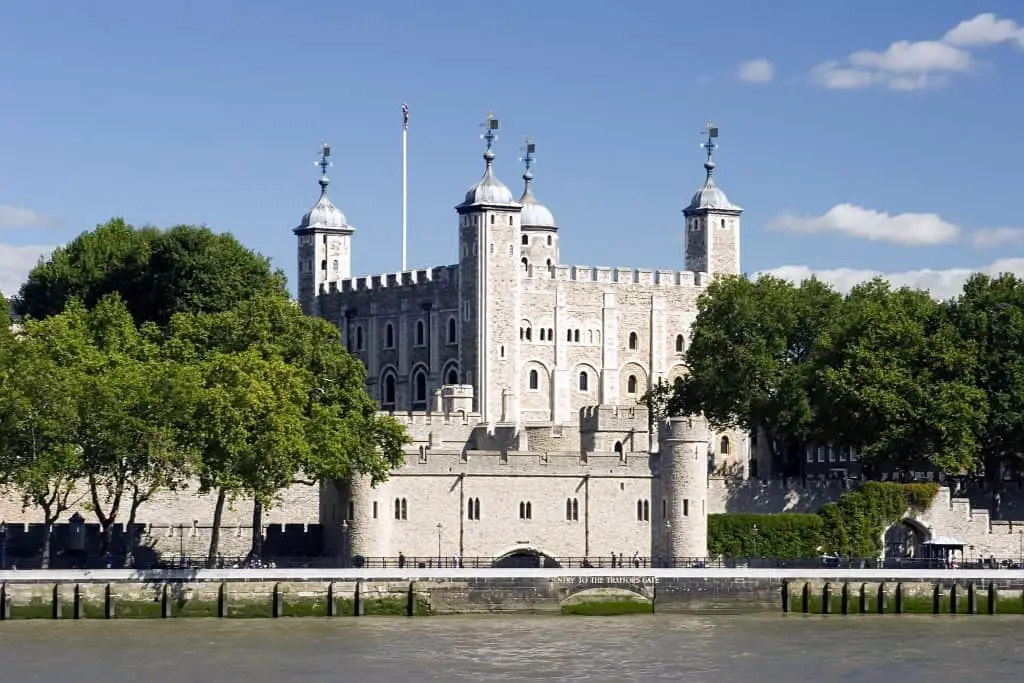 Despite its gruesome past, it is a popular tourist attraction today. While you're there, look for a raven. A minimum of six ravens is always kept there by the Ravenmaster because of the ancient superstition that Britain's kingdom will fall if the ravens leave. The Ravenmaster occasionally does demonstrations with the ravens, which is fun to watch as well.
British Museum 
This is a great place to visit if you're into British history. Long known as the museum that allows a visitor to visit many countries in one place, the British Museum has a long history of accumulating artifacts stolen from other countries that Britain either colonized or invaded. Nowadays, there are many controversies about how the British Museum continues not to give back many of these stolen artifacts to their native countries.
There are over eight million artifacts in their permanent collection, and it is likely the most famous museum in the entire world. Established in 1753, the British Museum is a comprehensive documentation of human existence in the world, featuring collections from all over the globe. 
While they have argued that these artifacts should stay in their museum because other countries don't have the conservation capabilities necessary for the preservation, countries have repeatedly built museums that meet and exceed the British Museum's expectations. In the wake of these proven examples, however, the British Museum refuses to return the collections. 
Some of the most famous stolen artifacts include the Elgin Marbles from Greece and the Rosetta Stone from Egypt. Every continent is represented in the British Museum. You could easily spend multiple days exploring the permanent exhibits, learning about all of human history from the earliest days until now.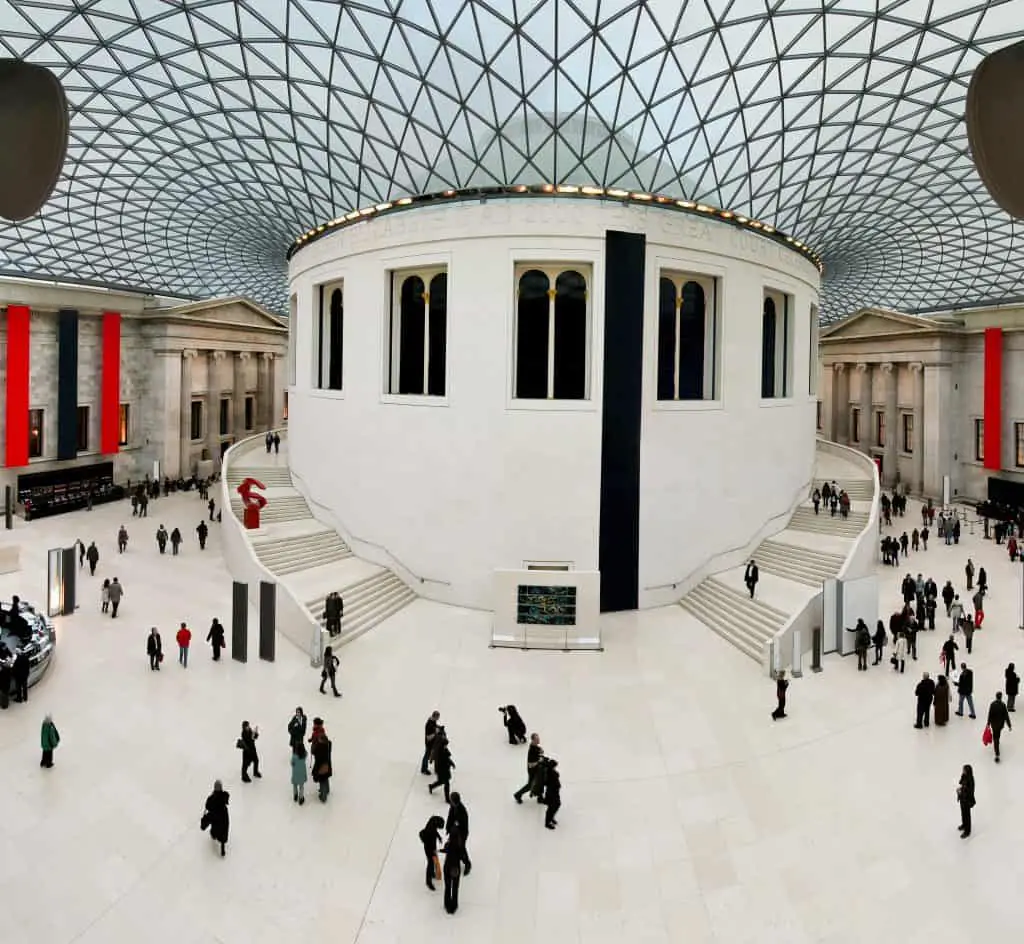 Leicester Square 
This square is in the trendy West End of London. Although Leicester Square has been around for centuries, it got a severe facelift before the 2012 Olympics. During the Chinese New Year, the square is alive with a large festival and numerous parades and dragon dancers. Every year, the London Film Festival is also held in Leicester Square. 
St Paul's Cathedral 
The original church on this location was built in 600 AD, although the current cathedral wasn't constructed until about 1,000 years later. Despite this, the site is full of religious significance, and St. Paul's Cathedral is considered the mother church of England. Many royal birthdays and weddings have been held here.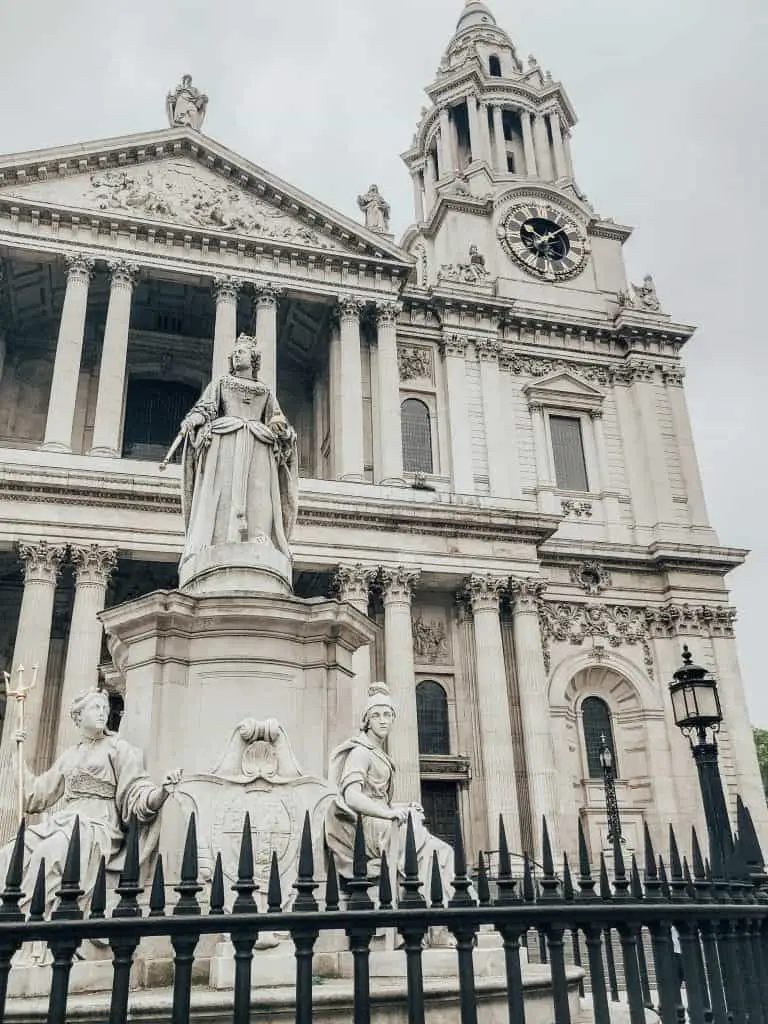 Houses of Parliament 
Formally known as the Palace of Westminster, Britain's governing body, the houses of parliament, meet here. Visitors are not admitted to this private area, but the outside of the building is an architectural marvel and easily recognizable to people worldwide. You can try to wait for permission when either house is in session, but you might not get in.
There are two houses of parliament: the House of Lords and the House of Commons. Members of the House of Commons are elected officials, but House of Lords members are born to their titles. Most of these hereditary peerages can only be inherited by men, so there are currently no women in the House of Lords.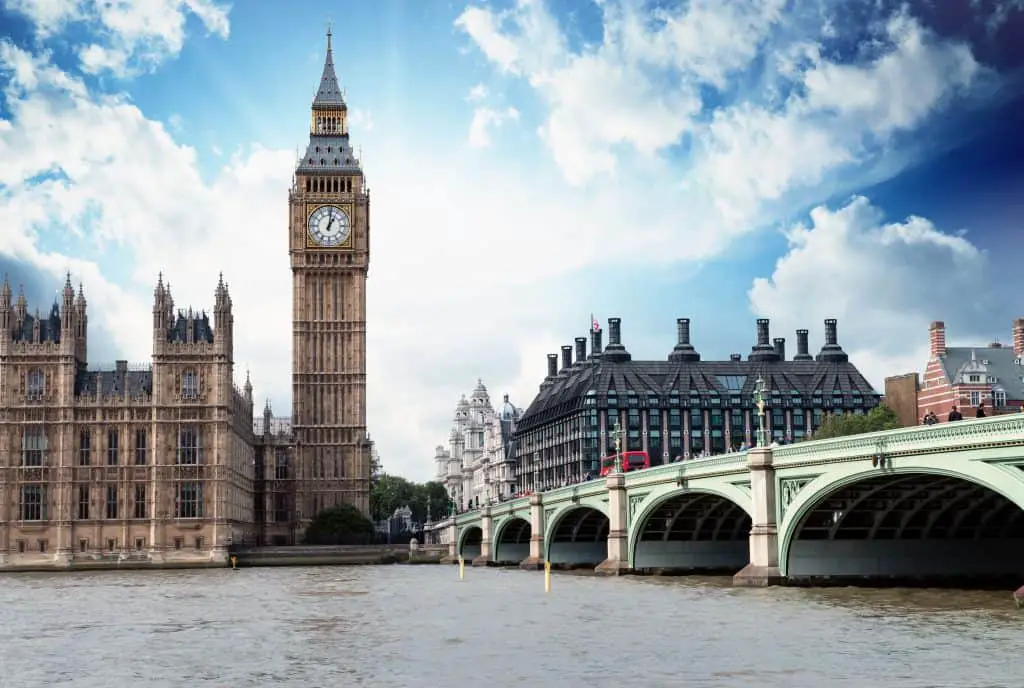 Buckingham Palace 
As you probably know, this is where the monarch of England lives. For people who have seen the popular show The Crown, Buckingham Palace is where most of the action happens. This enormous palace has 775 rooms! If you want to peek inside, the staterooms are open to the public in August and September and some other days throughout the year.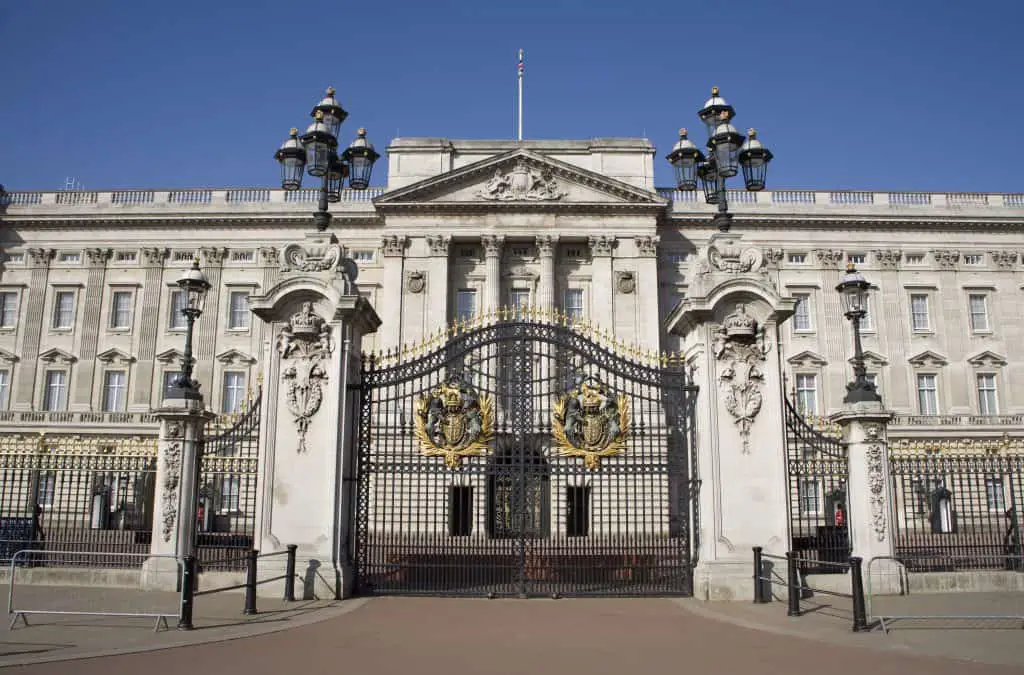 Rosetta Stone 
Located in the British Museum, the Rosetta Stone is an integral part of history. From the second century BC, this stone displays a decree from the Egyptian Pharoah Ptolemy. What helped historians so much with this tablet was that the decree was written in Ancient Egyptian hieroglyphics as well as Ancient Greek.
Archaeologists had been puzzling over hieroglyphic translations for many years before the discovery of the Rosetta Stone. Without this stone, historians would have had a much harder time trying to translate Ancient Egyptian hieroglyphics!
Trafalgar Square 
This square is named after the famous Battle of Trafalgar, a British victory during the Napoleonic Wars. For twelve days before and after Christmas, a giant Christmas tree is donated by Norway and is displayed in this iconic square. New Year's Eve celebrations are also common here. The whole square is well-decorated for the entire holiday season.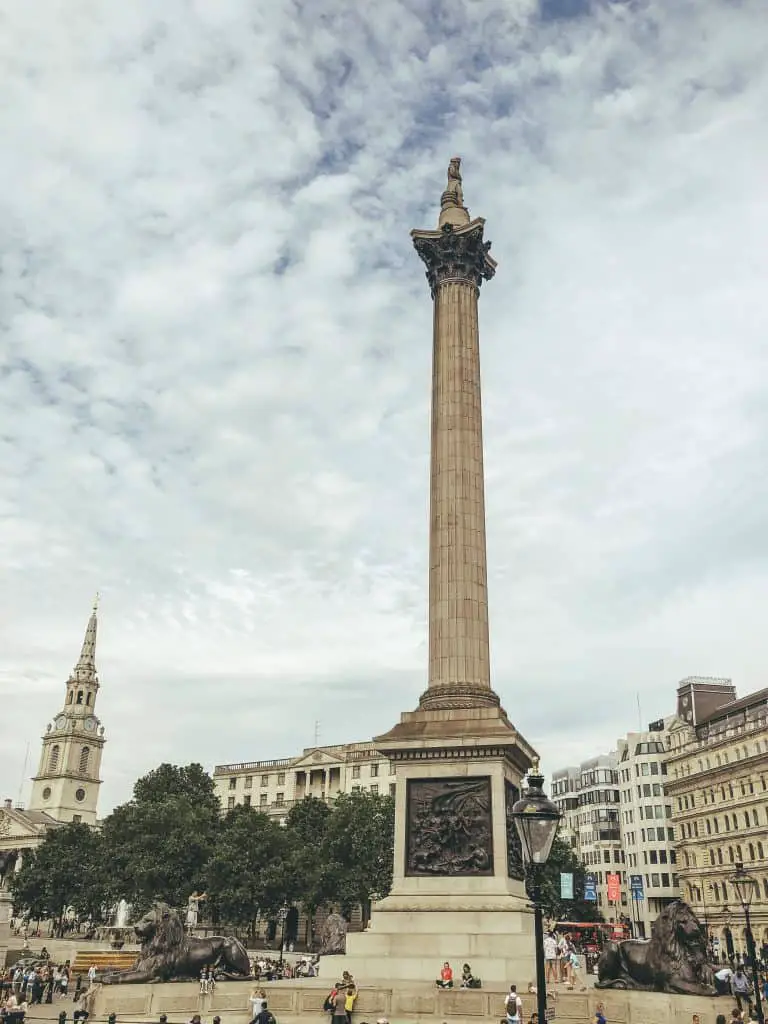 National Gallery 
Located in Trafalgar Square, the National Gallery is an art museum that holds paintings that were created between the 1200s to the 1900s. Two-thirds of the illustrations came from private donations. This museum came into being after the British government bought paintings from a descendant of the renowned art collector John Julius Angerstein. 
Westminster Abbey 
Just west of the houses of parliament, Westminster Abbey is a widely known church because most British coronations take place there. It is also where English monarchs are buried. Since William of Orange was crowned in 1066, all coronations have taken place in this famous church. It was built a millennium ago, but the foundation and building are still standing strong today!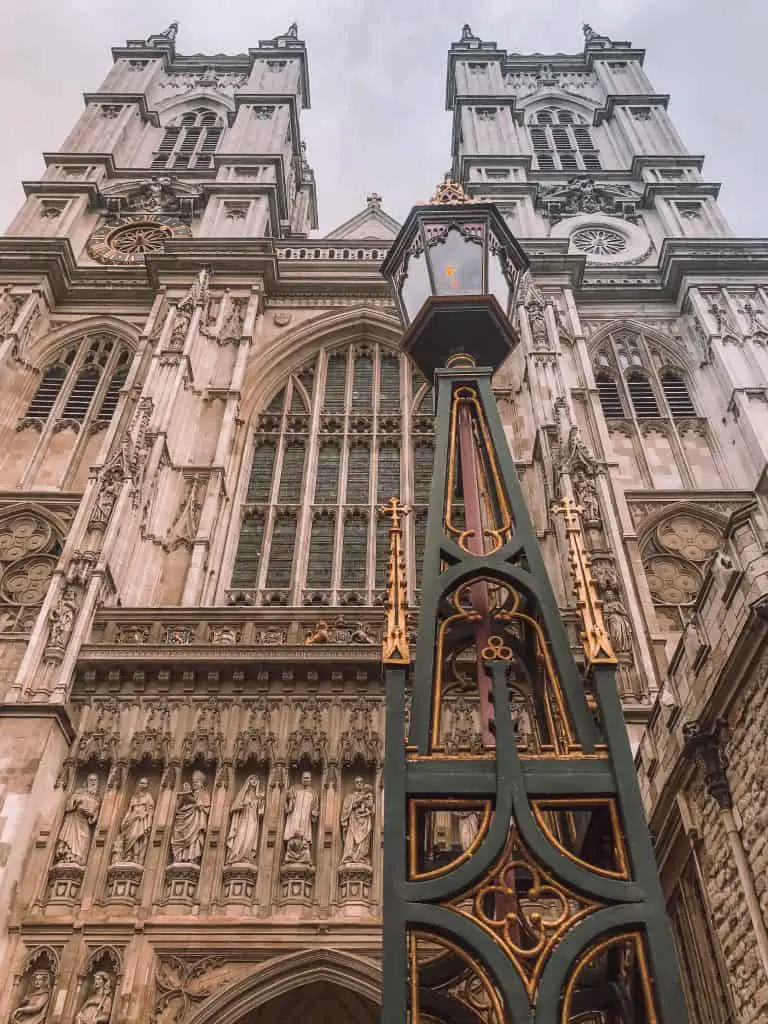 St James's  
St James's is a district in London's West End and a fantastic place to spend your day. Originally named after a leper hospital, the area is now dominated by St James's Palace. The London Library is on St James's Street, which is definitely worth a visit, even if books aren't your thing. There are multiple art galleries and cinemas for art enthusiasts here too. 
Big Ben
Last but not least, I can't write a London Bucket List article without mentioning the iconic clock tower. Located near the parliament houses, this clock's giant bell's chimes can be heard far and wide. Its spire is nearly synonymous with London, having appeared in tons of movies and TV shows over the years, most notably Peter Pan. 
At the moment, the clock is undergoing restoration, and the bells are silent, but the work is scheduled to be finished sometime in 2021. However, despite the ongoing renovations, the clock still strikes New Year's Eve at midnight and at 11 AM on the second Sunday of November to commemorate fallen soldiers.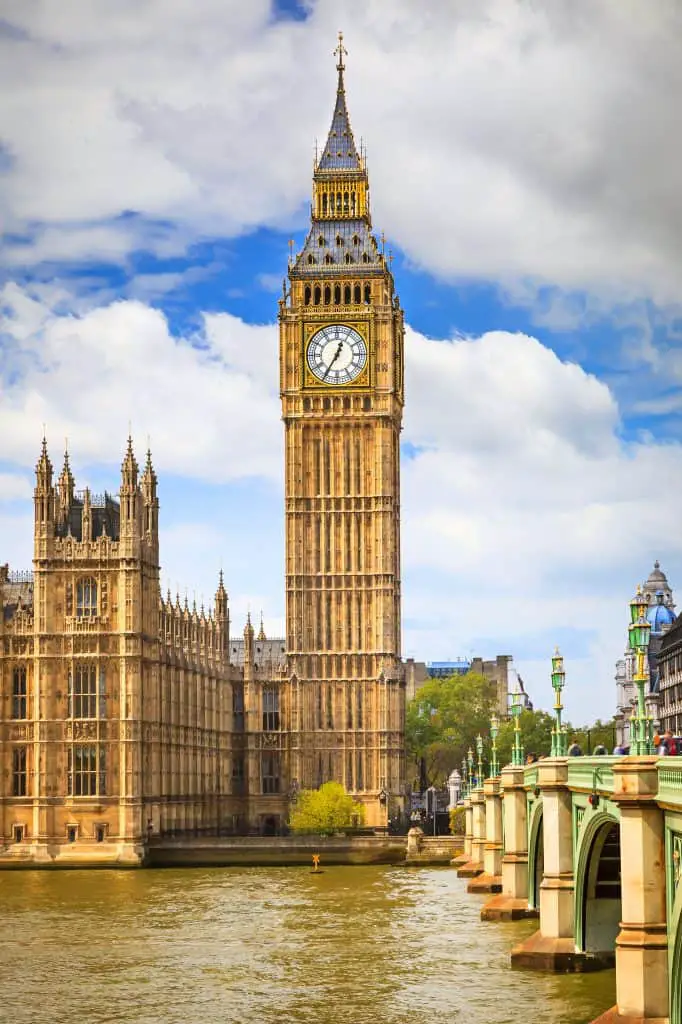 Piccadilly Circus 
Piccadilly Circus is one of the most iconic locations in London, and it's easy to see why. The junction of Regent Street and Piccadilly has been a popular gathering spot for centuries, and today it remains a bustling hub of activity. 
From street performers to shoppers to tourists, there's always something going on at Piccadilly Circus. And of course, the famous neon lights are a sight to behold. Whether you're looking for a place to people-watch or simply want to soak up the unique atmosphere, Piccadilly Circus is definitely worth a visit.
The Royal Opera House 
The Royal Opera House is one of the most iconic buildings in London. It has been home to some of the world's greatest opera singers and ballet dancers, and is known for its beautiful architecture and opulent design. The large building was originally built as an opera house in the 18th century, but was later used for other purposes. 
In the 20th century, it was restored to its original purpose and reopened to the public. The Royal Opera House is now one of the most popular tourist destinations in London, and is a must-see for any fan of opera or ballet.
Sky Garden 
If you're looking for a bird's eye view of London, the Sky Garden is the place to be. Located in the heart of the city, this public garden offers 360-degree views of some of London's most iconic landmarks. From the lush greenery and landscaped gardens to the observation decks and open-air terrace, there's plenty to explore at the Sky Garden. And best of all, admission is free. However, spaces are limited so be sure to book your visit in advance through the Sky Garden website. You can make reservations up to three weeks in advance. 
Brick Lane 
Brick Lane is a street in East London, in the borough of Tower Hamlets. It runs from Swanfield Street in Bethnal Green in the north, crosses the Bethnal Green Road before reaching the busiest, most commercially active part which runs through Spitalfields, or along its eastern edge. 
The street is also known for its many markets, including the Sunday Upmarket, which sells vintage clothes and antiques, and the Brick Lane Market, which sells a range of street food and other goods. The street is also home to a number of famous landmarks, including the Old Spitalfields Market and the Brick Lane Mosque.
Columbia Road Flower Market
Every Sunday, Columbia Road in London comes alive with the sights and smells of fresh flowers. The market is a favorite among locals and visitors alike, and it's easy to see why. Walking down the street, you're surrounded by colorful blooms of all varieties. Roses, lilies, daisies, sunflowers – you name it, they've got it. 
The market is also a great place to find unique plants and flowers that you won't find at your average grocery store. And if you're looking for something a little different, there are also plenty of stalls selling pottery, garden tools, and other gardening supplies. 
What you need to know before visiting London
Now that you have plenty of options of things to do in London, you might be wondering what is the best way to get around the city of London, or where to stay, shop and eat.
When To Visit London
Typically, most people prefer to visit London sometime between March and the middle of May. You are most likely to get good weather during that time. It is a country with a lot of rain, so stay prepared and bring an umbrella with you—fun fact: an umbrella is called a brolly in England.
Although this is a crowded time to go, some events are worth wading through the crowds to see. For example, St. Patrick's Day is a fun time to do a pub crawl, and there is sure to be a lot of music and dancing. Even though it is an Irish holiday, England has no shortage of Irish people, and they celebrate loudly.
Later in the spring, the Royal Horticultural Society Chelsea Flower Show happens in May, and that is truly a sight to behold. Flowers of every possible shape, color, and species are displayed by professionals and amateurs to wow and amaze. If you are interested in plants, you can't miss this show.
If you choose to go in the fall, don't expect the crowds to thin out, but some fantastic holidays are tons of fun to celebrate. Guy Fawkes Day, on November 5th,  memorializes a man who attempted to blow up Parliament in the 1600s. Luckily for the government, his plan was thwarted, and now it makes for a fun holiday. 
How To Get To London
If you are coming from somewhere else in Europe, flying isn't your only option. From France, you can go through the Chunnel, a tunnel that goes underground to get you from one country to another. Alternatively, you can take a boat over to England from a coastal country if you prefer staying above ground. 
Depending on where you live, you may have an easier time getting to London than others. I took a look at the most significant US airports and whether they have direct flights to London or not, as well as the airlines that offer those flights. When you are looking up flights, remember that you want London Heathrow Airport, airport code LHR.
| | | | |
| --- | --- | --- | --- |
| Airport | Airport Code | Direct Flight Time | Airline |
| Hartsfield-Jackson Atlanta International Airport | ATL | 7h 55m | American Airlines, British Airways, Virgin Atlantic |
| Los Angeles International Airport | LAX | 10h 20m | American Airlines, British Airways, Finnair |
| O'Hare International Airport | ORD | 7h 35m | Lufthansa, Austrian, Brussels Airlines |
| Dallas/Fort Worth International Airport | DFW | 9h 0m | American Airlines, British Airways, Iberia, Finnair |
| Denver International Airport | DEN | No Direct Flights | |
| John F. Kennedy International Airport | JFK | 6h 50m | Air France, KLM, Virgin Atlantic |
| San Fransisco International Airport | SFO | 10h 15m | Air France, Delta, British Airways |
| McCarran International Airport | LAS | No Direct Flights | |
| Seattle-Tacoma International Airport | SEA | 9h 15m | Air France, Delta, KLM |
| Charlotte Douglas International Airport | CLT | No Direct Flights | |
How To Get Around London
I arrived at the St. Pancras International subway station, and it was convenient. It's a beautiful station that had plenty of shops and was a stop on many bus routes. From there, I found that the Big Red Bus was an extremely helpful way to see the whole city of London. The Big Red Bus was far more cost-effective than taxis or the subway, called the Tube by Londoners. 
The bus system and other means of public transportation are the most common for Londoners and tend to be in good condition. Buses generally run on time there and are a great way to get from one place to another. However, depending on where in London you are and the weather, you might also try walking. 
I personally recommend that one of the first things you do, upon arriving in London, is to get a map of all of the tube and bus stations. For visitors, London's public transportation can be confusing and intimidating. Don't worry about glancing down at your map every so often; it may mark you as a tourist, but it's better than getting lost. 
If you feel like taking a walk, there are plenty of walking tours available in every part of London. The South Bank and West End are excellent because of how many sights they boast, but anywhere you choose will have fun things to see. They even have some tours through the areas that the notorious serial killer Jack the Ripper frequented.
Shopping In London
Shopping in the city of London can be a lot of fun. Whether you are looking for souvenirs, gifts for the people back home, or a little something special for yourself, London has everything. I particularly enjoyed visiting the Daunt Bookstore to peruse the books. It is believed to be the first bookstore in the world that was custom-built for its specific purpose.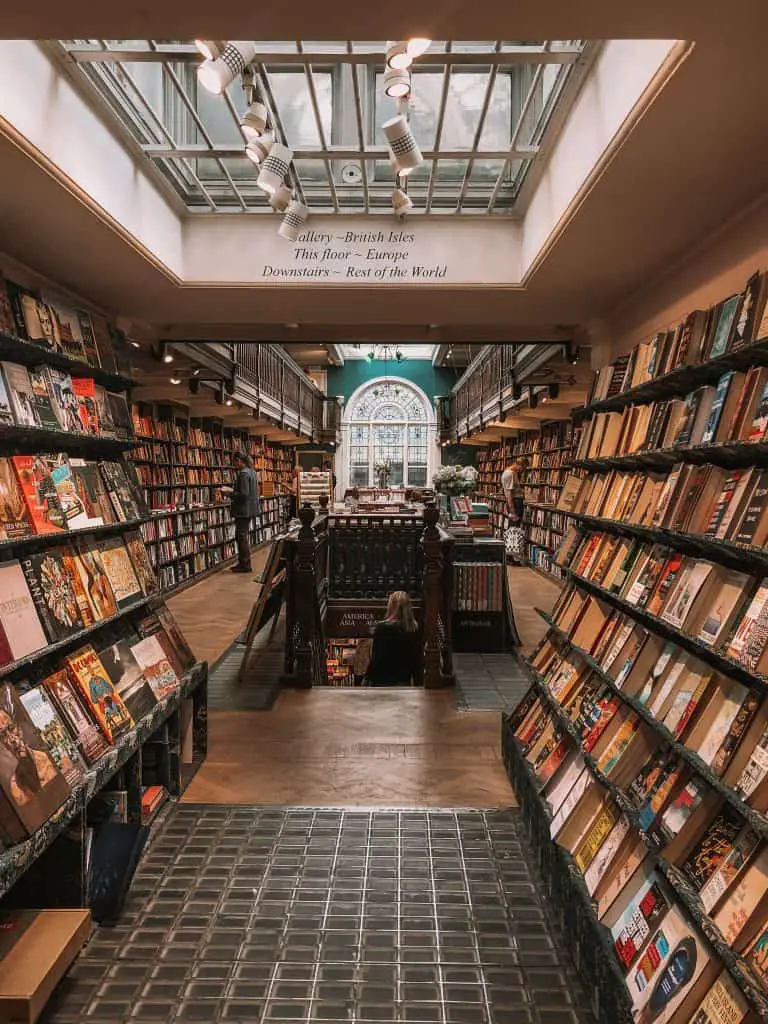 Oxford Street is in the stylish and expensive area known as the West End and has everything you might want to buy if you are willing to pay their prices. Everyone from top designers to high fashion has a store there. It is still fun to walk through the bustling street and gawk at the stores even if you can't afford it.
Another place to check out is Borough Market. Located in Southwark, there has been a market in that location since the 1100s. Borough Market is mainly a food market, but it is the best place to find premium jams, marmalades, and anything you might want to taste while abroad. 
If you are visiting St James's Square, be sure to check out Jermyn Street, where many shops sell fine gentlemen's clothes and bespoke outfits. Whether you want to buy anything or not, it is a fun place to check out during your day, and St James's Square is full of other enjoyable shopping opportunities.
Where To Eat In London
One breakfast place I really enjoyed was Joe's Kitchen, which is a restaurant chain, so you would likely be able to find one wherever in London you are staying. An excellent hearty English breakfast is the perfect way to start the day, especially if you plan on doing a fair bit of walking to see all of the fantastic sights in the city.
Around four in the afternoon, the Brits have a small meal called tea. There are quite a few tea shops around London, offering small triangular cucumber sandwiches, scones, crumpets, and, of course, tea. Afternoon tea at Fortnum and Mason is a favourite. It's fancy, so you will have to dress up, which can be fun.
In the evening, if you are feeling adventurous, the Mangal 2 offers exceptional Turkish cuisine. Located on Newington Road, the chef goes to great lengths to traditionally prepare exotic Turkish dishes like quail kabobs, grilled chicken, and lamb. 
Where To Stay In London
Greater London is made up of 33 districts, making it difficult to know where you want to stay, although the city is one of those districts. Many people choose to stay in what is colloquially called the West End, made up of Covent Garden, Soho, Leicester Square, and Oxford street. There is lots of shopping there.
However, if you want to stay where most of the best sightseeing is, I recommend the South Bank. There are plenty of places to stay for any budget, and you are right in the middle of everything that you probably want to spend your days doing. For the most convenient location, you can't beat the South Bank.
If you are considering Airbnb, I stayed at this Airbnb, which was absolutely lovely but was located in Gravesend, so it was a bit of a trek each day into the city proper. Make sure you choose something that is a little more centrally located, so you don't have to worry about a long bus ride every morning and evening.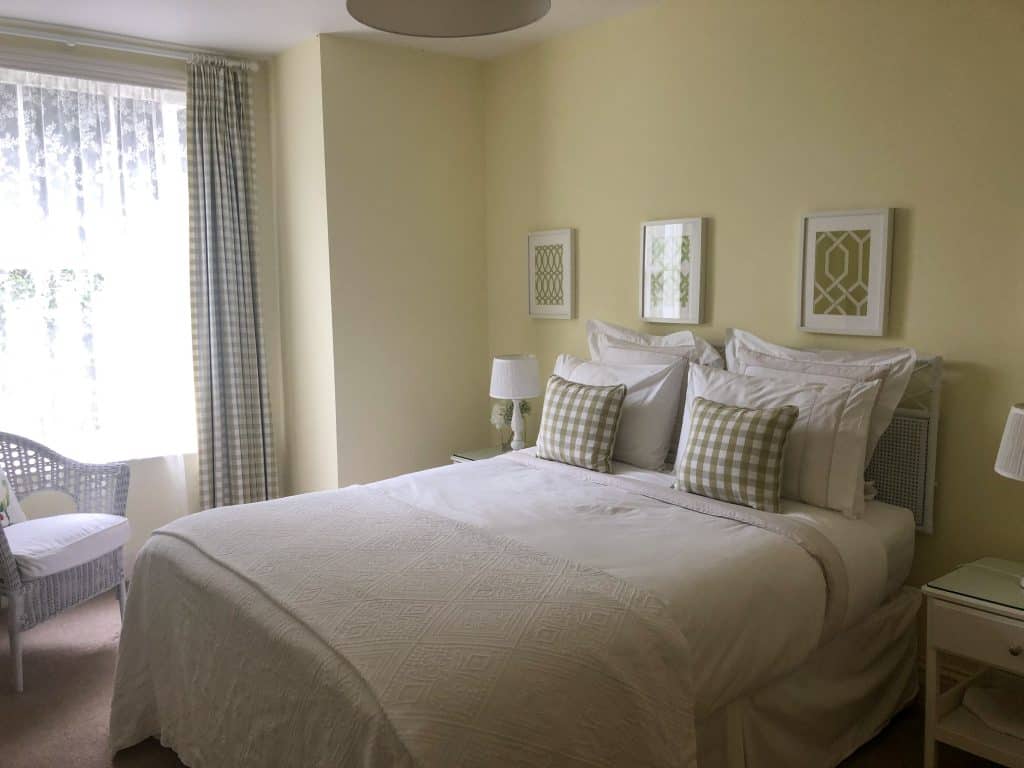 If you want to stay in style and don't mind the expense, the Milestone Hotel right across the street from Kensington Gardens is a lovely hotel to choose from. They served adorable drinks in a beautiful bar and have fantastic service.  This luxury hotel has breakfast included with your room so that you will start the day with a full belly.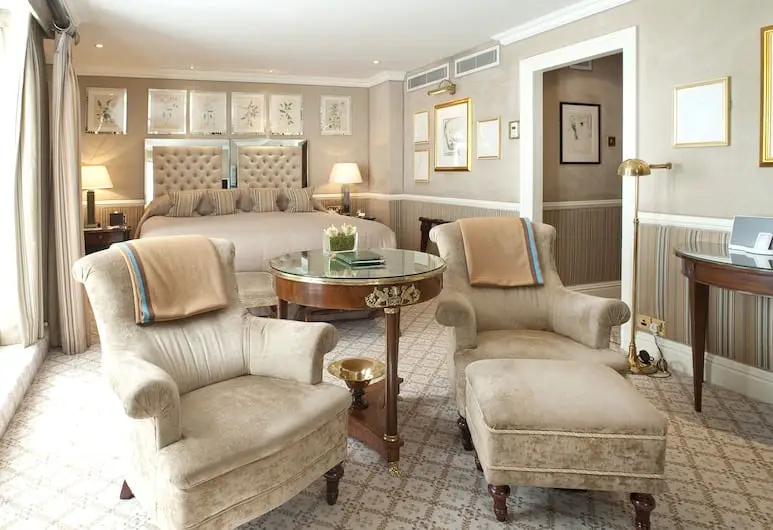 London Bucket List Wrap Up
I hope that this has given you a good idea of how to get to London and enjoy your trip there. If you have been planning to get away and just haven't picked the destination yet, know that you won't regret tackling your London Bucket list. Everyone can find something to love in the enormous city. Whether you want to shop at high-end stores, eat exotic food, or learn more about England's long and storied culture, there are plenty of places to explore. If you're looking for even more to do, we also have an article all about London's hidden gems worth checking out.
If you're looking for a London itinerary, you might enjoy this 4 days in London itinerary.
Pin it for later :