London at night is a magical place. As a place rich in history and memorable experiences, you will love every moment within its wonderful city lines. It can be hard to decide what you should do first, though.
From the best things to do on a tight budget to the perfect places to grab a bite to eat, I can help. For all you adventurous souls, I've put together a list of 50 things for you to do when you visit London and are looking for things to do during the magical hours when the sun goes down and the wonderful London city lights come out.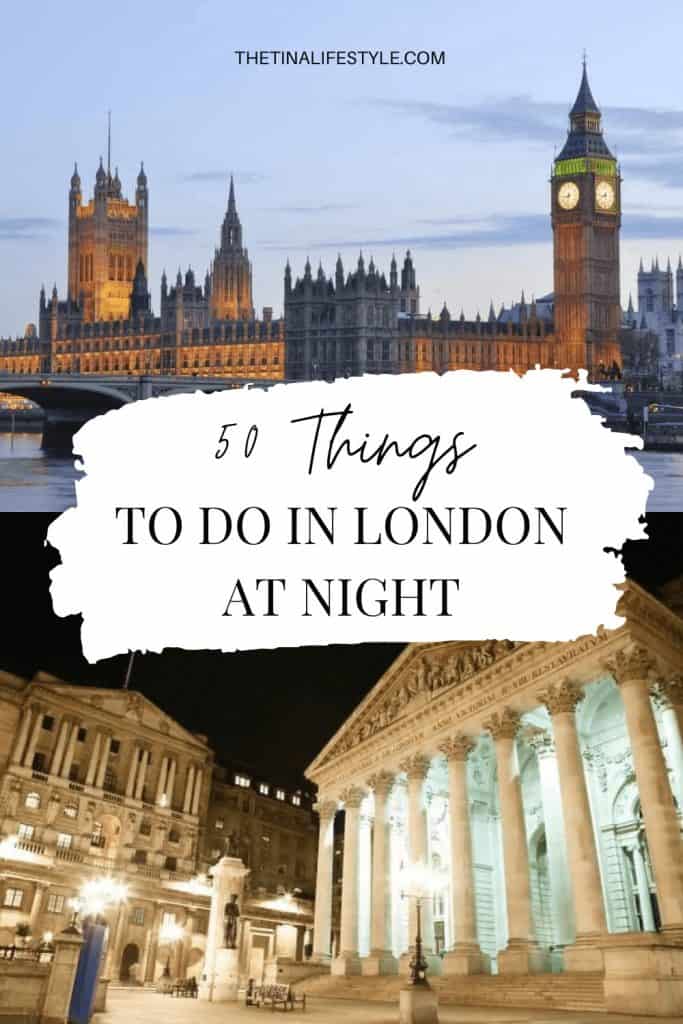 Top 10 Free Things to Do in London At Night
Are you looking to do fun and memorable activities in London without breaking the bank? Well, it is easier than you think. Here are my top 10 free London at night activities to try the next time you find yourself in London. 
Lates At the Science Museum
Ever want to experience a night at the Museum London activity? The Science Museum holds themed events after hours for adults. Go and enjoy an entertaining night of chatting and silent disco (which can be its own entertainment). Offered the last Wednesday of every month, you can see objects not usually on display and talk about different topics such as climate change or childhood.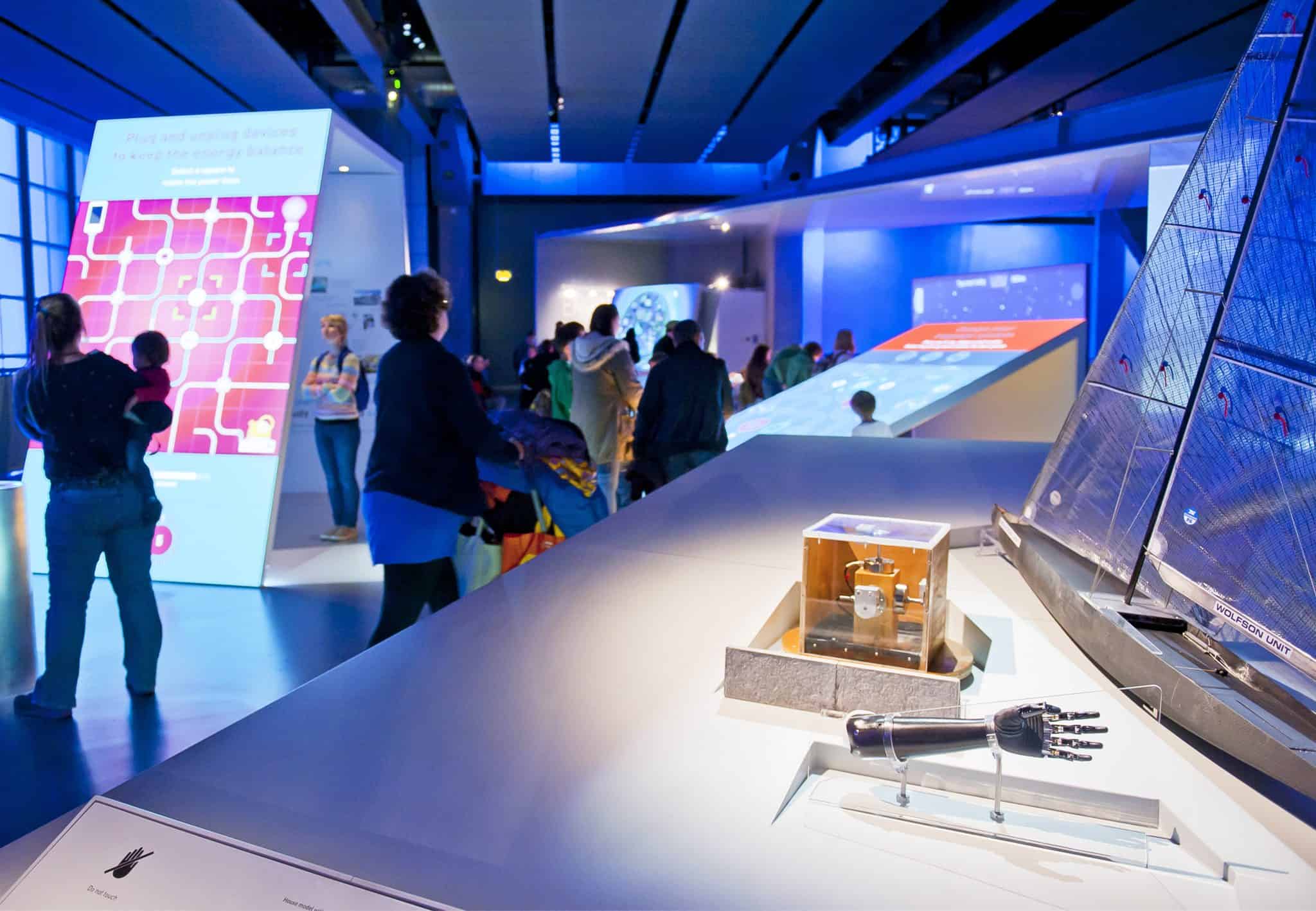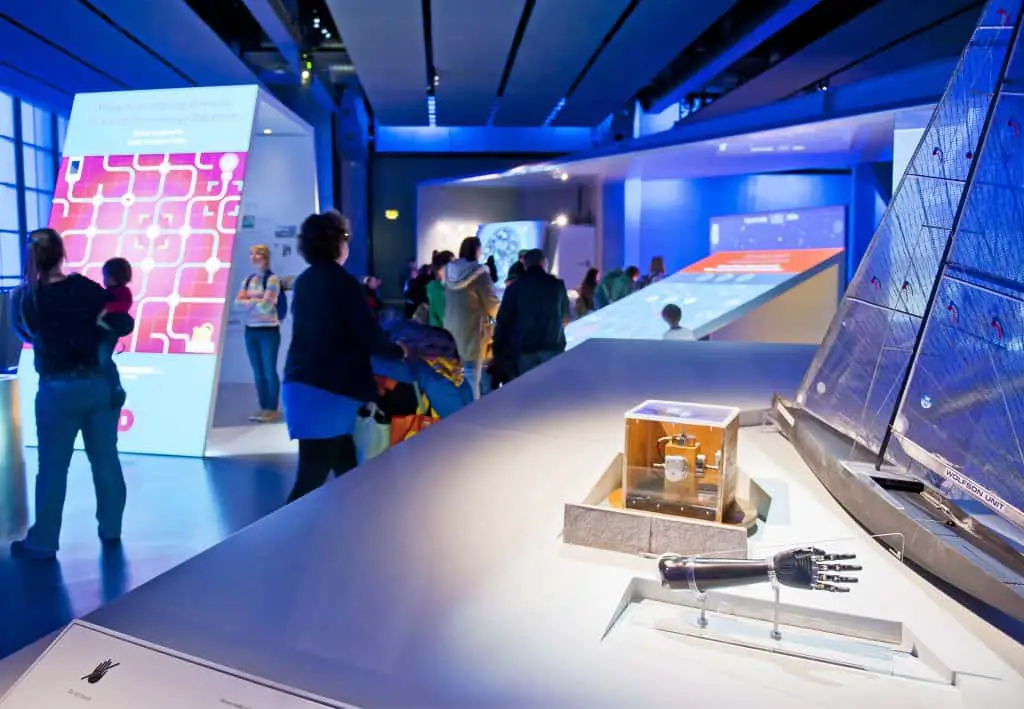 Experience the Ceremony of The Keys
One of the most popular things to do in London in the evening time is to experience the 700-year-old ancient ceremony of the locking up of the Tower of London. The Ceremony of the Keys is a magical experience for anyone who hasn't witnessed it before. Listen and watch the military ceremony that takes place every single night.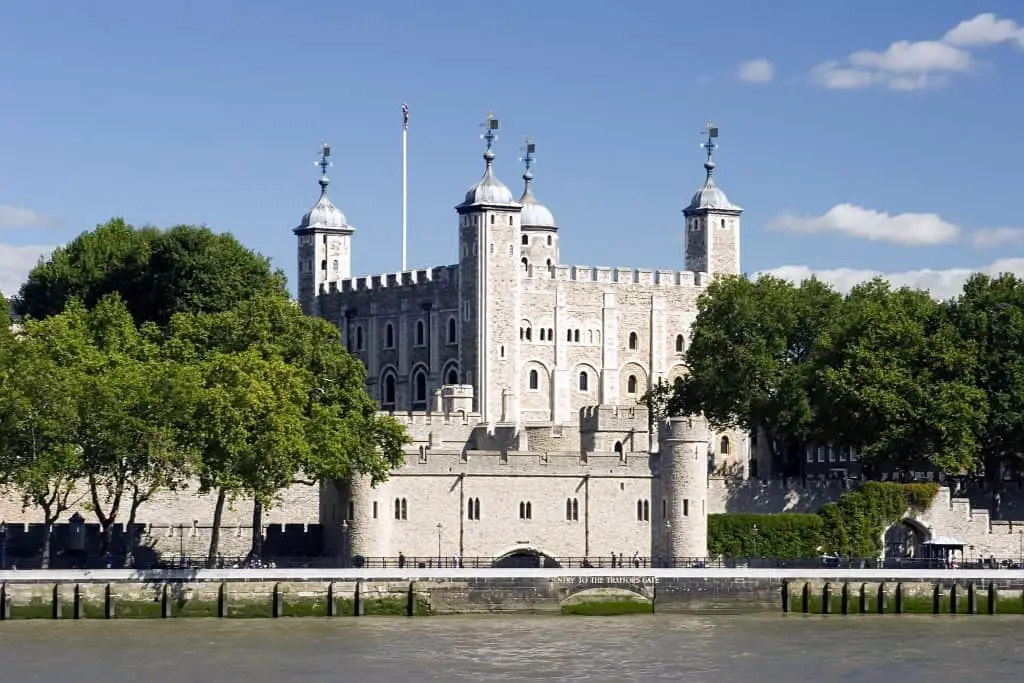 Watch A Late Debate at Westminster
It is completely free to walk into the Houses of Parliament, also known as Westminster, and witness politicians staying late to debate various items on their agenda. Watch the government in action by listening in on these important and intense conversations.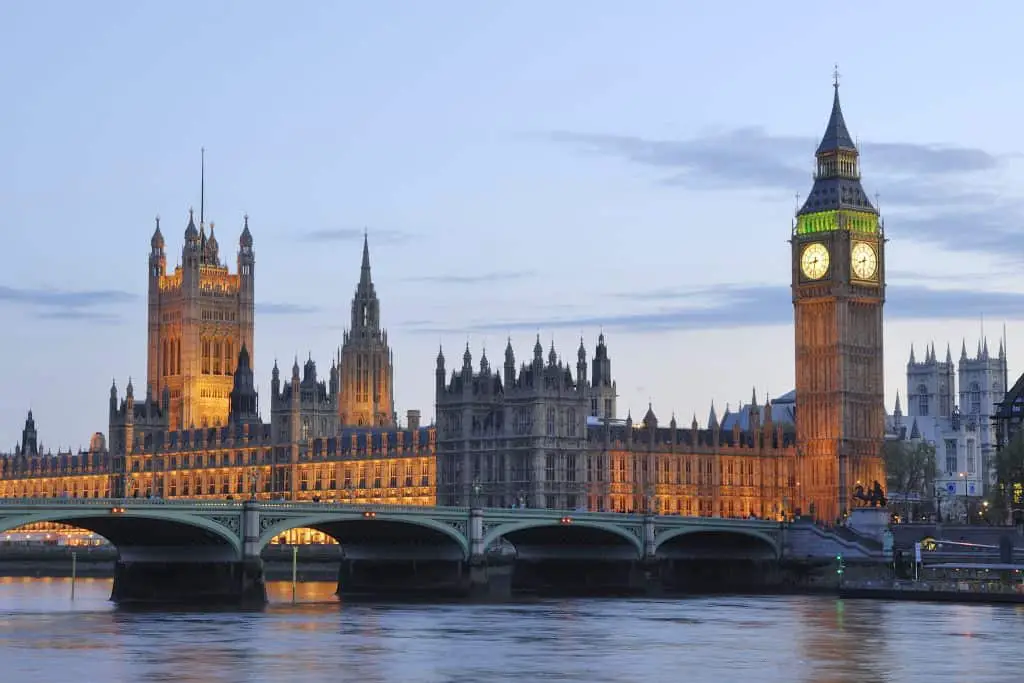 Go on a Jack the Ripper Night Tour
Are you looking for something spooky to do on a London night? Night tours are great night activities. Why not do a walking tour in East London where the infamous Jack the Ripper committed his five known murders while learning about his victims' gruesome deaths? 
Delve into different theories of possible suspects on this chilling tour that ends at the Ten Bells Pub, where many of Jack's victims were last seen before their unfortunate demise. 
Experience the World of Harry Potter
If you're looking for a less spooky tour in central London, try the Harry Potter Walking Tour that you can either do yourself or with a tour guide. On it, you will travel through the magical world of the different sites Harry Potter was filmed. You will be able to follow Harry's steps through the real Diagon Alley as well as stand on the bridge that Death Eaters blew up!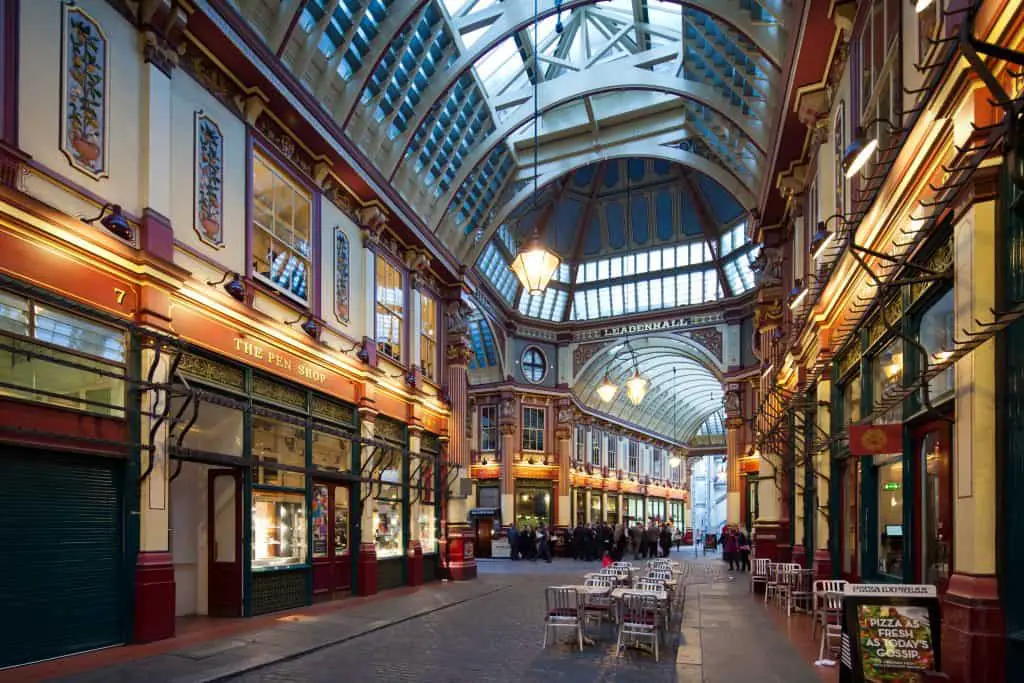 Witness the Piccadilly Lights
Experiencing the Piccadilly Circus lights is one of the best free things to do on an evening in London. This global advertising location features stunning displays of high resolution. You won't believe how beautiful and magical an advertisement can look until you see these.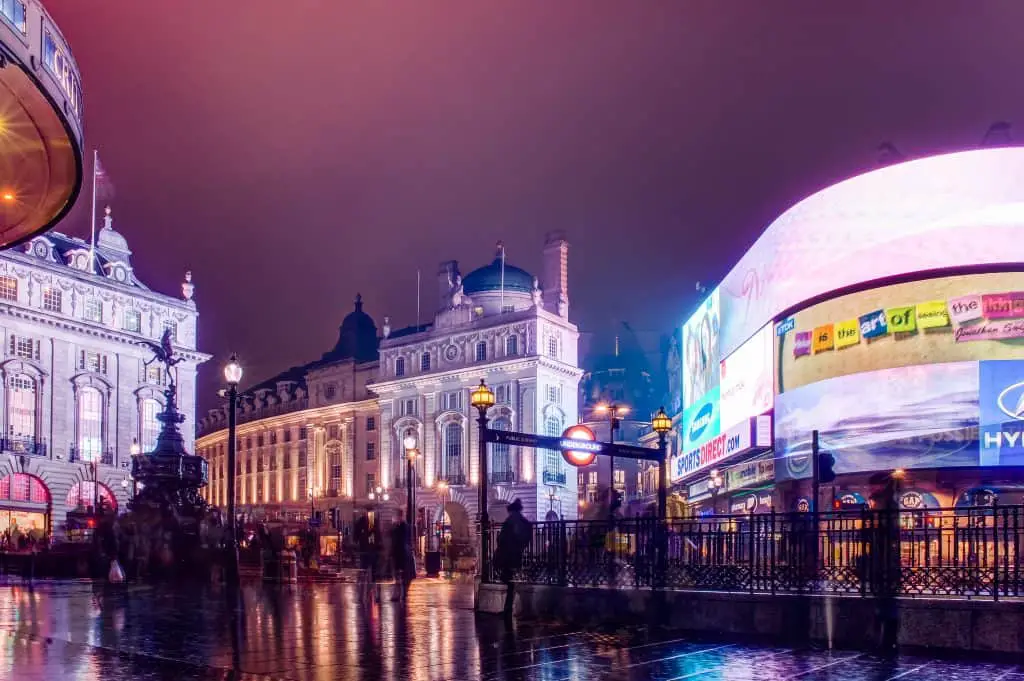 Visit the Trafalgar Fountain 
Spend your evening in London watching the water dance in beautiful lights at the Trafalgar Fountain. This 10-foot high, 34-foot diameter fountain with two bowls is made of red granite and honors the North-West Mounted Police headquarters, being established in Regina in the year 1882.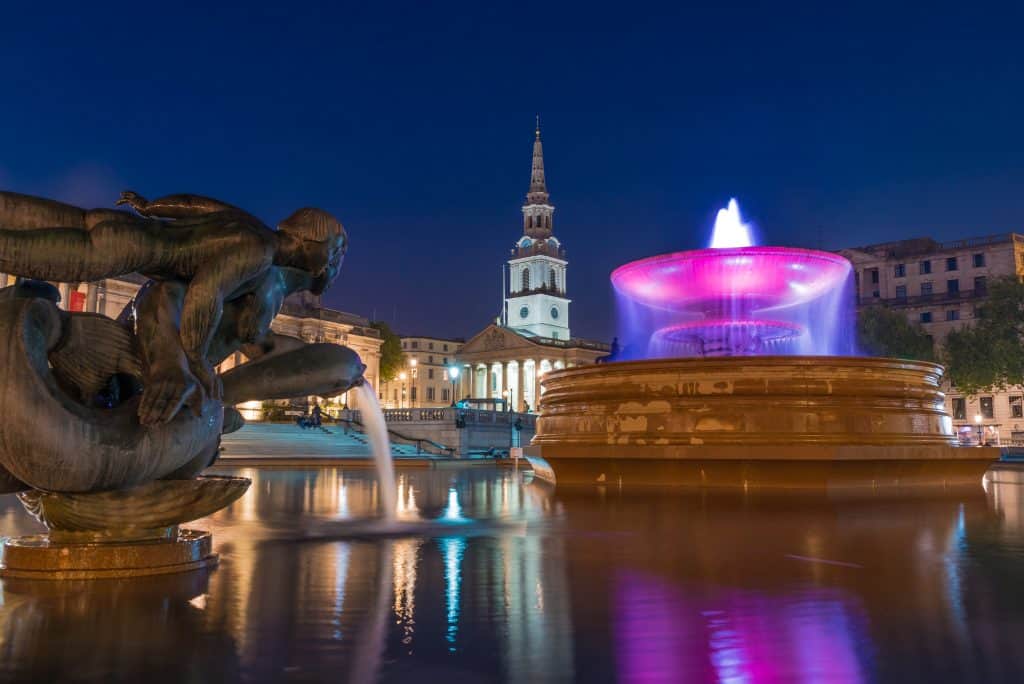 Take in The Ultimate View of London At Sky Garden
There is no better way to experience the magic of London in the night than to look out at all the lights from the Sky Garden. Entering London's highest public garden is completely free and most definitely worth it. Enjoy a 360-degree view of London by night. 
Climb Primrose Hill
Another great way to experience London nighttime is to go to Primrose Hill after dark to see the beautiful view of London's lights. This park has no closing time and is a pretty safe area at night for you to climb to the top and take in the nighttime views. 
Low-cut trees surround the 63 meters above sea level summit to ensure your perfect view is never interrupted.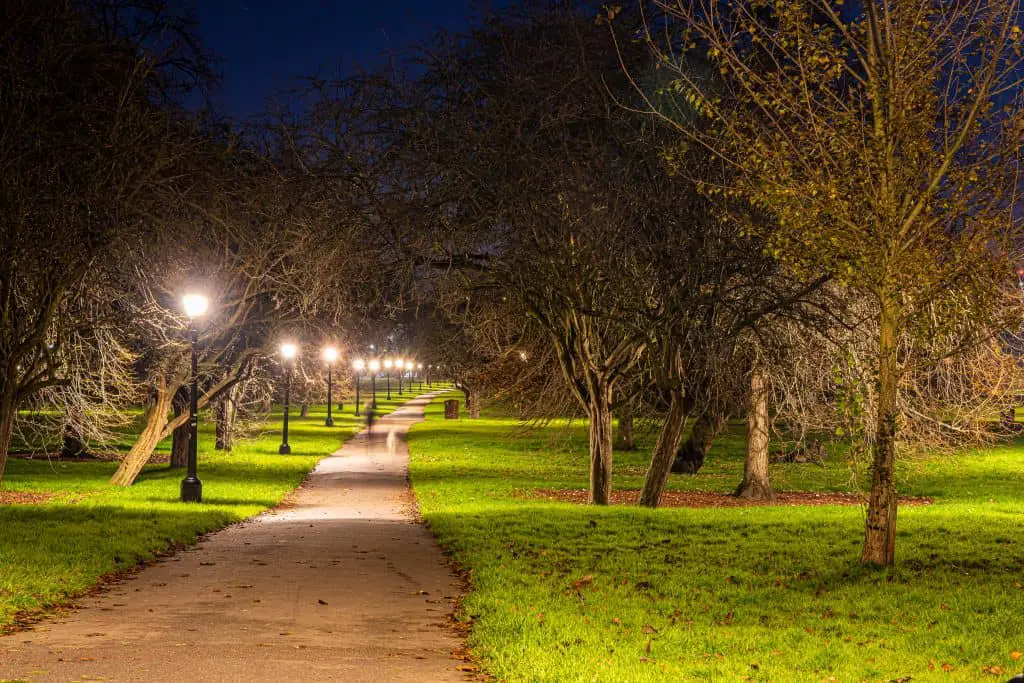 View the Tower Bridge
One of the many famous landmarks in London. Visiting the Tower Bridge costs money, but looking at it does not. This giant, lifting bridge lights up at night to create a beautiful and romantic sight of London during nighttime. 
Watch the lights dance on the water, and maybe you'll even catch a glimpse of the bridge being raised in the dead of night to let a vessel pass through.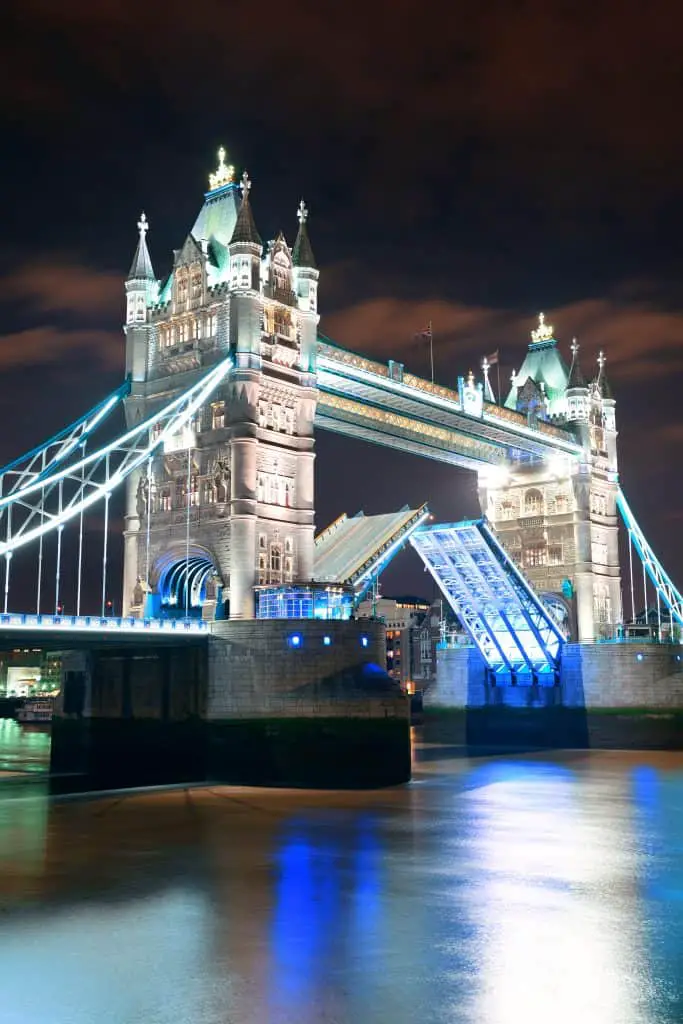 Top 10 Live Music Things to Do in London At Night
What fun things can you do at night? Well, you can listen to some live music! Some of the most popular London Saturday night activities involve taking the time to kick back and enjoy some live music with your friends. 
Request A Song at The Piano Works
Where do you go if you are looking for non-stop music that you get to request? The Piano Works is the place for you. 
As a more upbeat live music venue, all you have to do is request a song through Twitter or on a napkin, and the musicians will play it for you while you enjoy a few drinks and possibly some food. 
Enjoy Reggae at Hootenanny
A great way to spend your Friday and Saturday nights in London is at Hootenanny. This award-winning independent music venue features some of the best bands and DJs from all over the world in their Victorian pub. With a large beer garden and delicious street stalls, you can enjoy a beer and a quick bite to eat while taking in the best reggae music around. 
Go to The Slaughtered Lamb Pub
The Slaughtered Lamb Pub got its name from a tradition done in East Proctor years ago to ward off werewolves. Townspeople would offer up a lamb in return for their own safety. 
These days, the pub is best known for being in the movie "An American Werewolf in London," and features live music with their food and drinks! Make sure to add this place if you're looking to do a pub crawl in London. 
Get Creative at Scarfes Bar
With live music seven nights a week, Scarfes Bar offers a relaxed atmosphere where "potions and paintings meet." The perfect blend of a drawing room and a sophisticated gentleman's room, this bar offers cocktails, velvet armchairs, and over 1,000 antique books. 
Created by renowned British caricaturist and artist Gerald Scarfe, this lovely find is sure to please those with more sophisticated tastes. 
Hang Out at Ain't Nothin But…
What to do in London if you're a fan of the blues? Easy. Head over to the Aint Nothin But… London's Original Blues Bar. Open seven days a week, and watch dozens of excellent blues singers and bands play before you on the same stage Jerimiah Marques once stood. 
Feel Like Madonna At Koko
Once named Camden Palace, the revamped venue that is now known as Koko is where Madonna held her first-ever show in the UK. This beautiful venue offers live shows from an array of different musicians in different genres. Buy your tickets at the box office to catch some of your favorite musicians at a very environmentally-conscious music venue. 
Have An Open Mind At The Social
Visiting the compact music bar known as The Social is one of the most popular things to do in London on a night destined to be an amazing memory. With a reputation for being a boundary-pushing, free-thinking destination for individuals with open minds, this venue has hosted an array of musicians, including:
Irvine Welsh
Super Furry Animals
The Avalanches
The Charlatans
The Chemical Brothers
Stop in for drinks, snacks, and a night you will always remember.
Experience the Camden Assembly
The Camden Assembly is an established indie haunt where you can go and enjoy both popular and budding talent. Hosting regular club nights, you can enjoy a few drinks and dance the night away.
Rock and Roll at The Lexington
Are you looking for a hint of rock and roll in your live music? Go check out The Lexington. This award-winning lounge bar features live music in the upstairs portion of their Victorian building. Enjoy some American craft beers or a tasting of bourbon as you munch on delicious food and let your ears take in the sweet sounds of musicians doing what they do best. 
Live Music Every Night at Northcote Records
Dance the night away within newspaper plastered brick walls or out in the garden section of Northcote Records. Enjoy the dimly lit ambiance the red lighting provides as you sip on a drink and enjoy a slice of pizza. Every single night they offer live music, so stop in and see what they have playing tonight!
Top 10 Seasonal Things to Do in London At Night
If it is winter, what can you do in London at night? Are there things to do in the summer that you can't do in the winter at night and vice versa? Let's dive into it and see the best things to do in the winter and summer months. 
Go Ice Skating at the Somerset House
Many people are not aware that there are many things to do in London at night during the winter. For example, the Somerset House hosts ice skating every year under the lights. Take a romantic skate around the rink with your loved one, or enjoy some quality time trying not to fall over with your kids. 
Take A Walk Through the Enchanted Woodland
Syon's Park Enchanted Woodland walk features beautiful lights on cold winter nights. Bundle up and enjoy the lights glistening on the snow this winter as you stroll through the seemingly endless magical forest that transports you to another world. Stop at multiple street pop-ups along the way and enjoy food sure to keep you warm and energized on your journey through the enchanted woods. 
Dine in an Igloo
Who said summer nights were the only time you could enjoy dining outside? At Vintry and Mercer, you can enjoy a romantic meal overlooking the London skyline while still staying warm in the winter months. Their transparent domes offer a breathtaking view of popular destinations such as The Shard and St. Paul's Cathedral. 
Wander the Dickens Museum at Night
A winter night in London is best spent wandering the candlelit halls of the Dickens Museum which have been lavishly decorated for Christmas. This fun experience is great for both kids and adults who want the freedom to roam this famous museum after hours the way Dickens himself would have, with just a candle's light to guide him. 
Take A Ride on The London Eye
Can you ride the London Eye at night? Since the London eye closes at 6 pm, the whole night thing is not possible during the summer. However, in the winter, when the sun sets early, you can catch the last ride on the London Eye to experience the wonderful views of London at night.
This giant Ferris wheel is part of my London bucket list, which is why I highly recommend going on a clear winter's night to experience the lights of London from the best vantage point around.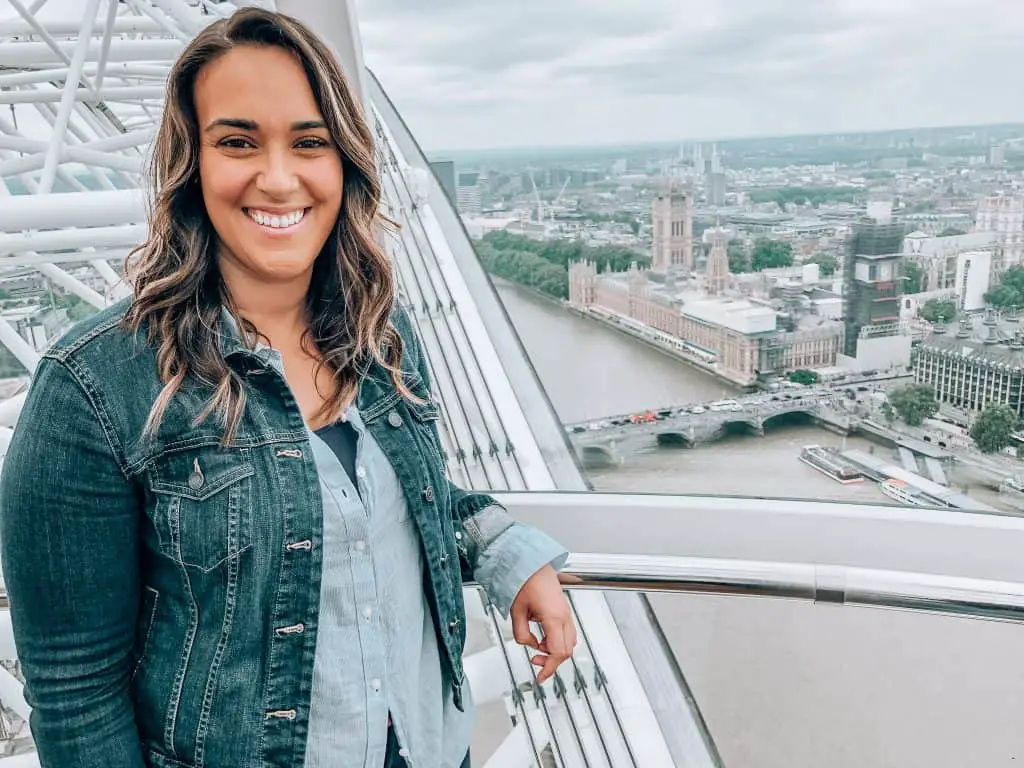 Go on A Bat Walk in The Summer
Now that we have talked about winter, what are some things to do in the evening in London during the summer months? Well, one option is to go on a walking bat tour through the Royal Parks. 
As dusk hits the London air, bats come out to play. Enjoy an hour-and-a-half-guided walk featuring fun quizzes and ways to identify common bats in the area. 
Say Goodnight to the Animals at ZSL Whipsnade Zoo
Experience London at night from a zoo animals perspective during a Sunset Safari. With over 750 species from around the world to witness, you can stroll through the zoo after the hot summer sun has set and say goodnight to these beautiful creatures as they go through their nighttime routines. 
Enjoy the Scenery at The Dickens Inn
The best time to enjoy the Dickens Inn is in the summer months when its beautiful, picturesque display of flowers is in full bloom. 
What could make this 18th-century pub and restaurant more appealing? For the best experience, go at night, when the lights add a level of serenity and magic to the building's already jaw-dropping beauty. Enjoy delicious food and beverages in a fairy-tale atmosphere that is sure to lighten your heart for the night. 
Take in The Canary Wharf Lights
Located on the edge of the Thames, the Canary Wharf lights up beautifully at night. There is nothing more romantic on a nice summer night than sitting on a beach across from the Canary Wharf and just taking in all the different lights. 
This could make the perfect date night for you and a loved one to enjoy a peaceful night by the riverside. 
Kayak Through the Night
Speaking of the Thames River, a fun activity to do during those warm summer nights could be to kayak down it. Enjoy the lights of the city around you as you float on the calming water and listen to the world come alive around you. 
It is important that you always be safe when doing an activity like this, though, so be sure to wear a life vest and bring a light! 
Top 10 Places to Grab Food and/or Drinks
What can you do in London after 6 pm? You can grab a drink and some good food! London's nightlife is rich with tons of different places for you to kick back and enjoy your night with a tasty drink accompanied by delicious food. 
Grab A Bite to Eat at The Shard
As the tallest skyscraper in London, The Shard is known as a vertical city due to its ability to allow people to live and work in the same place. Part of the relaxing aspect of the shard is its restaurants and bars. 
With stunning views and a list of amazing contemporary cuisine restaurants to choose from, it is worth making a trip up to this breathtaking skyscraper for a delicious dinner. 
Float Down River Thames On A Jazz Dinner Night Cruise
Looking for things to do in the evening in London that involve jazz music and water? Why not try the 3-hour Thames Jazz Dinner Cruise that includes a three-course meal accompanied by your choice of:
Beer
Champagne
Pimm's
Wine
Take in the beautiful riverside lights as you float the night away, and maybe dance a little while you are at it. 
Find the Waterstones Cafe
Looking for things to do on a London night that very few people know about and are well-kept secrets? Why not find one of London's gems? 
The Waterstones is a bookshop located in Piccadilly with cute bars and cafes located on the 5th floor that few tourists know about and locals relish. Enjoy a moment of peace in the city's bustling area as you enter the cafes and take in the beautiful views that accompany them. 
Not to mention the food and drinks are pretty great too. 
Explore Leadenhall Market
Sticking with the theme of hidden gems, Leadenhall Market is a wonderful place to catch a bite to eat in the heart of London. Open around the clock, you can explore and then eat or drink at one of their many restaurants, including: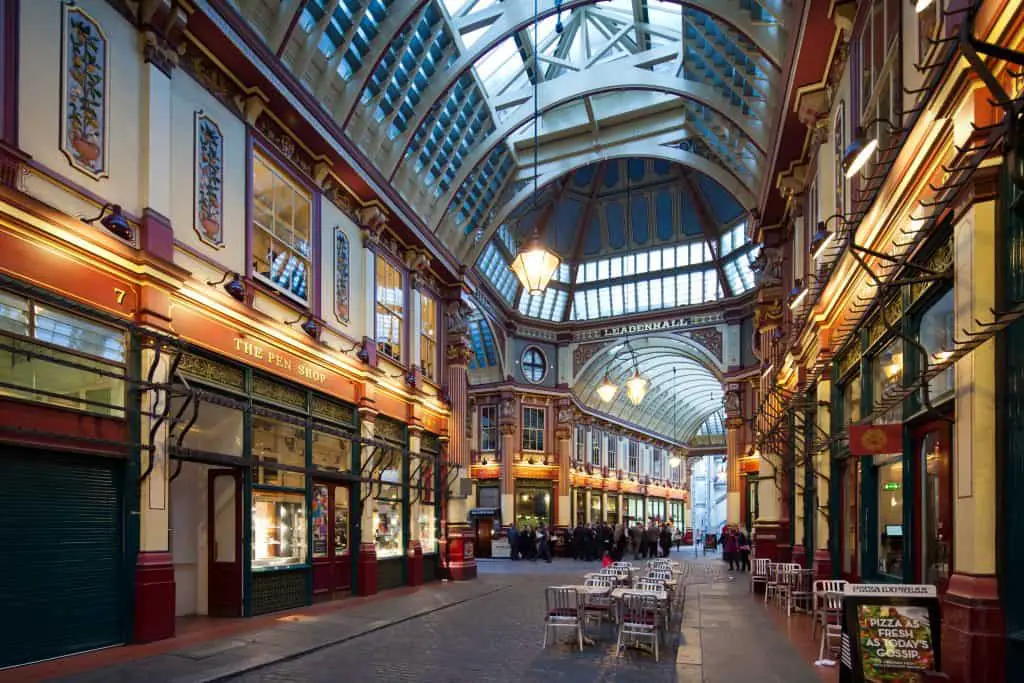 Dining at The Royal Exchange
As an ever-evolving hub of London, The Royal Exchange is home to breathtaking architecture and beautiful boutiques. It is also home to multiple dining experiences such as:

Private dining options are available as well.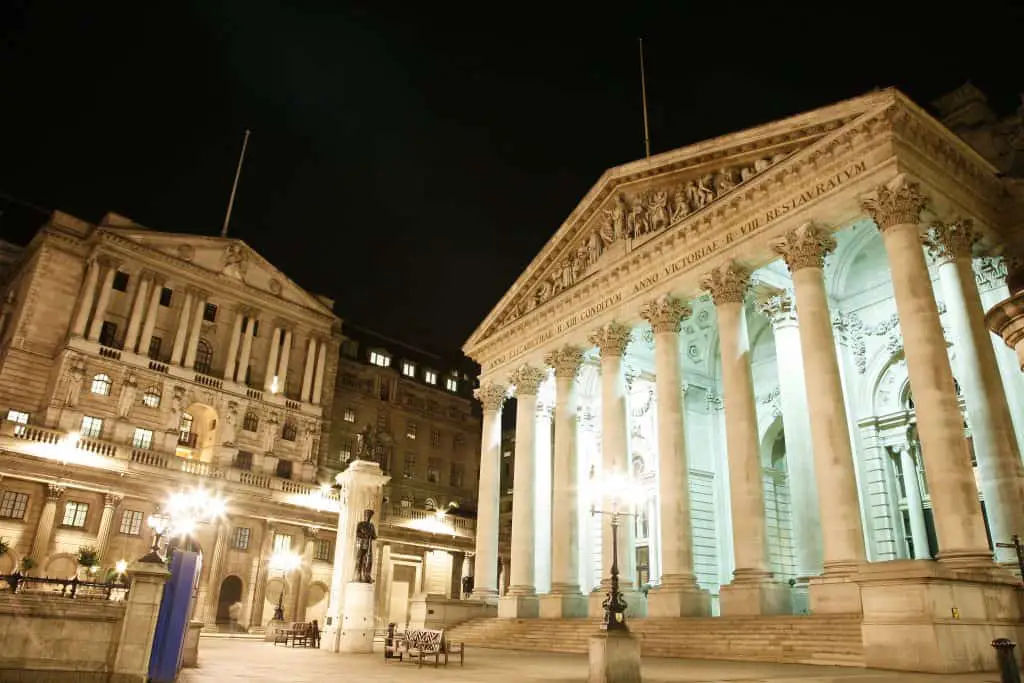 Walk Around Pop Brixton
One of the most exciting things to do in London evenings is, take a walk around Pop Brixton. This temporary project was created to turn disused land into space for local independent businesses to thrive. You can experience startup studios and retailers, as well as some wonderful restaurants. 
A few favorites you should check out when it comes to ordering food are:

Try Out Chinatown
Are you interested in East Asia cuisine? Chinatown offers an array of restaurants and bars that bring the flavours of China to London. Choose between options such as contemporary noodle restaurants and bubble tea delights while dining in Chinatown's vibrant colours at night. 
Visit the Churchill Arms
As a popular waterhole frequented by Churchill's grandparents once upon a time, The Churchill Arms features hundreds of flowers and Churchill Memorabilia. Enjoy authentic Thai cuisine in this family-friendly, very memorable pub. 
Visiting at night will leave you speechless as you walk into their dripping with lights building that can be easily picked out. 
Sneak into The Mayor of Scaredy Cat Town
This secret bar is hidden within what seems to be a plain old restaurant. Ask a worker inside where to find The Mayor of Scaredy Cat Town, and they will lead you through an old-looking fridge that is the entrance to the bar. 
This option is great for adventurous souls who like things out of the ordinary and enjoy the idea of going to a speakeasy-like bar. 
Learn How to Make Your Own Dinner
A fun experience to try while you're in London is learning how to make your own pasta while drinking wine. This fun little activity is two hours long and a great group experience. 
The best part? You get to take your dinner home with you, making it a great place to learn something new and fill your belly while you are doing it. 
Top 10 Must Tries in London At Night
It can be hard to figure out what you want to do with so many different activities to try. That is where this section comes into play. 
I have put together a few of my favourite late-night London activities that I think everyone should try! 
Ride the Ghost Bus
For about an hour and 15 minutes, you can take The Ghost Bus Night Tour, which will take you through some well-known London attractions. This hilarious horror show features actors on board and "technical trickery" to help set the scary setting for all the haunting and murder stories you will be told. 
Explore the Tower of London
Speaking of tours, The Tower of London holds Tower Twilight Tours so that you can experience the popular attraction at night. Listen to the tales of past residents and prisoners as you explore some of the tower's most famous sights, such as:
The outside of the Bloody Tower
The Scaffold Site
Traitors' Gate
Truly See the Stars
The Hampstead Scientific Observatory allows the public to come in and view the stars on clear nights. What better way to enjoy London's night sky than in an observatory specifically made to help you truly take in the beauty of the stars. 
Catch A Show in Theatreland
If you like the theatre, you will love London's highest level of commercial theatre. London's West End, also known as Theatreland, is known for being home to tons of great theatres. From different musicals to plays, you are sure to have a wonderful experience at any one of the shows. 
Find Your Way Into The Vaults
Want a more unique theatre experience? The Vaults are an underground tunnel system home to immersive theatre and alternative arts. 
The street art alone is worth the visit, not to mention the cool underground atmosphere complete with bars and food. 
Sing Your Heart Out
Karaoke bars are a fun time if you don't have stage fright. However, a place called Lucky Voice Soho has made them a great time for anyone. You can have your own private room at this karaoke place where you can party the night away!
Not only is this place great for adults who want to enjoy a bar and some karaoke, but it is also kid-friendly if you're looking for a place to go for a night out with the family.  
Looking to Try Your Luck?
If you're someone who is into gambling, I recommend The Hippodrome Casino.  With a friendly team and state-of-the-art gaming machines, this place is great for trying your luck and possibly leave London with more money than you brought. 
Laugh the Night Away 
This not-so-secret gem is a great place to sit down and have a good laugh. The Top Secret Comedy Club hosts a variety of stand-up comedians in an intimate, exciting atmosphere. You never know who will stop in to try a few lines on the crowd. 
They have had famous comedians support them, including:
Amy Schumer
John Bishop
Trevor Noah
Drink and Golf at The Same Time
At Crazy Golf, you can experience vibrant neon golf courses while you sip on delicious cocktails. As a fun and interesting way to spend the night with a group of friends, this golf place offers multiple different courses, all brightly decorated and fun to go through. 
Late Night Shopping
Are you looking for things to do in London by yourself at night? Try staying up late shopping in Stratford City. If you are by yourself, there is no one there to yell at you for buying too much! Choose from dozens of stores to shop your way into the night. 
You might also enjoy :
Experiencing London At Night
There is an array of different activities you can do to experience the magic of London when the sun goes down. From different live music venues and places to eat to fun activities, you can do with your friends, or if you're looking to have a romantic evening, there is a treasure trove of memorable experiences waiting for everyone within London's city lines.