Known for its sandy beaches, friendly atmosphere, and fairytale scenes, Kennebunkport awaits you. Many people travel to this location for a family vacation or a romantic getaway to take in the cozy atmosphere. If you want to get away from it all, you may wonder which Kennebunkport hotels or accommodations to choose from for your stay.
When visiting, there are many Kennebunkport hotels to choose from, including quaint bed and breakfast and modern-style inns. There's no shortage of options for location. Whether you are looking to stay close to Kennebunk beaches, looking for a luxurious stay or want something a short walk from a shopping center, you are sure to find the best place for your needs.
For your stay in Kennebunkport, there are very many hotels and lodging to consider. Do you want to be close to the Dock Square shops? Are you more interested in a relaxing spa and beach experience or are you looking to stay at one of the many romantic hotels? Keep reading for a closer look at the best hotels that Kennebunkport has to offer.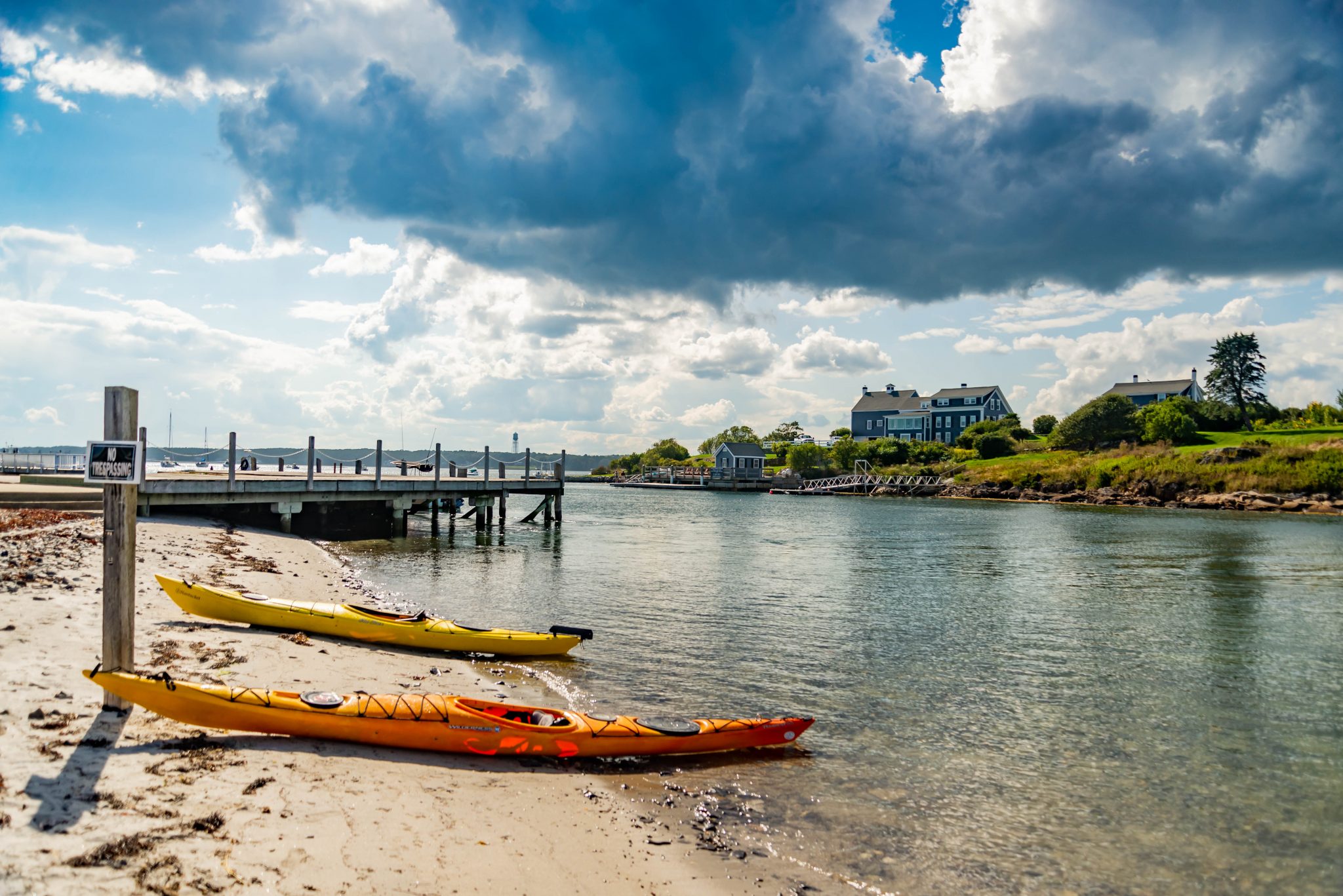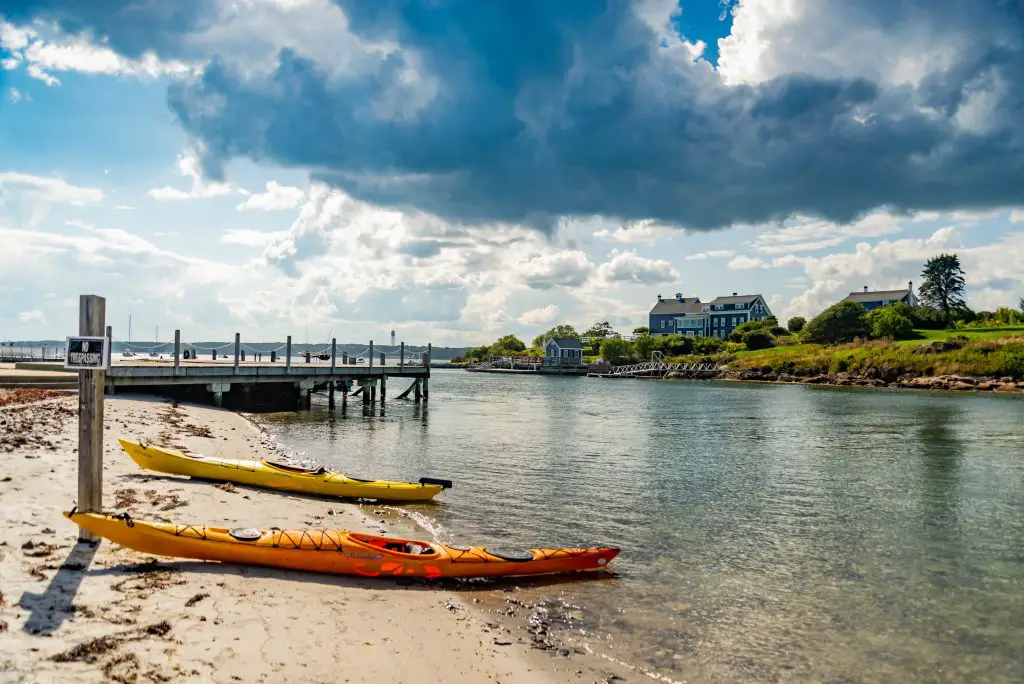 This post contains some affiliate links. If you click on the product links and make a purchase, it allows me to make a small commission at no extra cost to you! In return, it helps me in maintaining this site to continue to help you!
You might also enjoy: Peaceful Islands on the East Coast
You might also enjoy: 23 Things to do in Kennebunkport Maine
Kennebunkport Hotels – Best Places to Stay When Visiting Kennebunkport Maine
Kennebunkport offers you so many options to tailor your vacation to your style and needs. Shouldn't your hotel options do the same? Luckily, most hotels we recommend are near many of the biggest Kennebunk attractions and the best Kennebunkport restaurants and activities that you can review!
Captain Lord Mansion
In love with Victorian style? The Captain Lord Mansion is a cozy bed and breakfast, just a short walk from Dock Square and Ocean Avenue.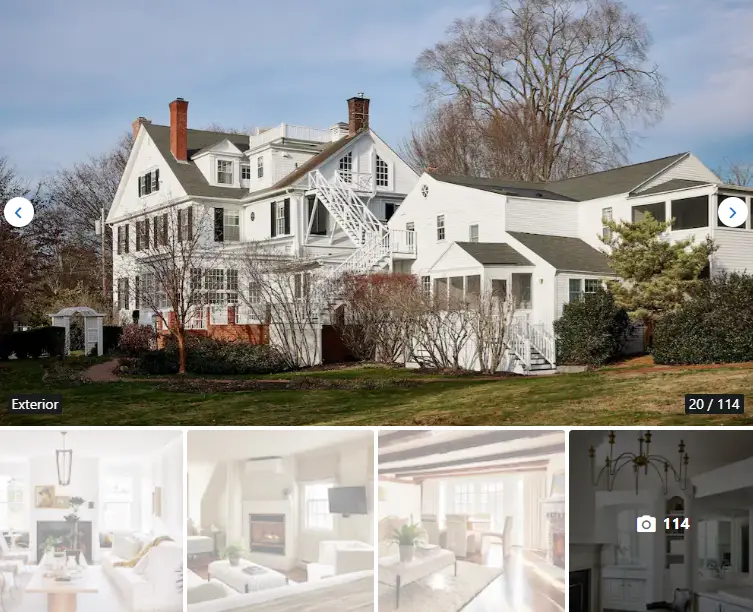 This is one of the best Kennebunkport hotels. Each room at the Mansion comes with its fireplace, mini-fridge, flat-screen TV, free WiFi, and more, making it a perfect home away from home. Complimentary continental breakfast is a part of the package, and snacks and wine in the afternoon!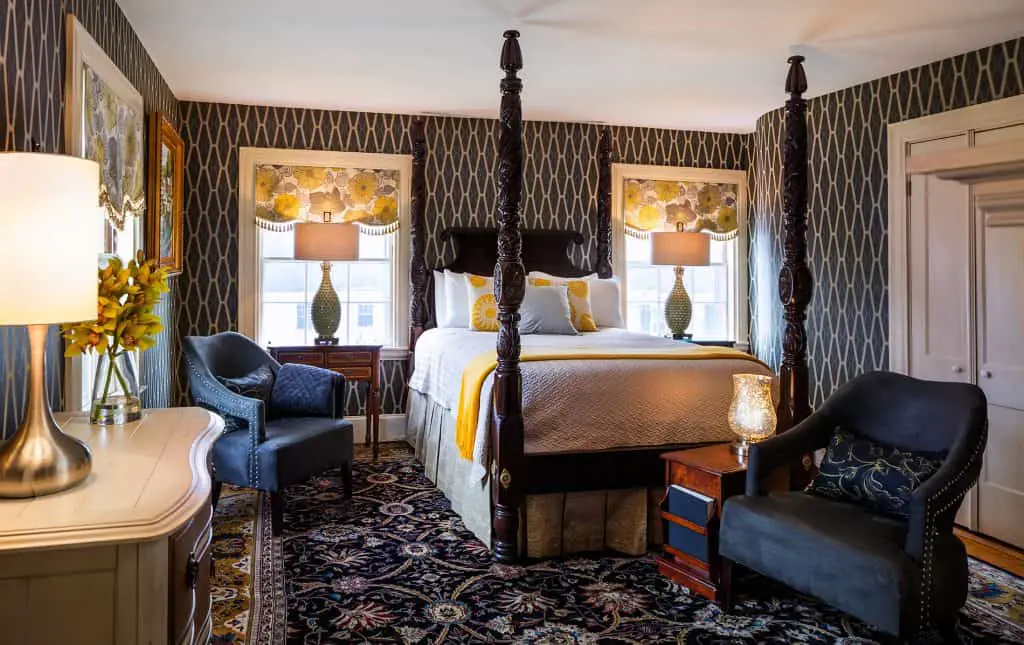 Many people will be ecstatic to learn that the Captain Lord Mansion also has a small spa and jacuzzis to use during your stay. On top of that, there are also bicycle rentals and free beach chairs on site for those looking to take time at the beach during the day at the Kennebunk beaches.
If you are mostly looking to stay on-site during your trip, you may be disappointed at the lack of an on-site swimming pool or fitness opportunities such as a gym. If you are looking for somewhere close that still allows you to get around town, Captain Lord Mansion may be the perfect place for you!
Pros of Staying at the Captain Lord Mansion: 
Spa and jacuzzi options
Free WiFi
Flat Screen TVs
Victorian Aesthetic and built-in fireplaces in each room
Marble Bathrooo with heated floors
Close to Dock Square
Free breakfast, snacks, and wine 
White Barn Inn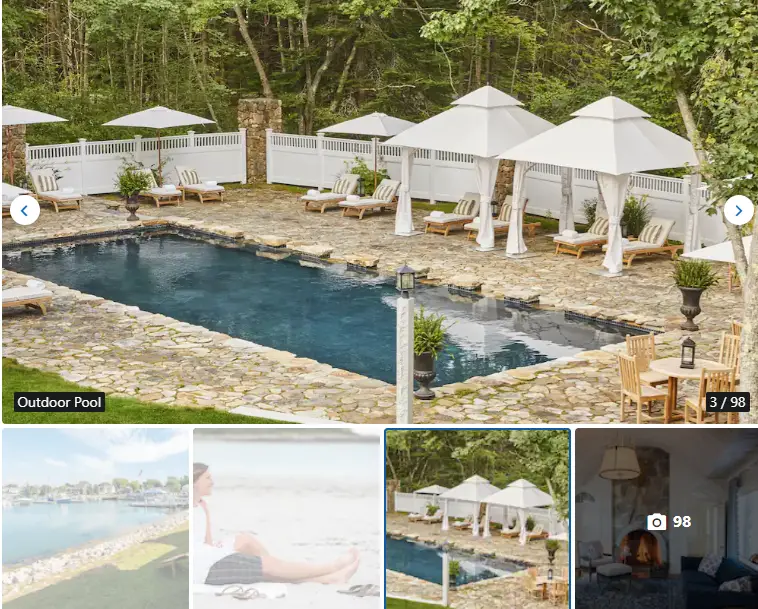 Located a short walk away from the shops, Kennebunk beaches, and Dock Square restaurants, White Barn Inn is known for its elegance. This hotel, a part of the Auberge Resorts Collection, offers you a spa and resort feel while you also get access to all of the town's amenities. It also offers its guests WiFi, breakfast, and afternoon tea for free!
Thanks to its upscale iterations of food, the restaurant has halibut and lobster roll (all fresh daily catches, of course).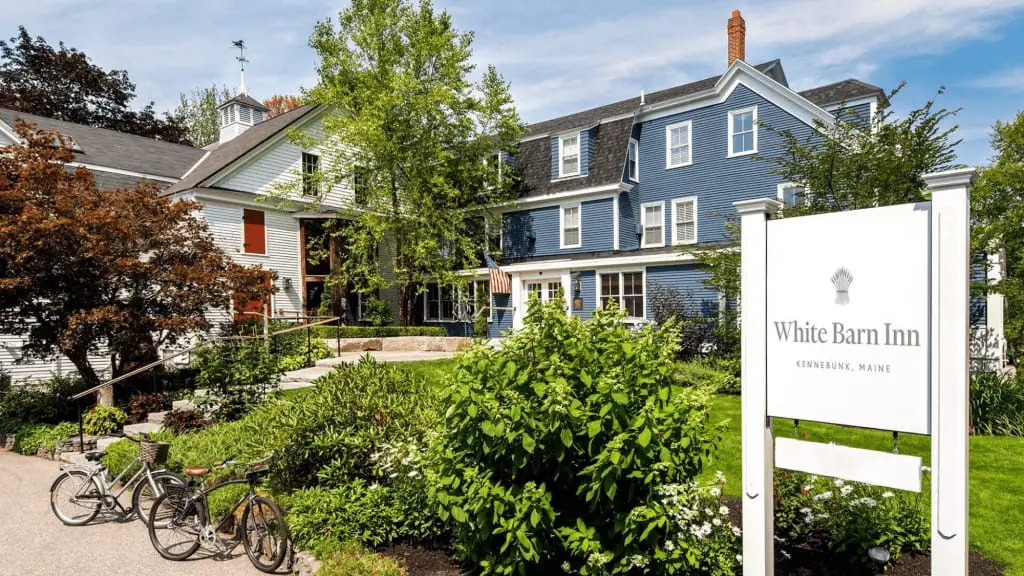 Once you choose your room, you may find it hard to leave! The classic elegance and amenities can help you feel at home. Most rooms also have fireplaces and large private bathrooms for you to wash away your worries and get into the vacation mood. Some of these rooms also have private balconies. These are just a few of the amenities that guests rave about when staying at the White Barn. 

While you can reserve a room with water views, you will find they are a far walk from the main house, which can be inconvenient. There is also no elevator, so you will have a lot of walking to do to get to your room. 
Pros of Staying at the White Barn Inn:
Easy Access to Dock Square, Beaches, Ocean Avenue
Classy Design 
Free Breakfast, Tea, and WiFi
On-Site Spa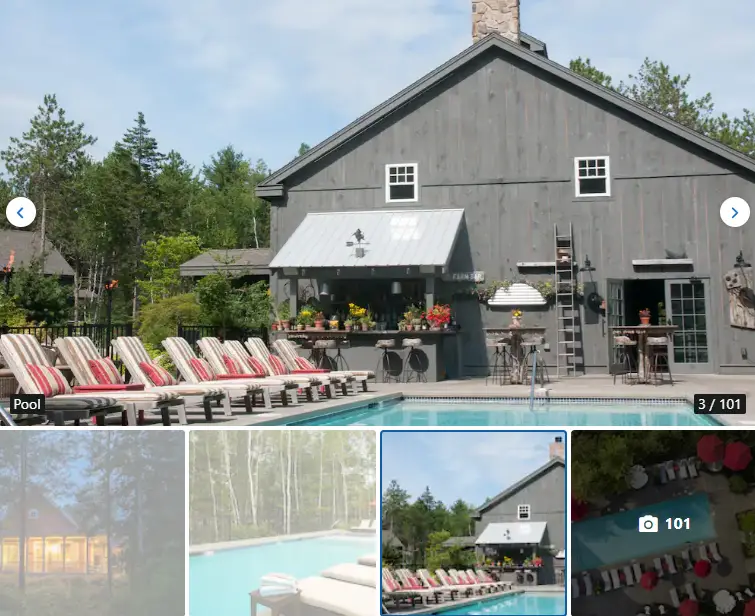 Hidden Pond is a little further away from the town; however, it provides a unique relaxing spa experience for those who stay there. Designed as a luxury home rental for those visiting, this resort offers an upscale, organic vibe. There is also beach transportation access to Goose Rocks Beach.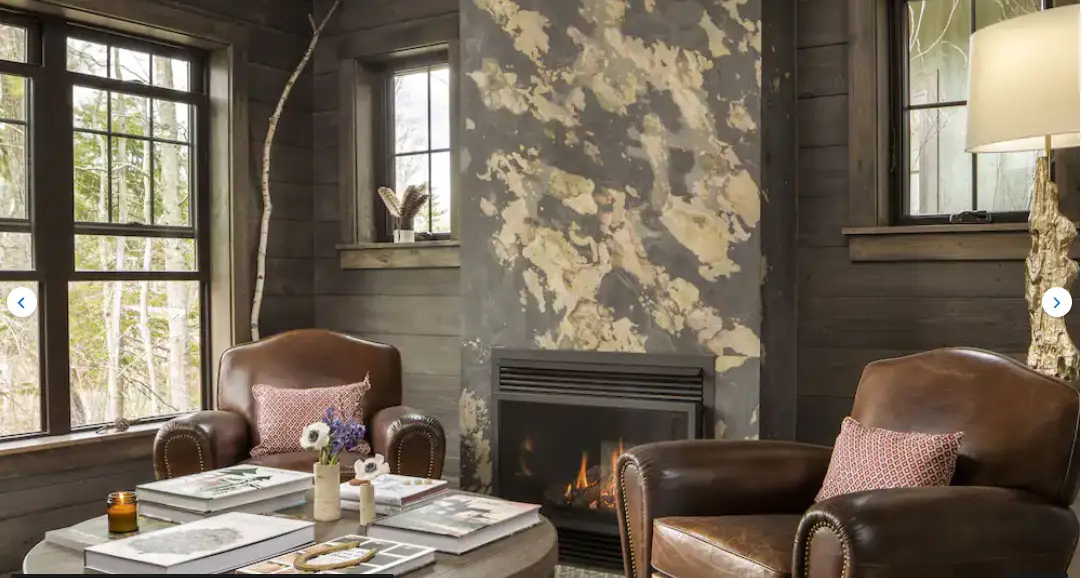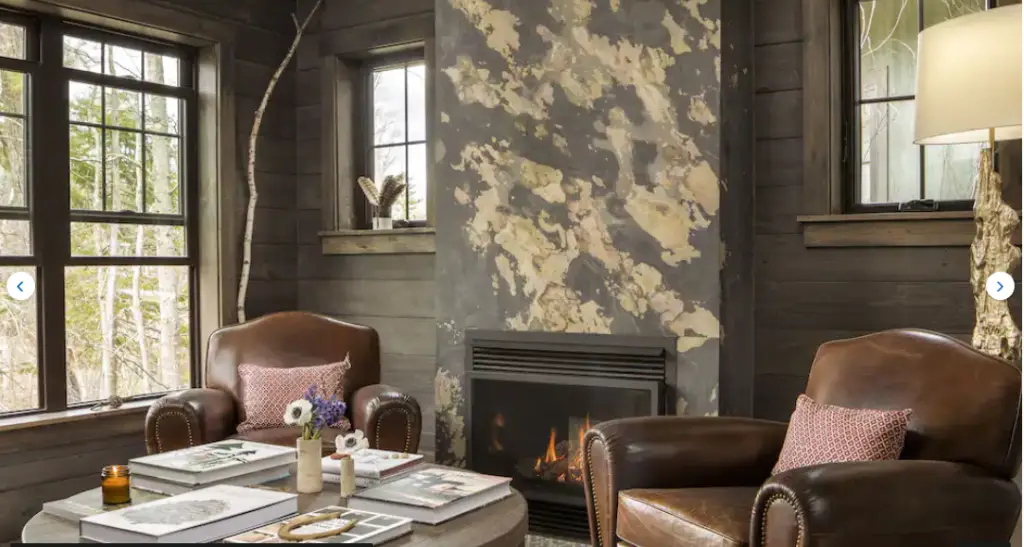 A vital feature of the Hidden Pond resort is their Tree Spa, where they offer you exceptional guest service to help you genuinely melt away your worries. 
In addition, there is a range of different massages and activities available to help you find your inner zen and vacation spirit. Afterwards, you can journey to their on-site garden to pick organic vegetables and flowers.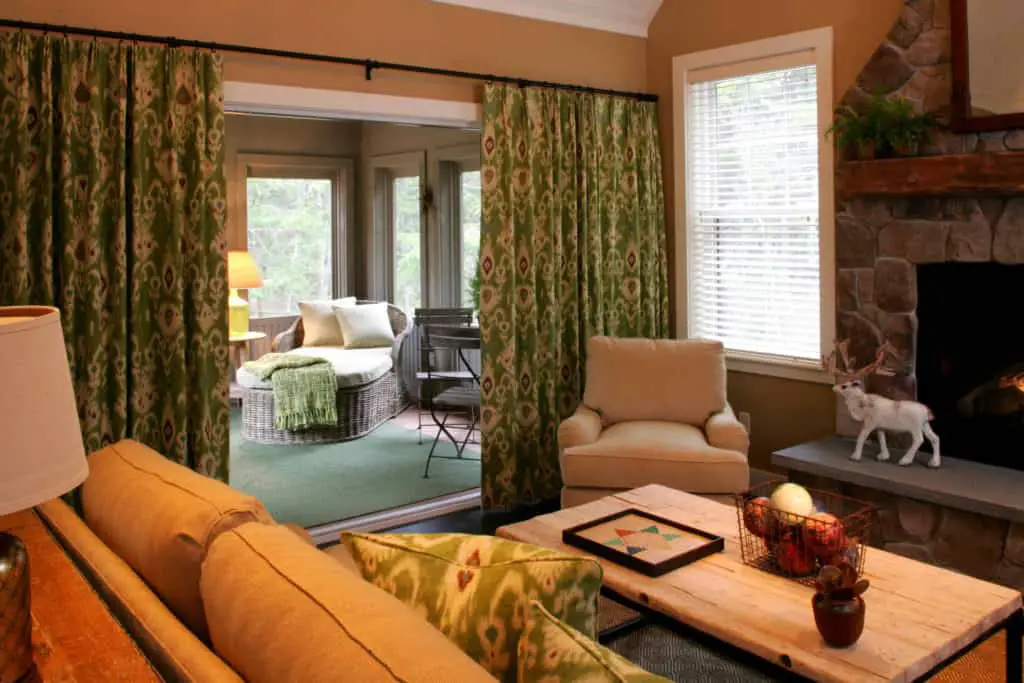 The offseason for the resort is between November and April when they close down reservations. When you book a room, you may be disappointed to find a lack of a bathtub, and this is because they heavily feature showers. Moreover, fitness facilities are small and may not have the range of equipment you are looking for. 
Pick-your-own organic veggie and flower farm
Free beach transport
Two pools
Free morning goodies baskets
Breakwater Inn & Spa
With gorgeous 1880's architecture, Breakwater Inn Spa is one of the Kennebunkport hotels fantastic for unwinding with a glass of wine while taking in the serenity.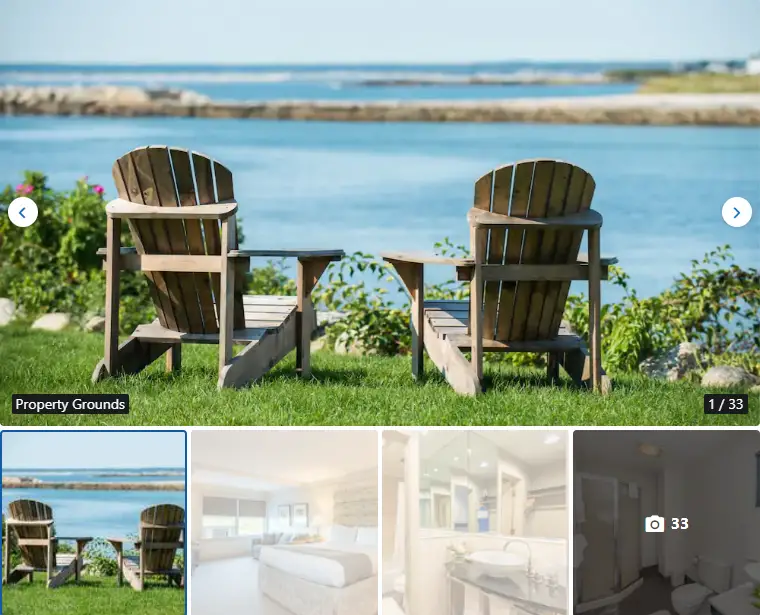 Located just off Ocean Avenue, this Kennebunkport hotel gives you that bed and breakfast feel with all of the luxury amenities you want. On top of that, the inn's vista overlooks the Kennebunk River from your room.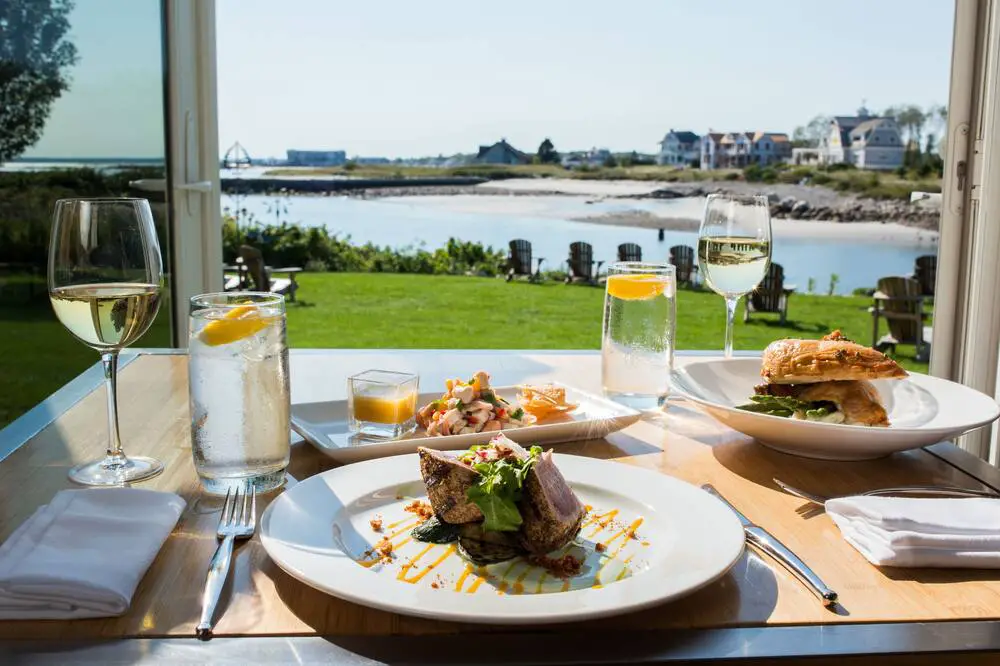 Of course, there is a spa and an onsite restaurant for your pleasure, as well as a free breakfast. As it is off Ocean Avenue, Breakwater Inn Spa has easy access to Dock Square, Walker's Point, and Kennebunk beaches. Finally, they do have access to a fitness center.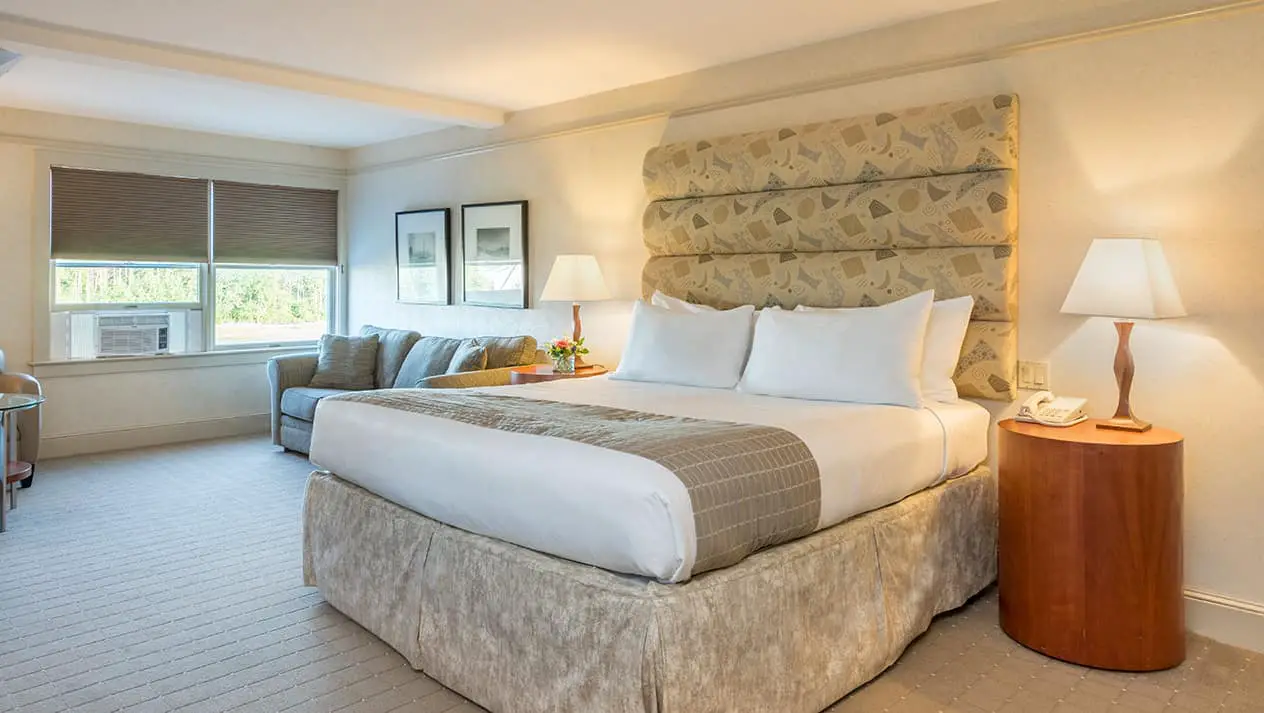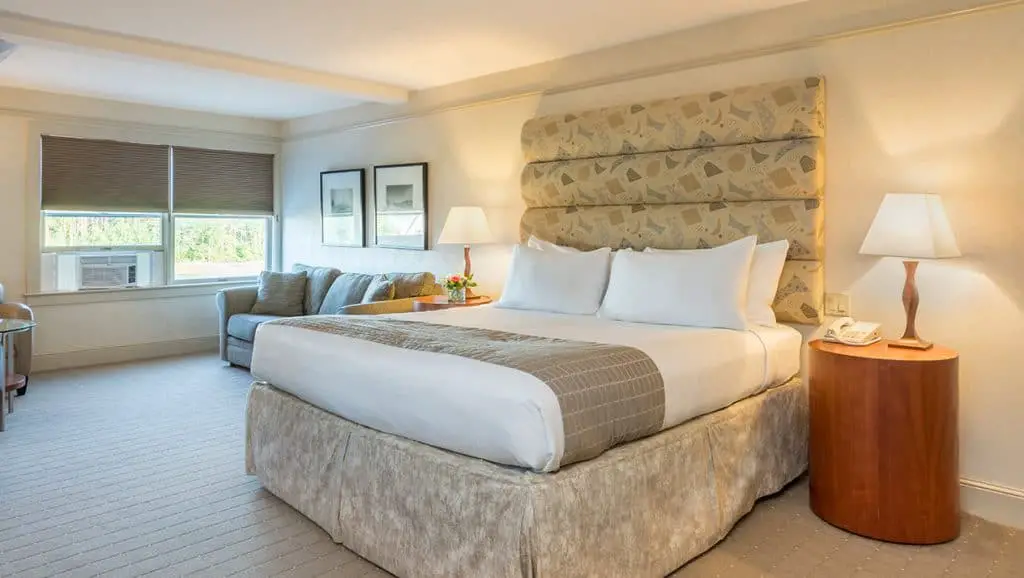 Unfortunately, if you were looking for short walks to the most popular destinations, Breakwater Inn Spa may not be your best bet. On top of that, there is a charge for use despite having a fitness center, meaning you may wish to forgo using it. If you stay in the winter, you will also be disappointed to find the restaurant closed. 
Pros of Staying at the Breakwater Inn Spa:
River View and Ocean Avenue Access
Free Breakfast and WiFi
Spa Access
On-site Fitness Center
 
Boathouse Waterfront Hotel 
Boathouse Waterfront Hotel offers you a panoramic view of the harbour and easy dock access for your water-based activity needs in the heart of the port.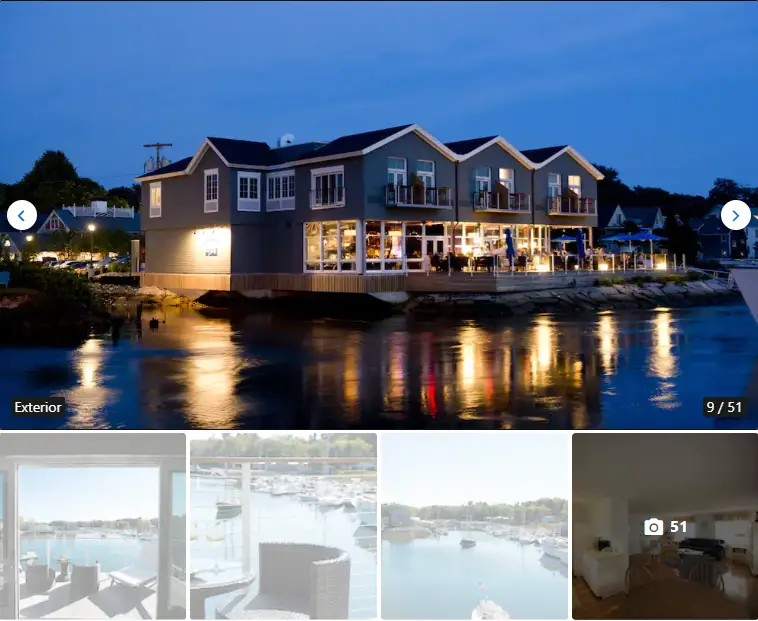 The Boathouse Waterfront Hotel is located on the Kennebunk River, just steps from Dock Square in central Kennebunkport. Located in Dock Square, it's a short walk to any shops you may want to check out on your trip.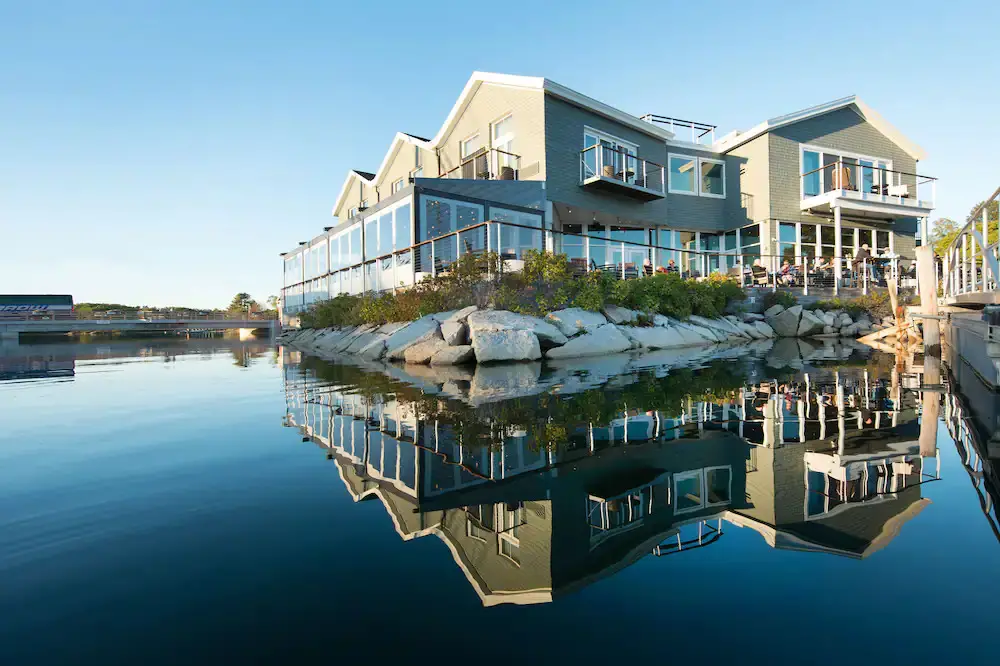 They also allow you to experience activities at their sister inns for an enhanced experience.
Whether you are looking to kayak or need beach passes, the team at this Kennebunkport hotel has you covered. The exceptional service you will find here will help you find any activity, restaurant, or beach you are looking for. No matter what you are looking for, the two buildings that make up this property will have you covered.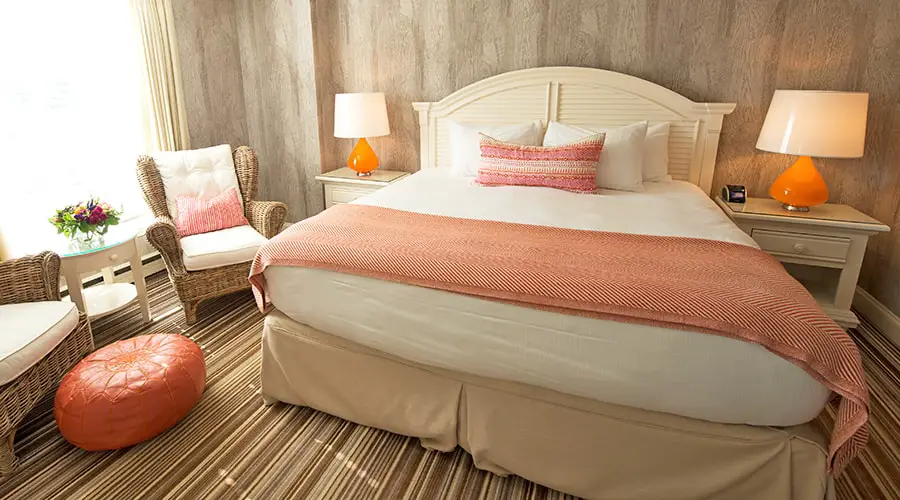 One of the most significant issues that people tend to run into at the Boathouse Waterfront Hotel, according to Kayak, however, is discomfort with the bedding or furnishings. This can leave you with an unpleasant experience. If you are very sensitive to bedding options, this may not be right for you.
Pros of Staying at the Boathouse Waterfront Hotel: 
Excellent Customer Service
Beach Cruiser Access
Kayak Rentals
Kennebunk Beach Permits Available
Views of the River
 
Yachtsman Lodge & Marina Club
The Yachtsman Lodge and Marina Club are perfect for those who want a real Maine vacation: With water as far as the eye can see.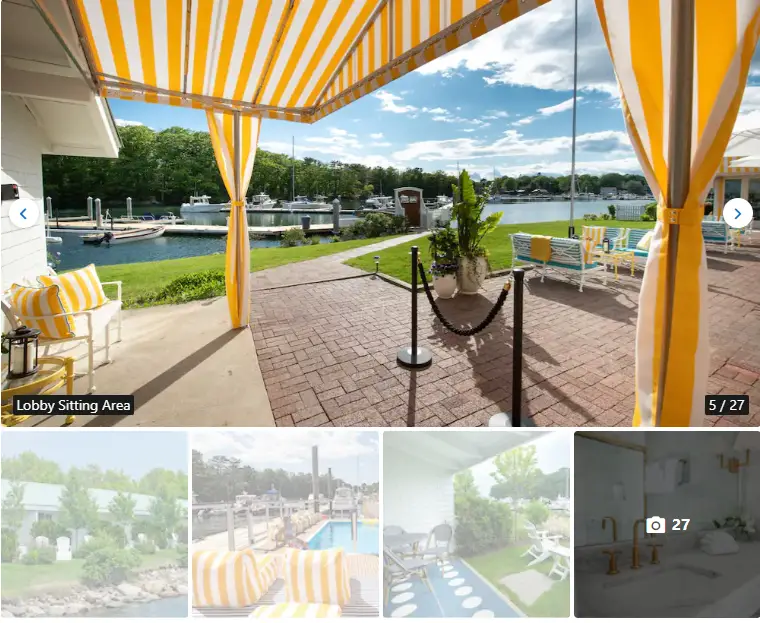 If you wish to take a short walk to Dock Square or stay by the water on the floating barge pool, this is one of the Kennebunkport hotels that can help you ease into the Maine vacation experience.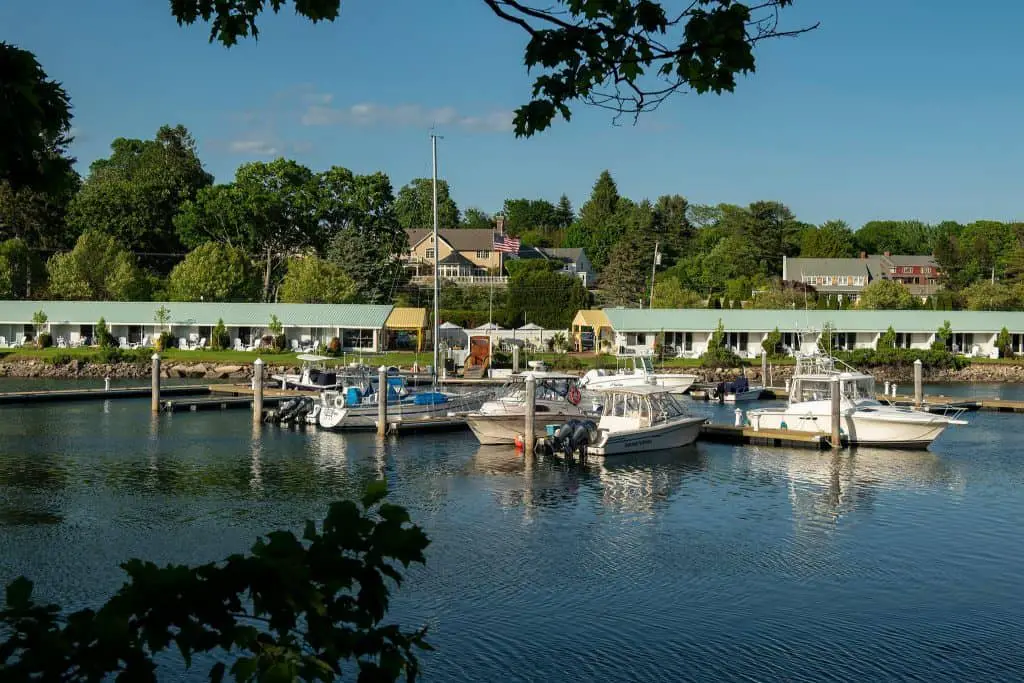 You will have your basics covered when you reserve their bungalows, but you will have to pay a little extra to get into the Yachtsman Lodge & Marina club which gets you many other perks. 
These perks include complimentary bikes so you can ride to the Kennebunk beach, kayak rentals, morning bakery deliveries, and more!
As it is close to the square, you may see more touristy activity around your area, so this may be a no-go if you are looking for serenity. It is also a smoke-free property, meaning you cannot get a smoking bungalow. 
Pros of Staying at the Yachtsman Lodge & Marina Club: 
Club perks for a little extra
Free parking
Access to Kennebunkport activities
Bar and Lounge On-Site
Tides Beach Club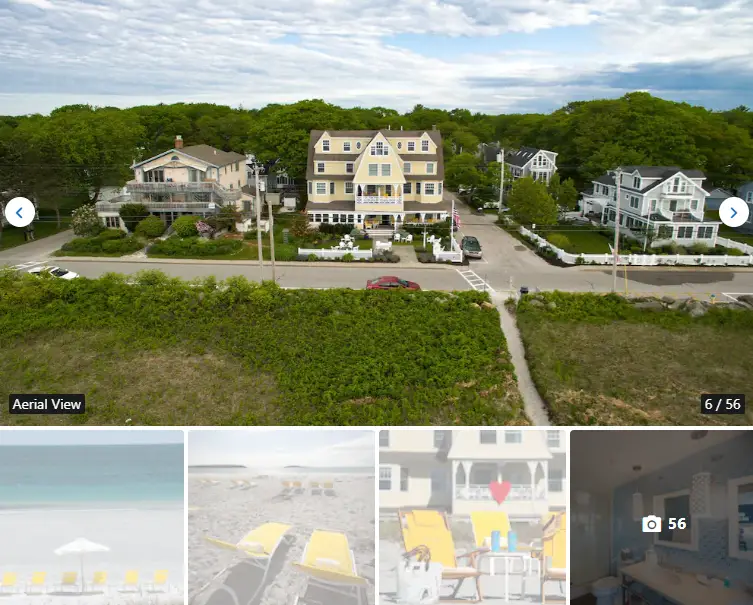 Are you looking for a complete beach experience? Located right next to Goose Rocks Beach, The Tides Beach Club offers guests breathtaking ocean views of The Atlantic and a more modern inn experience. Wake up every morning to the sounds of the surf right outside your window.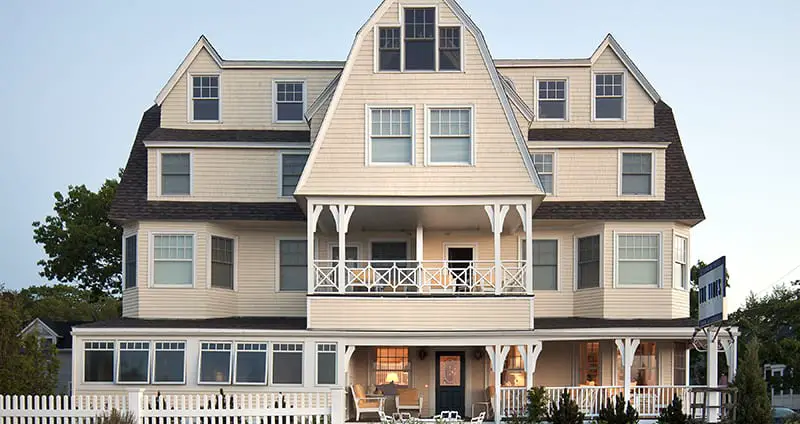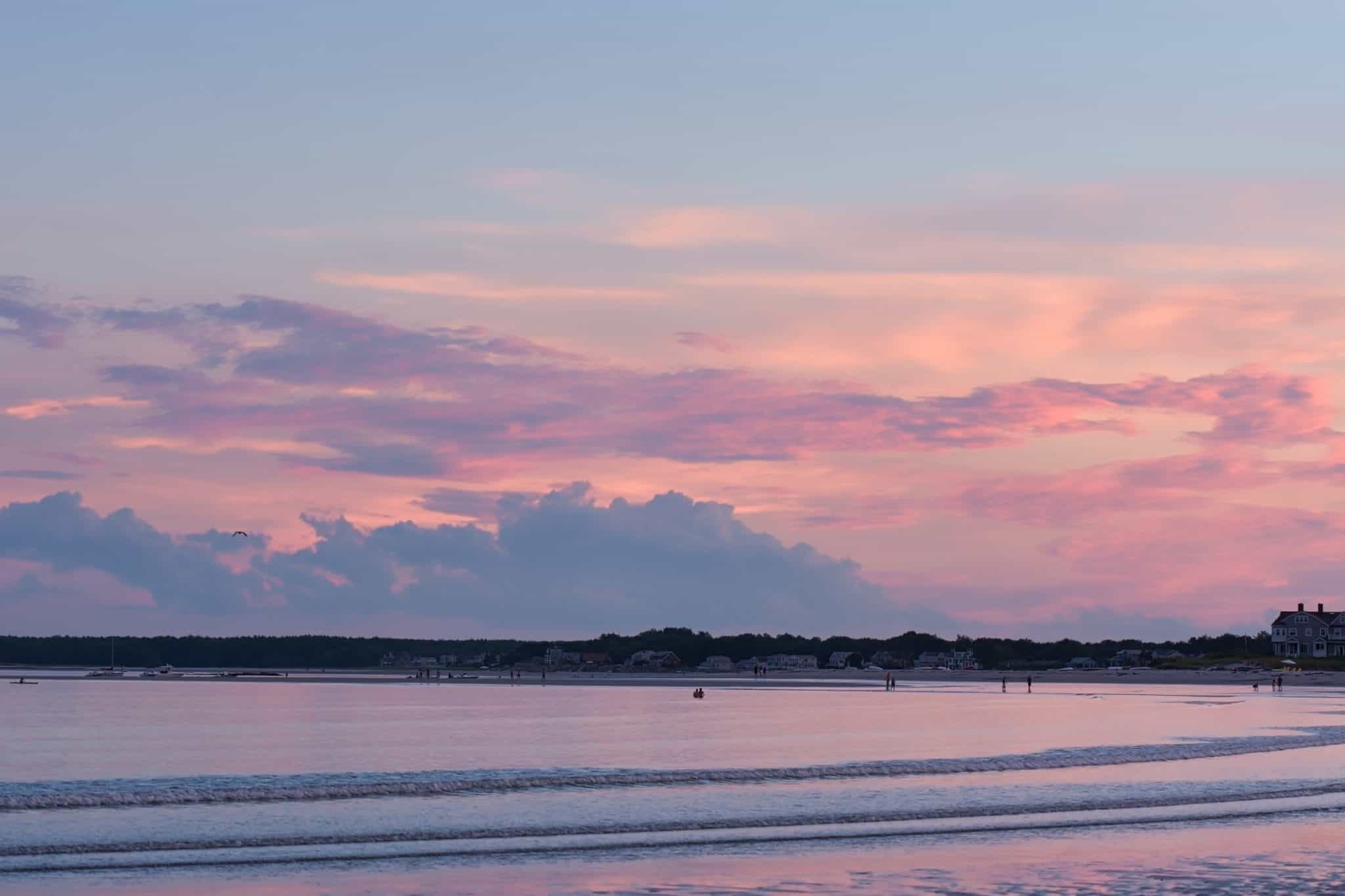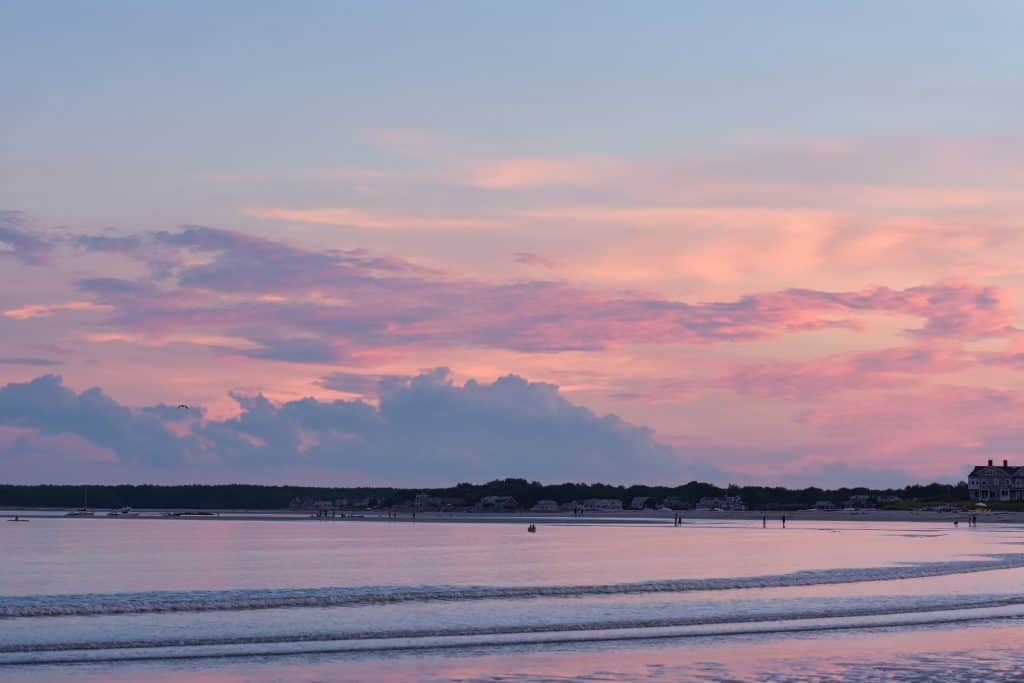 While you get the WiFi, breakfast, and cable perks of your standard hotel, nothing else exists. 
Unfortunately, as it is part of a resort consortium, not all possible benefits are on site. While you have access to features at its sister inns, you will have to travel to those locations. There is no fitness room or pool available at this location, either.
As the beach is just across the road, Tides Beach Club staff provide beach cruisers for guest use and help you with chairs, coolers, and more. There is an on-site bar and restaurant for you should you get hungry. The rooms in the historic inn are slathered in beach tones to continue the trendy beach vibes found throughout.
Pros of Staying at the Tides Beach Club :
Oceanview and beach access
Beach cruisers and assistance getting items to the beach
Free WiFi
Free Parking
Access to other hotels in the consortium
 Nonantum Resort
Minutes from Walker's Point, the picturesque Nonantum Resort sits on the Kennebunk River in Kennebunkport, Maine. Nonantum Resort is one of the most awarded Kennebunkport hotels in Maine. After checking out their amenities, it is easy to see why. Staying at this location is not just a hotel stay but a complete experience. 
There is something for all members of the family to do at the Nonantum Resort. Kids can enjoy activities such as crabbing, yoga, and more, while adults and teens can relax at the outdoor pool or maybe take in some kayaking from their dock access. 
Booking directly through the Nonantum staff gives you access to free breakfasts and their restaurant, including weekly live music.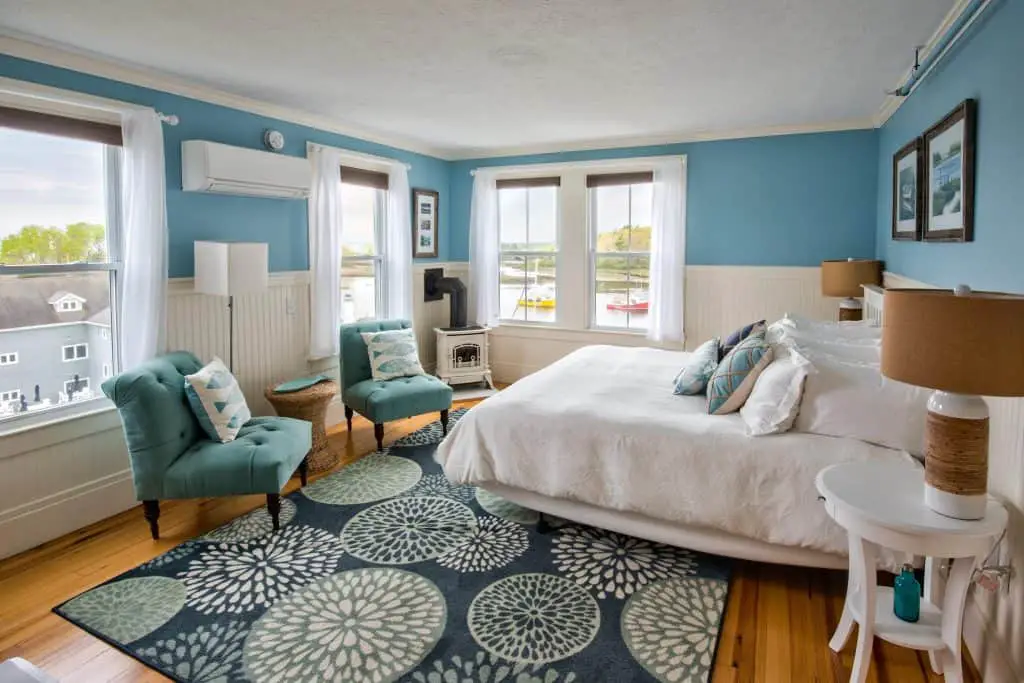 The one big drawback is that they are only open seasonally. If you are looking to book between late December to early April, you cannot do so at the Nonantum Resort. However, if you can wait just a little longer for your vacation, it is worth the stay.
Pros of Staying at Nonantum Resort: 
Free WiFi
Wide variety of activities put on by resort for all ages
Cozy Rooms with mini-fridges, flat-screen TVs and a coffee maker
Dock access and pool access
Lovely views
On-site restaurant
Colony Hotel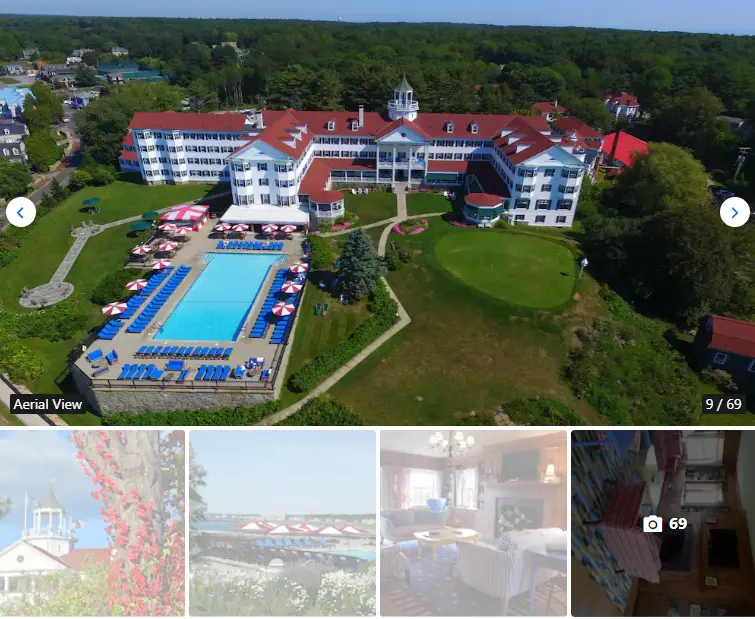 Just off Ocean Avenue, The Colony Hotel provides easy access to Kennebunk beaches and panoramic ocean views to its guests. This hotel is situated minutes from Walker Point and Dock Square, giving you access to various adventures!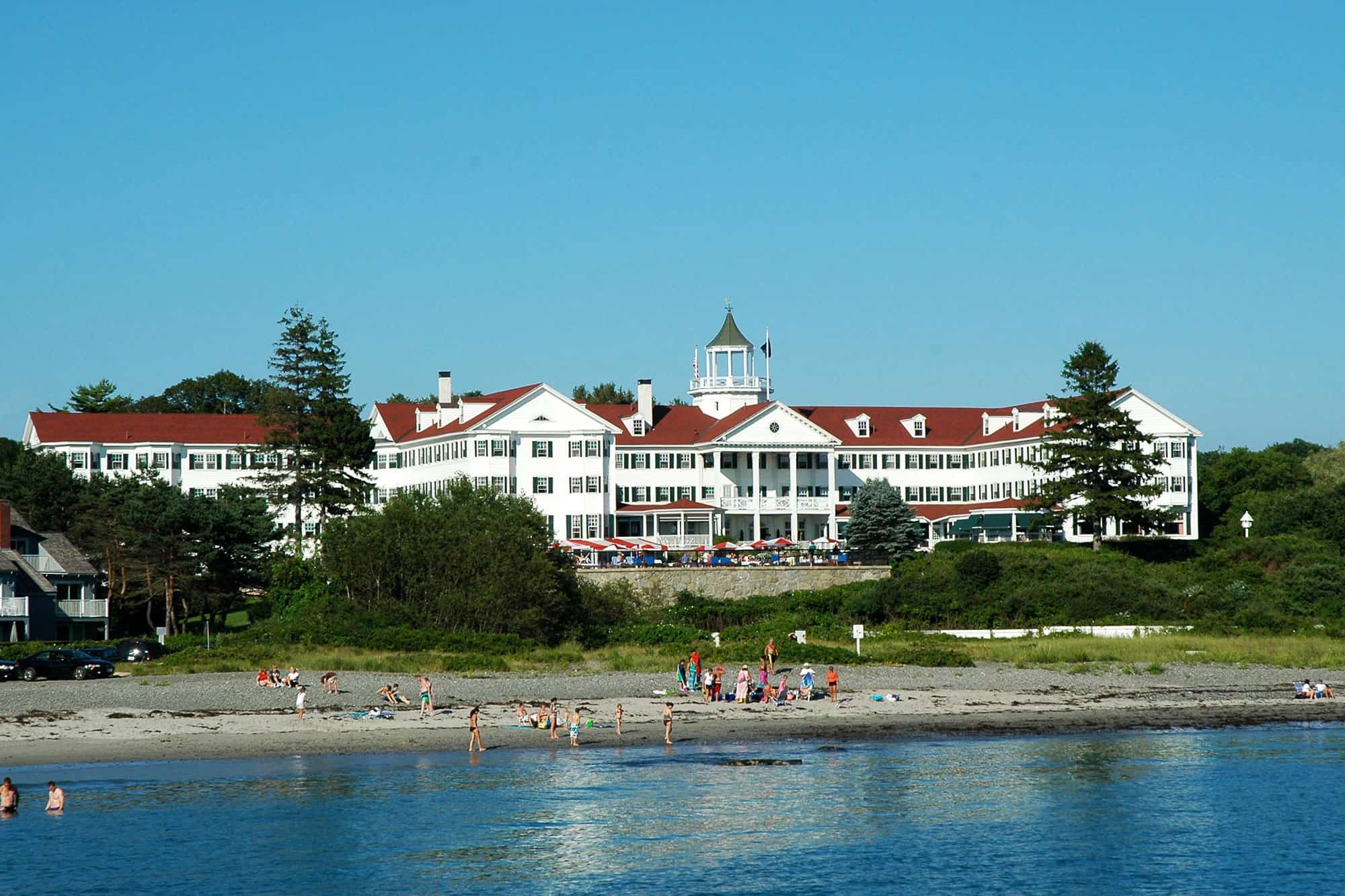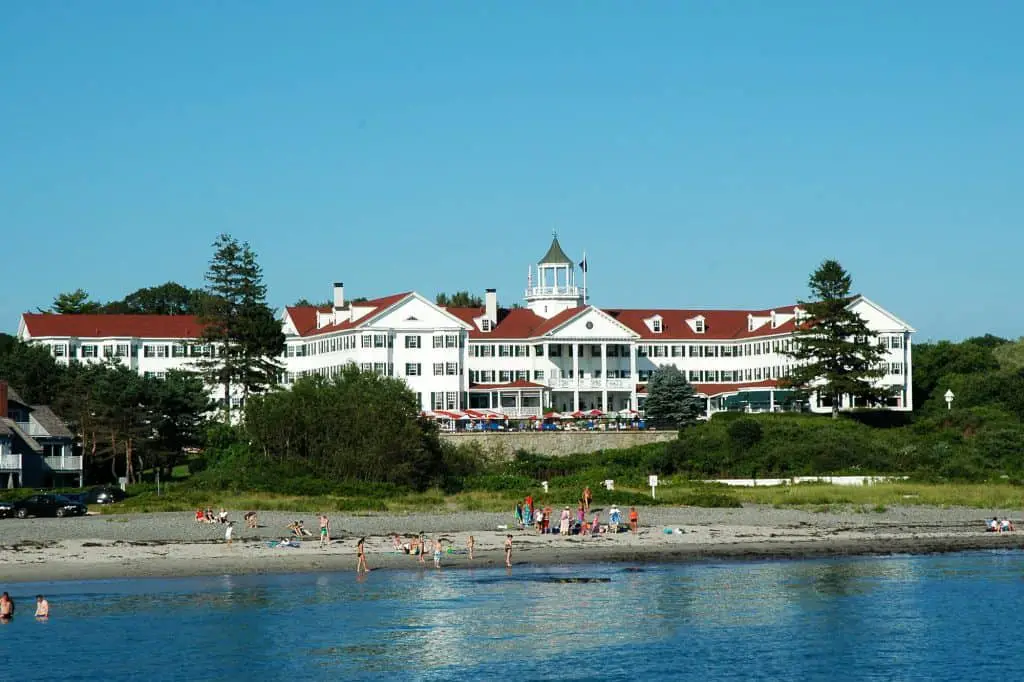 Are you shopping around for family hotels? This hotel is family and pet friendly, too, so bring all your loved ones on a beautiful trip!
This is a green hotel, meaning you get quality hospitality with a mind toward the environment during your stay. On top of the thoughtful amenities, they also offer spa-quality products in rooms and access to a heated saltwater pool for your enjoyment! From the hotel, it is just a short walk to the beach access.
Ocean View from the Colony Hotel
The Colony Hotel is only open a few short months of the year, ranging from May to October, and may require you to stay for your reservation for a set amount of days. 
On top of that, some of the rooms are relatively small and may not include a TV or even have air conditioning. Finally, despite being pet friendly, sometimes too many dogs may keep you up.
Pros of Staying at Colony Hotel:
Beach access and ocean views
Pet friendly
Heated outdoor saltwater swimming pool
Environmentally conscious
 
Kennebunkport Inn
If you are looking for something close to Dock Square, you cannot get more intimate than Kennebunkport Inn. 
Located in the square, Kennebunkport Inn is a short walk from all of the shopping areas. Staying here, you can enjoy a free deluxe breakfast, access to a restaurant, and off-street parking before you head off on your in-town adventure. 
Rooms range from cozy private bedrooms to more prominent spaces with the entertaining room while maintaining the classic New England style. 
If you want to explore the beaches or take a drive out of town, Kennebunkport Inn is mere seconds from Ocean Avenue.
While access to the town shops is excellent, it can lead to a noisy and heavily trafficked experience. This hotel is also not near the Kennebunk beaches, meaning you will have to travel a way to get to the beach experience. This may not be the best bet for those looking for peace, quiet, and the ocean. 
Pros of Staying at the Kennebunkport Inn:
Located in Dock Square
Free Breakfast, Coffee, and Tea
A Keurig in every room
Off-street Parking
 
Inn at English Meadows
Built-in, 1806, the Inn at English Meadows is a beautiful bed and breakfast hotel located eleven minutes from Dock Square. It is known for its perfect hospitality, delicious three-course breakfasts, and a romantic environment. 
Rooms range between a guest room, one-bedroom, or a two-bedroom cottage stay and have access to two main areas, complete with a fireplace.
During your stay, they offer free toiletries, comfy robes and slippers, and hypo-allergenic bedding for you to enjoy. Take your breakfast in their outdoor seating area, and you get a lovely view of their garden. Choosing this Kennebunkport hotel won't leave you disappointed.


Pros of Staying at the Inn at English Meadows: 
Three-course breakfast
Garden views
Private, stylish guest rooms and cottages
Free WiFi and Toiletries
Hypo-allergenic bedding
Top hospitality
 
Other Kennebunkport hotels to consider are Cape Arundel Inn Resort, Maine Stay Inn, Beach House Inn, Tides Beach Club, the Grand Hotel, Ocean Woods Resort, Yachtsman hotel Marina Club, Seaside Inn, Auberge Resorts Collection, the Cabot Cove and the Stripers Waterside Restaurant.
You might also like:
Travel Essentials: 36 Essentials for Travel
How to Find the Right Kennebunkport Hotel for You
When it comes to the best hotels in Kennebunkport, consider what you expect from your Maine vacation. Identifying deal-breakers such as spa access, locations within walking distance, or on-site fitness can help you narrow down which may be your best-staying option. Another big thing to consider is whether you will have transportation while there for you and your family. 
Once you have narrowed these down, you are ready to check for deals and book. Kennebunkport, Maine, is a lovely storybook-esque town that you are sure to fall in love with. Visit today, and get your relaxing vacation started. 
Kennebunkport is just a 90 minutes drive from Boston and is a great place to stop if you're planning a New England road trip.