One of the most important aspects of making any vacation a successful and enjoyable one is to be sure that you have packed everything you need for every occasion and for the possible weather you may encounter. Take a look at the following to know what your Kauai Packing List should include and everything you should keep in mind and what is absolutely necessary to pack for your next vacation to the Hawaiin island of Kauai. 
Visiting Hawaii or the Hawaiian island of Kauai is a dream come true for many people.
While Maui is the most famous of the Hawaiian Islands, the smaller island of Kauai, also known as Garden Isle, is a dream destination for those who want to go to a less touristy area and get a feel for the life and culture of Hawaii.
From the pristine beaches to hiking trails with stunning views to helicopter rides to appreciate the islands from the sky to a leisurely drive to view the Waimea Canyon, there is something for everyone.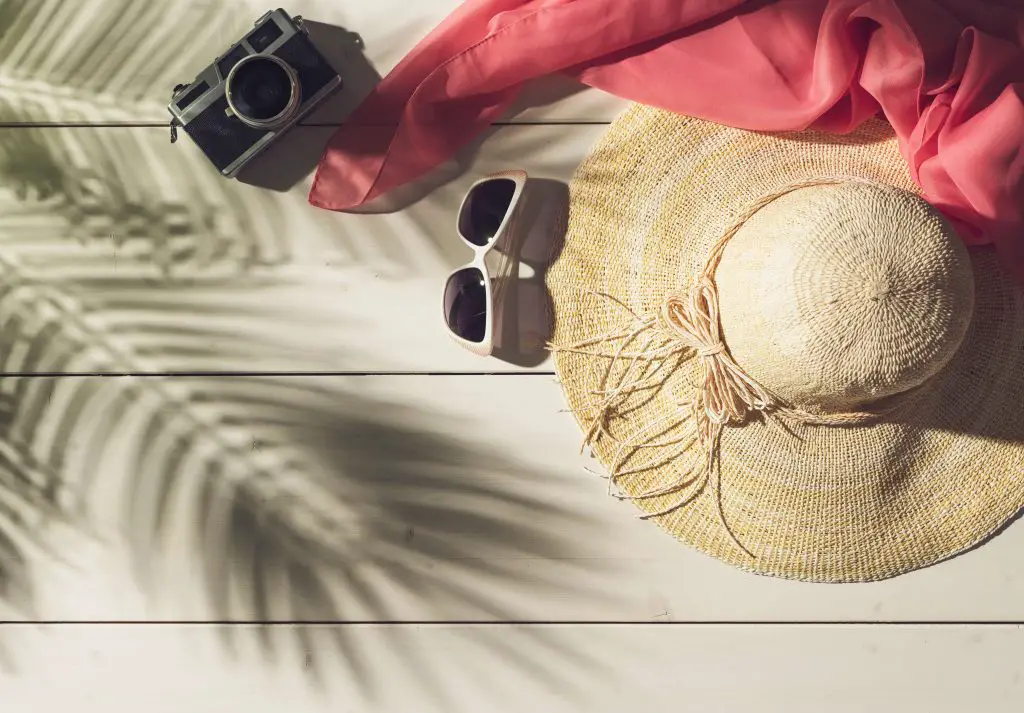 Essential Kauai Packing List: Things to Pack in Carry-Ons
While this doesn't happen a lot, in the unfortunate chance that your luggage is lost, it will definitely help to have some essentials with you packed in a carry-on while you wait for your luggage to catch up or buy what you need.
A few things that should be included in your carry-on for a Kauai trip are:
Any electronic items
This includes your phone, cameras, your laptop, kindle, and chargers. Not only are these items expensive to replace if they are lost, but they may get damaged in transit. It is best to keep them with you where you can keep an eye on them and make sure to keep potential damage to a minimum.
Travel-sized toiletries
Many stores sell compact sizes of shampoo, conditioner, toothbrushes, and toothpaste which can fit into a smaller bag or carry-on with ease. Some even have them all in one bag that you can buy and keep together without a problem.
A change of clothes
If your luggage gets lost or delayed, you don't want to be stuck in your dirty clothes while you wait for it to arrive. Having a change of clothes on hand to change into can help you feel fresh while you wait for the rest of your things. 
Space
Whether you carry a purse or small miscellaneous items such as a wallet or keys in addition to your carry-on, it can be beneficial to consolidate everything and put it all in one place as it cuts down on the number of things you have to keep track of as you make your way through the airport. With this in mind, be sure to save space for all those small extra items. 
Now that you've checked your carry-on packing off the list, it is time to turn your attention to the most important part: packing your suitcase. The following will list in detail everything you may need day-to-day when visiting Kauai to enjoy your vacation to the fullest. 
Kauai Packing List: Everyday Items 
You won't be spending your entire vacation to Kauai on the beach, so there are some everyday clothing items that you will want to have readily on hand for other exploring and tourist activities. When you pack clothes, these basics (apart from undergarments) include:
T-shirts
A t-shirt can be dressed up and down and are suitable for a wide variety of activities.
Loose-fitting tank-tops
They allow the breezes in and cool you down. 
Rain jacket
Rain gear is especially necessary if you plan to visit anytime during the high season between December and March, Kauai's rainy season. If you're planning to come during the dry season of April through November, you may not need a rain or light jacket, but it won't hurt to pack one just in case.
You might also enjoy this article: Best Lightweight Travel Jacket for Women – 16 Lightweight Women's Jackets
Jeans and a jacket. 
Sometimes it may get a little chilly at night—especially with the humidity, so bring along some jeans or a pair of long pants and a jacket to keep warm. 
Lightweight dresses
Hawaii is a casual place, so there is no need to bring along too many fancy clothes. The nice part about lightweight, cotton dresses is they can look as dressy or casual as you'd like depending on how you accessorize. They also can be tightly packed without you having to worry about wrinkling them.
High heels with a wedge
If you'd like to have a nice dinner date or night out, then pack a pair of high heels that will complement that simple dress you brought along. Make sure you don't have trouble balancing in them as the terrain can be uneven, and you don't want to be limited by your shoes, no matter how stylish. Wedge heels are ideal. 
Hiking shoes
It may be a relaxing vacation, but you will still be doing a lot of walking while you explore, so be sure to pack a pair of shoes that you will be comfortable walking in for extended lengths of time. These hiking shoes are neutral, and pretty and will serve you well, especially if you're planning to do a lot of walking on the north shore and its beautiful beaches and trails. 
Bath towel
If you're staying in a hotel, this probably won't be necessary, but if you stay in one of the charming locations listed here, you'll want to make sure you have some bath towels along just in case. 
Keep in mind that Hawaii is incredibly humid and warm. As such, make sure that the majority of your clothing is made from ultra-light and breathable fabrics like cotton or bamboo. That way, you will be super comfortable no matter your activity. 
Some once-in-a-lifetime Kauai activities you're going to want to book before your trip :
Kauai Packing List: Beach Essentials to Pack for a Kauai Vacation
Clearly, if you are planning to visit Kauai, one of the main appeals will be the water and some of the best beaches in the world. There are so many beach options to pick from, but one of the most popular (and easy to find) options with various activities—including kayaking, paddle boating, and swimming—is Hanalei Bay. 
Whether you choose Hanalei Bay or Ke'e beach for a snorkeling adventure, you should make sure to include the following beach essentials when you are packing—not just in your suitcase, but also for a day pack, backpack, or beach bag for your daily outdoor activities:
Beach Bag
Whether it's a day pack, a backpack, or a beach bag for your daily outdoor activities, you'll need a place to put all beach essentials.
Bathing Suit
This is a no-brainer and should be the first thing that goes into your suitcase. However, you should avoid relying on just one bathing suit for your entire trip because you want to give them a chance to dry out before you wear them again. Pack at least an extra pair. 
Rash Guard
Wearing a rash guard can help protect your skin from any cuts, chafing, or unnecessary burns that may happen if you forget to reapply your sunscreen so you can enjoy your water activities to the fullest.  
Beach towel
Who can resist relaxing in the sun in a paradise setting? Make sure to pack a beach towel to lie on and dry off without getting sand stuck to you.
Sandals/flip-flops
Not only are sandals great for the beach, so you don't have to worry about sand being stuck in your shoes forever, but they can also double as footwear for a casual and relaxing night in town for a bite to eat.
Swimsuit cover-up
If you're in an area with some shops or casual restaurants, there is no need to completely change out of your swimsuit if you're planning to come back. Just throw on a cover-up, slide on those flip-flops, and you'll be good to go. 
Reef safe sunscreen
The Hawaiian sun is powerful, so you want to make sure your skin is well protected, but you also want to make sure you are not wearing a sunscreen that won't harm the reefs and the wildlife that lives there. Take a look at some reef-safe sunscreens here. 
Water shoes
Although beautiful, the Hawaiian shore can have some unexpectedly sharp rocks. Bring along and wear some water shoes to keep your feet protected. 
*Note: Plastic bags have been banned on the island, so make sure you have a beach bag or other kind of reusable bag that can double as a purse and a place to carry all your necessities for the day. 
What to Pack (and Wear) for a Helicopter Ride in Kauai
One of the most popular activities on Kauai is a helicopter ride. Kauai has many areas that are hard to explore on foot due to the volcanic terrain. 
However, you don't need to miss out on seeing all the natural splendor just because you can't get there on foot. In fact, there are two different ride options: The "Doors Off Experience" for those who are a little more adventurous and the "Luxury Experience" for those who like to explore in style. 
BOOK YOUR HELICOPTER TOUR NOW – CHOOSE FROM ONE OF THE TOP KAUAI HELICOPTER TOURS -YOU WON'T REGRET IT!
As with any other activity, there are certain things you should pack and wear to make sure you have the most enjoyable (and safest) experience possible. In terms of clothes, wear the following:
Dark clothing
Generally speaking, when you are in Hawaii, your go-to will be light clothing, but for a helicopter ride, dark clothing is best for pictures. Dark clothing won't reflect against the helicopter windows and can create pictures that accurately commemorate the fun time you had, instead of being disappointing and of poor quality.  
Long-sleeved shirts
Long-sleeved shirts will not only help you avoid getting sunburned but will help shield your skin from windburn (especially important if you choose the Doors Off ride). 
Jeans
Jeans are comfortable and will help protect from wind and sunburn, as well.
Windbreaker
Even though you're in a tropical area, riding around for an hour or more, with the wind blowing on you, can get chilly. Wearing a windbreaker will help you stay comfortable. 
Sneakers or boots
For a lot of activities on the islands, comfortable sandals or flip-flops will work just fine. However, for helicopter rides, you want close-toed shoes (to avoid windburn) that can be tied to make sure they don't fall off your feet when the helicopter makes sudden turns. 
A lanyard
If you're planning to carry any loose items, such as a camera or sunglasses, you want to have them securely attached to something you can keep around your neck, wrist, or waist, so you don't have to worry about them falling out of the helicopter. 
Sunscreen
The Hawaiian sun is still bright even with the cool breeze coming in from flying. Protect your face with some sunscreen. 
Motion sickness pills
Those who have sensitive stomachs know how quickly a fun activity can be ruined because of motion sickness. Make sure to bring along some Dramamine to take before you board the helicopter, as well as mints or ginger candy to help alleviate any discomfort in case your stomach starts feeling upset during the ride. 
Hair ties
For those of us with long hair, having a hair tie or two along to pull back your hair is necessary. Who wants hair whipping in their eyes and mouth when they're trying to enjoy the view and the experience and the breeze? 
What to Pack (and Wear) for Hiking in Kauai
Among the many outdoor activities that Kauai has to offer is hiking. One exceptionally beautiful hike is the 11-mile Kalalau Trail which traverses by the water and through some rugged terrain. 
While there is much beautiful scenery to make this challenging hike worth it, it is best appreciated if you're in the right kind of clothing. With that in mind, if you want to take advantage of any of the beautiful hikes in Kauai, make sure to bring along the following: 
Hiking boots or all-terrain running shoes
Either of these shoe options will give your ankles the support they need as well as enough traction to help keep you safe on your hiking adventures through the variety of terrains you will encounter.
Sweat-wicking t-shirts and underwear
Yes, your sweat helps to keep you cool, but nobody wants to stew in their own sweat for an entire hike, not to mention the sores and chafing that having damp clothing rubbing against your skin for hours will cause.
Athletic socks
More breathable than your standard socks, they will allow your sweaty feet to dry more quickly while you are hiking. 
Breathable hats
Baseball caps can get hot, but without them you are in danger of getting sunburned, which can throw a damper on the rest of your vacation. A hat with mesh backing to allow for the breeze to help cool you off (or a sun visor) work great for an island hike.  
Capri leggings or workout shorts
Either of these options is excellent for ensuring that you are not inhibited in your movements and are comfortable for any length hike you embark upon. 
Kauai Packing List: Just in Case Items
Finally, we get to the part that we don't tend to think about: those items we never thought about until we needed them. 
You may not end up using some of the items on this list, but it is always better to be prepared and not need something than need something and not have it with you. That's why we're including these as part of our Kauai packing list. Your "just in case" items should include:
A first aid kit. With all the hiking, swimming, and overall adventuring you will be doing during your vacation, cuts, scrapes, and bruises are possible. Include a small first aid kit in your hiking bag or beach bag filled with Band-Aids, Neosporin, and some burn cream. 
A flashlight. Maybe you got a bit of a later start on your hiking trip, and it took longer than you anticipated. Make sure you can see your way along the path if it gets dark. 
Insect repellant. Those little guys thrive in tropical weather. Make sure you have some insect repellant to ward them off and keep the itching to a minimum. 
A water bottle. It's important to stay hydrated, especially when you're doing physical activities most of the day, so be sure to fill up and bring a water bottle with you on all your activities. 
Snacks. You will be expending a lot of energy and will need some high-protein snacks to carry along with you. Pack some trail mix with nuts and dried fruit. 
An umbrella or a poncho. The moisture-wicking clothing comes in handy for unexpected rainy situations, but it never hurts to have some backups to help keep dry. 
You might also enjoy :
Final Thoughts on Kauai Packing List
Vacationing on the island of Kauai is like getting a little slice of paradise.
There are so many activities to enjoy and natural beauty to appreciate. There are beautiful beaches with kayaking and snorkeling and so many vantage points to appreciate the stunning sunsets the island has to offer.
You might even want to take part in some challenging but rewarding hikes with stunning views and helicopter rides that enable you to appreciate the parts of the island impossible to get to on foot. 
With all that is available for you to do, it is essential to be prepared for any activity (and any unexpected rainy weather or chilliness that comes your way) and we hope this Kauai packing list was helpful to you.