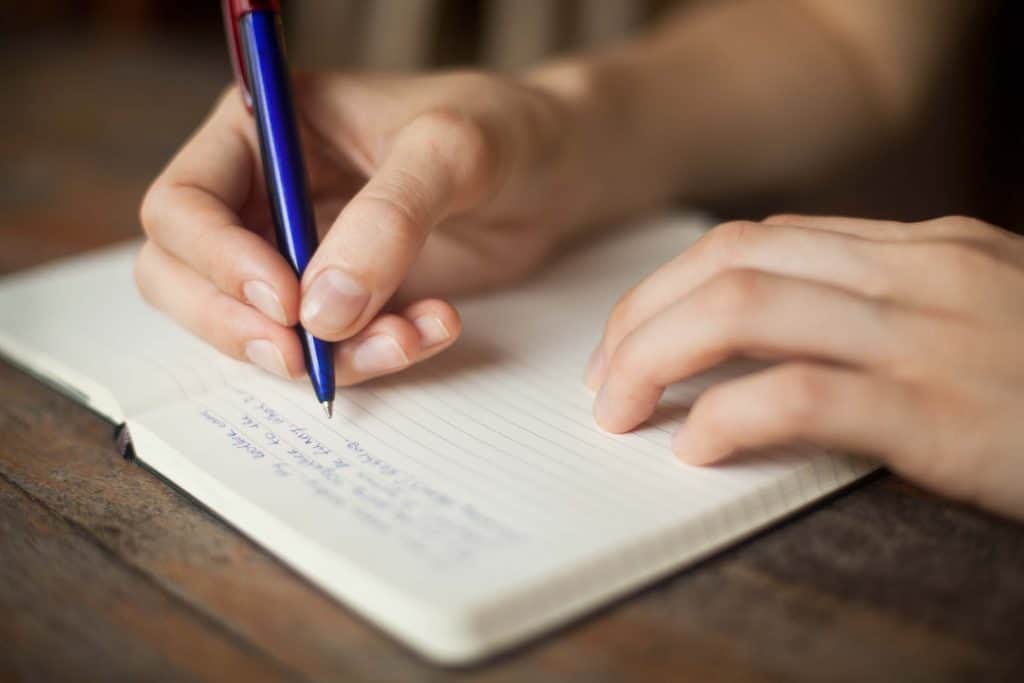 Journaling is a powerful tool that can help you grow as an individual. It allows you to explore your thoughts and feelings; it helps create awareness of what is going on in your life and how you feel about it. Journaling and using daily journal prompts also provide the opportunity for reflection, which enables us to make changes or improvements. 
Maybe you feel like journaling just isn't working for you anymore; perhaps you've done it for a while, but you're not feeling inspired?
This blog post will provide some ideas for daily journal prompts that you can use when you're looking to prioritize personal growth and increase your gratitude.
You might also enjoy : 25 Self Care Sunday Ideas
What are Journal Prompts?
Journal prompts are a way to explore your thoughts and emotions. They can help you get in touch with what's going on inside you and bring awareness to any feelings or patterns that may be difficult to identify through introspection alone.
What Are Journaling Prompts Used For?
Journaling prompts are used for many different purposes; one of the most common is to help with personal growth. Some journal prompts may be geared more towards this purpose than others, and it's important to introduce things that you want to work on or change in your life. One could also use journaling as a way of tracking their moods. 
How to Start Writing in a Journal Every Day
When starting to write in a journal, the important thing is to keep it simple and not put too much pressure on yourself.
To start journaling, you might want to write a few sentences about the day that just ended or what happened the day before if you're journaling in the morning. Write down what happened and how you felt at different points during the day. If there were significant events or changes in your schedule, note those as well.
Then, you can start journaling in a more open-ended manner, expressing any thoughts or feelings that are coming up for you.
A great way to get started with journal prompts is by asking yourself what is currently going on in your life and how these changes might affect the person you want to become.
You might also enjoy : 13 Types of Journaling for different writing journal Styles
How to start journaling with daily prompts?
You can start journaling by writing a quick prompt at the top of your page. If you're looking for something more in-depth or want to work on a specific area of your life, many different prompts can be used. 
Here's an example: Who do I like spending time with? What activities do we enjoy together?
Following is a complete list of daily prompts you can use or get inspired from. Check out this PDF for easy access to the list. 
What Is the Best Daily Journal?
If you want to start journaling, it is best to have a journal or notebook that can be used specifically for this purpose. There are many different ways of how one might choose a journal.
The best daily journal to use is the one that you will actually write in.
Different types of journals include :
-Pocket journal: small enough to fit in your pocket, so it is easy to carry around.  Many of these journals are made from leather or some other type of durable material that will last for years.
-Personal journal with a ribbon bookmark: this kind of journal can have any number of pages inside and may be a perfect choice.
If you are looking for a journal designed specifically to keep your thoughts organized and on track, then the best journal may be one of these types: Blank books, journals with lined paper, or notebooks.
You can even find journals that already come with prompts in them.
What Are Some Tips for Journaling?
Write in a journal with pen and paper, not your phone or laptop. 
Make time every day to journal so that you don't let days go by without getting something out on paper. 
Make a goal for journaling: write down what you want to achieve by the end of your journal session.  Do that every day and see how much clearer things seem when you're done.
Make the journal your own – decorate it, be creative with the cover.
Choose a pen or pencil that you enjoy writing with and use it every time.
Consider what topics are important for you right now in your life.
Some Examples of Daily Journal Prompts for Personal Growth Are :
What do I like about myself?
What is one thing that would make me feel happier and more content with myself right now?
Who am I without my job or the people in my life that I depend on to be happy?
What Are Some Daily Prompts for Journaling That One Can Use Every Day?
What does my day look like?
Was there anything I did today that made me happy or helped someone else be happy?
What do I like about myself?
Is there something about today that excites me?
What would make today great?
Journal Prompts to Grow as an Individual   :
Journaling can be beneficial in helping one grow as an individual. By writing down your thoughts, you can see what you were thinking and how that affects others. It even helps people deal with struggles they may face in life by being more aware.
What do I like about myself?
Who am I without my job or the people in my life that depend on me for happiness?
What am I grateful for?
How can I make my day better and happier?
What Are Some Journal Prompts for Gratitude?
Journaling for gratitude is a great way to make you feel better and have more optimism.
What does it mean to be content?
What am I grateful for today, and why?
Who or what makes me happy in my life right now?
What would I like to be different about myself?
Who am I at my best, and who am I when others are not watching me?
Create a daily list of everything that makes you happy or grateful.
What Are Some Good Journaling Prompts for Mental Illness?
A journal is a great place to write down your thoughts, emotions, and ideas. If you're struggling with mental health, it can be difficult to know what to say in your journal or how to keep writing when things get tough. Here are some journal prompts that you might find helpful :
What does it feel like to have this mental illness?
How has mental health negatively impacted my life?
Why are my current struggles?
How has journaling helped me learn about myself?
What do I want to change about myself in the future?
How can journaling help me with my goals?
What are feelings or thoughts that are hard for me to articulate, either internally or externally?
Other Journal Prompts That You Could Use Are :
What is my role in the world?
What would I give up for a week to improve my mood or outlook on life?
Write about what is going well in your life.
Reflect on the past 24 hours and write down three things that went well or were positive events.
What are some words that describe who you want to become?
In what ways am I being true to myself and living authentically?
What is one thing you are grateful for today?
What did you learn about yourself today? 
How can you make tomorrow better than today?
What are your goals for this year, and what steps will you take to accomplish them?
Write down three things that made you happy today (could be anything)
Make a list of goals for the next week.
Write down one goal that is a stretch and some steps to try to make it happen.
What are three things you can do each day this week that will bring more joy into your life?
Create a list of ten affirmations related to what you want in life. 
Describe an ideal week.
What words best describe you?
Would you be happy if you never had to worry about money again?
What are your favorite three words in the English language?
If tomorrow was your last day, how would you live today?
Think about one thing that is going really well in your life.
Describe a time in your life when you were really happy.
Write down three people or three things for which you are grateful this week. What do these have to do with the theme of gratitude?
Write about one good thing you did today.
What is your favorite book, and why?
What is your favorite song, and why?
In the past month, what were your major accomplishments? What are the next steps to accomplish them? How do they contribute towards your goals or who you want to become in life?
What is one thing that makes you unhappy about yourself, and how can you change it?
If you could have one wish granted, what would it be and why?
What are the three most important things in your life and why?
What ideas would you like to implement in the future?
Do you think journaling can offer benefits for other areas in your life?
What would you like to accomplish with your journaling practice?
Describe the perfect morning routine.
Who influences you the most and how?
How Do You Know if Journaling is Working For You?
To know if journaling is working, your journal prompts should be varied from day to day. It's important not to stick with the same question every time because it might end up feeling redundant and you won't get to explore different thoughts and feelings you may be experiencing.
Final Thoughts on Daily Journal Prompts
I hope this list of journal prompts has been helpful. Whether you're looking to get more out of your daily life or want some assistance with gratitude and personal growth, these journaling ideas should help. Don't forget that the PDF includes a full set of 67 different writing prompts for all levels!
Happy Journaling 🙂