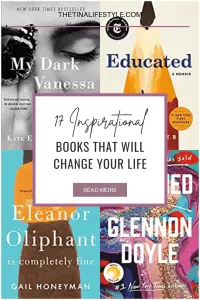 Women have the potential to achieve anything. However, sometimes we need some inspiration to remind us what we are capable of. That is why we turn to the literary world and inspirational books for women that showcase strong, positive thinking women to motivate us to recognize our strength and become the best version of ourselves. 
There are thousands of inspirational books from bestselling authors to choose from, so how do you decide where to start? I have been on a quest to read more books lately, and I am ready to share what I've found! Here is my list of the 16 best motivational books for women to read. From memoirs to fictional pieces, I'm sure there's something on this list you are sure to love. 
This post contains some affiliate links. If you click on the product links and make a purchase it allows me to make a small commission at no extra cost to you! In return, it helps me in maintaining this site to continue to help you!
You might also enjoy: 20 Best Books on Self Improvement You Need to Read
You might also enjoy: Best 14 Manifestation Books: Make Your Dreams Reality
Modern Day Novels with Strong Messages
Sometimes, we relate best to characters living in the same society we must face every day. They display our current struggles and show us how to overcome them. Here are a few good novels set-in modern-day times with messages that really resonated with me. I'm sure they will resonate with you. 
My Dark Vanessa by Kate Elizabeth Russell 
My Dark Vanessa is a New York times psychological fiction bestseller by a writer from Portland, Oregon named Kate Elizabeth Russel. 
The book is about a young, 15-year-old girl who becomes involved in an affair with her much older English teacher. Years later, a former student accuses the teacher of sexual assault in the past, and Vanessa must come to terms with the realization that the man she thought she loved may have been manipulating and using her. 
"Hide all you want, but the truth will always find you." The main message Russell is trying to get across is that sometimes we create narratives within our minds to help us survive what is happening around us. However, no matter how much we want them to be true, they never will be. Abuse will always be abuse.
You should never excuse the men in your life that hurt you. Stand up for yourself and know that the narrative you have created to make it all better is not the only solution to your pain. Your story matters. 
Eleanor Oliphant Is Completely Fine by Gail Honeyman 
Eleanor Oliphant Is Completely Fine is an uplifting tale and debut novel of Scottish writer Gail Honeyman in the romance/ psychological fiction genre. The main character Eleanor is a quirky finance clerk in her 30's who tends to say whatever comes to her mind. As a result, she does not fit in well with society and spends most of her time alone. 
However, one day she wins tickets to a concert and ends up falling in love with a musician. She then starts a series of self-improvements to win him over, but the story takes a turn when she and the IT guy from her office team up to save the life of an elderly gentleman. From then on, she starts to transform from a life of loneliness to a life filled with friends and fun. 
What makes this one of the books every woman should read in her 30s is Eleanor's ability to completely change her life around that age. She needed some help, of course, stating, "I simply didn't know how to make things better. I could not solve the puzzle of me." However, she was able to do it. 
This book shows how trauma endures, even years later, and the impact embarrassment can have on a person. However, once you embrace your pain and stop denying you feel it, you can truly begin to heal. 
The Best Inspirational Fiction Books 
Sometimes, fictional stories resonate more with us than true accounts. They are able to capture characters that represent a wide range of people. As a result, we end up seeing ourselves within these characters and realizing our own need for healing or change. 
If that is the case for you, here are some of the most inspirational fiction books to inspire women. All of these books happen to be set back in time but are sure to keep you engaged and leave you contemplating your own personal life. 
The Agony of Bun O'Keefe by Heather Smith 
Originally from Newfoundland, Heather Smith gives us this young adult, fictional book known as The Agony of Bun O'Keefe. 
Bun, the main character of this book, has lived a very cruel, sheltered life. She faces unknown abuse from her mother on a day-to-day basis. 
One day when she is just fourteen years old in 1986 Newfoundland, she leaves home and meets Busker Boy. From there, Bun is taken in by a group of misfits who soon become her new family. As a result, she begins to uncover the truth about just how abusive her home life really was. 
"We're all damaged, in a way. But it's nothing that can't be fixed. You just have to kick out the dents from the inside."
I think this quote accurately sums up what Smith is trying to portray throughout her novel, which is arguably one of the most empowering books for women. People inflict small and large cruelties on one another, but people can also help us heal from these cruelties. It is all about realizing that you are never broken past repair. 
At any point in life, you can choose to forgive those who hurt you and begin your healing process. 
American Dirt by Jeanine Cummins 
Bestselling author Jeanine Cummins gives us the historical fiction piece known as American Dirt, which portrays the struggles immigrants fleeing from violence face. 
This international story starts in Mexico with Lydia, her husband, and their son Luca. When a drug cartel takes over the city, and Lydia's husband publishes an article about it, Lydia and Luca are forced to run to the United States for safety. They then have to question what exactly they are running to, though. 
"Trauma waits for stillness. Lydia feels like a cracked egg, and she doesn't know if she's the shell or the yolk or the white. She is scrambled." 
Cummins uses Lydia as a way to portray how resilient and strong women can be. In a world where everything is against you, you must do what it takes to fight back and survive. 
Where the Crawdads Sing by Delia Owens 
Zoologist Delia Owen's debut novel, Where the Crawdads Sing, is part crime drama, part bildungsroman. This coming-of-age novel deals with a variety of themes such as:
Education
Human connection
Independence
Survival
Kya Clark, the main character, is a naturalist who takes life lessons from the land, but as a result, does not fit into society very well.  However, she is drawn into society by two young men in the town and starts to learn more about what it's like to live with others. One day though, a popular town local is found dead, and the townsfolk accuse her of murder since she is the outsider.
A powerful quote in this book is, "How much do you trade to defeat loneliness?" How much are you willing to give up about yourself to make the people around you like you?
We learn from Kya the beauties and downfalls of society and the effects isolation has on a young woman. We also learn to trust the child within us. This thought-provoking mystery will keep you staying up late trying to figure it all out. 
Inspirational Books for Black Women
Unfortunately, in today's world, women of color still face challenges other women do not. However, there are some amazing, strong black women facing those challenges head-on and overcoming them.
Here are a few books written by amazing black women that I highly recommend to inspire you to take on the world and live the life you want to live. They detail out how there will be fears, and there will be obstacles, but you are capable of overcoming everything life throws your way. 
From Excuses to Excursions by Gloria Atanmo 
One of the most inspirational books for black women, From Excuses to Excursions, is about how Gloria Atanmo took her dreams and made them a reality despite her financial situation. She lays out her journey to a creative life and in becoming a travel blogger and the struggles of traveling alone as a black woman. 
Her personal narrative about travel is broken up into four sections.
The Dream
The Journey
The Adventure
The Destination
In her book, she says, "Do what you love despite what your wallet might suggest. Money is an illusion. It comes and goes. There's always money to be made and money to be paid. Don't waste your life stressing over either." 
Essentially, what Gloria stresses is the importance of discovering your purpose in life. You journey with her through her struggles and victories as she travels around the world with only pennies to her name. 
The Year of Yes by Shonda Rhimes 
The Year of Yes is one of the best motivational books for women who suffer from anxiety. Shonda Rhimes wrote this memoir to detail out how she had always been an introvert, despite being famous for creating and producing very popular tv shows such as:
Grey's anatomy
How to Get Away with Murder
Scandal
Rhimes explains how she would avoid having to be in the spotlight at all costs, despite creating such bold and spotlight-loving characters. That all changed when she decided to say yes to everything in her personal and professional life that scared her. The result was her embracing her truest self and finally being able to get out of the house without overwhelming anxiety.
This book is not only empowering to other black women but women of every color. Rhimes informs us that having money is not the same as having self-love. No matter how successful you may be in your career, you will never be truly happy until you learn to love yourself. 
"If I don't poke my head out of my shell and show people who I am, all anyone will ever think I am is my shell." 
Rhimes teaches us to say yes to accept love from others, for our weight and real friendships and being okay with saying no to toxic people and using our voice.
Best Inspirational Books for Women
Seeing that someone else was able to overcome their self-doubt and challenges may just be what we need to overcome ours. These captivating true stories of women with different backstories could be just the thing you need to start to make changes in your own life. If they could face the obstacles standing in front of them, your own person can too!  
You are capable of living the life you want to live and overcoming self-doubt. Never let your current situation, your own story, or anyone in your life convince you otherwise. 
Breaking Trail by Fran Hurcomb
As one of the best inspirational books for women, Breaking Trail consists of fourteen semi-autobiographical short stories written by Fran Hurcomb. Hurcomb is more commonly known for her photography and children's books but steps out of her comfort zone to give us this idea of what it was like in Yellowknife in the mid-'70s. 
Within these stories, Hurcomb recalls a simpler time when people didn't care as much about what you did. 
She recalls how "you feel like you're flying" as you glide across the snow with such loyal dogs. Other topics she writes about are:
Building a log cabin
Her time in the bush
Training dog teams
Trapping
All these adventurous stories of the north are told from a woman's perspective. A perspective that is not often used when referring to adventures in the old days. 
What makes this one of the best books for women to read is that it tells how women accomplished things in the past, even if they were not always given credit for it. It empowers women today to share their stories and revel in their own accomplishments.
Educated by Tara Westover 
One of the most inspiring memoirs for anyone to read, Educated by historian Tara Westover, is easily one of the top 10 books every woman should read. 
Throughout her memoir, Westover talks about her childhood growing up with survivalist parents who had isolated her from the outside world. She then accounts how she began to educate herself in order to break free of that life and pursue her own dreams. From having no formal education to being admitted to Brigham Young University and then Harvard and Cambridge, Westover shows the power true determination can have. 
Within her memoir, Westover says how "It's strange how you give the people you love so much power over you." This coming-of-age tale highlights the need to do what you want to do with your life and not let anyone stand in your way. Not even the ones you love the most. 
Untamed by Glennon Doyle 
Debuting at number one on the New York Times nonfiction bestseller list, Untamed by Together Rising President Glennon Doyle serves as a wake-up call to all women. 
I have reviewed this book before but feel the need to talk about it again due to its lasting impact on me. Throughout the memoir, Doyle talks about different points in her life that taught her important things. From her visit to a relationship therapist to her struggle with alcoholism, she lays her struggles out for all of us to see and learn from.
"You are here to decide if your life, relationships, and world are true and beautiful enough for you. And if they are not and you dare to admit they are not, you must decide if you have the guts, the right – perhaps even the duty – to burn to the ground that which is not true and beautiful enough and get started building what is."
Doyle teaches how to live our lives unapologetically. She touches on multiple social issues, explaining that we do not always have to do what is expected of us. We can do what makes us happy. 
Eat Pray Love by Elizabeth Gilbert 
American novelist Elizabeth Gilbert gave us this wonderful self-discovery memoir known as Eat Pray Love and will inspire you to say 'why not me' when it comes to going on a journey of self-discovery. 
Gilbert details out her early midlife crisis at the age of thirty. She realized she wasn't happy although she had all the ingredients to what society has deemed will make you happy, like:
A house
A husband
A successful career
Yet, she found herself depressed and confused. She ended up going through a divorce along with other life-crushing events. As a result, she decided to make a drastic change to her life by:
Getting rid of all her belongings
Going on a yearlong journey around the world
Quitting her job
The book is broken up into three different places she visited to better understand herself. 
Rome to learn the art of pleasure
India to learn the art of devotion
Bali to learn the art of balance
"Your emotions are the slaves to your thoughts, and you are the slave to your emotions." 
Gilbert shows us how to claim responsibility for our own happiness. Do not let your emotions be dependent on anybody but you. Live the life you want, not the life society has demanded of you. 
You might also enjoy: 30 Movies Like Eat Pray Love
Best Motivational Books for Women
Sometimes we feel the need to make a change in our lives but lack the motivation to do so. Sometimes though, we don't even realize that there are more changes to be made than we previously were aware of. That is where these sorts of books come into play.
This list of books gives advice on how to start making those changes so that they don't feel so impossible to do. They give you a step-by-step path to help you realize your full potential and help you reach it.
We all deserve to live our best possible lives; here are a few ways to get there. 
The Path Made Clear by Oprah Winfrey 
As one of America's favourite tv hosts, Oprah Winfrey published The Path Made Clear, which instantly became one of the most inspirational books for women in their 20s. 
Oprah details three important lessons to help you lead a life of significance and success. 
Everyone has a purpose in life, so listen close to yourself to figure out what it is.
It's okay to be afraid when discovering your dreams. It's part of the journey.
Whether you are true to yourself is the only way to measure your success in life.
"You are not your circumstances. You are your possibilities." 
Essentially, what Oprah lays out in this self-help book is how to discover your calling and then follow it. The sooner you figure out who you are meant to be in life, the sooner you can work towards becoming the best, happiest version of yourself. The sooner you become your true version. 
Lean In by Sheryl Sandberg 
Former chief operating officer of Facebook, Sheryl Sandberg, reignites the conversation about women in the workplace with her self-help book titled Lean In. 
The whole point of the book is to show you how you may be holding yourself back in your career and how to stop doing that. Sandberg goes through a step-by-step process to lay out how you can combine personal fulfillment with professional achievement. 
"What would you do if you weren't afraid?" A simple question that can spark change within women. Know your worth and take the chances you are given to succeed not only in the workplace but also in life. 
Books Every Woman Should Read
These two books fall under different genres but are sure to stick with you for a long time. After reading these pieces as a young women, I was able to feel like I was not alone in my endeavours. I hope they have the same effect on all of you. 
Tiny Beautiful Little Things by Cheryl Strayed 
Cheryl Strayed, better known as Sugar from her advice column "Dear Sugar," compiles all her advice columns into one magnificent self-help book, Tiny Beautiful Little Things. She tackles all of life's hardest questions from her readers, giving women one of the most motivational books to this day. 
From what to do when a lover cheats on you to how to pay the bills, the plethora of columns answer every question you might have. They even tackle how to handle successes in life, like getting a new job. 
As you read through, you just might find the advice you need to not feel alone in your successes and failures. Advice like, "don't surrender all your joy for an idea you used to have about yourself that isn't true anymore." 
Essentially, what Strayed gets across is that you have the power to change your life for the better; it is all in how you view the little things. 
Milk and Honey by Rupi Kaur 
Rupi Kaur is arguably known as the writer of the decade for her collection of poetry dealing with survival in the book Milk and Honey. 
Her book of poems is divided into four chapters: 
Hurting
Loving
Breaking
Healing
Each poem deals with a different theme such as:
Abuse
Connections
Family
Personal power
Silence
Womanhood
Kaur dives into how to deal with trauma and what society expects of you. She shows how women are silenced and essentially encourages women to speak out against their oppressors. 
She also shows just how difficult it is to realize your self-worth and love yourself in her lines:
"trying to convince myself
i am allowed
to take up space
is like writing with
my left hand
when i was born
to use my right"
From her raw and powerful words, we can feel her emotions and desire for self-love. From there, we can begin to feel our own need for change as well and maybe start our journey to becoming a version of ourselves that we love.
Other Inspirational Books for Women
The Happiness Project by Gretchen Rubin
In The Happiness Project, Gretchen Rubin embarks on a year-long quest to improve her life. She keeps a Happiness Project Journal in which she records her progress and shares her insights with readers.
Throughout the course of the book, Rubin covers a wide range of topics related to happiness, including goal setting, decision making, time management, and overcoming procrastination. In each chapter, she draws on research from psychology and other disciplines to provide practical tips for putting her own happiness project into action.
Along the way, she discovers that the key to lasting happiness is not about having more or doing more; it's about appreciating the simple joys of everyday life. The Happiness Project is an inspiring and practical guide for anyone who wants to find more happiness in their life.
The Life-Changing Magic of Tidying Up by Marie Kondo
The Life-Changing Magic of Tidying Up by Marie Kondo is a best-selling book that has sparked a movement of decluttering and simplifying one's home.
The KonMari Method, as it is called, relies on the philosophy that by surrounding oneself with only things that bring joy, one can create a peaceful and harmonious living space. The method involves decluttering by category, rather than by location, and stresses the importance of thanking items for their service before letting them go.
While the KonMari Method may seem like a radical way to live, many people have found that it has transformed their lives in a positive way. By decluttering their homes, they have been able to let go of baggage from the past and make room for new experiences.
As a result, they have found themselves more productive, more creative, and overall happier. If you are feeling bogged down by possessions that no longer bring you joy, perhaps it is time to give the KonMari Method a try.
Final Thoughts on Inspirational Books for Women
The books we read have the power to change our lives. As women, we often face stereotypes and glass ceilings on the daily. We feel the need to be what society has deemed acceptable of us. It is time to break free, though.
These inspiring and motivational books from women who changed their lives for the better deal with a range of societal issues. From dealing with trauma to overcoming anxiety, there is sure to be a message within one of these books that will spark a change in you. 
We encourage you to pursue living life as these women have done and to go after the awesome life you've always desired!