There are so many benefits to reading. It's a way to escape, gain knowledge, and improve your mind and mental health. I've prioritized reading over the last few years, but with the pandemic and having to spend more time isolating at home this year, reading has taken on another life of its own. If you want to up your reading game, I'm confident you'll find these 12 easy ways to read more books very helpful.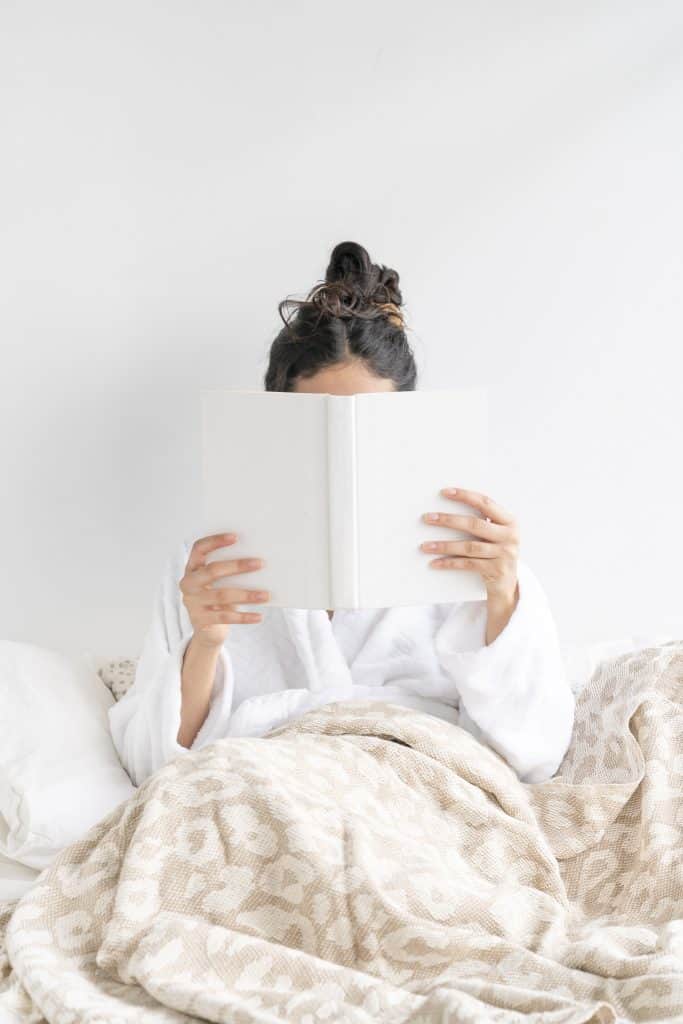 How To Read More Books: 12 Easy Ways
This post contains some affiliate links. If you click on the product links and make a purchase it allows me to make a small commission at no extra cost to you! In return, it helps me in maintaining this site to continue to help you!
1. Read multiple books at a time.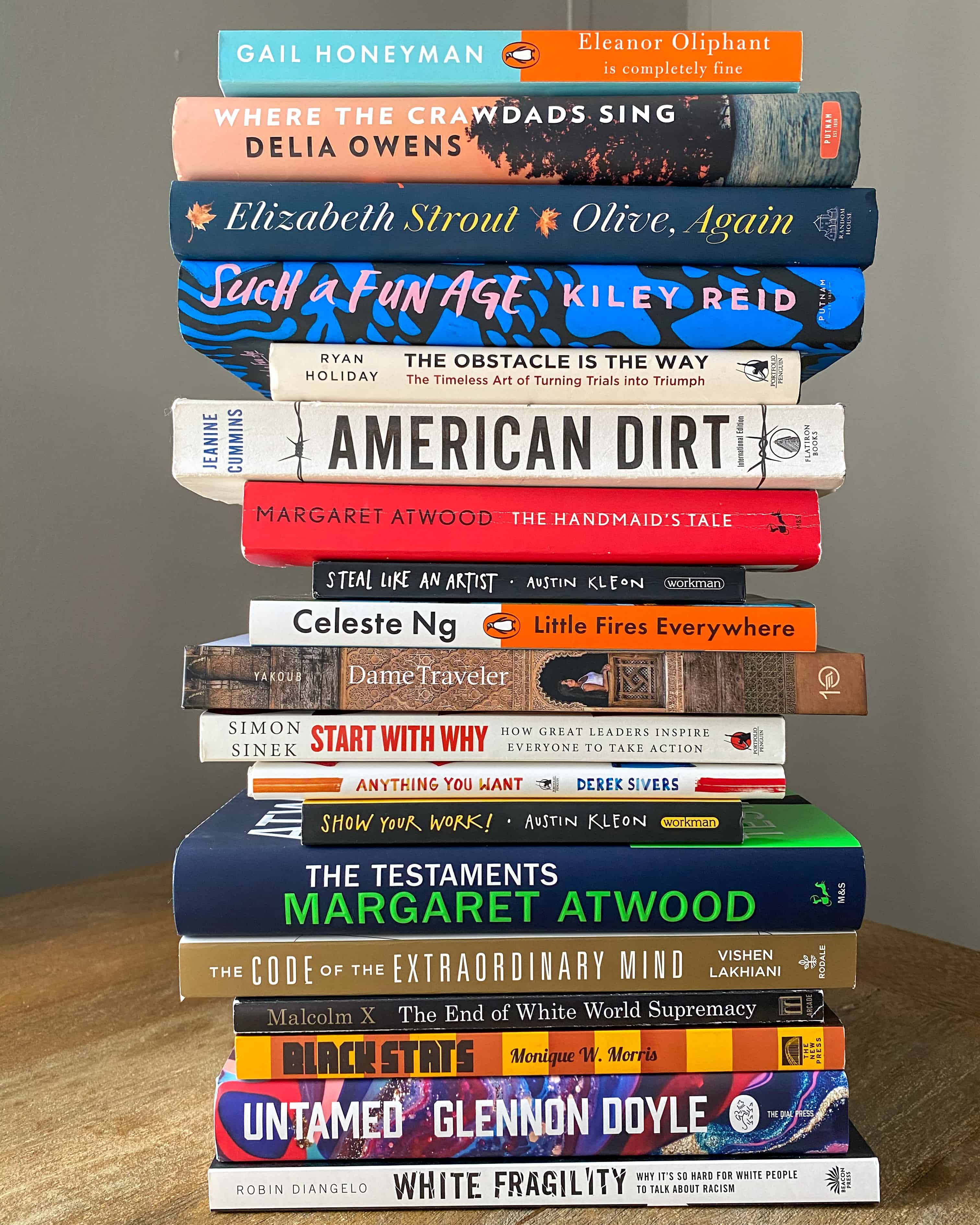 It might sound crazy to read multiple books simultaneously, but it's easier than you might think. I usually have three books going at a time. One hard copy, one I'm listening to on Audible and one that I'm reading on my Kindle Paperwhite. The key is to have them be different styles and genres from each other. You might have one that's more self-development, another one that's Fiction and another that's more of a Memoir or how-to type book. That way, it doesn't affect the reading or get confusing when going from one book to another.
You might also enjoy : 19 Books To Read This Year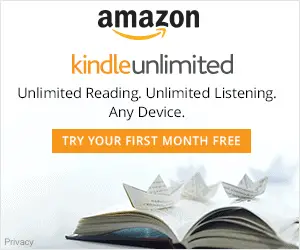 2. Set a reading goal per day.
At the beginning of the week, I'll give myself an objective for one or all of the books I'm reading. For example, I might set a goal of reading a chapter a day. The important thing is to be realistic with how much you can and will read every day. It's not about how many pages you can read every day, but ensuring you are reading some pages every day and keeping the momentum going.
When I open a book for the first time, I like to see how it is divided. I look to see if the chapters are short or more on the longer side or there are sections within the different chapters.
I find that setting a goal and feeling like I'm hitting a milestone every day, whether it'd be a chapter or a section, or just a page a day is helpful.
3. Dedicate a time for reading every day. 
Once you've set a daily reading goal, it's important to find time in your schedule that you dedicate daily to reading. I find it helpful if it's part of a routine. For example, I dedicate time to reading every morning as part of my morning routine. I also read every night before bed. I'm usually able to meet my reading goals every day between those two times in the day.
You might also enjoy : 6 tools to add to your morning routine
4. Have your book with you at all times.
You never know when you might have time to spare, be waiting for an appointment or have time to read a few pages. It's good to carry your book with you if there is an unexpected time throughout the day that you could read a few pages. Over time, it adds up. If you have an e-reader (highly recommend it, check out #5), it's even easier to carry around.
5. Get a reading tablet.
For years I refused even to consider buying a reading tablet. I love having a bookshelf and holding hard copies of a book.
I caved on buying the Kindle Paperwhite after watching a review from Ali Abdaal on Youtube and finding out that you can highlight sections you like or things you want to return to later (game changer!). It's waterproof (suitable for reading in the bath!), super thin and light. The battery life lasts weeks, and it offers built-in adjustable light that lets you read indoors and outdoors, day and night, which has been very useful when I can't sleep in the middle of the night, and I want to read without turning the lights on. Grab yours here.
Because of how compact it is, you could easily have it in the bag you carry with you daily and have it at the ready if you're ever waiting in line or have a free moment.
6. Listen to your book when doing other things.
I love audiobooks because you can listen to your book when you're in the car, walking to work, walking your dog, or doing chores. It's unbelievable how all those little moments add up, and next thing you know, you will have finished a book in no time.
By the way, if you don't have Apple Airpods yet, I urge you to consider getting some. I have them with me at all times, and whenever there's an opportunity to put them on, I take it to listen to my audiobook.
Listen to your books on Audible. You can get two free books with a 30-day trial by clicking here.
7. Listen to your Audiobook on double speed.
I love the ability to increase the speed of my audiobook. Depending on what kind of book you're listening to and how focused you want to be, you may want to consider adjusting the speed to x1.5 or x2.  I usually save my fiction type of books for audio, which makes it easier to listen at a faster speed. You'll be amazed at how quickly you can listen to a book when on double speed, especially when doing other things like walking your dog, cooking, cleaning, in the car, etc.
8. It's okay not to finish a book.
Life's too short. If you're not enjoying the book you're reading; you don't have to finish it. If you're not feeling the book you're reading and it's making you less excited about reading, don't finish it. This is hard for me too. I always worry that I might miss out, maybe it'll get better if I keep going. What ends up happening when we do that is that next thing you know, we've lost complete interest in reading, and we're now reading a lot fewer books.
9. Read instead of scrolling.
It happens to the best of us – we open the Instagram app just to see what's going on for a few minutes, and next thing you know, you've been scrolling for half an hour, maybe (probably a lot longer). And more often than not, this happens a few times a day.
Imagine all the pages you could've read in that same amount of time. When I want to spend some time reading, I'll try leaving my phone in another room, that way I don't unconsciously grab my phone and start mindlessly scrolling. When I'm ready for bed, and as part of my morning routine, I started leaving my phone in the kitchen. This has allowed me to dedicate more time to reading.
10. Find a book club that you like.
I started following a few book club accounts at the beginning of the year to get book recommendations. It's been great. It's like having reading buddies online.
I have personally really been enjoying Reese Witherspoon's Book Club and World of Wanderlust's Brooke Saward's Book Club. There hasn't been a book they have recommended that I have read that I didn't enjoy.
11. Utilize Goodreads.
Goodreads is an excellent resource for readers to search for books and read reviews. My favourite feature is the ability to have a place that tracks all the books you've read. As you start a new book, you can also add it to your library and track your progress. There's also a Friends feature where you can see what they are reading and get ideas from them.
12. Have your next book ready.
Keep a list of all the book recommendations you're coming across. You could add them to your 'Want to read' Goodreads list, or to your wishlist of your favourite book provider's website. If you're following book clubs on Instagram or book reviewers or people that tend to recommend books, you can use the save feature and create a Book recommendation folder for future reference.
I usually have 2-3 books in the queue at home in my bookshelf, waiting for me to pick them up. I like having a couple of options to choose from at my disposal as soon as I'm done reading a book.
Pin this post for later :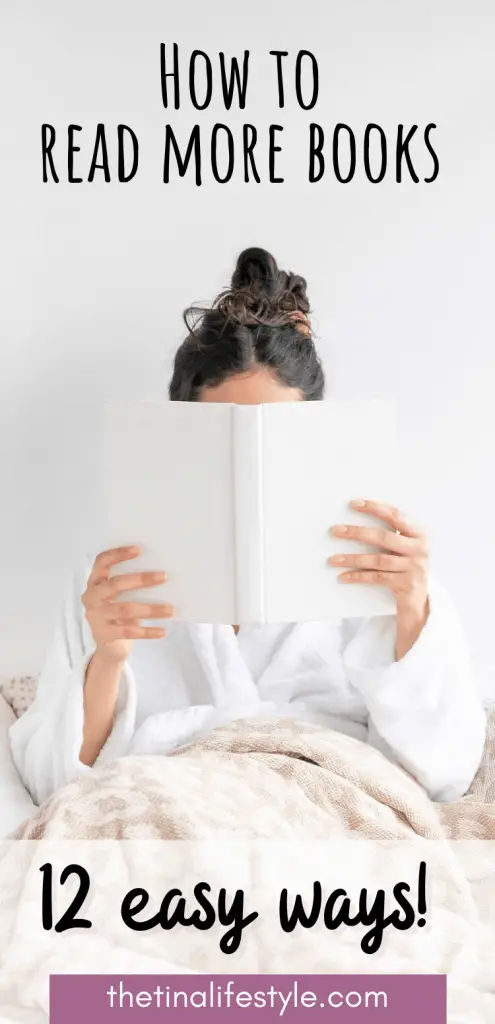 Final thoughts
We all have busy lives, and it can sometimes be tough to try and find more time. I hope you got some inspiration from this list that I'm hoping you might incorporate into your day to day routine.
You might also enjoy :
6 tools to add to your morning routine
Untamed by Glennon Doyle Book Review
Steal Like an Artist by Austin Kleon Book Review
Anything You Want by Derek Sivers Book Review