Not only is London one of the most well-known cities in the world, but it is also a place that is equally rich in history and ambiance. People from across the globe visit to see the places that they have read and only dreamed about. That is what makes London so fascinating. If you are ready to dive into this world-class city, make sure you add some of the following 25 hidden London gems to your itinerary.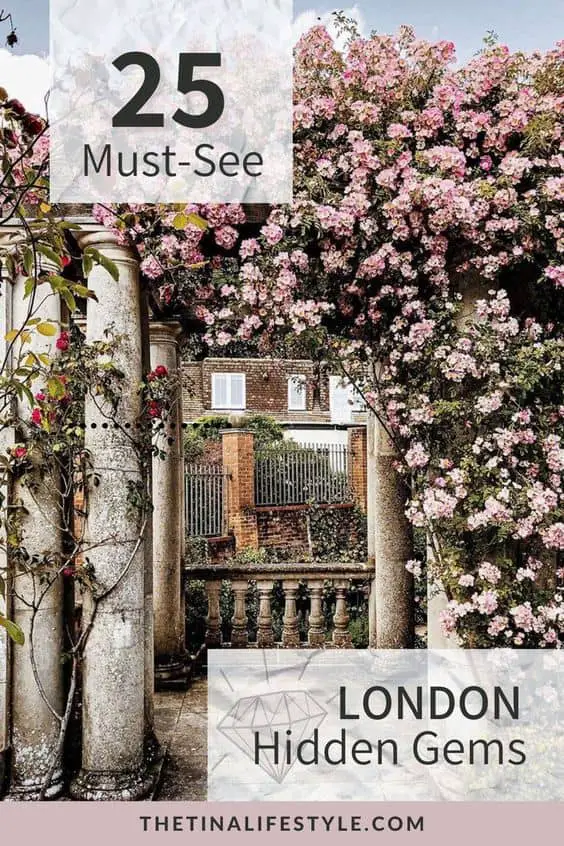 25 Hidden London Gems 
While everyone seems to know about Buckingham Palace, Big Ben, and the London Eye, there is so much more to this city that you maybe want to see. It is time to get off the beaten path and see the parts of London that many tourists never have the privilege of seeing. This is how you can truly experience this European capital in all of its glitz and glory. 
Among this great long list of hidden London gems, you'll get to read about some of our favorite travel blogger's favorite hidden London gems. 
Isabella Plantation: A Hidden Oasis with Acres of Garden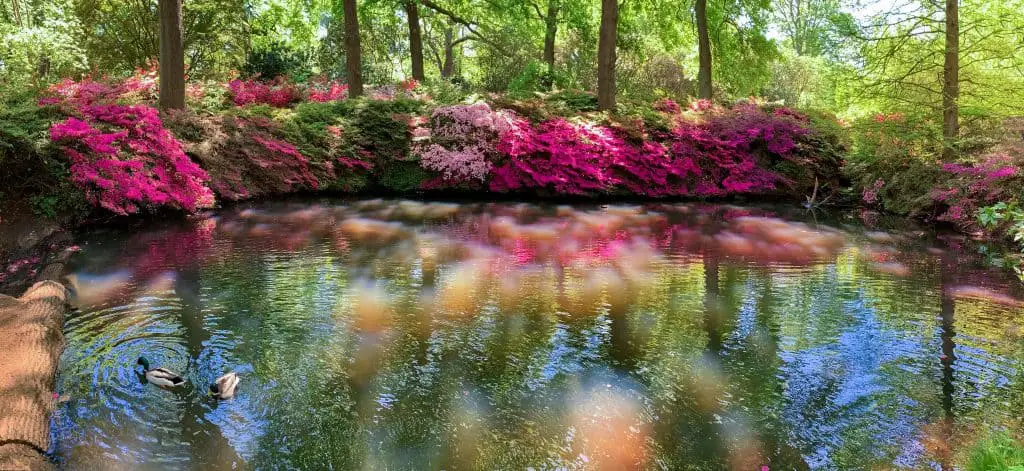 Bucking the notion that London is all about gray skies with lots of rain, Isabella Plantation is a hidden oasis amid an urban jungle and one of our most beautiful hidden London gems. This is 40 acres of garden greens where adults and children alike can spend an entire day and wonder where the time went. 
The Isabella Plantation is located on an original Victorian plantation site that dates back to the 1830s. The grounds, complete with lush evergreen azaleas, were first opened to the public back in 1953.  One of the best times to visit this hidden London gem is the last few weeks of April and the first part of May. That is when most of the flowers are in full bloom. 
One of the plantation's unique parts is the collection of rare and exotic trees and plants that dot its landscape. Because of the lush greenery throughout, this location is also home to a number of rare birds, insects and bats.
 This all combines to make it one of London's secret places that you must see in order to believe. 
Visitors will find much to do and see at Isabella Plantation. There are food and drink venues, various habitat exhibits, and several hiking trails. Many enjoy the free guided walk that is offered at various times of the month. You can check the website for more details. 
The Crossness Victorian Pumping Station
By Joanna Davis from The World in My Pocket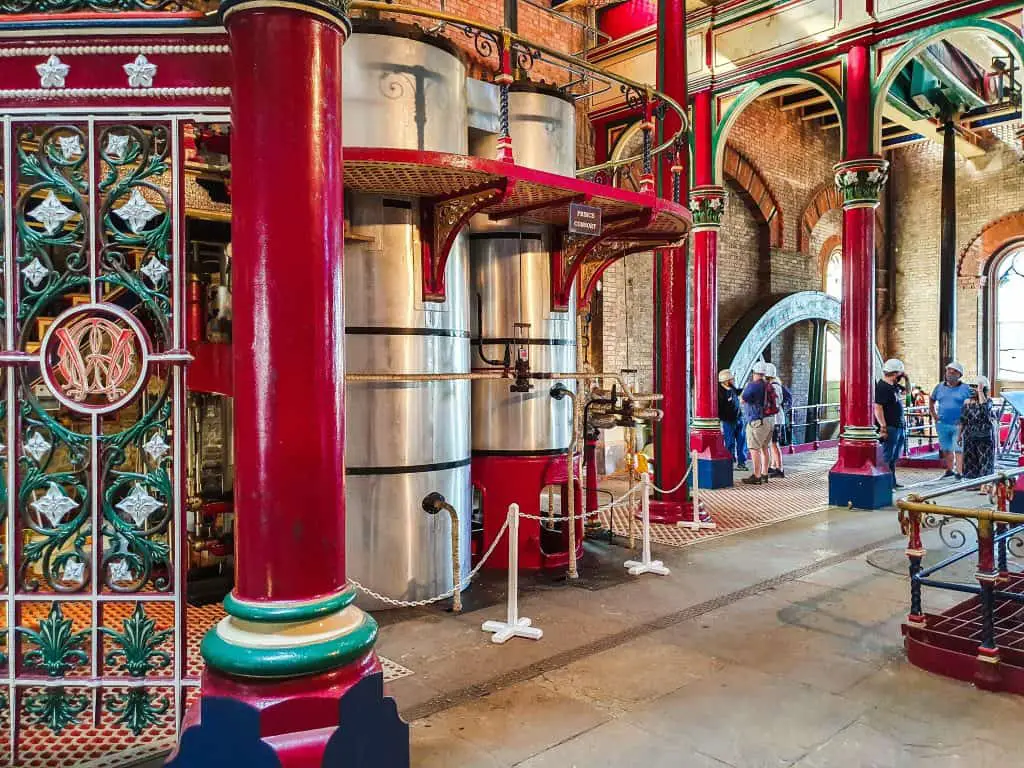 You wouldn't think that a former sewage station could be a tourist attraction in London, would you? Crossness Pumping Station is worth adding to your London itinerary because it changed London in the 19th century and because it is an absolute gem of Victorian industrial architecture.
Crossness Pumping Station was built as part of a revolutionary project that created the sewage system London is still using and cleaned the river Thames. In the 19th century, London was so dirty, with open sewers draining in the Thames and infested drinking water, causing a few cholera epidemics in the city. 
While the sewage system is still used today, Crossness has been taken out of use in the 1930s. Today, Crossness Pumping Station is a Grande 1 listed building, saved from demolition by volunteers who worked hard on renovating it. It can be visited on open days, year-round. What makes Crossness special is the spectacular ornamental cast ironwork, about which it was said that it is a "Victorian cathedral of ironwork." One of the four engines at Crossness has been fully restored and can be seen in action on certain days. It's best to check the schedule online to ensure that you can see it in action during your visit.  
To get to Crossness, you must take a train from London Bridge to Abbey Wood and then either take an Uber or walk the 1.4 miles to the entrance gate. An entrance ticket costs £8 or £10 (if the engine is turned on). 
Hampstead Hill Garden and Pergola: Close to Parliament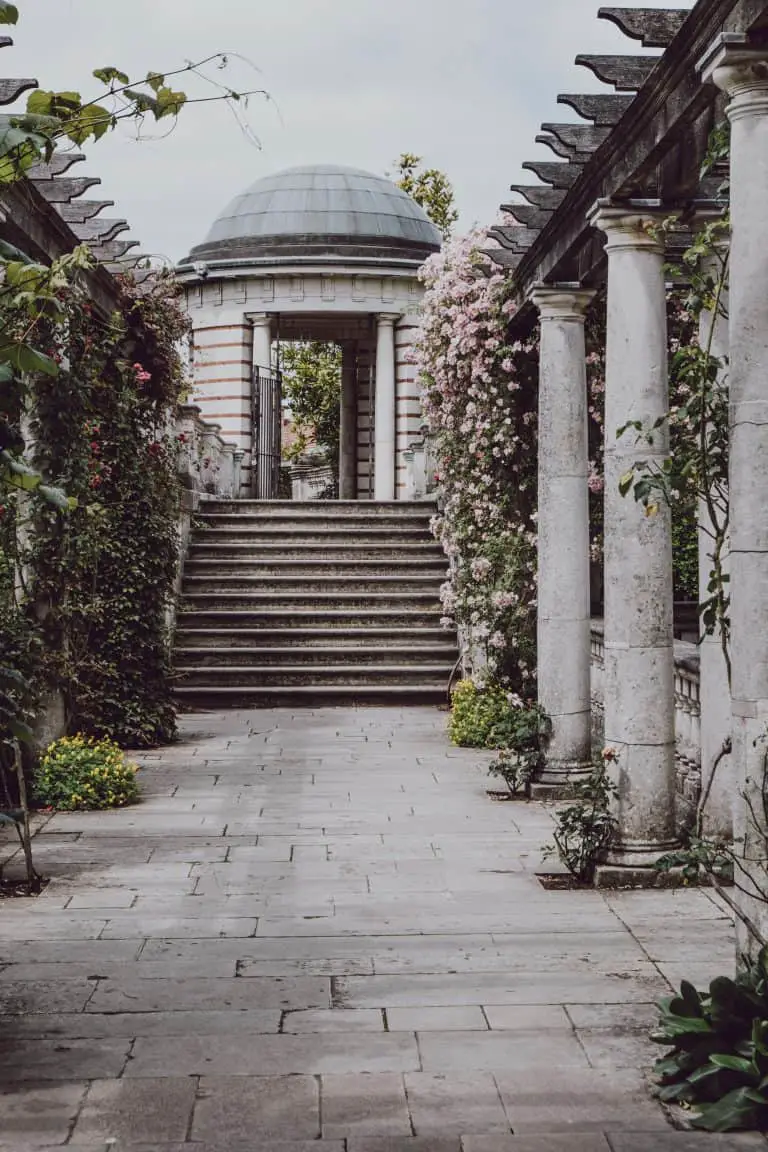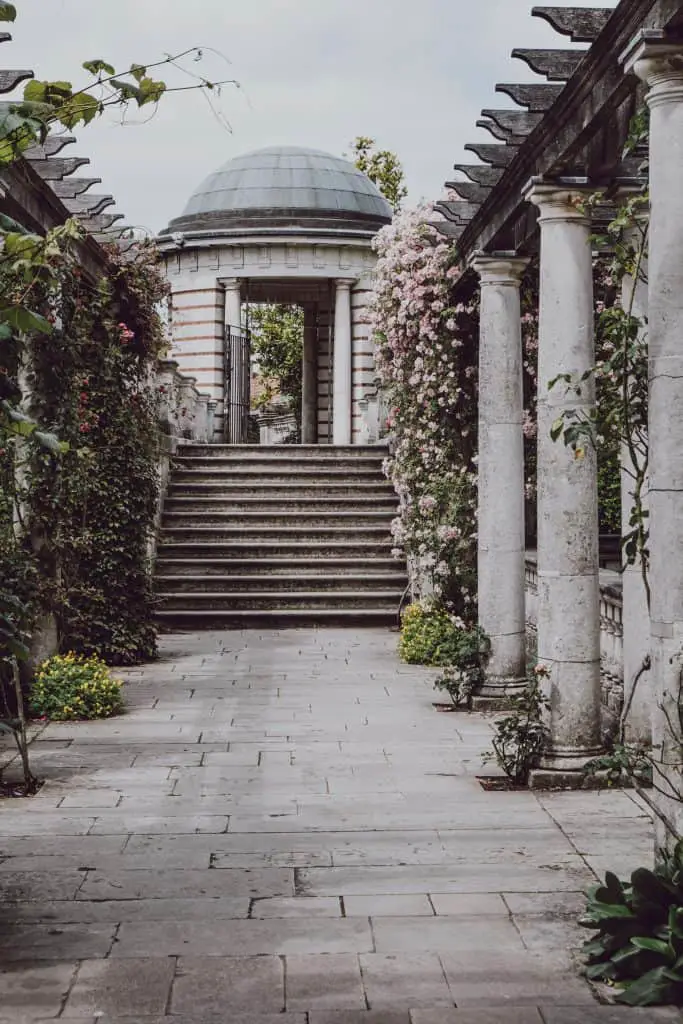 As with most major cities in the world, it may seem as if it is difficult to find green space amid the concrete jungle that has come to signify London. To deal with that sentiment, one just has to visit Hampstead Hill Garden and Pergola to get their fill of a masterpiece of green shrubbery, trees, and plants.
You'll be amazed to discover that this area is located just around the corner from the House of Parliament. Many have never taken notice of it. It is ranked as one of the most beautiful and serene gardens in all of London. 
One of the best parts of Hampstead Hill Garden Hill and Pergola is that it is free to the public. You just need to show up when the gates are open, and you will be able to roam free around the grounds and enjoy nature at its finest. Adding to its charm are its rustic nature and the way that the pergolas are allowed to grow free of human interference.
To prepare for your visit, it would help to know a bit of history. The garden is located on the site of the Hill House. This is a villa that dates back to the early 19th century. Today, the public is allowed to visit the grounds that were modified and made famous by Thomas Mawson, one of the more renowned landscape architects of his day. 
Neal's Yard 
By Fiona Boyle from Travelling Thirties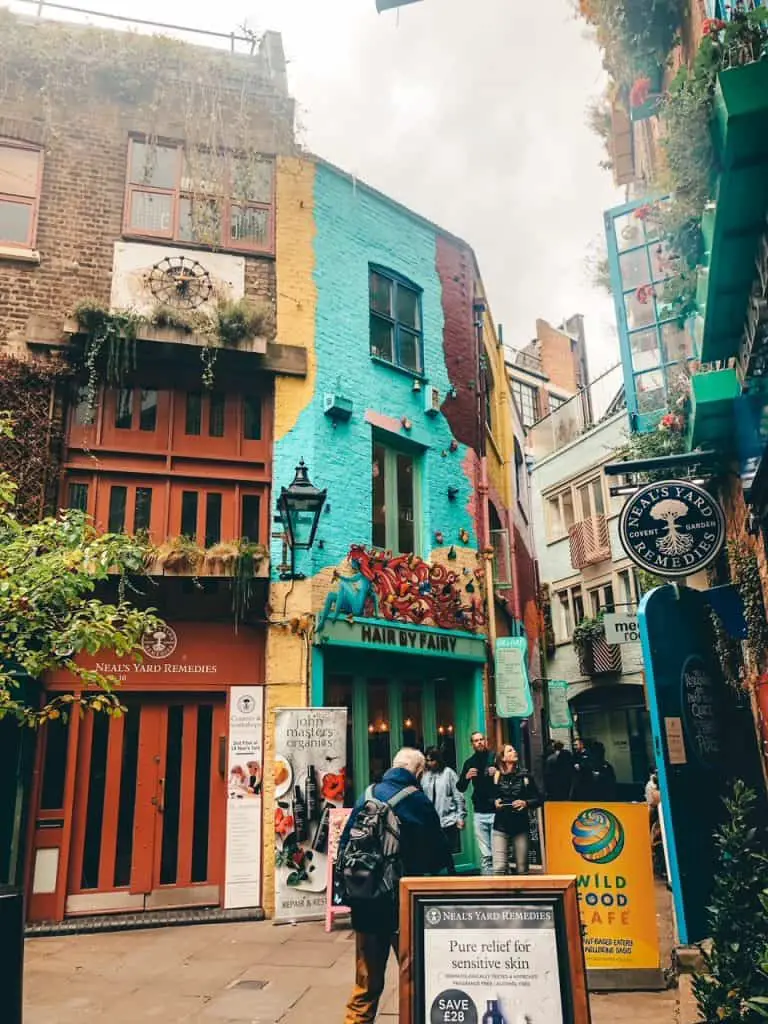 When you visit London, you know you need to see popular spots like Buckingham Palace, Big Ben, The London Eye, Piccadilly Circus and the Convent Garden. But what happens when you turn off the main street? You find some incredible hidden London gems.
One of the coolest hidden London gems is Neal's Yard. Hidden away down a side street off the Seven Dials near Covent Garden is this tiny village-like courtyard. Filled with brightly colored buildings, cafes, restaurants, and shops it is a can't-miss on your next trip to London.
All of Neal's Yard's businesses are committed to serving their customers through ethical and sustainable practices. 
Long before this gorgeous hidden gem became a hidden gem, it was used to store rubbish bins. The corner was due to be demolished, but Nicholas Saunders decided to open a wholefoods store and began to turn it into the corner that it is today.
Even if you are only in London for one day, you need to stop by Neal's Yard for a drink, a pedicure, or perhaps a final dinner before leaving London. Oh, and if donuts are your thing, make sure to visit the world-famous St John's Doughnuts and grab a donut …….or a glass of wine at their wine bar.
Daunt Bookstore: Oldest Independent Book Shop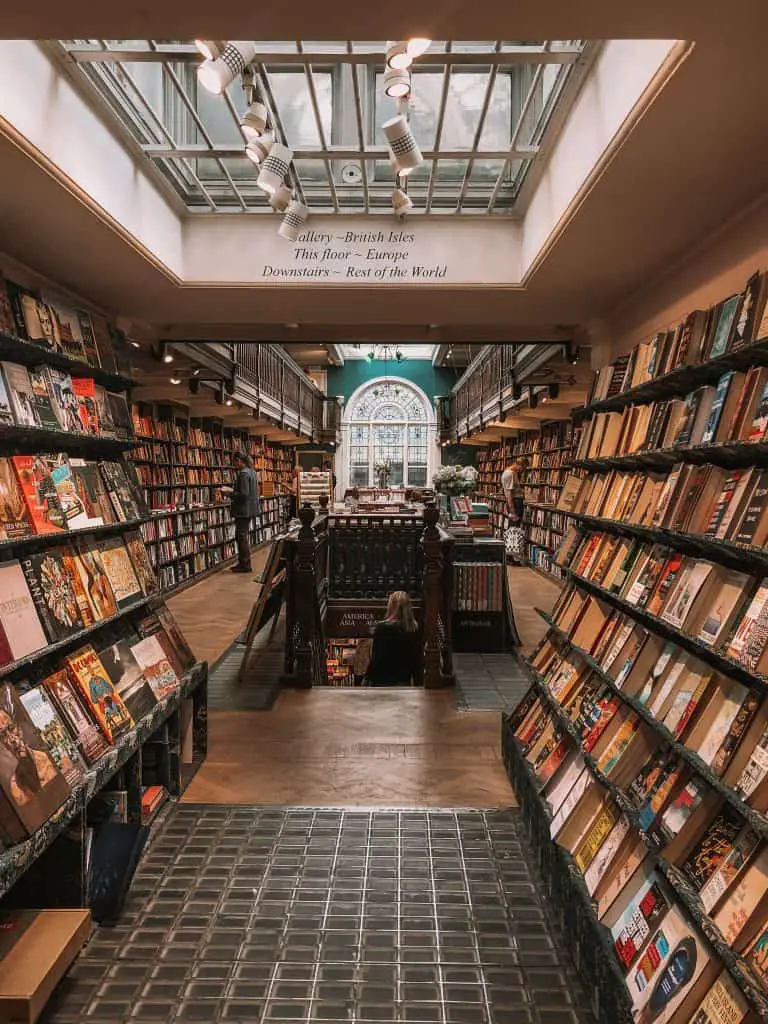 Proving that the entire world has not moved entirely to electronic books, Daunt Bookstore remains one of the oldest independent shops in all of Europe. In fact, its location in Marylebone first opened its doors in 1912.
Daunt Bookstore makes the list of hidden London gems because it is so unique. It is refreshing to browse through its many galleries, each constructed of oak wood and housing thousands of titles. If you are in the city and want a rare book to add to your collection, this is the place to find it. 
This is a place where you can rekindle your love of books.  It is truly a rare spot in the world of bookstores. With so many independent booksellers going out of business today, it is refreshing to find one that is still thriving. You will find a commitment to excellence that is unparalleled as soon as you step through the door. 
Daunt Bookstore specializes in travel books. It has its own publishing house that showcases the work of new authors. That means you will find many unique novels and non-fiction books on its shelves that you cannot find for sale anywhere else. 
The Imperial War Museum 
By Samantha Gallo from S & D Getaway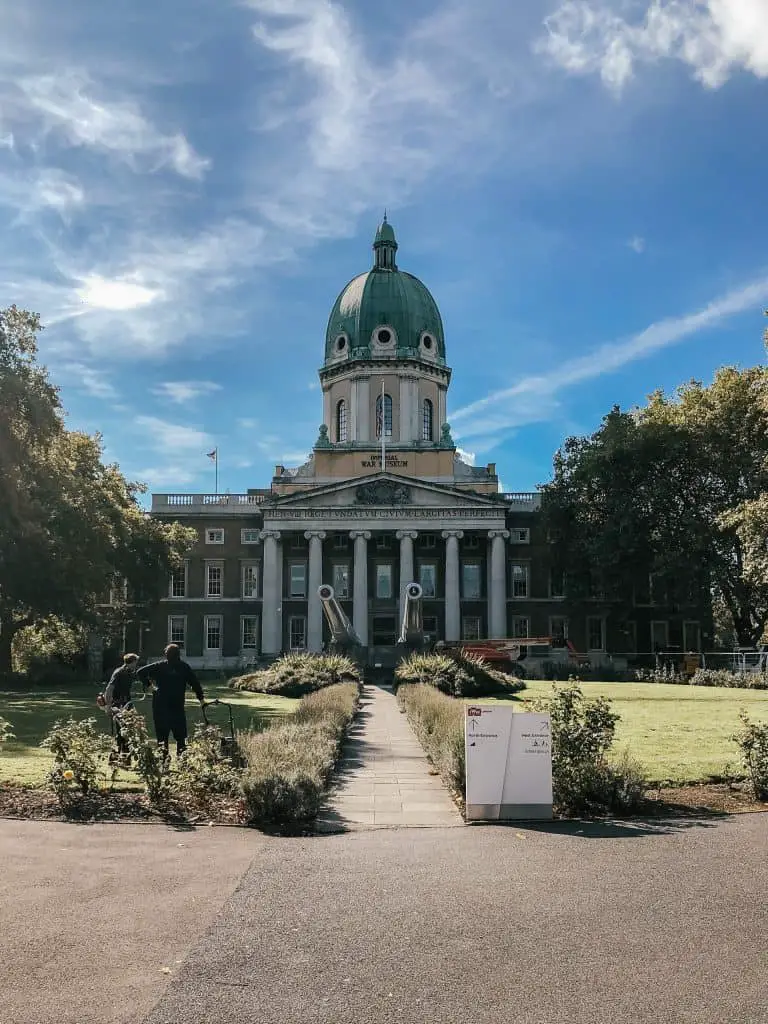 This museum, founded during World War I, explores not only the history and events that took place during the wars but you also get to see the lives and stories of ordinary people both at home, in England, and overseas.  Every war England has fought since WWI is on display throughout the museum, but WWI and WWII are the main focuses.  
The First World War Galleries showcase how the war was fought and won. Through interactive maps, trenches, and artifacts, you will learn what it was like for everyone in England at home and the soldiers on the front lines. It is a great way for kids to learn the history of the war.  
The new World War II galleries, opening in 2021, will be the first exhibit in the world showcasing the Holocaust within the context of WWII.  It is dedicated to exploring the many different and connected parts between the Holocaust and the events during and after the war.
The museum's closest stations are Lambeth North, a 7-minute walk; Elephant & Castle, a 10-minute walk; and Waterloo, a 14-minute walk.  
The Imperial War Museum is free, but donations are encouraged.
St. Martin's Window: Ultimate Hidden London Gem
For one of the more quirky things to do in London, head over to St. Martin's Window. While many tourists have heard of Trafalgar Square, not everyone has stopped long enough at St. Martin to gaze upon its window. This is located in Fields church, and it is something you will want to see. 
As you approach, you will look at the window that is inserted into the central archway. It has such a creative look that you might think that something is wrong with the construction. The window itself has been inserted inside some metal moldings, which gives it a look of having been either melted or warped over time. 
When you look at St. Martin's Window, you will see a massive expansion of glass in the center of the building, unlike anything that you have ever seen before. This is why so many people have come to this secret place in London.  
The window itself was installed into the church back in 2008, so it is still relatively new and does not show up in many of the tourist guides you might have access to. 
Saint Dunstan in the East Church Garden
By Giulia Verdinelli from Jules Trails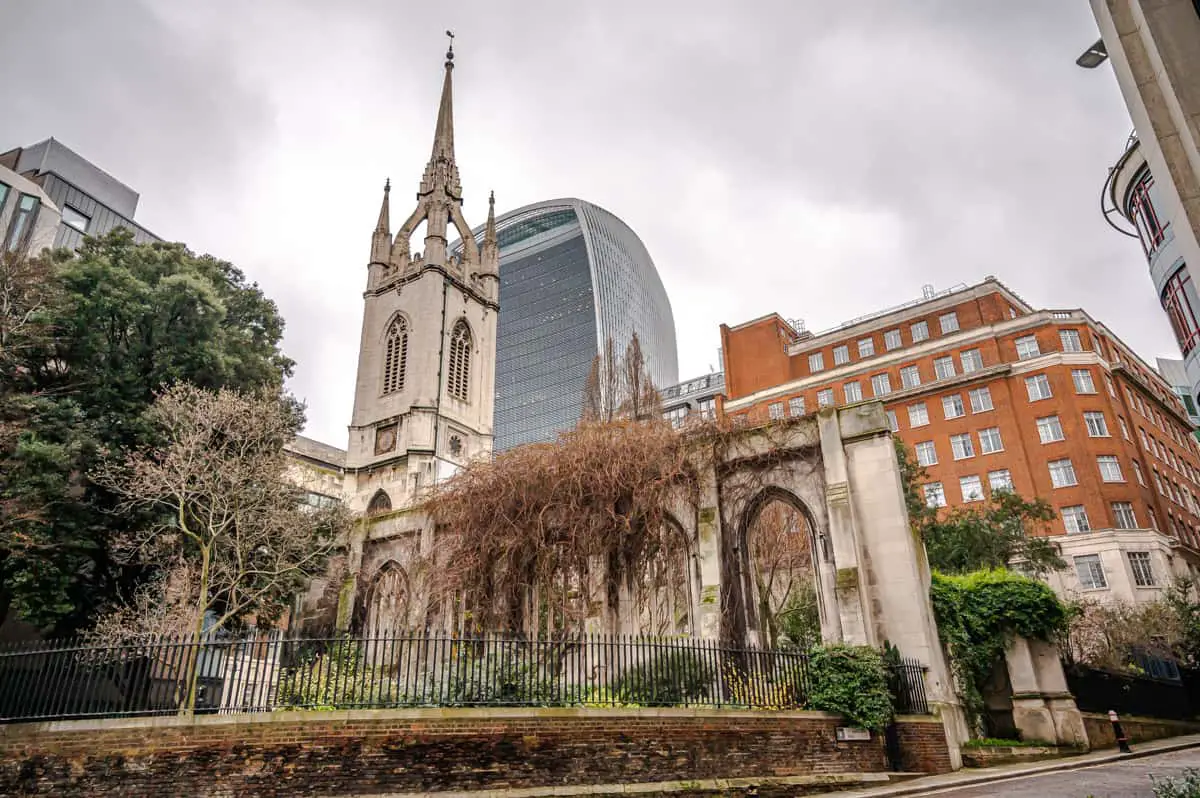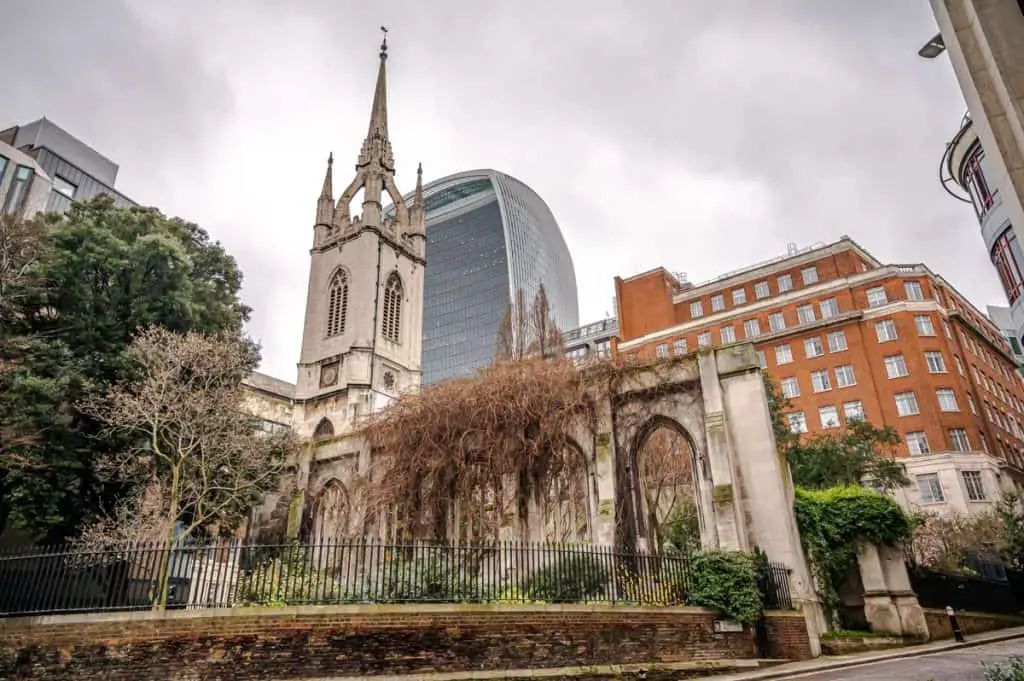 In the heart of the City of London, hidden in plain sight, the ruins of the Church of St Dunstan in the East are now home to beautiful lush gardens.
The history of this Church was not a fortunate one until the late 60s; after being destroyed by the Great Fire of London and then in the second world war, the only thing left standing was the tower.
Today, you can take a break from the hustle and bustle of the busy business district of London, just a few steps away. Enjoy a stroll through this public park and admire the beautiful remains of its glorious architecture.
Sit on a bench reading a book in complete tranquillity under the majestic church arches, admire trees growing out of windows and vines winding themselves around walls and columns.
This suggestive corner is a stunning spot for photoshoots, too, so whether you want to relax or strike poses for your followers, the Church of St Dunstan in the East is a lovely way to spend an afternoon.
The park is free for everyone to visit, and you can reach it with a 5-minute walk from Monument Station. When you are there, you can look up to see 20 Fenchurch Street, aka The Walkie Talkie, and be reminded that you are still in one of the busiest parts of town.
The Kings Cross Light Tunnel: a Hidden London Gem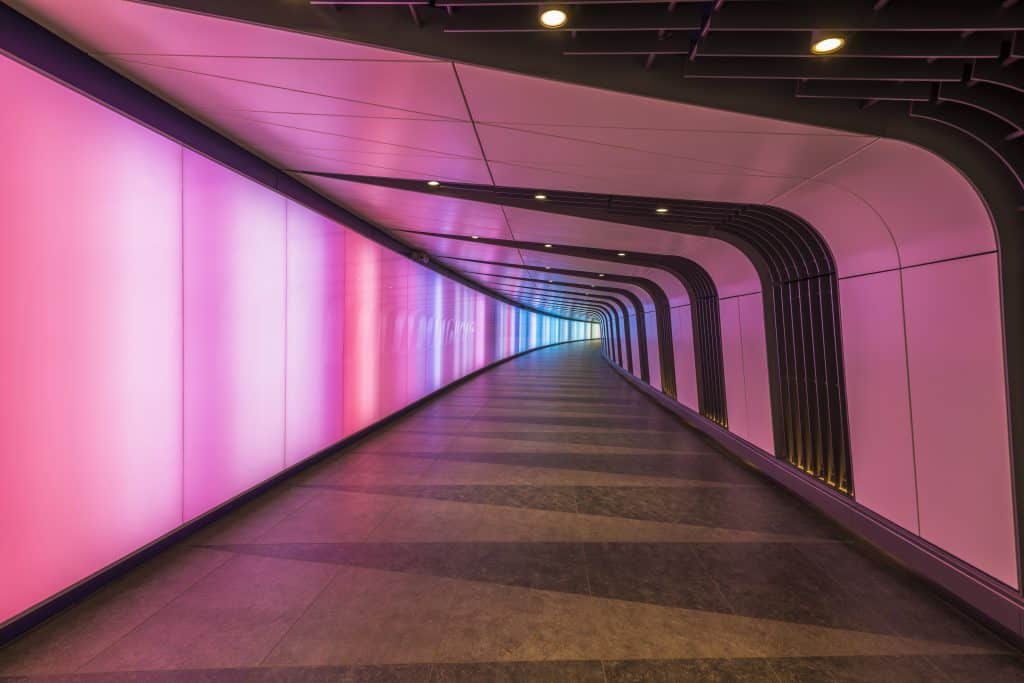 This Kings Cross Light Tunnel is a popular destination, and you'll quickly understand why it is one of our hidden London gems. The work that has gone into its construction certainly seems to be well worth the experience. When you first read that this Tunnel is among the hidden London gems, you might wonder if we have gone mad. After all, there are hundreds of thousands of tunnels in the world. How can this one be so unique that it should be on the must-see list of people visiting the city? 
In a nutshell, this is one of the most colorful walkways that you will find in the world. The tunnel is 90 meters and tucked away in the middle of the city in a place that many visitors simply miss unless they happen to know it is there.
This Tunnel is the brainchild of Speirs and Major. They are modern graphic designers who partnered with the Light Lab to create a tunnel slightly curved and marked by distinctive lighting throughout its pathway. The result is a visual masterpiece that will amaze your senses.
Visitors will marvel at the fact that this tunnel houses the longest wall of lights in all of Europe. It is fascinating to just walk along and take in the various images that invade your senses. It consists of 190 different vertical panels, each one consisting of colors that are continually changing. 
Sherlock Holmes's Home
By Jyoti Baid from Story at Every Corner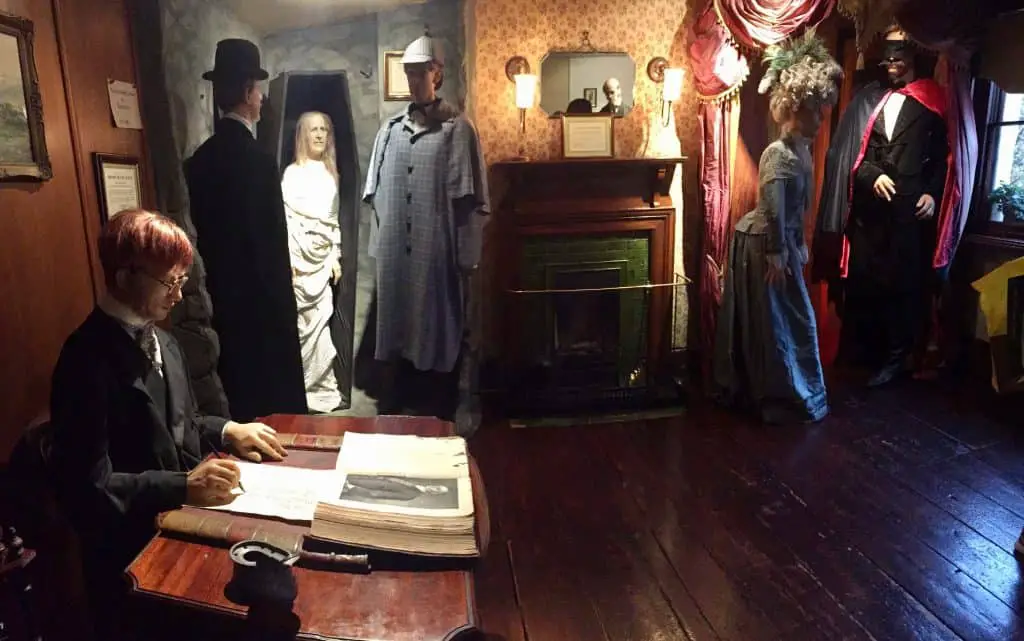 Sherlock Holmes Museum, located at 221B Baker St, is arguably the most famous address in the world, at least for all fans of Sherlock Holmes and fans of mystery stories. It's a hidden gem, as mystery fans grew up believing that the address was fictional. Few know that the address has been made real and home to artifacts and models of all the favorite crime scenes for mysteries solved by Sherlock Holmes and Dr. Watson. 
For its unique stories, Sherlock Holmes truly deserves a spot in any itinerary for visiting London. The museum has been carefully curated with life-like artifacts everywhere in the building. On the second floor is the famous living room where Holmes and dear Dr. Watson spent hours together. This is where Holmes solved crimes or described his solutions to Dr. Watson. You can pose on his couch with his pipe and hat. 
The upper floors have rooms with life-like recreations of the most famous crime scenes. Visitors love to spend time admiring all the details but be wary that the museum is very popular and fills up. So be sure to visit early and avoid the crowds. 
As of 2021, the ticket prices are £15 for adults, £12.00 for concession, £10 for children under 16, and free for children under 6.
Sherlock Holmes Museum is one minute's walk from Baker Street station on the Bakerloo, Jubilee, Circle, Metropolitan, and Hammersmith and City Lines. It is also easily accessible by bus or by mainline train. 
Regent's Park Open Air Theatre: Largest in London
If you envision yourself watching a Shakespearean play performed in the open air as it was more than a century ago, you can now recreate that experience. The Regent's Park Open Air Theatre is located just inside Queen Mary's Garden and is still entertaining tourists and residents alike.
This particular theatre is one of the largest of its kind in all of London. It is also the oldest outdoor theatre in Britain and still puts on professional performances. Depending on the season, you will find a mix of music, comedy, and independent films being showcased. 
As you can imagine, performances are only held at this location from May to September. If you are visiting the city at other times of the year, you will not be able to see any live shows. However, that should not keep you from entering the grounds to gaze upon the majesty of the theatre itself. The construction alone is something worth seeing. 
The Petrie Museum
By Zarina from Dutch Girl in London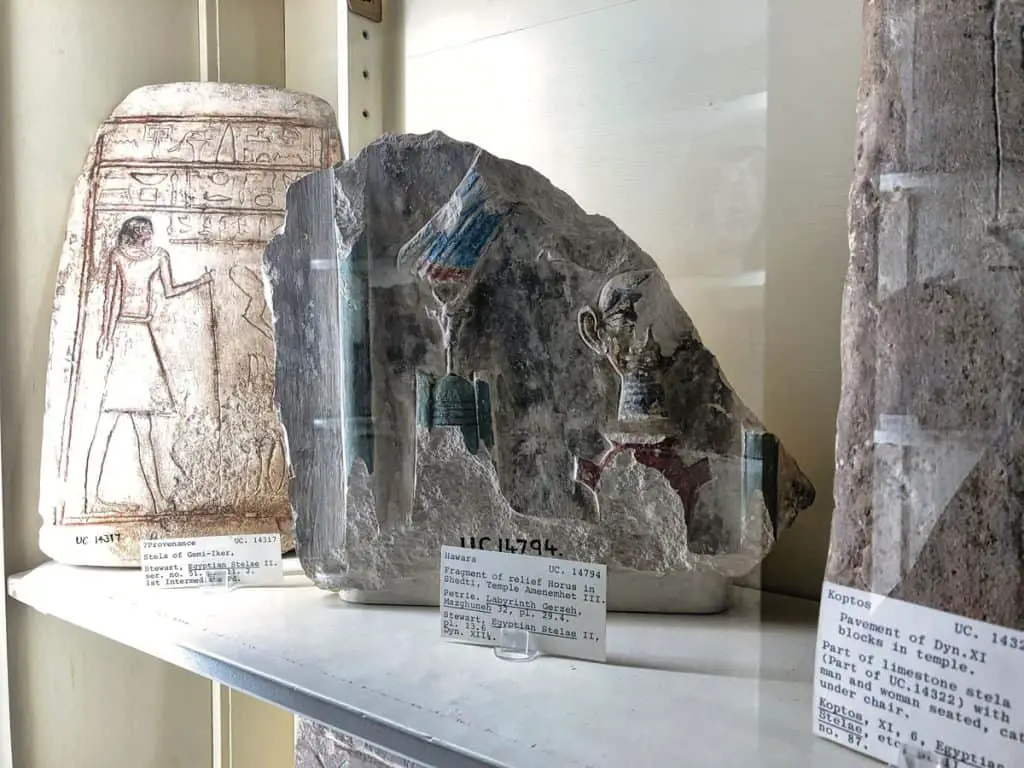 London is full of little cultural gems hiding in all corners of this magnificent city. Take the incredible Petrie Museum of Egyptian Archaeology for example. Located in an inconspicuous alleyway as part of the UCL campus, the Petrie Museum is a true archaeological treasure trove. This hidden gem consists of over 80,000 objects, making it the world's fourth-largest ancient Egyptian collection. Yet, it's hardly known amongst tourists or even Londoners for that matter!
As you enter the main gallery, the first thing that catches your eye are rows of long glass cabinets. They're filled with dozens of papyrus rolls and pyramid texts. It's a real joy admiring the still clearly visible hieroglyphics, sometimes even painted in the brightest colors. Further along, you'll find sarcophaguses and gold-adorned death masks, elegant artworks with a hint of the macabre. It's hard not to be in awe seeing such incredible artifacts.
The second gallery consists mainly of colorful pottery and delicately carved wooden objects. It houses some of the museum highlights, such as the net bead dress, believed to be worn by a female dancer around 2400 BC!
Finally, a third gallery space is hidden in the stairwell towards the emergency exit. Here you'll find the most delicate sculptures, including graceful cats that were considered sacred. Considering the popularity of cat accounts on Instagram, I bet those Egyptians would've had great fun on present-day social media.
The Petrie Museum is a 12-minute walk from Euston station. Free entrance, open between 1-5 pm on Wednesdays, Thursdays, and Saturdays. 
Little Venice: Popular District with Locals and Tourists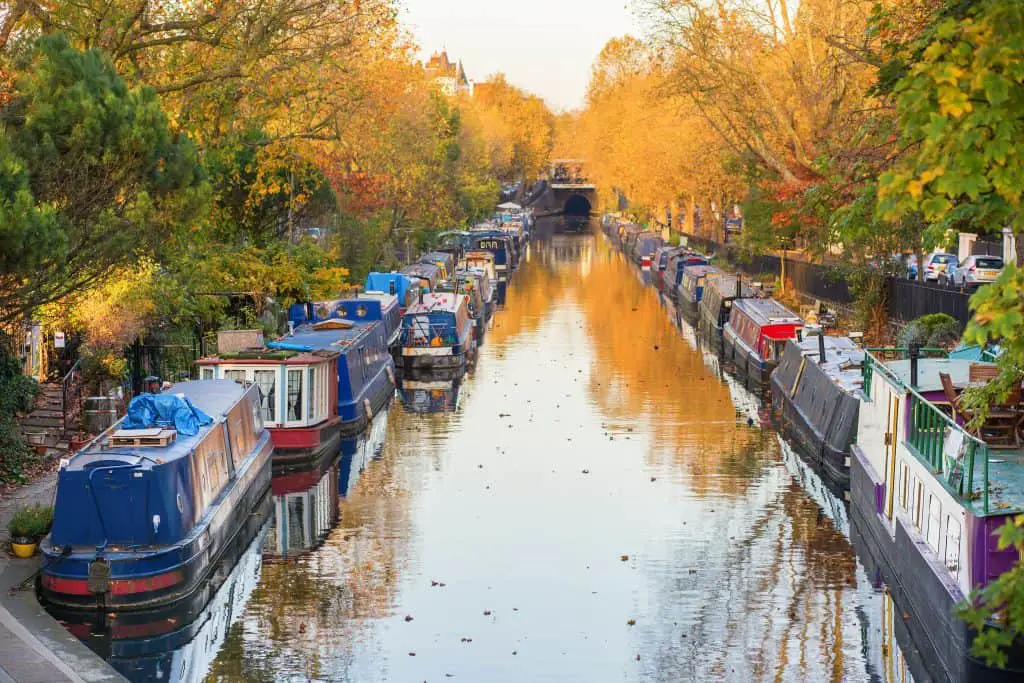 You no longer have to travel to Italy to experience the ambiance of a canal lined with various attractions. Little Venice has emerged as a district in London that is equally popular with locals and tourists.  That should change in the near future, as this is one of the secret places in London worth experiencing. 
You will find Little Venice nestled just outside of the Paddington district. It has beautifully maintained canals and waterways to enjoy, particularly in the spring and summer months. You will love the blend of cafes and pubs that dot the area as well. These are idyllic locations where you can spend hours with friends and family.
You can walk the entire length of Little Venice, enjoying the scenic views over the water on one of their boats the entire way. Lord's Cricket Ground is also located along the water. If you are up for it, your group can take a tour of this historic area. 
With so many restaurants to choose from, everyone in your group will find what they want. For a special treat and perhaps a pint or two of your favorite beverage, visit The Bridge House.
The Garden at 120
By Claire at This Travel Lover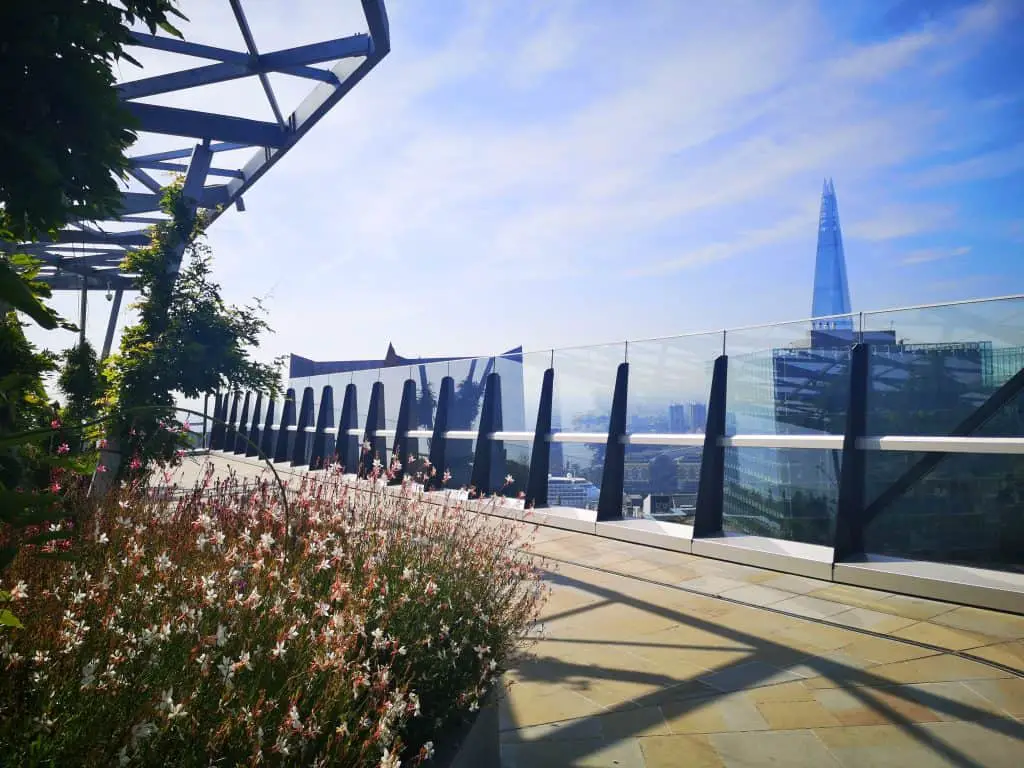 One of the best hidden London gems is the Garden at 120.  This serene escape from the city's hustle and bustle is on the top floor of 120 Fenchurch Street, right in the heart of London.  The rooftop has been transformed into a beautiful garden with incredible 360° views.  
The best part?  It is completely free!  You don't even need to pre-book a time slot to visit, although it is best to check how busy it is on the Garden at 120 website, which has a life footfall checker.  Access is on a first-come, first-served basis, so it is likely to be busier at lunchtime (when office workers come for a break).
To access the garden, you need to pass through a security check with a metal detector and an x-ray machine for your bags.  Bear in mind that large suitcases are not allowed, and there is no luggage storage facility, so don't bring anything you don't need with you!  Smoking and alcohol are not permitted.
The gardens are usually open from Monday to Friday from 10 am to 9 pm in the summer and 10 am to 6:30 pm during the winter.  One of the best times to visit is at sunset when you can enjoy the views of the city and watch as the daylight fades and London lights up for the coming night.
The closest train station is Fenchurch Street, and Tower Hill on the Circle and District line is the closest tube station.
Crystal Palace Park Maze:  Quirky Thing to Do in London
When you are looking for quirky things to do in London, walking through a maze of green shrubs might not come to your mind. That sentiment will likely change as soon as you experience the Crystal Palace Park Maze. This dates back to Victorian times and has been a place where thousands of people find relaxation and pleasure every year. 
The maze is located on the grounds of the Crystal Palace, which used to be in Hyde Park.
This maze is one of the largest in all of England. It has an impressive diameter of 160 feet and has been welcoming visitors off and on since the 1870s. You will find many hedges towering throughout the maze. The best part is that that maze is free and open to everyone. 
You will enter the maze through one side and then work your way to the other. Since you cannot see over the hedges, this is where the fun begins. There are also guides located throughout the maze to help get you where you need to be if you should get more than a bit frustrated along the way. 
Disused Underground Stations
By Jamie from Travel Addict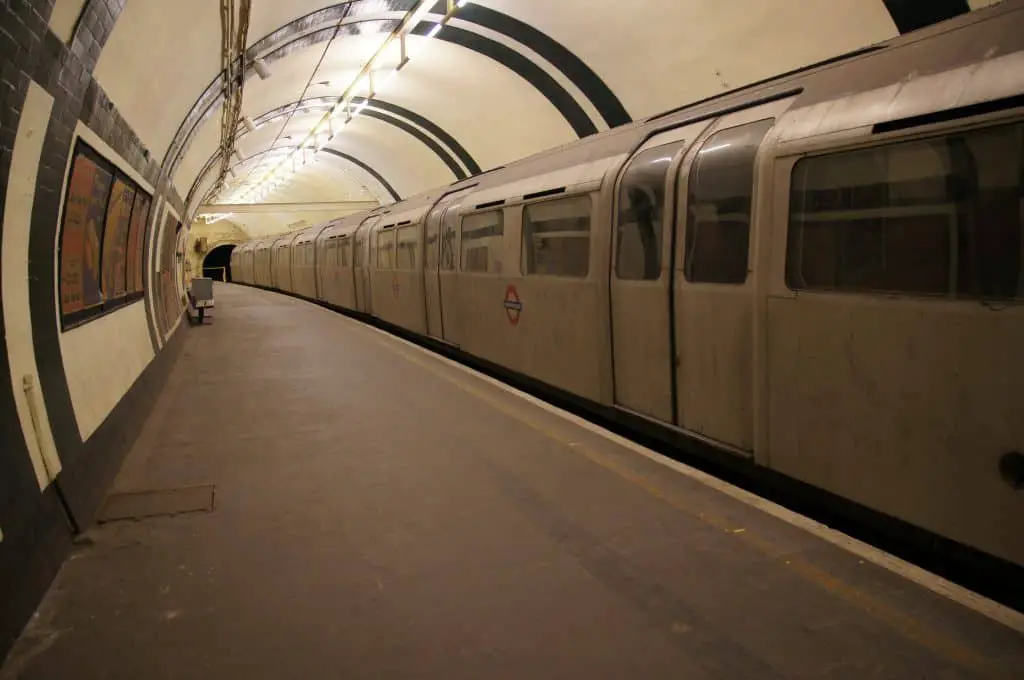 The London Transport Museum has arranged for disused tube station tours under the name "Hidden London". They started with Aldwych Station and have reopened another half dozen since their success with Aldwych. These tours do sell out frequently, especially on the weekends, as there are limited tickets, but many visitors do not know about them.
There are eight stations open for visits – Aldwych Station, Charing Cross Station, Euston Station, Down Street Station, Clapham Deep Level Shelter, Piccadilly Circus Highgate, and Moorgate. Each station offers a different experience and exhibition that highlights the various uses of these unique stations. 
At least two of these stations have been popular filming locations for TV and film. Aldwych Station often serves as a set for period pieces that require the traditional green design of Leslie Green. The closed Jubilee line platforms at Charing Cross Station are used for modern films, including James Bond's Skyfall.
The tours do cost money, ranging from £30 to £60 (Down Street being the most expensive). These must be booked in advance on London Transport Museum's website; for weekend tickets, you'll want to book a month or more in advance.
All tours are accessible by public transport or short walks from a nearby station. Hidden London provides details about where to meet your guide, who will usher you into the locked spaces for the tours. These closed stations do not often have lifts or escalators, so be prepared to use spiral staircases to access the platform levels.
The Royal Exchange: A European Style Market Place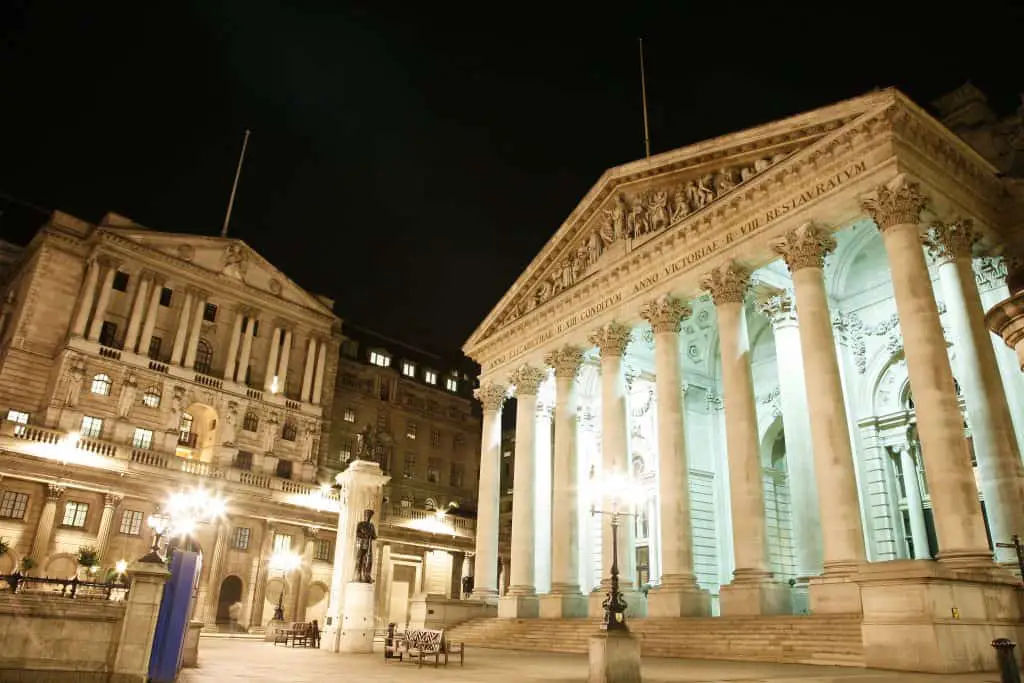 If you want to envision what a marketplace was like in Europe centuries ago, you should pay a visit to The Royal Exchange. While the current building was erected in 1844, the Exchange itself dates all the way back to 1571. It was, for a long time, the main center of trade and commerce for all of London. 
The Great Fire of London devasted the original building in 1666. The next Exchange was built on the same site and became the center of insurance and stock trading until it was destroyed by fire once again in 1838. 
Today, the current Royal Exchange has more than twenty restaurants and shops for visitors to enjoy. The primary reason that this is among the hidden London gems rests in the historical nature of the building itself. 
The interior of the building is surrounded by 24 large paintings that take visitors on a historical journey of trade across the UK. There is also an eight-column portico on the exterior that looks just like the Roman Pantheon. 
Mad Hatter's Afternoon Tea at the Sanderson
By Emily from Daltons Destinations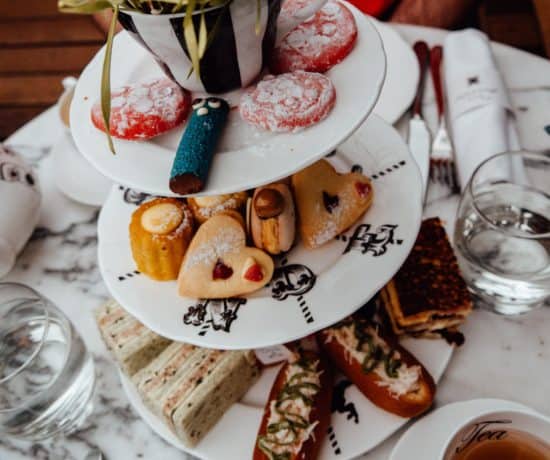 If you are looking for an exciting bucket list activity to add to your list, The Mad Hatter's Afternoon Tea at the Sanderson in London is just the thing! Why? The UK is known for its love of tea; experience the local love in a charming setting! As soon as you step into the hotel, you feel like you are in an enchanting garden. 
The decor is my favorite part of the Afternoon Tea. Starting with the menu is designed into a classic Alice in Wonderland book. Choose from their Alice-inspired teas: Cheshire Cat – a delicious marmalade orange oolong, and Mad Hatter – a green tea infused with passion fruit, to name a few.
Once your tea is served, start on the delightful treats. Starting on the bottom tier, you'll love the White Rabbit cucumber and cream cheese sandwich. The next tier was filled with heavenly sweets. You will not be able to get enough of the Queen of Hearts rose and strawberry Jammy Dodger. To top it off, there was the cutest chocolate and raspberry Blue Caterpillar and even Alice's exotic fruits 'Drink Me' potion. Total cost for two is $150.
This is an experience you will not forget.
The Counting House Pub: Secret Place in London
No visit to London is complete until you visit at least one of its traditional pubs. Perhaps none is more iconic than the Counting House Pub. This is one of the secret places in London that should not pass your radar. Stop by, have a drink, and converse with some new friends. 
The foundation of the building is actually a Roman basilica that was built roughly 2,000 years ago. During its hay day, it housed many of the most important social and business events in all of England. 
You will find every type of ale and beer imaginable on tap. You will be able to sit and gaze upon the history of the location and imagine what life much have been like more than 100 years ago. This is a night out on the town that you will not soon forget. 
If that is not enough, you can actually stay just above the pub itself. The hotel is as iconic as the bar but has been remodeled to contain all of the modern amenities you would expect from a proper London establishment. 
Old Spitalfields Market and Street Art 
By Isabella from Boundless Roads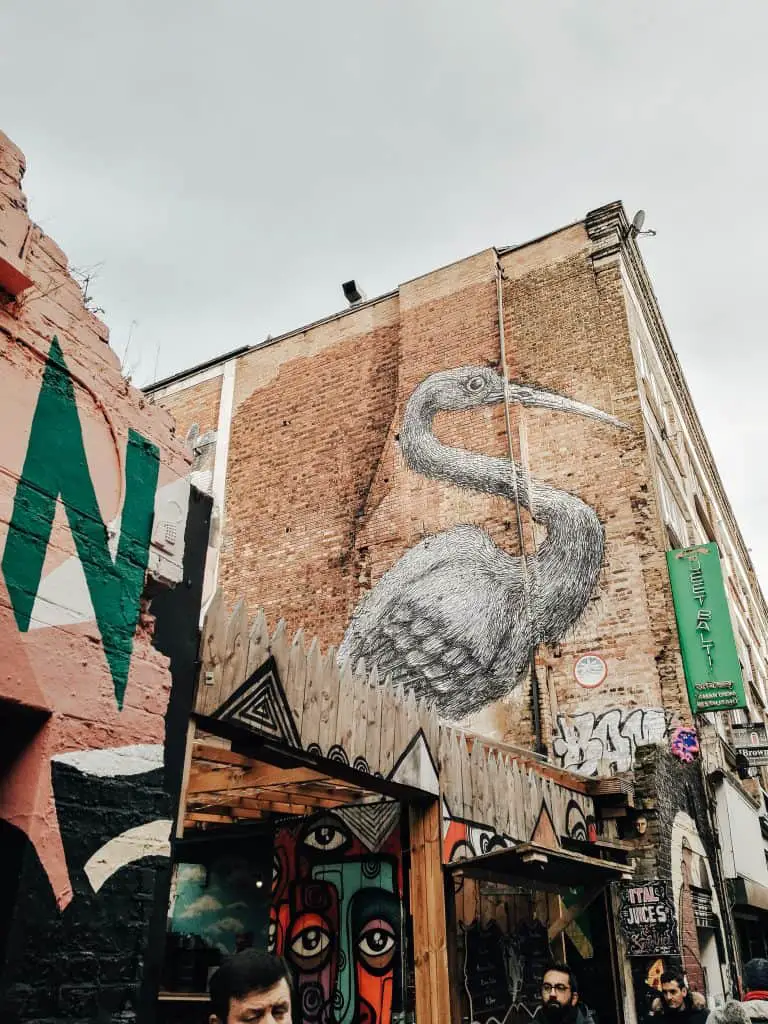 If you are traveling to London for a few days, make sure you include Old Spitalfields Market and Street Art in your London Itinerary. 
Markets in London are very unique, full of colors, delicious food, music, and art, and they are usually open on weekends. Spitalfield Market is open every day of the week, but if you go on a Sunday, you can also enjoy the Brick Lane market, which is just just a block away. Make sure you go with an empty stomach, as it's a culinary feast that you will want to enjoy. Get to Liverpool station, where you can admire the elegant Victorian buildings while you will be walking your way to the market while browsing through interesting shops and beautiful architecture.
Spitalfield market includes lots of food stands and original arts and crafts, trendy and homemade pieces of clothing, prints, and jewelry. The market is roofed, so it's the perfect place to go when it's raining. From there, you can continue to walk towards Brick Lane, where you can proceed with your culinary tour in the tempting food stalls. There you can also admire incredible street art and vintage shops, and musicians playing on the street. You could literally hang out there all day for a great Sunday in London. 
London Neasden Temple: Shows London's Diverse Side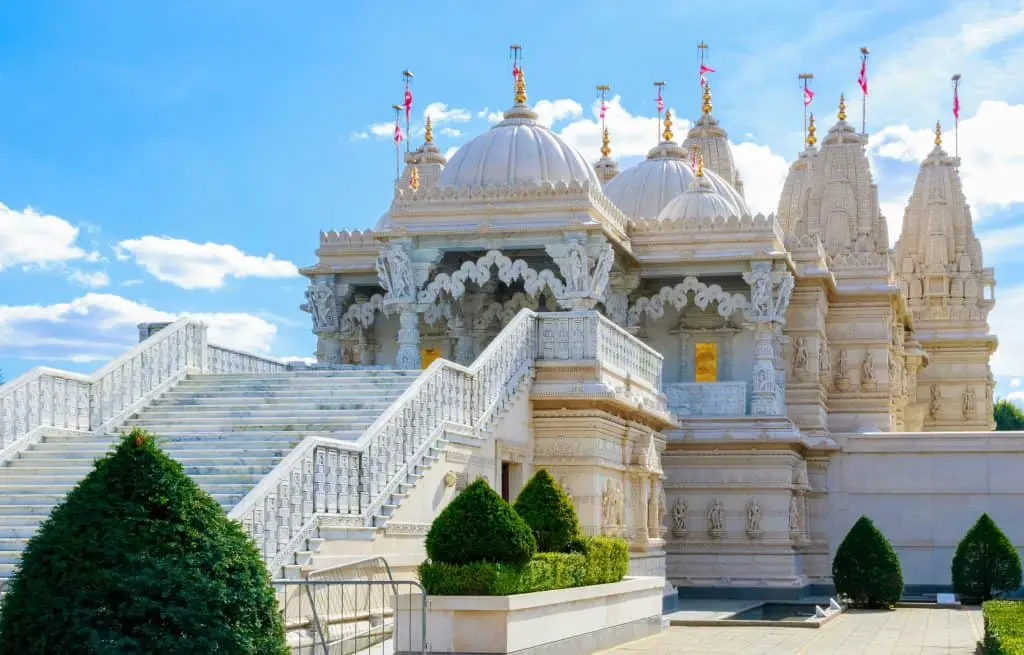 It is now time to show off the spiritual and diverse side of London. The Neasden Temple is built on the Hindu tradition. This is one of the secrets of London that simply must be seen. You can't help but appreciate the way that the entire temple complex was built using traditional materials from India. 
After walking the grounds of this shrine, you can make the claim that you have personally seen the first Hindu temple erected in England. It is also the first authentic stone temple that was built in Europe.  It is different from any other building that you will see in London. 
When you arrive at the Neasden Temple, you will be greeted by the mandir. This is the central part of the complex and is meant to portray the various attributes of God as taught by the Hindu faith. You do not have to be spiritual to appreciate the significance of this building. It is built entirely from marble sourced from both India and Italy. 
Queen Elizabeth Roof Garden Bar & Café: London Off the Beaten Path
Head up over the top of the city, and enjoy a rooftop garden with the likes that you have never seen before. The Queen Elizabeth Garden Bar & Café has turned into one of the hidden London gems for a reason. It is the place to go when the weather turns nice and you are ready to soak up the rays with your friends and family. 
It is a festive-like atmosphere. The garden overlooks both the River Thames and the famous London Eye. It is located almost exactly in the middle of London. You will be able to stroll through the large garden that is lined with plenty of fruit trees and colorful flowers that seem to always be in bloom. 
In addition to the spectacular view that you will enjoy, there are plenty of bars to sit back, relax, and converse in with your traveling party. If you are a bit hungry, there are plenty of trendy cafes to enjoy as well. 
Depending on the season, you will find various attractions available at the Queen Elizabeth Roof Garden Bar & Café. There is a reason that locals like to keep this location secret. It is really quite spectacular, with plenty for the entire family to do all afternoon and evening long. 
Leadenhall Market: 19th Century Style Victorian Market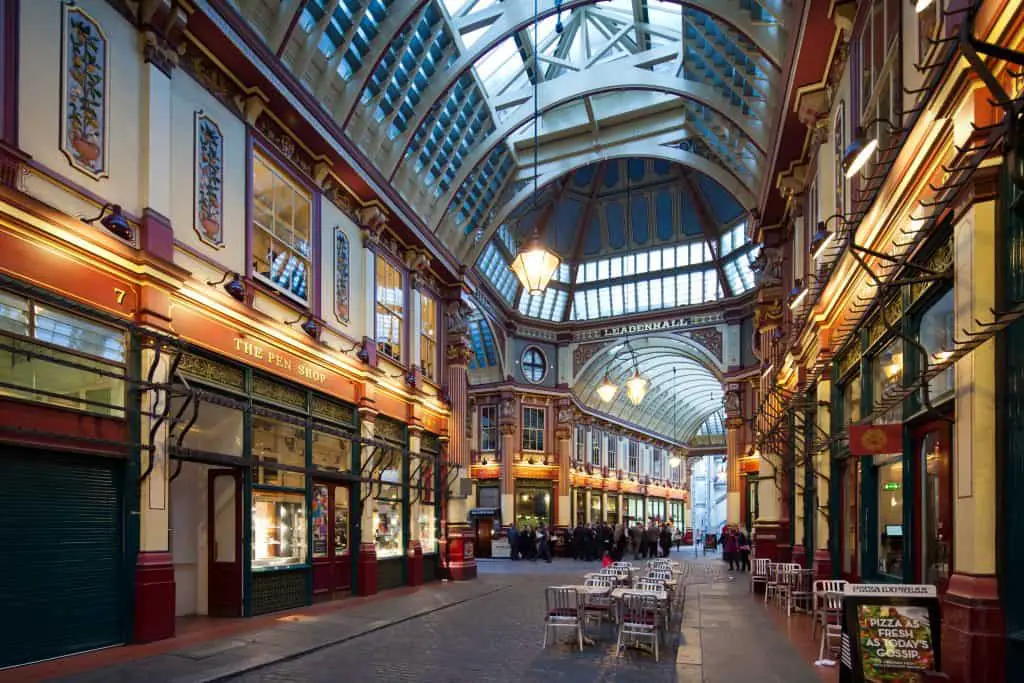 This is not your ordinary marketplace. Just take one look at the roof in the Leadenhall Market, and you will realize that you have come face to face with one of the most aesthetic places in London. It is painted in a traditional 19th-century style, transforming you into another time and place.  
This is a Victorian market rumored to have started with the selling of meat and fish back in the 1500s. This makes it one of the oldest markets in all of London.
An interesting fact about this market is that it has made an appearance on multiple occasions in Harry Potter. Movie buffs will recognize it from several scenes, making use of both the interior and exterior of the building. You can buy various items at the Leadenhall Market, ranging from fruits and vegetables to school supplies. 
If you are a night owl, you can explore the Leadenhall Market around the clock. However, keep in mind that not all of the shops are open 24/7. You do not have to be a shopper to enjoy the wonder and majesty of this market that tops the list of our hidden London gems. 
Sky Garden: Takes You to the Top of the City
For another spectacular unique garden paradise that takes you to the top of the city, you will want to head to the Sky Garden. There is a restaurant on the top of this structure that is sure to amaze young and old alike. You will love the view so much that you might forget you have ordered food. 
Sunsets are particularly spectacular at the Sky Garden. You will want to make sure that you get there early. You will remember the views over the breathtaking horizon for a lifetime.  
Kyoto Garden: Off the Beaten Path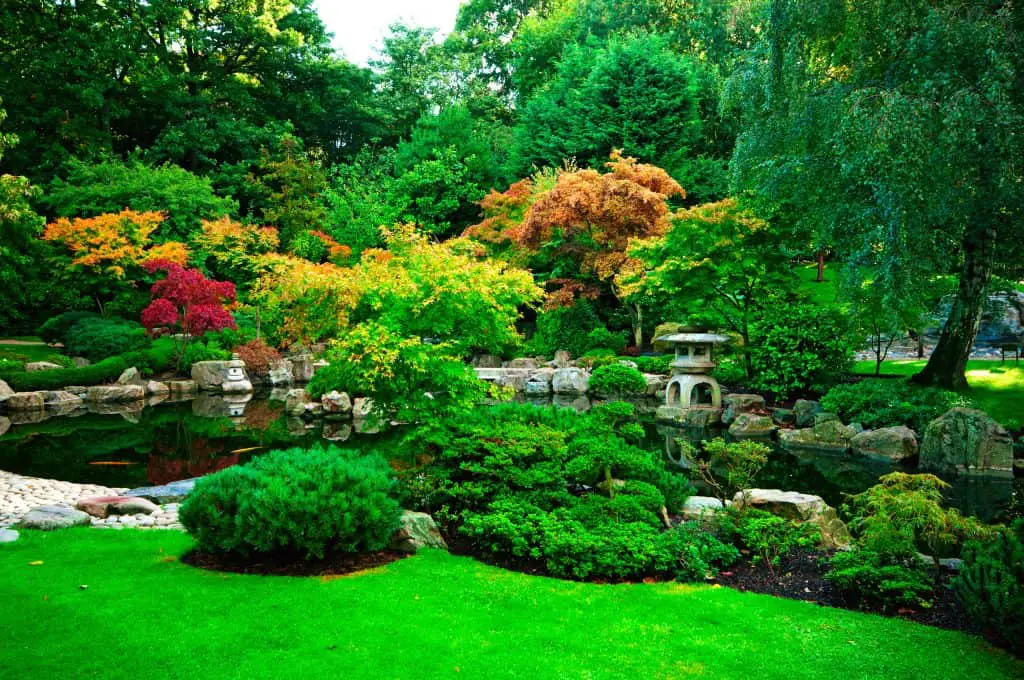 Located in West London, Kyoto Garden are 22 acres of beauty and wonder and one of our favorite hidden London gems. You can enjoy some fresh air, waterfalls, and plenty of green in the midst of the hustle and bustle that comes with one of the most populous cities in the world. 
If you are looking to experience London off the beaten path, Kyoto Garden should be on your itinerary. It surrounds the Holland House. History buffs will know that this is also the Cope Castle, which is where many diplomats and famous people have stayed throughout the years.
The City of London actually bought the site in 1952 and turned it into a large park. Japan helped to build the garden in the 1990s as a gift to Great Britain.
There are some tiered waterfalls that you will want to see, along with ponds full of koi that give the place a distinctly Japanese feel. You will also find some friendly exotic birds and animals walking the grounds as well. Your family can easily spend an entire afternoon roaming around Kyoto Garden. 
You might also enjoy:
Hidden Gems in London Wrap-Up
Now that you have a fix on the 25 hidden London gems, it is time to start planning your itinerary. This list should give you some great ideas to begin. Envision the possibilities and then start putting action to your dream as you prepare for a memorable and enjoyable trip to London in the near future.  Start dreaming about all of the fantastic places that you can see. You will be the envy of all of your friends when you send them pictures of all the adventures you took part in that are off the beaten path. Start packing your bags and make your dreams become a reality. You'll love visiting all these hidden London gems.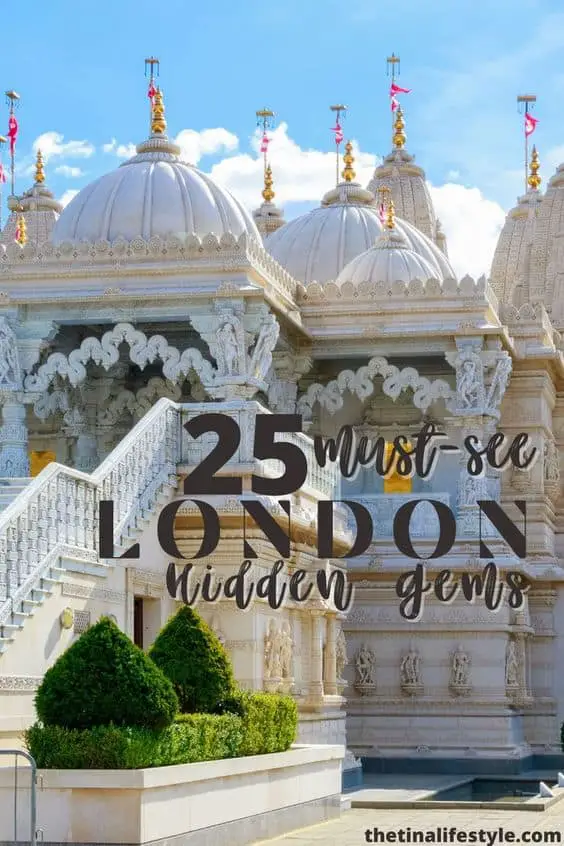 Frequently Asked Questions 
What Should I Do for My First Trip to London?
For your first trip to London, make sure you explore some of the city's most iconic sights and attractions. Start by visiting Central London to see landmarks like Buckingham Palace, the Tower of London, and the Houses of Parliament. Don't miss wandering along the South Bank, where you'll find the London Eye and Tate Modern. To uncover London's hidden gems, consider visiting the Old Royal Naval College in Greenwich or exploring the Charles Dickens Museum. Finally, make time to visit renowned museums such as the British Museum and the Victoria and Albert Museum.
What Are 5 Things London Is Famous For?
Historical landmarks: London is home to iconic landmarks such as Buckingham Palace, the Tower of London, and the Houses of Parliament.
World-class museums: The city boasts exceptional museums like the British Museum, the Victoria and Albert Museum, and the Natural History Museum.
Literary connections: London has a rich literary history, with famous authors like Charles Dickens and Shakespeare having strong ties to the city.
Green spaces: Despite being an urban metropolis, London features numerous parks and gardens, including Hyde Park, Kew Gardens, and the lesser-known Chelsea Physic Garden.
The River Thames: The Thames is the lifeblood of the city, with attractions such as the London Eye, the South Bank, and the Old Royal Naval College all situated along its banks.
How Many Days Do You Need in London?
To fully experience the city and its attractions, when visiting London, we recommend spending at least 4-5 days in London. This will give you enough time to explore Central London landmarks, visit world-famous museums, and discover some of the many London hidden gems, such as the Chelsea Physic Garden and the Old Royal Naval College.
How Do I Spend a Perfect Day in London?
Begin your perfect day in London with a visit to the British Museum, where you can marvel at ancient artifacts from around the world. Next, head to the Victoria and Albert Museum for an inspiring collection of art and design.
Take a leisurely stroll along the South Bank, enjoying the views of the River Thames and stopping by the Tate Modern for some contemporary art. For lunch, sample some delicious street food at Borough Market.
In the afternoon, explore the Old Royal Naval College in Greenwich, a stunning architectural masterpiece and one of London's hidden gems. If you have time, pay a visit to the nearby Cutty Sark, a historic tea clipper ship.
Finish your day with a visit to the London Zoo or the Chelsea Physic Garden, followed by a West End show or a cozy dinner in a traditional British pub.