There's no doubt that New York City is one of the most iconic travel locations in the world. New York City inspires people from all walks of life to visit this culturally kaleidoscope metropolitan jungle. Sadly, travelling around this astonishing city can be a bit pricy, from lodging to eating out to transportation. However, you can have a great budget-friendly experience by to the long list of free things to do in NYC. From attractions to activities, you'll find something to do in all corners of every borough.
24 Free Things to do in NYC
Read on to learn the 24 best free things to do in NYC. They will make your trip worthwhile without costing you a cent. These activities will range from free hotspot attractions to shows and entertainment.
Among this great long list of free things to do in New York City, you'll get to read about some of our favourite travel blogger's favourite free things to do in New York. 
You might also like : In New York for 4 Days: Your 4-day New York Itinerary
You might also like : Helicopter Tours to Try in the USA (including New York City)
What Are Free Things To Do in New York City
Brooklyn Bridge
By Samantha from S & A Getaway
One of the most iconic parts of New York City, The Brooklyn Bridge, is a must see on your next trip to NYC!  Connecting Manhattan's Financial District and Brooklyn's Brooklyn Heights it is the perfect walk to get from one borough to the next.
The best way to get to the bridge is to take the A,C to High St, the 2,3 to Clark St or the 4,5 to Borough Hall, depending on where you're coming from.  Each of these stations are in Brooklyn Heights, this way you can walk back into Manhattan.
But, before taking the walk back to Manhattan be sure to stop by the Brooklyn Promenade to get the best view of The Brooklyn Bridge, along with an amazing view of Downtown Manhattan. 
Once you are on the bridge, it will take you about 30 minutes to get all the way across.  On your walk be sure to take in the history of the bridge – it was built in 1883 and is one of America's oldest suspension bridges!   
And, of course, the best part of walking the bridge is to take amazing photos!  Whether they are of yourself or just the bridge, you will not be disappointed with how your photos come out!
9/11 Memorial
By Rachel and Dana Reed from Traveling Found Love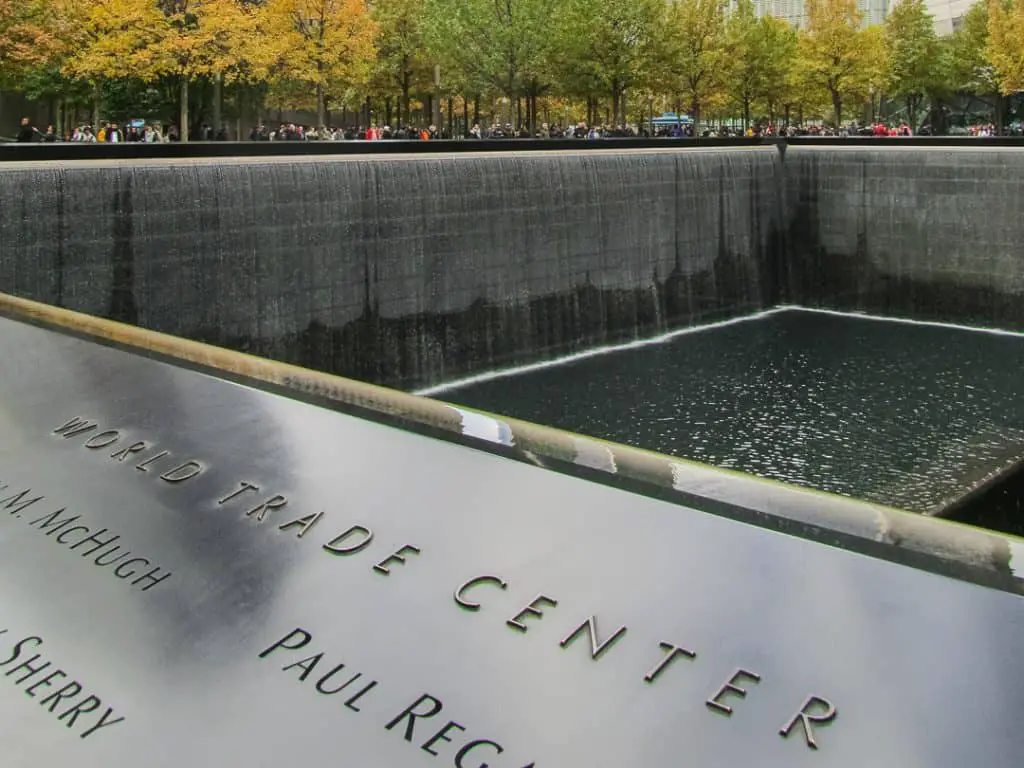 Take in the powerful 9/11 Memorial in New York City's lower Manhattan, located on the grounds where the World Trade Center once stood. 
The easiest way to get there is by utilizing public transportation. The PATH train from New Jersey directly connects to the World Trade Center terminal. If you are heading into the city at the popular Grand Central Station, take the 4 or 5 train to Fulton Street.  
As you walk through the 9/11 Memorial's North and South Fountain, appreciate the silence and honor the individuals who tragically lost their lives in the terrorist attacks of 2001 and bombing in 1993. Try to connect with and pay tribute to the names that are carved on the fountain walls. 
No matter what connection you have to the event of 9/11, you can't help but instantly feel a rush of emotions when you are at the memorial. This experience will have a long-lasting impact, incomparable to any other memorial you have visited before. 
Visiting the memorial is free but if you are looking for a little more in-depth experience you can download the 9/11 Memorial Audio Guide in the Apple App Store for $1.99. Choose from different tours to learn more about the actual event from witnesses, the architecture and design of the World Trade Center, and much more. 
The Oculus
By Rachel and Dana Reed from Traveling Found Love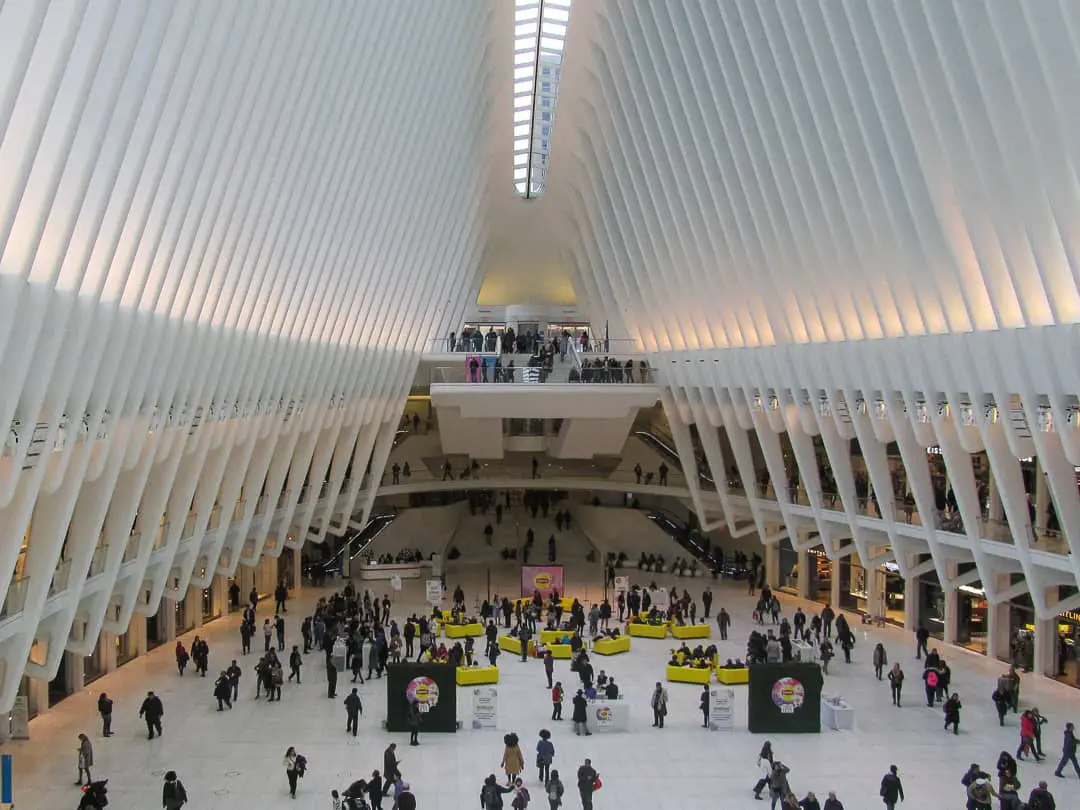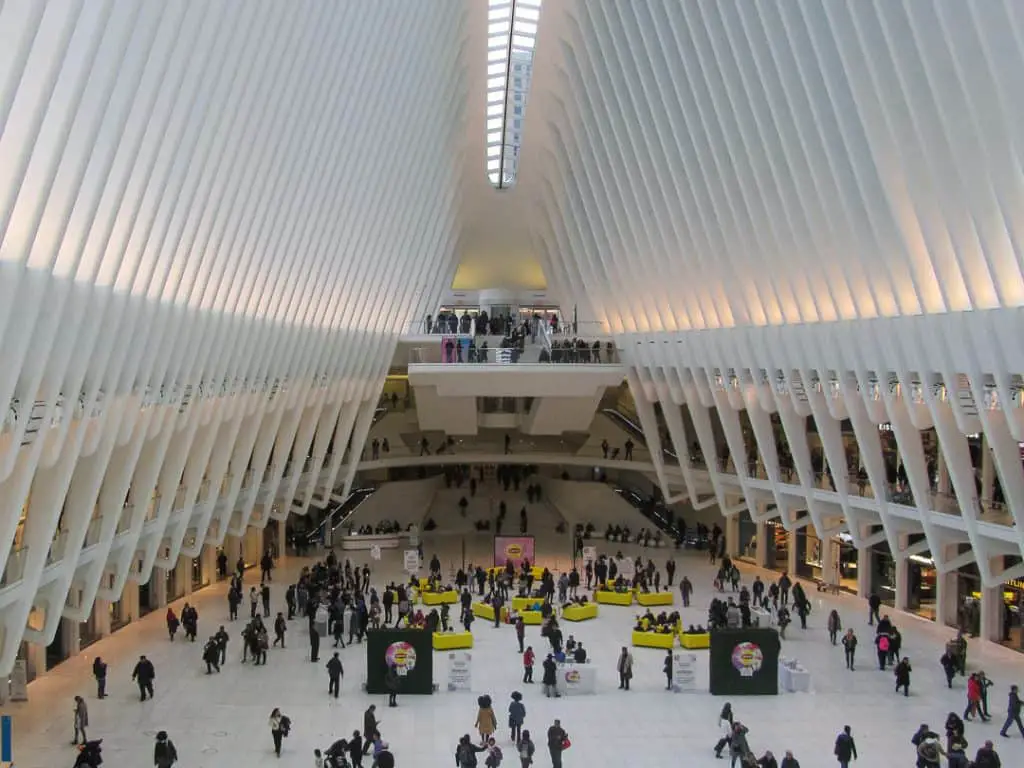 After visiting the 9/11 Memorial & Museum, don't forget to stop by the oddly shaped white building nearby. This uniquely looking architectural design is called the Oculus. 
It took the Spanish architect Calatrava 12 years to finish the enormous artistic landmark. Looking at it from the right angle and using your imagination, you can see a dove taking off into flight. 
What might seem like an odd place to visit on your Manhattan tour is a favored place to visit for both tourists and locals.
But what actually is the Oculus? It is a transportation hub and shopping center within the World Trade Center complex. It was created to help bring life back to a once lively area that became silent overnight.
Being a transportation hub, there are 12 subway lines and the PATH train connected to the Oculus which makes it easily accessible. For more information on the subway lines to the Oculus visit the MTA website. 
What else can you do when visiting the Oculus, if you aren't there to shop in designer stores or use the transportation service? You get the chance to capture an exclusive photo inside a remarkable architectural gem. The best spot to snap a picture is the platforms on each side of the building, overlooking the gigantic main hall.
Attend Live TV Show Taping
Who knew attending a live tv show taping would be amongst a list of free things to do in NYC. New York City is the eastern entertainment hub with its sister city of Hollywood on the west. There is an overwhelming number of popular television that have been filmed here, including Seinfeld, Friends, Law & Order: Special Victims Unit, and so many more.
It's possible to watch the filming magic for many of these shows, particularly the sitcoms, live in the studio.  Sadly, tickets for many of these long-running and popular shows can cost an arm and a leg. However, if you know exactly where to go and when then you can see the creation of some of New York City's most fantastic television shows in iconic venues live and completely free of charge. 
If you want to see some of entertainment's biggest stars in person for free, you'll need to do some planning in advance. Attending these shows is competitive even when you pay for tickets, so naturally, you can expect even more people are vying for the chance to get a studio seat for the sheer price of effort. 
To get a reservation or ticket for a free live tv show taping, you'll need to go to the show's official website and either apply there or follow the site's directions and apply at linked websites like 1iota.com
Some of the tops shows that have this option include:
The Daily Show with Trevor Noah
The Dr. Oz Show 
Full Frontal with Samantha Bee 
Good Morning America 
Inside the Actors Studio 
Last Week Tonight with John Oliver
Late Night with Seth Meyers 
The Late Show with Stephen Colbert 
Live with Kelly and Ryan 
The Rachael Ray Show
Saturday Night Live 
Today 
The Tonight Show Starring Jimmy Fallon
The View 
The Wendy Williams Show 
NBC Studios Google Maps Location
ABC Studios Google Maps Location
CBS Studios Google Maps Location
The Vessel at Hudson Yards
By Jenn from Cocktails Away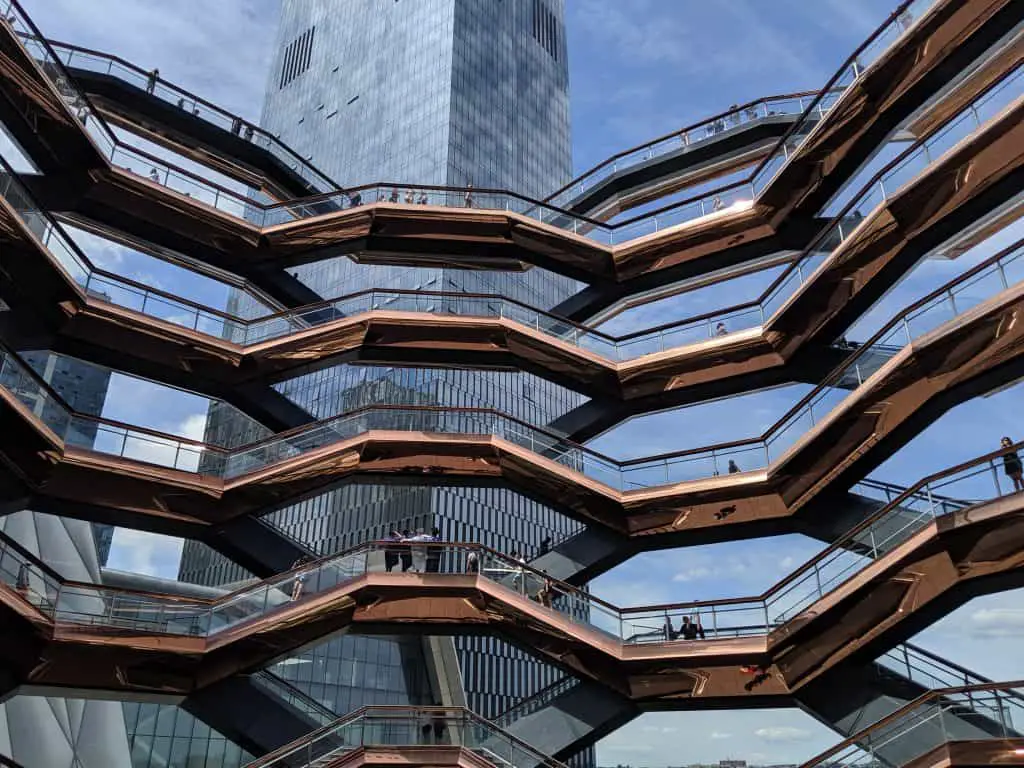 If you've ever wanted to climb inside a giant architectural sculpture, The Vessel will satisfy that craving. Not only does it provide you with incredible views of the city from 150 feet in the air, but you'll have a 360 degree vantagepoint. You can see the river and the city from multiple platforms and levels. The hive-shaped structure–constructed from 154 flights of interconnected stairs–was designed by Heatherwick Studios in England, was built in Italy and traveled by ship to New York City. 
To get to the Vessel, take the Number 7 subway and get off at the 34th Street-Hudson Yard Station. If you'd rather take the bus or the train, here's how to navigate those options.
Same day, time-specific tickets are free but are first come, first served. You can pick tickets up starting at 9:30am at all of the interactive kiosks in the Shops and Restaurants at 20 Hudson Yards and on the Public Square and Gardens. Tickets grant you one-hour access from the time on your ticket. A very limited number of tickets can be reserved online for future reservations within a 14-day window.
Staten Island Ferry
By Daphna from A Tiny Trip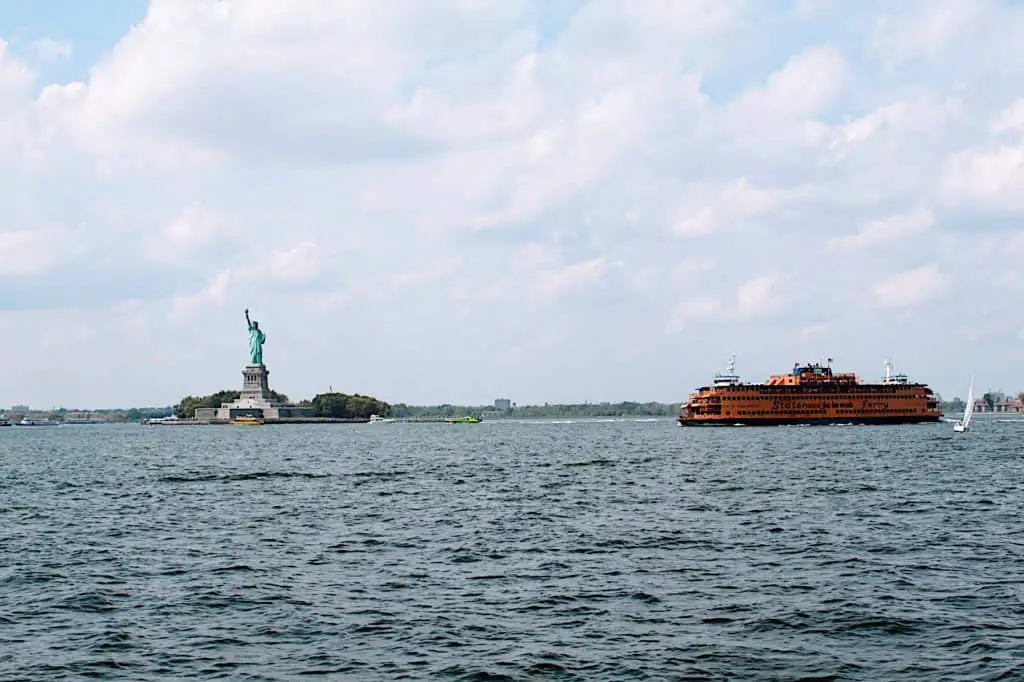 If you think of one iconic thing to do in New York City it would be seeing the Statue of Liberty. What if I told you that there was a way to get up close and see the Statue of Liberty for free? Well, there is! By riding the Staten Island Ferry you can get much closer and see the Statue of Liberty from the water. If you do not want to pay for the official cruise then this is definitely the way to go.
To get to the Staten Island Ferry in Manhattan, you need to get to the Whitehall Ferry Terminal all the way on the southern tip of Manhattan. The easiest way to do this, if you are staying in midtown, is by hopping on the subway. The N/R/W line has a stop at Whitehall. Of course you can always get a taxi as well. Getting on the ferry is pretty straightforward. Get in line with the other tourists and commuters!
You can sit inside if the weather is bad. There are comfortable benches and tables and snacks are for sale. Otherwise, for the best view, you should sit outside along the edges of the ferry!
Free Things to Do in NYC Today 
Flatiron Building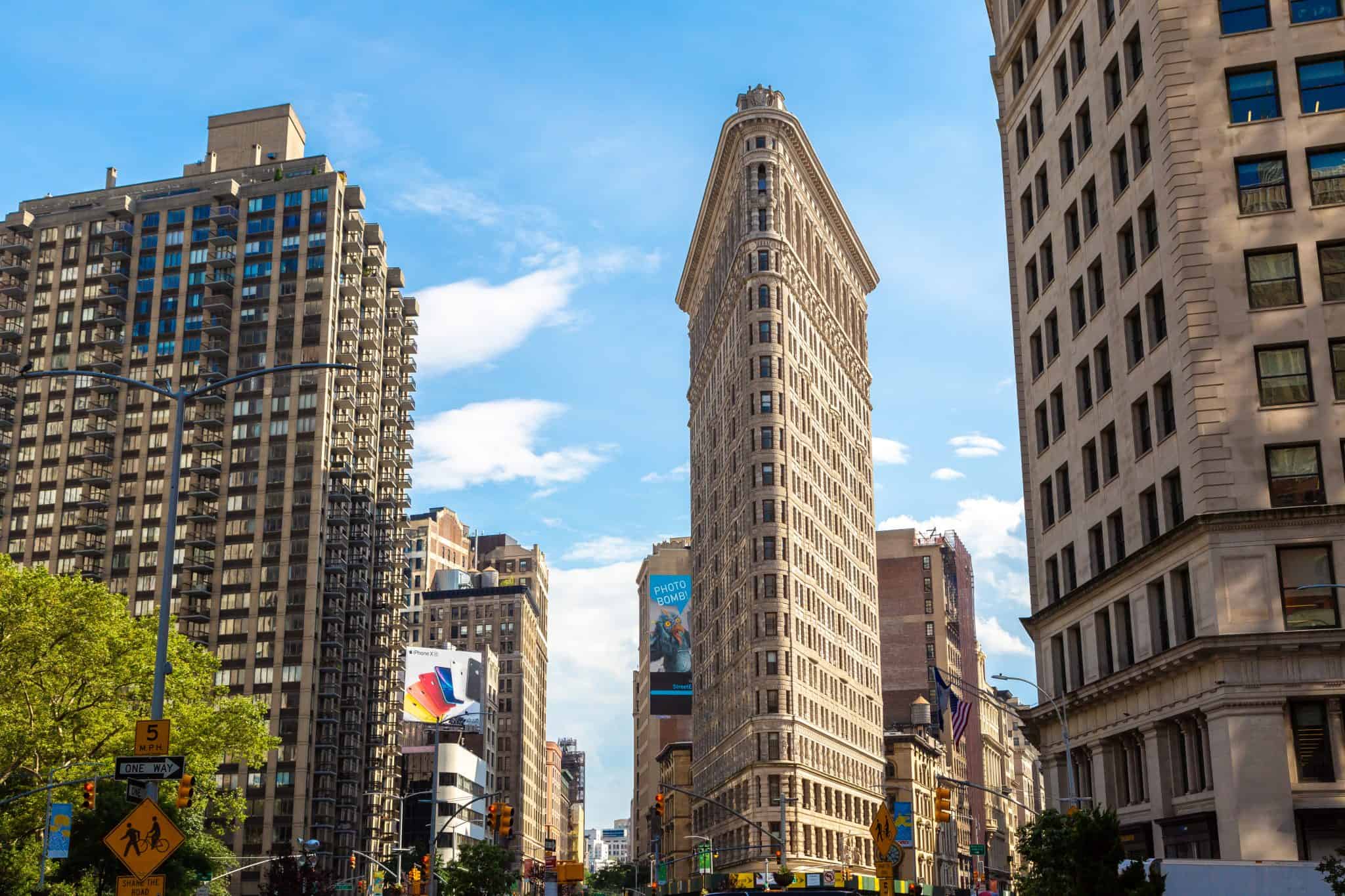 Formerly known as the Fuller Building, the Flatiron Building is located in the Flatiron District of Manhattan. It is known for its triangular shape and towering height, measuring 22 stories. Following its completion in 1902, it was even considered one of New York City's tallest buildings.
Although no longer on this jaw-dropping list of NYC's tallest skyscrapers, the Flatiron building is still an iconic location. It is an exceptional stop for people in need of free activity.
Since the Flatiron Building is still being used for businesses today, you can't ride the elevator to any floor you please. The biggest pull for visiting this location is its historic significance. You can gaze wonderingly at the groundbreaking architecture of the building, and then, when you've had your fill, you can head on inside to the building's lobby.
The Flatiron Building has a gorgeous lobby that will take your breath away. You can stop into one of the shops on the ground floor or read up on the building's significance through display information. 
The High Line
By McKenna Hurd from One More Step Travels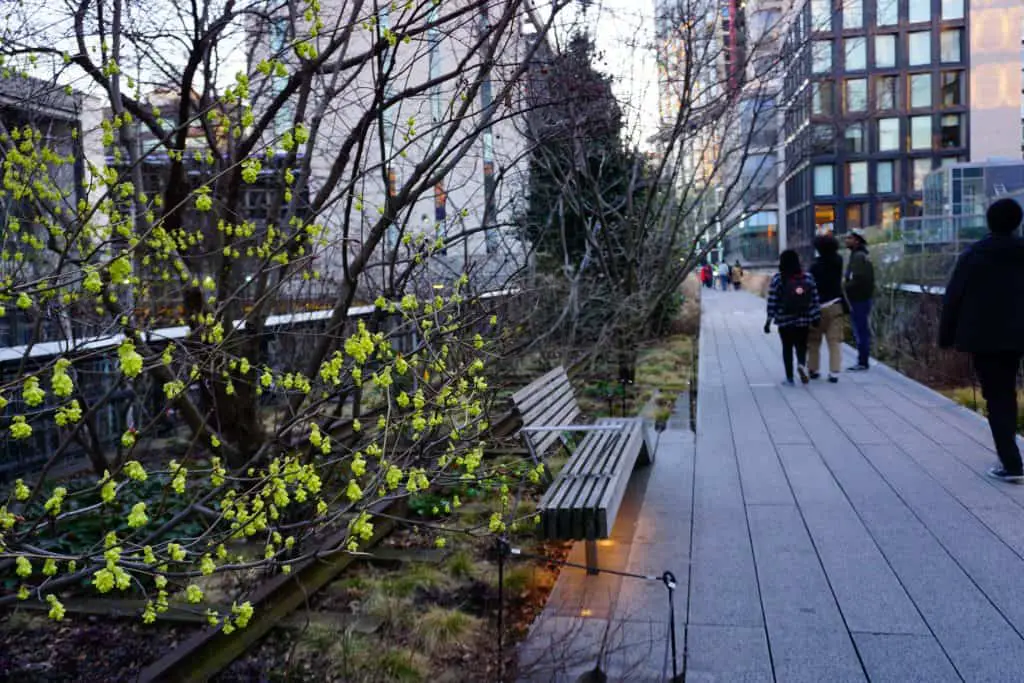 The High Line, located on the west side of Manhattan near Chelsea, is an urban park unlike any other in New York City. The park is an old railway converted into a beautiful green space elevated from the ground and decorated with flowers and trees.
Along the path are gorgeous views of the Hudson River on one side and the city skyline on the other. Visiting during sunset is especially magical as the water sparkles in the fading sunlight, and the buildings are lit with colour.
Visiting the High Line is one of the top ten experiences in New York City and should not be missed! It's great for nature lovers who need a break from the concrete jungle, photographers and Instagrammers, and anyone who likes to find unique locations within iconic cities. A walk along the High Line is the perfect stop after grabbing a bite to eat at the nearby Chelsea Market.
The High Line is also a great area to people watch, enjoy unique modern New York architecture, and find colourful street art. It offers a special glimpse into life in New York, all for free and without much effort—besides, of course, the stairs it takes to climb to the path!
Brooklyn Botanic Garden
Founded in 1910, this flowering oasis is a popular location for travellers that want to unwind. Take a peaceful walk through the most beautiful natural displays you can find in New York City. 
The Brooklyn Botanic Garden is located in Mount Prospect Park in central Brooklyn. It holds over 14,000 plants within 52 acres. There are over 20 gardens and attractions that visitors can admire and explore. One of the most famous being the Cherry Esplanade, where rows of cherry and oak trees bloom around April. 
Although this beautiful location is on our list of free things to do, it is important to note that the Brooklyn Botanical Gardens do not always have free admission. When it does, you definitely need to jump on the opportunity to see this breathtaking spectacle. 
Here are the circumstances under which visitation is free:
Friday mornings until noon from March to November
Weekdays, meaning Tuesday to Friday from December to February (they garden requests you "pay what you can" this time of year, similar to donating to a free museum)
Always free for members
Always free for children under the age of 12
Community tickets available for individuals under financial hardship
Free Walking Tour
By Sydney from A World in Reach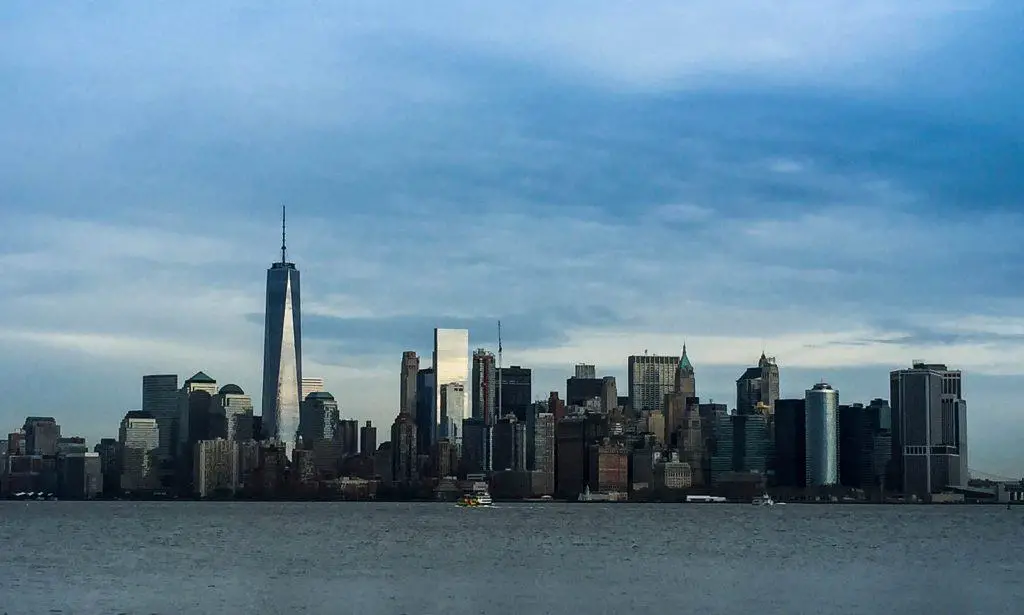 A trip to New York City can be expensive, so why not save some money while exploring the city by taking a free walking tour?
Free walking tours are a great way to explore a new city while learning about its history – all for free! Most free walking tours are led by expert local guides who know the ins and outs of their city. There are tons of options for free walking tours in New York City, with different tour options for different areas of town. For a great overview of the city's top sights, consider booking one (or a couple!) of the free walking tours around New York Cit :
Keep in mind that while these walking tours are free to take, the guides work for tips. At the end of the tour, you can pay what you felt the tour was worth, so make sure to account for this in your travel budget.
Window Shopping 
Ah, there's nothing quite like looking into a store filled with things you envision having and then walking away with the satisfaction that your hard-earned cash is still in your pocket. 
We admit that, in reality, this is a bittersweet feeling, but window shopping can be a fun experience with the right mindset, and there are a plethora of quality window shopping opportunities in New York City. 
As a hotspot for celebrities, influencers, and fashion designers, there are a vast number of NYC stores that show how the other half lives. You might not fall into any of these categories, but that doesn't mean you can't walk on the same floors and glance at the same merchandise as if you fully intended to leave the store with it. 
Window shopping in itself can be deeply satisfying, adventurous, and, best of all, free. You just have to make sure you go to the best locations if you intend to make a full evening of it. 
Some of the optimal locations for window shopping in NYC are, without a doubt:
If you're going to spend the day window shopping, just make sure you stay light-hearted and enjoy looking at all the amazing products rather than seeing them as things you can't have. 
The Downtown Boathouse 
Established in 1994, the main goal of those behind the Downtown Boathouse is to ensure free public access to NYC's harbor and the Hudson River. 
Therefore, if you head over to Pier 26, you'll have the opportunity to explore the waters of the Hudson on one of the Downton Boathouses free kayaks for an adventure-packed and physically stimulating evening. 
These kayaks are open and free to the public from May to October, and users are provided with a brief instruction lesson on safety and technique as well as bring provided necessary equipment and facilities such as:
Safety equipment (ex. life jackets)
Changing rooms
Lockers and locks
Bike locks
Sunblock
First aid equipment
Individuals of all ages are permitted to participate, although a guardian must accompany children under 16. Users have complete freedom to explore the protected area for 20 minutes before returning to the docks, and, as we said, it's all free. 
However, this service is only available due to volunteers' hard work and generosity, and so, public support and donations are appreciated. 
Washington Square Park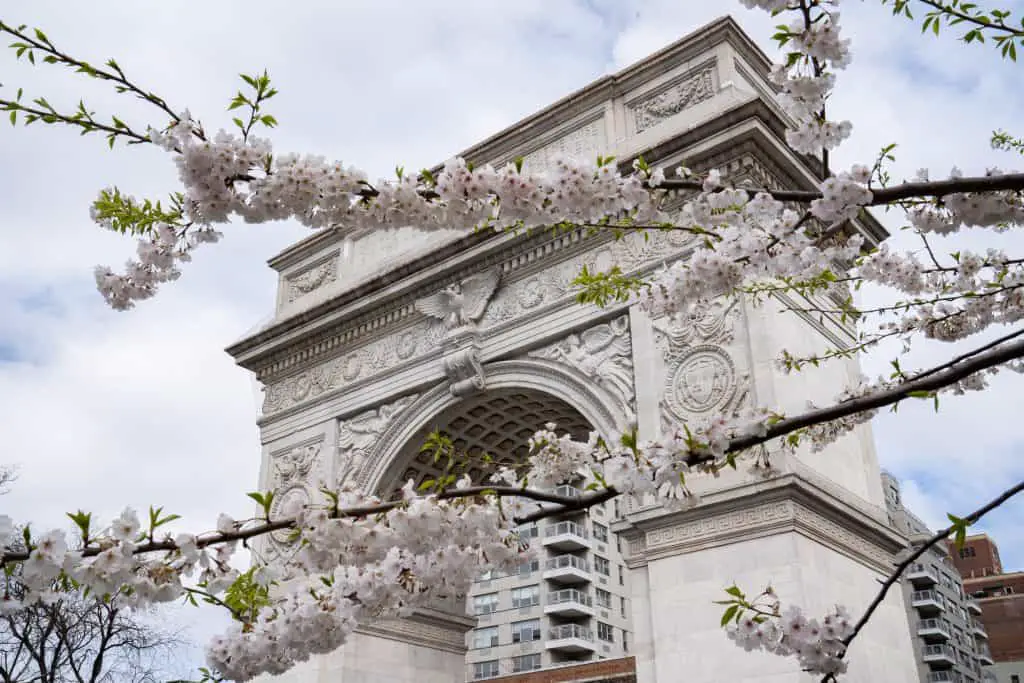 Yet another popular NYC location where you can find exciting and free activities is in Washington Square Park. Located in Greenwich Village, this park is 9.75 acres where individuals tend to meet or attend cultural activities. The Washington Square Park in such a great addition to our list of free things to do in NYC.
Most individuals who come here will sit on one of the park fences and enjoy the atmosphere or take a leisurely stroll.
The park is relatively small compared to others mentioned on the list, it is as naturally beautiful. It is even spotted with historic features and profound statues.
Another element of significance here is the musical performances anyone can witness. The quaint mark is normally filled with versatile musicians. Sometimes, they'll test the improvisation skills by spontaneously jamming with one another completely unrehearsed. 
Free Things to Do in NYC Tonight
Times Square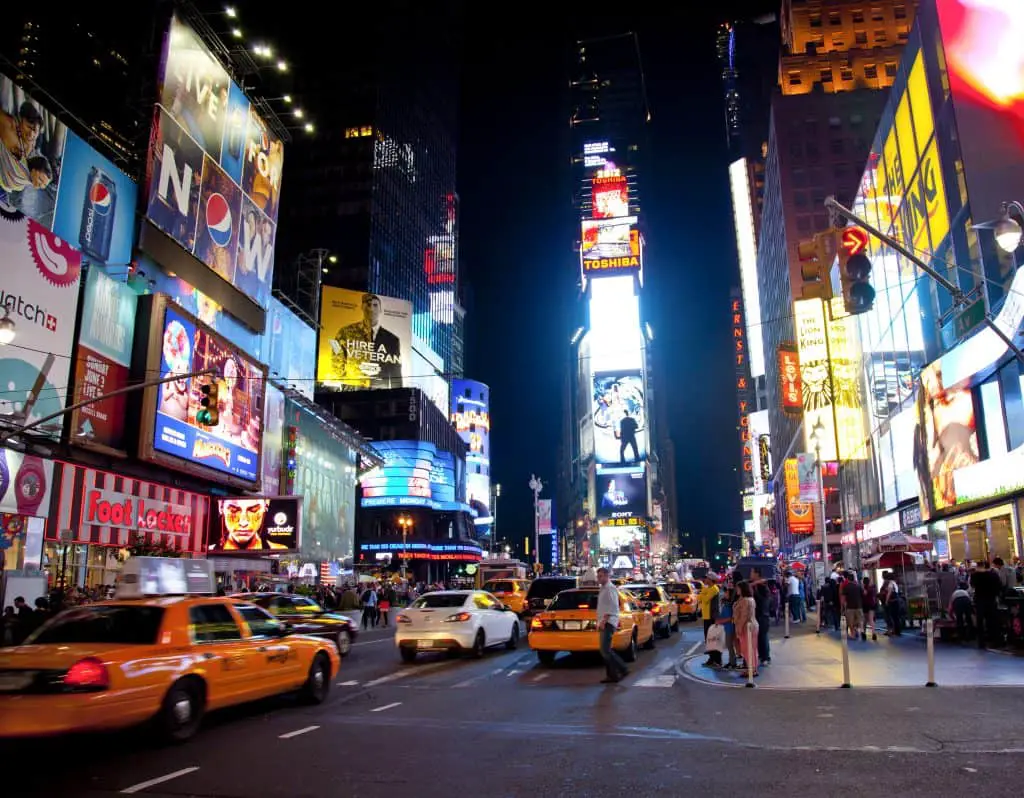 This has to be on our list of free things to do in NYC. We know you've all been waiting for it, and here it is. Times Square. The pinnacle of New York City. It is nearly impossible to picture this iconic metropolitan without the bright screens and flashing lights of Times Square. 
Times Square is the ultimate playground for the individual who wants a fun-filled day or even days without spending a dime.
Frankly, there is so much you can do in Times Square that we wouldn't even be able to cover it all, but for those of you aiming to stick to the free activities, here are our top choices:
Grab a coffee, take a seat, and people watch for a while. Individuals from all walks of life flood into Times Square, and you never know what you'll witness there. 
Witness the Midnight moment from 11:57 pm to midnight when all the billboards dance synchronized for an epic digital display.
Interact with one of the many Times Square characters (keep in mind they are independent performs that survive on tips/donations).
Enrich your eardrums with some soulful music performed by the Times Square gospel choir. Listening to their musical glory is absolutely free and found at 234 West 42nd Street between 7th and 8th Aves.
Soho Murals 
Soho Murals : another favourite on this list of free things to do in NYC.
As the stomping grounds for some of the most artistic and creative individuals to walk the planet, many streets in New York City are lined with amazing street art and murals by famous and anonymous creators alike. 
If you appreciate the arts and want an easy and free activity for the evening, then head over to SoHo for their inspirational and thought-provoking murals.
SoHo is an NYC neighborhood known for its hipster, retro, and grunge vibes. The streets here are filled with boutiques, thrift stores, and vibrant nightlife hotspots.
You can often see the SoHo personality reflected in the unique murals lining its streets. Finding them can be an adventure akin to a treasure or scavenger hunt.
However, for those of you that want to know exactly what the best SoHo murals are and where to find them, you can check out the list below:
| | | |
| --- | --- | --- |
| Mural | Creators | Address |
| Joey Ramone | Solus Street Art and John Matos | 2 Bleecker St., New York, NYC 10012 |
| Colorful Semi-circle  | Jason Woodside | 13 Doyers St., New York, NY 10013 |
| Gigi Hadid  | Tristan Eaton | 389 Broome St., New York, NY 10013 |
| Audrey Hepburn  | Tristan Eaton | 176 Mulberry St., New York, NY 10013 |
| Love Wall  | James Goldcrown | 192 Mott St., New York, NY 10012 |
| Pop Art Crying Girl  | D*Face | 421 Broom St., New York, NYC 10013 |
| Crash Looney Toons  | John Matos | 328 Broome St., New York, NY 10002 |
| Little Cupcake Bakeshop  | Claudia Gold | 236 Mott St., New York, NY 10012 |
These are just a handful of the best murals you can find in the area, but we suggest you spend the evening walking on foot trying to find as many of these unique works of art as you can.
For additional free fun, if you are willing to walk a little further, there are also plenty of murals on Allen Street and throughout the neighboring town of Nolita. 
Free Things to Do in NYC this Weekend
New York Botanical Garden
Located in the Bronx on 250 acres, the New York Botanical Garden is another exceptional hotspot location where you can explore exhibits filled with natural beauty for free with conditions.
While at the New York Botanical Garden, you can see over a million different types of plants, all extravagantly on display in the gardens and conservatory. 
This location is great for families, a calm date, and even school groups looking for a fun and educational setting for all their students at no cost.
Similar to the Brooklyn Botanic Garden, the New York Botanical Garden is not free at all times. To simply walk-in and enjoy the mesmerizing scenery here, you'll need to visit on a Wednesday or from 9 am to 10 am on Saturdays. Since these gardens are so vast, we highly recommend going on Wednesdays, so you'll have all the time you need to fully appreciate your surroundings. 
Bear in mind that the free admission at this time does not include access to:
Conservatory
special exhibits
children's adventure garden
rock garden
tram tour
Although some of these are certainly an unfortunate loss that you should someday pay to see, we guarantee that the gardens alone are a worthwhile and fulfilling experience anyone would pay to see. Luckily, you just won't have to. 
Knitting Factory 
With an overwhelming number of nightclubs to support the city that never sleeps, it's possible you've never even heard of the Knitting Factory. However, after reading this, it will most definitely be on your radar as one of the first places you should go for a free, fun-filled night to remember.
The Knitting Factory is a nightclub that first opened in 1987 and offered some of the city's best live music and entertainment. Here, you can listen to bands perform rock and roll and jazz, you can be moved by some of the most profound poetry, and you can witness groundbreaking performance art. 
The Knitting Factory is on this list of free things to do in NYC because the best time to visit the Knitting Factory, by far, is on Sundays when they offer free entrance to some of the most gut-busting stand-up comedy acts you'll ever see. 
These shows occurred weekly starting at 9 pm, perfect timing to close the evening after a solid New York City meal, some great company, and a good laugh. 
Bryant Park 
Everyone's heard of Central Park, where various NYC natives and tourists flock to play lawn sports, run the trails, and spend some quality time with loved ones. What most people don't know is that you can do the same exact thing at Bryant Park and more.
If you want to have a cost-free outing in New York City, where you get to enjoy the great outdoors and some amazing activities, you should head over to Bryant Park. This is a favourite on our list of free things to do in NYC.
Although not as commonly discussed as Central Park, Bryant Park is still a beloved NYC hotspot destination. The park attracts over 12 million visitors annually and is considered "one of the world's busiest public spaces."
While here, you can take a seat in the square and gaze at the towering skyscrapers nearby, you could wander the beautifully lush gardens, of you can partake in some of the park's free activities, such as:
Watch a free movie screening
Play a game of chess
Ice skate at the Bank of America Winter Village
Witness the Bryant Park Jugglers as they hone their skills and nail some amazing tricks or become a juggler yourself by joining in for free lessons
Participate in free classes at various locations around the park
In addition to these activities, you can take a peek into some of the park's shops, or you could head over to the New York Public Library. 
Free Things to Do in NYC when it Rains
The New York Public Library 
By Sherri Telenko from Dog Trotting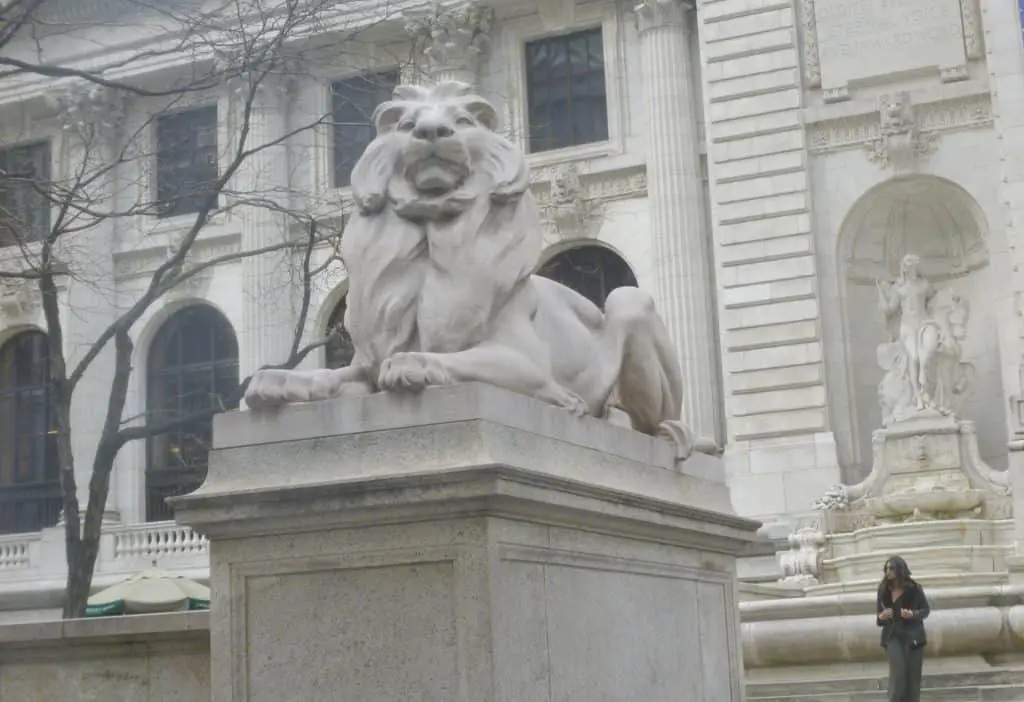 If your visit to NYC includes iconic landmarks, The New York Public Library's central location on 42nd Street should be on your list for several reasons, including the fact Winnie-the-Pooh lives there. 
Founded in 1895, the NYC Library's massive lion sculptures is frequently the stop of a Manhattan walking tour, but many visitors make one mistake: they don't go inside. That's where the real experience lies. 
The ornate scrolling wood Gothic architecture alone is worth the visit, but upper floor hallway hosts rotating exhibition featuring art, photography and sketches from the library's archives. Pre-pandemic, historic tours ran on select dates (advanced sign-up required). Even though the library is home to cultural gems such as Columbus's 1493 letter announcing his discovery of a new (to him) world and George Washington's original Farewell Address, the true treasure lives in the basement. 
The inspiration for author A. A. Milne's Winnie-the-Pooh characters were actual stuffed animals purchased from Harrods of London for Milne's son's first birthday. Winnie arrived first, followed by Eeyore, Kanga and Tigger. (Owl and Rabbit appeared in the stories only). Fortunately, the family kept these toys. Now, all five live under a humidity-controlled ultraviolet light filtering Plexiglas box at the Children's Center of the NYC Public Library. 
Visitors of all ages and nationalities head downstairs daily to pay homage these childhood-influencing literary characters. Like any public library, admission is free which makes this a great place to add to your list of free things to do in NYC.
New York Aquarium 
You probably haven't been too surprised with many of the free options on our list until this point. Let's face it, most parks, gardens, and shopping centers are free no matter where you go. However, one unique and completely free location in New York City happens to be the New York Aquarium.
Located on the Riegelmann Boardwalk in Coney Island, Brooklyn, the New York Aquarium has quite the history. It is the oldest continually operating aquarium in the United States. 
The aquarium is built on 14 acres and houses over 266 different aquatic species. All carefully cared for and clearly visible in the aquarium's awe-inspiring enclosures. 
This is an amazing experience, where you can gaze at the animals, watch impactful films in the Aquatheatre, or watch stunning and educational animal shows performed by sea lions and other aquatic residences.
Amazingly, you have the opportunity to see it all for free on Wednesdays after 3 pm. The only catch is that you need a reserved ticket to enter, which you can acquire after 3 pm at the ticket store the Monday prior to admission. 
Grand Central Terminal Station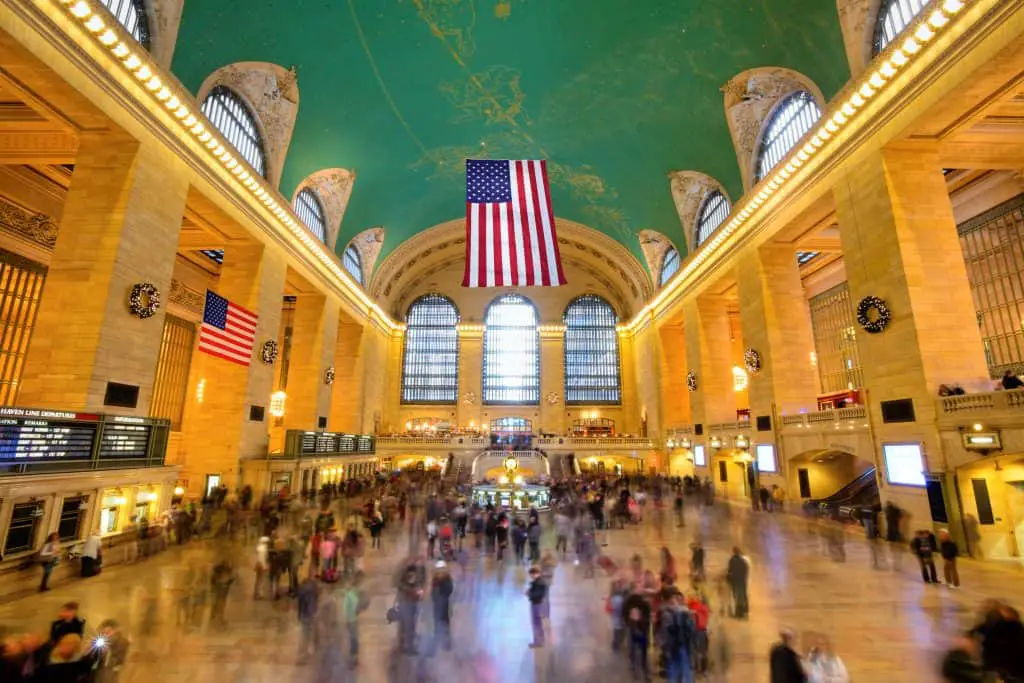 Depending on where you are staying in New York City and some of your destinations, you might have to venture to Grand Central Terminal Station on more than one occasion. However, even if you don't need to ride one of the station's trains, it is still worth visiting. 
Grande Central Terminal Station is yet another iconic NYC location, largely due to its history and architectural glory. 
Located on 42nd street, this station first opened in 1913 and has been a cultural hub and staple form of transportation ever since. Nowadays, if you're looking for free things to do in NYC, you can venture over to the station and gaze at its interior beauty before partaking in some classic window shopping. 
You should also take the time to look around you and absorb all the cultural diversity that swarms this bustling station daily.  
The Museum at FIT
By Monica from A Planner at Heart
If you're in Chelsea, you might walk right past this museum without knowing it. It's set within the college campus of The Fashion Institute of Technology (FIT). It's the only museum in the city wholly focused on the art of fashion. Whether you're a fan of history, fashion, or looking for a museum experience outside of the typical art world, it's worth a stop. 
Their past exhibition, "Minimalism/Maximalism," was fantastic! 
The multi-level museum features interesting and award-winning exhibitions that will make you think about clothing differently.  The rotating exhibits are often curated and produced by FIT students and feature stunning, beautiful fashion house garments.  
If you're local to the area, sign up for the newsletter or follow them on social media to stay abreast of their year-long activities, including famous designers, special events, and book signings. 
Most subway lines stop in the neighborhood of the museum, with nearby stations for the 1,2,3, NQRW, BDFM, and ACE lines. 
When it comes to free things to do in NYC, The Museum is great as is it free to the public at all times and is open Tuesday through Saturday. 
Chelsea Art Galleries
For all of you art lovers looking for an epic collection that won't cost you a cent, the Chelsea Art Galleries are for you. This is such a great activity to add to your free things to do in NYC.
Chelsea is another NYC neighborhood that has a deep, rich artistic history, as demonstrated by the lengthy list of galleries. Astonishingly, ten of these galleries offer free admission or shows to the public, including:
Honestly, you could spend over a week at each of these galleries gazing and pondering some of the most unique pieces of work ever created. And the experience is even more satisfying when you think that it didn't cost a thing. 
Free Things to Do in NYC in Winter
Rockefeller Center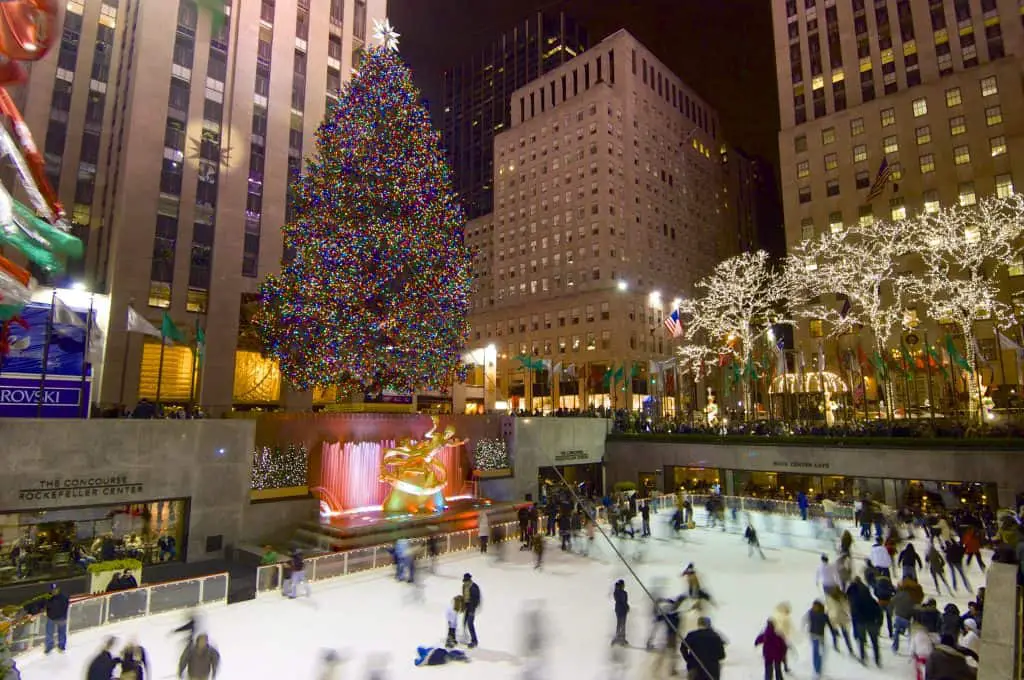 When it comes to free things to do in NYC, this is an iconic New York City attraction. Nearly any tourist takes the time to at least walk past is Rockefeller Center. 
Named after John D. Rockefeller, Jr. and opened in 1933, this mammoth-sized complex includes 19 buildings over 22 acres. These buildings are littered with shops, restaurants, and unbeatable sights. 
Some of the top free things you can do at Rockefeller Center include:
Winter ice skating. It is a New York City tradition to skate on the ice rink in front of the center.
360 view from the observatory. It is completely free to enter and walk around the center. At the top, you'll get one of the most spectacular views of the city from every angle. 
Shop wandering. There are countless stores in the Concourse of Rockefeller Center. You are free to explore every one of them, even if you don't intend to buy anything.
The Chanel Gardens. Regardless of the season you visit, there is always something to see at the Chanel gardens. Be on the lookout for some of their wintery displays or floral exhibits paired with refreshing fountains. 
Pin it for later :