No matter the destination, every traveler has spe essentials for travel that they can't live (or leave) without. You'll be happy to have some of these essential travel items in your carry-on bag or luggage to help your trip go as smoothly as possible.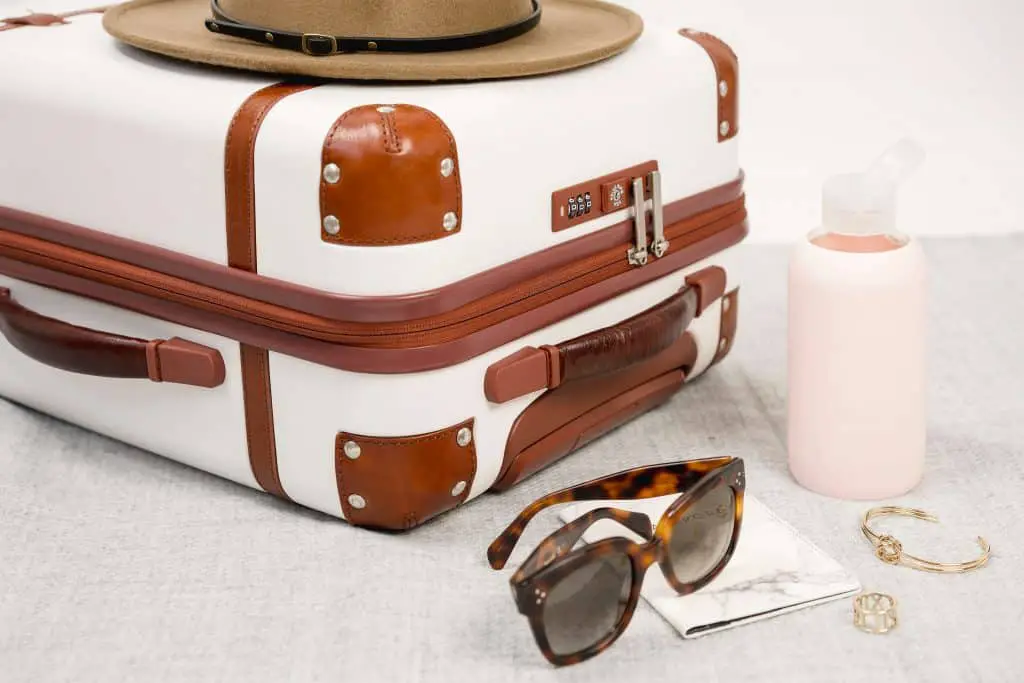 This post contains some affiliate links. If you click on the product links and make a purchase it allows me to make a small commission at no extra cost to you! In return, it helps me in maintaining this site to continue to help you!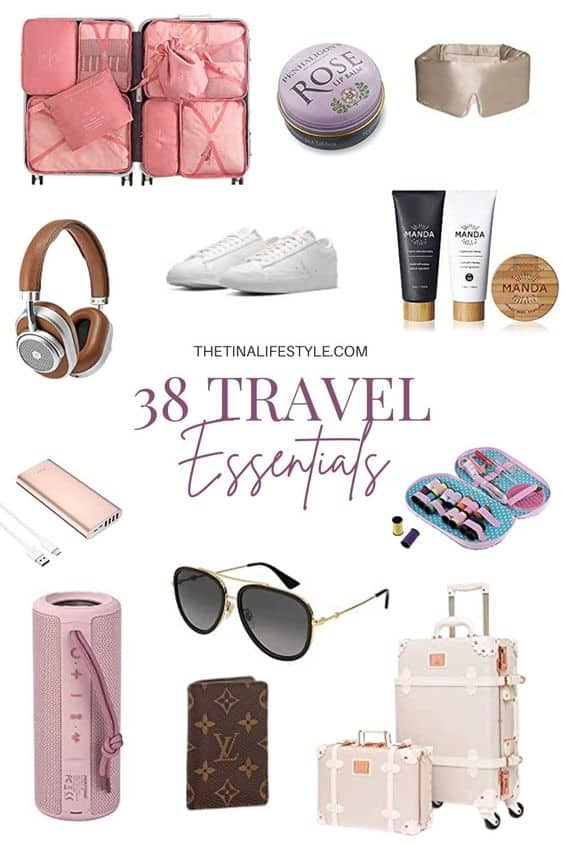 Travel Essentials List
You are thinking through all the things you could need while traveling can get overwhelming, especially if you like packing light and do not want to bring unnecessary things on your trip. 
If you're going on a trip soon and need packing tips and a quick reference for the most essentials for travel to keep in your bag, this list is for you. Whether you're planning a day trip or a longer vacation, the travel items listed below are ones you'll likely want to keep handy.
Travel Essentials for Carry-On, Backpack, or Travel Bag
Besides the clothes you'll wear during your trip, there are some important items to ensure you bring in your purse or carry-on bag. Here are some of the major items you'll likely reach for most on the way to your destination. 
Travel Luggage Trunk
If you are going on an international trip or long trip, think about all the extras that you want your travel luggage trunk to have. This includes an extendable handle or wheels, waterproof material and lining, and lightweight and easily accessible front pockets.
You might also want to consider bringing carry-on luggage with you, especially with long-haul flights, to bring some of your must-have travel accessories. This could prevent some major headaches in the event that your luggage gets lost; you'll be reassured to know that you've got essential travel items. It also allows you to bring extra travel stuff, such as a neck pillow. 
Money Belt
Money belts can bring peace of mind, especially when traveling internationally. These secure pouches are worn beneath clothing to keep important items such as money, passports, and other identification documents from sticky fingers and prying fingers of pickpockets. 
Travel Backpack
Getting the right travel backpack to put all your stuff in is a key part of planning your travel. If you pack a bag too big, you will have extra unnecessary weight. If you carry a small backpack, you will get stressed out about where to fit all your things. The material also matters as you can easily soak your belongings during rainy weather. 
Wallet or Passport Organizer
Whether you are traveling abroad or locally, it's always a good idea to keep your important documents and ID together in a travel wallet for easy access. Between checking in at the airport, customs for an international trip, and the hotel, you'll likely need to pull out these documents throughout your travel day. 
Keep these important papers together neat and organized using a passport organizer or wallet. Here are some documents to include in your organizer: 
Passport 
Driver's license 
Flight ticket confirmation/boarding pass
Hotel reservation confirmation 
Itinerary 
Customs forms (For international trips) 
Travel insurance information 
Emergency cash 
Compact Medication Bag
If you're traveling with over-the-counter allergy meds or prescription medicine, keep it in your carry-on or daily travel bag. 
It's not uncommon for checked luggage to get delayed or lost, so it's always a good idea to keep important medicine with you. 
Bonus Travel Tip: you can also print up a copy of your prescription from your doctor in case of emergency, and you need to refill the prescription while traveling.
Sunglasses
No matter where you're traveling to, keeping your eyes protected from harmful sun rays is very important. Make sure your sunglasses fit well so they're not loose around your face. You want to opt for sunglasses that fit your destination and personality. 
If you're lounging on the beach, a cute pair of aviators is great. But if you're hitting the slopes on a sunny day, a sportier pair might work better. 
Lip Balm
Especially if you're traveling on a plane, extra lip balm is a must-have. The high altitude can dry out your skin and irritate your lips. A moisturizing lip balm with SPF is essential while traveling. 
Sunscreen and Bug Repellent
Even if you're spending your trip inside, dermatologists and estheticians say that sunscreen is a daily necessity. 
Bug repellent is also a must-have, no matter where you're traveling. Your skin will thank you for protecting it from the sun and insects around you.
Facial Spray
Keep your skin hydrated and refreshed with a travel-sized facial spray. Long flights or car rides can be quite exhausting and irritating to the skin. 
Especially if you have plans immediately when you reach your destination, a good facial spray is essential to help freshen up the skin and even prime it for a little touch-up of your makeup. 
Extra Snacks
We've all gotten a bit hungry during a long trip. With the occasional plane delay or travel hiccup, sometimes it can be a while before you're able to catch a bite. That's why it's a good idea to keep a few snacks like granola bars or trail mix in your bag to help tide you over. 
Carrying some extra snacks is also a good way to avoid paying for overpriced food at an airport or kiosk.  
Essential Things to Pack for Travelling
For a longer trip, you'll likely be bringing a medium to larger-sized suitcase for your trip. Here are some essentials for travel for your luggage to help you stay prepared and organized. 
Easy-to-Spot Luggage Tags 
Lost luggage is one of the most worrying things about air travel and also other types of travel. Luggage tags are a must-have for identifying your suitcase and making sure someone can contact you if it gets lost. 
To make your luggage even easier to spot, it's recommended to use tags that are unique and easy to see from far away. 
You'll also want to use durable luggage tags to stay secure during the rough journey through airport security.
Travel Packing Cubes for Luggage
Packing bags/cube organizers are every traveler's essential for their suitcase. No matter how neatly you fold your clothes, using luggage organizers is the best way to keep all of your clothes and other travel essentials as easy to find as possible. 
Some more pros of packing cubes are: 
Maximize available space in the suitcase 
Affordable and easy to use 
You can group your suitcase items however you like 
Prevents items from moving around too much
Thin Sweater or Jacket
Even if you're traveling to a warmer climate, you're likely to get a little chilly inside the hotel, restaurants, or museums. Traveling anywhere with a thin sweater or light rain jacket is always a good idea to keep warm and also to protect your skin if you're planning to spend your vacation exploring outdoors. 
You might also like: Best Lightweight Travel Jackets for Women 
Comfy Walking Shoes
Comfort is key while traveling, making a good pair of walking shoes an essential item to bring on your next trip. Everyone is comfortable in different shoes, and depending on your destination, you'll want to bring appropriate shoes for hiking or a lot of walking. 
Tennis shoes are classic, but even a good pair of flats can be ideal if you're trying to stay cool and cute. 
Compression Socks
Socks are a must-have item while traveling to keep your feet protected and comfortable. Compression socks, in particular, have quickly become an essential item for many travelers, as they help the blood circulation in your feet and legs, a perfect travel item to ward off pain and fatigue on a busy travel day. 
Hat
Did you know you can get sunburn on your scalp? Many travelers forget about the importance of protecting their heads from sun rays. Make sure to pack a good hat or cap with you while traveling to protect your head and face from the sun. Plenty of stylish and versatile hats will do with any travel outfit.
Umbrella or Poncho
Umbrellas are easy to bring along, but a large poncho is really great because it allows you to protect your backpack or purse more easily and they allow you to stay hands-free. Don't let a bit of rain get in the way of your vacation. Not to mention, umbrellas are great ways to give yourself some shade from the sun as well.
Separate Laundry Bag
The best way to keep your travel clothes as fresh and organized as possible is to bring along an empty laundry bag to put your dirty clothes in throughout your trip. This also makes it easier to get laundry done when you arrive home.  
Small Sewing Kit
You never know when a wardrobe malfunction will happen. Keep a small sewing kit with you for the occasional button or zipper mishap. Some items to have in your sewing kit include:
Small fabric scissors 
Needle 
Extra black and white thread
Pushpin 
Thimble  
 
All of these items are easy enough to pack in a small pouch and keep in your luggage, but there are also plenty of small sewing kits on Amazon you can shop pre-made. 
Mini Stain Remover 
That baking soda trick we all know and love works great, but it isn't always the most travel-friendly option. Small spills happen all the time, but with a mini stain remover pen or drops, you can keep your clothes looking sharp while traveling. 
No one wants to get that bit of coffee on their shirt and have to spend the rest of the day (and photos) with it. Keep a stain remover pen handy, and you'll easily be able to take care of any spills along your trip. 
You might also like:
London Bucketlist-42 Things to Do in London
Travel Essentials for Women – Self-Care and Toiletry Essentials
You'll have everything you need to stay fresh and clean through your whole trip with these self-care and toiletry essentials. You'll likely be taking plenty of photos, or if you have an important work meeting and you want to make sure you look your best. 
These bathroom essentials should be in your bag at all times. 
Toiletry Bag Basic Essentials List
Even for the occasional overnight trip, there are bathroom necessities everyone needs. There are plenty of spacious toiletry bags that also have organization compartments to help keep everything within hands reach. Here are the top essentials you'll need in your toiletry bag: 
Shampoo 
Conditioner
Hair Gel
Body wash
Moisturizer 
Toilet paper
Antibacterial wipes
Razor
Toothbrush and toothpaste
Makeup essentials
Contacts and contact solution
Hairstyling products
Bonus Travel Tip: Travelers often keep a ready-to-go toiletry bag in their empty suitcases at all times. When the occasional last-minute trip comes up, all the toiletries they need are ready to go without even having to think about it. 
Reusable Water bottle
While you can't bring a full water bottle through airport security with you, a reusable water bottle is essential. Stay hydrated and eco-friendly by packing a small reusable empty water bottle. You can easily fill it up after making it through security at the airport and stay hydrated throughout your travels.
Eye Mask
Long plane rides can be a drag, and there's always that one person next to you who chooses to keep their overhead light on. Bring a good eye mask on your hand luggage to help block out the light, grab some shut-eye, and you'll be well-rested and ready for your trip the moment you step off that plane. 
Face Mask
Traveling is often a bit irritating to the skin, with different climates and altitudes causing the occasional dry patch or pimple. Bring a face mask for your trip to keep your skin healthy and looking fresh. 
Disinfecting Wipes and Sanitizer
Protect yourself and those around you from germs and bacteria with disinfecting wipes and hand sanitizer. Here are some surfaces you should make sure to wipe down for good measure:
Plane tray table 
Airport food court table
Hotel room phone and doorknob
You want to make sure you stay safe and healthy on your trip, and that usually starts with your travel and accommodation spots. 
Travel Pillow 
Staying well-rested and comfortable throughout your trip is important to get the most out of your vacation. A good travel pillow is compact and supportive for your neck. They are great for propping on your airplane seat, long car rides, and hotels for some more support while sleeping.
Hair Dryer and Styler
Rather than bring a hairdryer and a styling tool, try bringing a 2-in-1 styling tool. Not only does it take up less space in your travel luggage, but it can also cut back on the time it takes to do your hair in the morning. This means less time getting ready and more time exploring and making the most of your trip. 
Laundry Detergent Packets
Laundry detergent packets are especially useful if you plan to travel for a longer amount of time and aren't sure if you'll have access to laundry facilities. These easy detergent packets are great for washing a few items in the sink when you need to. 
Electronic Travel Essentials
Besides clothes and toiletries, there are also some electronic essentials to keep in your travel bag. Stay charged up and ready to go all day with the items listed below. 
Portable Phone Charger
Between taking photos, using navigation apps, and communicating with others, you're likely to run through your cell phone battery quicker than you think. Portable phone chargers are small and easy to carry around for those times when you're running low on battery.
A portable charger or travel adapter is also a bit more reliable than just carrying around an extra plug-in charger because you never know if there will be a plug nearby. 
Camera With Extra Battery or Charger
A portable and durable camera with a battery is absolutely essential for any traveler's bag. And don't forget to bring an extra battery or charging cord so you're never unprepared for the picture-perfect memory moment. 
Chronicle those amazing views and travel moments with a quality camera. Your Instagram will thank you for those incredible photos and amazing memories.
Tripod or Selfie Stick
Traveling is the perfect opportunity to step up your photography game with a compact and portable tripod or selfie stick. This camera and phone accessory is easy to carry with you and set up easily whenever you want to take a good photo but also want to capture an amazing background or angle.
Headphones
Whether you prefer wireless noise-canceling headphones or traditional headphones, they are an essential travel companion for every traveler. Music and podcasts are some of the best ways to pass the time on a plane, car, or train ride. 
While wireless noise-canceling headphones are more popular these days, it'it'sways a good idea to have an extra pair of headphones to plug into your phone when needed. 
Clip-on Lens for Phone
A small fish lens or multi-angle clip-on lens for the camera on your phone is a great way to snap various pictures without having to carry around a whole other camera. 
Phones are getting better- and better-quality cameras each year, and a good lens for your phone only helps boost the type of photos you can take on your trip. Here's a lens kit with multiple options to try out which ones fit your style the best. 
Portable Wi-Fi Hotspot
Internet access is always a bit up in the air while traveling, especially during international travel. That means a small portable Wi-Fi hotspot is a great way to bring reliable internet with you on your travels.  
Mini Portable Speaker
A portable speaker should be on every traveler's essentials travelers-quality speakers can make your whole trip even more fun. A waterproof one is best, especially for those trips to the beach or river. Put that amazing travel playlist to use. You won't be sorry. 
Entertainment Travel Essentials
Last but not least are a few things to keep your mind occupied while traveling. Especially with the occasional delay or longer travel days, keeping a few entertainment essentials is good to make your travels that much more fun. 
Book or eReader
E-readers are particularly useful to have plenty of options for reading materials without carrying around a ton of different books. But no matter your preference, a good book or magazine is at the top of many travelers' essentials list as a compact and fun form of entertainment. 
A plane or car ride is the perfect place to finally finish that book you've meant to complete. Not to mention, they're great for hanging out at the pool or on the beach.  
Kindle Unlimited Membership Plans
Deck of Cards
A deck of cards is about as versatile as you can get for travel-friendly games. From Go Fish to poker, there's a fun game you there's travel companions can play without getting bored.  
Travel Journal
Even if you're not a daily journal user by habit, traveling is the best time to chronicle your days. You'll have fun logging your experiences, what you see, and even new friends you meet. It's also common to print out some good photos and tape them into your travel journal at the end of the trip to mark the memories with. 
Other Essential Travel Items to Bring
Hanging Toiletry Bag
A hanging toiletry bag is an essential travel companion that keeps all your personal hygiene items organized and easily accessible. With its convenient hook design, you can hang it anywhere, eliminating the need to unpack your toiletries every time you change locations.
Luggage Cup Holder
Traveling can be thirsty work, and a luggage cup holder is just the gadget to keep your drink secure and within reach. It attaches easily to your suitcase handle, making it perfect for those airport coffee runs or keeping hydrated on the go.
Digital Luggage Scale
Avoid unexpected baggage fees with a digital luggage scale. This handy device is compact and lightweight, allowing you to weigh your bags before you get to the airport accurately.
Flip Flops
When it comes to comfort and convenience, nothing beats a good pair of flip-flops. They're perfect for beach days, communal showers, or simply relaxing after a long day of exploration.
Belt Bag
A belt bag, also known as a fanny pack, is a stylish and practical accessory for travelers. It offers hands-free convenience and easy access to your essentials like your phone, wallet, and keys while keeping them secure.
Portable Air Conditioner
Traveling to hot climates can be a challenge, but a portable air conditioner can make your journey much more comfortable. Compact and easy to use, it's perfect for cooling down hotel rooms or campsites, ensuring you always have a cool retreat from the heat.
You might also enjoy:
Final Thoughts for Your Essentials for Travel
If you're embarking on a luxury vacation like Costa Rica or Hawaii, get some help with packing tips from this ultimate packing list.