Getting ready for a road trip can be exciting. Just thinking about the many adventures that lie ahead should be enough to have you wishing the day of the trip comes around sooner rather than later. At the same time, a successful road trip does require a bit of planning. You might be wondering what road trip essentials you and your party might need on the, and having the road trip essentials that you need will differ depending on the destination and travelling. However, there are certain items that you should probably take with you no matter what the destination or how long the trip might be.
Continue reading to learn about many of the essentials you should consider taking with you on your next road trip.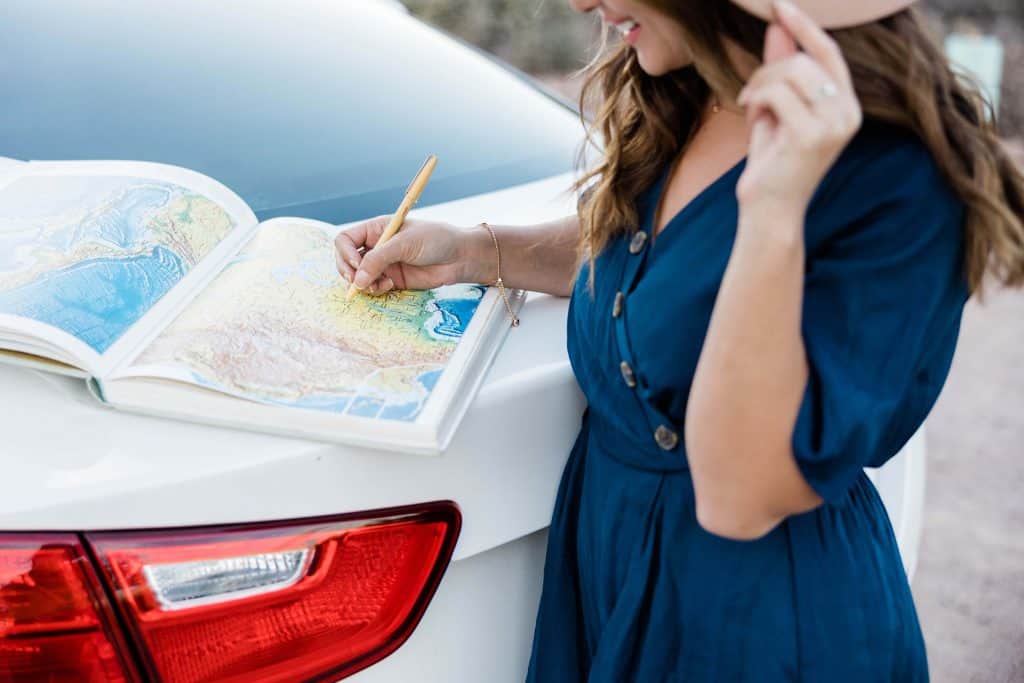 You might also enjoy: Travel Essentials List – 36 Essentials
What Are the Essentials for a Road Trip?
This post contains some affiliate links. If you click on the product links and make a purchase it allows me to make a small commission at no extra cost to you! In return, it helps me in maintaining this site to continue to help you!
We begin with some road trip necessities that you should consider taking with you no matter where you are going. You might just be going to the next county over to see your parents or driving clear across the country. 
Here are some of the most critical that you will want to add to your road trip essentials list. 
First Aid Kit
Travelling on a road trip means you are often many miles away from the nearest hospital or medical clinic. You will be thankful when minor scrapes and bruises occur in route if you always have a first aid kit with you.
Duct Tape
It has been said that duct tape can fix just about anything. Have a roll or two in your car just in case you need it. 
Power Bank
Being miles from the nearest source of electricity means you will depend on your mobile devices more than ever before. You will want a power bank to be a backup source when your juice starts to run out.
Spare Tire 
One of the most important car road trip essentials is a spare tire. You do not want to take for granted that your car even has a spare tire, and many newer vehicles do not have them. You will want a spare tire on a long road trip just as a safety measure hands and make sure it is properly inflated as well. 
Car Battery Charger
Jumper cables are great if your battery is dead, but they require another vehicle to help you out. Since you might be on your own out there in the middle of nowhere, a car battery charger can get you out of a jam.
Cell Phone
While you might be going on a road trip to get away from the hustle and bustle of daily life, you will still want to have your cell phone. At the very least, this is a safety device that can help you communicate with the outside world when you are in trouble. 
Navigation Applications 
It is always helpful to know exactly where you are on a road trip and where you are going. While a road atlas is quite useful because there is no cell service everywhere, this is the modern era.
Have some of your favourite navigation apps like the  Carvas GPS Car Navigation or  Google Maps ready to go so you can map out a great route for your journey. 
Vitamin C Tablets 
This is one of the most important essentials for a road trip. It is important to keep your immune system when travelling away from home, as you will be exposed to harmful bacteria and pollutants. Have some Vitamin C ready so you can take a few tablets every day. 
Chapstick
There are two reasons you will not want to be without some chapstick on a road trip. For one, the air conditioner inside your car makes the air a bit dry, and your lips can suffer. You will also want it when you get out in the middle of the desert, and that hot sun starts beating down on you. Pop one in the glove box and one in your bag, so you don't get caught out
Sunglasses
You must have a clear line of vision while driving on open highways. The bright sun can make that difficult if you do not have a good pair of sunglasses to help you. 
These essential items will help you to enjoy your road trip. They will also keep you safe, which is something to take into consideration. 
What Should You Bring On a Long Road Trip?
Long road trips have so much potential, where memories that last a time can be made. At the same time, you will want to think ahead before you head off for a long journey. These essentials for a road trip will keep you safer, more comfortable and help you save money. They are also designed to help you enjoy yourself to the maximum during your road trip.  
A Mount for Your Car Phone
Long road trips are great, but you will always want to have it easy while driving. This is especially true if you are relying on your phone to do the navigation.
You do not want to take your eyes off the road for a second, so having a good car phone mount will keep that from happening. It will also free the inside of your car of clutter. 
A Paper Road Atlas
If you are like most people, you depend on your cell phone or car navigation system to tell you where you are going. However, long road trips do bring the potential for cell outages. You might find yourself out of signal range for miles at a time. Those are the times when you will be glad that you have a paper atlas with you to help show you the way.
A Portable Bluetooth Speaker System
If you like music, you will want to have a Bluetooth system on a long road trip. You never know when you are going to get out of range and your car stereo stops working. With Bluetooth, you will always be in the game. In addition, you can use it to play audiobooks, a customized epic road trip playlist or a podcast. 
A Roadside Emergency Kit
This is something that you will want to have with you on a long road trip. While you do not plan on your car breaking down, it happens. If you have to sit on the side of the road for a while, you will want to have a kit to mark out where you are so oncoming traffic knows to avoid you. 
You also need some tools to make minor repairs as needed. Some of the items to have on your kit include battery booster cables, light sticks, a reflective vest, a warning triangle, a whistle, and a window breaker. 
Emergency Rain Jacket
In the chances of rain, a packable rain jacket can be a lifesaver. Depending on the season when you are making your road trip, rain could be a guarantee. Make sure you go for a waterproof and lightweight emergency rain jacket that will offer reliable protection and cover against water, wind, and even some light snow. 
Bring Along a Small Cooler
Long road trips bring long stretches of highway without a place to stock up on food and drinks. You also don't want to be eating fast food everywhere you go anyway. To keep the liquids flowing, you will want to bring along a small cooler. Put plenty of water and juices in there on ice so that you always have cold drinks available throughout the day.  
Pack a Travel Blanket
This is important if you have more than one person in the vehicle with you. It seems that nobody can ever agree on the perfect interior temperature of a car on a long road trip. Someone is inevitably going to be a bit cold. Having a travel blanket available will make their day. 
Spare Money
There are many small places in rural locations where cash is still king. While you never want to leave home without your credit cards, you will always want to have some spare cash hidden away that you can use in a pinch. It is also important to have cash just in the rare event that your cards stop working for whatever reason. 
Trail Mix
Trail mix is a flavorful go-to snack for road trips and everyday adventures ⁠—and for many good reasons. It doesn't require refrigeration, is easy to eat, and provides healthy fats, ample protein, and fibre to fuel you on those extra-long road trips. 
You can get nutritious, low-sugar trail mixes at most rest stops and gas stations. Ensure your trail mix comes in a stand-up, resealable bag for maximum deliciousness down to the last handful.
A Flashlight
From hotel rooms to stretches of road in the middle of the mountains, darkness can be a debilitating factor on a long road trip. You do not always want to be limited to daytime driving, but you need to be prepared to be outside in the darkness if you are driving at night. A flashlight is an indispensable tool on a long road trip. 
Bug Spray
A long road trip will bring you in contact with quite a few bugs. You will be amazed at how many of these pesky creatures will make their way inside your car. When they do, you need to have some bug spray on hand to protect yourself. 
A Tire Pressure Gauge
Your car maintaining the right tire pressure helps you economize on fuel usage and handle wear and tear. A tire pressure gauge should be a must-have item on your road trip to keep this in check.
What Are Some Good Songs to Play During Long Car Rides?
No matter if you are traveling alone or with the entire family in tow, music can make the trip that much more enjoyable. Some songs just seem to be made for long car rides. Here are 20 of the most popular that you will want to load up to your favourite device and take with you. 
Born to Run – Bruce Springsteen
Little Red Corvette – Prince
Here I Go Again – Whitesnake
Where the Streets Have No Name – U2
Keep the Car Running – Arcade Fire
Sweet Home Alabama – Lynyrd Skynyrd
Truckin' – Grateful Dead
Road to Nowhere – Talking Heads
Graceland – Paul Simon
Take it Easy – The Eagles
America – Simon and Garfunkel
Route 66 – Chuck Berry
Home – Edward Sharpe and the Magnetic Zeros
Going Up the Country – Canned Heat 
I've Been Everywhere – Johnny Cash
Holiday Road – Lindsey Buckingham
Mr. Blue Sky – Electric Light Orchestra
I'm Gonna Be (500 Miles) – The Proclaimers
Love Shack – B-52's
Ride Like The Wind – Christopher Cross
The great thing about modern technology is that you can download most of these songs to your favourite device. If you use Spotify, I've compiled them into this playlist that you can access. 
What Are the Best Accessories to Carry During a Road Trip?
Much of what we have talked about to this point can make your road trip more enjoyable, but what about the accessories that you need to make the journey a bit easier, some essentials for a road trip that you will be happy you brought with you? You should pack these accessories away and be ready to use when needed. 
Portable Battery Pack
This is a great accessory to have on hand. It will charge up many devices that you might have. Keep in mind that you might go hours between power sources. You will be very happy when you have a portable battery pack to give your devices just the charge they need when you depend on them the most. 
Dash Cam
Having a dashcam installed and running on your next road trip should be viewed as essential. Many things can go wrong when you are away from home. You will want to have video proof if someone hits your car or dings you when you are parked for rest stops. It is also essential to have proof that you were not at fault if you are in an accident. 
USB Car Adaptor
No matter how long you think your cell phone will last you each day, you will want to make sure that you have a way of keeping it charged. The last thing you want to have a dead cell phone when you need to call roadside assistance or pull up a map on your phone. A USB car adaptor will ensure that your phone always has a charge.
Rooftop Tent
This is a valuable accessory if you plan on doing a bit of camping on your road trip. Even the best tent that folds up nicely can take up quite a lot of room in the trunk. There are better uses for that space. However, buying a rooftop tent will allow you to securely put the tent on your roof each day and leave the extra space in the trunk.  
An Air Bed for the Back Seat
This is an accessory that can come in handy, particularly on a long car ride. You might hit a stretch where you need to rest for a few hours. After sitting in the driver's seat for hours, you want to stretch out a bit. This air bed can be inflated and put in the back seat. You will find that you can easily fall asleep for more than a few hours. 
A Headtorch
This is one of those accessories that you might not think about until you need it. There are many places to explore when on a road trip. You might also have car trouble and need the extra light to see without taking up one of your hands. These are just two of the many situations where a headtorch can come in extremely handy. 
Cargo Box for the Roof
No matter how long you are going to be away from home or where your final destination happens to be, a cargo box is a great way to keep everything organized. You will find that it is much easier to find what you need. It is also a great way to keep the clutter out of your trunk and back seat. 
An Organizer for the Back Seat
You will want to have so many small things with you on your road trip, but you do not want to just leave them scattered about everywhere. Having a back seat organizer will always keep them in one handy place for you. Your passengers back there will also appreciate it so that they will have more room to relax. 
A Car Vacuum
Nobody likes to be in a dirty car all of the time, but long road trips can quickly pile of the dirt and crumbs. From mud to food and everything in between, you will find quite a few things on your floorboards before you know. Having a small car vacuum that you can once a day will keep things looking nice and clean. 
An Air Purifier
The air inside a vehicle can quickly turn musty due to a variety of reasons. You want to keep it as clean and pure as possible. This will help everyone breathe better and stay healthier. An air purifier is really to your advantage on a long road trip. 
Foldaway Picnic Blanket
You never know when you are going to encounter the perfect setting for a picnic while on your next road trip. A foldaway blanket does not take up much space and forms the perfect backdrop to lunch on any stretch of grass.
Flip Flops
For long driving days, you'll want comfortable flip-flops or slip-on shoes. Sandals are also easy to take off and easy to slip on for a quick run into the gas station, or the convenience store on your rest stop.
What Are the Things to Check Before a Long Drive?
You never want to head out on a long road trip before checking to ensure that your vehicle is up to the task. You do not want to find yourself many miles from home with car trouble. 
Make sure that you include the following essentials for a road trip on your road trip checklist and run through them before you start the engine and leave the house.
Has the oil and oil filter been recently changed? – This is vital. If it has been a few months, make sure you get an oil change before you leave. 
Is the car clean inside and out? – A road trip is made much more comfortable when the car is clean and clutter-free, so give it a good bath and vacuuming before you head out. 
Is there a small garbage bag inside the car? – You will accumulate a great deal of trash throughout your journey, so make sure you put in a small garbage inside with you. 
Has the air filter been changed lately? – The air filter is going to help you a great deal on a long road trip, so make sure a fresh one has been installed relatively recently. 
Do you have an extra set of car belts? – A broken car belt can put a damper on your road trip quite quickly, but having an extra set available will get you back on your way in no time at all. 
When was the last time the spark plugs were changed? – If you can't remember the last time your spark plugs were changed, getting that done before a long drive will do your car wonders. 
Do you have a tire iron and car jack? – You would not believe how many people go to get their spare tire, only to discover that they have no tools to change the tire. Don't be one of those people. 
Make sure you check your spare tire – It is not enough to simply have a spare tire. Make sure you check it to make sure it is ready for action if called upon. 
Do you have a fire extinguisher onboard? – You always hope for the best on a long road trip, but you also need to plan for the worst. You should always have a fire extinguisher with you just in case you need it. 
Do you have a chain or thick towing rope in the car? – This does not take up much space and can help your car get out of a jam when it is stuck in the mud or when something else is wrong. 
Are your jumper cables where you think they are? – It is not enough to just think you have jumper cables. Make sure you know where they are, as they can come in quite handy on a road trip. 
Have you inspected your windshield wipers and topped up the fluid? – You are likely to encounter some fierce rainstorms on a long trip, so make sure your wipers are up for the challenge.
Do you have the car manual? –A car manual comes in handy as it has information about the car's maintenance program, troubleshooting tips and safety information. If you are hiring a car from rental car companies, ensure the car manual is in the car before your drive off. 
Do you have your driver's license and car insurance?- When pulled over by traffic police for regular inspection, you don't want to get into trouble by having these two crucial documents missing. You could easily get arrested and this will interfere with the joy of your road trip. 
Do you have travel insurance?- If your road trip is more than 100 miles from home, good travel insurance should be on your checklist.it covers emergency hospitalization, dismemberment, accidental death, financial losses and medical evacuations in case of an accident. It may also cover for other road-trip related losses related to trip interruption and cancellation such as bad weather.  World Nomads Travel insurance is one of the best travel insurance companies designed for travelers. Their policies cover emergency assistance, emergency medical, gear cover, trip cancellation and more.  
Long drives do require a bit of preparation. If you take care of things before you leave, the chances of something going wrong will be minimized. 
Car Rentals for Your Road Trip- Factors to Consider
A popular opinion that road travellers get is that renting a car is a better option as compared to using your own car. One of the main reasons is that you can avoid wear and tear on your personal vehicle, and also running up the mileage on your car can reduce its value. 
Other reasons you should rent a car for long-distance travel are:
Save money– By booking a rental car that is more fuel-efficient than yours, you will save costs on fuel
Drive the right vehicle- Renting a car gives you a wide variety of high-quality, better-gas mileage, more spaced and reliable vehicles to choose from . Depending on the number of people you are going on a road trip with, you can rent a compact car,  a full-size SUV or an 8-seater family van.
Try out unique vehicles – Driving through rough unpaved terrains? Renting a car gives you the option of having a car meant for such roads, such as 4×4 Jeep. 
Other things you should consider when renting a car include
Car seats if you have kids coming along to your trip
Roadside assistance, insurance and other protection products 
Fueling options
If they allow for additional drivers 
Pending toll charges on the car
One-way trip or round trip 
Mileage restrictions
Payment terms and accepted payment methods. 
What Should I Pack for a Solo Road Trip?
There may be occasions in your life to take a solo road trip. You might just need some time to yourself, or you might be off to look for your next big adventure. Traveling alone does bring with it some unique challenges. One of those is packing exactly what you need. Here are some road trip must-haves to get you headed in the right direction. 
Your favorite snacks
Plenty of music
Some audiobooks
Your favorite podcasts
Bring your dog if you are so inclined
It is important to make your packing checklist and to ensure you have the proper items for your trip. 
Are Solo Trips Fun?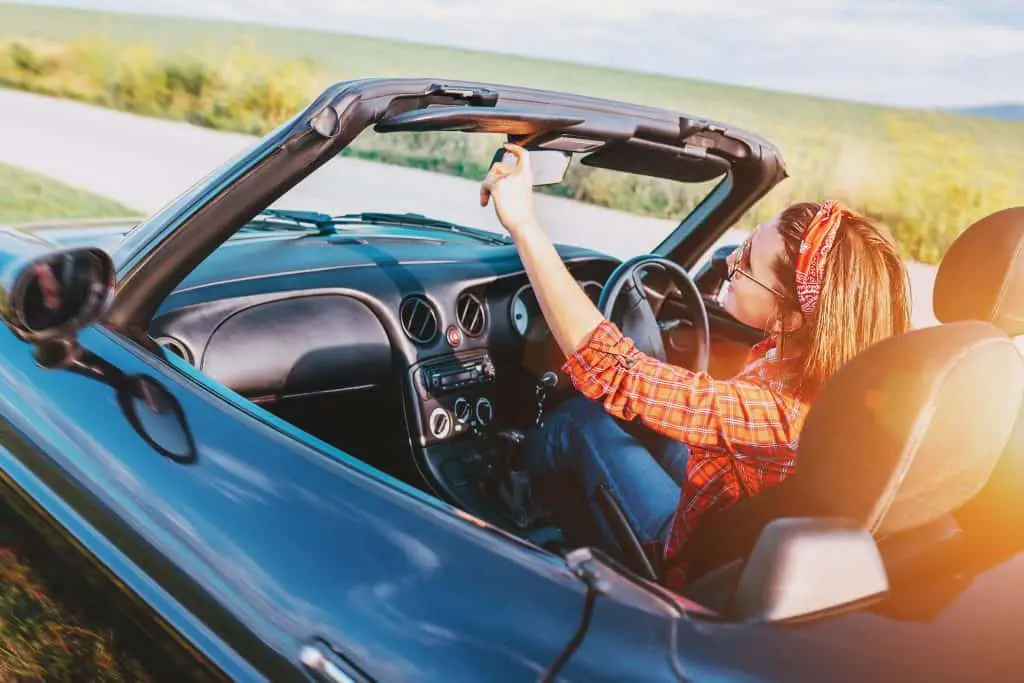 Many people shy away from solo road tripping because they think that they will be too bored. That most definitely does not have to be the case. There is a lot of fun to be had on a solo trip if you put yourself in the right state of mind. You can use the time traveling to:
Reflect on your life thus far
Make plans for the future
Get over an emotional time in your life
Mark items off your bucket list
Do things that you want to do without having to please others
Eat what you want
Stay where you want
Go to bed when you want
You can become your own best friend on a solo road trip. Keeping the right perspective will help you to achieve this goal. 
How Do You Pass Time Alone When Driving?
Unless you are your own best friend, driving for long stretches on your own can take its toll if you are not prepared. However, there are many things that you can do when on a solo road trip that you really cannot accomplish when you have a car full of passengers. Here are just of ideas to demonstrate how easy it is to pass the time when driving on your own. 
Catch up on your reading by listening to audio versions. 
Jam out to your favorite music
Listen to some podcasts
Learn a new language
Dictate emails to friends and family members you have not written to in a while. 
If you plan ahead, you will find many ways to make the best use of your time alone while driving. You will return home being enriched and refreshed.
What Are Fun Things to Take on a Road Trip?
When you have a car full of people, there is a lot that you can all do to have fun. Once again, you need to be prepared. Everyone might have different interests but being together in the car helps you all form a common bond. 
Here are a few things to bring along so that you make sure you have a blast while on your next road trip. 
Board games
Sporting equipment, such as balls and nets
Comfort food items
Download videos to watch as you unwind at night
Camping equipment so you can cook outdoors
Camera – Capturing the journey is half the fun of a road trip
There are so many fun things that you can do on a road trip. These items alone should help spark the creative juices and leave you imagining what you can do. 
What Should You Not Forget on a Road Trip?
We have already talked about the road trip essentials, but there are also some additional items that you will want to make sure that you do not forget. These are the items that you really cannot do without while away from home and on the open road. 
Credit cards
Driver's license
A copy of your car insurance policy
Wet wipes
Toilet Paper
Travel gear
Water bottle
Camping gear
Extra car key
Car charger
These are items that you really should not be without on a road trip. Take them with you and you will be much happier in the end as a result. 
How Should I Pack My Car for Vacation?
There is a fine line between packing too much and too little on a road trip. Since everyone will be in the car for quite a long time, it is important that enough personal space be available. How you pack is almost as important as what you take.
Here are some suggestions that should help you as you begin your road trip packing. 
Don't take more than you need
Use organizers
Have a cross country road trip packing list and check off items as you go. 
Use boxes to put small items away in the trunk. 
Leave the inside of the car as clutter free as possible. 
Do not forget the importance of proper packing. This is going to make you and your passengers much more comfortable in the long run. 
How Can I Make a Long Road Trip More Comfortable?
Going on a long road trip is much different than just commuting back and forth to work. You will want to be comfortable, as will your passengers. There are some ways to ensure that this happens, but you will want to be prepared. Follow this advice, and you should arrive at your destination refreshed and ready to begin your next adventure. 
Bring along a travel pillow- you will feel more relaxed as you doze off in the passenger seat
Have headache medication available. 
Bring a car fan in case you get hot. 
Have a travel blanket available if you get cold. 
Bring along your favorite travel mug so you always have your desired beverage available. 
Staying comfortable throughout a long road trip is important. Everyone will be much happier as a result. 
Essentials for a Road Trip Wrap-Up 
You will want to make note of road trip essentials so that you have a fun-filled and memorable trip. The key is to plan for as many eventualities as you can while focusing on the reason you are taking the trip in the first place. Make it fun, and you will remember the journey for many years to come. 
You might also enjoy : 
Peaceful Islands on the East Coast
Solo Road Trip From Los Angeles to San Francisco