Road trips are one of the best ways to travel. Freed from the stresses and limitations of public transportation, you completely control where you go, when you go, and what you see along the way. If that sounds like absolute heaven to you, check out our East Coast Canada road trip itinerary. 
The eastern coast of Canada has so much to offer! From big cities and quaint historic districts to national parks and vineyards to the world's highest tides, this road trip itinerary showcases the very best of Canada's east coast. We are so excited to share it with you!
This post may contain some affiliate links. If you click on the product links and make a purchase, it allows me to make a small commission at no extra cost to you! In return, it helps me maintain this site to continue to help you!
The Ultimate Eastern Canada Road Trip: Recommendations from a Local 
There are just so many fantastic things to see in Eastern Canada that we highly recommend giving yourself at least two weeks for this road trip. Of course, part of the freedom and joy of going for a road trip is the ability to determine how many stops you make and how long you stay, so this itinerary can easily be scaled to fit your timeline, budget, and interests.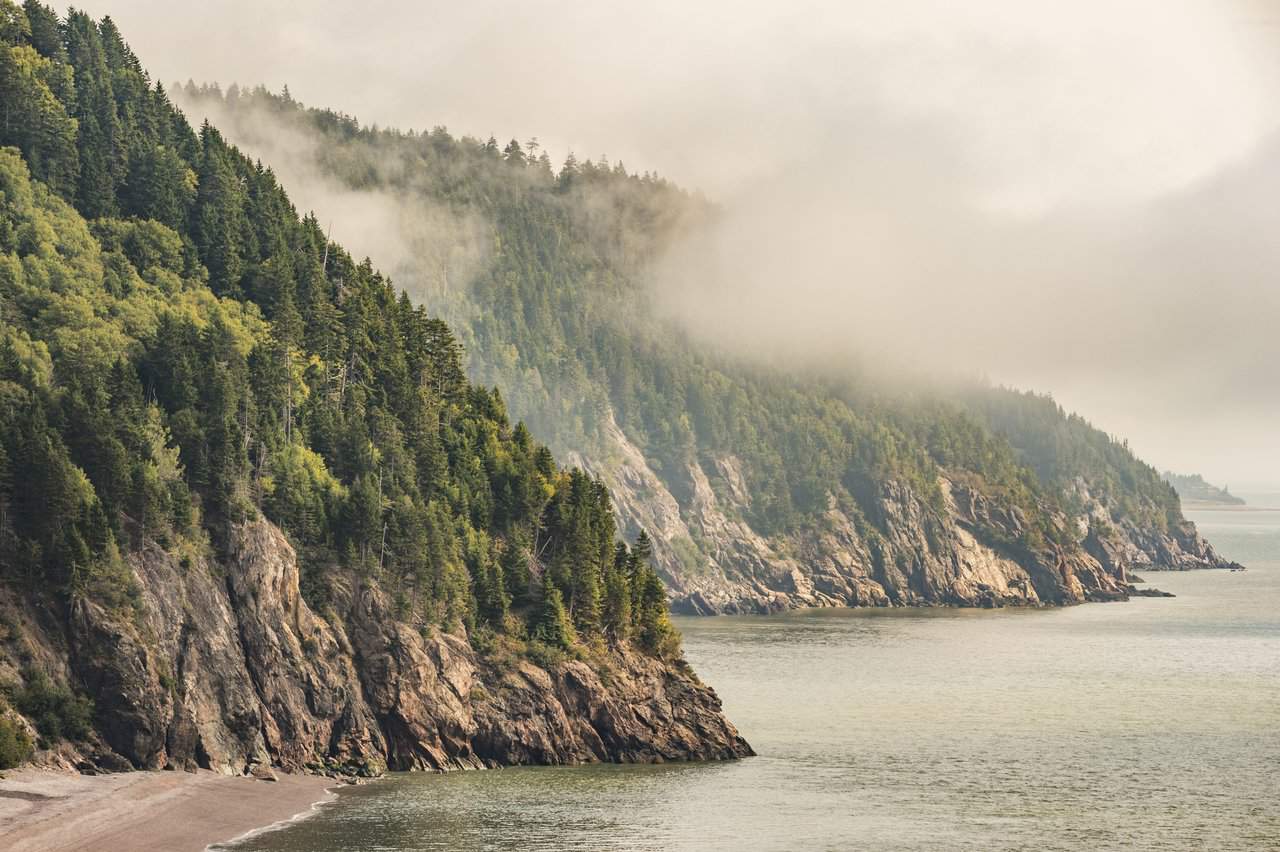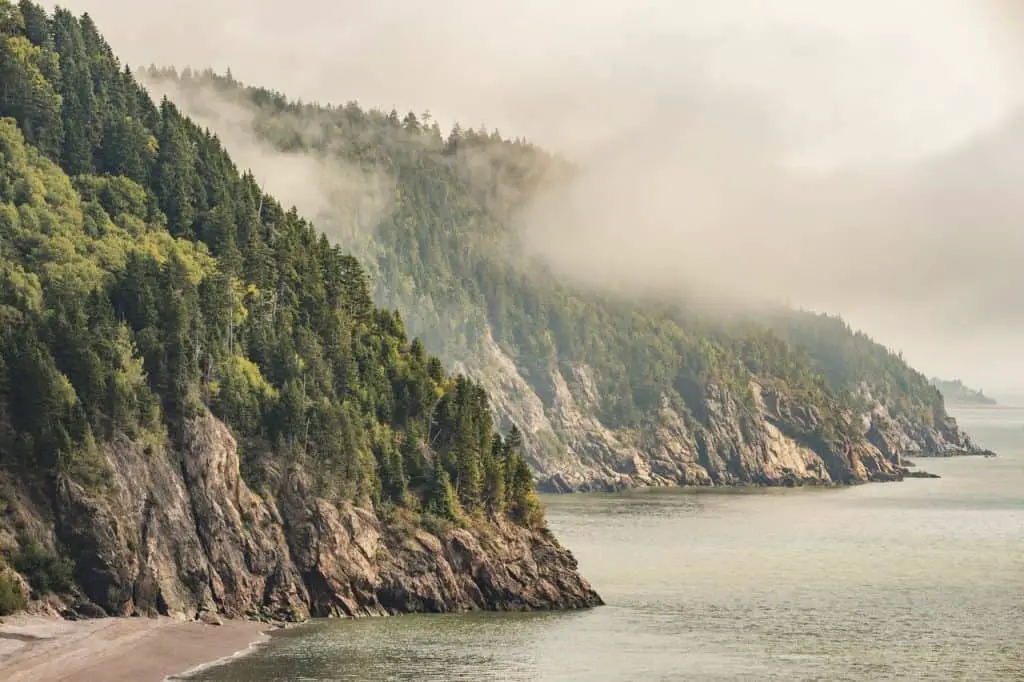 This Eastern Canadian road trip itinerary is centred around the Maritime Provinces of Canada. In case you are not very familiar with Canadian geography, the Maritime Provinces are located along the Atlantic Ocean and include:
How to Get to Eastern Canada
Before you can start your road trip through the east coast of Canada, you first have to get there. Luckily, it is pretty easy to travel to Eastern Canada.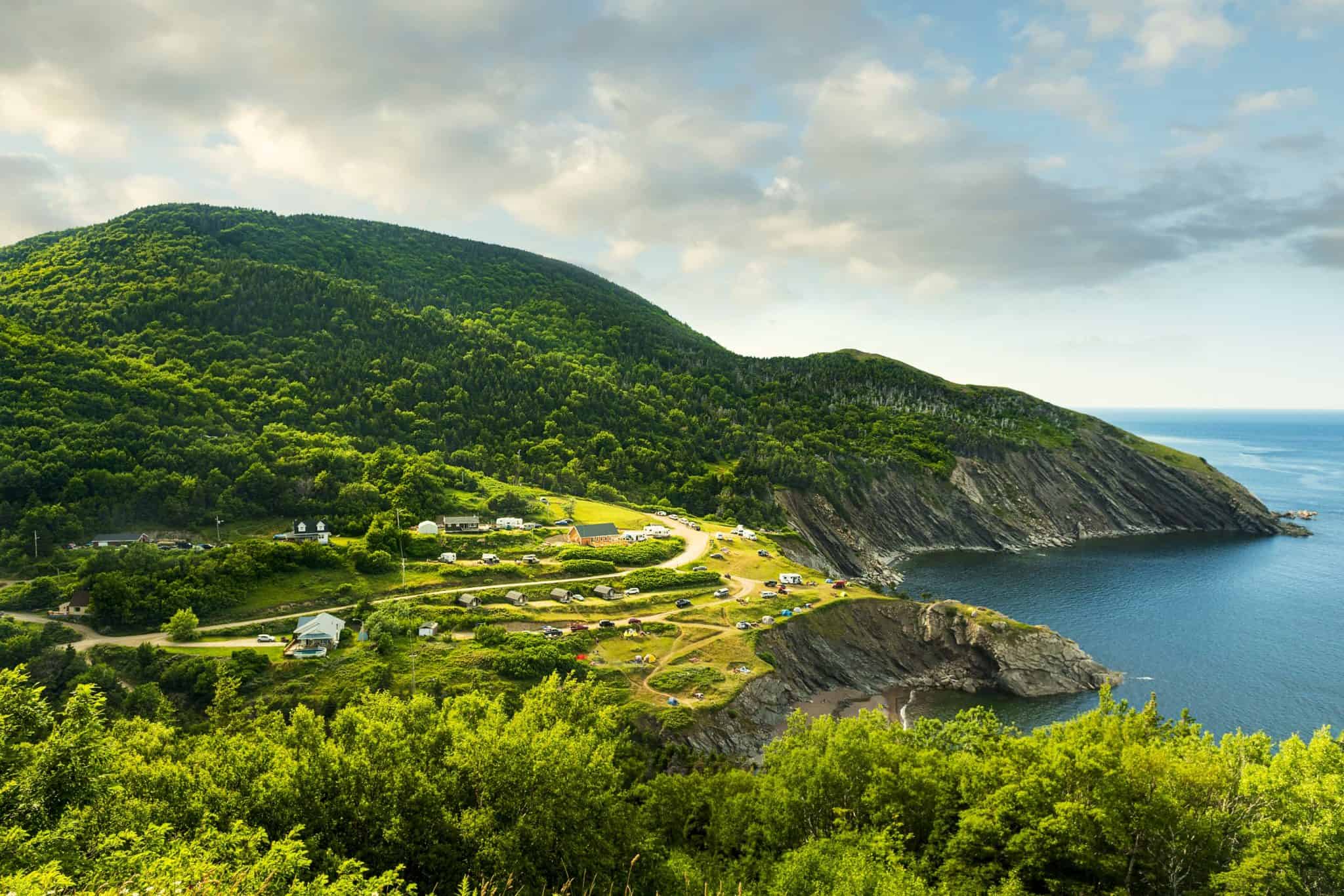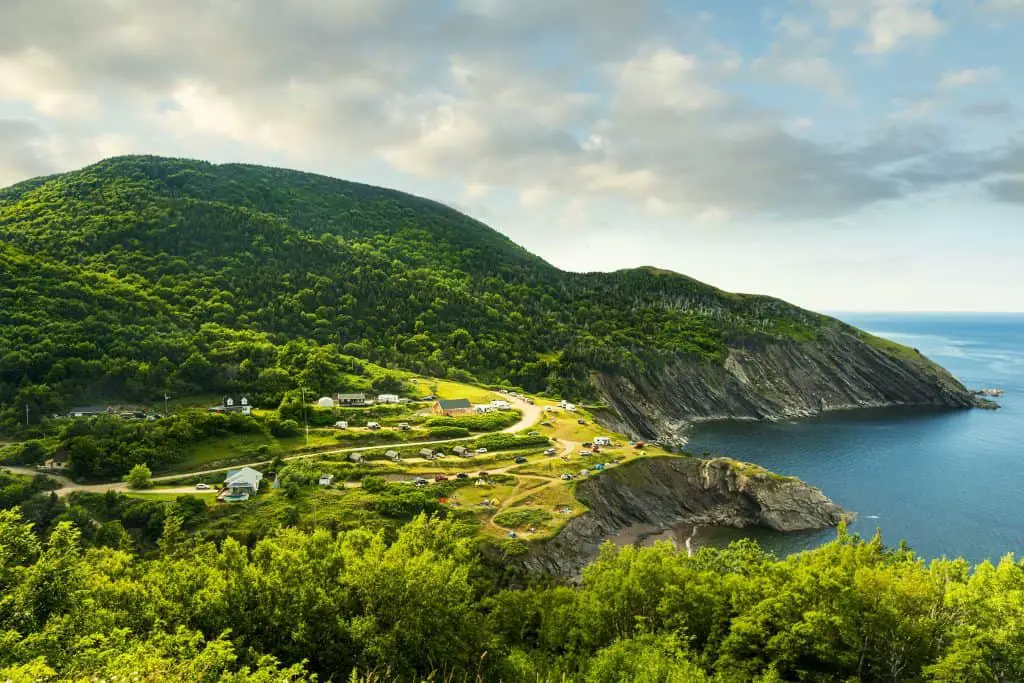 Flying to Eastern Canada
If you live far away, flying to eastern Canada is probably your best bet. There are three airports in the Maritime Provinces that are ideally located to start your road trip. 
Charlottetown (YYG): Charlottetown Airport is an objectively small airport. It is located in the Prince Edward Island Province and is serviced by five airlines. Air Canada is the only international airline that serves Charlottetown, and you will need to connect through Toronto or Montreal.
Once you arrive in Eastern Canada, there are several rental car companies available to choose from. Since you will be going for a road trip in your rental, we recommend making sure that your rental agreement comes with unlimited mileage at no extra charge.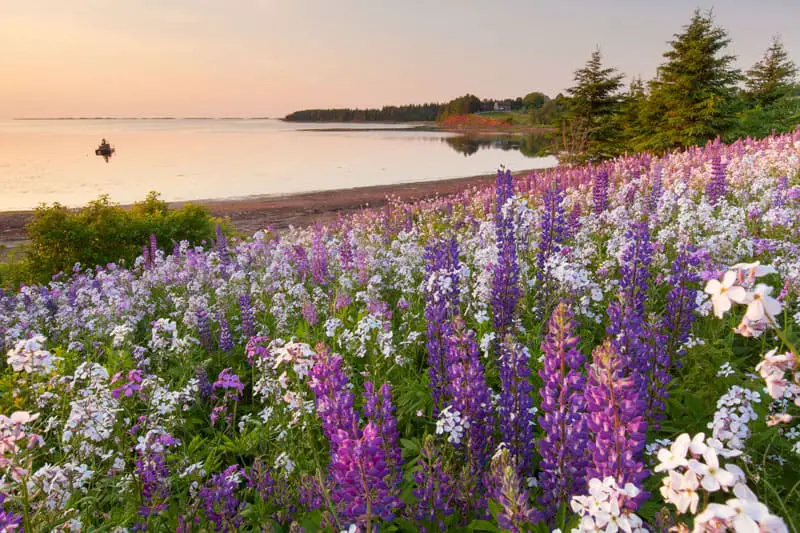 Taking the Train to Eastern Canada
Rail travel makes the mundane task of getting from Point A to Point B part of your adventure. It's also an excellent option for international visitors who fly into Montreal because it allows you to see so much more of Canada's beautiful Atlantic coastline. 
VIA Rail, the main Canadian rail company, markets a rail line perfect for getting from Montreal to Eastern Canada called The Maritime Way. Once you arrive in Moncton or Halifax, all you have to do is rent a car!
Driving to Eastern Canada
If you live in Ontario, Quebec, or the northeastern United States, we recommend simply driving to Eastern Canada. It might seem like a lot of extra driving, but it really is not that far. 
To put it into perspective, it's only an eight-hour drive to Moncton from Boston, Massachusetts, and you could stop and see some other really amazing places along the way. Plus, if you drive your own vehicle, you aren't obligated to return it on a predetermined date, which gives you more freedom.
Perhaps you'll even decide to travel to the United States. If so, you might enjoy this post about the Peaceful Islands on the East Coast of the US. 
The Best Time to Visit the Maritime Provinces
It is entirely possible to visit Eastern Canada any time of year. Still, we recommend visiting in the spring, summer, and/or fall, ideally between June and September, because that is when Eastern Canada experiences its best weather. You'll be able to enjoy more outdoor activities during your East Coast Canada road trip.
It can be cold and wet during the winter months, and some restaurants close down during the winter. You will be able to do more if you visit when the weather is milder. 
East Coast Canada Road Trip: New Brunswick Itinerary
New Brunswick is home for me. It's where I was born, and attended University, and my family still lives there. I am so excited to share my home with you, and I really think you will enjoy the farmer's markets and coastal views that New Brunswick has to offer. 
We recommend starting your tour of New Brunswick in St. Andrews, even if you flew into Moncton, because you'll end up coming back to Moncton on your way to Nova Scotia or Prince Edward Island. That said, this itinerary is just a suggestion, and you're welcome to visit these places in any order that makes sense to you. 
Saint Andrews
You will be instantly transported back in time when you visit Saint Andrews. The town is a national piece of history and is a typical example of an 18th-century British colony. We love this old-time vibe and crafted our itinerary around it.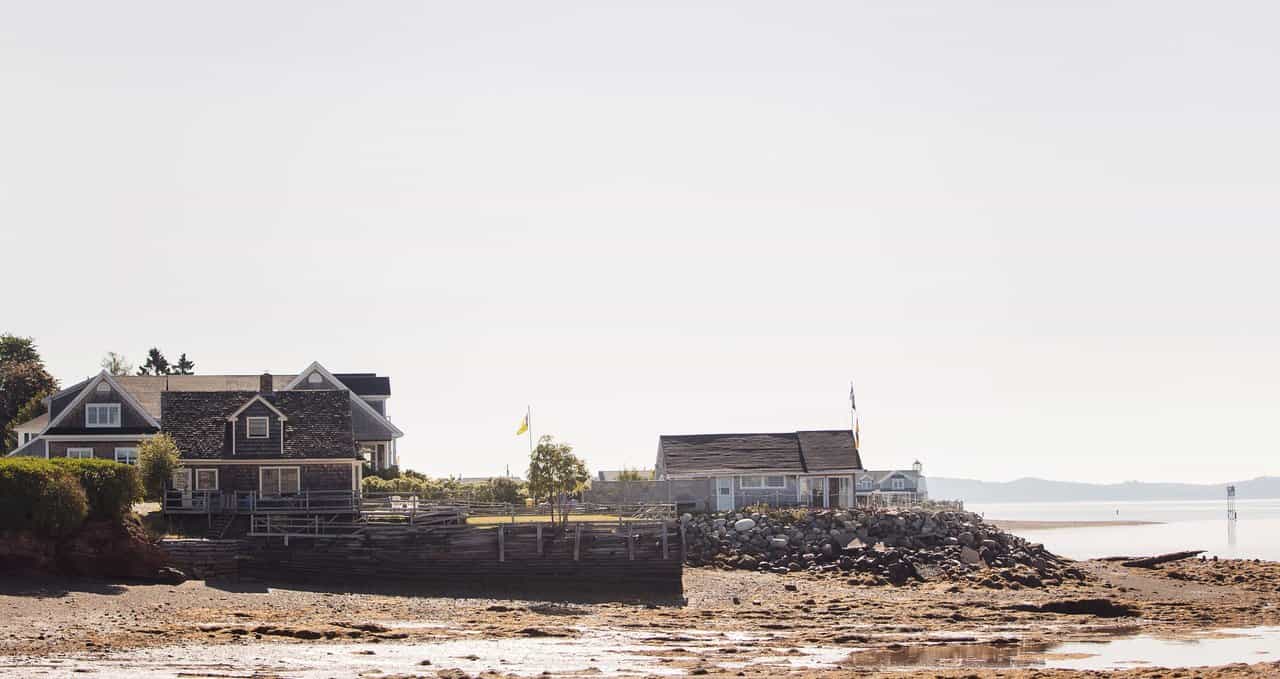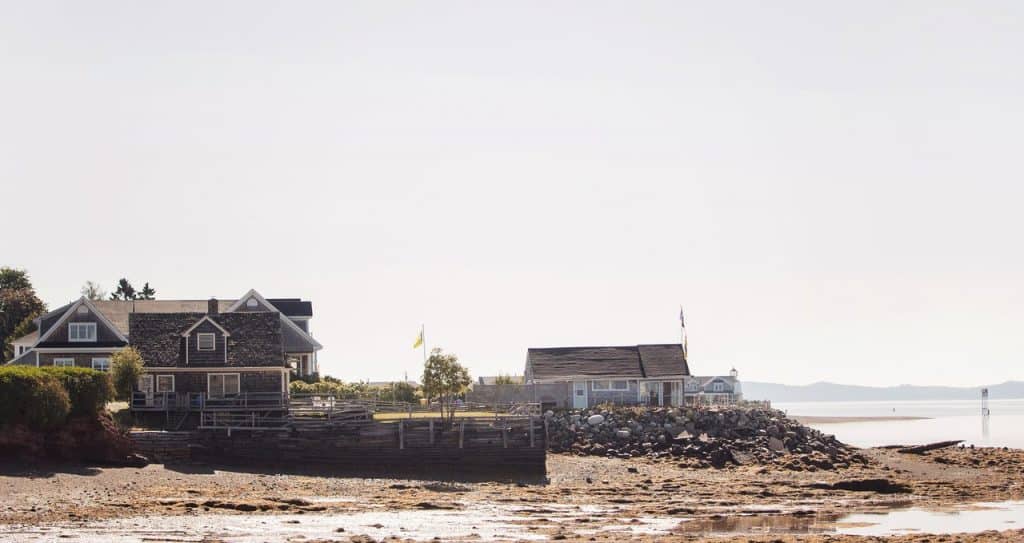 Kingsbrae Garden: Stroll through 27 acres of elaborate gardens filled with a diverse range of beautiful plants at the Kingsbrae Garden. It's typically closed in the winter, so you'll have to wait until May to visit. 
Whale Watching: Okay, this activity isn't exactly historical, but the Jolly Breeze's tall ship fits right in with the colonial atmosphere of Saint Andrews. Keep in mind the best time of year for whale watching is in the summer, June-August. Ticket prices vary depending on the type of cruise you decide to take. 
Historic Water Street: For over 200 years, Water Street has been the heart of community life in St. Andrews. There are tons of town festivals hosted on Water Street, and the cute shops are fun to browse. 
Where to Eat in Saint Andrews
Hands down, the best place to eat in Saint Andrews is the Rossmount Inn Restaurant. This critically acclaimed cuisine at the Rossmount Inn puts Eastern Canada's bounty on show, featuring the local fishermen's catch and wild foods, including cattails and chanterelles handpicked from the Maritime landscapes.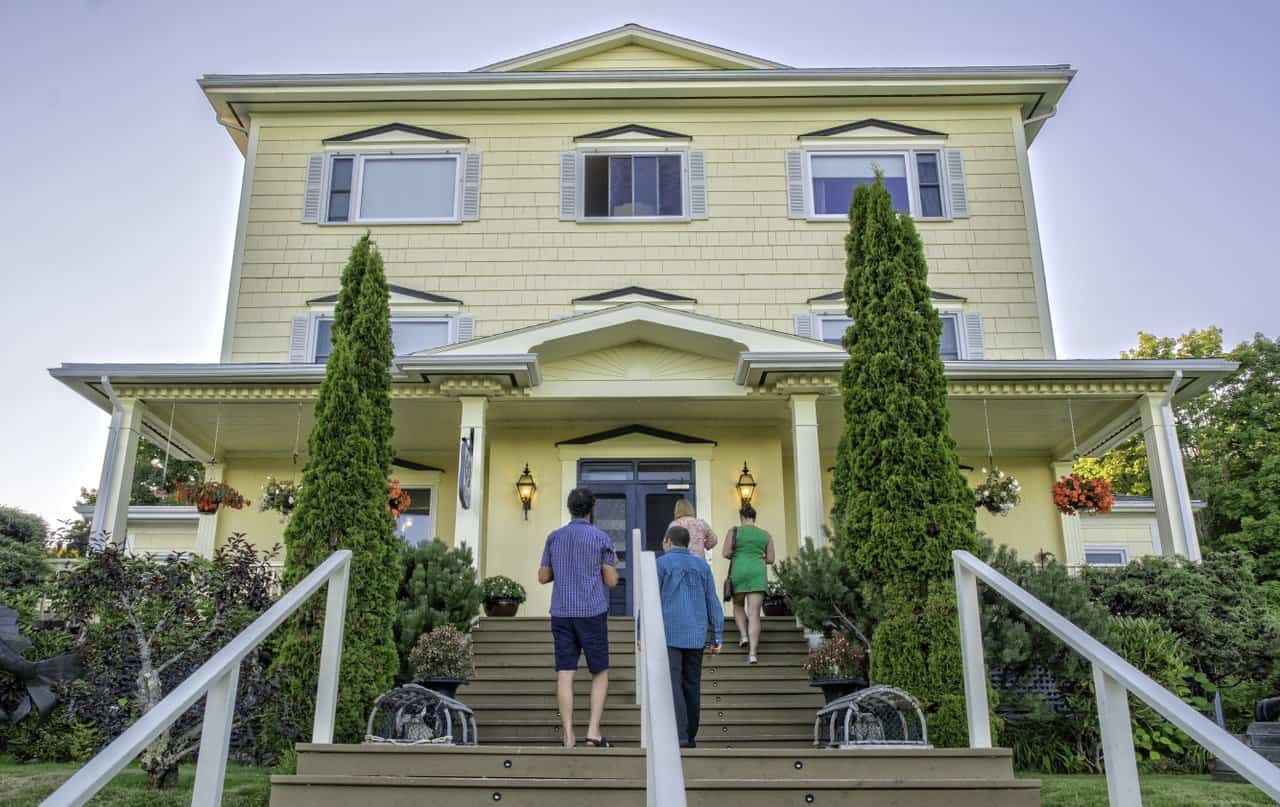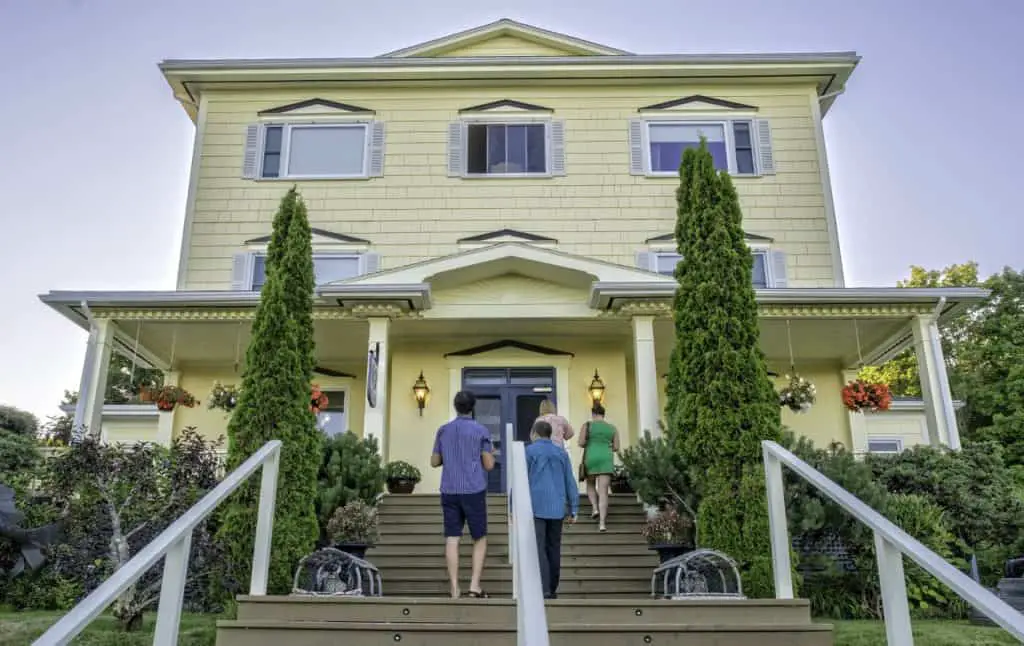 You definitely want to make a reservation if you plan on visiting during the peak season. 
Where to Stay in Saint Andrews
You can most certainly stay at the Rossmount Inn, but we wouldn't want you to miss out on the experience of staying at the Algonquin Resort.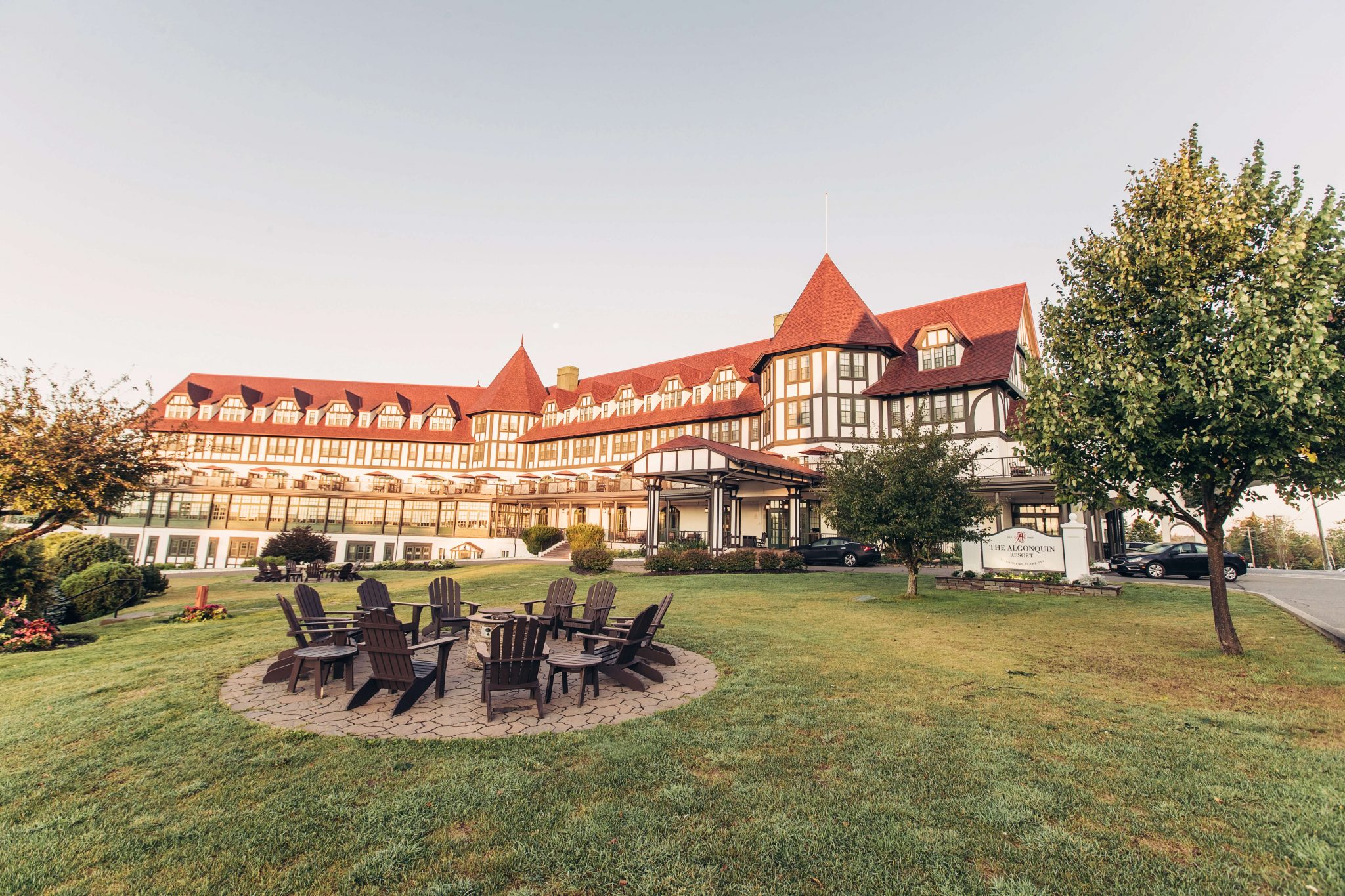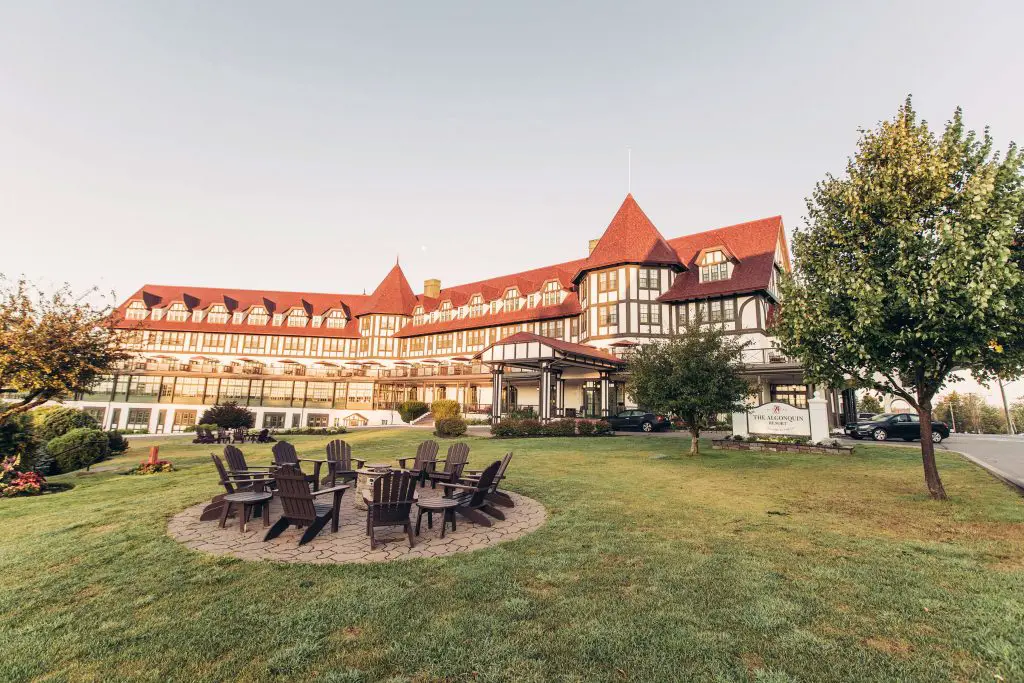 The breathtaking setting, combined with award-winning amenities and unparalleled elegance, makes the Algonquin resort my favourite place to stay in Saint Andrews. The list of luxuries offered by the Algonquin is long, but the romantic outdoor fire pits, award-winning golf course, spa, and three-story waterslide are sure to entertain any visitor. 
We recommend considering a package offered by the hotel to ensure you get the opportunity to experience the resort to the fullest.
Saint John
Saint John is a port city located on the Bay of Fundy. It is the oldest incorporated city in Canada and is world-famous for the Reversing Rapids phenomenon in which the bay tides collide with the Saint John River.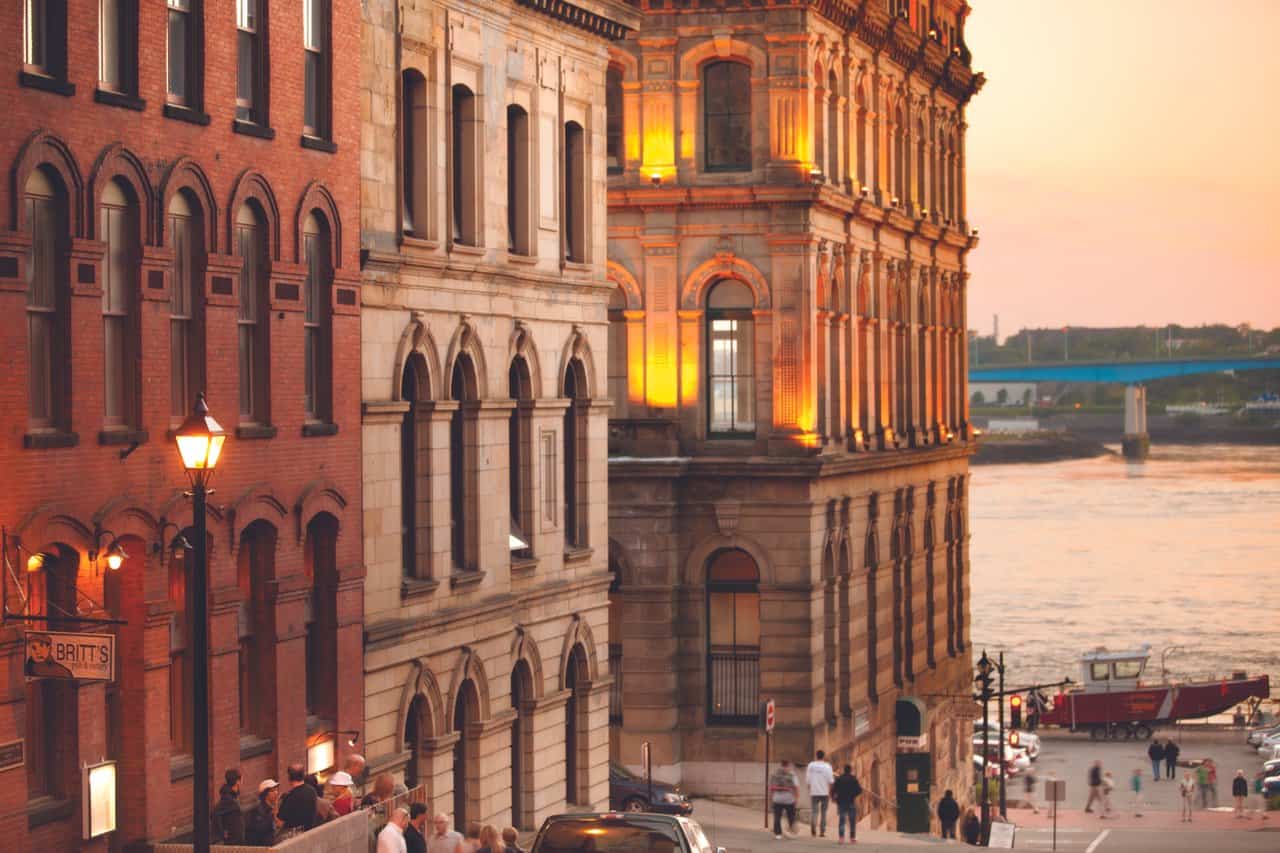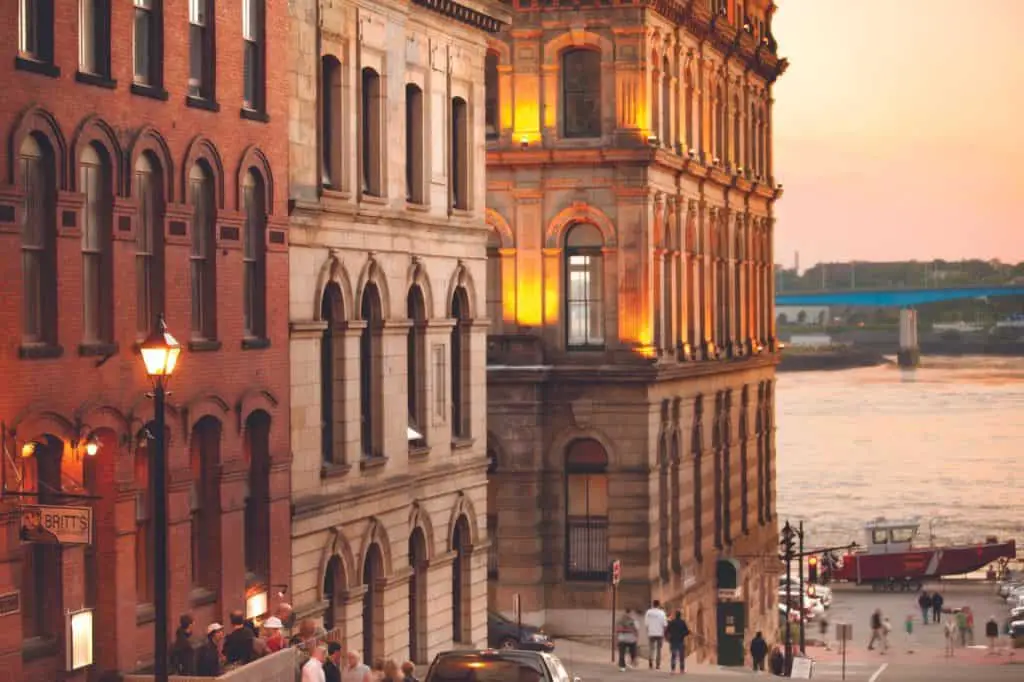 Reversing Falls: The reversing falls are a series of awe-inspiring rapids in a constant tug of war along the Saint John River. The best place to get a glimpse of them is at the SkyWalk, located next to the Reversing Falls Bridge. 
Irving Nature Park: This park is open from 8 am to 6 pm year-round and offers over 600 acres of protected area along the Fundy coastline for visitors to explore. It's a great place to appreciate nature, featuring eight trails, a boardwalk, and even a seal observation deck.
Saint John City Market: This historic market has been around since 1870. The market is home to a wide range of local vendors, from artisans to farmers, and it's open Monday-Saturday, 7:30 a.m. to 6 p.m.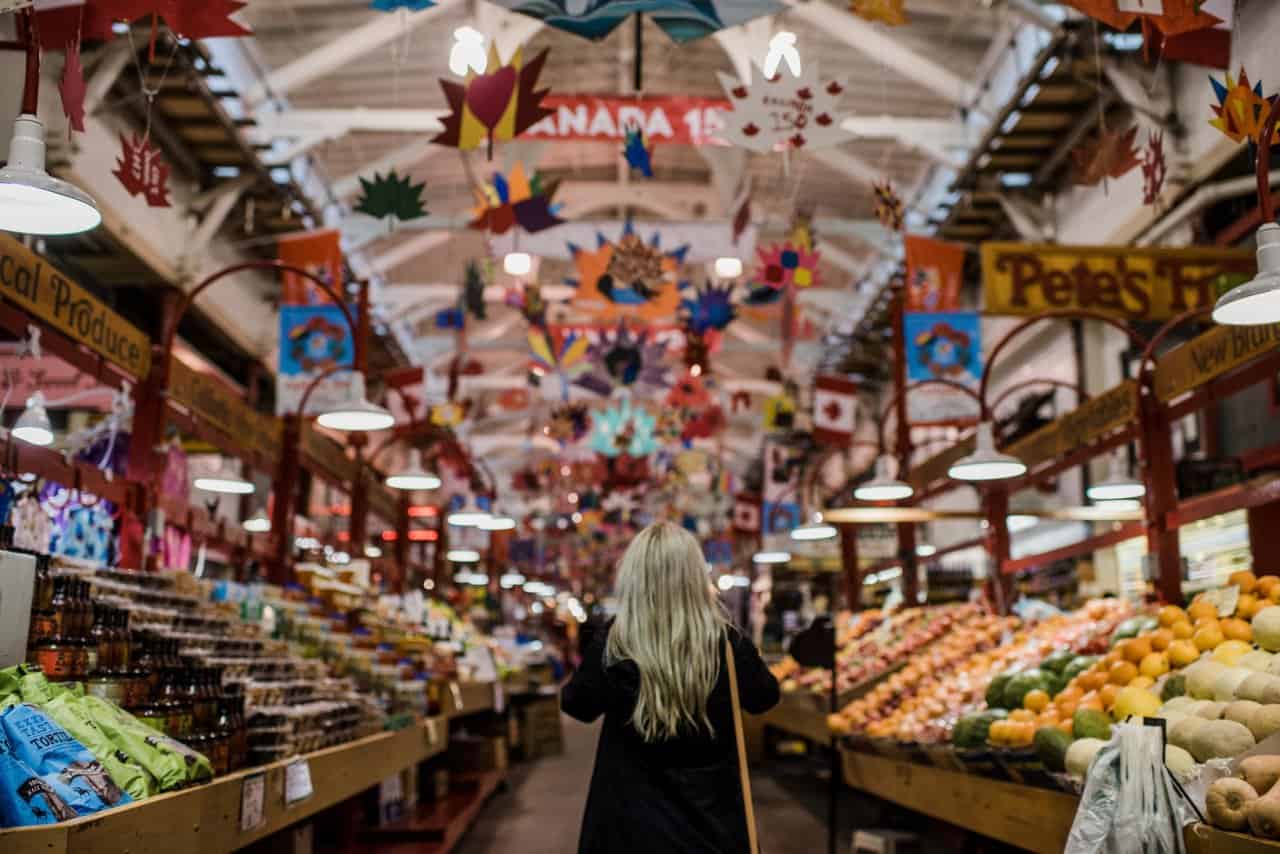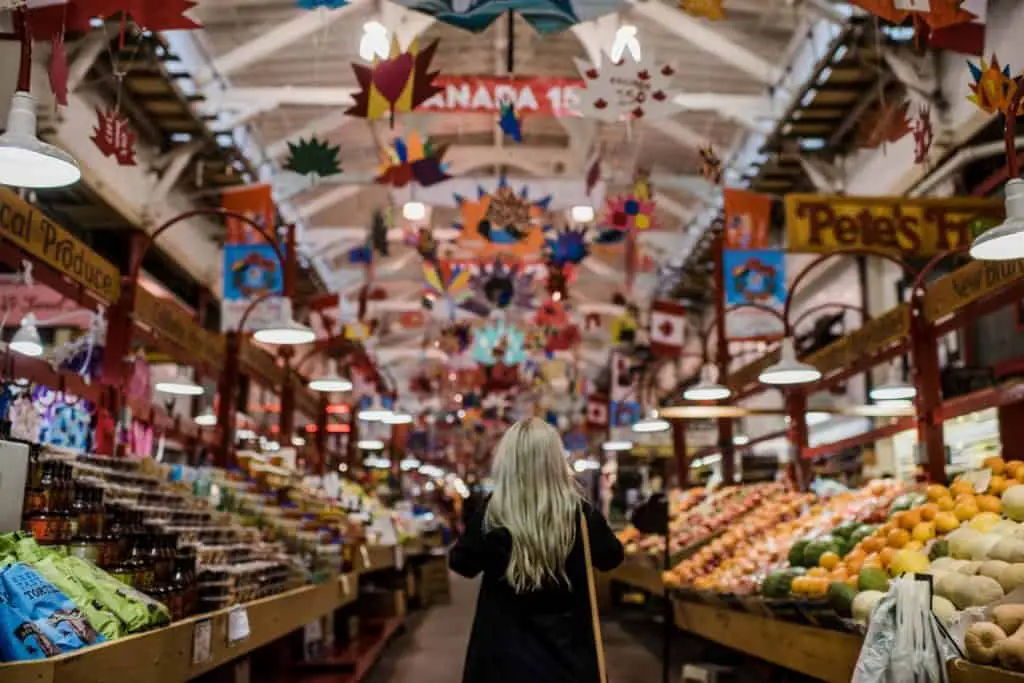 Where to Eat in Saint John
Italian by Night: Open for dinner only, this Italian bar fuses old-world techniques and authentic Italian cuisine with a modern twist. They use locally sourced, seasonal ingredients. They offer some really unique dining packages and experiences too. 
East Coast Bistro: The East Coast bistro takes a French-inspired approach to preparing fresh seafood from the Bay of Fundy. This restaurant is a real gem with a farm-to-table philosophy underpinning everything they cook. 
Where to Stay in Saint John
Stay at the Delta Hotel Saint John. Conveniently located right in the middle of the historic downtown area of Saint John, you will be able to get out of your car and really stretch your legs as you tour the area on foot. 
At the time of writing this article, this hotel books for less than 200 CAD per night, and keep in mind that Marriott honours a host of travel discounts, so make sure to check and see if you are eligible for a discounted rate. It never hurts to ask! 
Fundy National Park
Located near the Village of Alma, Fundy National Park is a must-see for nature lovers and outdoor enthusiasts. 
Explore the Fundy Trail Parkway: This all-purpose parkway can be enjoyed on foot, on bikes, or in your car! We recommend doing it on your way to the Fundy National Park. You'll enter the park near the village of St. Martins at the Western Entrance and exit at the Eastern Entrance near Sussex Corner.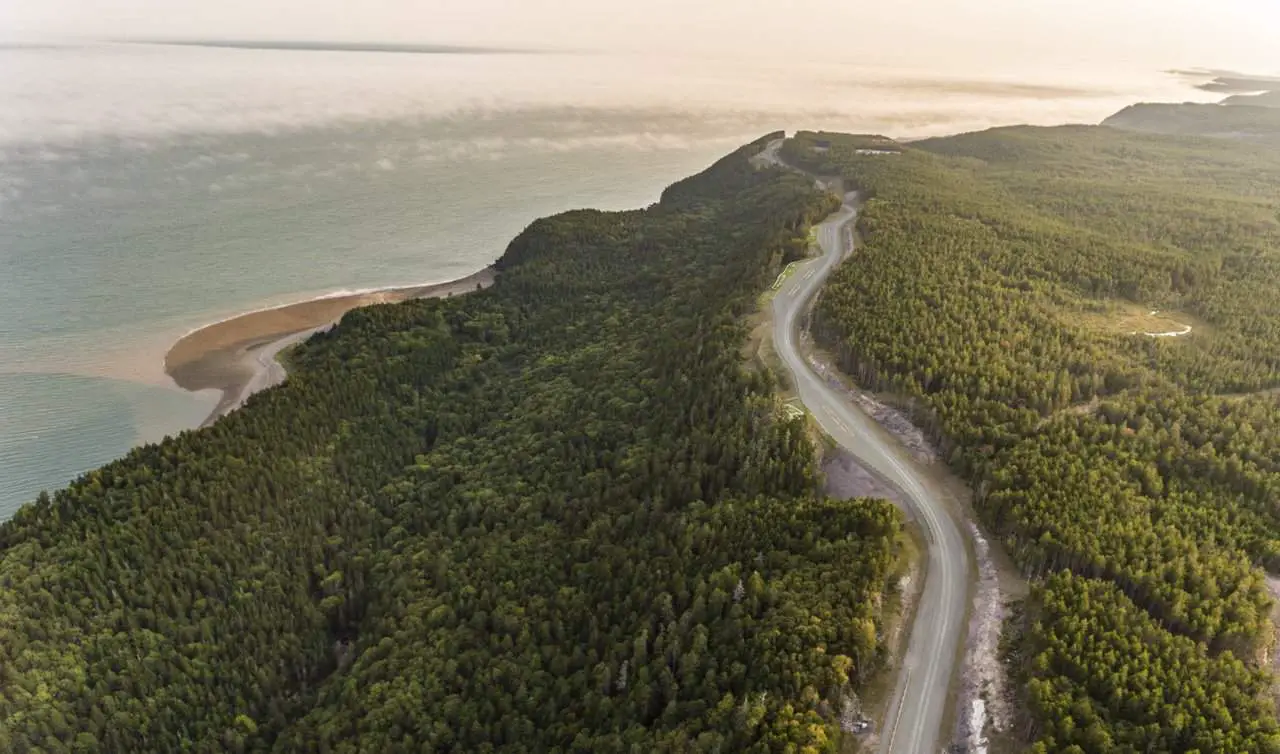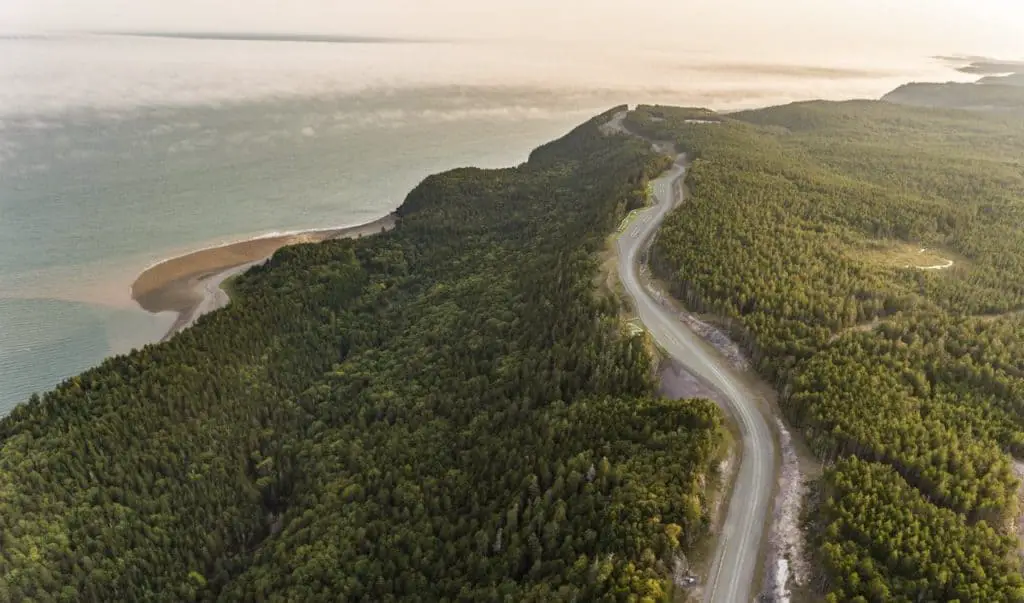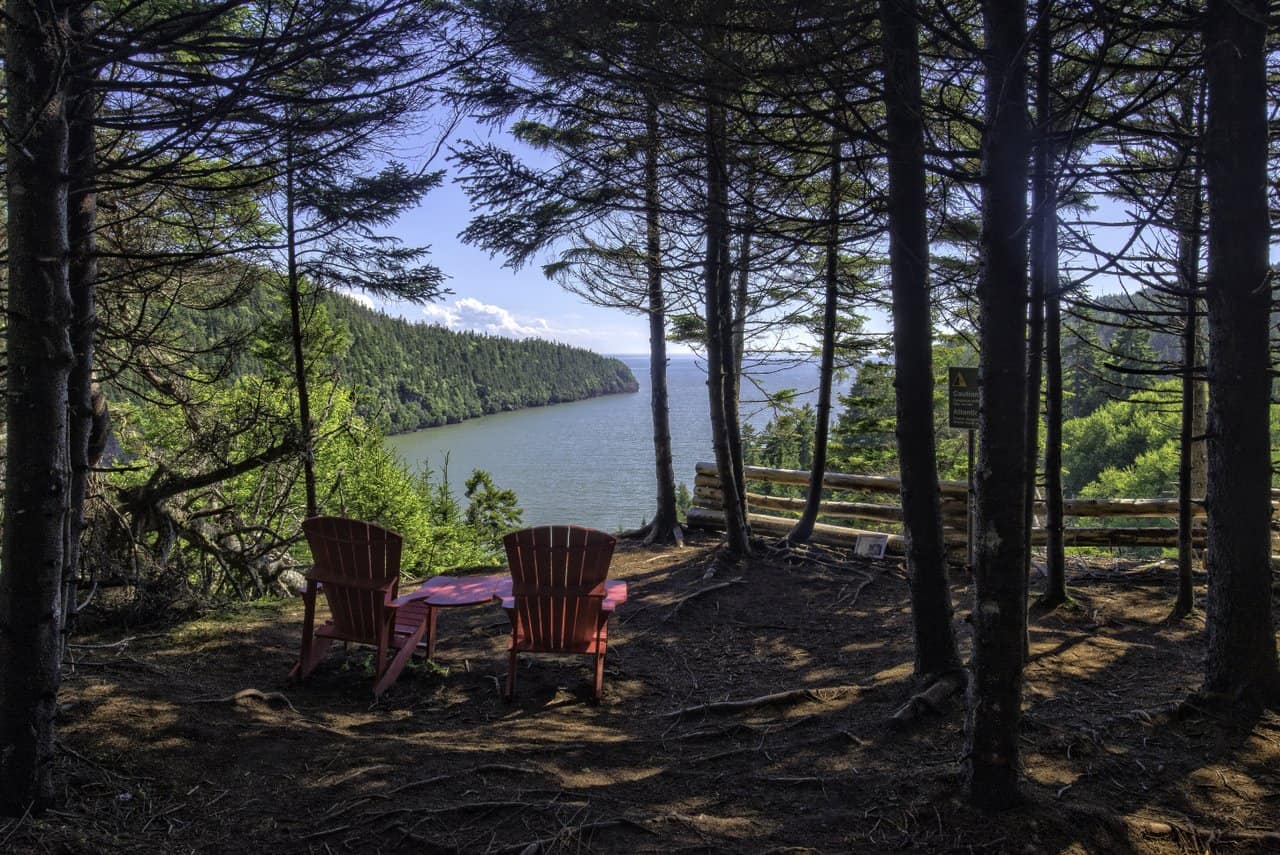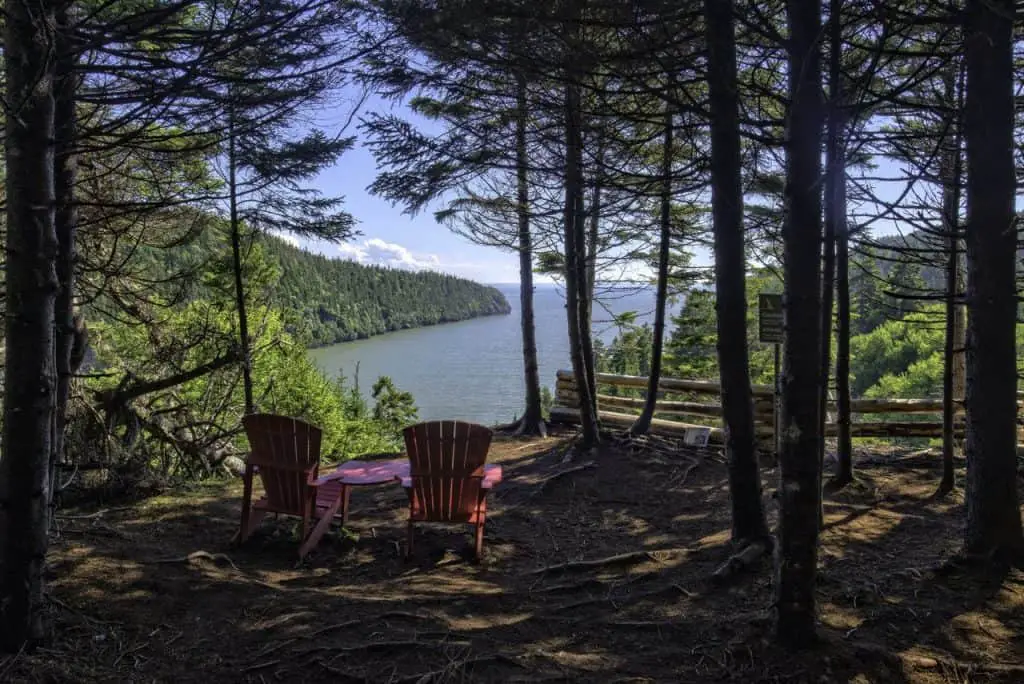 Hopewell Rocks: We recommend visiting Hopewell Rocks in transit on your way to Moncton. Located in Hopewell Cape, the Hopewell Rocks are striking rock formations older than the Appalachian Mountains and formed by the Bay of Fundy's extreme tides. At low tide, you can walk the ocean floor, and at high tide, you can kayak around the rocks.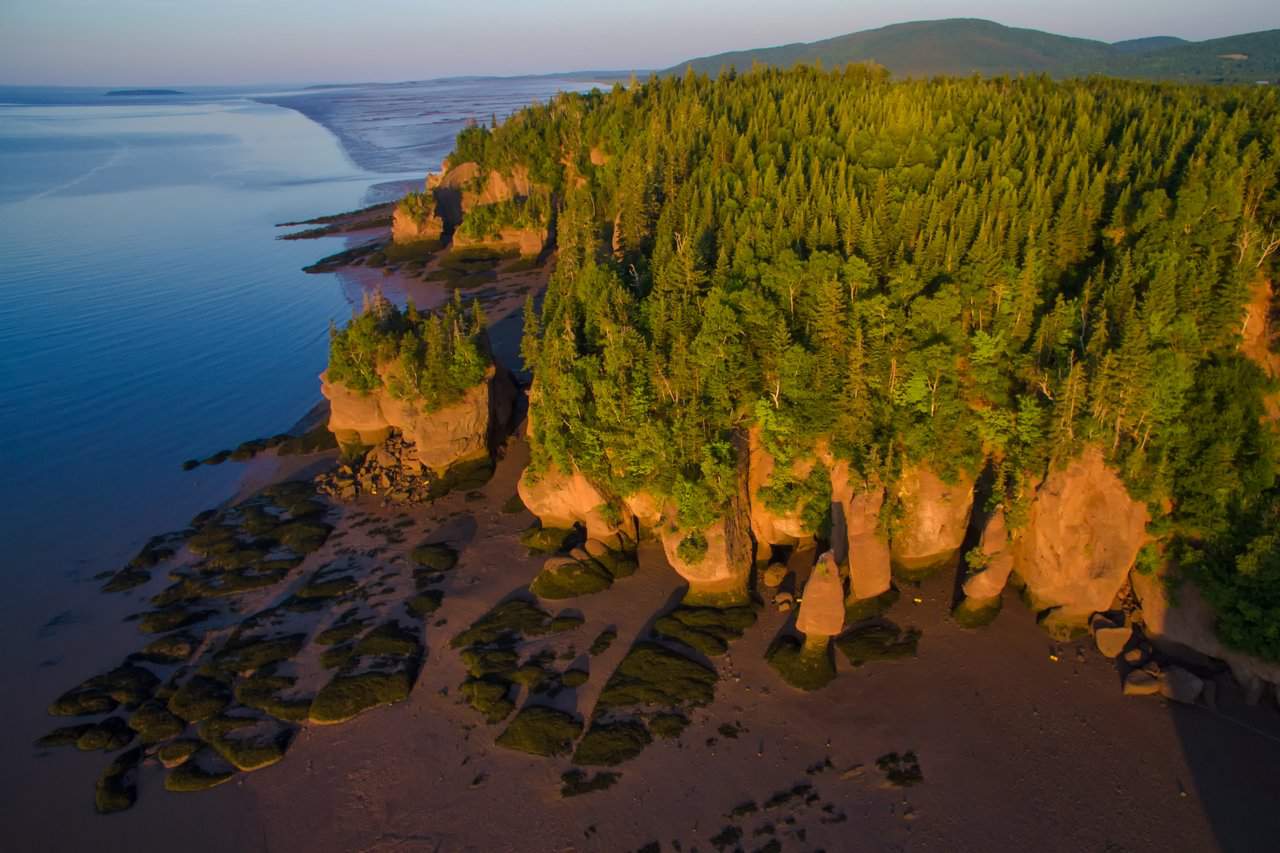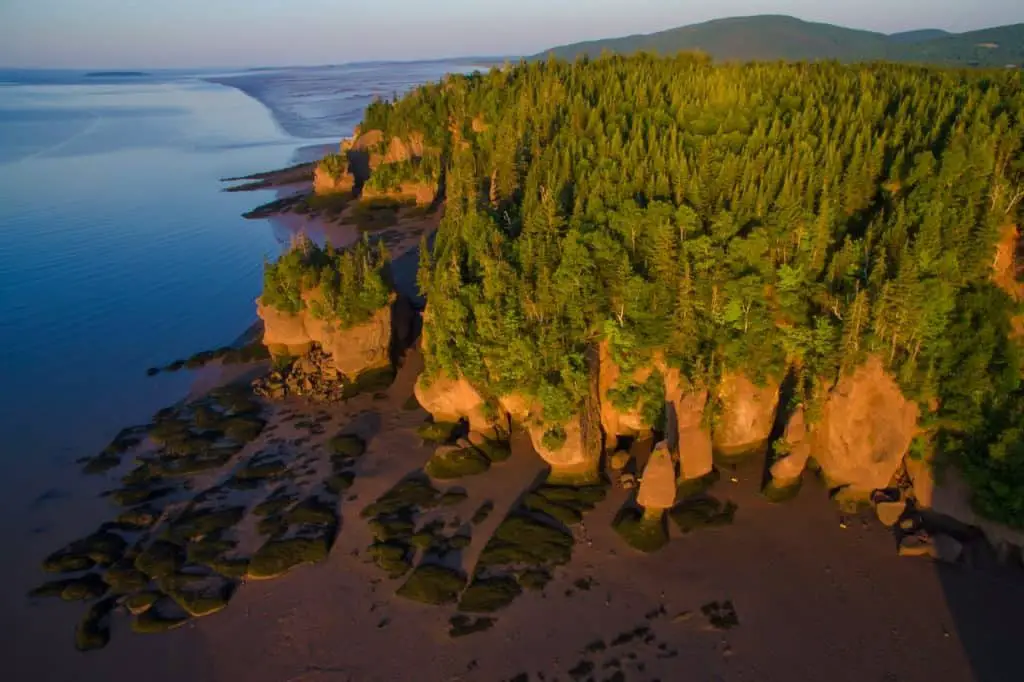 Where to Eat Near Fundy National Park
The Alma Lobster Shop is not to be missed. It's owned by Thankful Too Family Fisheries Inc., which supplies all the fresh seafood used by the restaurant. The restaurant is open daily from 11 am to 9 pm. 
Just be aware the only dining setting available is outdoors, but the views make it worth it. 
Where to Stay Near Fundy National Park
If you are up for roughing it, there are "glamping-style" accommodations in the National Park itself. Otherwise, the Alma Lobster Shop has an adorable cottage that can be rented out for overnight stays.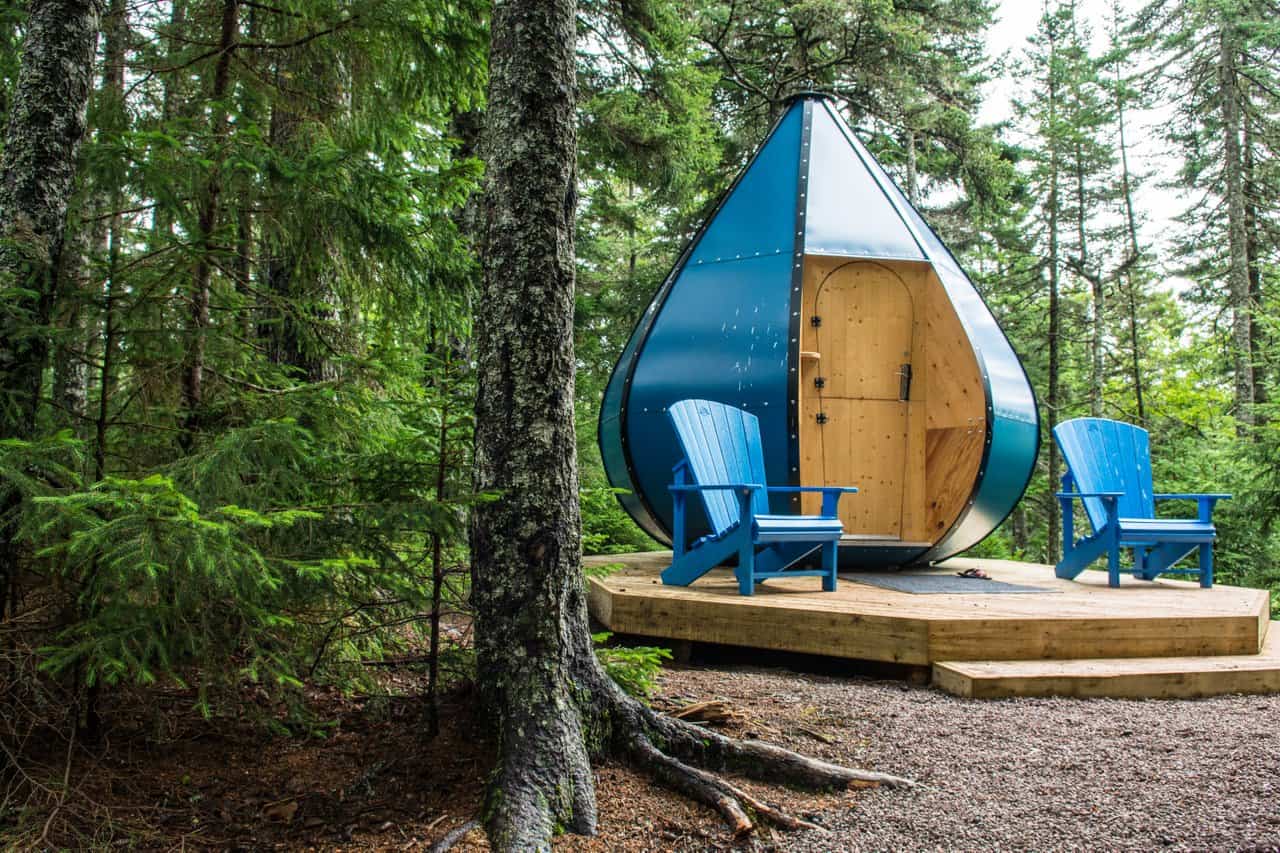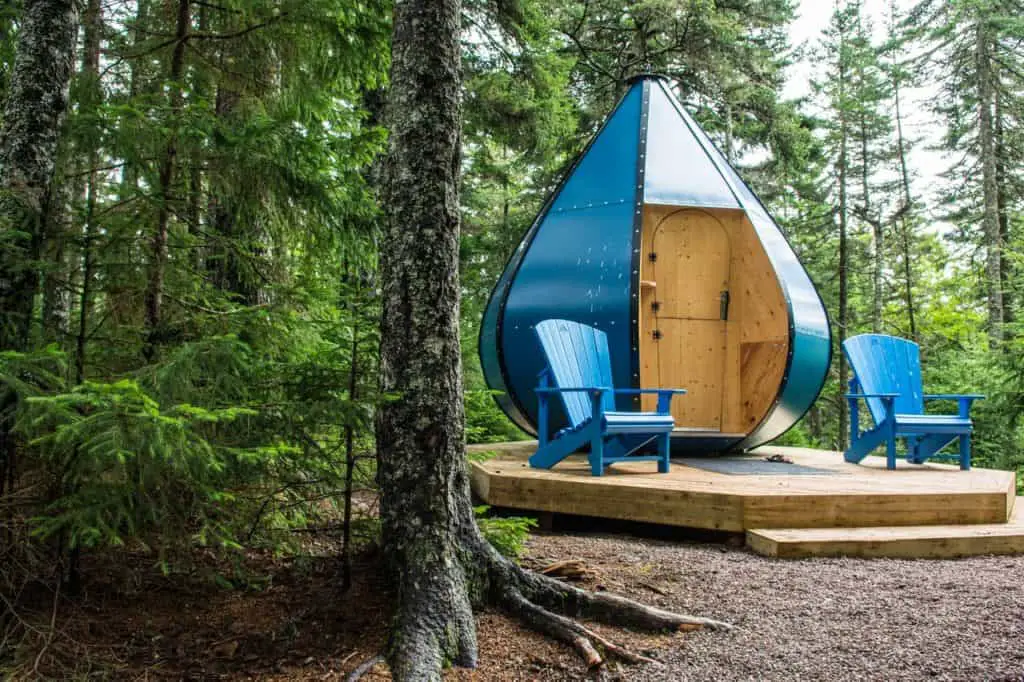 Moncton
Moncton is the largest urban area in New Brunswick. It is also centrally located at the geographic center of the Maritime Provinces, which is how it earned its nickname, the "Hub City." We aren't worried about you running out of things to do or places to eat, but here are our top recommendations: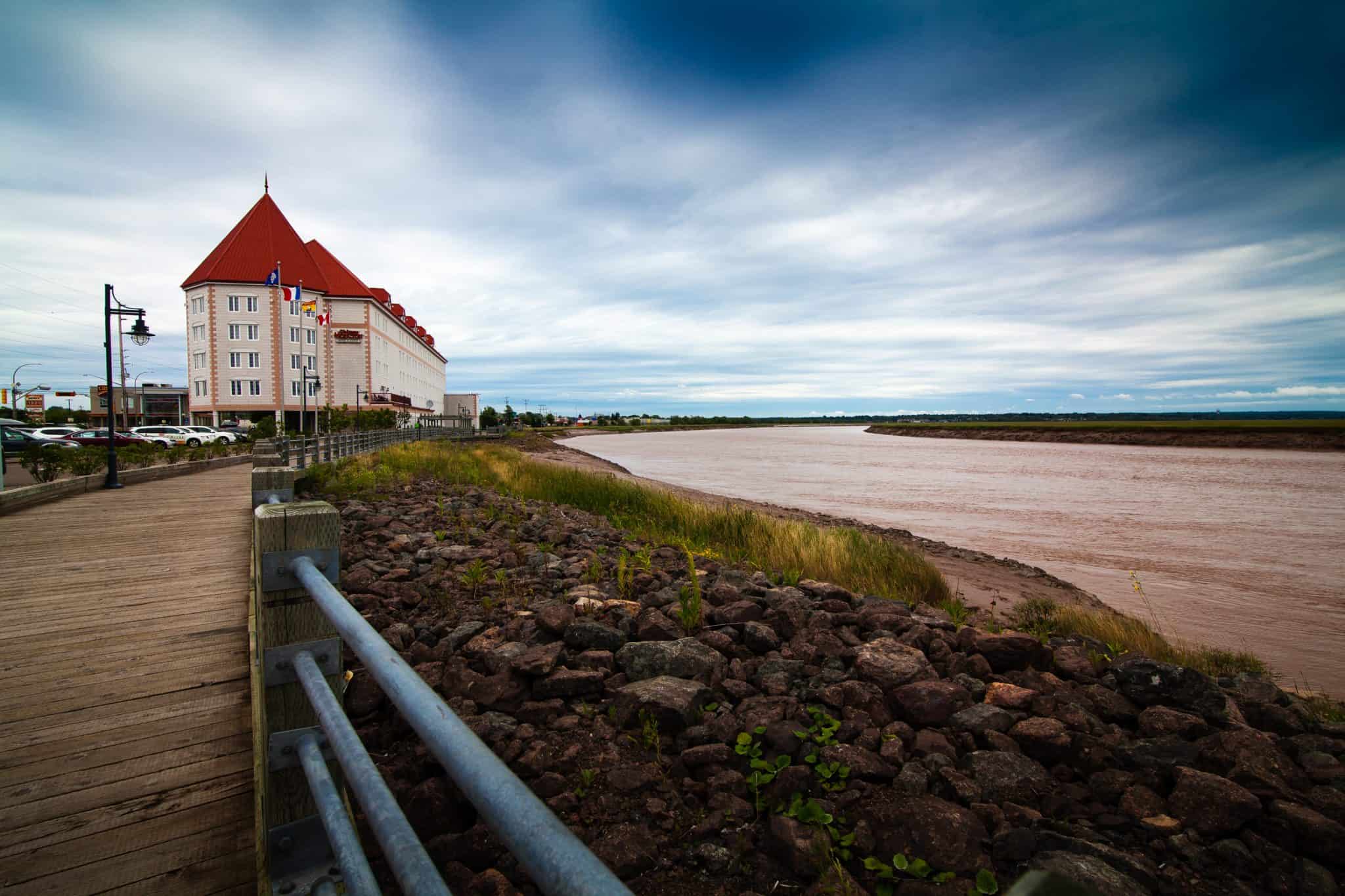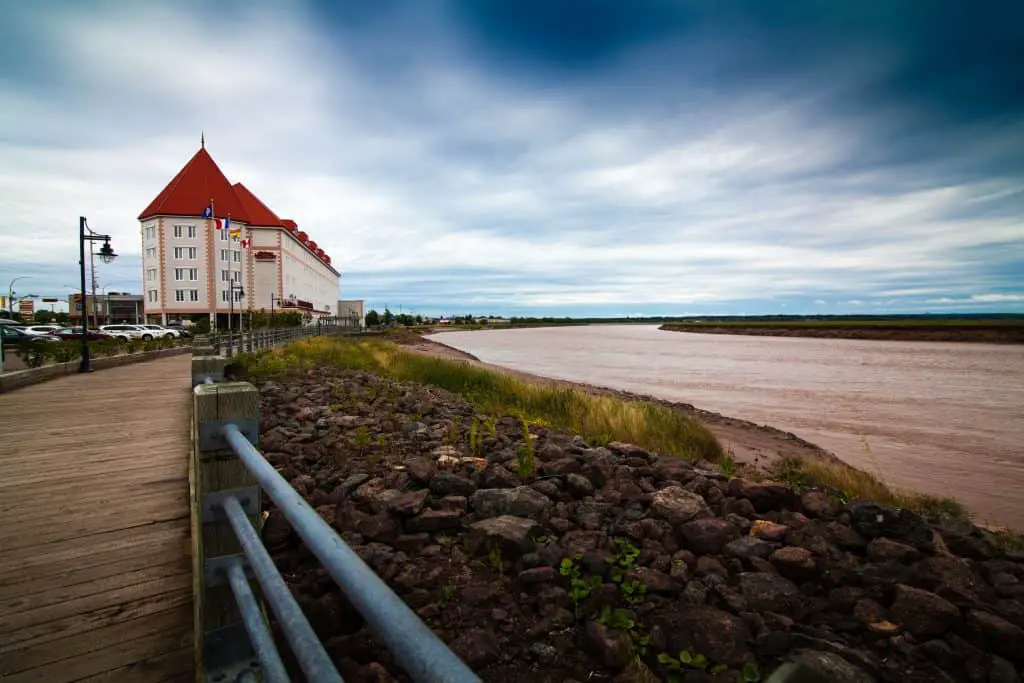 Where to Eat in Moncton
Where to Stay in Moncton
Get out your Marriott-Bonvoy loyalty card because we recommend booking your Moncton stay at the Delta Hotel Beausejour. This hotel is located right in the heart of downtown Moncton and features a full-service spa, indoor pool, and fitness center. Delta Hotels are excellent hotels that consistently offer a great product and a good night's rest. 
You might also like: 35 Best Things To Do In New Brunswick
East Coast Canada Road Trip: Nova Scotia Itinerary
Having grown up in New Brunswick and spent much of my adult life in Prince Edward Island, I have spent many long weekends and holidays in Nova Scotia. Located just across the Bay of Fundy from New Brunswick, Nova Scotia means "New Scotland" in Latin, so you will probably notice that several Scottish city names have been reused here. 
Nova Scotia is a beautiful part of the world, and its odd mix of Celtic and French cultural traditions makes it an interesting place to travel.
Halifax
Halifax is the provincial capital city of Nova Scotia, known primarily for its maritime history. There is so much to do, see, and eat in Halifax that it was hard to pick favourites, but here they are:
Halifax Seaport Farmers Market: This farmer's market has been around since 1750, making it the oldest market in North America! It isn't always held at the same place, so make sure to check the website to see where it's being hosted.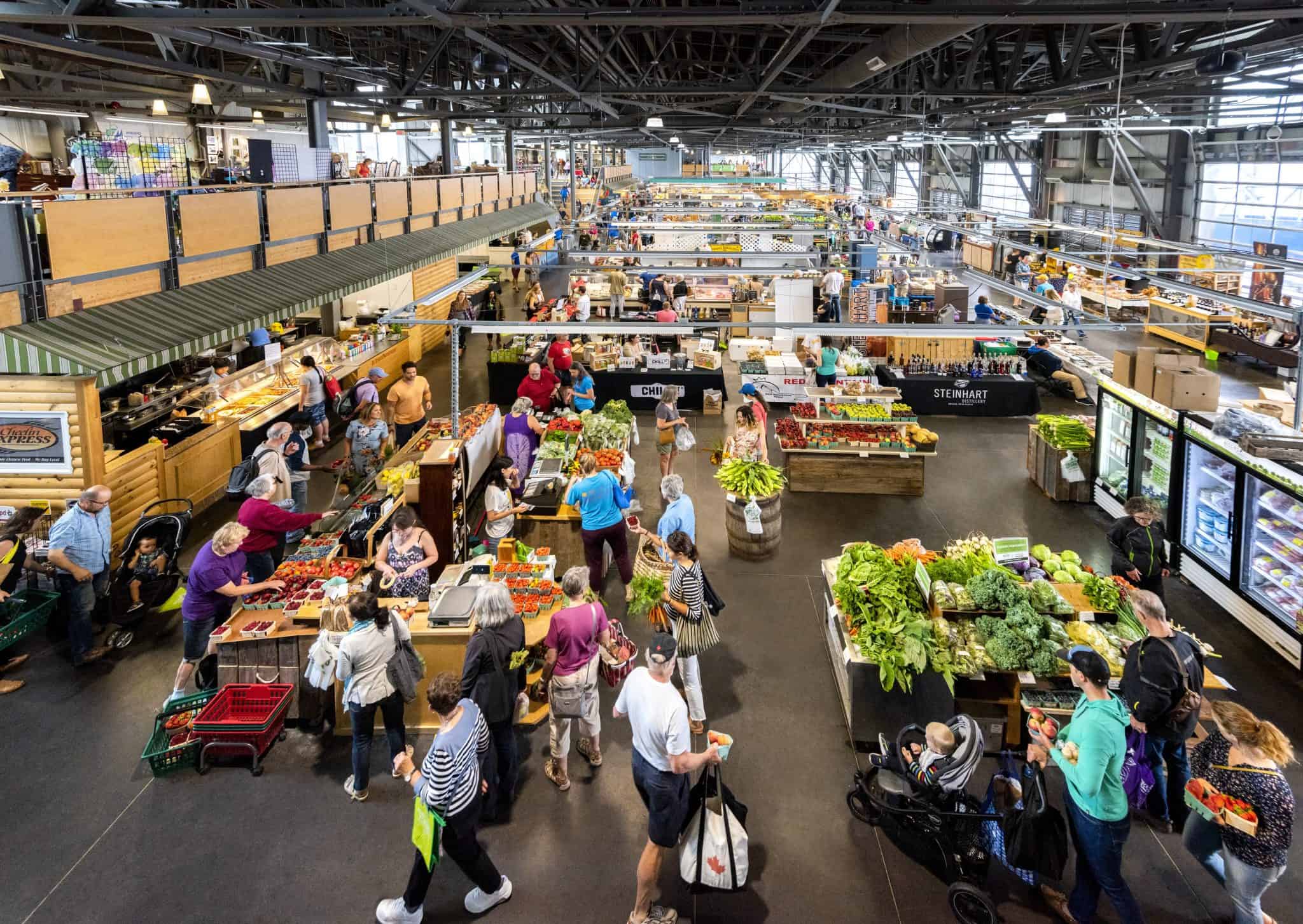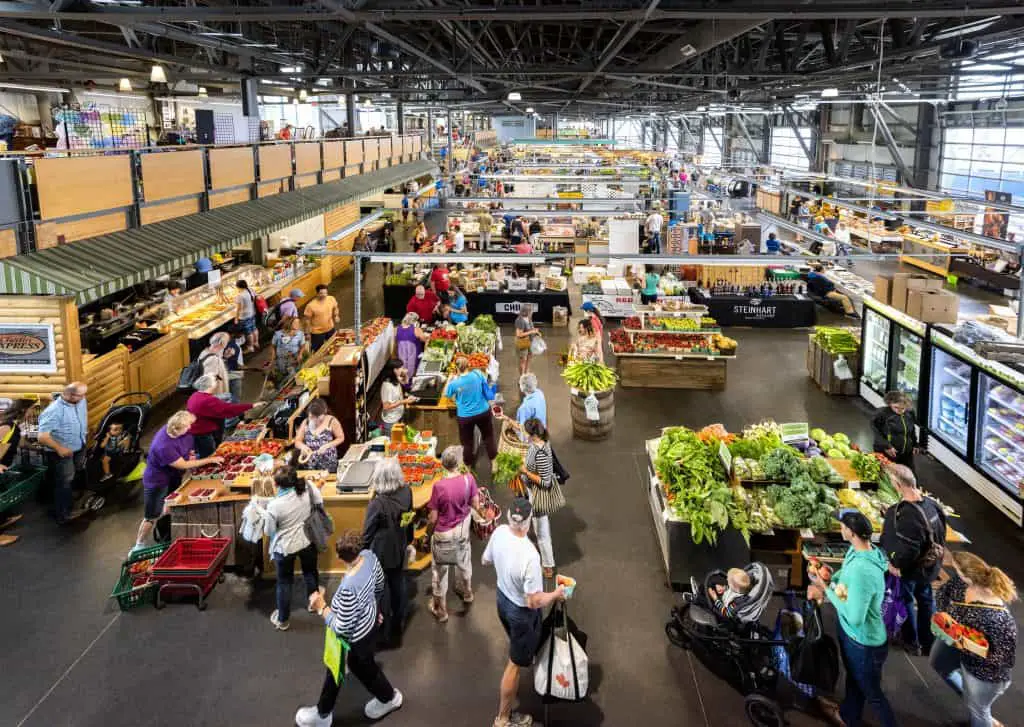 Halifax Waterfront Boardwalk: The Halifax waterfront district is the place to be; you could spend a whole day strolling through the various establishments located along the waterfront boardwalk.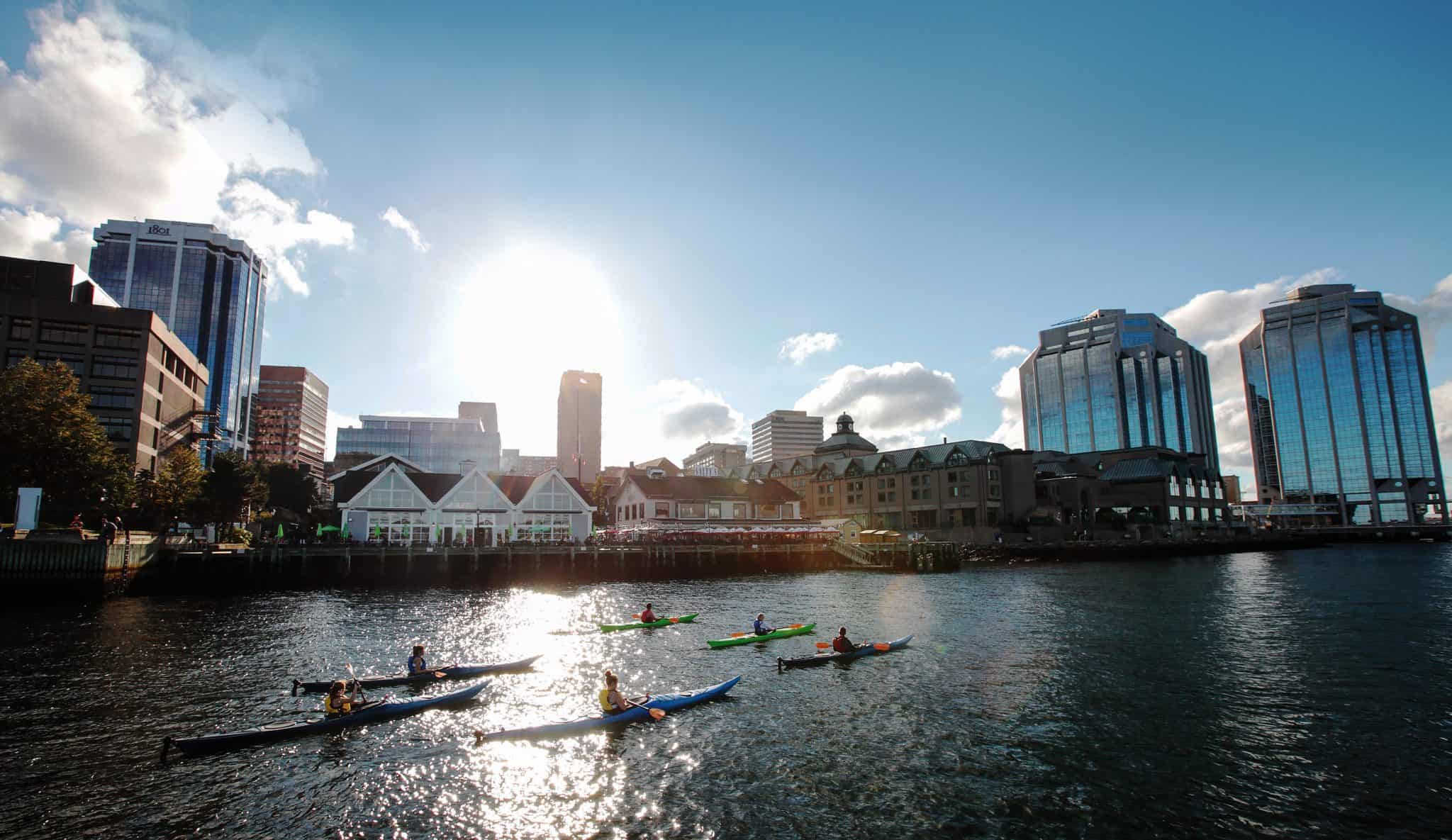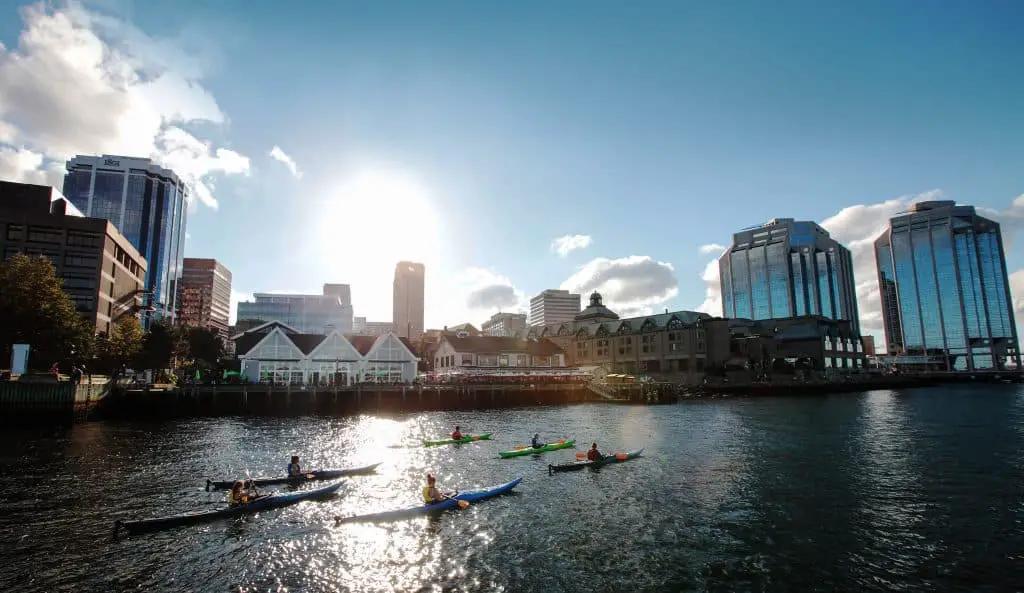 Maritime Museum of the Atlantic: Open every day but Monday from 9:30 a.m. – 4 p.m., this museum offers interesting exhibits for visitors of all ages. 
Peggy's Cove: Peggy's Cove is on the way to Lunenburg, on Nova Scotia's south shore, so we recommend visiting this one using transit. It is an adorable historic village with one of the most iconic of Nova Scotia's 160 lighthouses.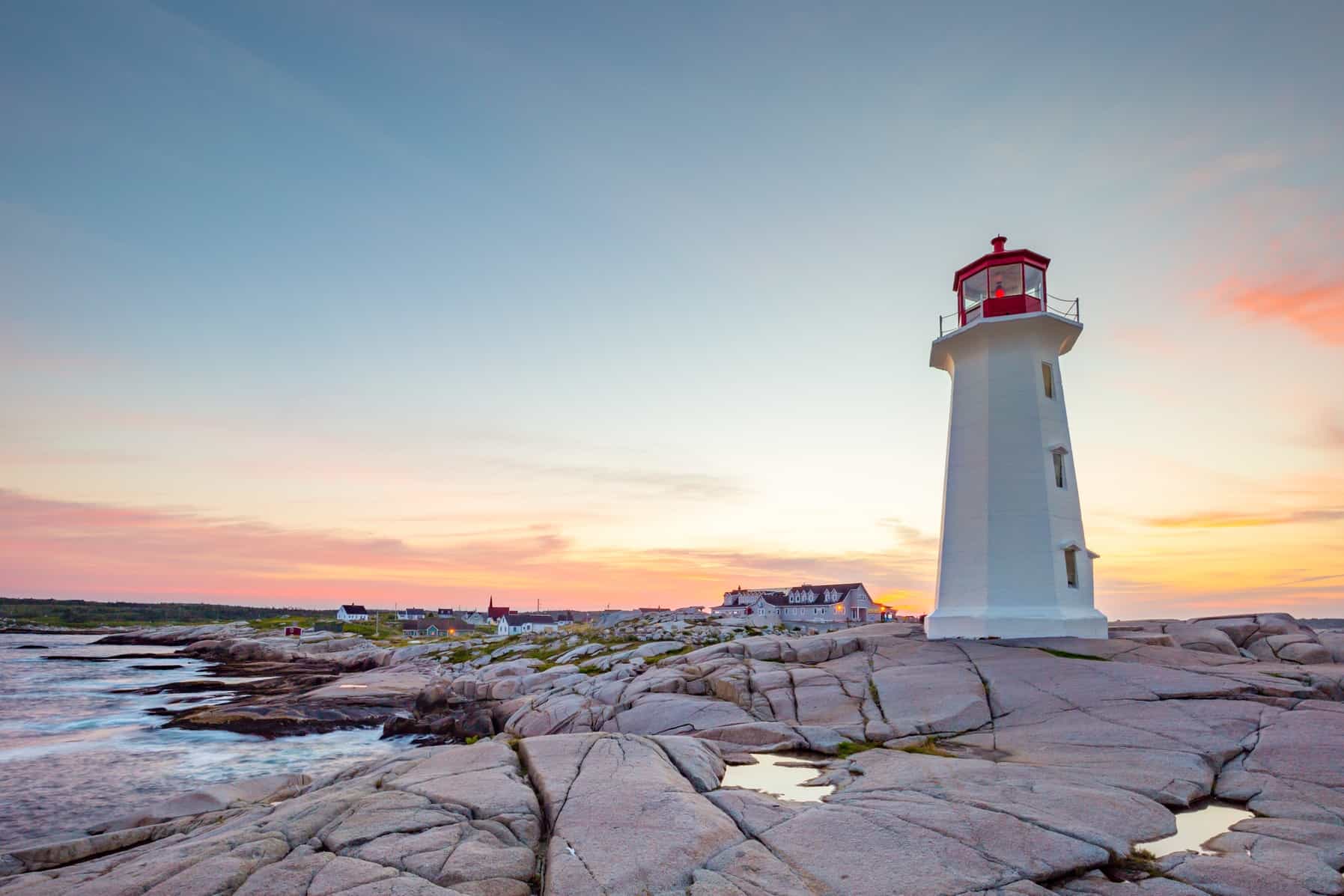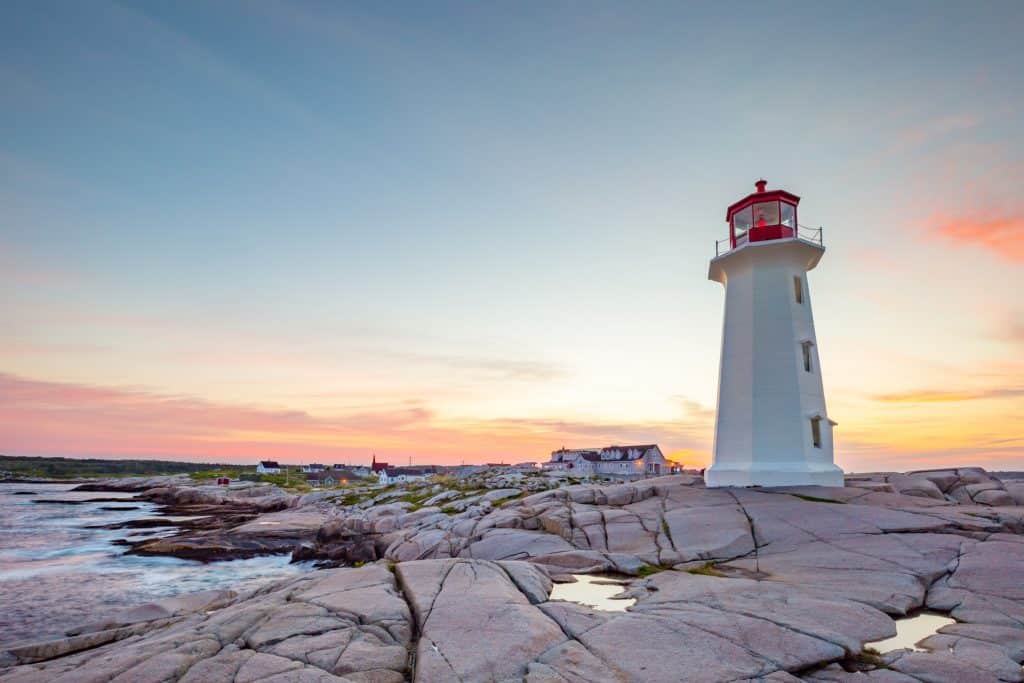 Where to Eat in Halifax
The Bicycle Thief is located right on Water Street in Halifax; it offers Italian interpretations of classic North American cuisines. This casual restaurant is open for lunch and dinner. We recommend going when you can sit outside and soak up the electric energy of the Waterfront district.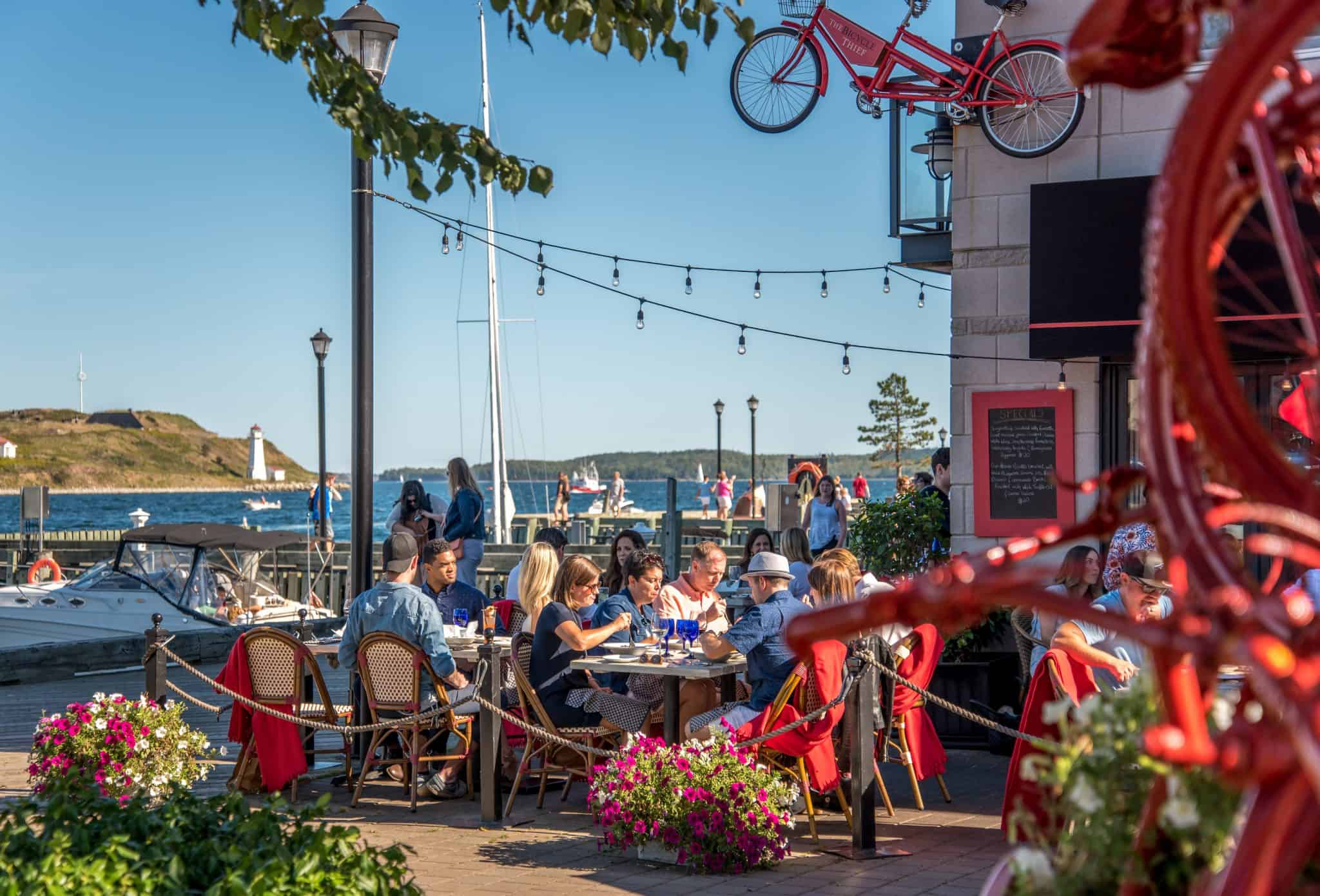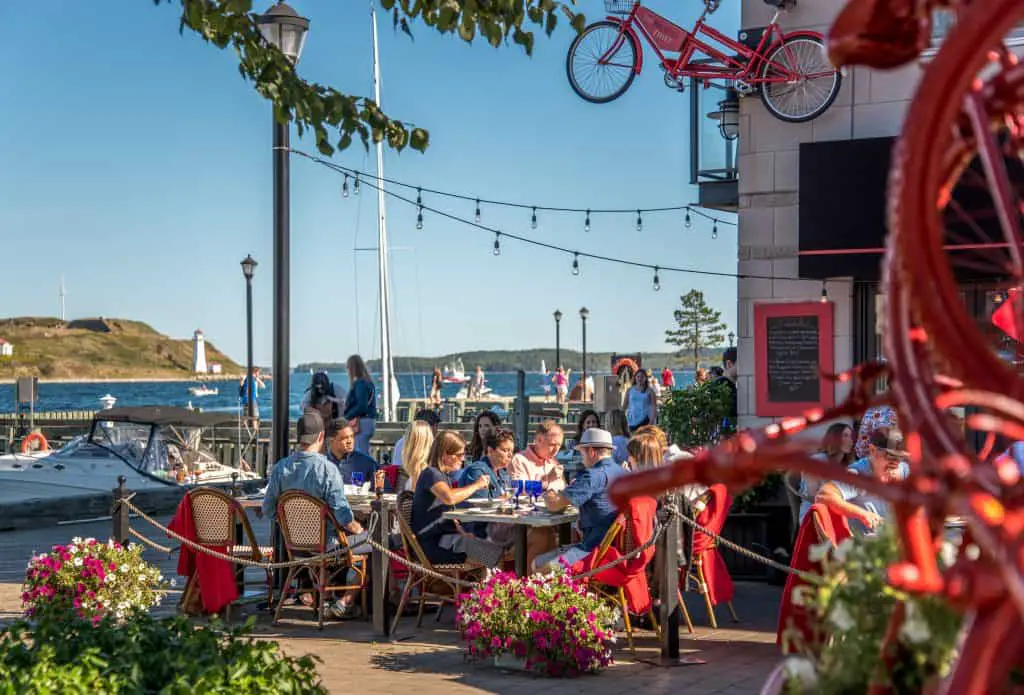 Where to Stay in Halifax
In Halifax, we recommend staying at The Westin Nova Scotian. This hotel is in the center of it all, allowing you to park your car and let it rest while you explore the area.
Lunenburg
Lunenburg was founded in 1753. Today it's a charming, colourful port town and a Unesco world heritage site. It is best appreciated from the port's waters, so we have a few ideas to get you out there on a boat.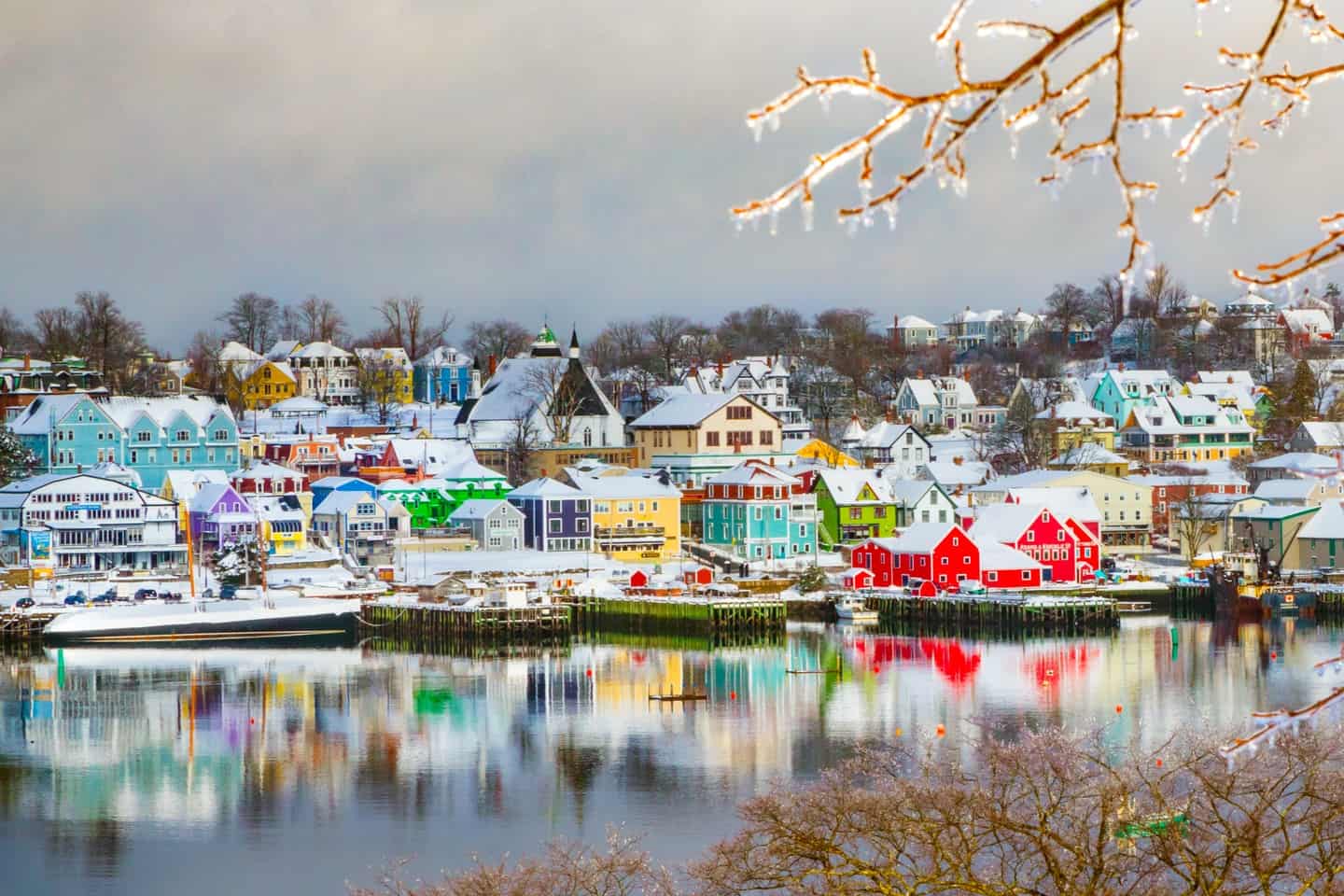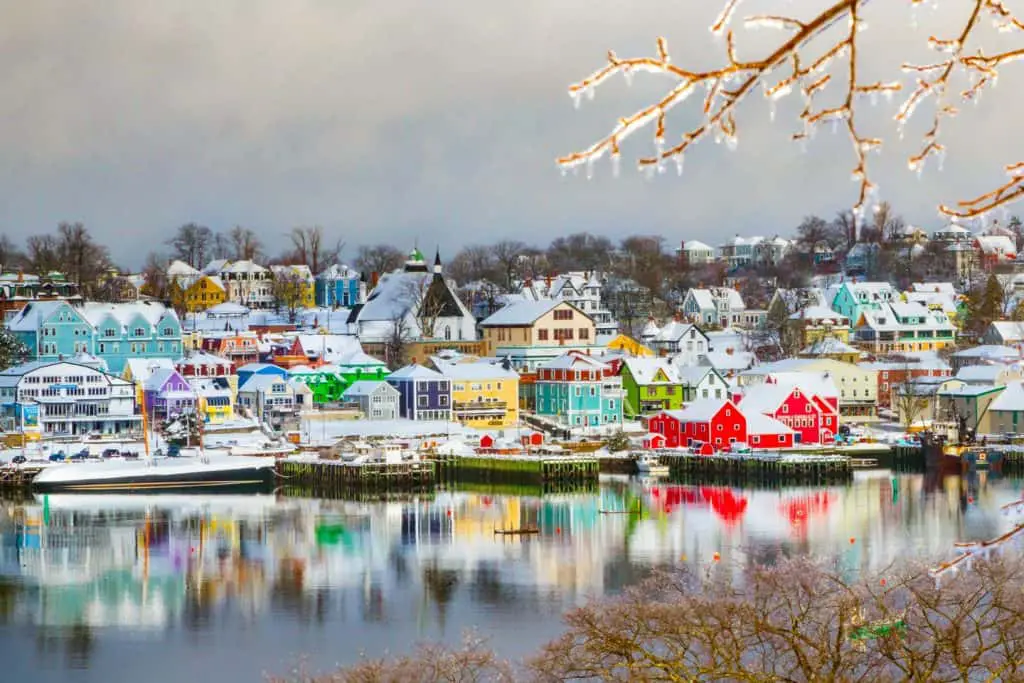 Cruise on the Bluenose II: The Bluenose II is a replica of a 1912 racing schooner; cruises aboard the Bluenose II offer fantastic views of the town of Lunenburg. 
Go Whale Watching: Catch views of Lunenburg and hopefully a few whales too! Make sure you have your camera ready to catch snaps of the ocean giants.
Take a Walking Tour: Learn about Lunenburg's history by taking a walking tour; there are haunted versions available, too, if that's the sort of thing you're into.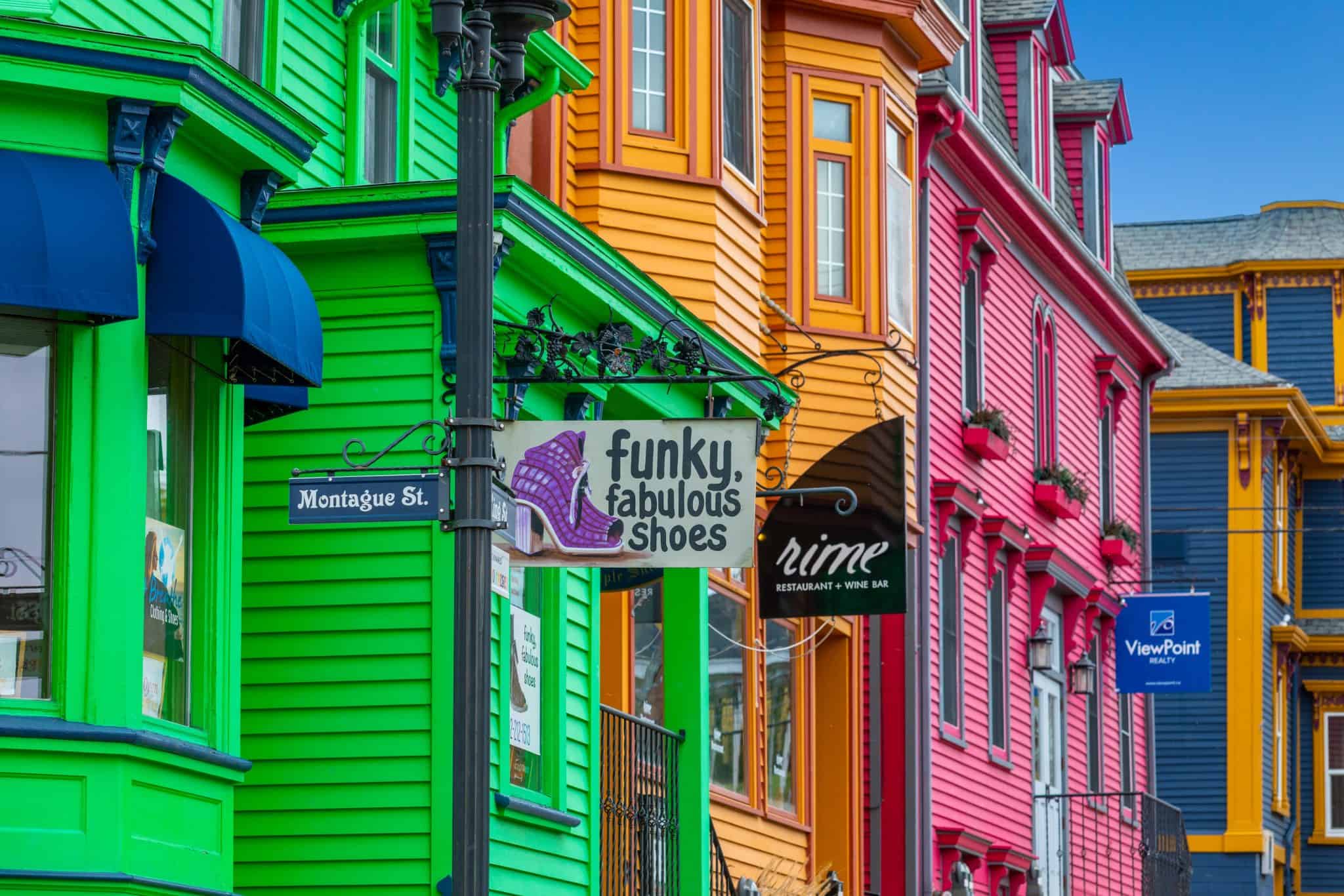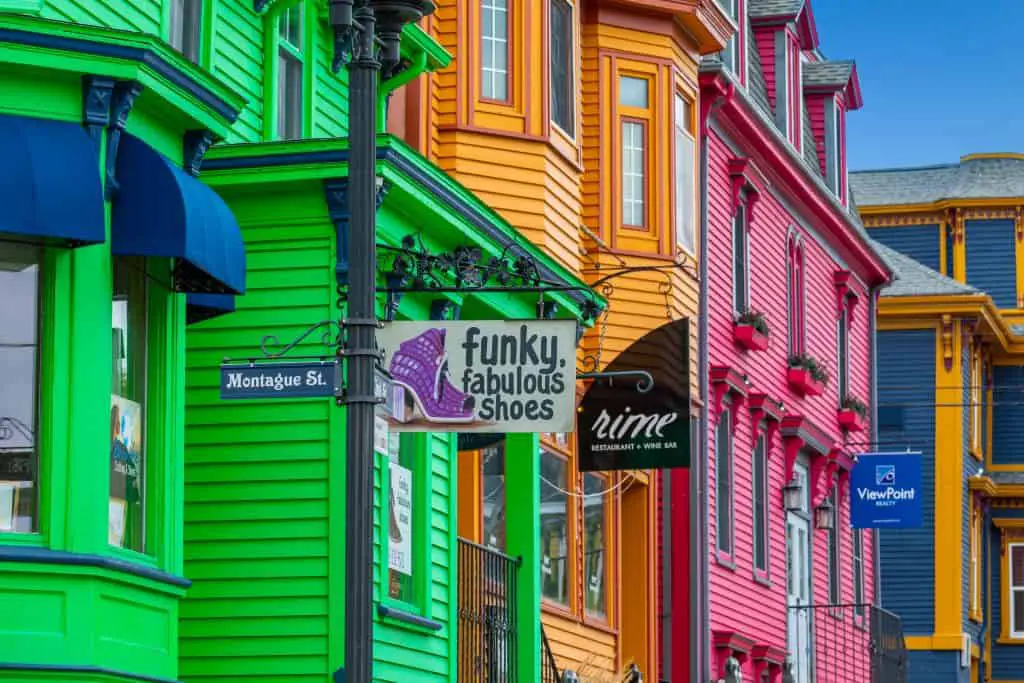 Where to Eat in Lunenburg
The Savvy Sailor is a comfort food café that serves breakfast and lunch. They also offer seafood specials and comfort foods. We love the comfortable atmosphere of this charming café. 
Where to Stay in Lunenburg
This Lunenburg Boat House has a fantastic view!
Inverness
Inverness, Nova Scotia (not Scotland!) is a rural community along Cape Breton. It is also home to the Resort at Cabot Links, which is the destination for golf enthusiasts.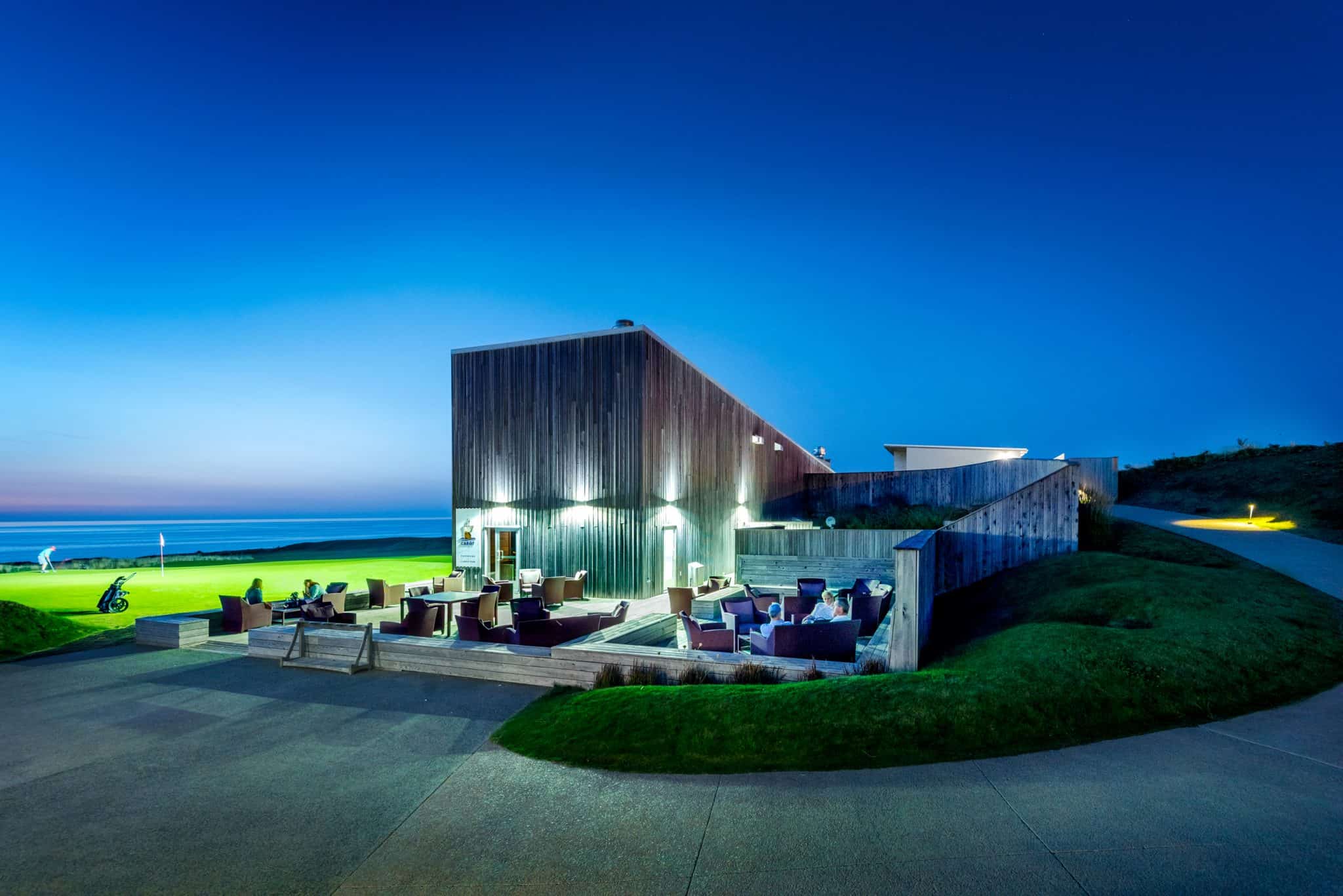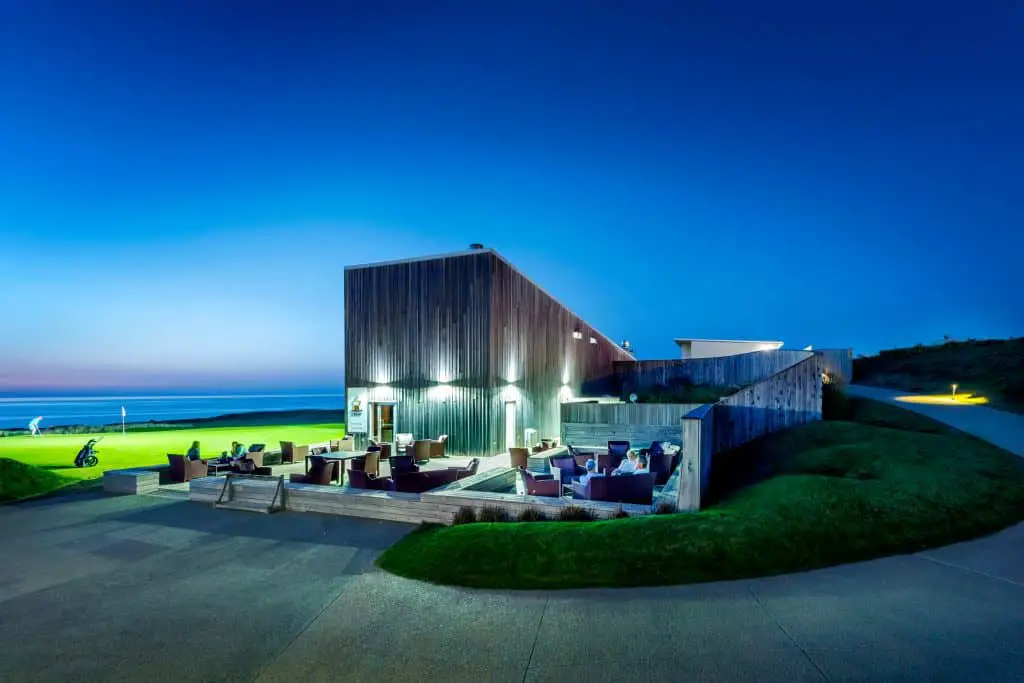 Check Out the Artisan Trail: Get in touch with the rich history and proud traditions of Eastern Canada by stopping at the shops along the Artisan Trail. 
Go to the Beach: The beaches at Inverness are beautiful, and there is also a great boardwalk to walk along. 
Where to Eat in Inverness
The Panorama Restaurant: This elegant dining option on the grounds of the Cabot Link Resort offers stunning views of the Gulf of St. Lawrence. 
The Cabot Public House: This pub has everything you could want—good food, friendly folks, and live music!
Where to Stay in Inverness
Definitely consider staying at the Cabot Resort. Every single room in the lodge offers fantastic views of the Gulf of St. Lawrence in addition to luxurious amenities. 
Another beautiful option is this spectacular Ocean Views Condo just two minutes from the beach.
The Cabot Trail
It wouldn't be an East Coast Canada Road Trip if we didn't include the Cabot Trail, a breath-taking recreational highway that runs through the Cape Breton Highlands and circles Cape Breton island. The trail is about 298km (186mi) long, and there are so many amazing places to stop and explore along the way, but there are two stops that you simply cannot miss! 
Cape Breton Highlands National Park: This park offers some of the most scenic hiking you will ever do in your life. Don't miss the Skyline Trail! 
Meat Cove Beach: This is the most northerly settlement in Nova Scotia, and it's located along the Cabot Trail. It's about a 2-hour, 30-minute drive from the start of the trail.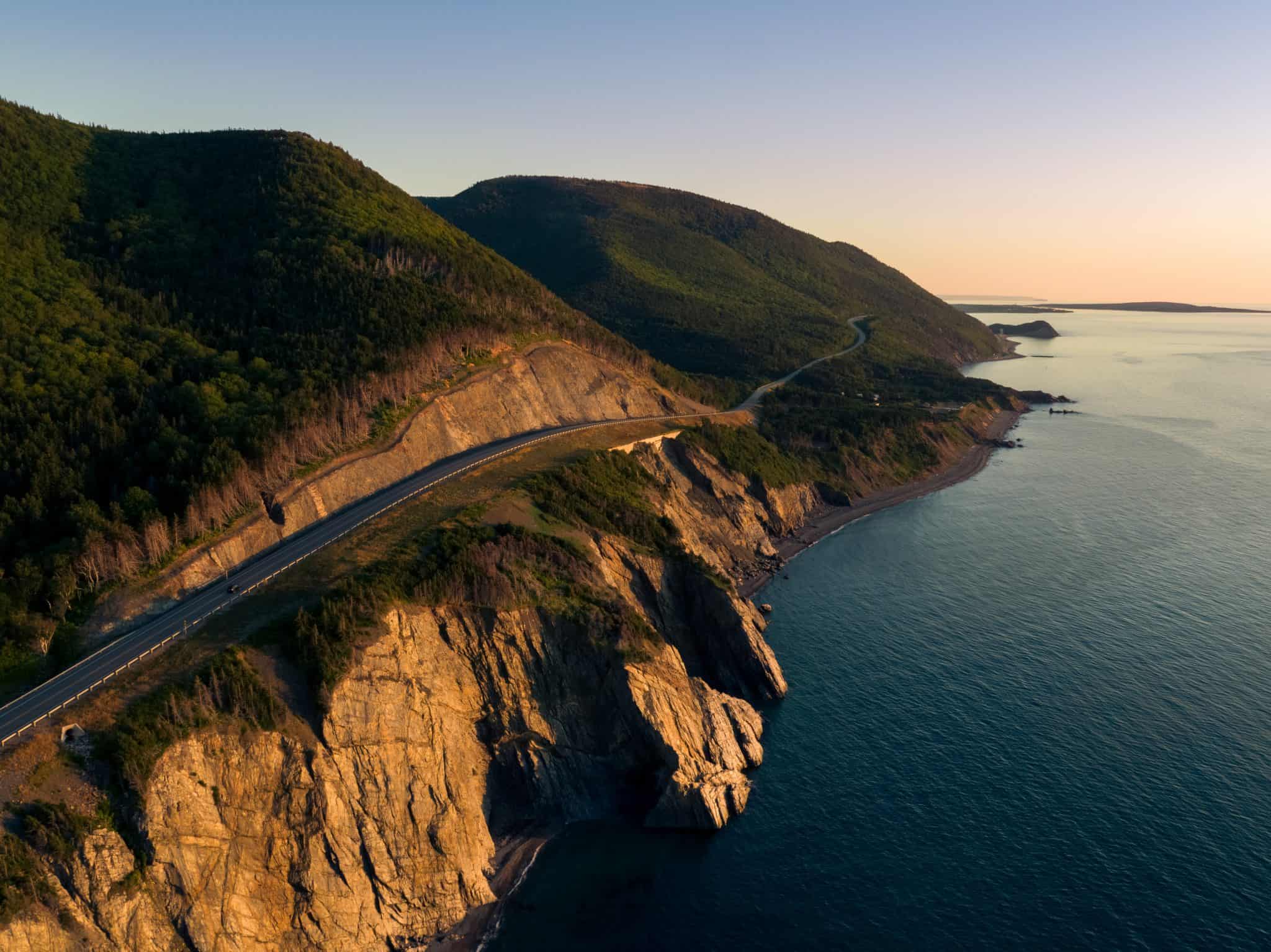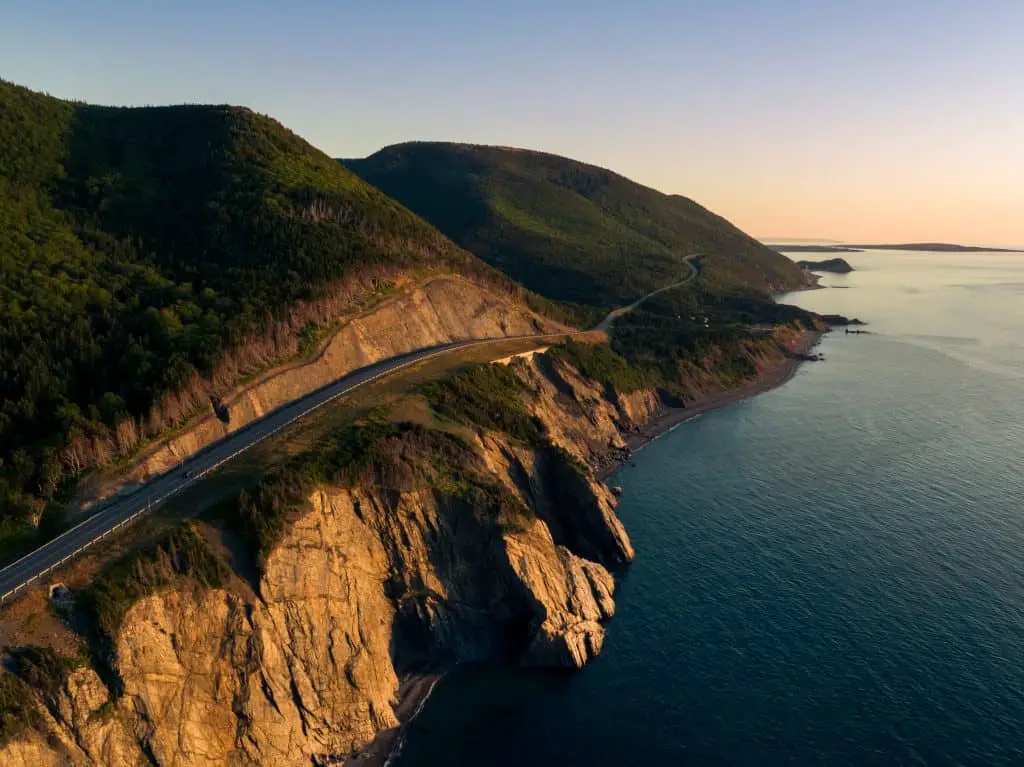 Where to Eat Along the Cabot Trail
The Chowder Hut at Meat Cove is the perfect place to eat along the Cabot Trail. The restaurant is open every day but Thursday from 11 am to 7 pm. The chowders, crabs, and mussels they serve are mouth-watering.
The Clucking Hen Café & Bakery: This quaint bakery serves fantastic baked goods and comfort foods; it's the perfect place to stop after an active day on the trail. 
Where to Stay Along the Cabot Trail
There are great places to stay all along the trail, but we think you might enjoy this adorable Red door Adonai Adventure Cabin.
Wolfville
Wolfville is a tiny town in the Annapolis Valley, about 100km from Halifax. The town is a popular tourist destination because it is in wine country. 
Wine tours are the thing to do in Wolfville. We recommend booking the Twenty Valley tour with the Magic Winery Bus Company. It comes with a built-in designated driver, which you just might need after touring five wineries.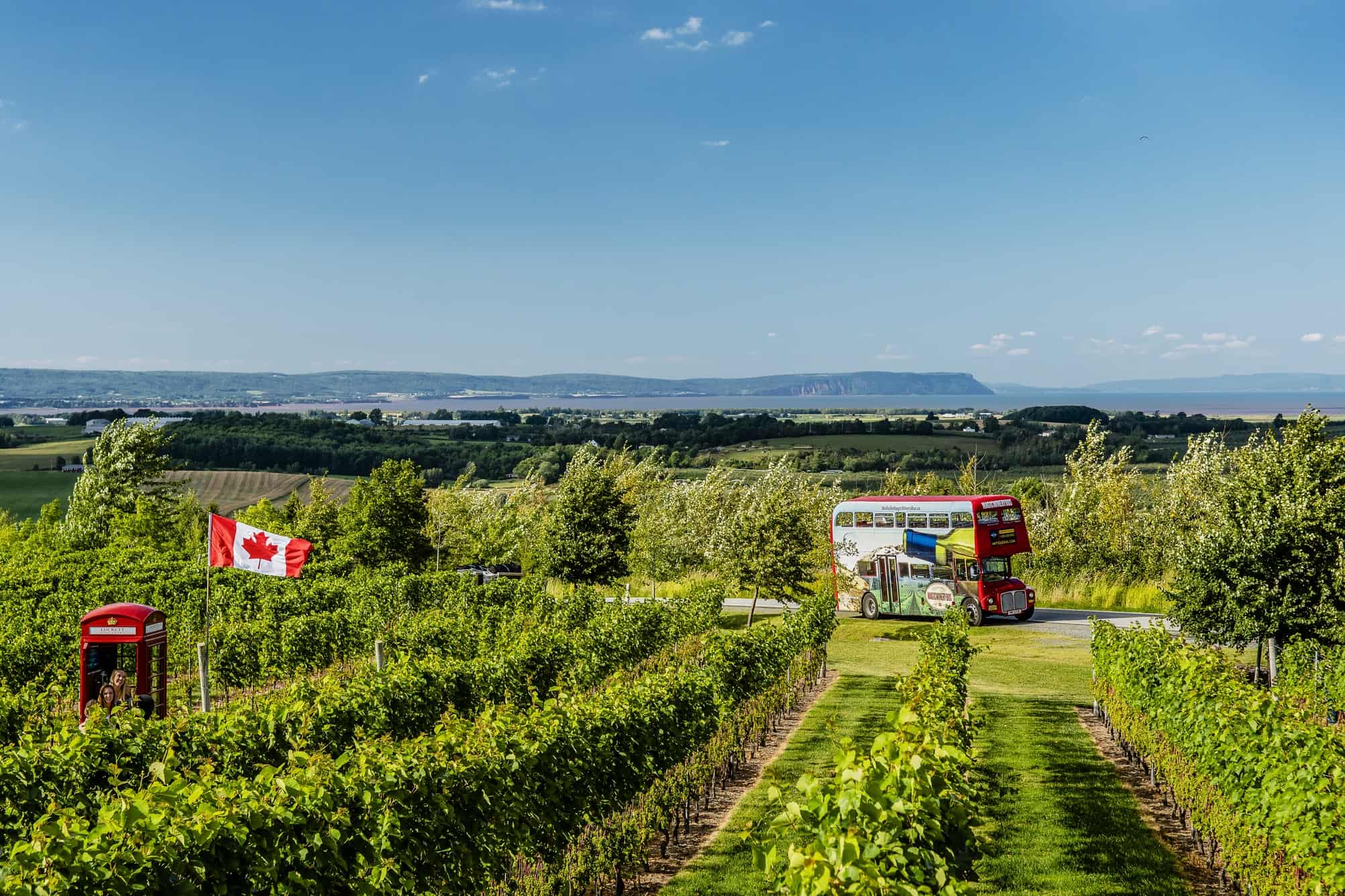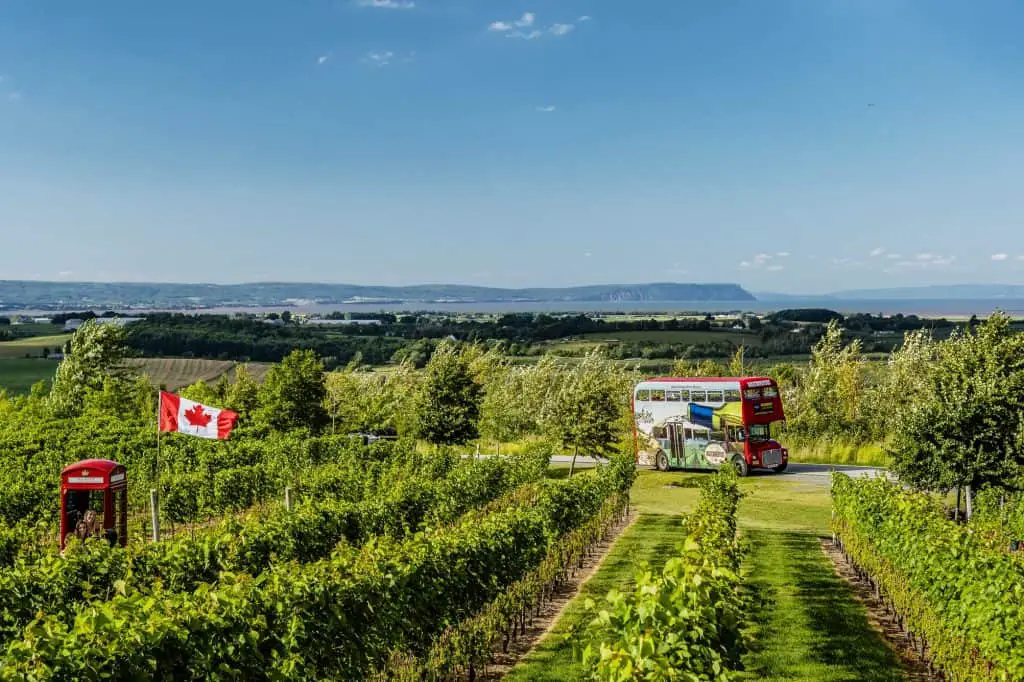 Where to Eat in Wolfville
Juniper Food + Wine is an adorable little restaurant in downtown Wolfville. It is vegan and vegetarian friendly, and its menu offers a wide range of food options from unfussy sandwiches to elegant pasta dishes. 
Where to Stay in Wolfville
If you're wanting to be close to everything, you'll love this Central Wolfville Suite with City View.
You might also like: 25 Unique Things To Do In Nova Scotia
East Coast Canada Road Trip: Prince Edward Island Itinerary
Having lived on Prince Edward Island (PEI) for four years, I can attest to the fact that it is a gorgeous place to visit. It is an island in the Gulf of St. Lawrence known for its characteristic red-sand beaches and plethora of lighthouses. 
It only takes a few hours to travel from tip to tip of PEI, so it is entirely possible to stay in the capital city, Charlottetown, and take day trips to all of the locations on this itinerary if that seems more relaxing than packing your bags each day. 
Confederation Bridge
The confederation bridge is the massive bridge that connects PEI to New Brunswick. You'll pass over it by taking the Trans-Canada Highway across the Northumberland Strait to PEI. It's an impressive bridge—the longest in Canada!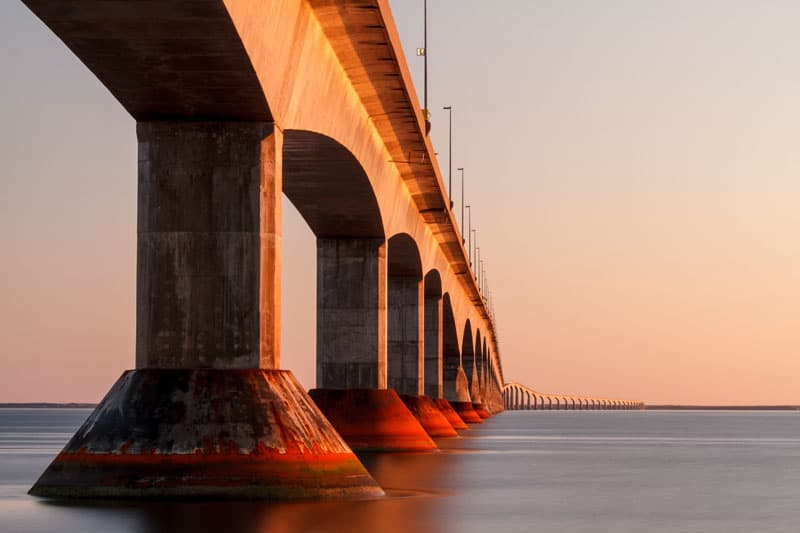 We're highlighting the bridge here because it's good to know that there is a Toll for crossing the bridge. For 2021 the round-trip cost of using the bridge is $50.25 for a standard two-axle vehicle. You can find more information on the fees here. 
Point East Coast Drive
The Point East Coast Drive is a 475 km driving trail that showcases the east end of PEI; it is dotted with beautiful landscapes.
East Point Lighthouse: Built in 1967, this lighthouse is still in operation today. Tours are offered between 10 am and 6 pm, and the lighthouse offers excellent views of the Atlantic Ocean.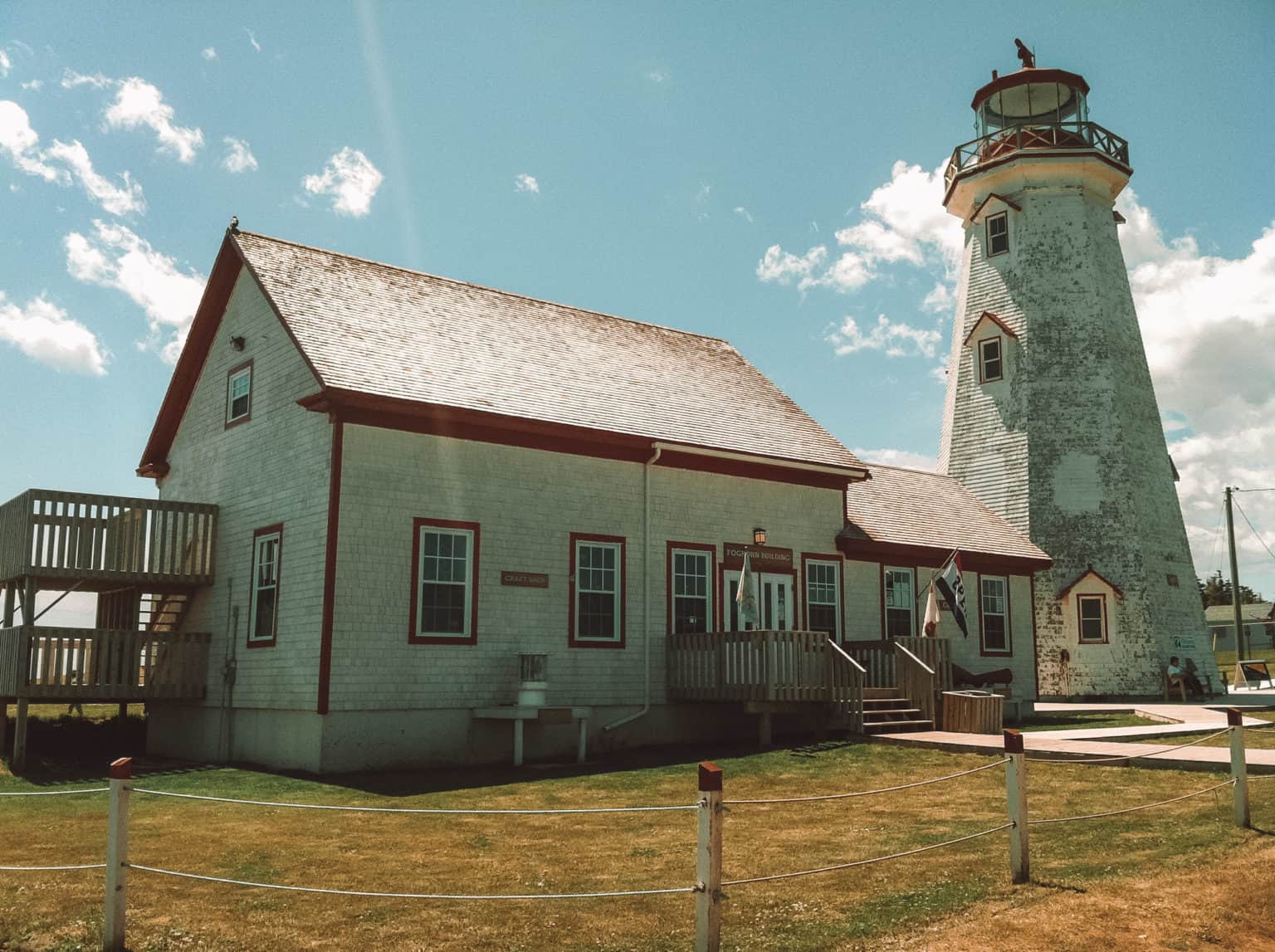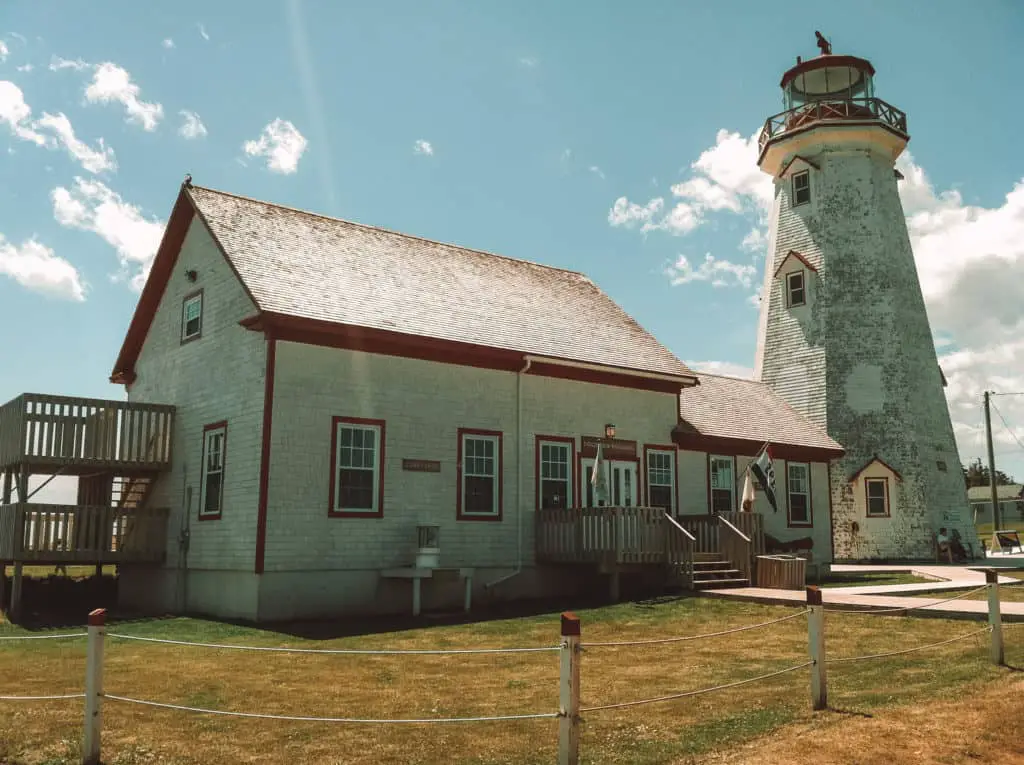 Basin Head Beach: This provincial park is known for "singing sands" because the sand makes a sound when stepped on. It's a beautiful coastal park.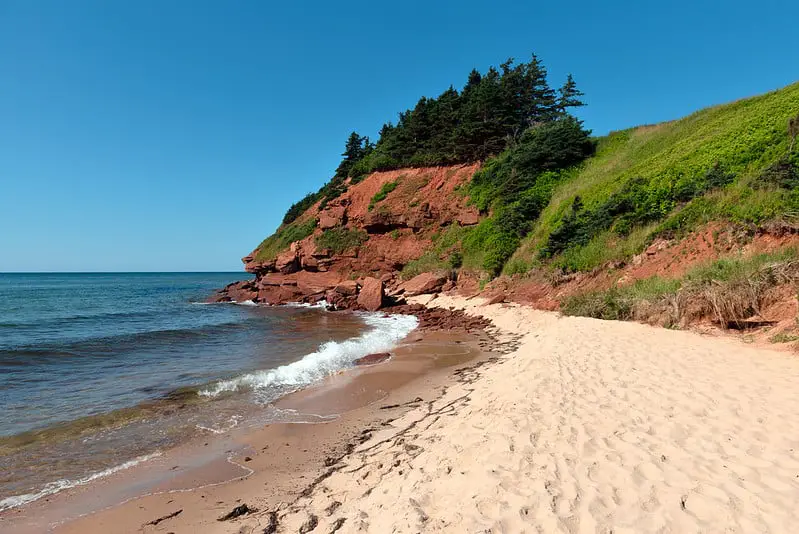 Rossignol Estate Winery: This winery is located in Little Sands and is known for mature blueberry wine. The estate grounds are also breath-taking.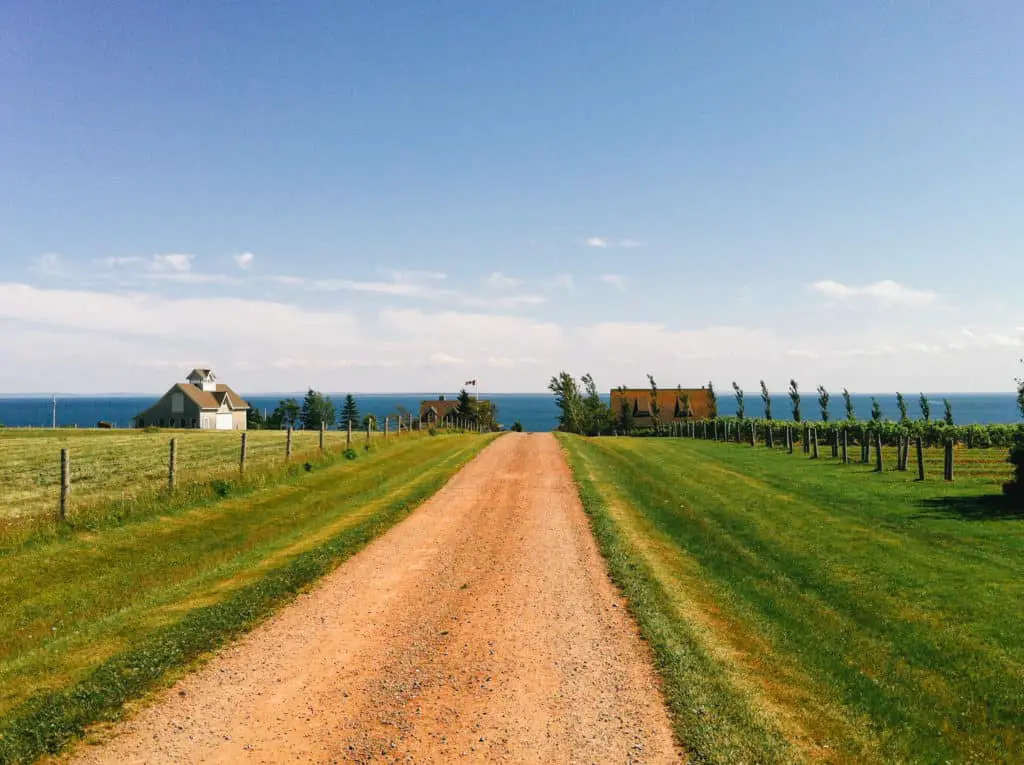 Where to Eat on the Point East Coast Drive
Located in Cardigan, along the Point East Coast Drive, Clam Diggers Restaurant is worth the stop. They serve up amazing seafood and boast a beautiful view from the dining room as well. 
Where to Stay on the Point East Coast Drive
The Rodd Crowbush Golf and Beach Resort in Morell is a tranquil resort on PEI's north shoreline. The resort offers guest rooms in the central hotel in addition to 32 cottages. The amenities befit any elegant resort with access to a beach, a spa, and multiple dining options. 
Charlottetown
Charlottetown is the capital city of PEI and is located on the southern coast of the Province. It's a small city with a lot of culture and an emphasis on the arts. 
Victoria Row: This a street mall downtown, located on Richmond Street. It gets its name from the architecture and cobblestone street.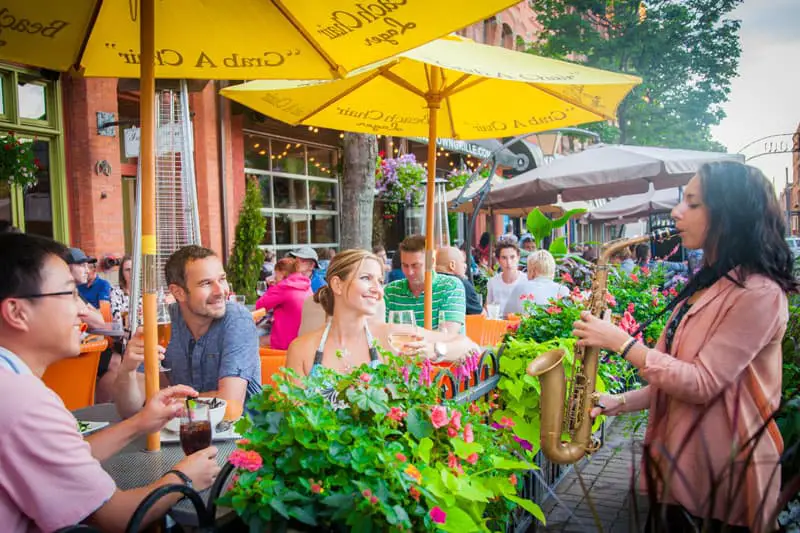 Where to Eat in Charlottetown
Leonhard's Café and Restaurant: This café offers all-day breakfast fare and healthy lunch options, including sandwiches and salads. The food at Leonhard's is made with high-quality ingredients, and the menu is very gluten-free friendly. 
The Gahan House: The Gahan House is a craft brewery and restaurant with a historic pub atmosphere. They serve typical pub fare but do it well. 
Sims Corner Steakhouse: Sims serves authentic steakhouse cuisine in an elegant setting. It is Charlottetown's premier steakhouse. 
Where to Stay in Charlottetown
The Great George is a boutique hotel like no other. It is a cluster of restored heritage homes in Charlottetown's Historic District, offering guests everything from deluxe rooms to entire townhouses. The hotel offers enhancement packages to cater to every guest's needs and make each stay memorable. 
Cavendish
Cavendish is a coastal resort town on the northern shore of PEI; it is known for its beaches and cultural sites.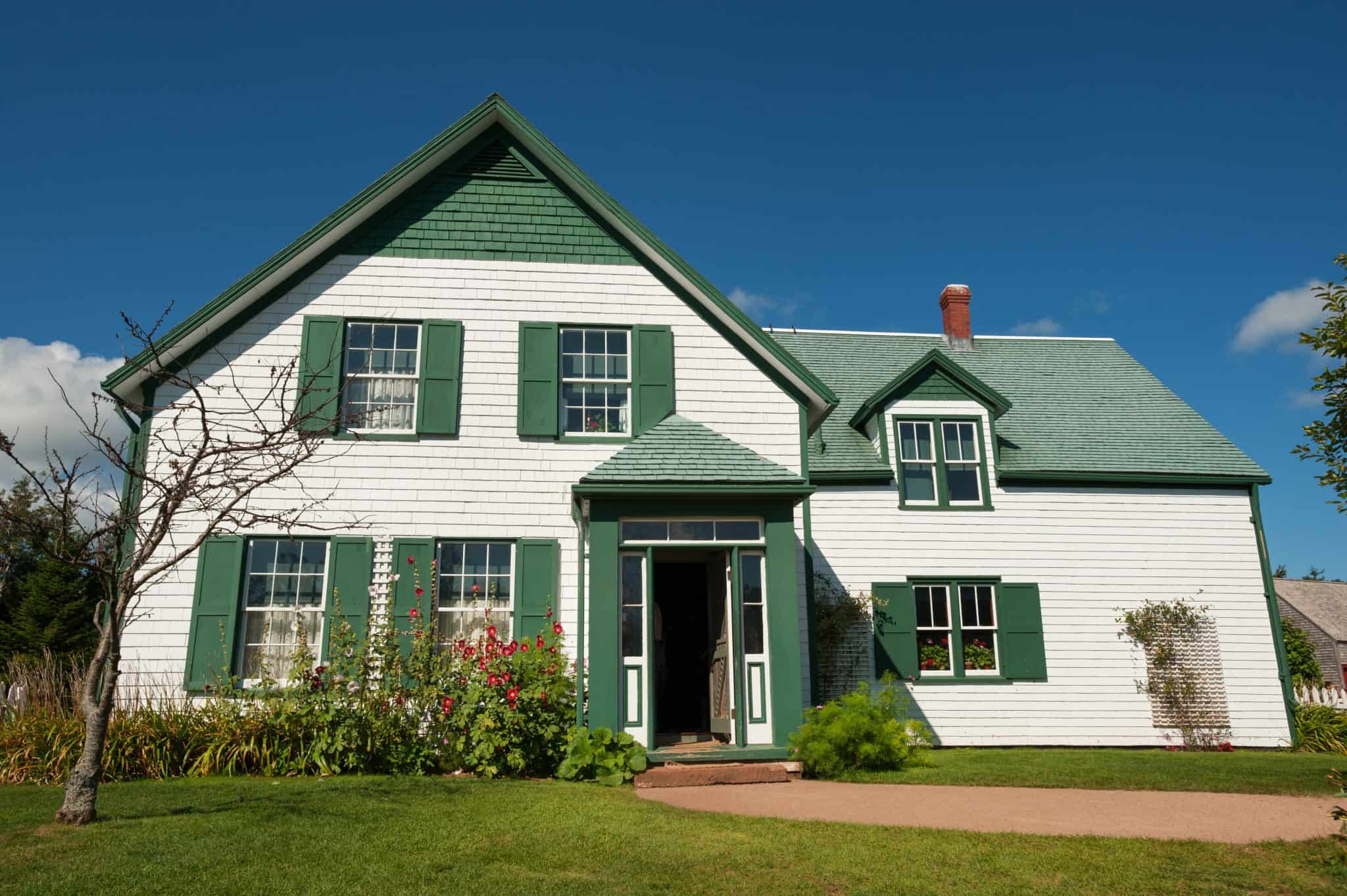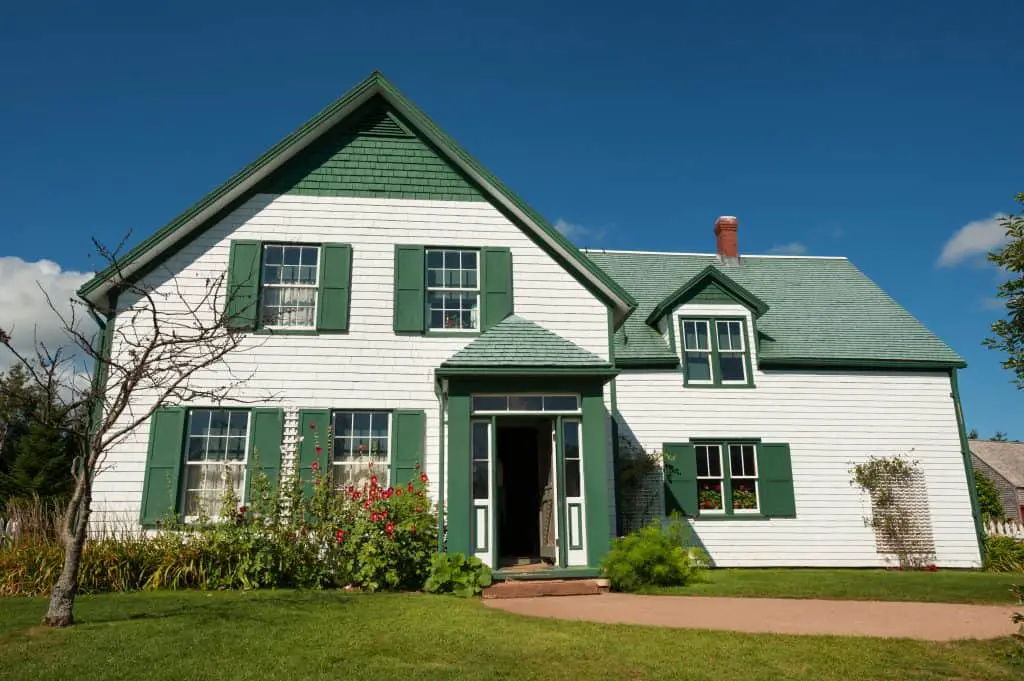 COWS Ice Cream – Cavendish Boardwalk: COWS Ice Cream is a chain of ice cream stores native to PEI. Their ice cream recipe dates back to the era of Anne of Green Gables and is beloved the whole island over. 
Go to the Beach: The beaches in Cavendish are beautifully framed with gorgeous red-sand and sandstone cliffs. There are several public beaches in the area.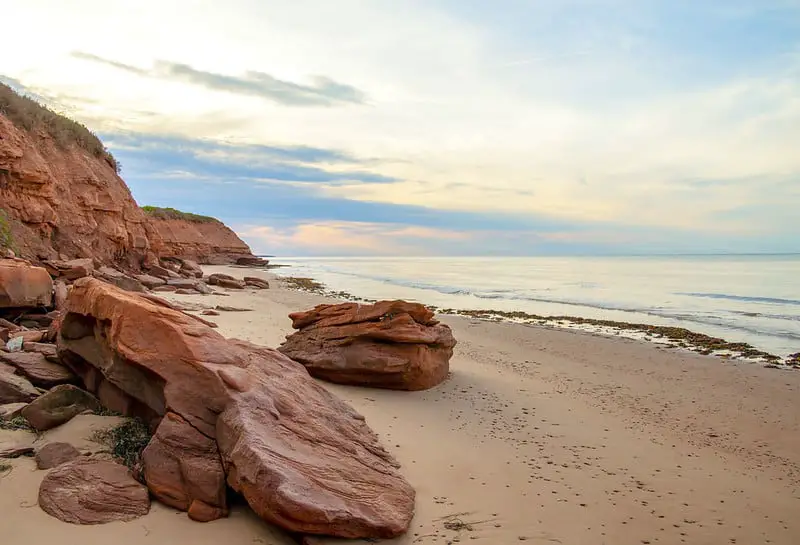 Where to Stay in Cavendish
Consider The Salty Fox, a one-of-a-kind roof-top terrace if you're wanting to stay in the Cavendish area.
You might also like: 10 Things To Do in Beautiful Prince Edward Island
Final Thoughts on this Eastern Canada Road Trip Itinerary
That is quite the road trip! We really hope you are inspired to travel to Eastern Canada and follow our Ultimate East Coast Canada Road Trip!
Pin it for later :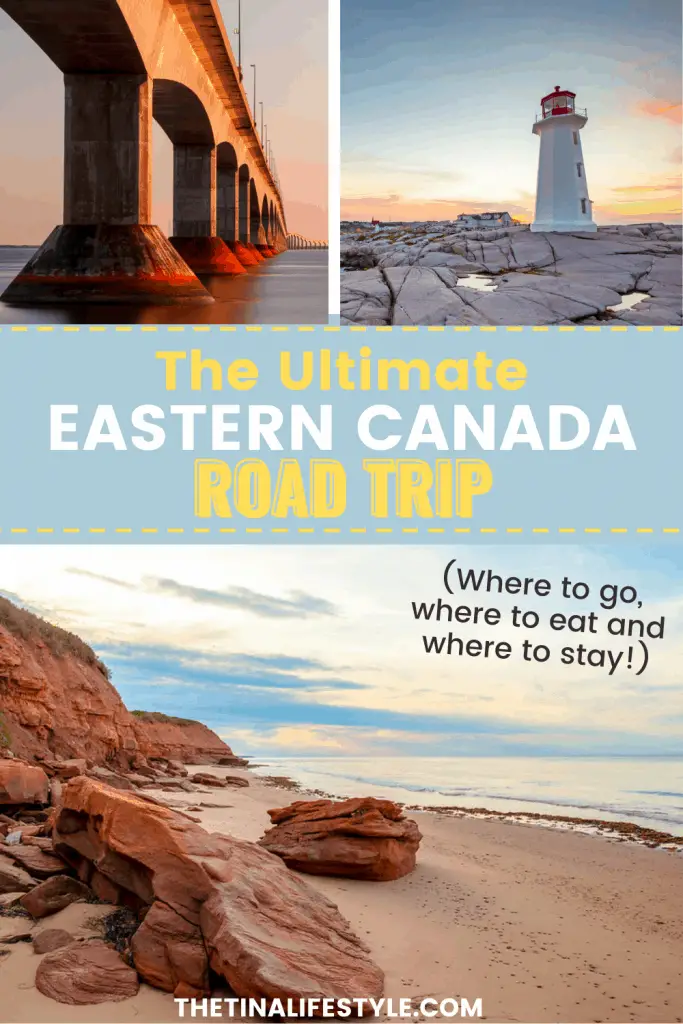 Frequently Asked Questions
What Is the Best Time of Year to Visit the East Coast of Canada?
The ideal time to visit the East Coast of Canada is between May and October. During these months, you'll experience the best weather conditions, opportunities for whale watching, and a variety of summer festivals. The autumn months of September and October also offer pleasant weather.
How Many Days Do You Need to See the Maritimes?
The number of days needed to explore the Maritimes can vary depending on your interests and pace. However, typically, an East Canada road trip through the Maritimes would take about 10 to 14 days. This duration allows you to visit major attractions and also enjoy some leisurely exploration.
How Long Do You Need to Travel the East Coast Canada?
If you're planning a comprehensive road trip covering the entire East Coast of Canada, you should plan for at least 2 to 3 weeks. This will allow you to experience the diverse landscapes, cities, and attractions this region has to offer. 
What Is the Best Month to Visit East Coast Canada?
While any time between May and October is generally good for visiting the East Coast of Canada, the months of July and August are particularly favorable. These months usually have the most pleasant weather and coincide with numerous local festivals and events.
Where to Go on the East Coast of Canada?
There are countless destinations to explore on the East Coast of Canada. Some highlights include the Kouchibouguac National Park. Other popular stops on an East Canada road trip might include the bustling city of Halifax, the picturesque Bay of Fundy, and the charming Prince Edward Island.