What's on your bucket list? What do you want to do before you die? This blog post will explore the idea of bucket lists and give you plenty of bucket list ideas.
As we grow older, we start to recognize that there will come a time when some of our dreams cannot be fulfilled. This is not only sad, but it can also feel frustrating and disappointing.
Instead of waiting for this inevitable reality, as if you're resigned to the idea your bucket list may never happen, get started on your bucket list now to prevent any regrets in the future.
This post contains some affiliate links. If you click on the product links and make a purchase it allows me to make a small commission at no extra cost to you! In return, it helps me in maintaining this site to continue to help you!
What's a Bucket List?
A bucket list is a written record of all the things one wants to accomplish or experience in their lifetime. These are usually big goals like climbing Mount Everest but can also include smaller tasks like learning another language or watching every episode of Friends. Everyone should write down their bucket list to make sure not to forget anything!
A bucket list idea can also be made up of personal goals, dreams, and ambitions – the sorts of things you want to do or see before it's too late.
Your bucket list can be as long or short as you want it to be because it is your own personal bucket list that only you need to see.
When Is the Right Time to Make Your Bucket List?
The best time to create your bucket list is now. You can never be too old to start a bucket list.
You could start by making the more general items that are always important: do something nice for someone else, learn how to make one of your favorite dishes from scratch, or finally read through all those books you've been meaning to get around to reading.
The right time to make a bucket list is when you feel your goals are within reach. And it's important to consider the quality of time that's left and how much you're willing to sacrifice for these things.
This is because there might not be enough time left to make everything on your bucket list happen, so it's better to prioritize which ones you want to happen now.
The right occasion for making a bucket list is different for everyone. Many people will start bucket lists when they can no longer work or if something bad has happened, making them realize how little time is left and what's important in life.
We recommend that you have a dedicated bucket list journal or wall reminder of your ideas so that they don't get lost in your other life's nitty gritties. 
Bucket List Journal Ideas
The Amazing Bucket List Book & Planner
This Bucketlist Book & Planner is a giant-sized helping of bucket lists inspiration. It has over 2,000 ideas ranging from a list of the world's most amazing bars to the most spectacular cycle climbs and hikes, to World Heritage Sites and the most awesome underground adventures. 
The journal also has planning pages and 100 blank journal pages so you can capture each experience.
Personalized Leather Travel Journal, Custom Stitched Quote
This leather travel journal will make a perfect gift for a loved one embarking on a new adventure. It is the perfect journal to capture all the awesome memories and experiences.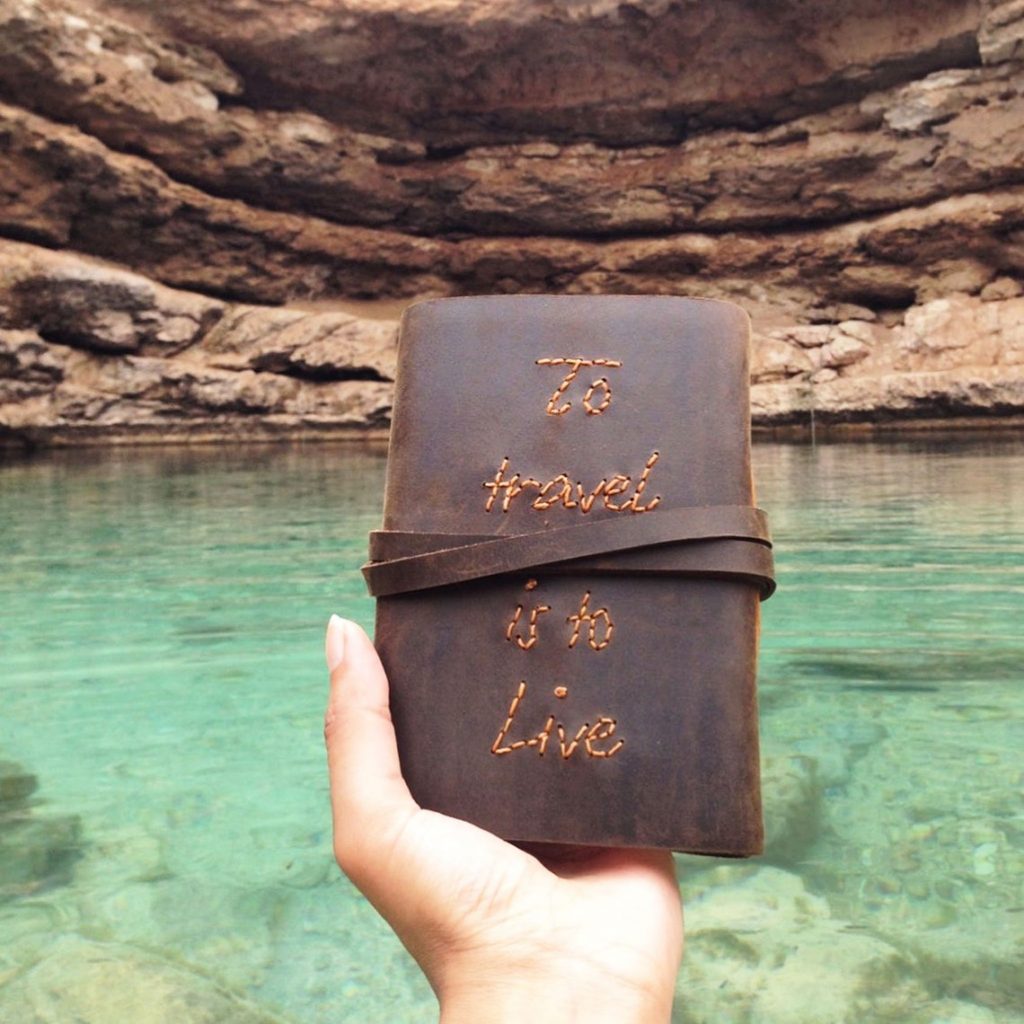 Custom Leatherette Journal – Lined Notebook
This leatherette journal has 112 lined blank pages to capture your memories and a black satin ribbon bookmark. Your name can be engraved on it for customization and comes in a couple of colours.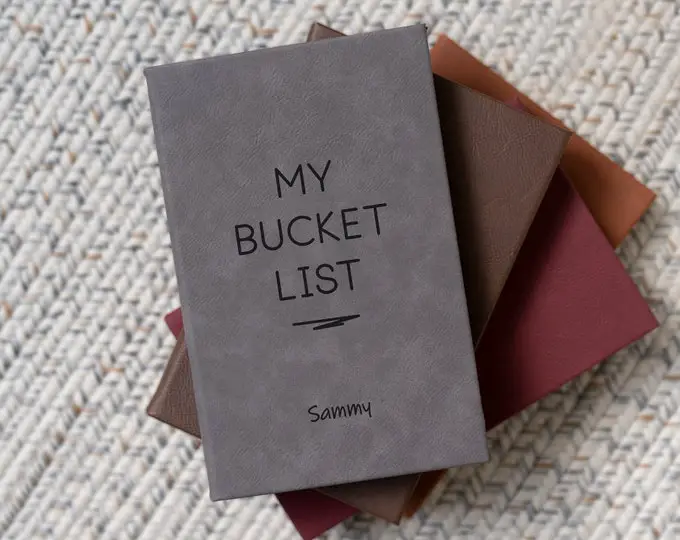 Custom carved Sapele Mahogany Bucket List Journal
This bucket list journal is made out of 100% solid Sapele (Mahogany) and bound by hand by the Coptic stitch method. The book is lightweight and has 160 blank pages ready to be filled up with your adventures.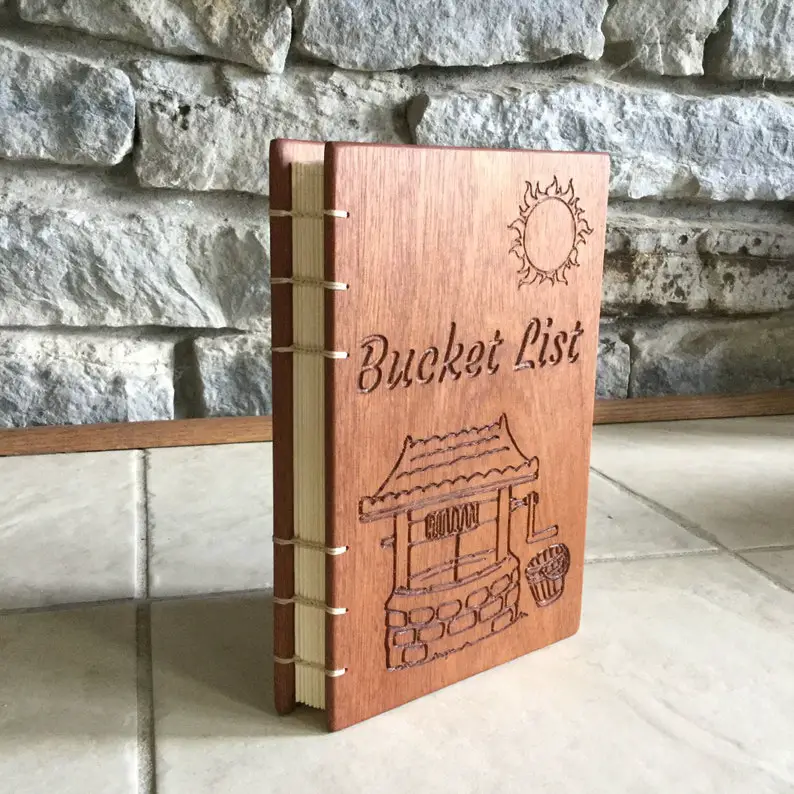 Bucket List Wall Decor Ideas and Reminders
The Porch Bucket List, Personalized Canvas Wall Decor
Remind yourself of your aspirations when relaxing on the porch with this Porch Bucket List  Wall Decor. You can always contact the creator company if you want to remove or change some items from the list on your wall. This wall decor is best placed in an enclosed area free of harsh weather.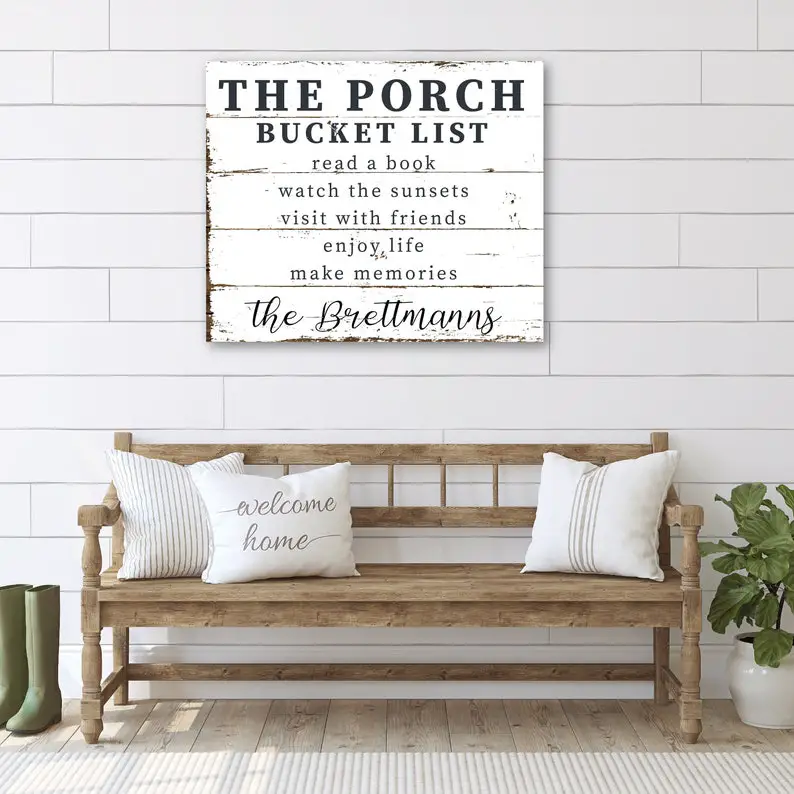 Personalized Couples Bucket List Fabric Wall Hanging 
This handmade personalized travel bucket list fabric wall hanging can be customized with up to 10 activities of your choice. It would be a thoughtful anniversary gift, graduation gift, gift for couples during their wedding.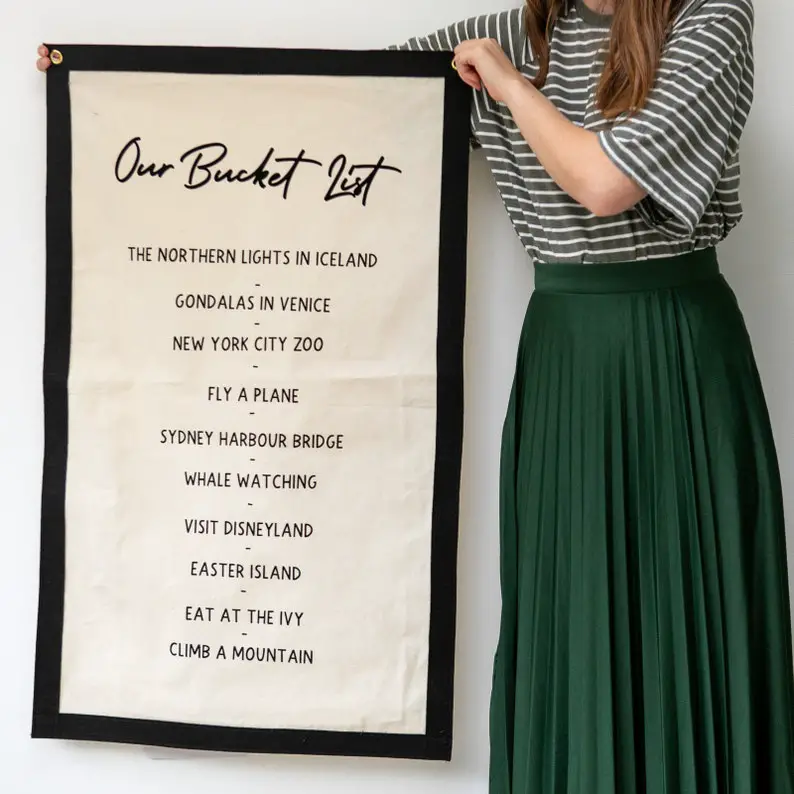 Common Things on a Bucket List
There are common things that people often put on their bucket lists. A bucket list example might include one of these : 
Go To a Concert
Make a point of seeing your favourite band or artist live in concert. 
Visit The Louvre in Paris
This magnificent and baroque-style palace and museum is the world's largest museum, and it houses the most impressive art collections in human history.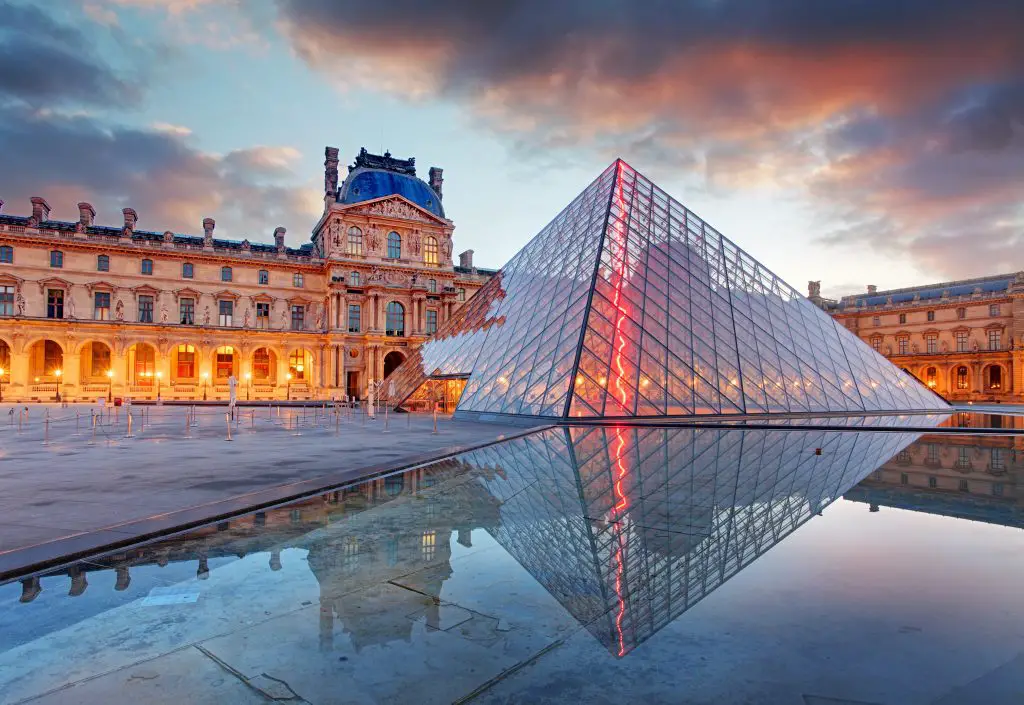 Learn to Play an Instrument
You can try out different instruments like the xylophone, hand percussion, piano, ukulele, drums, recorder, violin or guitar.
Travel Outside of the Country
Be sure to venture to a foreign country, and if able to outside your continent. You will appreciate the wealth of culture and experiences far away from home.
Take a Dance Class
There are several types of dances; Ballet Dance, Jazz Dance, Contemporary Dance, Tap Dance, Hip-Hop Dance, swing Dance, Belly Dance or Ballroom Dance. Go for the one you fancy. 
Make Ice Cream Sundae at Home with Friends or Family
You can get an easy recipe online and ingredients from your local convenience store. 
Go Zip-lining
From the best of the zip lines in Costa Rica and Puerto Rico, make sure you enjoy the thrill of this adrenaline-filled sport. 
Visit All 50 States in the U.S
This is a truly epic undertaking that will take you about 2-3 months to complete, but it will be worth it. 
Do Extreme Sports Like Skydiving
Experience the thrill of free-falling from the sky over a magnificent canopy or a spectacular beach. 
Go Scuba Diving and Experience Marine Life Up-Close
Always wanted to move freely underwater and feel like part of the marine ecosystem? Then you should tick this off your bucket list.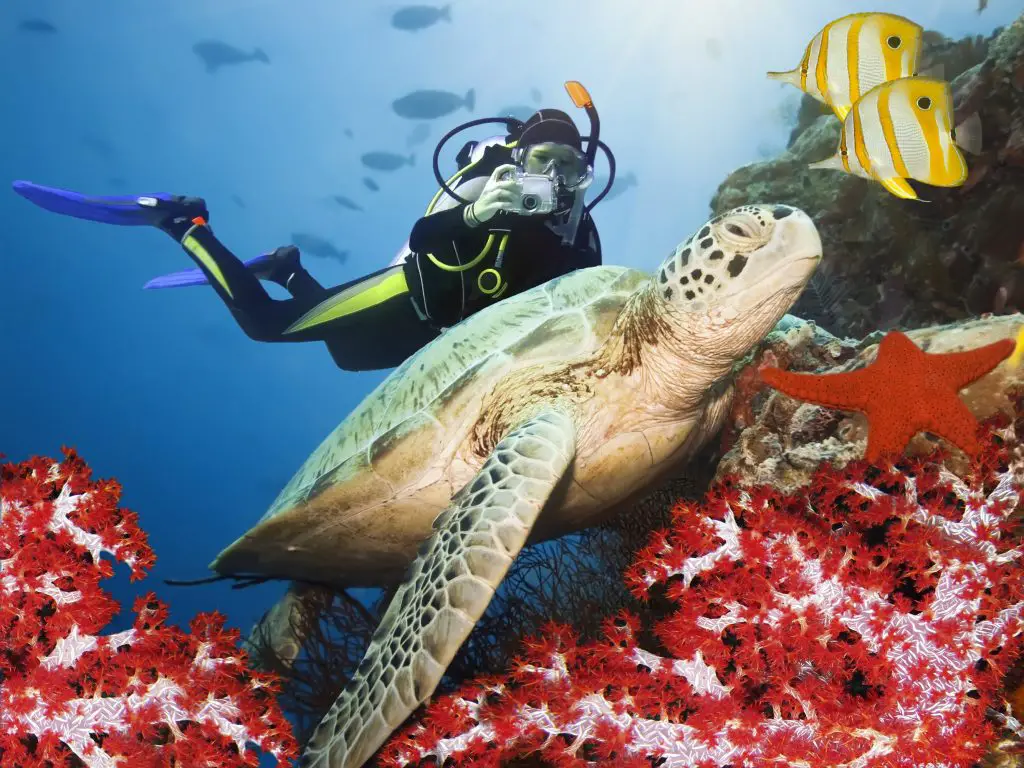 You might enjoy this really cool book of Adventure Bucket List Ideas : 
Fun Bucket List Ideas
Everyone's bucket list is unique and might include some extreme adventures or simple things they want to make sure they do one day. Some ideas include :
Go to the Top of a Tall Building
Not only is it adventurous, but it will help you see your town or city in a way that you have never before. Bonus points if you can catch the sunrise or sunset while at it. 
Visit Every Continent
Your worldview will expand and you will lose some of the biases you had towards certain parts of the world. 
Take a Hot Air Balloon Ride
Hot air ballooning is one of the most tranquil oldest forms of air transport. You can visit the Albuquerque Balloon Festival in Mexico, fly over the Loire Valley in France or travel to the Mara in Kenya for a balloon experience over the Savannah. 
Swim With Dolphins
The Oahu Island of Hawaii is one of the best places you can swim with dolphins. It will be an unforgettable experience. 
Eat at an All-You-Can-Eat Sushi Restaurant
Sushi is such a delicacy, and one serving is sometimes not enough. Test how much sushi you can eat by paying for an all-you-can-eat buffet. Serve, eat, refill- until you can't take any more. 
Go Horse Riding on the Beach
Riding a horse has a calming and therapeutic effect, so does being on a beach. A combination of the two will give you ultimate bliss. 
Watch a Broadway Show in New York City
Unlike the movies, Broadway Shows are live and watching the actors on stage as stories unfold is magical. 
Hike up a Mountain and Watch the Sunset From the Top
Watching the sunset from a mountain top reminds you of the immense beauty the world holds and encourages you to have gratitude.
Learn How to Cook at Least One New Dish
Your palette will thank you, so will your family and friends. 
Spend a Day at Disney World With Your Family and Friends
Disney World has a massive park selection, a vibrant nightlife, tons of ride varieties and magical fantastic roller coasters. 
Top 10 Bucket List Items
Some top bucket list items you will often see on bucket lists could be travelling to a new country. What are the top 10 bucket list items? Consider adding these : 
Visit the White House
Visiting the White House will give you a glimpse into rich American history and the values that the American government and American people hold. 
Take a Road Trip Across America
Anyone with a car in America can go anywhere. This is a freedom that you should exploit to the maximum.
You might also enjoy: 50 Must-Haves Essentials for a Road Trip
Visit the Eiffel Tower
The Eiffel tower has about 20,000 bulbs on it, sparkling all day long. This monument cements Paris' reputation as the City of Light.
Ride a Camel in Egypt
Tackle the desert dunes of the Sahara and feel the thrill of riding on the hump of this resilient desert ship. 
See the Northern Lights at the Great Barrier Reef
The Great Barrier Reef is the world's largest coral reef stretching 2600 kilometres, and you can see  Northern Lights from there. You can also see the Northern Lights from several locations in Northern Canada such as Yellowknife. 
Swim With Dolphins in Hawaii
Discover the beauty of Hawaii by swimming with dolphins on some of its best shores.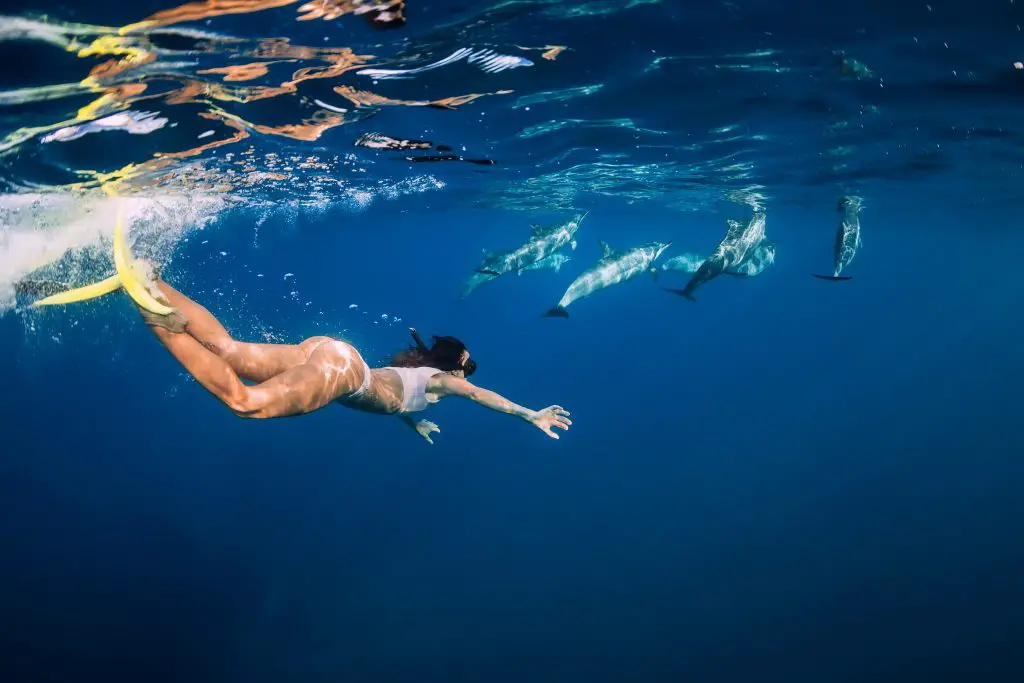 Go on Safari in Africa
From the Wildebeest migration in the Serengeti and Mara to Pretoria in South Africa to Zimbabwe, Africa is full of endless wonders. 
Plan a Trip to the Grand Canyon
For a magical escape from the city life, enjoy the breathtaking sunrises and sunsets, the fresh air and the natural beauty of the most appealing tourist sites in America.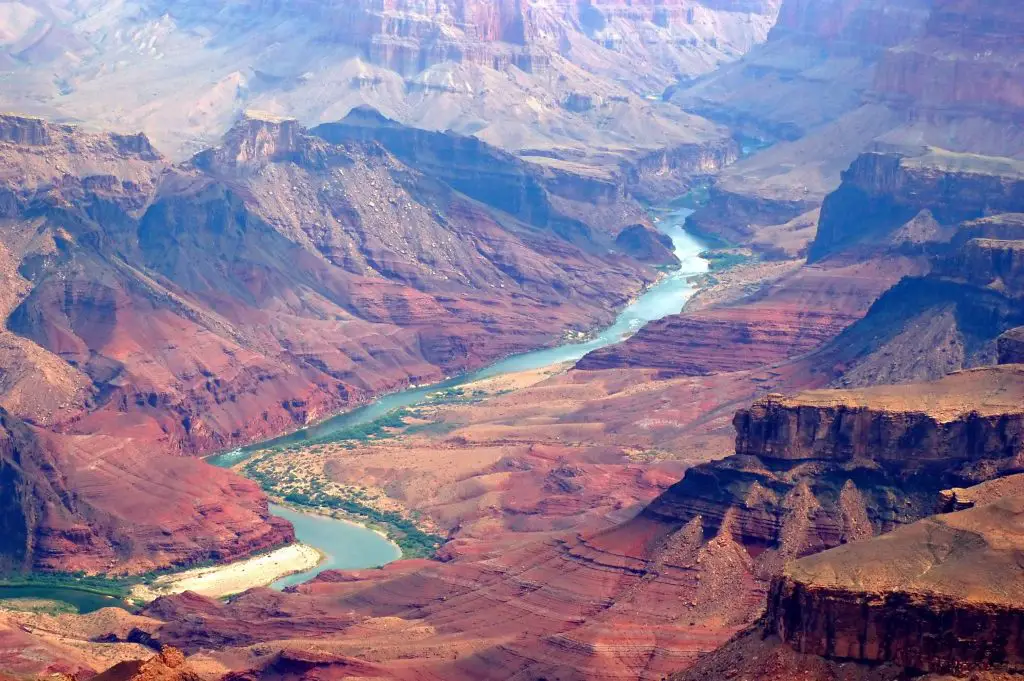 Visit the Statue of Liberty
This symbol of freedom and democracy will help you learn about the American Revolution history and the history of friendship between America and France.
Ultimate Ideas for Bucket List
People who want to have the best life can choose from these ideas! Bucket lists are great because they encourage you to do new things. Some ideas to add to your ultimate bucket list :
Travel to Every Continent
You can travel for work, leisure, volunteer or for work or Keep a travel journal while at it.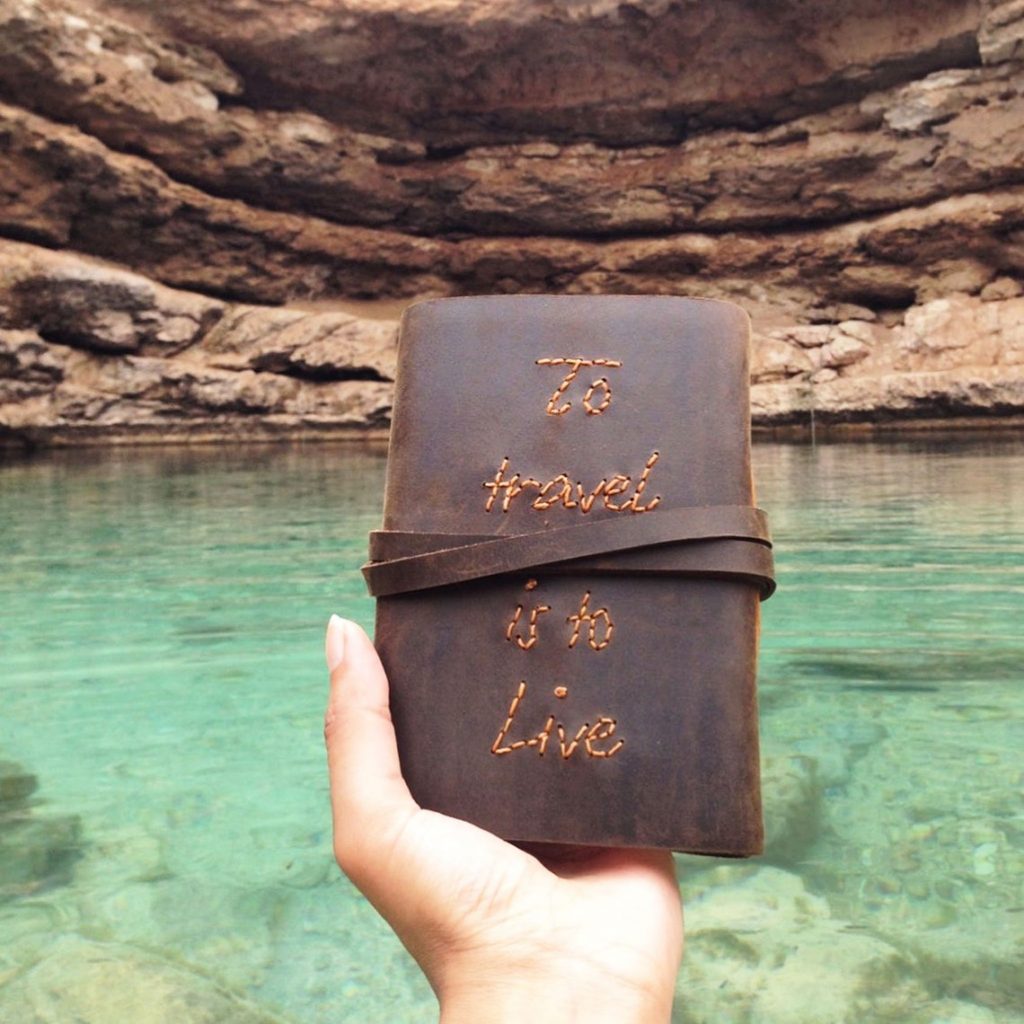 Ride in a Hot Air Balloon
Float through the air and take in beautiful sites in one of the calmest and oldest flying technologies. 
Skydive for the First Time
Adrenaline activities like skydiving will propel you to take risks even in other areas of your life.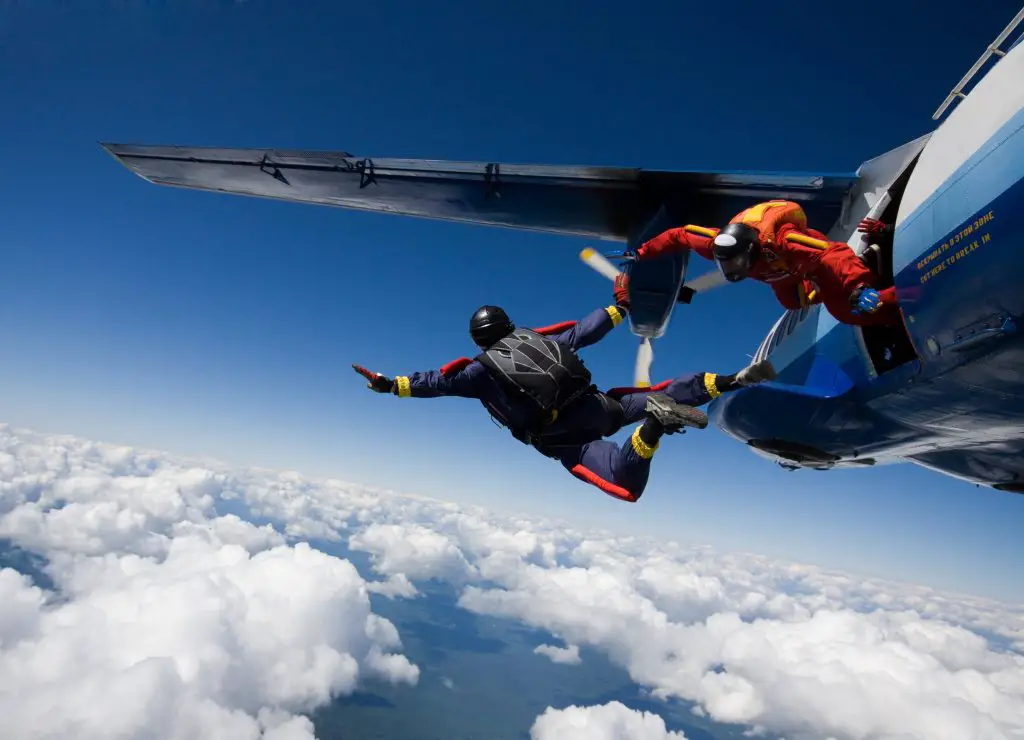 Take a Cooking Class at a Culinary Institute
Learning the intricacies of fine cooking gives you a unique culinary experience and the confidence to show off your cooking skills to your friends and family. 
Learn to Surf
If you can learn surfing, you can learn pretty much everything else. Learning to surf is hard, despite people making it look easy. 
Ride On a Private Jet
You can ride on a private jet in a group for wellness tourism, to watch major sports or attend major events, or simply take your family on an exquisite vacation. 
See All of the Seven Wonders of the World
Of course, this is going to take a lot of commitment, detailed logistics and even a headache or two, but the joy and eventual wonder of having the seven most incredible sights in the world will be worth the trouble.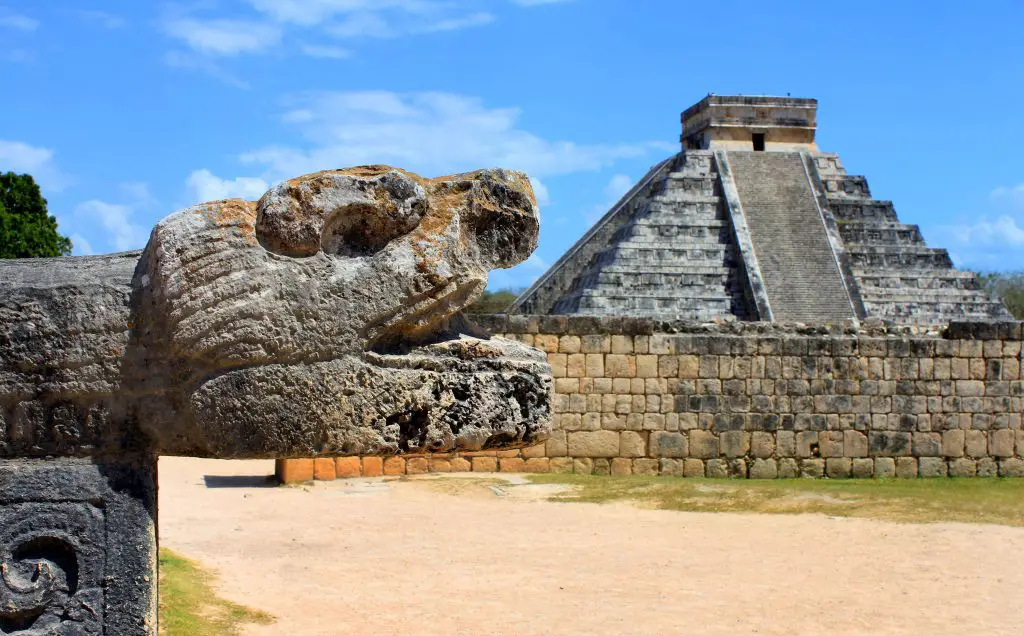 Attend Coachella Festival
Coachella is one of the most profitable and most famous music festivals in the US, where you are likely to bump into your favourite artists and discover emerging ones. 
See Mount Everest
Mt Everest region is not only home to the highest mountains in the world, but also full of breathtaking wonders and natural beauty. You will experience rugged landscapes with soothing auras, cold weather in warm hospitality and unexpected magical attractions. 
Fly First Class
First-class makes long flights enjoyable and luxurious, with cabin-exclusive flight attendants, better food and drinks and luxe airport lounges. 
Become Fluent in French
French is a beautiful, melodious and rich language, often called the language of love. The language is also analytical and will help you develop critical thinking for discussions and negotiations.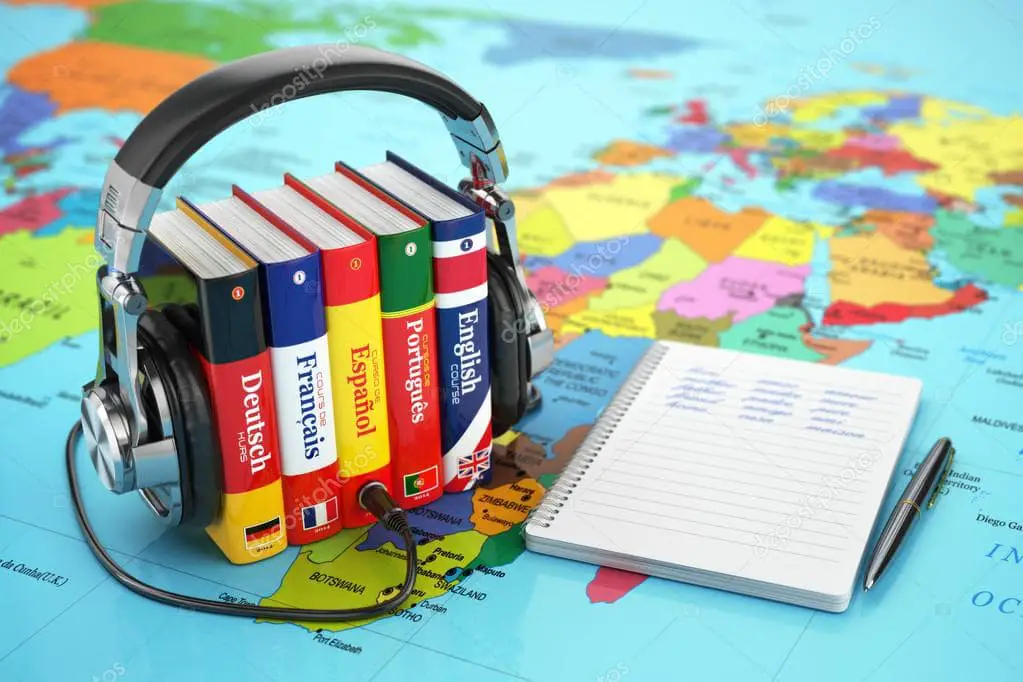 Live Abroad
You will return home a more tolerable, employable, stronger and wiser person because the experience makes you open-minded and curious about other people's cultures. 
Not only does regular reading help make you smarter, but it can also increase your brain power and you will be able to think and make decisions more promptly. See my other post here on easy strategies to help you read more books. 
Go On a Helicopter Ride
you're going to experience fun and a thrill you have probably never experienced in the past before as you visit previously inaccessible and unexplored places. Helicopter rides can be tumultuous so be keen to dress appropriately for the helicopter tour. 
Must-Do Bucket List Ideas
Having a must-do bucket list means having a bucket list full of all the things you need to do before you die. These cool and unforgettable activities, destinations, memories, or relationships are worth making part of your life now. Some ideas to include on your list :
Go to a Drive-in Movie
Drive-in movies are a highly customizable experience that offers a variety of ways to enjoy your feature. You don't have to conform to many rules, either beyond turning off your headlights after parking. 
Visit the Baseball Hall of Fame
Walk amongst baseball legends, relive their biggest moments, and see their actual balls, bats, uniforms, and gloves. 
Watch the Sunrise or Sunset From Your Backyard
Let your eyes take in the wonder of the changing sky palette during a sunrise or a sunset. This amazing phenomenon is free, so why not regularly bask in it? 
Get a Tattoo With an Important Date On It
Important tattoo dates could be the birth dates of your kids, your parents, yourself or of loved ones who have passed on. 
Eat at an Ethnic Restaurant You've Never Tried Before
Do not be intimidated by the names of ethnic foods. The experience will open you up to new cultures, and you will view ethnic food as a healthy option full of flavorful goodness as most meals are prepared from scratch. 
Go to a Music Festival
While attending the festival for the major lineups, you will end up discovering many other not-so-popular but equally-good talents. 
Spend Christmas Eve in New York City
New York City will spoil you with things to do. You have restaurants making deliveries for Christmas dinner, bustling holiday markets and the wondrous Dyker Heights Christmas Lights.
Travel Somewhere Exotic and Explore Another Culture
This type of travel will expand your mind and stimulate your synapses and senses to levels you have never imagined before.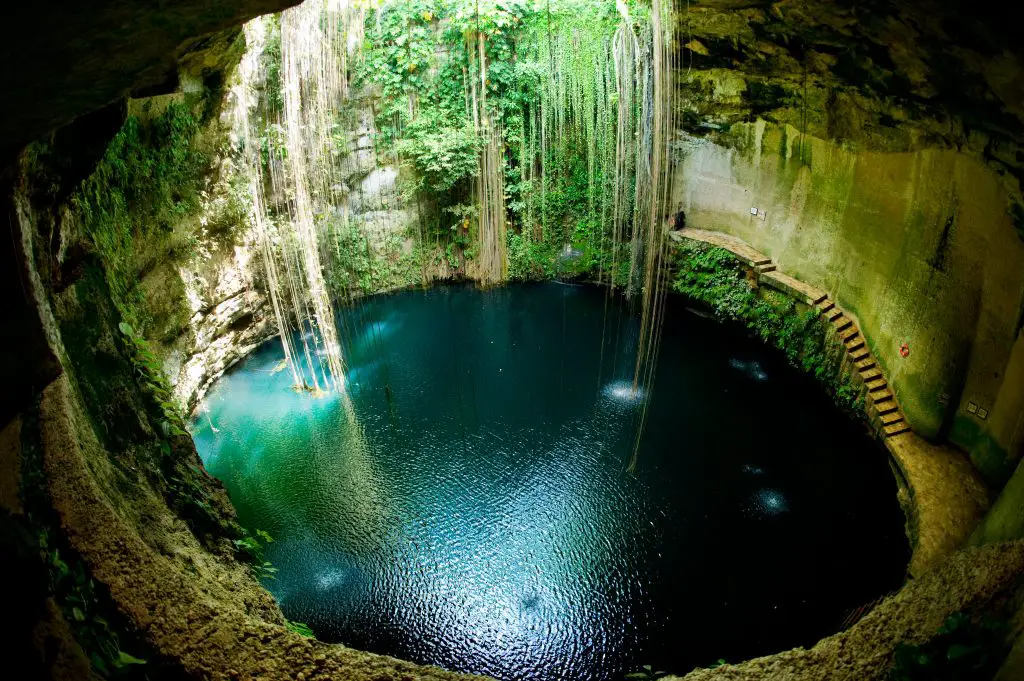 You might also enjoy: Travel Essentials List: 38 Essentials for Travel
Go Bungee Jumping
Cheesy as it sounds; bungee jumping will make you feel truly alive. The adrenaline and endorphins from experience fill you with a natural high that will make you feel alive and more present. 
Go White Water Rafting
While not as scary as bungee jumping, white water rafting is equally adrenaline-pumping and full of thrill. Watch the river horizon disappear, paddle for your life through Class IV rapids and sometimes drop 15 feet in a matter of seconds.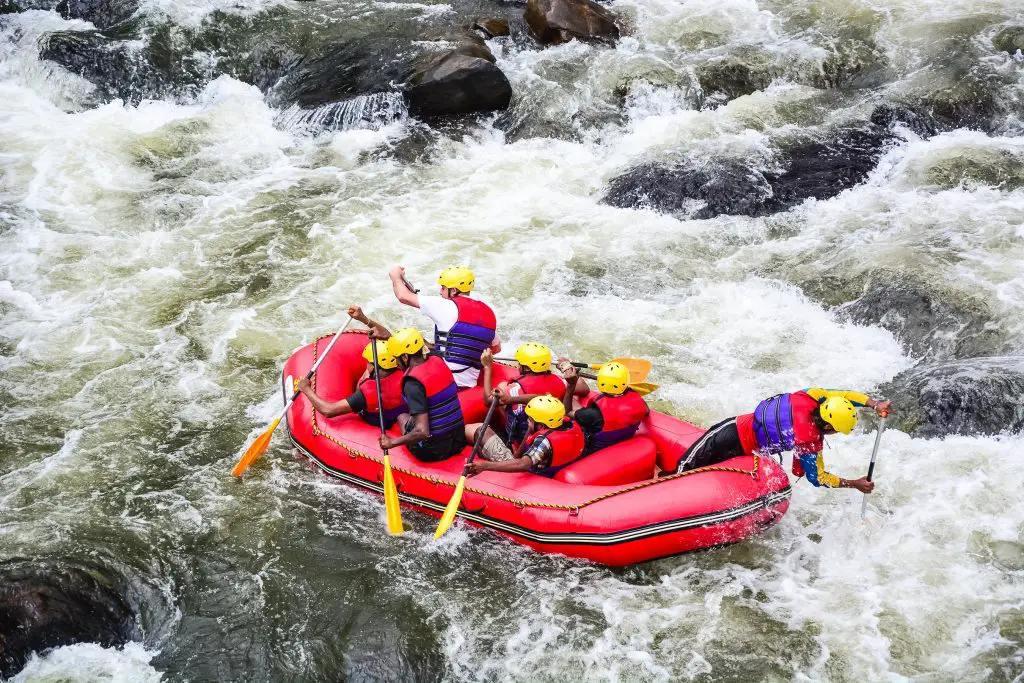 Must-Have Bucket List Ideas
There are some must-have bucket list ideas that everyone should consider. Some of those include :
Volunteer at an Animal Shelter for a Day
Being a volunteer at an animal will boost your physical, emotional and mental health. It is scientifically proven that spending time tending to animals lower your blood pressure and stress levels 
Sleep in a Hammock Overnight
You have to look for balance when sleeping in a hammock, which improves your concentration and betters your brain health.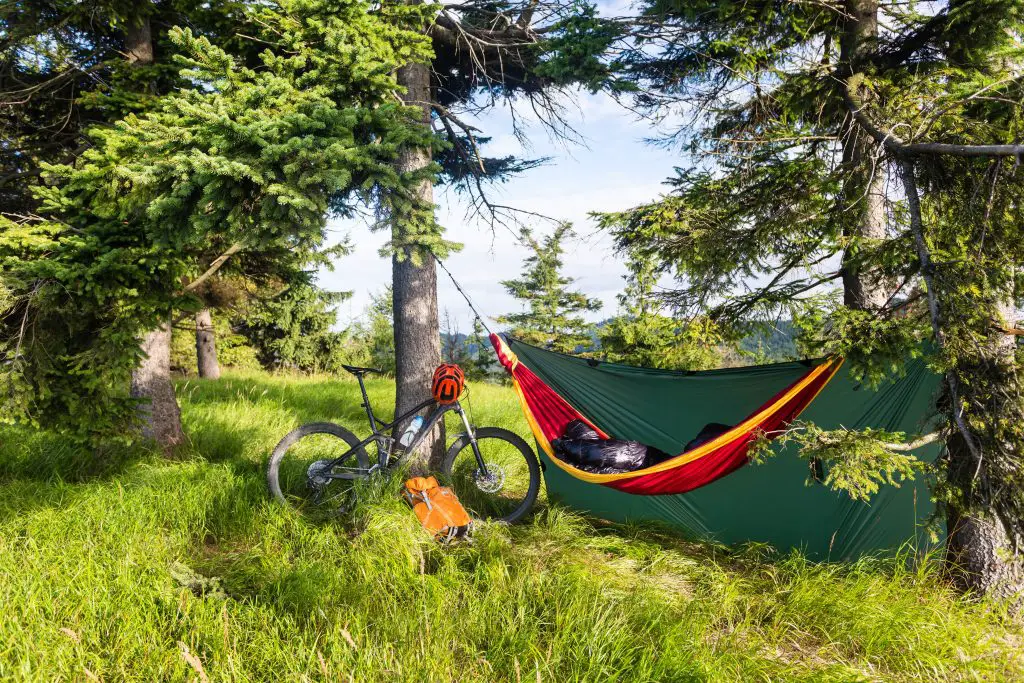 Host a Dinner Party With Friends and Family
There is always a reason to celebrate and choose to savor joy with your loved ones. Dinner is an excellent time to bring your old and new friends and family together to create new memories and keep past ones alive. 
Spend an Entire Day Outside, No Electronics Allowed!
Unplugging reduces stress and anxiety and gives you an opportunity to focus on having gratitude, appreciating simple pleasures, connecting with nature and reducing feelings of loneliness. It is a reboot for your brain which allows you to be present. 
Create Passive Income
Passive income is one of the most delightful ways to make money. After the initial effort and investment, you will only be needed to do very minimal work, and your money works for you instead. 
Attend an NBA Game
Watching basketball can teach you tons on how to be a good team player. You will also enjoy the intense action of the game, accompanied by the catchy tunes of the pep band.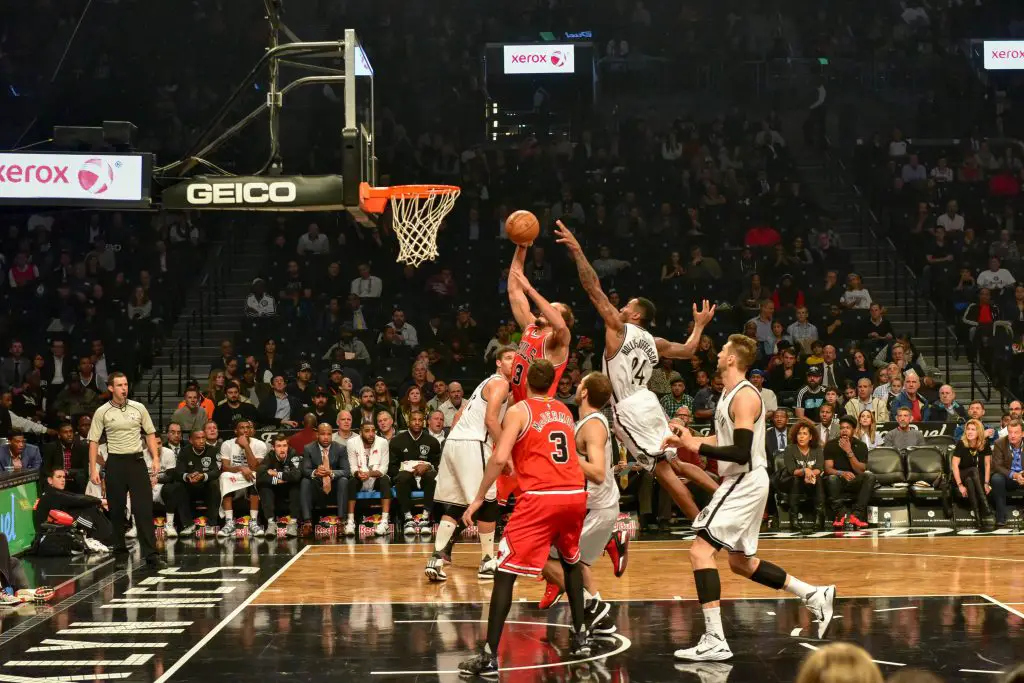 Take Up a New Hobby
A new hobby like painting, knitting, or woodworking will stimulate and challenge your mind in new ways that will break your mundane routines.
Learn to Cook an Authentic Dish From Another Culture
Learning how to make cuisine from another culture is fun, educational, and a palate-pleasing experience. It also gives you a moment to pause and reflect on the people credited with inventing these dishes. 
Take a Trip to the Ocean
The calm of the oceanside will decrease anxiety, stress and depression. If you swim, your body will have a full workout which improves lung function. Seawater also has minerals that are therapeutic and help to detoxify our bodies. 
Do Volunteer Work at a Soup Kitchen for the Holidays
There is always something to do even if cooking is not your thing. Volunteer to do dishes, stack the shelves or do the inventories. 
Simple Bucket List Ideas
There is no particular way to make a bucket list, and certainly, your bucket list can include simple things. For instance, you might want to go for a walk in the woods or read a good book. The point is that you should take some time out of your busy life and do something different, and you'll feel better about yourself at the end of it! Some ideas for you to consider :
Visit a National Park
Trips to national parks will increase calmness and serenity and lift your mood if you have been stressed for a while. 
Go on a Road Trip With Friends
Road trips with friends are better, and everything on the road is easier, funnier, and in case of an emergency, you won't be stranded on the side of the road alone. A road trip will also deepen your friendship.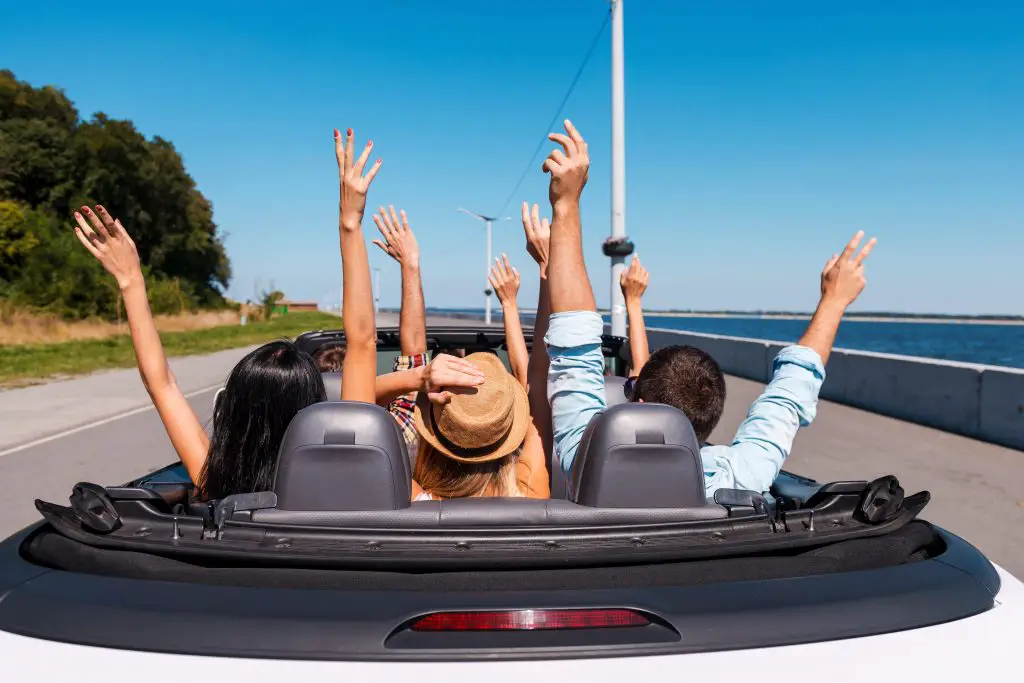 Watch the Sunrise or Sunset From Your Favourite Spot
This can be your way to decompress and reflect at the beginning and end of each day. 
Volunteer at Your Local Animal Shelter One Day Every Month to Help Out Animals in Need
Being an animal shelter volunteer do loads of good for your emotional, physical, and mental health. Science has proven that spending time with animals helps lower your blood pressure and stress levels. If you are an active person, you will love walking the dogs.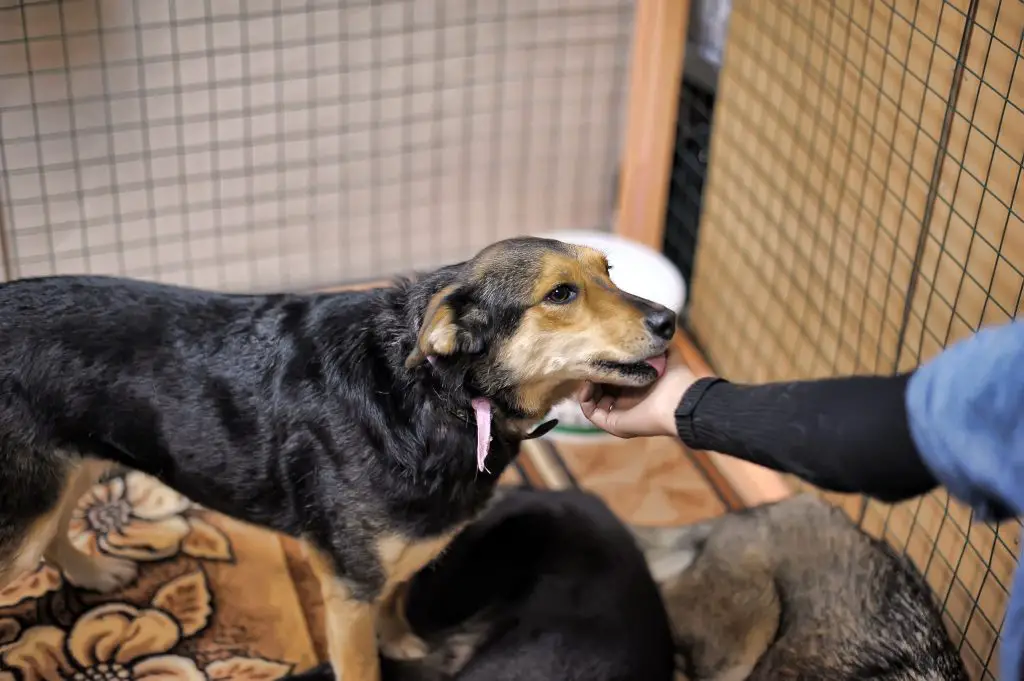 Sleep Under the Stars in a Place Where There Is Little Light Pollution
Sleeping under the stars, surrounded by flowers, trees, and nature is an excellent way to boost your mental health and can help ease stress and any trauma your body might be carrying. You will drift off into a deep night's sleep courtesy of the calming sounds of nature and the serenity of the forest.
Run a 5k Race
Training for and competing in a 5k race gives you a combination of endurance, speed, and strength.
Go to a Sporting Event
Not only will you have with your family and friends, but you will also probably learn a thing or two about the sport you didn't know. 
Have Brunch at Your Favourite Restaurant
Brunch is friendly, cheerful and the best excuse for you and your friends to get together at your favourite restaurant, especially in summer. 
Watch a Movie in Bed With Your Significant Other
This will make for a great bonding activity, and you can easily slip off into a nap without worrying about moving to the bed. 
Ride a Roller Coaster for the First Time
If you are a thrill-seeking extrovert, you will be excited to experience something that feels so risky but also know that you are safe. The build-up energy, the kinetic energy on the drops, the g-forces on the loops, the acceleration and turns
Plant a Tree
Trees contribute to clean air and rain. Do your small bit by planting a tree or two once in a while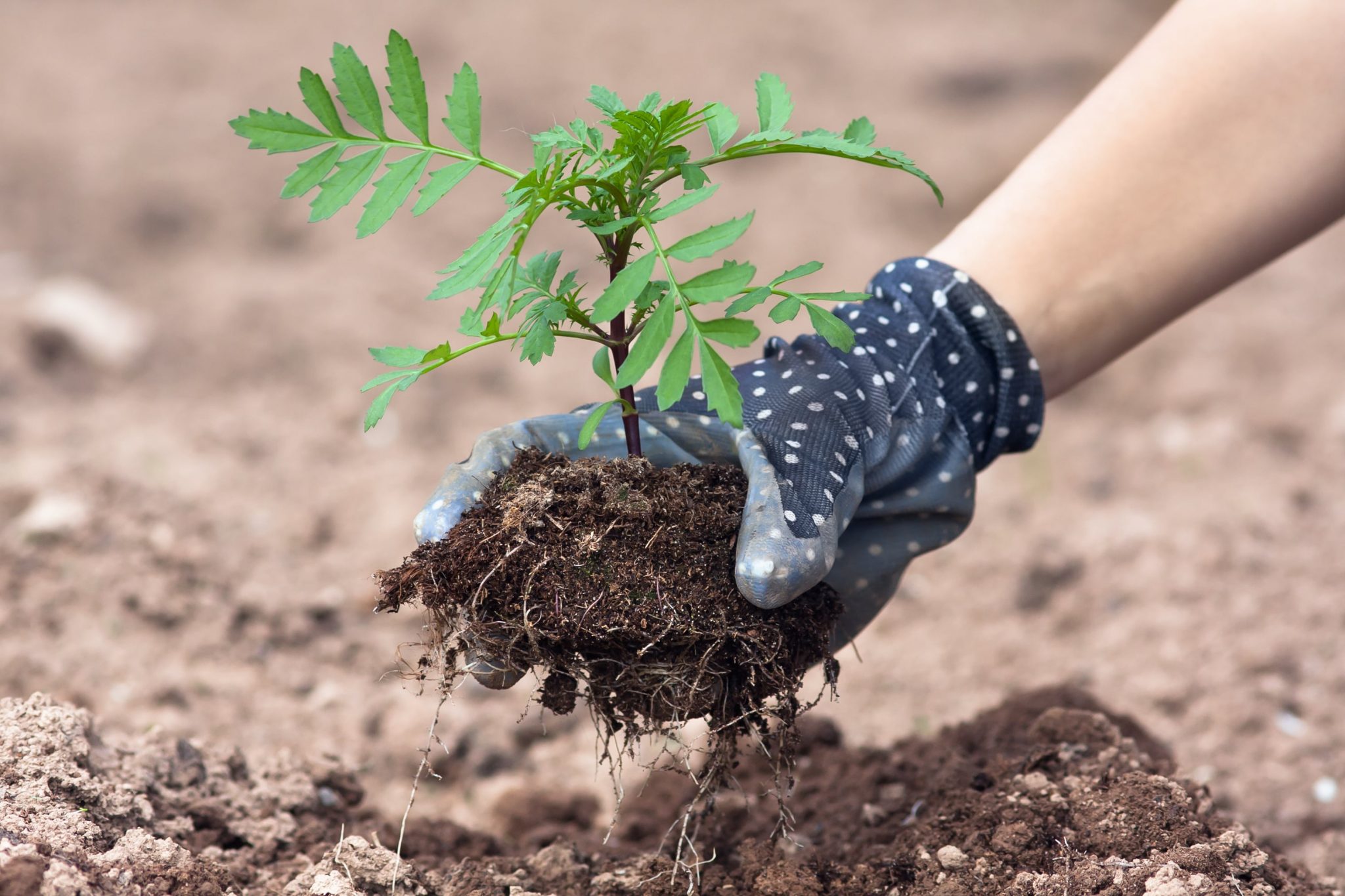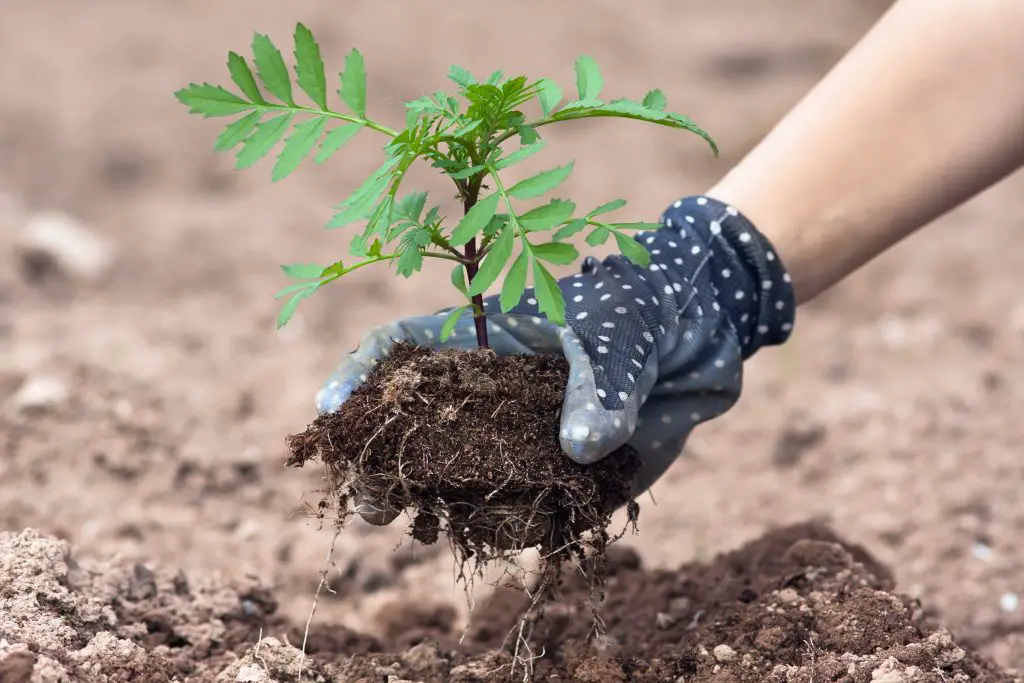 Play Chess
Training for and playing chess helps develop high order thinking skills such as decision making, problem-solving, creative thinking, planning and critical thinking. 
Fly a Kite
In today's world where we are always focused downwards on phones and computers, flying a kite will help you look up, which is good for hand-eye coordination, as well as strengthening the neck muscles. Not to mention the child-like joy that will fill you as you watch the kite take off to the sky. 
Send a Message in a Bottle
You can send a message in a bottle to spread awareness on an issue such as pollution, as a goodbye to loved ones, or in the hope that the person who finds it will become a pen pal.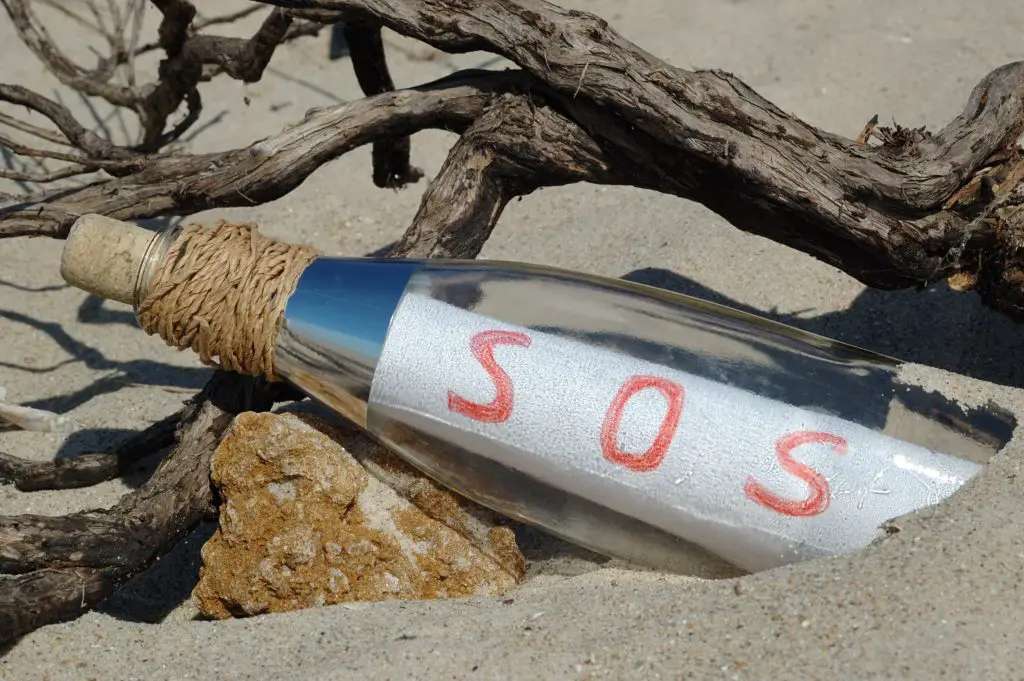 Make Your Own Ice Cream
Not only will you make healthier, better-tasting sorbets, slushies and margaritas, but it is also so cost-effective and a clever way to use up overripe fruit.
Create a Family Tree
It's not easy for children to see past themselves and their little worlds. A family tree will help them create a connection with their roots and their place in the world. 
Learn Archery
Archery is a great sport for confidence-building. As you perfect execute great shots, you will build your self-esteem and sense of accomplishment.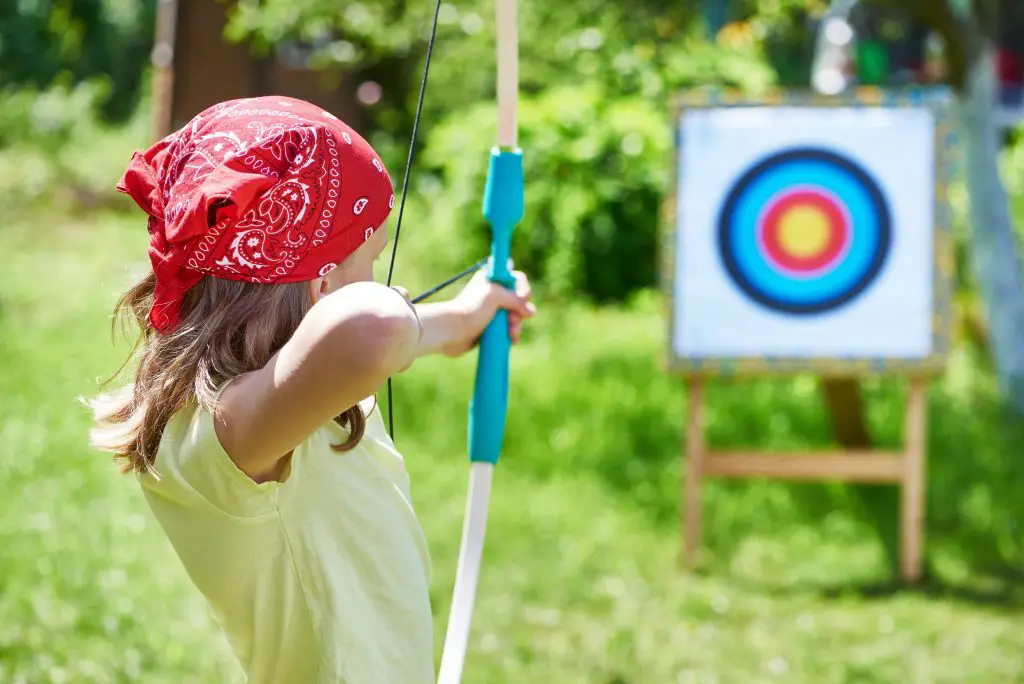 Unique Bucket List Ideas
This is great for people who have a bucket list but need inspiration. There is no shortage of interesting things to do
Build Your Treehouse
A treehouse is an eco-friendly and fun alternative to a traditional house. If you love tranquillity, you quill love being perched upon your treehouse with a book.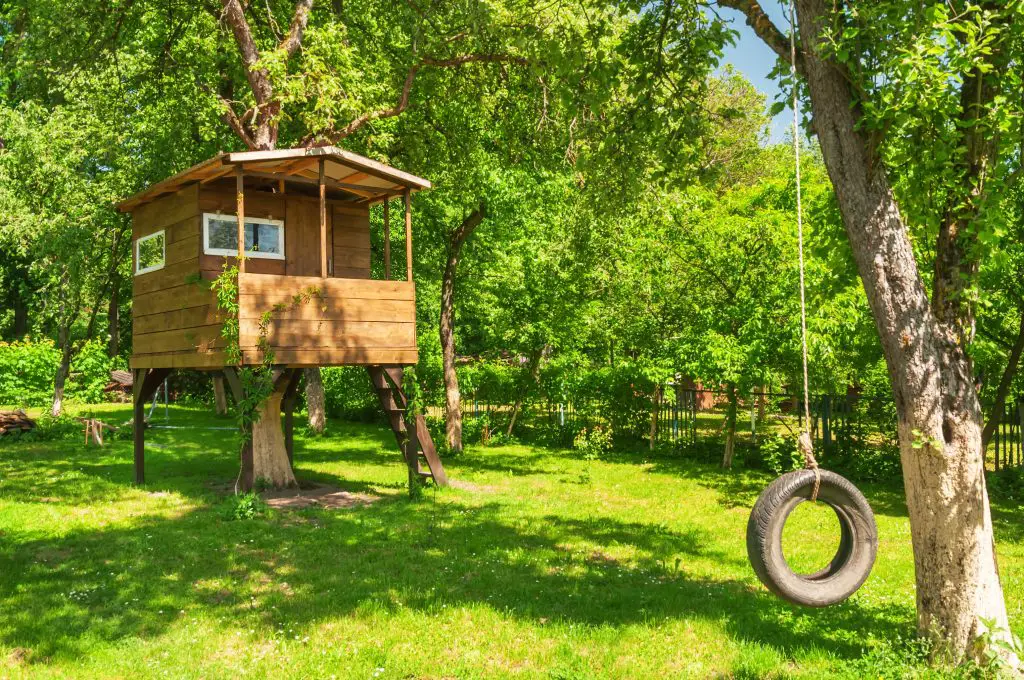 Learn How to Juggle
Juggling boosts hand-eye coordination, brain development and accelerates the growth of neural connections related to focus, memory, vision and movement. 
Get Your Fortune Told by Tarot Cards or Palm Reading
If you are at crossroads or in a place where you need clarity in your life, a tarot will probably offer you guidance on your life.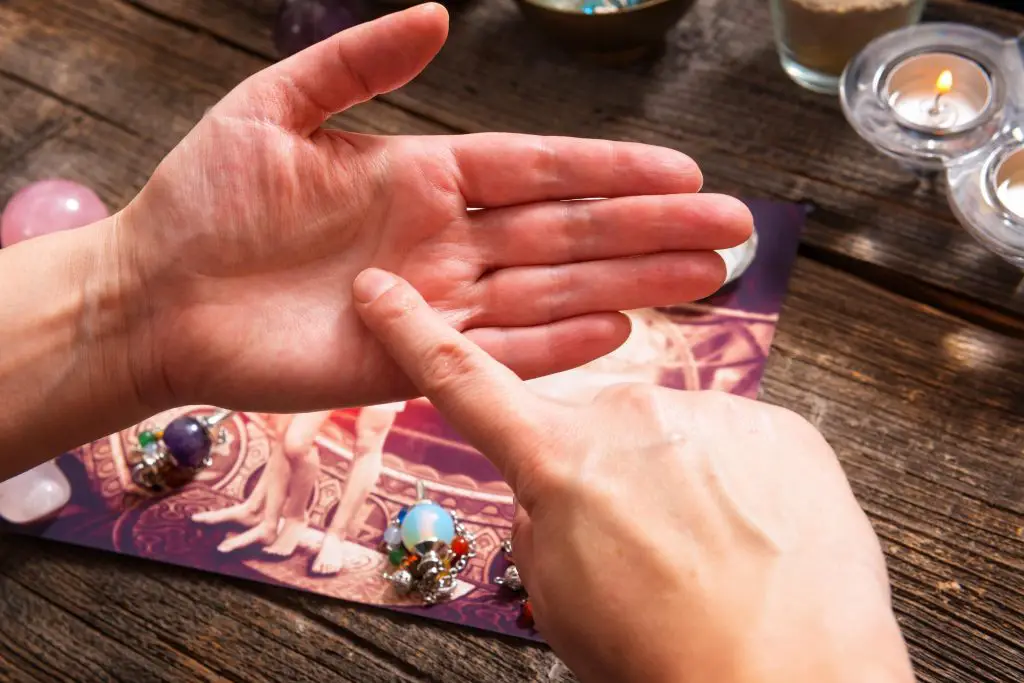 Spend One Day Without Using Any Electricity, Including No Lights and No Cell Phone Charger Plugged In
Unplugging is good for your mental and emotional health. Use the day to reconnect with nature and do a hands-on activity like cooking. 
See an Opera
The singing, the lighting, acting, costumes, orchestral playing and the production of operas will allow you to escape into another world. 
Take a Pole Dancing Class
Upper body strength doesn't come naturally to most women. Pole dancing is a fantastic exercise that you can use to increase strength.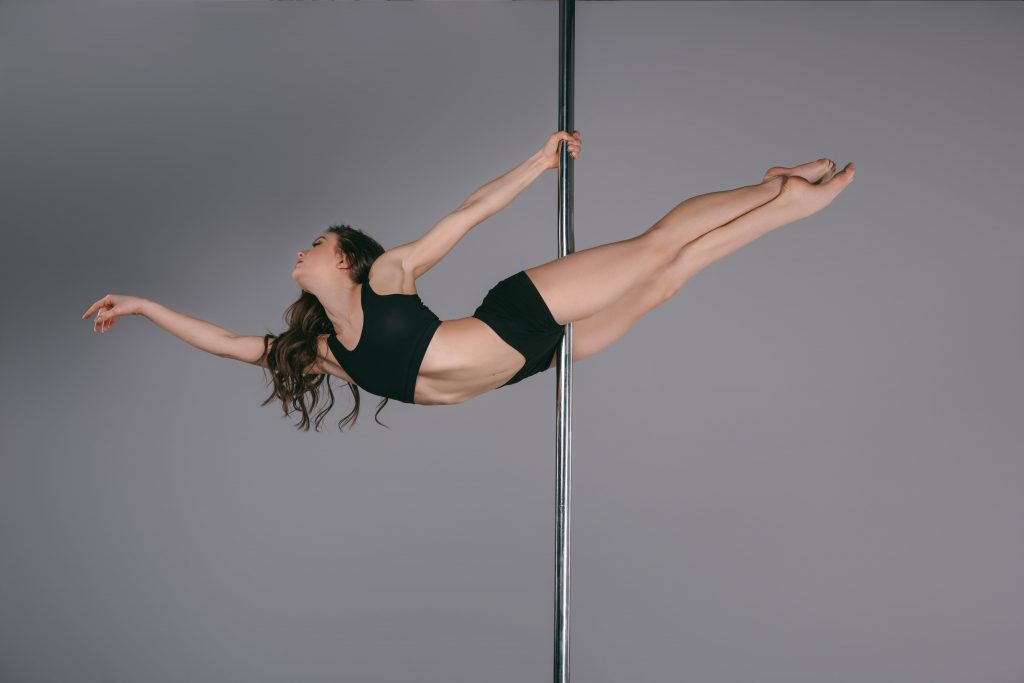 Try Something New for 30 Days
Committing to something new for 30 days will do wonders for your self-confidence, sense of adventure and overall happiness.
Spend the Night in an Abandoned House
Of course, there are rules for exploring abandoned places. You don't want to be caught trespassing, and you can go on an adventure without putting yourself in danger.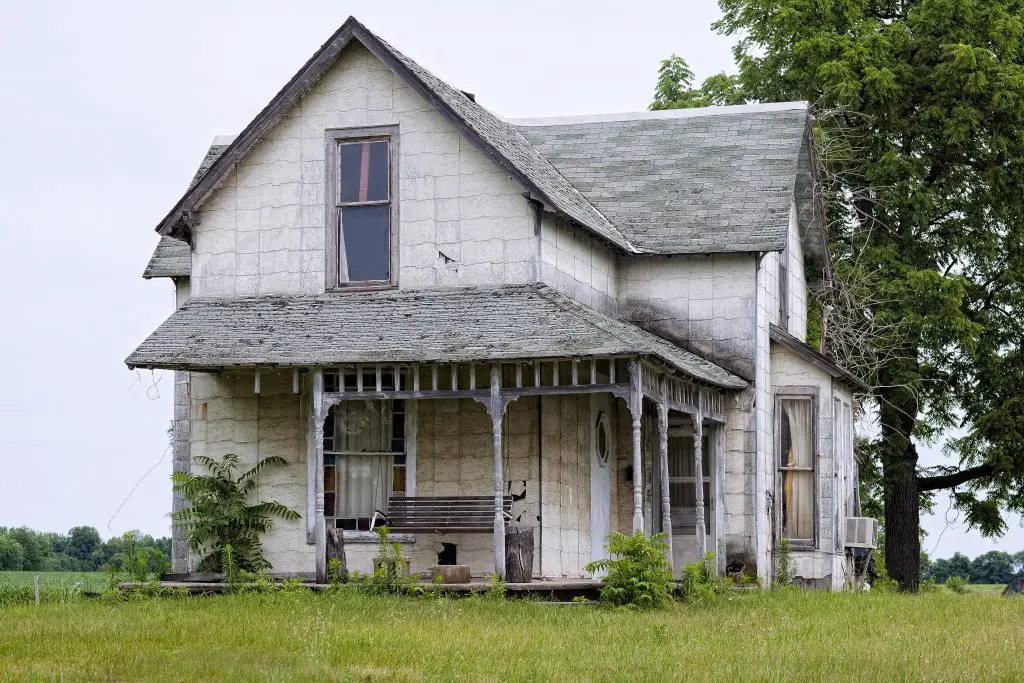 Stay Up All Day and Night for 24 Hours Straight
While it's not ideal for health and not recommended, if you have a looming deadline, you can put yourself to a challenge and see how long you will last. 
Reach Out to a Stranger With an Email, Text, or Phone Call
You can send them a compliment, a heartfelt message or a request to collaborate on something, or just be friends. You will be surprised how easy it is to make friends out of strangers. 
Get Your Car Detailed by Professionals
Professional car detailing will get rid of debris, dirt and odours in your car, leaving it feeling brand new.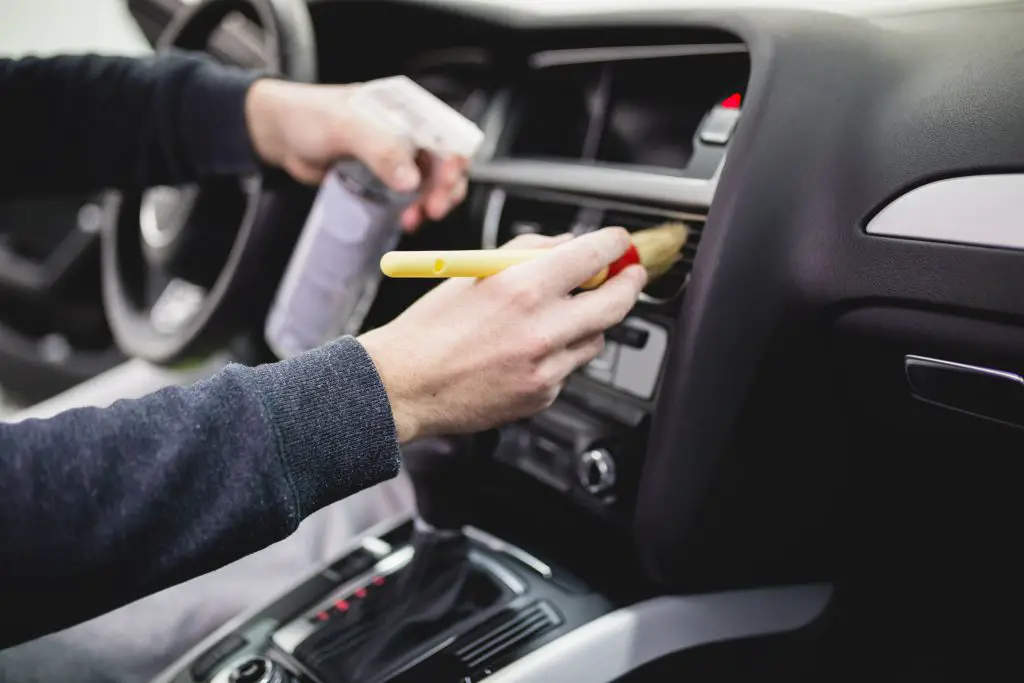 Attend a Murder Mystery Dinner
Put your mystery-solving skills I use by helping performance cast members solve a fictitious member over dinner. 
The Best Places to Add to a Bucket List?
Travelling might be a big interest of yours, and you might want to add some neat travel destinations and unique locations to your bucket list so that you can go to them and check them off your bucket list. Another thing you might want to put on your bucket list is visiting some of the most famous landmarks in the world. Some ideas for you to consider :
Travel to New Places
Explore places such as South America, Japan, Korea, Nigeria, and South Africa, try out their food, and experience their cultures firsthand. 
Spend a Day in Paris
Paris is full of many famous landmarks, amazing french food, numerous shopping opportunities, impressive art collections and interesting cafe culture. A day in Paris will be worth it. 
Spend a Day on Fisherman's Wharf in San Francisco
Visit this commercial pier for the freshest seafood in world-class restaurants, rich maritime history and crisp waterfront views.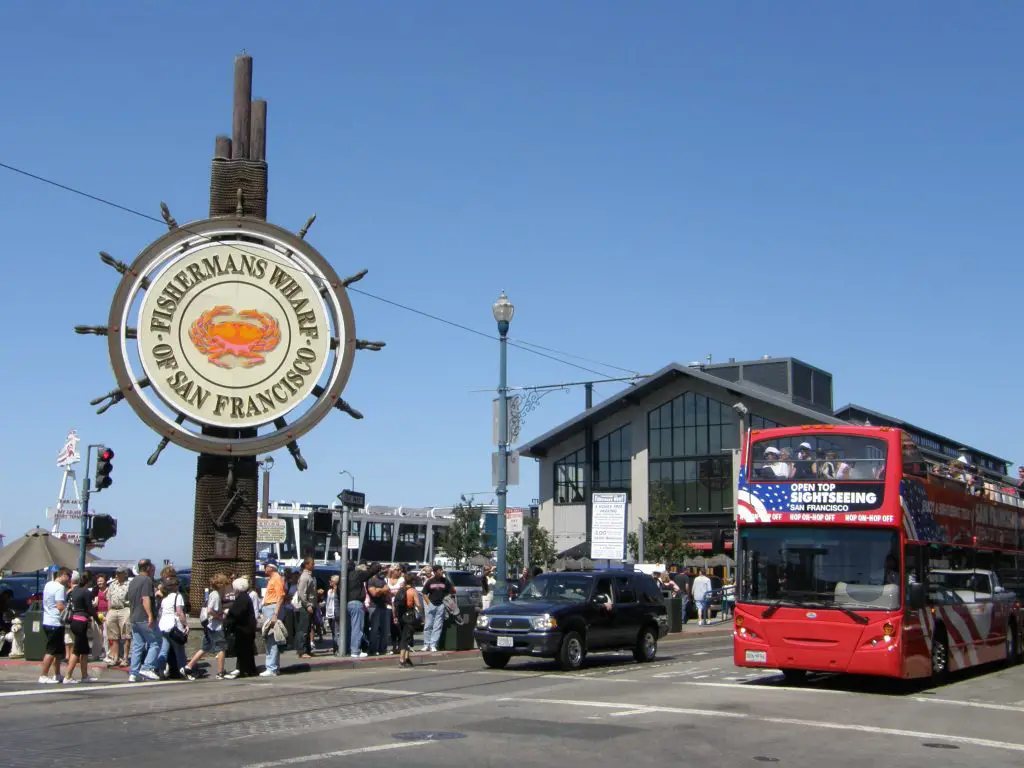 See Where The Wizard of Oz Was Filmed
Culver City is home to MGM Studious, where the legendary Wizard of Oz was filmed. Not only is it a part of moviemaking history, but the city has a thriving drinking and dining scene and a growing art district.
Go to Oktoberfest in Munich, Germany
The festival boasts enough beer and food to last to eternity. Not to mention the crazy roller coasters and Ferris wheels available for everybody to have fun.
Walk Through Times Square in New York City at Night Time
The possibilities of nighttime activities such as rooftop dining, and going on an evening horse carriage ride.
See Niagara Falls From Both Sides, Canada and America Side!
It is quite easy to go to both viewpoints, as you can walk from one border to another.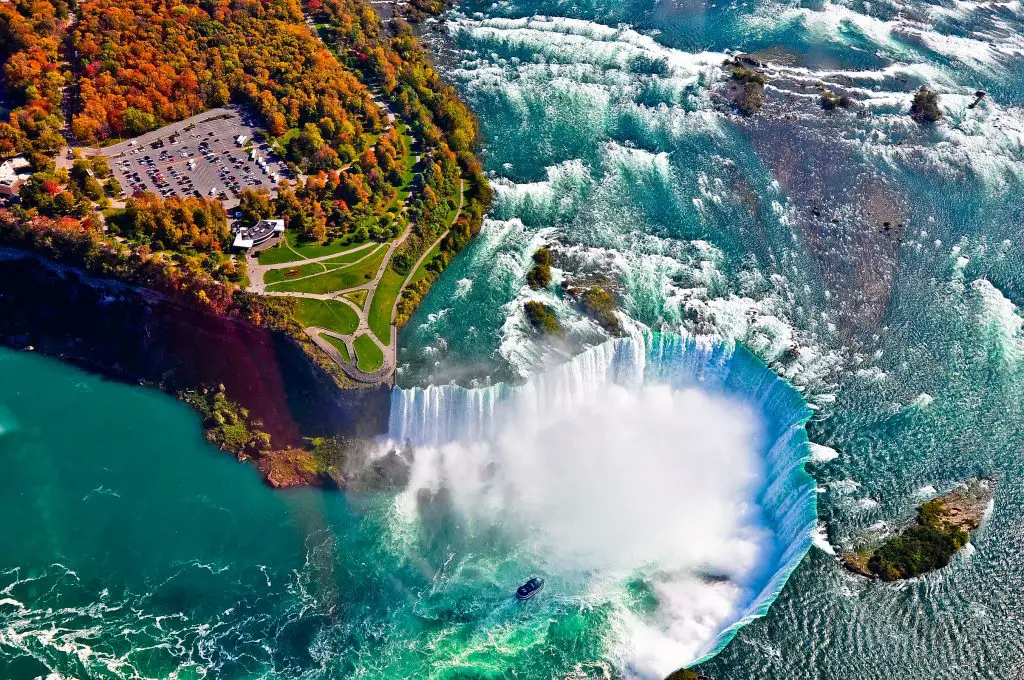 Visit the Taj Mahal
The history, architecture and glamour of the Taj Mahal are a testimony to the luxurious and grand lifestyle of the Mughals.
Climb Mount Kilimanjaro
This is the highest mountain in Africa and one of the mountains that you have a better chance of climbing to the top.
Visit the Pyramids of Giza, One of the Most Spectacular Ancient World Wonders
You will have a chance to see the tombs of ancient Egyptian pharaohs and queens.
Visit Alaska
This is the largest US state and is known for its rugged natural beauty, and its vast pristine wilderness.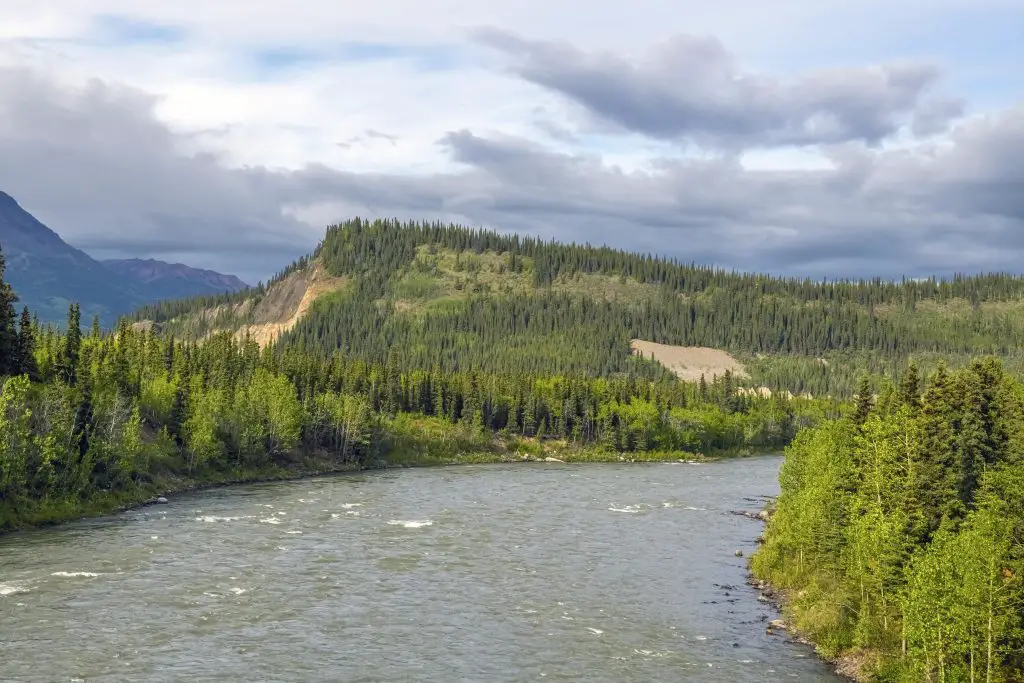 Do an All-Nighter in Las vegas
The city bills itself as the entertainment capital of the world due to the popularity of its nightclubs, mega-casinos and other nightlife-related activities.
Vacation in Rio de Janeiro Brazil
For open and wide viewpoints of lakes, golden coastlines, forests and a sprawling, expansive city, few cities will rival Rio de Janeiro in this offering.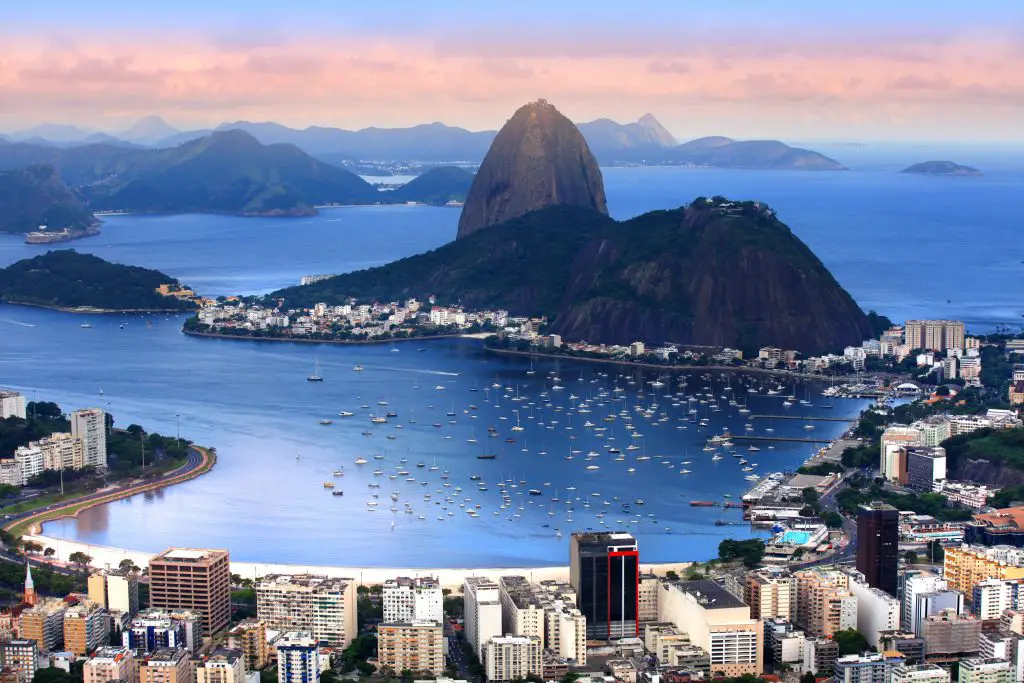 Visit New Zealand
Want a delightfully easy place to vacation? New Zealand has a combination of friendly and fun people, breathtaking views, mouth-watering delicacies and wine, numerous fun activities and a distinctly easy vibe that you won't find anywhere else in the world.
Summer Bucket List Ideas
When it comes to summer bucket list ideas, the possibilities are endless. If you're looking for something new to try this summer, here are some ideas for you :
Spend a Day at the Beach
You can walk along the beach, dive in for a swim or just chill nearby with a drink and a good book. The calm of the beach will allow you to destress and calm your anxiety. 
Attend an Outdoor Concert
Make a point of seeing your favourite band or artist live in concert. You can do this alone or with a group of friends with shared interests.
Go to a Festival or Fair
Festivals are a great place to hang out, discover artists, buy merchandise, and sample different foods. You will also make a number of new good friends.  
Volunteer at an Animal Shelter For the Day
Volunteering at an animal shelter will do good for your emotional, physical, and mental health. 
Get Your Nails Done With Friends
Catch up with your friends as you get manicures and pedicures done at your favourite nail bar.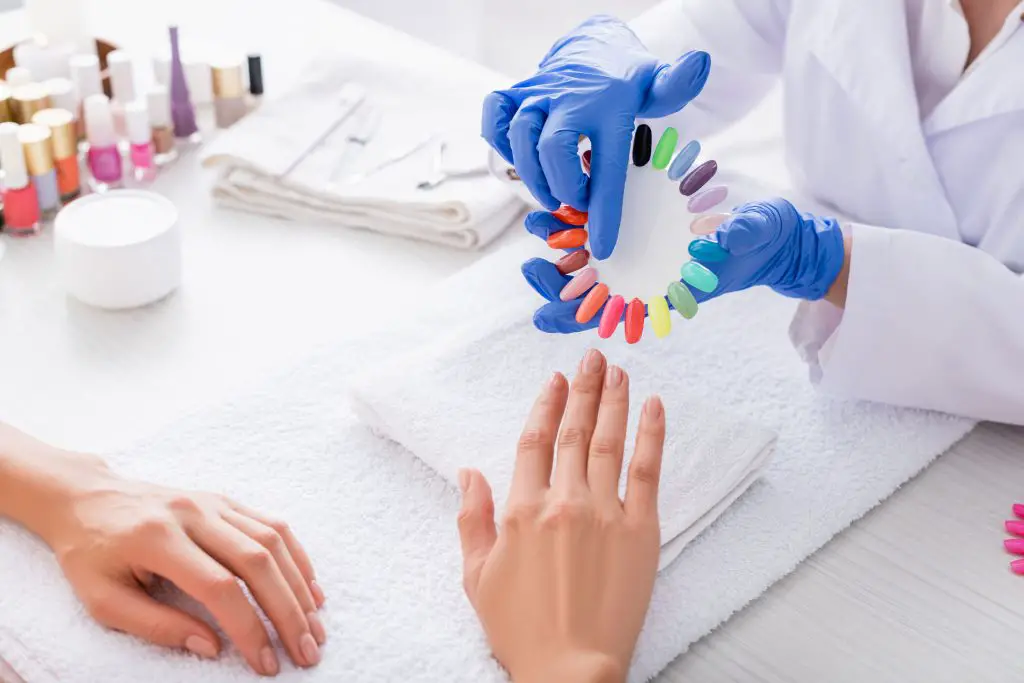 Take a Scenic Drive to See All of the Beautiful Views in Your Area
There are probably roads you have never been on. Take a different route home and be open to taking in new beautiful views.
Rent a Boat and Go Fishing
Experience the thrill of a first catch either alone or with friends.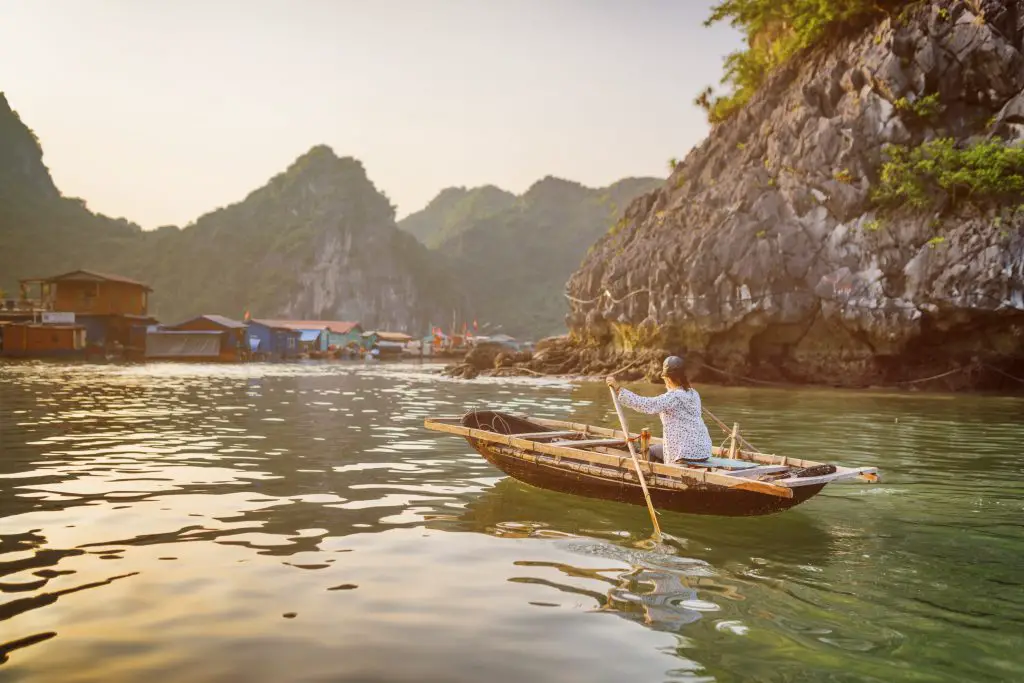 Visit an Amusement Park
Take a break from mundane life activities and enter the fantasy world of clowns, fairies, pirates, astronauts and many more in an amusement park.
Take a Hike in Nature
Hiking will clear your mind, improve your sleep quality and overall reduce your stress levels.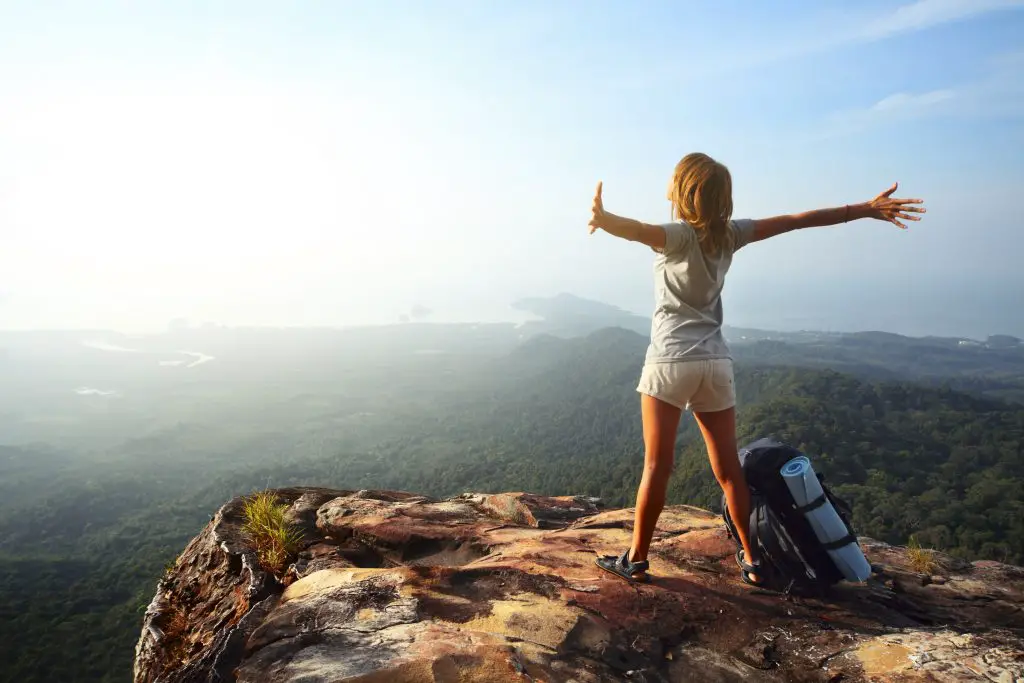 Host a Summer Party With Food, Drinks, and Games!
Summer only lasts so long. Make the best of it by hosting your friends and family to a summer backyard party where you can bond over food, drinks and fun games.
Spend Time Reading on the Porch or by the Poolside
Reading your latest favourite book purchase on the porch is the perfect way to spend a lazy afternoon.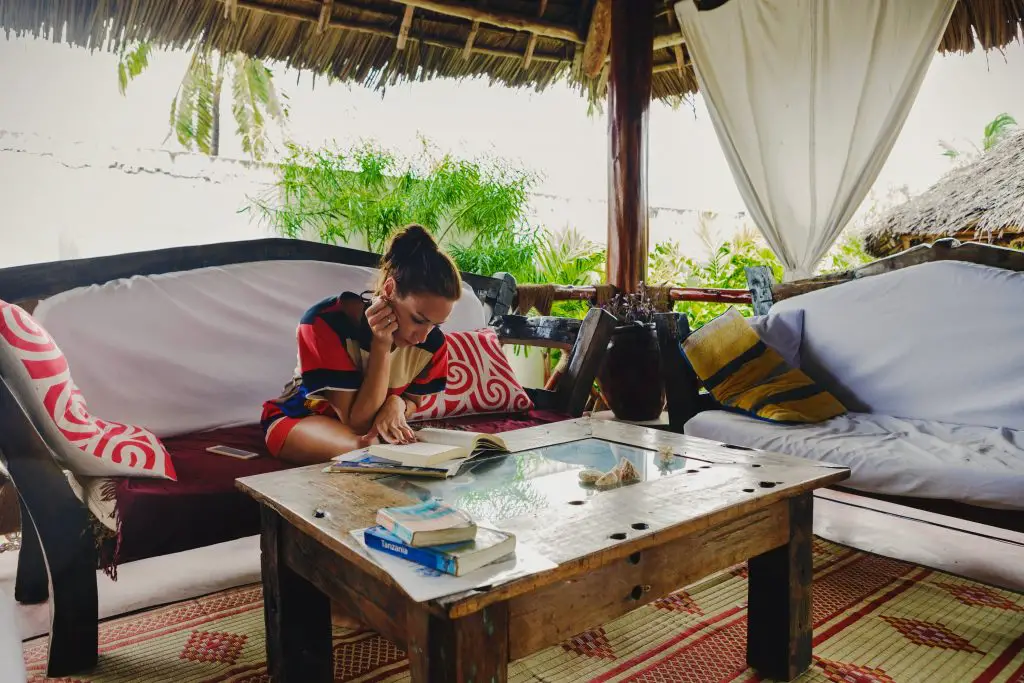 Get on a Ferris Wheel
While it lacks the thrill of a rollercoaster; it is very exciting being high up in the air with no rush, and you can catch a breather before getting back to inground fun.
Attend a Baseball Game
Read up a bit on baseball rules and history, carry some snacks, put on a baseball glove and take lots of photos for memorabilia. 
Name a Star
You can name a star in memory of someone or as a romantic valentine's gift. 
Swim at Night
Swimming at night in the ocean is not recommended, but swimming in a pool at night will help you burn off excess energy and calm you for sleep afterwards. 
Bucket List Ideas for Before You Die
It is very common to create a bucket list of items to do before you die. The bucket list can be created by considering what your personal goals, both short-term and long-term, are together with those of your partner's or loved one's. Some fun ideas you could add to your list :
Take a Trip to Italy
Italy is rich in spectacular cities, wonderful museums ancient ruins, great beaches, soaring mountains, and beautiful natural scenery 
Learn How to Dance Salsa, Tango, Flamenco, Bachata, Merengue Etc.!
Dancing classes are not only fun, but they will help you stay fit.
Live in Another Country
Living in another country will open your eyes to other people's experiences, expand your imagination and worldview, and get to revel in the local culture. 
Write a Book
Writing a book is an arduous process that includes sometimes starting over. But the end product is always worth it. 
Speak More Than One Language
Learning several languages will make you more at ease in cross-cultural gatherings and workplaces. 
Learn to Read Sheet Music
It's just like learning a new language. You will expand your capability to read musical compositions and even create your own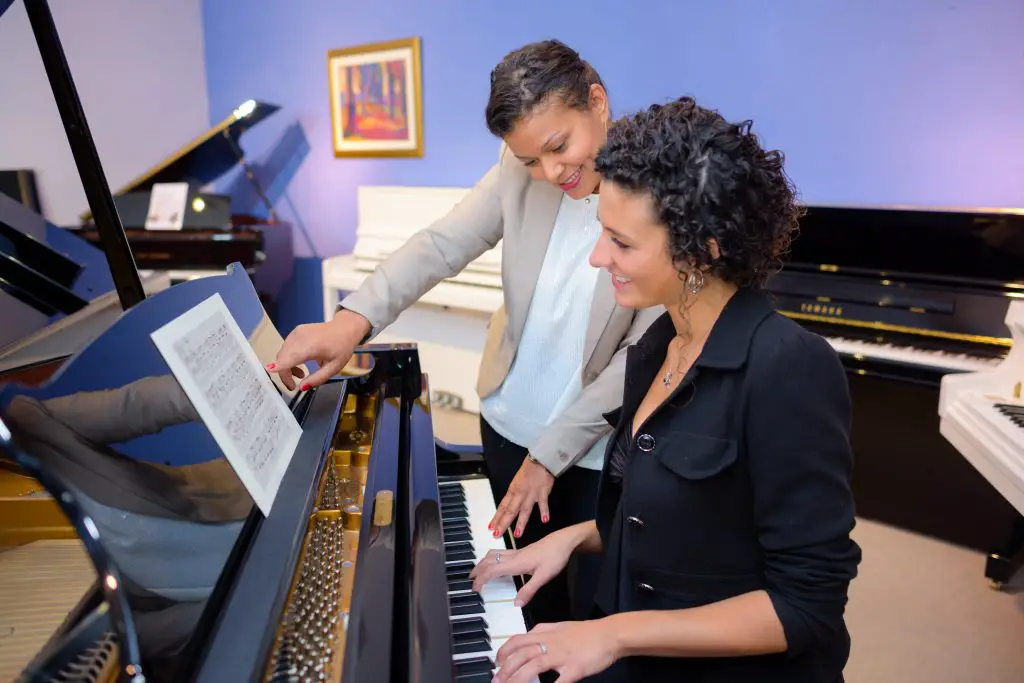 Ride a Bike Across the Golden Gate Bridge
It is such a lovely experience as you will be overlooking the Pacific ocean and Marin mountains. There is a dedicated biking path, and you don't have to worry about crashing into pedestrians. 
Try Surfing in Bali
Bali is a great surfing location as it has many surfing spots for both beginners and experts; the water is warm, the waves are great, and the weather is cool.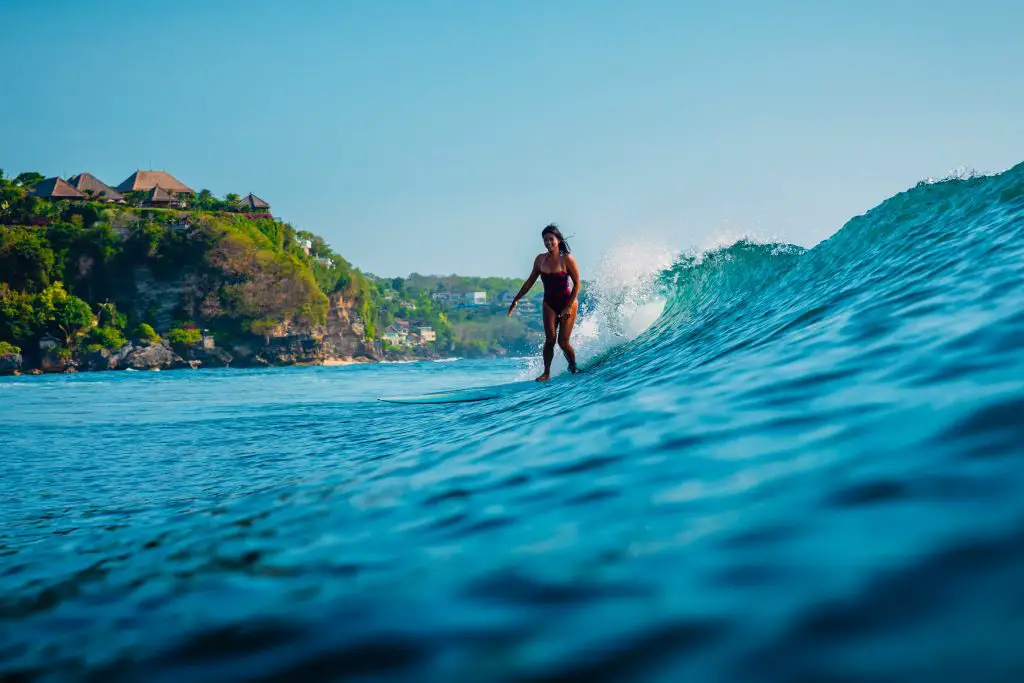 Visit the Great Wall of China
Hike around this historic structure, take great photos and marvel at the grandeur of this tourist attraction. 
Attend a NASCAR Race
There is lots of excitement at NASCAR, and justifiably so. Competitors at the races reach some of the highest speeds in motorsport. The tracks are also oval, giving everybody a good viewpoint. 
Climb Machu Picchu
Hiking Machu Picchu can be very challenging, but the breathtaking views of flora and fauna will be worth it.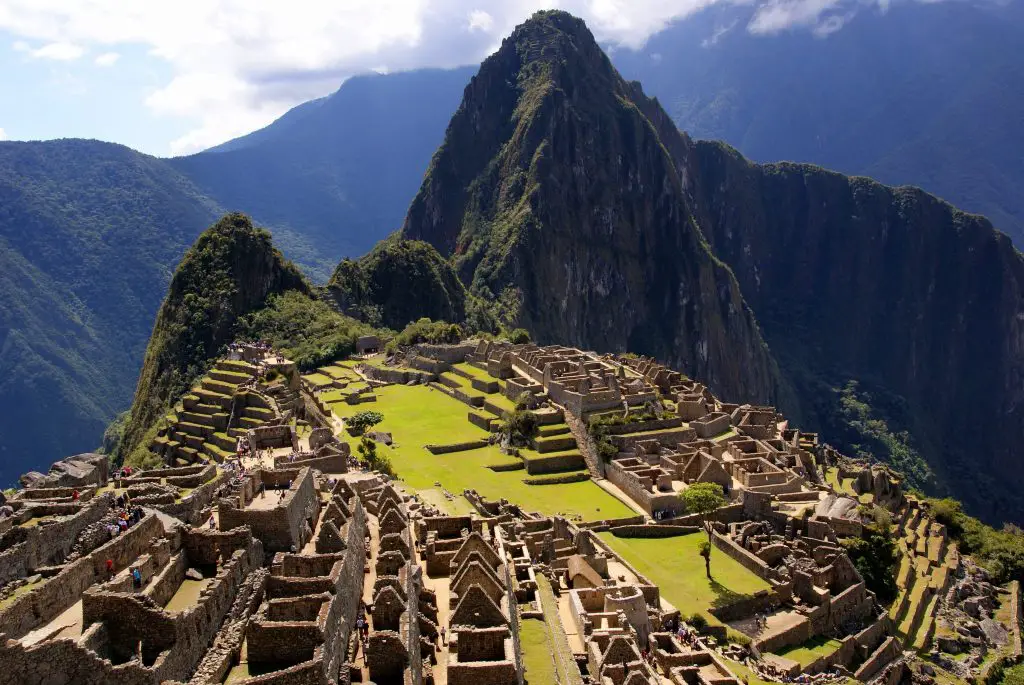 Crazy Bucket List Ideas
Perhaps you want to do something so crazy people will remember you for it. It might be something not many people would be willing to do, such as :
Sail Around the World
This is an epic adventure that is likely to take three or four years of your life. 
Write and Publish a Book By the End of This Year
To do this, you have to consistently write almost every day, get an agent and pitch your book to publishers. 
Participate in an Ironman Triathlon
This distance is very hard, but training months before race day will see you cope and perform well. 
Have a Sleepover at the Zoo
You will get to see what happens behind the scenes in the zoo at night, and you might get a chance to feed the animals. 
Cook Something New for Dinner Every Night For One Week
Spice up things around your kitchen and dinner table by having new menu items for a week. Your palette will thank you for it. 
Get a Tattoo
A tattoo is a great way to have a reminder of a significant thing in your life and can also be used to express your passions and personality. 
Go to a Break Room and Break Everything in It
A break room will provide a safe space to destroy things and scream your pent-up anger out.
Compete in a Frog Jumping Contest
Channel your inner child and participate in a frog jumping contest. It will be lots of fun and will help you keep fit. 
Allow a Friend to Set You Up on a Blind Date
Don't be too rigid and pessimistic about having a blind date. You might be surprised that a very good friendship or relationship could develop out of it. 
Become a Vegetarian for Six Months
Going vegetarian for six months can help you lose weight and improve your overall body and mind health. 
Attempt to set a Guinness World Record
Think of how many people you would inspire, entertain and educate in this quest. And you will most probably attract media and corporate sponsorships. 
Go on the World's Longest Roller Coaster Ride
The world's longest coaster is the Steel Dragon 2000 at Japan's Nagashima Spa Land amusement park in Nagashima, Kuwana.
Float on the Dead Sea in Israel
This is one of the most unique experiences in the world. Because of the high salinity of the Dead Sea, the buoyancy of objects is very high, making everything float.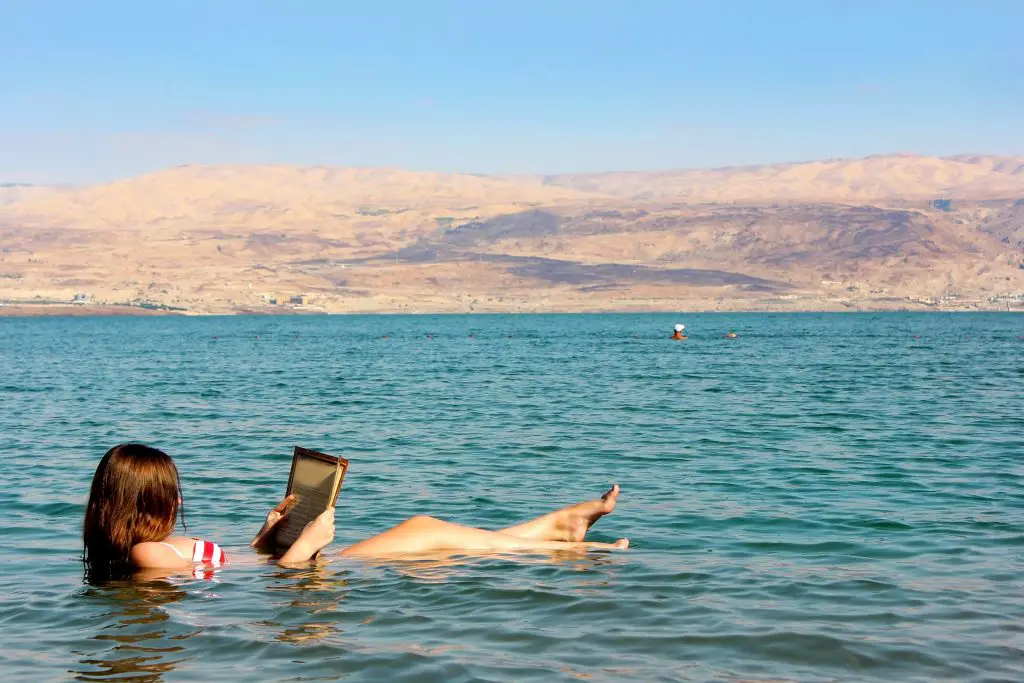 Get Your Picture Taken While Holding a Live Fish
Holding live fish can be scary, what with their slimy bodies and wriggling. But it's pretty harmless if you get past that fear. 
Ride on a Boat Through the Canals of Amsterdam
This is one of the most memorable ways to explore Amsterdam's sights and attractions. It also provides a stunning backdrop to the historical city.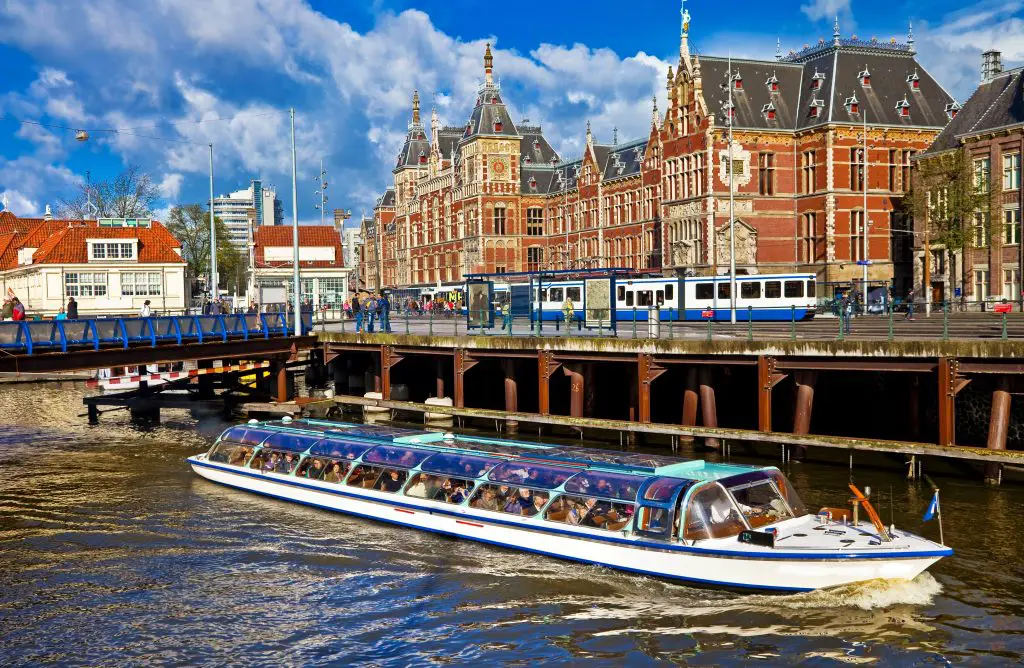 Ride a Mechanical Bull
Mechanical bulls allow you to have the fun of riding a live bull but without the risk and unpredictability of the animal.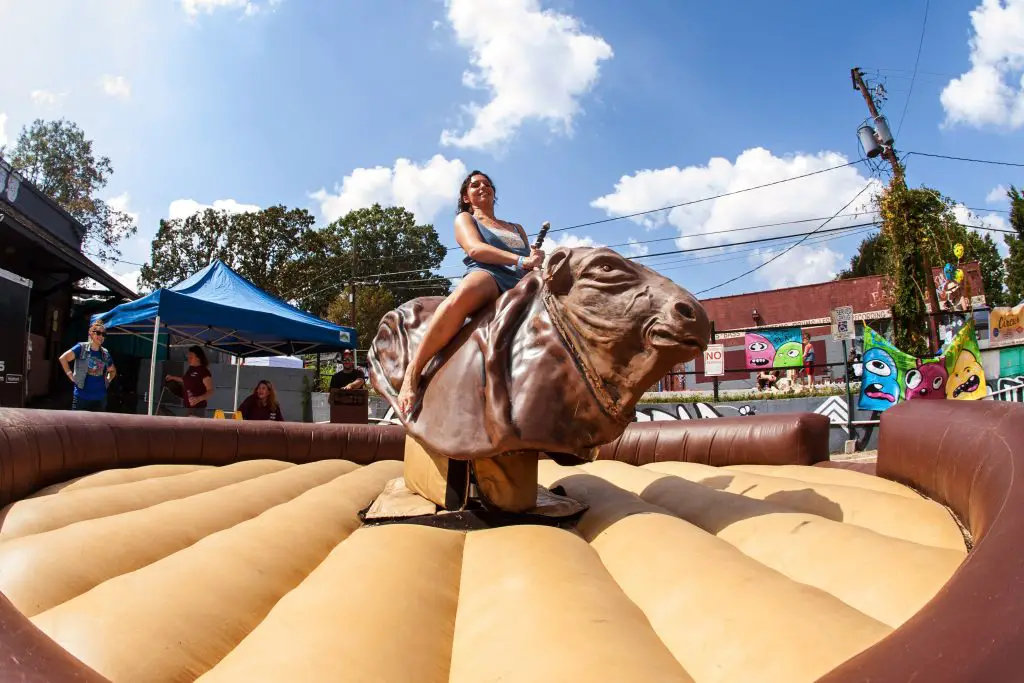 Stay at the IceHotel in Sweden
The Ice Hotel allows visitors to experience the natural phenomena of the Northern Lights, the cold Arctic Climate and go on a family tour on the snowmobile. 
Go Skinny Dipping at Night
Probably one of our more funny bucket list ideas, but worth adding to this list! Swimming in the nude at night might sound scary. Taking in the moon's silvery glow when skinny dipping will enhance your connection with nature
More Bucket List Ideas for Couples
It is always a treat to share awesome experiences with a loved one. This is why bucket list ideas for couples might be the perfect thing to do together.
Unsure of an anniversary gift idea? For a couple who love hiking, you could make your way up to Machu Picchu or plan to go on an African safari where there are plenty of animals to view in person. Some other ideas include :
Take a Backpacking Trip Through Europe
Backpacking with your partner will test your relationship but will also teach you how to communicate, spend time with your partner and how to have shared goals and desires. 
Take a Walk on the Beach
The beauty of the beach creates calmness and serenity, and this will be absorbed into your relationship. 
Go Camping in the Woods (Or Just Set Up Camp in Your Backyard)
Spending time away from your home and spending the night in nature will make you both closer to each other.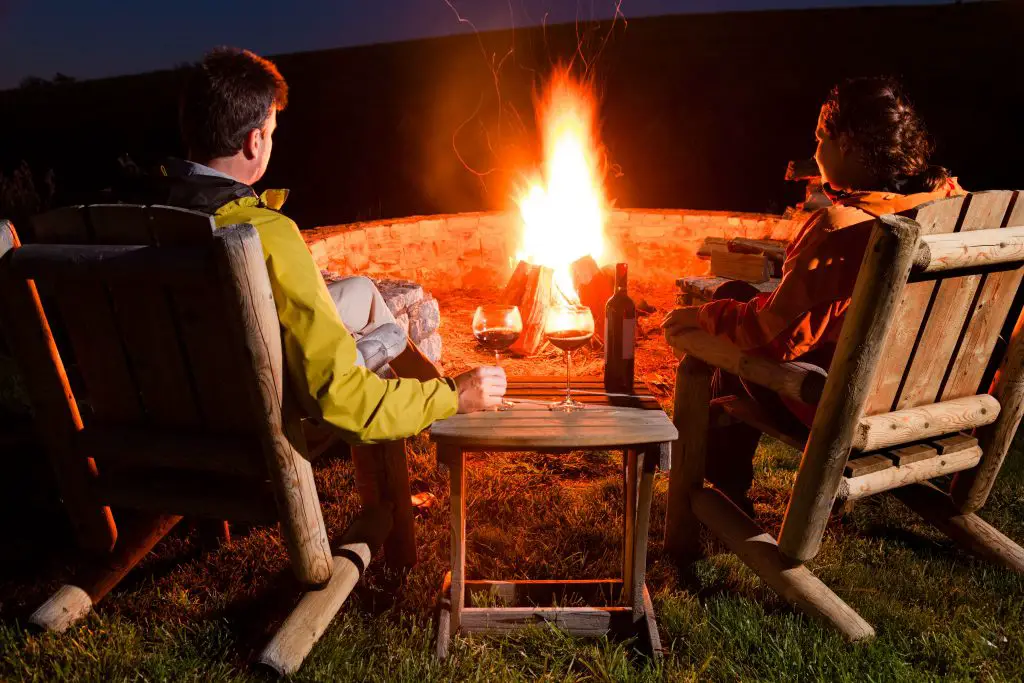 Watch the Sunset Together
Sunsets are romantic, and they can amplify feelings of affection between the two of you. 
Go on a Double Date
Shake up your regular date night and link with a couple who are friends with you. 
Attend an NBA Game
Even if only one of you is a superfan, you will have lots of fun and your partner will learn new things about the game. 
Take a Cooking Class Together
It will help you bond and in sync when making delicious meals for your home together. 
Go on a Road Trip Together
A road trip is a collaborative adventure that can teach your significant other more about yourself, from the silly, to the serious and the outright goofy.
Have an Adventure in the Woods or Mountains
Going on an adventure with your partner strengthens your bond. You create memories and conquer challenges in the wild together
Visit a Museum or Art Gallery Together
Especially if both of you are invested in art and history, a museum or art gallery date will give you a chance to discuss your interest in length.
Host a Game Night and Invite All Your Couple Friends
If you rarely get to meet all your couple friends together, game night is a fantastic idea to catch up and have some fun. 
Final Thoughts on Bucket List Ideas
A bucket list can be as short or long as you want it to be because it is your own personal bucket list that nobody else will see but you! The beauty of starting on a new bucket list now is that no one has the power to deny any of your dreams. You are in control and get to decide what happens with this important piece of yourself- not anyone else.
Get started today by brainstorming all of your dream goals for life, so there's less chance for regrets later on down the road. Whether big or small, please don't wait until tomorrow when it might be too late to make your own bucket list ideas. Use the many example bucket list ideas we provided in this article to get your own list together. And remember that there is no such thing as an unusual bucket list idea.