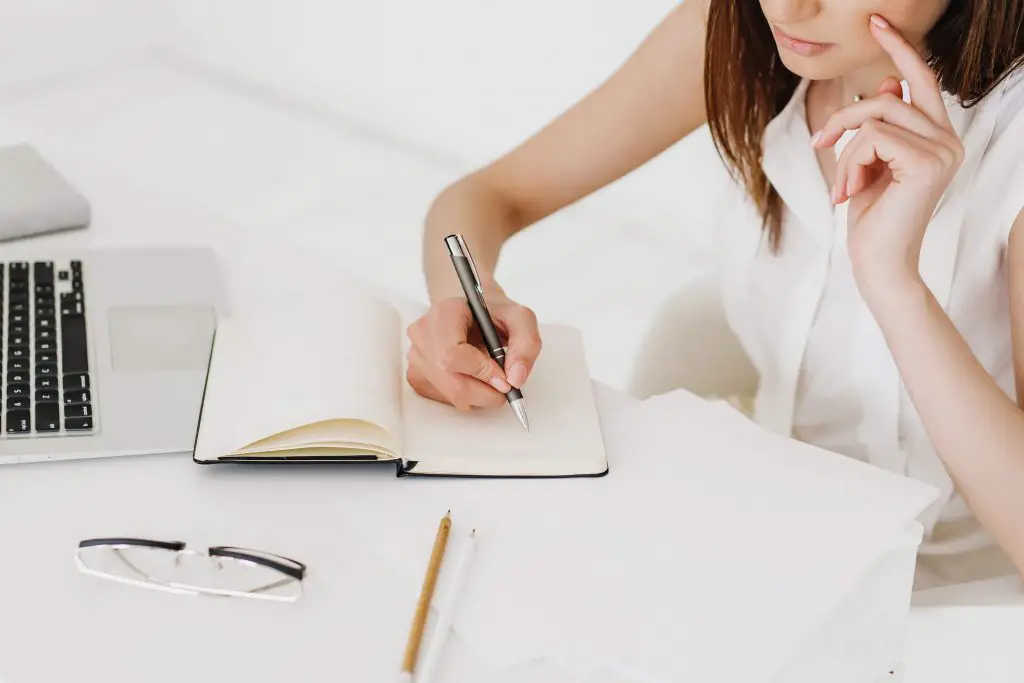 Many people neglect their self-care because they don't know where to start or how to prioritize it. Prioritizing self-care can be hard, especially when we don't have the time and energy because we're busy with work, family, and other obligations. But taking care of yourself is important because it helps you feel better about yourself and have more energy throughout your day. We all have different needs for taking care of ourselves.
We hope these different options of the best self-care planners will help you find the right planner for you. We're excited for you as you begin your self-care journey or continue to prioritize self-care activities and your mental health.
Best-Self Care Planners: How to Choose A Self-Care Planner For You
When choosing one of the best self-care planners out there, here is a few things you should keep in mind:
Think about what type of planner would work best for your lifestyle. If you're someone who likes to plan out their day in advance, then a daily, weekly or monthly planner might be a good fit for you. If you're more of a spontaneous person, then you might prefer a planner that's more laid-back and doesn't have as many specific details.
Consider the size of the planner. If you want something small and easy to carry around with you, there are plenty of pocket-sized planners. Or if you prefer something a little bit bigger, there are also plenty of different-sized planners.
Think about how much you're willing to spend on your planner. Planners can range in cost, depending on what you plan on doing with them.
Best Self-Care Planners and Journals for Self-Care and Well Being
Simple Self – Self-Care Planner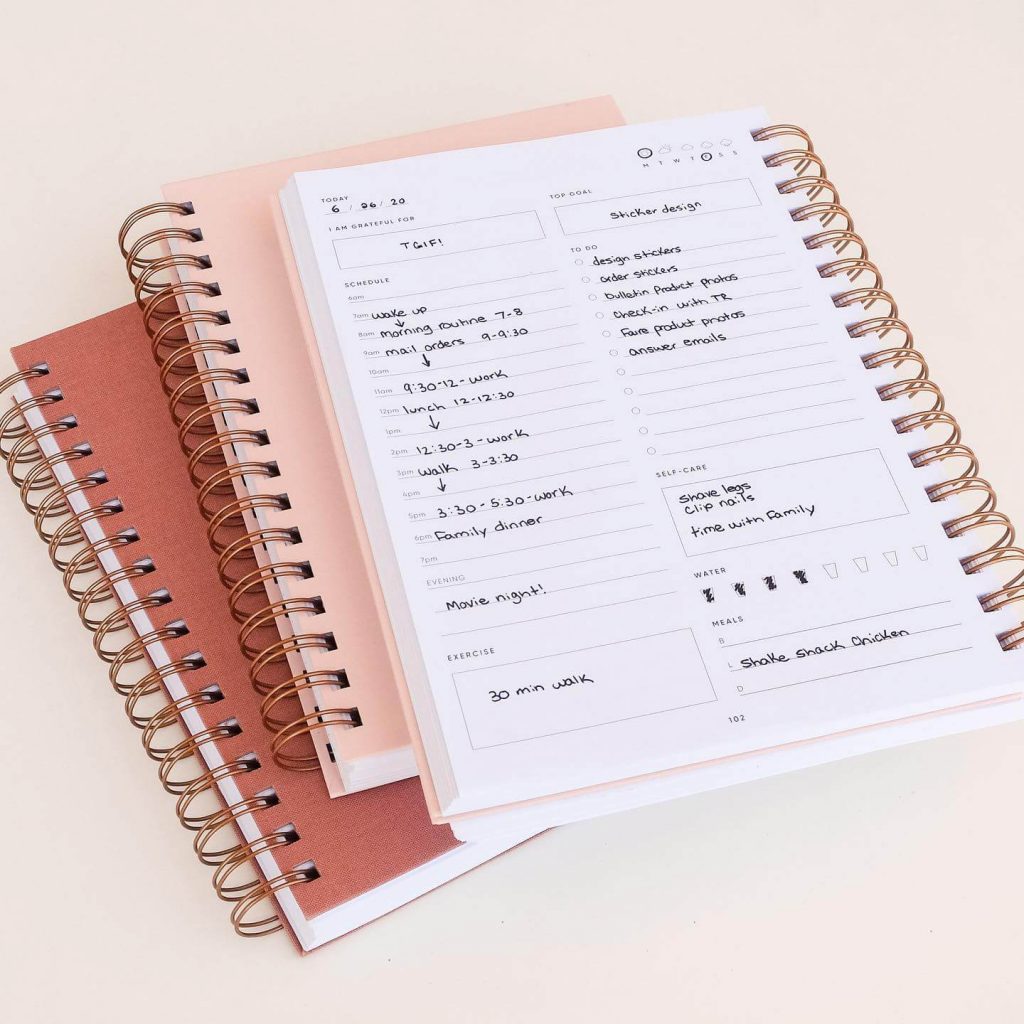 The Self-Care Planner is a wellness planner that will help you prioritize the activities that fill up your cup to be in the best position to achieve your goals. 
The Self-Care Planner was created with positive psychology in mind to help you achieve a healthy and happy state every step of the way while planning your day, week, and month.
This comprehensive planner allows you to:
make it easy to do meal planning by planning your healthy meals and keeping track of your shopping lists;
to track your daily routines and your to-do list;
do sleep tracking and mood monitoring to help with stress management and allow you to recognize areas that need attention.
There's space to monitor your water intake, schedule workouts, and more. It is your planner if what's listed above is what you're looking for, considering mental and physical health.
The Planner also includes a six-step plan. It will assist you in reflecting on your current self-care routines, identifying areas where you can improve, and generating new self-care activities that you like.
Monk Manual Daily Planner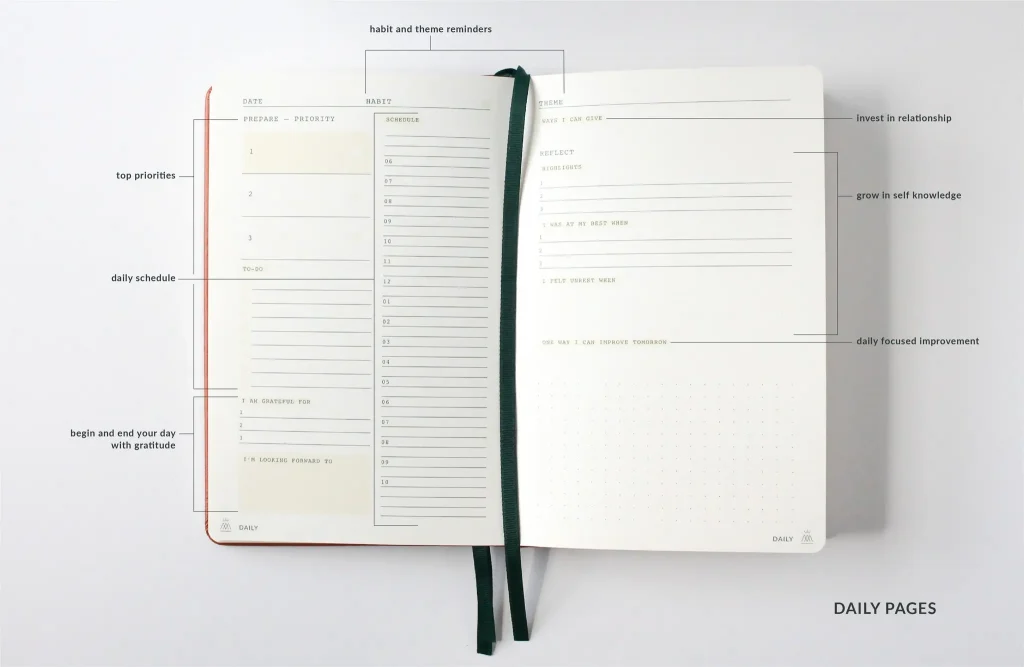 The Monk Manual 90-Day Planner is a daily system for peaceful and purposeful doing that helps you focus on the most important things to live each moment with greater purpose, productivity, and presence.
The Monk Manual's goal is to provide you with the life lessons of a monk while also having a simple method of living. This method allows for clarity of action and self-care habits necessary to live a full life.
A fantastic resource that will assist you in adding structure back into your life offers you new ways of looking at your days and help restore a sense of reflection.
This planner includes one full-page spread for every day, week, and month and it lays flat.
Surround Yourself with Happiness Journal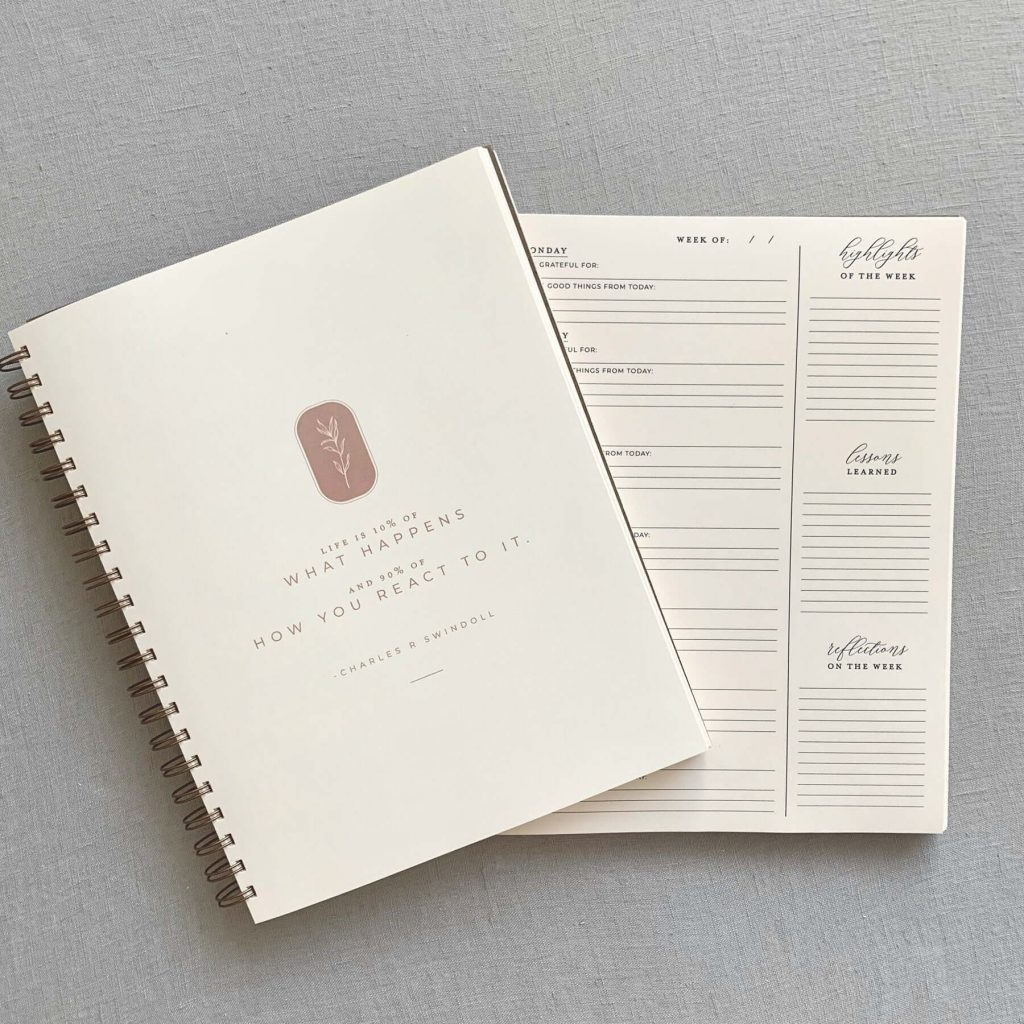 The Surround Yourself with Happiness Journal by Jen Simpson Design was created to be a 5-minute daily journal to reflect on the good parts of your day, your gratitude, and your positivity. 
It has a component to look back on whenever you're not feeling centered, which will assist you in remembering your truths and what matters most. This section includes a spot for your year-end intentions, such as mantras, five things to quit, five things to remember, and goals for the year.
This positive planner has daily questions (one thing you are grateful for and why, three good things from the day and how they made you feel) and weekly reflections (look back on the week to see what you accomplished and highlight the positive aspects).
There's an end-of-month review and a final year's collective recollection page.
Each month, a motivational quote divides the Journal, intended to inspire you throughout the year.
If you're getting started with your self-care routine, it's a great self-care journal that's easy to incorporate into your day-to-day life.
This gratitude journal will encourage you to do some positive thinking and practice daily gratitude for the entire year.
JMB Living Journal and Planner & Wellness Planner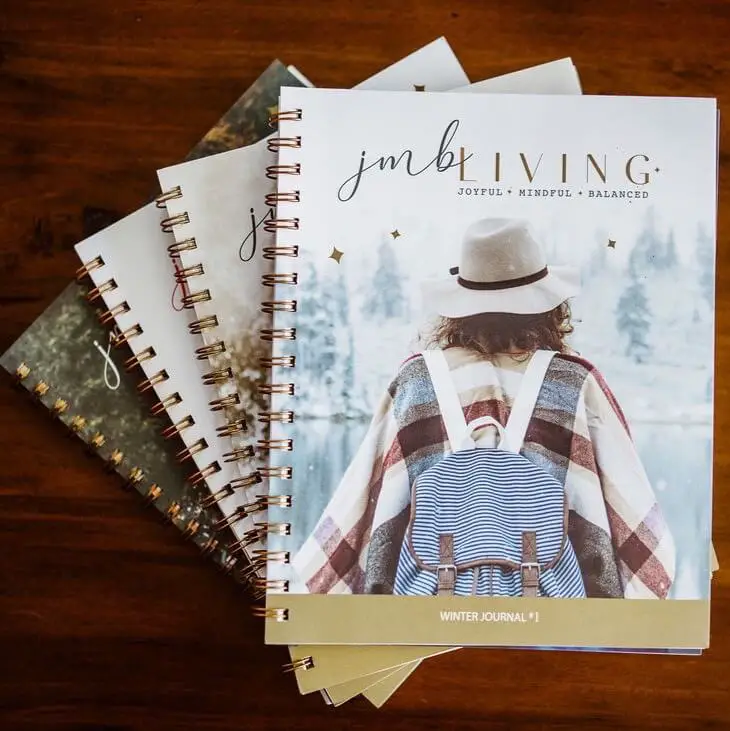 This spiral-bound journal and planner is beautiful. It will bring you so much joy, peace, and happiness to wake up and complete each day.
The Joyful-Mindful-Balanced Living Journal is a beautiful and unique three-month journal and planner with monthly, weekly, and daily pages.
The vision board spreads, a dream (goal) planning system, weekly mindfulness challenges, monthly habit trackers, journal prompts, monthly reflections, and a future annual calendar page.
It offers tips and guidance and helps the user think outside the box to figure out how to play out your intentions instead of just stating them and leaving them there.
Every quarter they offer a new Journal to go with the season. You can subscribe and save with their quarterly journal subscription.
Silk and Sonder Journal
Each Silk and Sonder Journal uses bullet journaling methods based on positive psychology. Its proven self-help layout includes guided prompts, wellness trackers for your daily habits, and dated calendar spreads for easy introspection, creativity, and concentration. It makes it a great positive planner.
You'll find daily, weekly, and monthly calendar spreads as well as a habit tracker, a mood tracker, and plan meals and expense trackers in this Journal. You'll also get guided journaling prompts, exercises, colourings pages, blank pages, recipes, and inspirational quotes.
They are subscription-based with options of monthly, quarterly, or yearly plans. With this self-care planner, you can cancel, skip, or pause upcoming charges anytime.
Harlow & Grey Life Planner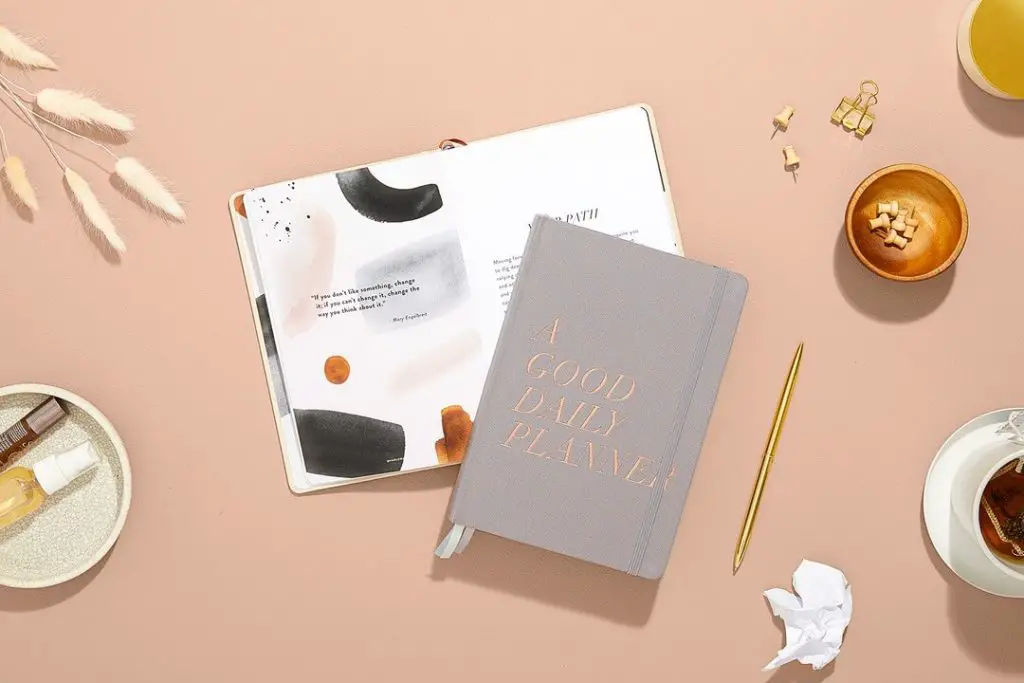 The Harlow & Grey Good Life Planner was created to help you plan, organize, document, reflect, and discover. 
The daily, weekly, and monthly life organizer has it all:
a journal section
monthly calendars
habit trackers
weekly to-do lists
full-page daily schedules
inspiring quotations
goal setting, leisure lists
self-assessments
reflective questions
bookmarks
and motivational sticker sheets.
This planner is designed to help you reconnect with your past, embrace your present life, and direct your future. The goal-setting pages push you to think big; the contemplative questions encourage you on those little in-betweens. Their daily, weekly, and monthly plans aid in productivity; the leisure list reminds you to relax.
Of all the best self-care planners out there, this one is definitely one of the most comprehensive we have seen.
Bullet Journal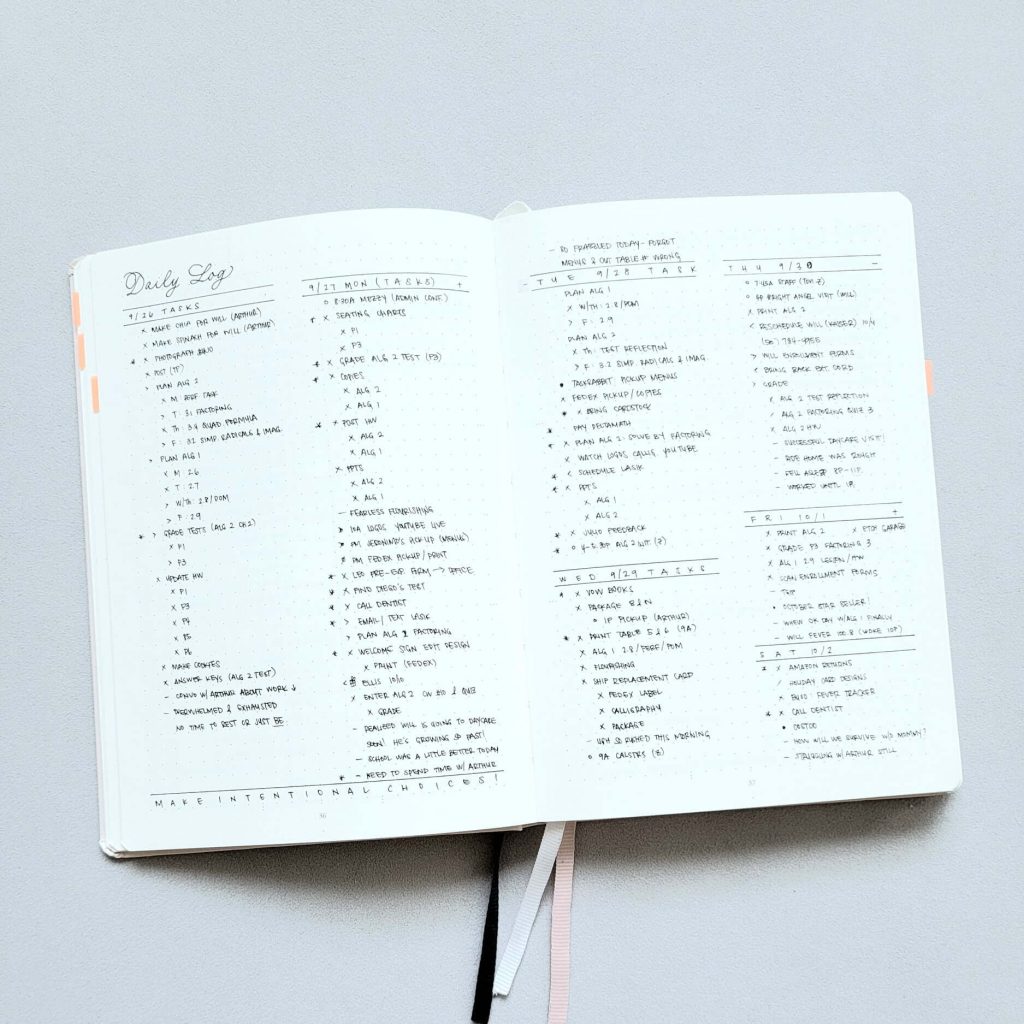 Start bullet journaling if you're looking for a one-stop-shop. What is nice about the bullet journal is that you can create a designated space for every aspect of self-care that is important for you. You could have a space allocated to keep track of your self-care goals, daily intentions, evening reflections, and overall health.
You'll also find more space than in other journals to be creative as you can create gorgeous illustrations. You can also use it as a guided journal and keep track of your breathing exercises.
The Five Minute Journal
With the Five Minute Journal, it is the easiest method to start your day on a happier note. You get to concentrate on the good and become more aware. The guided journal includes organized exercises that will help you meet a higher level of your already person.
This beautiful linen cover fabric daily journal will last six months.
You might enjoy : 
Final Thoughts on The Best Self Care Planners & Choosing the Best Planner for Your Needs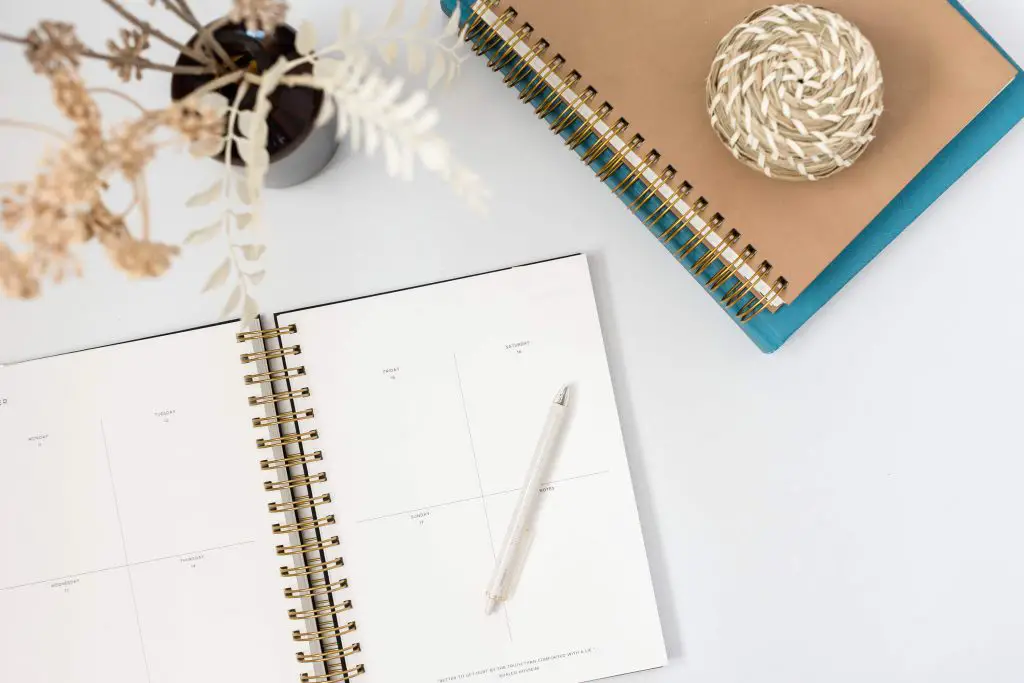 Choosing the best self-care planner can be daunting, but it doesn't have to be. A self-care planner begins your journey to consistent self-care for yourself. 
The key is understanding want from your planner, what you need when it comes to your physical and mental health and what your current self-care practices are to decide with confidence. 
Whether you're looking for a daily life planner to set your monthly intentions or a night reflection journal, there is a self-care planner for you! 
You may find yourself gravitating more towards one type of self-care planner than another because it addresses your mental health concerns better than others would.
Whether you're a small business owner, a stay-at-home mom, or work a corporate job, focus on self-care. Having one of the best self-care planners we listed in this article will make a world of difference in your life. You'll get to prioritize self-care and daily gratitude, and organize your self-care activities, and to-do lists. A self-care planner or Journal is a must-have to ensure healthy mental wellbeing.