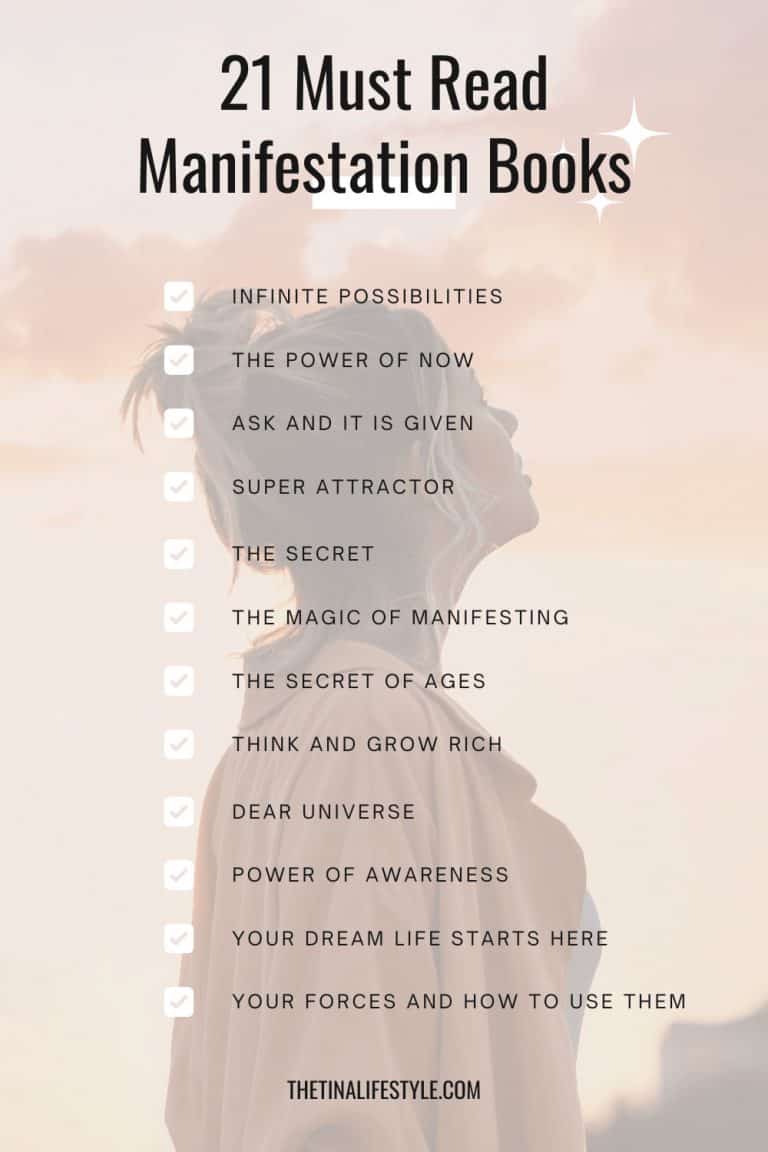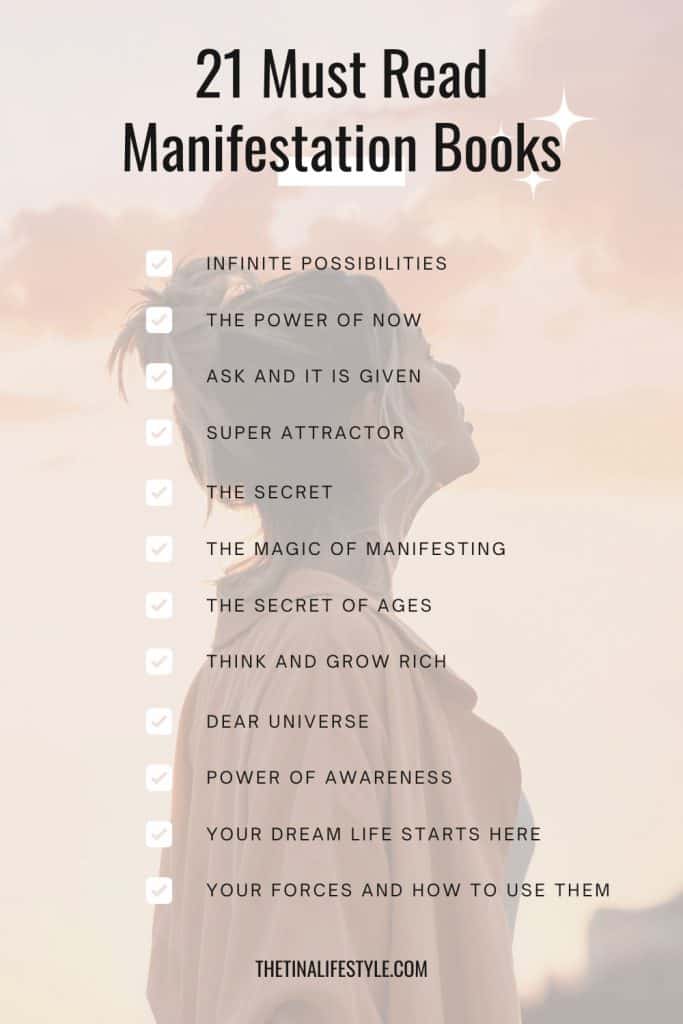 Manifestation is the process of bringing into physical reality what you desire. Manifestation works on the premise of the law of attraction. Books are an excellent form of learning how to manifest. They provide inspiration and wisdom from others who have gone before us.
If you're looking to counter negative thinking and transform fear into actionable steps, then read on. Reading will train your subconscious mind to achieve success and beautiful life. You can do this by taking a few moments of your day to read the law of attraction books. I am sure you'll enjoy this post highlighting the best law of attraction books.
This blog post will share 12 of the best manifestation books that have helped so many, including myself, achieve their goals. These books are life-changing. They will teach you how your thoughts create and imagine a world the Universe can offer you.
What Is the Most Effective Manifestation Method?
There are two factors to consider for the things you want to manifest to happen.
First off, believe that you deserve it. It's important to note that. Secondly, know your power, your purpose and stay committed with a determined attitude to help reach your goals.
You need to be disciplined and focused on what you want; if it seems far away at first, don't let that discourage you. Achieving our desires takes time and patience, but we can do this!
What is the Best Law of Attraction Books to Read?
The reads in this list of the best law of attraction books will provide you with a road map to improve your life, create an abundance mindset and create healthy habits for better living.
Get ready to manifest anything you want in life. Your desires could be to attract wealth, a career, a relationship, life goals, or simply a good life. These resources will pave your path to success and attract abundance into every area of your life.
This post contains some affiliate links. If you click on the product links and purchase, I can make a small commission at no extra cost! In return, it helps me in maintaining this site to continue to help you!
Manifestation Journals and Planners
Journals and planners can help you record key thoughts from the books you read in your manifestation journey. This manifestation journal, this law of attraction planner and this guided reflection journal pictured below are good places to start.
You might also like: The Power of Manifestation Journaling & How to Use Manifestation Journals
Best Manifestation Books
Infinite Possibilities by Mike Dooley
One of the best law of attraction books is Infinite Possibilities by Mike Dooley. This book explores aligning your thoughts with an empowering vision for the future. The alignment will help you tap into your vast potential and discover what's possible.
It's not really about any one thing, but rather about "everything." This book makes a great read for those seeking a greater understanding of themselves and their potential to live a more fulfilling life.
Ask, and It Is Given by Esther and Jerry Hicks
Ask, and it is Given and It Is Given by Esther, and Jerry Hicks is a read about understanding the law of attraction through simple visualization exercises that require little more than your thoughts and an open mind. Moreover, the book is full of great personal anecdotes and examples of how it has brought success for those who have applied these techniques and how it can help you manifest your desires in collaboration with the Universe.
This book shines a light on how the energetic laws work and encourage you to believe that the Universe has your back, so you can start trying them out yourself with way less effort!
It all boils down to our beliefs being the foundation for what we feel in our lives. It's time to shift from having only negative feelings towards "more positive" feelings where we're willing to attract what we want rather than always attracting what we don't want! This book will do that for you.
The Magic of Manifesting by Ryuu Shinohara
Ryuu Shinohara's book discusses manifestation on a scientific and spiritual basis. Additionally, it gives you 15 practical techniques you can start using today to manifest your best life.
The Magic of Manifesting is full of powerful practices and accessible explanations and ideas that explain what is happening and why these techniques work. This book is for anyone who wants to learn more about manifesting while gaining valuable practices.
The Power Of Now by Eckhart Tolle
Eckhart Tolle's book, The Power of Now, is the guide to manifesting. If you want to manifest, you must learn to live in the present moment. It is essential to tap into the power now. The book takes you on an inspiring spiritual journey to find your truest and deepest self and reach your ultimate goal in personal growth.
Super Attractor by Gabrielle Bernstein
It wouldn't be a best of manifestation books without Gabrielle Bernstein, one of the leading spiritual authors in the world.  
Super Attractor is about trusting the realization of one's personal and wildest dreams and fulfilling your destiny. Bernstein's book teaches readers how to remove fear, blocks in life such as self-doubt and insecurity that otherwise hold them from reaching their full potential.
Super Attractor removes the difficulty and struggles from manifestation and shows you how fun your journey is as you create the life of your dreams. It's essentially a complete how-to book on manifestation, outlining all of the essential methods for manifesting a life even greater than what you could ever dream of.
The Secret Of Ages by Robert Collier
100 years ago, a man by the name of Robert Collier made the discovery that we have "a direct contact with our subconscious minds measured through silent thinking." Consequently, when he applied this manifesting technique to other people, he saw them change before his eyes!
The idea is that by training yourself to think in a certain way and use your thoughts as magnets- just like scientists use magnets to control iron filings from a distance-you'll have the power to attract abundance in whatever you desire.
In The Secret of Ages, not only will you learn how to harness the power of your thought for manifestation, but you will also no longer see rich versus poor or old versus young.
Think And Grow Rich by Napoleon Hill
This book is a guide to increasing one's luck through positive thinking.
Think and Grow Rich is an incredible book about making your mind work to achieve the success you seek. Napoleon Hill takes on the task of showing anyone how they have the power to be making more money than they ever thought possible at any time in their lives.
Napoleon Hill's book Think and Grow Rich shows his readers how we can take complete control over our own self-destruction.
Dear Universe by Sarah Prout
Dear Universe is author Sarah Prout's invitation to recognize and embrace your feelings to create the life you desire. It provides practical guidance, soulful exercises and nuggets of wisdom for cultivating a nourished, creative and expansive spirit that fills one with abundance, confidence and security.
Dear Universe was inspired by her wish to learn how to feel rather than react when experiencing difficult emotions such as fear or anger. She has a new book available for pre-order called Be The Love: Seven Ways to Unlock Your Heart and Manifest Happiness.
Power of Awareness by Neville
The Power of Awareness teaches methods based on the capacity of our minds to manifest our reality by changing our thoughts and intentions. Neville provides compelling evidence for his belief through stories, examples, and real-life experiences. He takes away much confusion around manifesting requirements by structuring this book with exercises so readers know what they should be doing to create their desired outcomes.
Your Dream Life Starts Here By Kristina Karlsson
A book about ambition, fulfilling your potential, and making the most of what you have, Your Dream Life Starts Here is both inspiring and practical.
Kristina Karlsson is an expert on how to build your dream life. Her book will help you figure out what you want to do with your life and ultimately make big decisions about who you want to be and how you enjoy spending your days.
Your Forces And How To Use Them by Christian D. Larson
The book Your Forces And How To Use Them is an excellent book on how our thoughts create our reality. Larson takes you through the process step by step, each chapter building upon the last. As you read through and put the principles into practice, you will find yourself manifesting the life you have always dreamed of!
Own Life: How to Show Up with Confidence and Take Control of the Future by Todd Eden
This book challenges readers to recognize that they are more than what they do for a living or how much money they have in the bank.
They're a treasure to themselves, their friends, and their family whether or not their work hits all the right checkmarks. Society's measuring sticks, such as success, paychecks, promotions, and public accolades, do not influence how they see themselves.
In Own Life, Eden demonstrates how we can find peace with our situation while making room for growth and creating new opportunities. We can do this through four steps:
mindfulness (recognizing your feelings and trusting them);
intention (determining what you want based on your values);
execution (taking action);
and self-compassion (keeping sight of who you are even when life gets tough).
This book is full of practical tools for awakening.
You Can Heal Your Life by Louise Hay
You Can Heal Your Life is about the idea that it is possible to heal oneself. One can do this by tapping into one's thoughts, beliefs, and 'vibrational' messages. The book places a lot of emphasis on finding self-love. It also discusses how important it is for people to pay attention to their' needs.'
In addition, it provides a list of affirmations and phrases that are used when one wants something more from life.
The Secret by Rhonda Byrne
The Secret by Rhonda Byrne has to be on the list when it comes to manifestation books. Published in 2006, The Secret is an easy read that builds on the Law of Attraction. It promotes the idea that thoughts are forms of energy that attract corresponding forms of matter to a person.
The basic principle behind The Secret is that our thoughts are powerful magnets; they create and attract events into our lives. Positive, happy thoughts have the power to bring positive, happy things to us–and the same goes for negative, unhappy thoughts.
Manifest Your Destiny by Wayne Dyer
Manifest Your Destiny is about activating one's own inner sense of powerful personal freedom. We can be done by developing deep, trusting awareness. Doing this leads to blissful alignment with our Higher Self, what Wayne Dyer calls Living Without Limits!
This book will shine a light on how energy laws work. You can start trying them out yourself with way less effort! 
A Happy Pocket Full Of Money by David Cameron Gikandi
David Cameron Gikandi wrote A Happy Pocket Full of Money to answer the age-old question: does money buy happiness?
According to David Gikandi, true wealth is not about buckets of cash or living in a palatial estate. Rather, it is about discovering value within yourself and other people. This involves gratitude, a belief in abundance, and the experience of joy. Based on theoretical physics, Gikandi has created a new model for creating personal wealth. This model shows readers how to create abundance by saving, giving, offering, and building happy relationships.
The Master Key System by Charles F. Haanel
In this book, Charles Haanel defines success in terms of physical and mental principles. He also states that any goal can be achieved by following the instructions laid out in this guide.
The Master Key System teaches that achieving our goal is as simple as right-thinking, feeling, and acting. It must begin with faith in our ability to succeed.
This is an idea that is not only perfectly safe from any adverse consequences whatever may ensue – but also the most conclusive proof of true mastery we have yet had.
The Power of Your Subconscious Mind by Joseph Murphy
The Power of Your Subconscious Mind became a bestseller as soon as it was published in 1963. It is a brilliant book that will help you feel happier, enjoy your relationships, banish your fears and heal.
Dr. Murphy explains in this book that life's events result from how your subconscious and conscious minds work. He gives practical techniques to change one's destiny by focusing and redirecting this divine energy. He had spent years studying the major religions in the world, which convinced him that there was a greater power behind all spiritual life and within us.
This book will open up a world of happiness, success, peace, and prosperity for you.
Other Books on Manifesting We Recently Enjoyed :
You might also enjoy these posts:
Final Thoughts on The Best Manifestation Books
I am sure you have read this as you're looking for guidance on manifesting wealth, health, and happiness. There's no better place to start than with the manifestation books explored in this post. These books have invaluable gems on the law of attraction and how to tap into your divine power. These authors have helped many people achieve their dreams, and they can help you too! Add them to your book collection today and read them to unlock the power of the law of attraction. Don't worry about reading all of them at once. If you struggle to read, here are tips that can help you read more often.