Many dreams of traveling to Europe, but deciding where or when to travel or what to do on holiday can be hard. The Iberian Peninsula, home to Spain and Portugal, is one of the most beautiful places in Europe. Some of its major cities, like Barcelona, Spain, and Lisbon, Portugal, are popular stops for tourists. We hope you will find this Barcelona and Lisbon Itinerary helpful.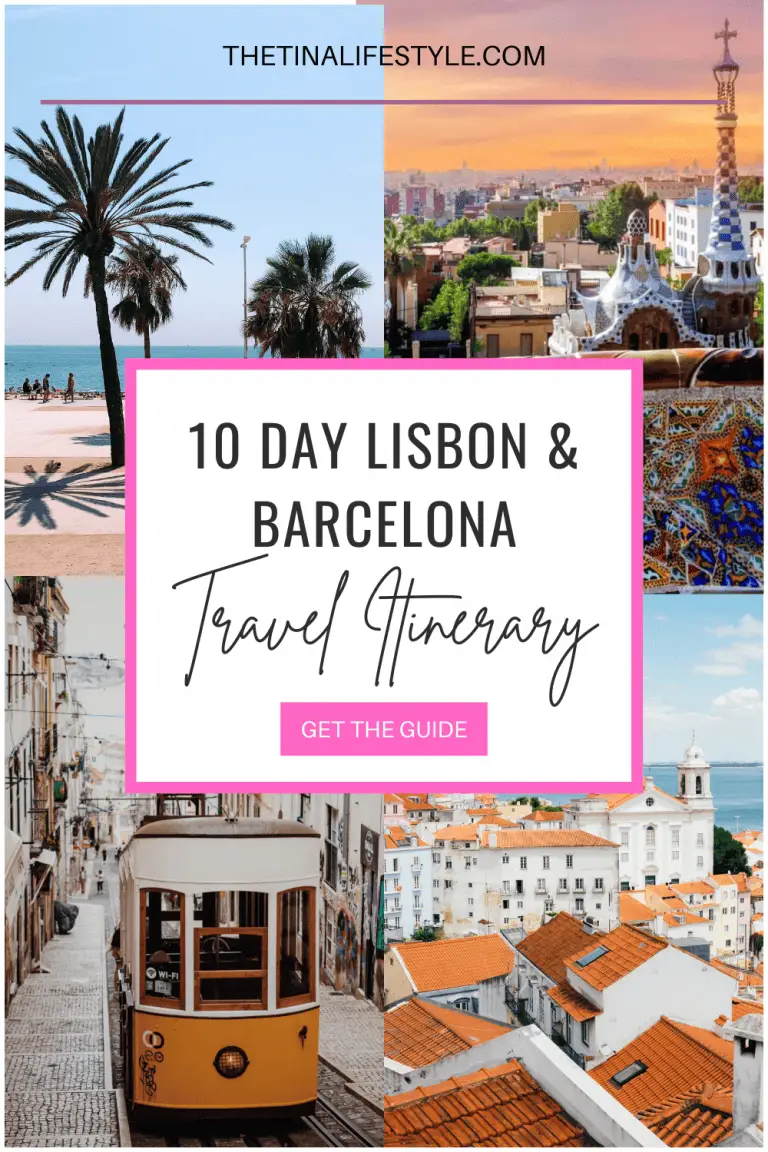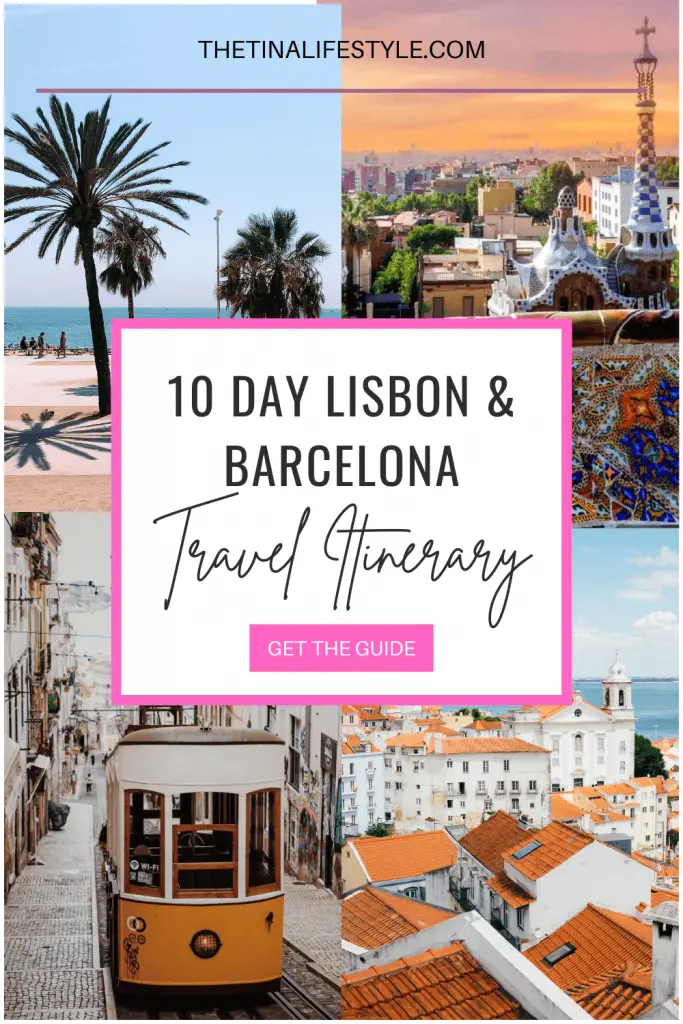 The Ultimate 10-day Barcelona and Lisbon Itinerary
Traveling to Barcelona and Lisbon will be incredible as you visit two amazing cities and countries. There are plenty of attractions, activities, and foods to try that will provide an exciting and memorable trip to some of the most beautiful places to exist.
This guide will tell you everything you need to know about traveling to Barcelona and Lisbon. We'll discuss everything from when you should go and how long you should stay to specific activities and events to try and see. We have created the information that you need to plan an unforgettable trip.
An Overview of Barcelona and Lisbon
Barcelona is the capital of the Catalonia region of Spain. This region of Spain is an autonomous community, so they maintain some cultural aspects that are different from what you would find elsewhere in Spain. For example, the Catalan language is spoken in addition to Spanish. While traveling there, you will be fine with knowing just a few key phrases in Spanish. 
Lisbon is the capital of Portugal and the country's largest city. While Portugal borders Spain and shares a peninsula, its official language is Portuguese. Despite being neighbors, there is very little Spanish spoken in Portugal. In fact, English is more commonly spoken than Spanish. 
Both Barcelona and Lisbon are large cities with plenty of historical museums, buildings, and attractions. Both cities are coastal and have plenty of nearby beaches. Even though these cities are relatively close and seem to have many similarities, you will understand the many differences as we discuss your future trip.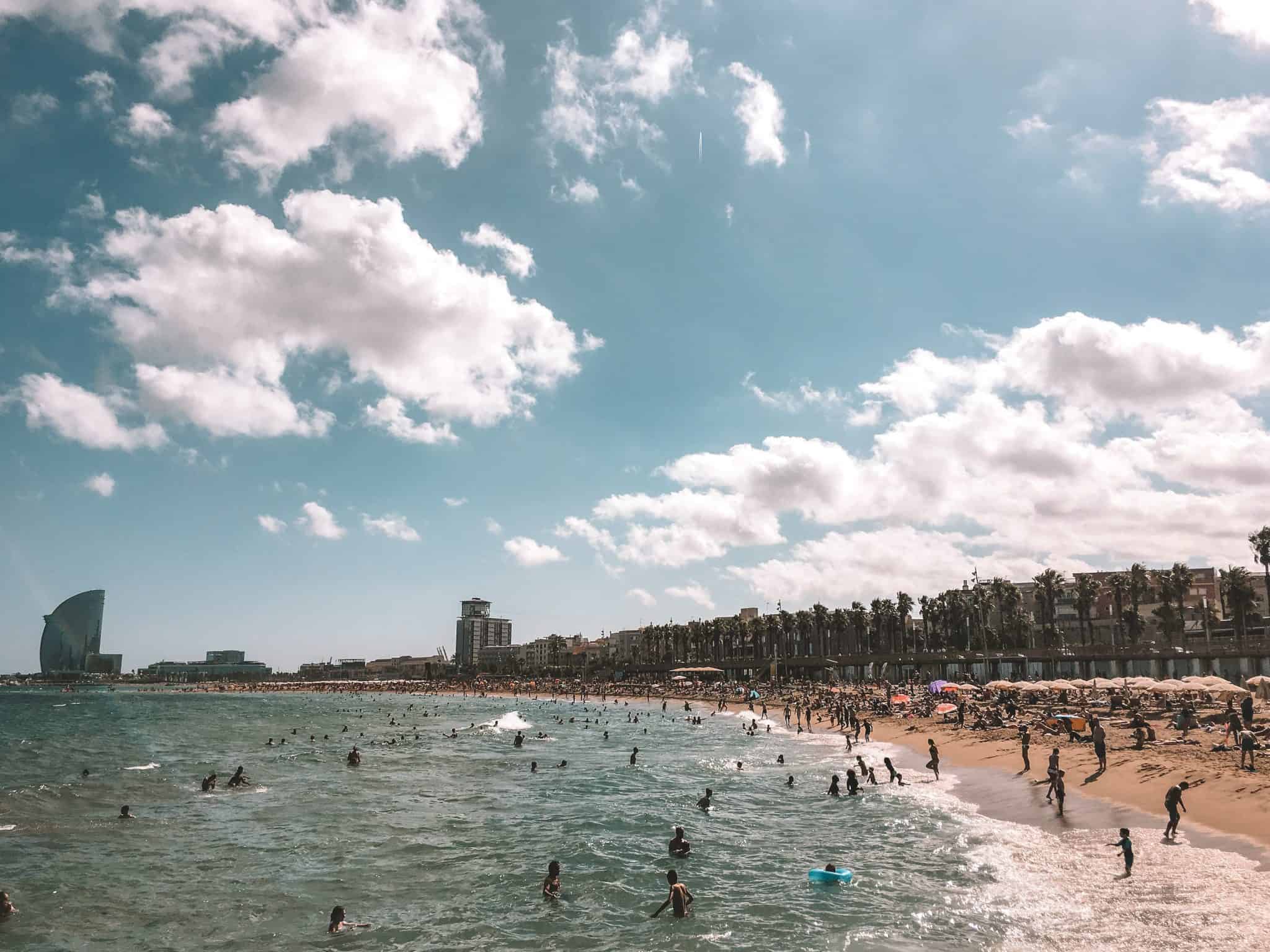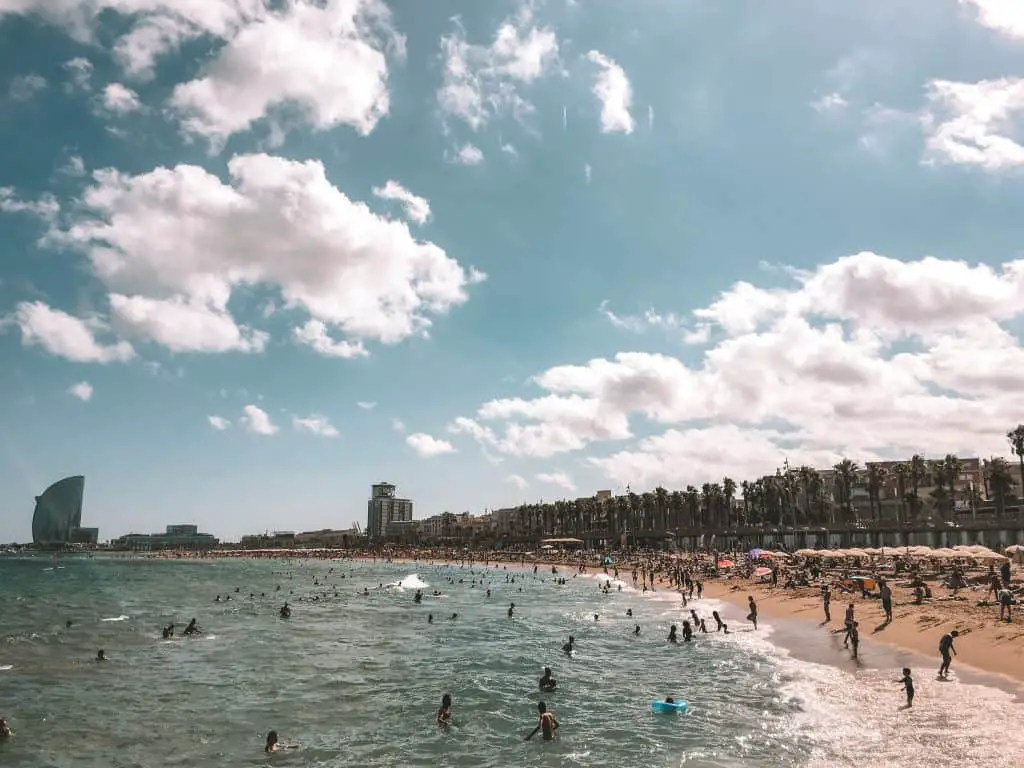 Planning Your Barcelona and Lisbon Itinerary 
Once you have decided that your trip destinations will be Barcelona and Lisbon, it is time to start planning. Some of the first things you need to decide are how long you want to travel and when you want to go. From there, you will be able to plan the details of the trip, like accommodations and activities, to fit within your travel dates.
We recommend taking a ten-day trip to these destinations to get enough time to explore two cities. You can, of course, stay for shorter or longer amounts of time by modifying our itinerary. However, this guide will give you plenty of activities, food ideas, and lodging options for a ten-day trip to Barcelona and Lisbon, spending about five days in each city. 
Many say that the best time to visit Barcelona and Lisbon is either late spring, March to May, or early fall, September to October. These months still have warm weather but fewer crowds than you would experience if you visited in the middle of the summer, like in June or July. 
When traveling to these places, something else to consider is if you want to participate in any local festivals, events, or concerts while you are traveling. We will mention a few of these throughout the article and let you know when they usually happen so that you can plan accordingly if you are interested. 
You might also enjoy: Logroño, Spain Travel Guide
Top Activities in Barcelona, Spain
When spending about five days in Barcelona, Spain, you will want to plan one to three activities per day depending on how long you expect to spend at each location and how far apart they are. In general, Barcelona is famous for its cultural attractions and architecture. In fact, many of the attractions that we have selected are recognized as UNESCO world heritage sites.  
We have organized our recommended activities for Barcelona by:
Architecture 
Parks and Outdoor Areas
Events
Barcelona Architecture
La Sagrada Família is one of the most famous landmarks in Barcelona. It is a catholic cathedral known for its beautiful architecture and religious symbolism. You can take guided tours around the cathedral to learn about the building's architecture, construction, and significance. Many tourists plan trips around this attraction, which is a must-see. Plan to spend at least two hours here.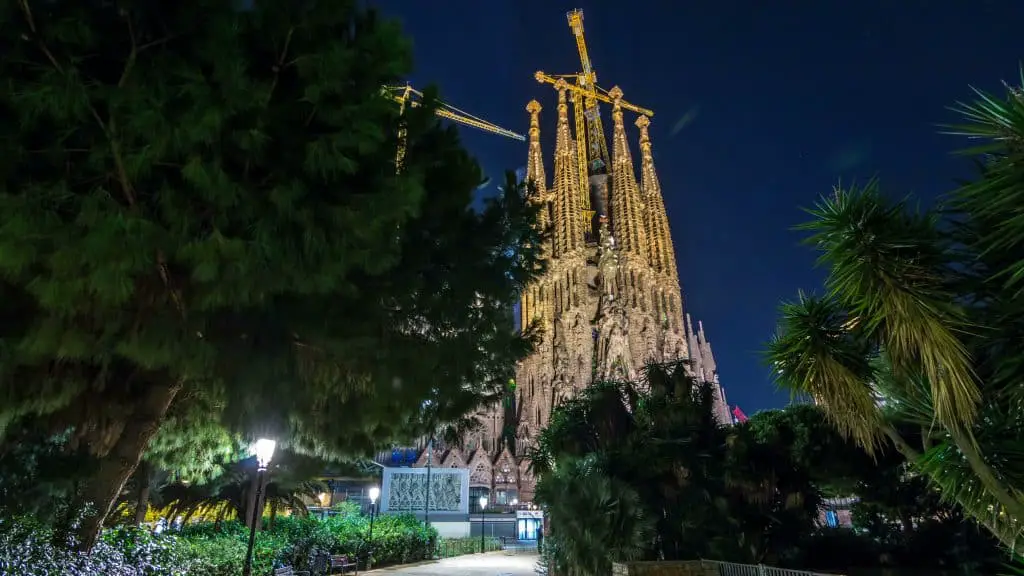 Casa Batlló is another piece of architecture designed by Antoni Gaudí, like the Sagrada Família. Originally built in 1877, Gaudí was tasked with renovating and modernizing the building from 1904 to 1906. Many say that the entire building is a work of art with architectural elements used throughout the 20th century. Plan to spend one to two hours here.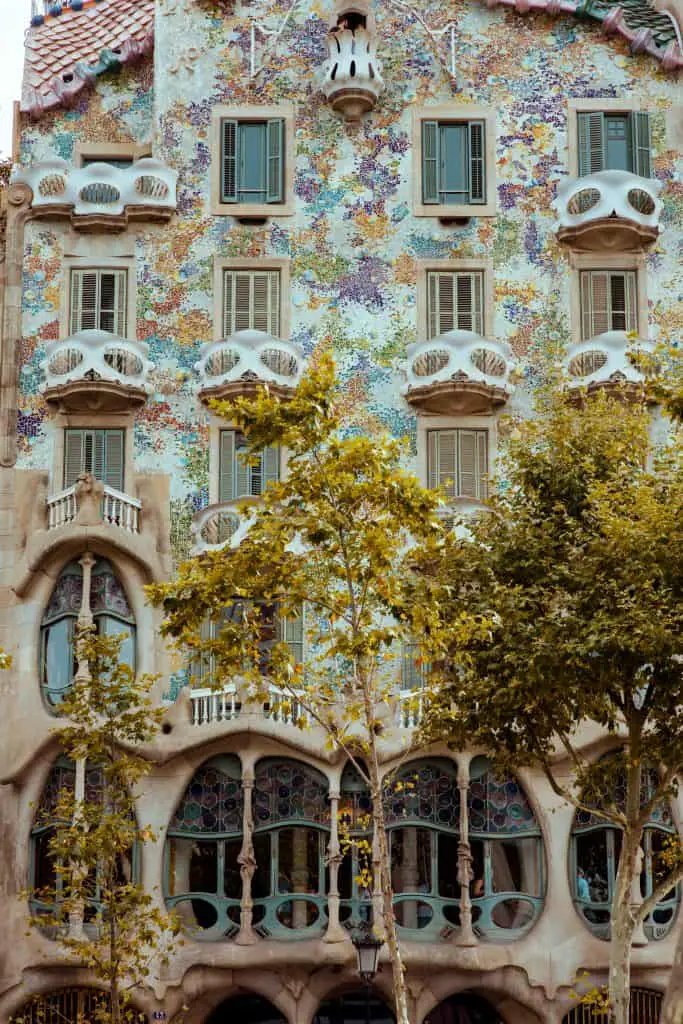 While the Sagrada Família's construction was started in the late 1800s, the Catedral de Barcelona started construction in 1298. This gothic cathedral still operates as a church but still allows tourists to visit at certain times. Be sure to visit this cathedral to see history, art, and beautiful architecture in one building. 
Barri Gótic, or the Gothic Quarter, is a neighborhood that used to be a Roman village. This area has experienced some modernization alongside historical architecture. Wander through this area to see historic Gothic buildings next to modern architecture. This area has plenty of restaurants, interesting shops, and places to sit and relax. You can either simply walk through the area or spend several hours here.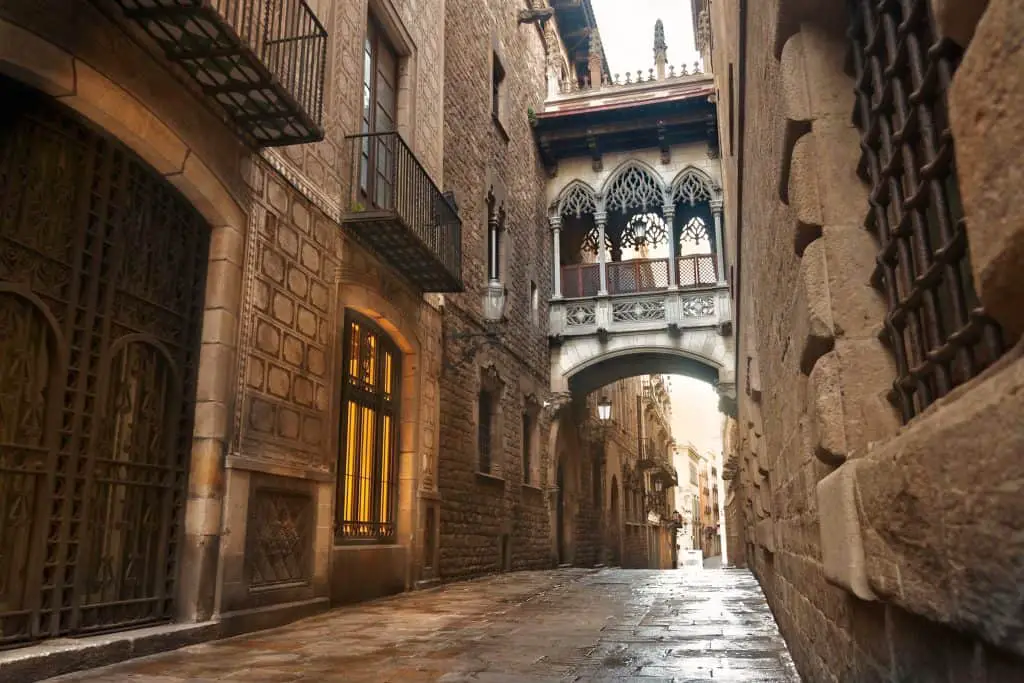 Barcelona Parks and Outdoor Areas
Park Güell is a public park that has gardens and interesting architecture throughout. The park was, again, designed by Antoni Gaudí in the early 1900s. You can buy tickets in advance and then spend a few hours wandering through the park to see the beautiful art and architecture. Many tourists make a point to visit this place to take pictures and relax in an area with beautiful scenery.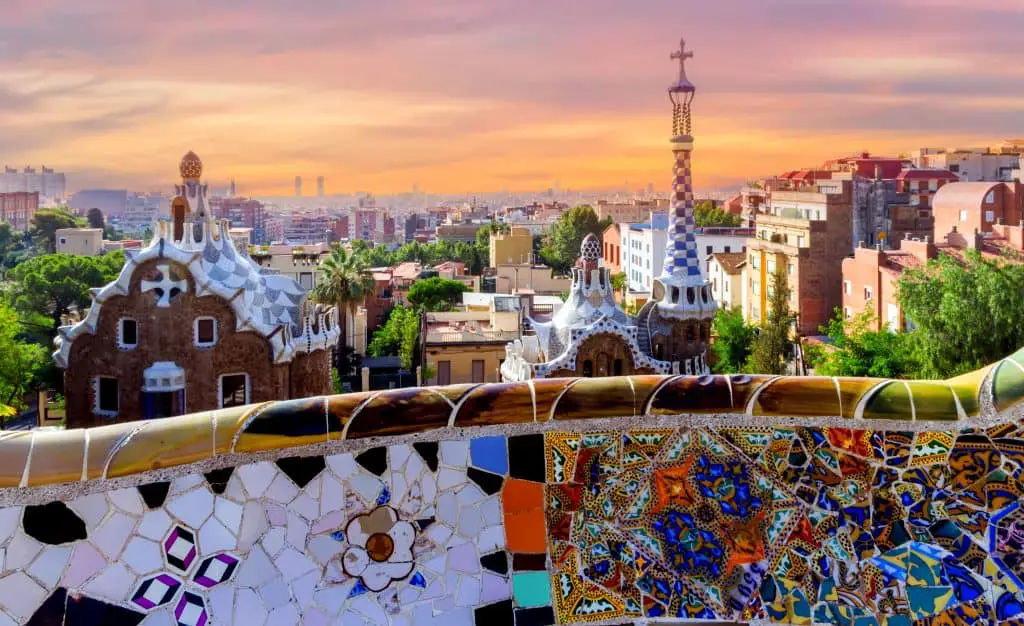 Las Ramblas is another famous landmark of Barcelona. This is a pedestrian street that is lined with trees. The street goes through downtown Barcelona's heart and is always busy with foot traffic from locals and tourists alike. This street has plenty of shops, restaurants, and bars along the way. You can easily spend several hours walking along with the street, shopping, eating, and watching people walk by. 
The Mercat de Sant Josep de la Boqueria is a large public market with its entrance on Las Ramblas. You can find food, produce, flowers, and artisan goods in this market. You can easily spend a few hours wandering through this market, but many tourists like to visit multiple times to try foods from different vendors.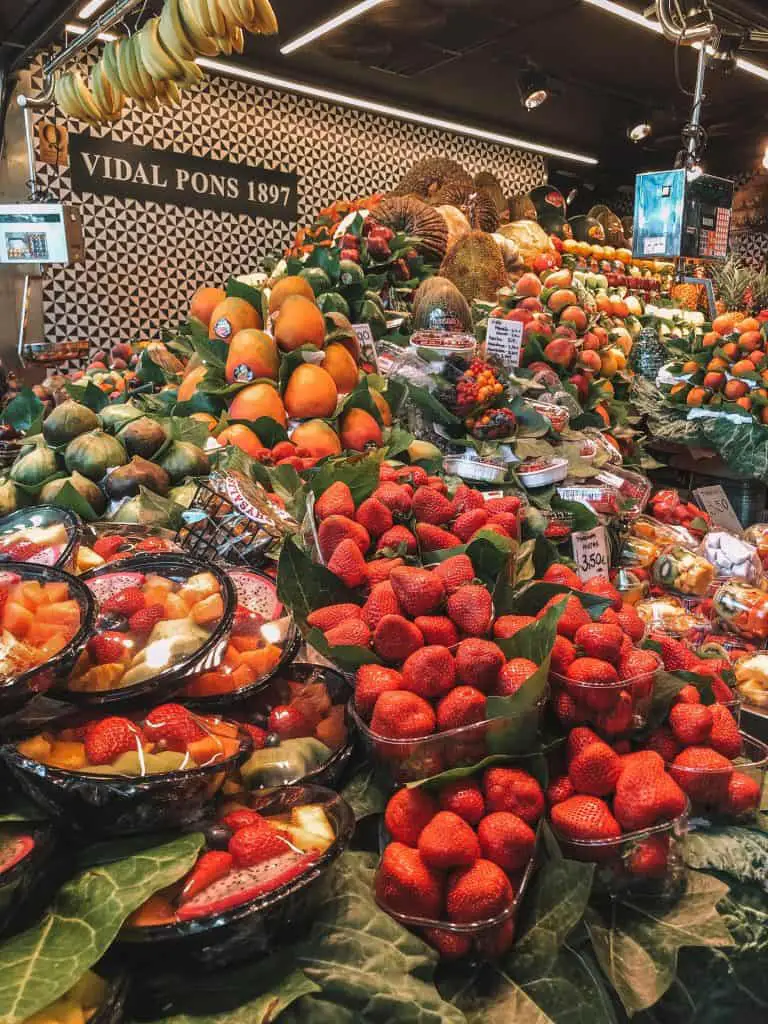 Barcelona Events
If you follow international soccer (or fútbol), then you know that the Barcelona team is talented and well-loved. If you are a big soccer fan or just love the atmosphere of sporting events, you can try to catch a fútbol Game at Camp Nou Stadium. This stadium is famous for being home to the Barcelona team, and you can count on having a great time at any game here. 
The Estadi Olímpic Lluís Companys is another stadium in Barcelona. This stadium is home to an amateur soccer team but was originally built for the 1929 International Exposition in Barcelona and was renovated in 1989 for the 1992 Olympics. Today, you can catch an amateur soccer game, concert, or other events. 
Events happen in Barcelona throughout the year, from music and film festivals to cultural events. You can either try to plan your trip around a fun event or see what is happening once you are there. You will likely find something fun and exciting to do on your trip to Barcelona. 
Best Foods in Barcelona, Spain
Barcelona is definitely known for its food. Eating in Barcelona is generally not too expensive for great meals. Famous regional foods that you should try while in Barcelona include:
Paella. A dish made of rice and fish. You can find this dish just about anywhere in Barcelona, but try to find a "mom and pop" restaurant rather than a chain to have a more authentic experience.  
Jamón Ibérico. This type of ham is said to be the best in the world. This ham is cured beautifully and deliciously. You should definitely try this meat while you are in Barcelona. 
Tapas. Tapas are small dishes of snack or appetizer food that you eat as your meal. This is a great way to try many different foods while you are visiting.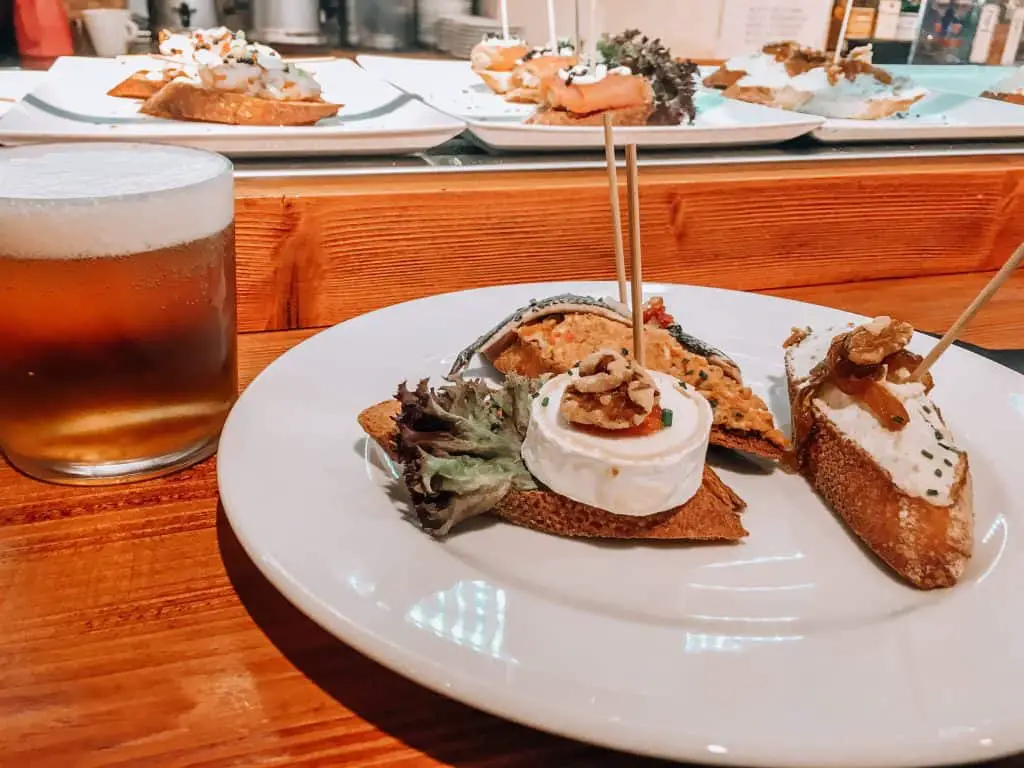 One great way to find a selection of restaurants is to do a tapas and wine walking tour like this one. We recommend doing this tour on one of your first nights in Barcelona so that you can return to any restaurants that you liked or heard about while on the tour. 
Where to Stay in Barcelona, Spain
There are so many options for places to stay in Barcelona, whether you want luxury or just the basics. You will be able to find the perfect accommodations for your needs anywhere in the city. Some hotel options include:
Hotel Arts Barcelona. This hotel on the coast has a unique architectural design and provides a luxury experience.
H10 Hotel. This hotel chain is based in Spain and has 15 locations in Barcelona. These hotels are more affordable than some luxury locations and give you the option to stay anywhere you want in the city, considering their wide reach.
Urban Sabadell. One hotel that offers luxury accommodations at an affordable price is the Urban Sabadell, which is about 30 minutes outside of downtown Barcelona. 
Once you decide on the activities and attractions that you want to do and see while in Barcelona, you can decide which hotel to book based on location. If you plan to get around by walking, you will want to stay at a central location. If you decide to stay outside of the city, remember that you will need to find a way to get into the city and account for travel time.
Traveling from Barcelona to Lisbon
There are several options for how you can travel between Barcelona and Lisbon. You will want to decide the best option for your trip based on your budget, schedule, and preference. In general, you can travel by:
If you have limited time and want to travel between the two cities as quickly as possible, you probably want to fly to Lisbon Airport or vice versa. TAP Air Portugal is a popular airline for flying between the two cities. You can expect to spend between $50 and $100 per person for a Barcelona to Lisbon flight, depending on how far in advance you purchase your ticket and when you plan to fly. The flight between the two cities is about two hours long. 
Another popular transportation option is to travel by train. The journey from Barcelona to Lisbon by train usually takes a full day, so make sure you have room for this in your schedule. This option can be more expensive than flying, but you get to see more scenery between the two cities. When I did this trip, I took the overnight train and enjoyed it because it felt like I didn't waste a full day traveling. 
Lastly, you could take a bus between Barcelona and Lisbon. This option takes the longest, though you do get to see the scenery between the two cities. You can usually find inexpensive tickets for this option, making it the most budget-friendly. Keep in mind that the trip will probably take over 30 hours, so make sure it fits into your itinerary. 
Top Activities in Lisbon, Portugal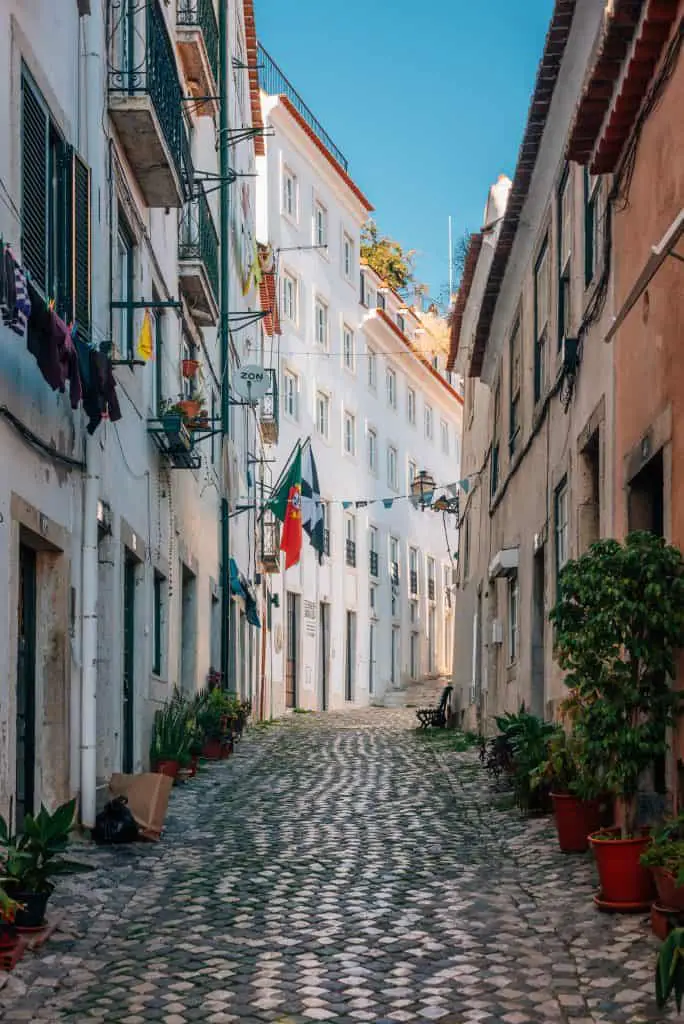 When visiting Lisbon, Portugal, you will want to plan a few attractions and activities to do each day for about five days, just as you did for Barcelona. The major attractions that we will describe here can be organized into: 
Historic Landmarks
Museums
Other Activities
Lisbon has a rich history and culture that you can learn about and experience through these attractions. 
Historic Lisbon Landmarks
The elevador de Santa Justa is an elegant wrought-iron elevator that was built in the early 1900s. The elevator goes up seven stories and can transport from the Baxia district to Largo do Carmo. This elevator used to be an important piece of transportation infrastructure, but today is more of a tourist attraction. The elevator is beautiful and offers great views of the city from the top.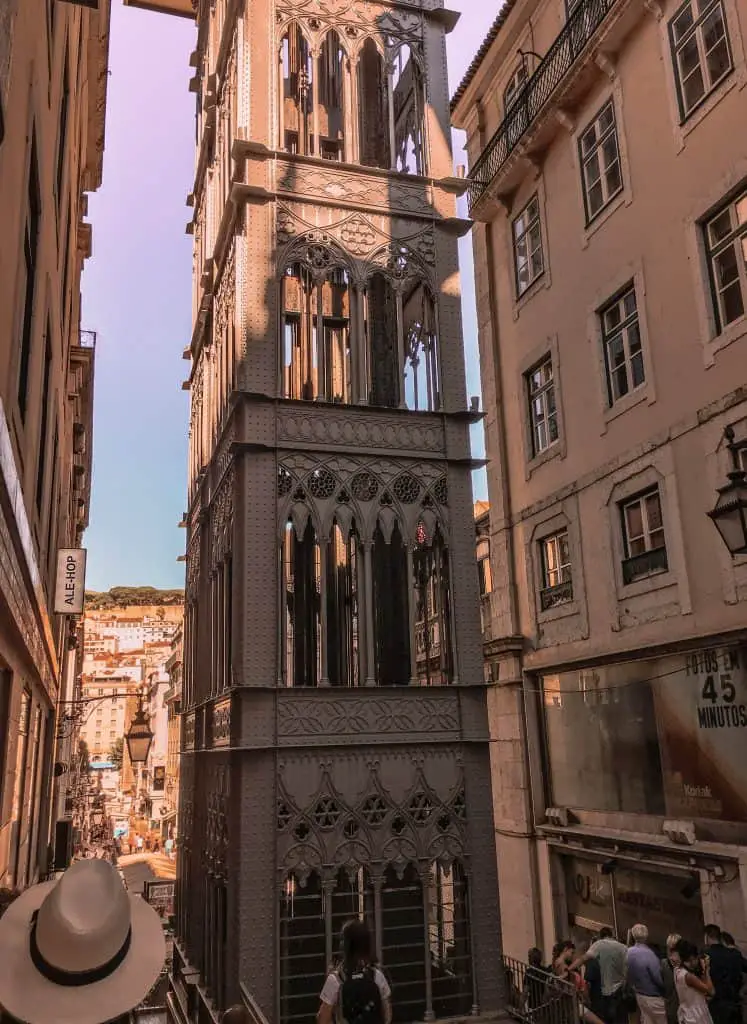 The Castelo de São Jorge is a large castle with several towers. The castle site shows evidence of humans living in the area as far back as the 7th or 8th century BC. You can visit the castle and grounds to learn more about its history and regional significance.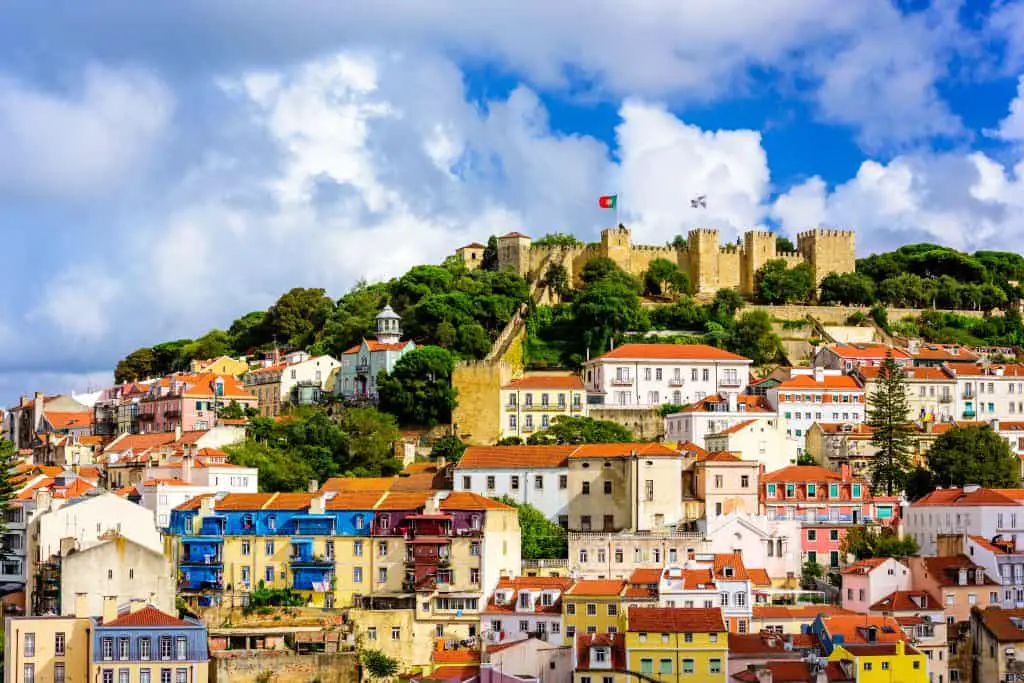 The Mosteiro dos Jerónimos is a large and beautiful monastery with historical significance. Vasco da Gama stayed here before his exploration of the Far East. The monastery itself is very decorative and has intricate arches and architectural elements. You should plan to spend two to three hours here because it is so large and can get crowded with visitors.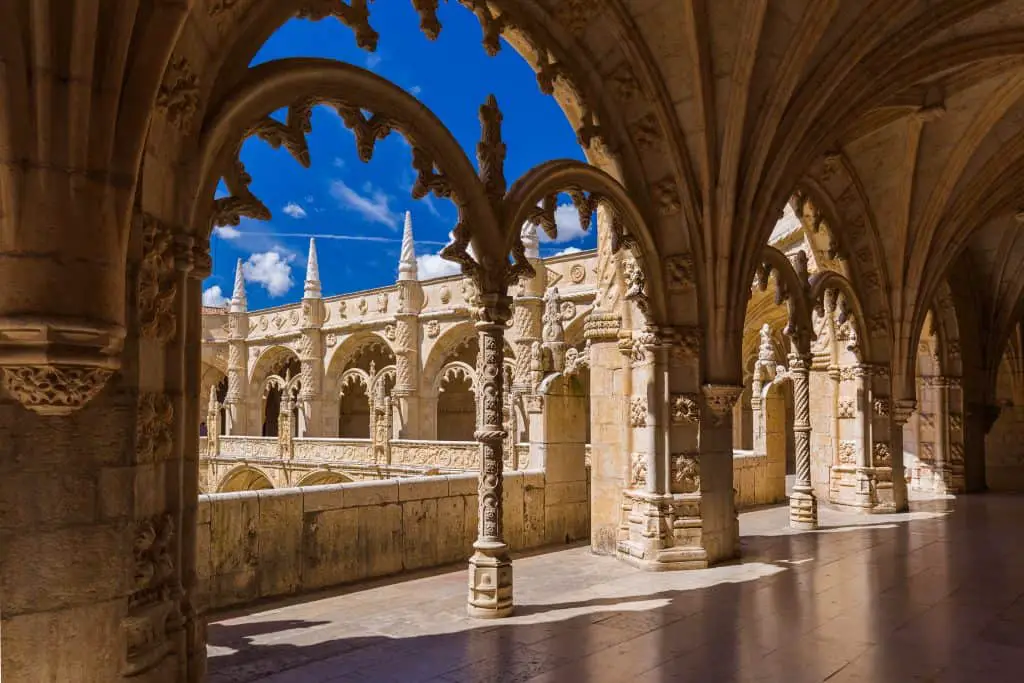 Lisbon also has a few monuments that are replicas of others around the world. One example is Lisbon's Christ the Redeemer statue, inspired by the same monument in Brazil. Another is the Ponte 25 de Abril suspension bridge, closely resembling the Golden Gate Bridge in San Francisco.
The Moorish Castle was built in the 9th century by the Moors. The castle has a unique design that combines Islamic and European influences, and beautiful gardens surround it. Visitors can explore the castle's many rooms and chambers and enjoy views of Lisbon from the top of the castle walls. The Moorish Castle is one of the must-see sights in Lisbon, and it is a great place to learn about Portugal's history and culture. 
Lisbon Museums to Visit
The Museu Nacional do Azulejo is also known as the National Tile Museum in English. Portugal is known for its traditional tile. These tiles can date back to around the 13th century and can be found around the country in architecture. Learn more about the tradition and see some beautiful tile work at the museum when you visit. 
The Museu Nacional de Arte Antiga is an ancient art museum that is definitely worth a visit. Learn about famous Portuguese artists from history at this museum. The museum has paintings, sculptures, furniture, and gardens. To see everything, you should spend about four hours here. You can spend less time if you just want to see some of the highlights. 
The Museu Calouste Gulbenkian is another art museum in Lisbon. This museum features art from all over the world. Some of the key art pieces here are over 2,000 years old and hold a lot of historical significance. Like the other museums mentioned, you could spend most of one day here or less, depending on your schedule. 
The Oceanário de Lisboa is the largest indoor aquarium in Europe. This aquarium was constructed as part of the 1998 world's fair. Visit here to see some amazing ocean life exhibits. Be sure to spend a few hours here if you plan to visit. 
Fun Lisbon Activities
The tram is a unique way to get around Lisbon that is fun for tourists to experience the narrow streets. The tram in Lisbon has been operating since 1873 and can take you all around downtown Lisbon and its city center. Take a look at the tram map and your itinerary to see if it would be possible to take the tram to any attractions or activities. If not, you can always ride the tram throughout the city for fun. If not, reserve about an hour so you can just ride the tram for fun throughout the city.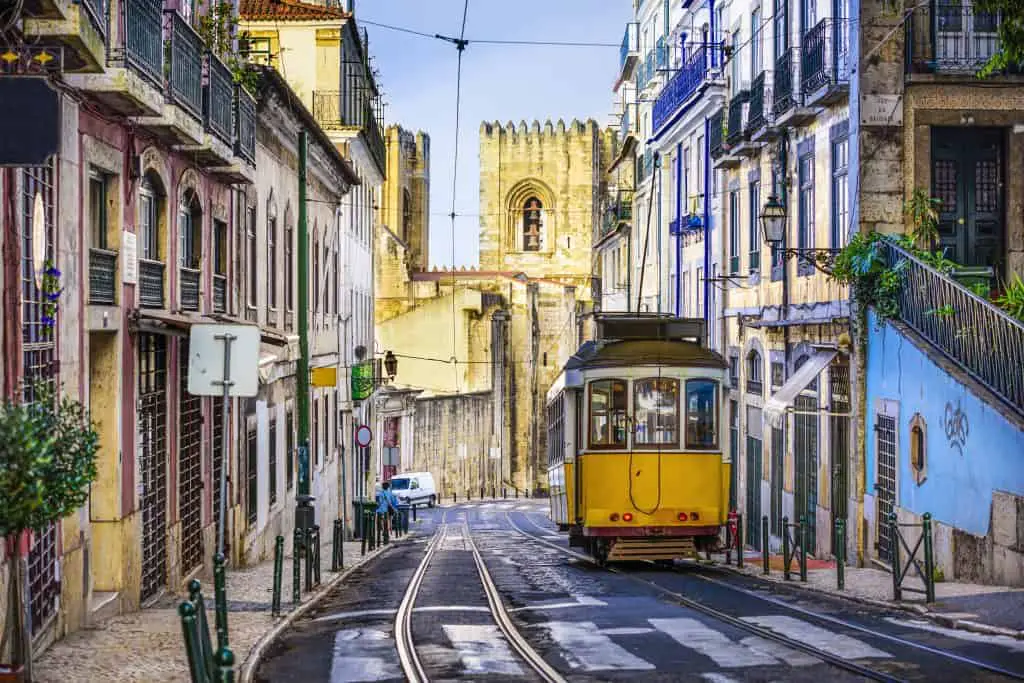 Belém is a neighborhood in the western part of Lisbon with many attractions. Spend a whole or half-day exploring the various attractions here. The Torre de Belém is a famous monument in the neighborhood. The tower is on the coast and, since the 16th century, has been a starting and ending point for Portuguese explorers.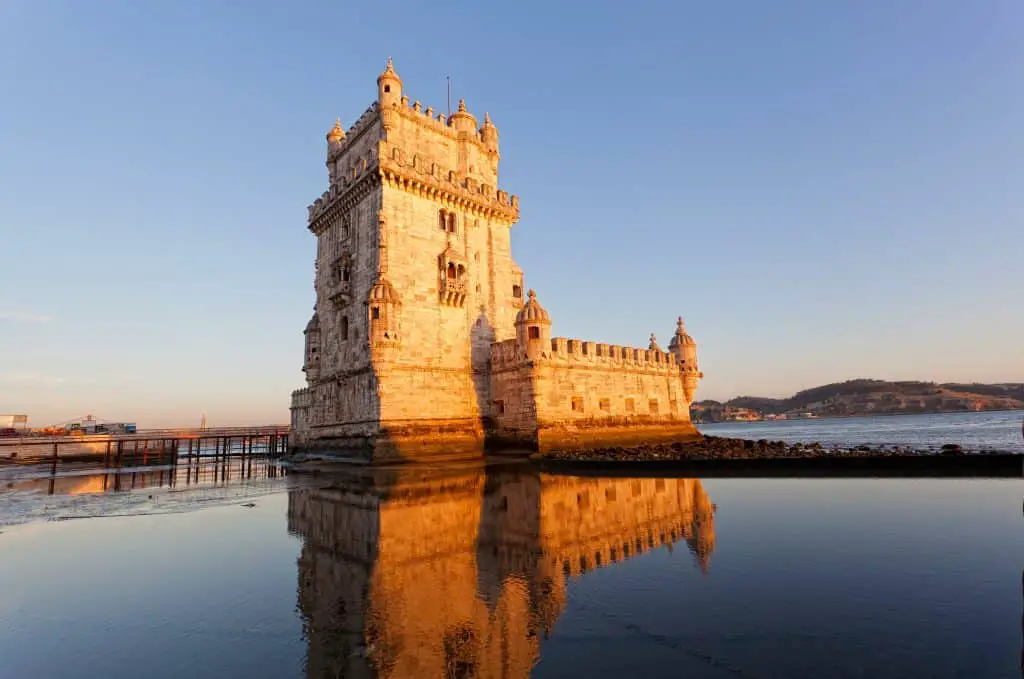 Alfama is another neighborhood in Lisbon that is popular with visitors. This region used to be a poor area of the city but is now an artsy district. There are several old cathedrals and other buildings to see in the area and narrow and interesting streets, making it a great neighborhood for a walking tour.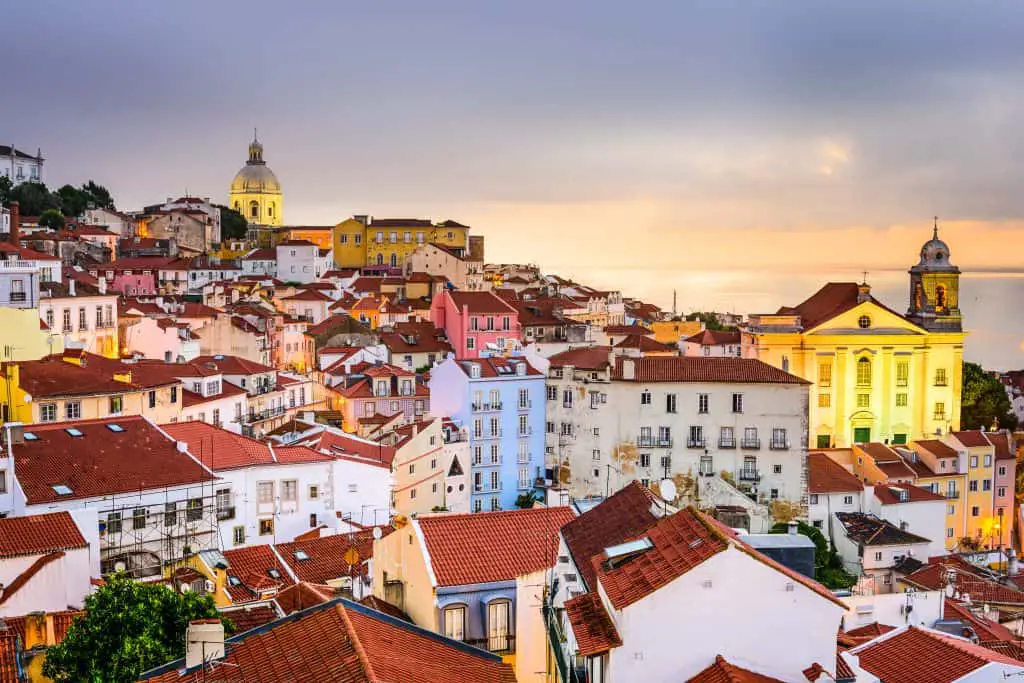 Best Foods in Lisbon, Portugal
Lisbon has a lot to offer in terms of culinary experiences. Some of the most famous dishes to try include:
Bifana. This is a simple sandwich made with thin slices of pork that have been slow-cooked and placed into a roll of bread. Some eat this plain, while others add mustard and other sauces. Either way, it is delicious.
Caldo Verde. If you're looking for a dish that Portugal is famous for, this would be it. It is a kale and sausage soup that you can find in pretty much any restaurant in the country. 
Bacalhau. This is the national dish of Portugal, and though there are many different ways to make it, the dish's base is salted cod. 
Just as in Barcelona, we recommend taking a food tour through Lisbon on one of your first nights in the city. This will likely allow you to try some of these famous dishes while sampling and learning about famous restaurants from your local tour guides. Of all the best food tours in Lisbon to choose from, we recommend this one. 
Where to Stay in Lisbon, Portugal
There are many options for places to stay in Lisbon. Lisbon offers lodging options that give luxury experiences and some with basic accommodations if you would rather be out exploring all day. You will be sure to find the perfect accommodations for your needs anywhere in the city. Some hotel options include:
Bairro Alto Hotel. This 5-star Lisbon hotel is located on the coast and offers beautiful ocean views and a luxury experience. 
My Story Hotel Ouro. This hotel is in an 18th-century building in downtown Lisbon, filled with history. This hotel has a lot to offer with an affordable price tag. 
Like in Barcelona, try to book your hotel based on your itinerary. Try to find accommodations that fit your budget and are centrally located.
Tips for Traveling in Spain or Portugal
Now that you are ready to take your trip, we have compiled a few tips to help you on your vacation. From important safety tips to cultural things you should know, these tips will help you not stand out as much as a tourist and help you have an even better time on your trip.
Safety Tips
When traveling anywhere in Europe, you should know that pickpocketing is common and that tourists are often targeted. Be sure to always be aware of your surroundings. Pickpockets will sometimes work in pairs, with one person doing a street performance or other distraction while someone else pickpockets you. 
To prevent this from happening to you, make sure everyone in your party is always paying attention to your surroundings and looking out for each other. You can also purchase a money belt to keep your passport and money safe. Wear this under your clothes. Lastly, don't leave your phone or other important items in your back pocket or in a bag that doesn't close. 
Stay safe by being aware and keeping valuable items out of sight. You might think it won't happen to you, but it could, and you will certainly stand out as a tourist and be more likely to be targeted. 
Eating is an Event
Before you travel to Spain and Portugal, you should know that eating generally takes much longer than what you are accustomed to in the United States. Both lunch and dinner usually take at least one hour, usually more. In these cities, eating is an event, not a necessity. Try to lean into the culture and enjoy your meals instead of trying to rush through them. 
Learn Some Spanish and Portuguese
While people living in these cities are used to tourists and will probably know some English, it is never a bad idea to learn some key phrases in the country's language where you are planning to travel. In either language, try to learn some of these key phrases that are helpful for travelers:
Hello and Goodbye
I would like…
How much does this cost?
Where is the exit?
I don't know very much Spanish/Portuguese 
I only speak English
In Barcelona, the official languages are Catalan and Spanish. Catalan is mostly spoken in official capacities, so you will likely be fine if you only speak Spanish while you are there. 
If you are learning some Portuguese, try to learn the accent for Portugal and not Brazil. While both countries technically speak the same language, the difference in accent can make the two seem like completely different languages. 
Stay at an Airbnb or VRBO Property
With the rise of the sharing economy, you have the option to stay at an apartment or condo in either Barcelona or Lisbon. This gives you many more options for places to stay. Many people also agree that staying in these accommodations makes you feel more like a local and gives you a more authentic experience. These lodging options are completely safe, and you should definitely consider them for your trip. 
Stop in Madrid During Your Barcelona to Lisbon Road Trip 
If you're planning a road trip from Barcelona to Lisbon, one city you won't want to miss in Madrid. Known as the "city of three cultures," Madrid is a unique melting pot of Spanish, Arabic, and Christian influences. With its central location, Madrid makes an ideal stopover point on your journey from Barcelona to Lisbon- so be sure to add it to your itinerary.
Mercado San Miguel
Madrid is a city full of culture, history, and great food. One of the best places to experience all of these things is at Mercado San Miguel. This traditional Spanish market is located in the heart of the city and offers a wide variety of delicious food and drink. stalls selling everything from fresh seafood to regional specialties. The market is also a great place to people-watch and soak up the lively atmosphere of Madrid. If you're looking for a truly unique experience, be sure to add Mercado San Miguel to your list of things to do in Madrid.
Royal Palace of Madrid
The Royal Palace of Madrid is one of the most popular tourist attractions in the city. Built in the 18th century, the palace was the official residence of the Spanish royal family until 1931. Today, it is open to the public and houses a number of museums, including the Museo del Prado and the Museo Reina Sofia. Visitors can also tour the royal apartments, which feature an opulent mix of art from different periods, and take in views of the palace gardens. The Royal Palace of Madrid is a must-see for anyone visiting Madrid.
Plaza Mayor
The Plaza Mayor is one of the most iconic landmarks in Madrid, and it's easy to see why. The grandiose building dates back to the 16th century and has been a gathering place for locals and visitors for centuries. Today, the Plaza Mayor is home to a variety of shops and restaurants, making it the perfect place to spend an afternoon exploring. If you're looking for a souvenir, plenty of stores sell traditional Spanish goods. And if you're feeling hungry, there are plenty of options for grabbing a bite to eat, from casual cafes to upscale restaurants. Whatever your plans, a visit to the Plaza Mayor is a must-do when exploring Madrid.
Prado Museum
The Prado Museum is one of the most popular tourist destinations in Madrid. The museum is home to an extensive collection of Spanish art and works by other European masters. Visitors can spend hours admiring the paintings, sculptures, and other artifacts on display. In addition, the museum offers a variety of educational programs and events throughout the year. As a result, the Prado Museum is an ideal destination for anyone interested in learning about Spanish art and culture.
You Might Also Enjoy the Following:
Final Thoughts for your Barcelona and Lisbon Itinerary
With this fantastic itinerary, you will be ready to plan your own trip to Barcelona and Lisbon. Whether you want every day to be filled to the brim with fun activities or spend most of your time sitting at a coffee shop and experiencing the city like a local, you can plan and experience the perfect vacation for you. Happy travels! 
If you're looking for another great 10-day trip idea, consider visiting the Hawaii Islands as your next destination.