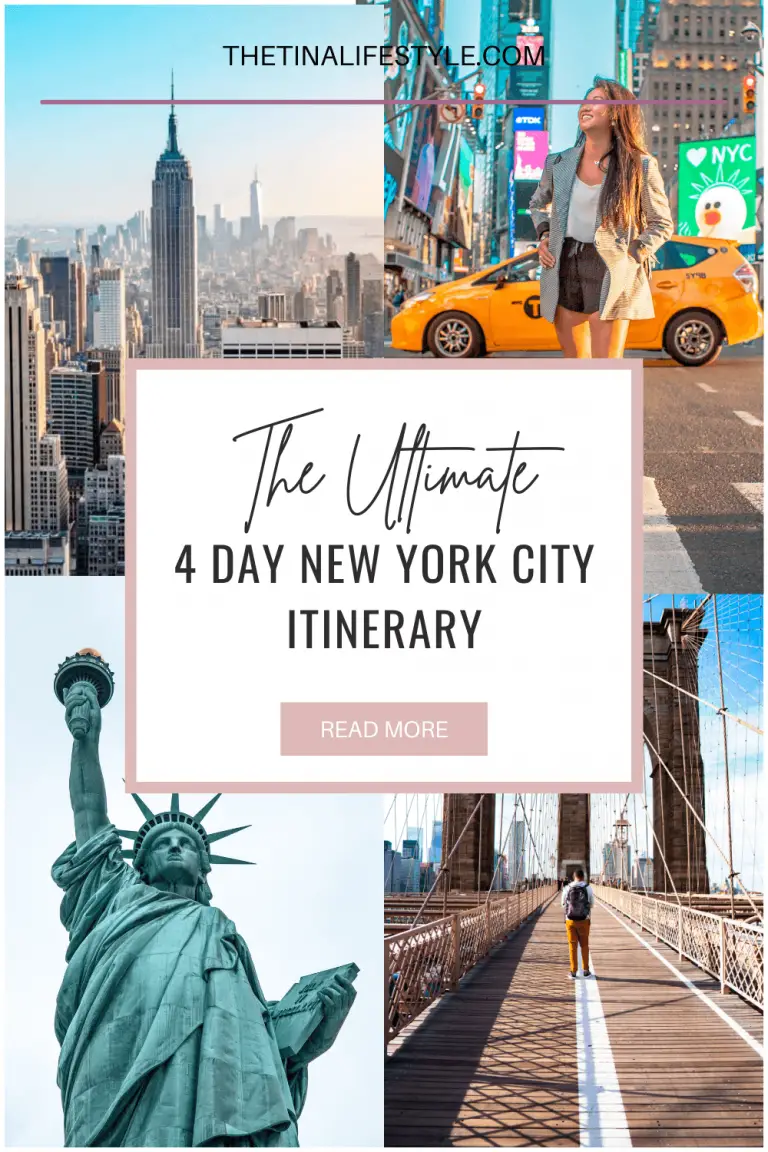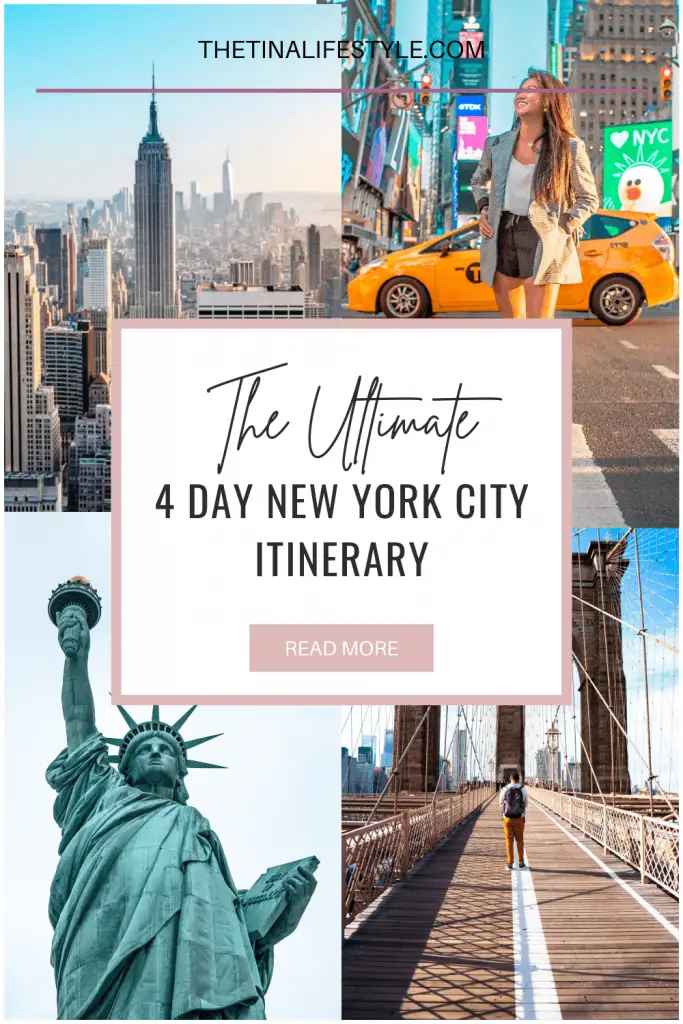 New York is a massive city, with tons to do, so much so that it would take weeks to see and do all of it.  But most people don't have weeks; in fact, many just plan for a couple days and need a 4-day New York itinerary. What you need is the best New York itinerary that will help you get around the city, and experience as much of it as possible. 
If you are taking a short, four-day trip to New York, You will not want to miss out on this NYC 4 day itinerary! Below, we will go over all the places that everyone sees that you surely will not want to miss.  We will also cover some lesser-known destinations that are well worth checking out and exploring.
This post contains some affiliate links. If you click on the product links and make a purchase, it allows me to make a small commission at no extra cost to you! In return, it helps me in maintaining this site to continue to help you!
Why You Should Go to New York City
New York City, one of the most famous cities in the world, truly lives up to the legend that it has become in media and pop-culture.
The attractions are breathtaking, and they are seemingly endless.
The world class food is fantastic. 
It has a living, breathing history.
It is truly diverse, and you will see people from all walks of life.
New York City is magic, and walking through the city for the first time is surreal.  
Seeing the city from a screen is one thing, but being there and experiencing it yourself is not something you will want to miss.
It can be overwhelming, though. That is why you should know the places to go and have a plan of action and have a New York Itinerary before you go.
You might also enjoy: Helicopter Tours to Try in the USA
Best Places to Stay in New York City 
One of the most important things about planning a vacation is finding a place to stay.
To help you out, we will show you some options for accommodations in Manhattan and Brooklyn.
In Manhattan
Holiday Inn New York City- Times Square
JW Marriott Essex House New York, Located Next to Central park
In Brooklyn
Holiday Inn Brooklyn Downtown
1 Hotel Brooklyn Bridge
Day 1 of Your 4 day New York Itinerary 
For day one, we will direct you to the major sites you will want to see while you are in New York City.  These are the New York City landmarks, that you cannot miss.
For a Historical Adventure, Visit Elis Island, and the Statue of Liberty
I'd recommend starting the day off exploring Ellis Island and the Statue of Liberty.
Ferries to these islands depart from Battery Park in New York.
Ellis Island is a living history.  The building is beautifully restored, with many interesting exhibits to explore.  You feel as though you are stepping back in time.
When you are there you will:
Walk through the same building that thousands of immigrants came through before entering the United States.
Read the histories of many immigrants that came through Ellis Island.
View the personal effects of many that came through the island. 
See the stuffed dormitories in which they slept.
You will even sit on the same benches these immigrants and possibly your ancestors sat on all those years ago.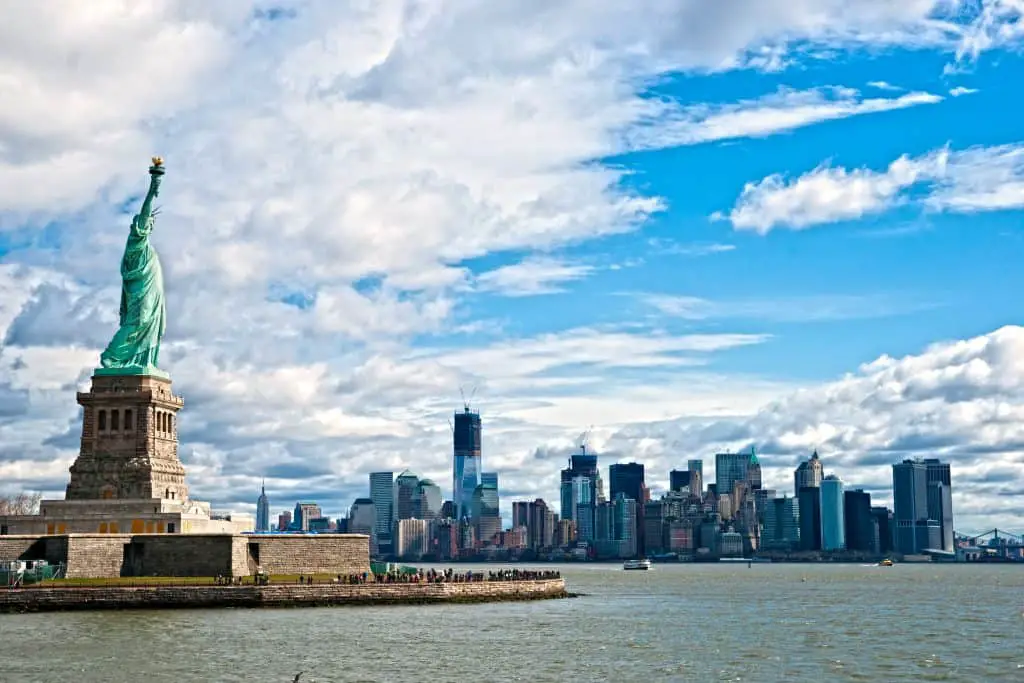 The Statue of Liberty is a must see too! Often, tickets for the statue and Ellis Island come as a package deal. It is pretty incredible to see in person, and if you have the time, it is an experience that you will not want to miss out on!
The statue itself is incredible all on its own; you really cannot comprehend its true magnitude until you are standing right below it.  If you get the tickets for the statue's interior, you will be able to walk through their museum that gives you a history of the statue.  
You will also be able to go into the viewing deck of the statue, where you will literally stand at the feet of Lady Liberty.  From here, you will have a beautiful skyline view of the city.
Tickets for both experiences can be found here.
For a Moving Experience, Visit the 9/11 Memorial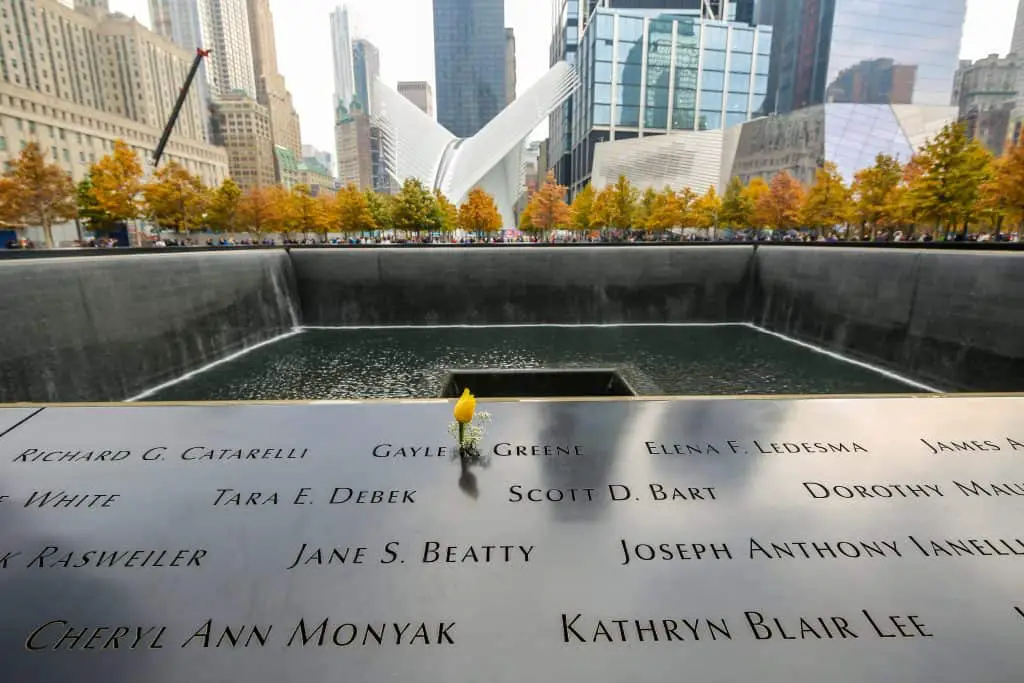 The 9/11 memorial is located on the Hudson River in Lower Manhattan, where the Twin Towers used to stand.  
They have a beautiful memorial area.  Two reflecting pools sit there, sunken into the ground, a waterfall constantly cascades water into the pool.  Around each pool is a stone monument engraved with the names of all that died.  It is free to view this memorial.
Right next to the ponds is the 9/11 memorial museum. Open Saturday-Sunday, this museum tells the story of all that happened on that day. To keep this exhibit running, they do charge for admission, but the prices are relatively low.
It would be wise to buy these tickets ahead of time on their website.
There are groups given special consideration, though.  The museum is free for:
9/11 Family Members
Museum Members
9/11 Rescue and Recovery Workers
The museum is also free to everyone on Mondays.  
Both the memorial and museum are open 10 a.m.-5 p.m. Saturday to Sunday.
Located next to these memorials is the One World Trade Center, a true monolith of a building that you must see to fully comprehend its magnitude. 
Check Out Tribeca
After the 9/11 memorial, you will probably need to decompress.
For this, I recommend strolling through Tribeca.
Tribeca is a quaint neighborhood of old brownstone houses.  
If you are hungry, check out the Israeli restaurant called Nish Nush.
Visit Chinatown, and See Its Sights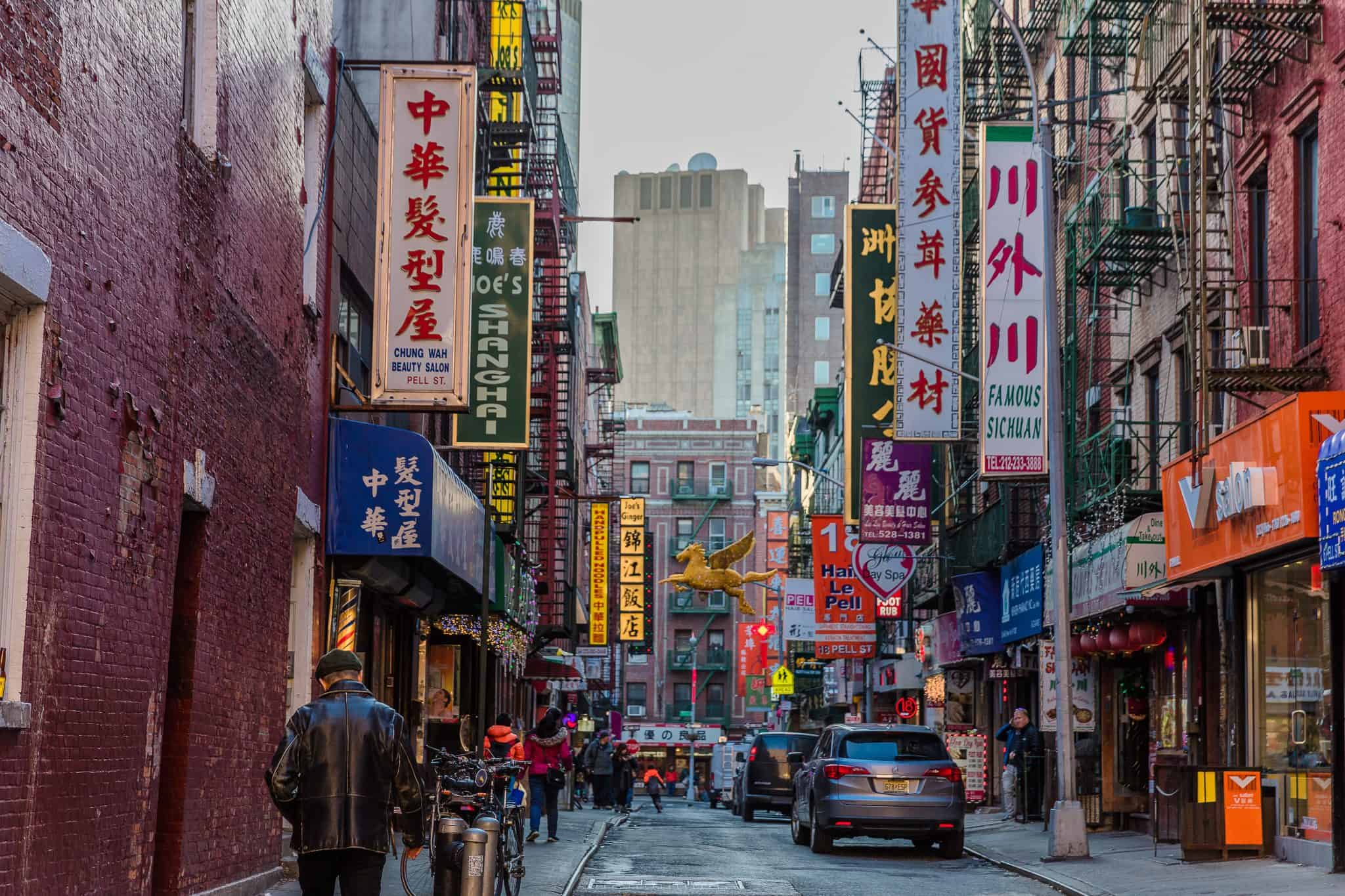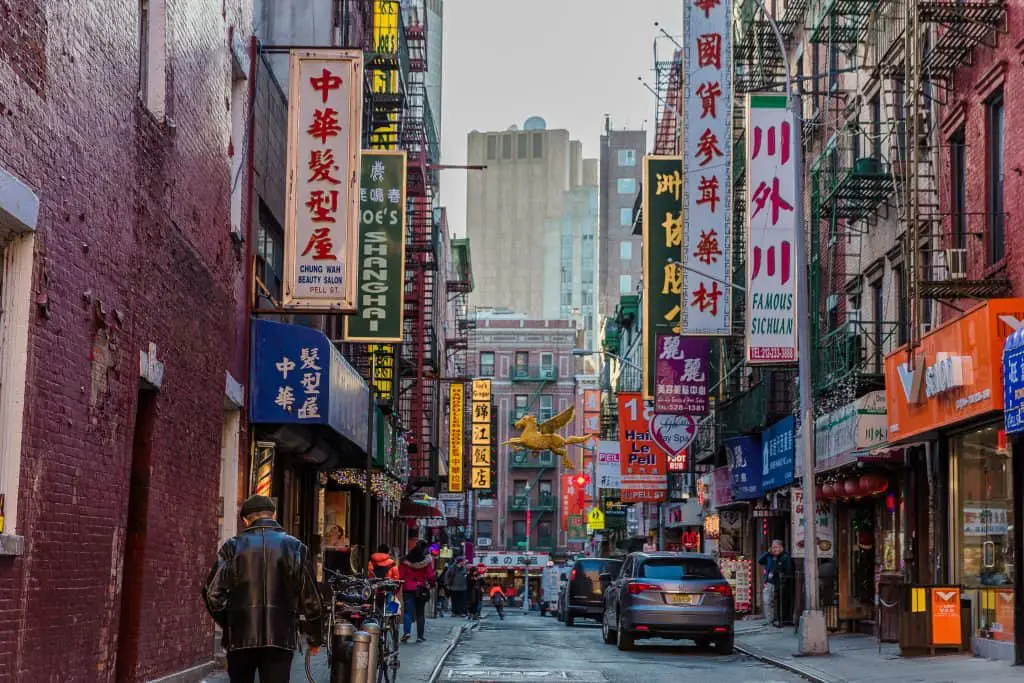 Next on your stop on your NYC 4-day itinerary is Chinatown.  It is about a 1 mile walk or drive away from Tribeca. Founded in the 1800s, Chinatown now has the highest concentration of Chinese People in the Western Hemisphere. 
One place in Chinatown that you may want to visit is the Museum of Chinese in the Americas. This museum exhibits Chinese American history and presents the heritage, culture, and experiences of Chinese Americans.  The tickets are low priced too and are found on their website.
If you have any interest in Chinese history in the Americas, this museum is well worth a visit. 
For those who want to stay outdoors, Chinatown is also home to Columbus Park. This beautiful park is a great place to sit and relax before moving onto other parts of the city. 
If you are hungry, Chinatown has a plethora of fantastic restaurants and markets such as:
Visit Little Italy Too
Founded in the 1800s, Little Italy is where many Italian immigrants settled.  Today, it is more a tourist destination, but it is still worth exploring!  
Little Italy is home to Mulberry Street, known for its great restaurants and shopping.
It is also home to many outstanding restaurants such as:
Ferrara Bakery & Café, a family-operated café with brunch items, sells baked goods and has various drinks ranging from red wines to coffee to sodas. 
Paesano, old-world Italian recipes brought to life right here in New York City.
Da Nico Ristorante, a restaurant serving delicious dishes frequented by Native New Yorkers, including famous ones such as Yankees team members.
If you don't eat in Tribeca or Chinatown, you need to grab a small bite in Little Italy. You won't want to miss out on what it has to offer!
Also, in 2021, the American Italian Museum will be opening in Little Italy.  If it is open during your visit, it will be well worth checking out. 
You Must Go to the Empire State Building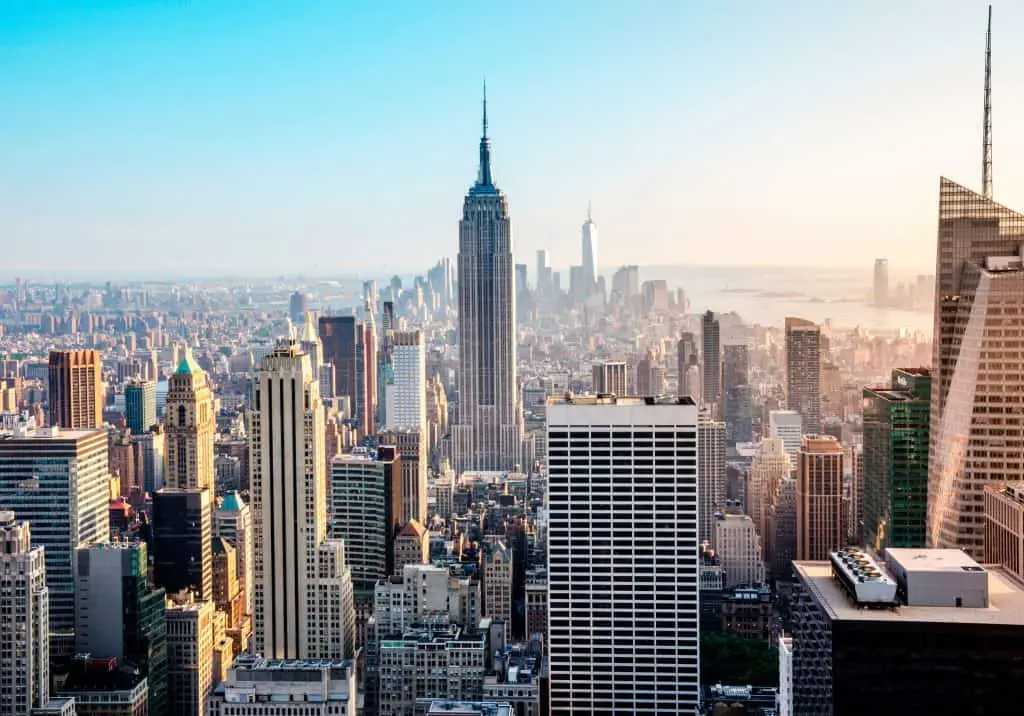 The symbol of New York City, the Empire State Building.  A trip to New York would be incomplete if you missed it, so you must add it to your NYC itinerary.
If you go there from Little Italy, it is a 17-minute 2.5-mile drive or a 48-minute walk.  Take the cab if you want to relax, but if you are up for exploration, I recommend walking.  You will see more of the city and the people who live there! 
The Empire State is a truly astounding piece of art deco architecture!  Seeing it from the outside for the first time makes you feel as though you have stepped into a movie.  Although the building itself is interesting to see, if you can afford the high ticket cost, I highly recommend going up to the observatory.
As you ride the elevator to the top, you are shown an animated history of the building. The animation shows the Empire State Building being built as you launch into the sky. A quick history of the building is included in the video. 
Once you arrive at the observatory, you will see that view from the top can't be beat! Everything looks so small, which is a stark contrast from the view on the ground below. From the observatory, as long as the sky is clear, you can see five states!
New York
New Jersey
Connecticut
Pennsylvania
Massachusetts
The Empire State Building is not something you will want to pass up on. 
Relax at Central Park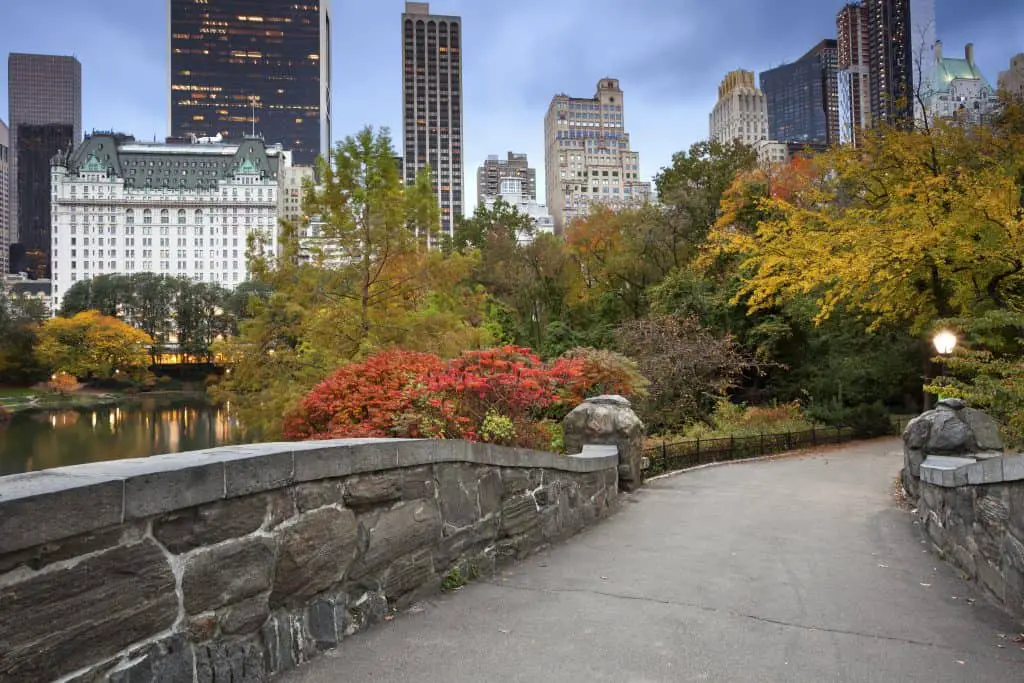 Central Park is another staple of NYC that you must include in your 4-day itinerary plans.
When you go into the park, it is like you are transported into another world.  You go from a massive concrete jungle to a serene little chunk of nature.  From some areas of the park, you can't even see the city! 
The park is home to fantastic street musicians and show-people.  There are tons of areas where you can just sit down and relax, taking in the sights and sounds of nature.  There are also paid activities you can do, such as boating in Central Park Lake and visiting the Central Park Zoo.
Explore the Upper East Side
While you are near Central Park, you should check out the rest of the upper east side.
The upper east side has Museum Mile, which has world famous museums such as the Metropolitan Museum of Art, aka The Met. The ticket prices for the museum can be found here.
The Upper Eastside is also home to Madison Avenue, known for its fashion boutiques which include: CHANEL, GIORGIO ARMANI and J. Crew Collection.
Last and Certainly Not Least, Times Square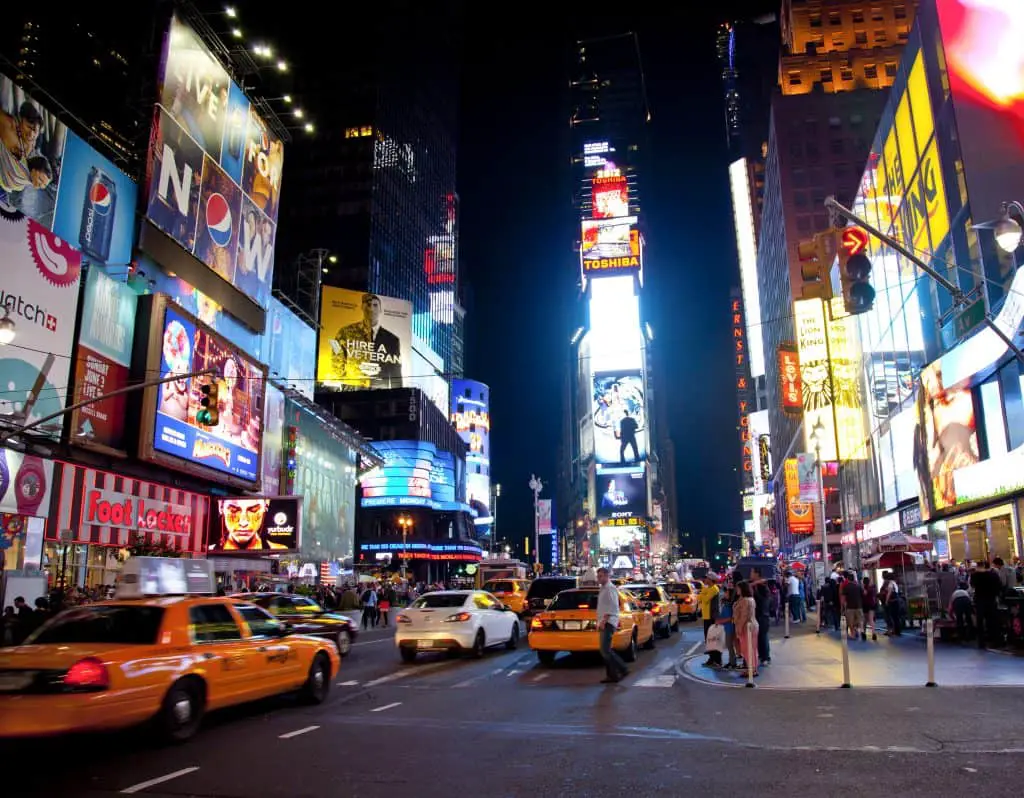 Just a mile south of Central Park, Times Square is, admittedly, a bit of a tourist trap, with multiple gift shops, thousands of people, and vendors trying to sell you knock-off goods.
Despite this, it is still work checking out, even if you just go for a few minutes.  It is pretty interesting to see the buzz of the city, the flash of the advertisements, and the massive crowds that come to see this famous part of the city. It is truly iconic.
If you arrive here and decide that you want to spend some time in Times Square, there are some stores and restaurants that you may want to check out.  
A favorite place in Times Square is the Guitar Center.  With walls full of instruments, it is a little slice of heaven for any musician. 
Other interesting places include: 
To finish off the day, you should also check out one of the many restaurants in Times Square.  Some of the top-rated restaurants that you should consider checking out are:
If these don't strike your interest, there are many other restaurants for you to choose from.  There is something for everyone. 
That about sums it up for the first day.  Get a good night's rest so you can be ready to explore Brooklyn tomorrow.
Day 2 of Your 4 Day New York Itinerary
On day two, we will go to some other popular areas of the city.  
Go to the Brooklyn Bridge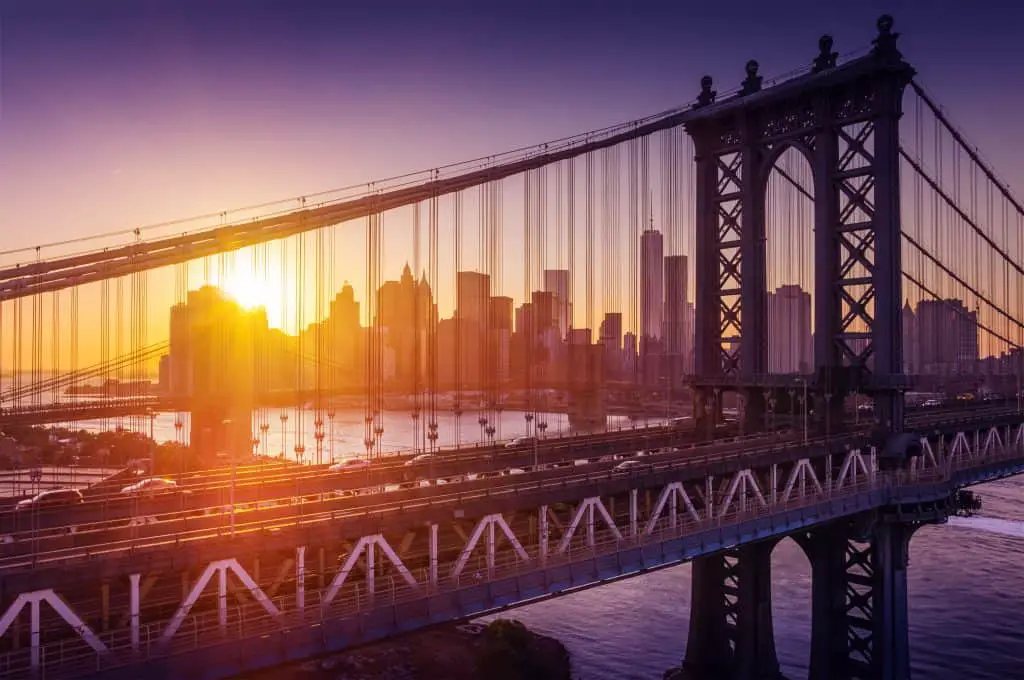 Another famous New York site that you will want to see is the Brooklyn Bridge.  It is over the East River and connects Manhattan and Brooklyn.
You can drive or walk over the bridge.  I recommend walking across the Brooklyn BBridge because you get a great view of the city from it.
Visit the Brooklyn Flea Market
Located just around the Brooklyn Bridge corner, the Flea Market is a great place to begin your day in Brooklyn.  It is rated as one of the best markets in the U.S. and the World by magazines such as Country Living and Budget Travel. 
The flea market vendors sell a plethora of items such as:
Furniture
Vintage Clothing
Jewelry
Collectables
Antiques
There are also food vendors on site if you get hungry. 
There is no entrance fee, so you can just head over and check out all that the market has to offer.  If you want to bring a souvenir home, this would be a great place to look for one!
It should be noted that the flea market is only open on the weekend, from 10 a.m.-6 p.m.  So, if you want to visit this top attraction, make sure you plan to be there on a Saturday or Sunday.
Visit the Brooklyn Museum
Next, you should visit the Brooklyn Museum.
It is an art museum located in Crown Heights.  They feature many art exhibits such as:
Ancient Egyptian Art
European Art
Design: 1880 to Now
Assyrian Art
The ticket prices can be found here.
Even if you are not big on going to an art museum, it is worth driving by just to see the building. The grey stone and Beaux-Arts architecture make for an impressive sight.
Brooklyn Botanic Garden
The Brooklyn Botanic Garden, founded in 1910, is located right next to the Brooklyn Museum. 
The garden is 52 acres and features a wide variety of flowers and plant life, beautiful ponds, and peaceful sitting areas that come together to create a peaceful reprieve from the buzz of Brooklyn. 
For those that are interested in going, the ticket prices can be found here.
Grab a Bite to Eat
After exploring the museum and garden, you will probably want to get a bite to eat.  You don't have to go far for food. There are several options to choose from that are right nearby the museum.
Any of these restaurants will be a great option for lunch.  Even if none of these strike your fancy, there are numerous restaurants near the museum and around Brooklyn that you can choose from.
Coney Island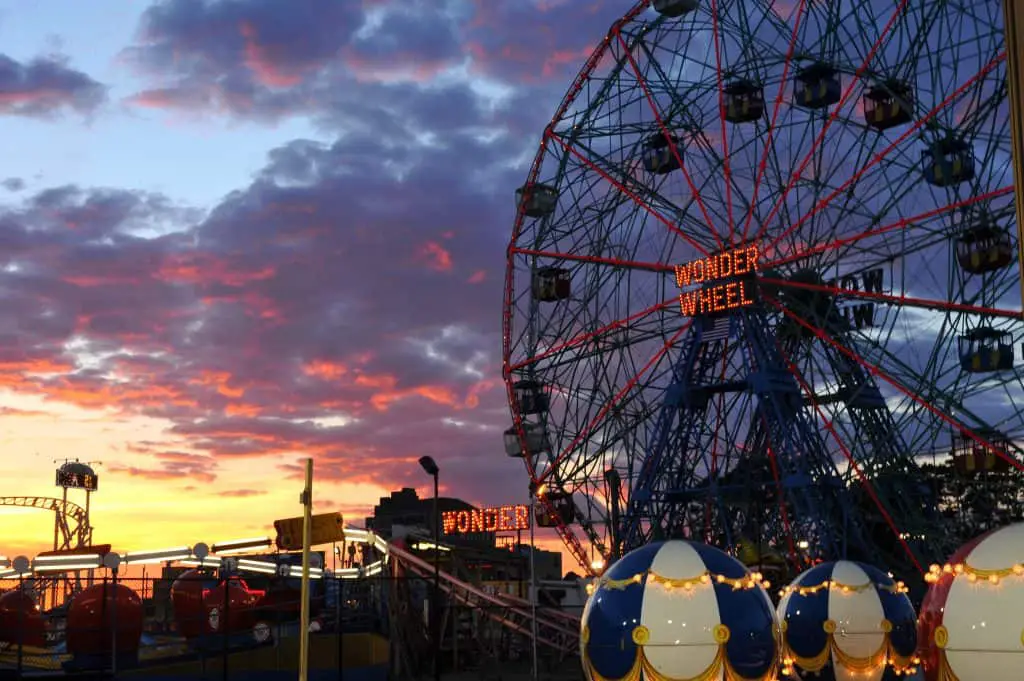 The last stop for day 2 is Coney Island.  
Located on the southern end on Brooklyn, the famous coney island carnival has rides, food stands, games, and more.
Whether you are with a significant other, friends, or with your family, Coney Island is fun for everybody.  
Spend the afternoon and evening exploring all that this fun section of New York has to offer.  Ride the rollercoasters, compete with people in the games, and enjoy delicious carnival food while looking out over the water.
Coney Island is not something that you will want to overlook on your 4 days in New York itinerary.
Day 3 of Your 4 Day New York Itinerary: Off the Beaten Path
For day three, we will cover some sights that most people who visit New York never see.
Make a Trip to the National Lighthouse Museum
The National Lighthouse Museum is a small, unique destination that is worth checking out.
Located on the grounds of the former U.S. Lighthouse Service Depot, this unique museum will give you knowledge on an interesting niche topic of history.  Some things you will learn about include:
The History of Beacons 
How the Lighthouses got Supplies
Life of Lighthouse Keeper
The tickets are exceptionally low priced, too, making this fun little adventure even more worthwhile. 
Staten Island Zoo
Another great destination in Staten Island is the Staten Island Zoo, located just a few miles west of the national lighthouse museum.
The zoo features a variety of exhibits, both indoor and outdoor. They have a virtual zoo, where the zookeepers host livestreams with cameos from different animals!
They host events, such as guest speaker presentations and Q&As.  Currently, many of the events are held virtually, so you can check them out even before arriving in New York City.
Currently, you must reserve a ticket before going.  The tickets are very reasonable though, as all of them are ten dollars or less. 
Restaurants to Visit
If you are looking for something to eat that isn't fast food, you have several options to choose from.
There are a few great lunch options on the island:
Duffy's is a pub near the zoo that is known for its half-pound burgers. 
Lee's Tavern is a small pub that is known for its pizzas.
The Original Goodfella's Brick Oven Pizza is a local joint that cooks its pizzas to perfection in their brick oven.
Walk into the Past at Historic Richmond Town
Historic Richmond Town is a 100-acre chunk of Staten Island dedicated to presenting a living history to all its visitors.
On-sight they have thirty historic buildings dating from the 17th century to the early 20th century.
They also have on-location artisans that dress in period-accurate clothing. They show how different jobs such as carpentry and blacksmithing were done in the past.
On weekends, you can reserve a guided tour that can accommodate up to six people.
If you have any interest in history, then Historic Richmond Town is something that you will not want to leave out during your 4 days in New York City.
If you want a quick bite to eat, they also have a dining spot on location. It is called The Bennett Café. 
If you are looking to eat something off-site, there are nearby restaurants that are worth trying, such as:
Cucina Fresca, a restaurant selling a variety of well-known Italian dishes. 
Canlon's, a restaurant that takes inspiration from Italian, German, French, and American cuisine. 
Casa Verde Restaurant,  an Italian restaurant with an at-home that makes you feel like you are right in your own home.
Day 4 of Your 4 Day New York Itinerary 
On day four, you will become one with the locals.  Aside from one location, Citi stadium, these are some of the places that only locals visit.  
Flushing is for the Fans
If you love baseball, then you need to work Flushing Queens into your 4-day New York itinerary. 
Flushing is the location of Citi Field, home of the famous New York Mets. If you are a baseball fan and go during baseball season it would be well worth checking out a game!
For those who want to learn about the stadium, they host:
Non-gameday public tours
Gameday Public Tours
Private Tours
Even if you are not a baseball fan, there are other places to check out in Flushing such as:
There are also several dining options in case you get hungry while checking out Flushing.  Some options include:
See What Astoria has In Store
Astoria is another interesting place in Queens that you may want to check out. 
This small part of Queens is near the East River and offers a view of the city skyline.
One of the most interesting destinations here is the Museum of the Moving Image, which is "The country's only museum dedicated to the art, history, technique, and technology of the moving image in all its forms… ranging from 19th century optical toys to the latest in digital art."  They also have events such as movie screenings. 
If you are a film fan, this is the place that you will want to go!
There is another interesting spot called The Letlove Inn. This is a local, relatively unknown bar that features live musicians each week.
End the Trip with a Visit to Long Island City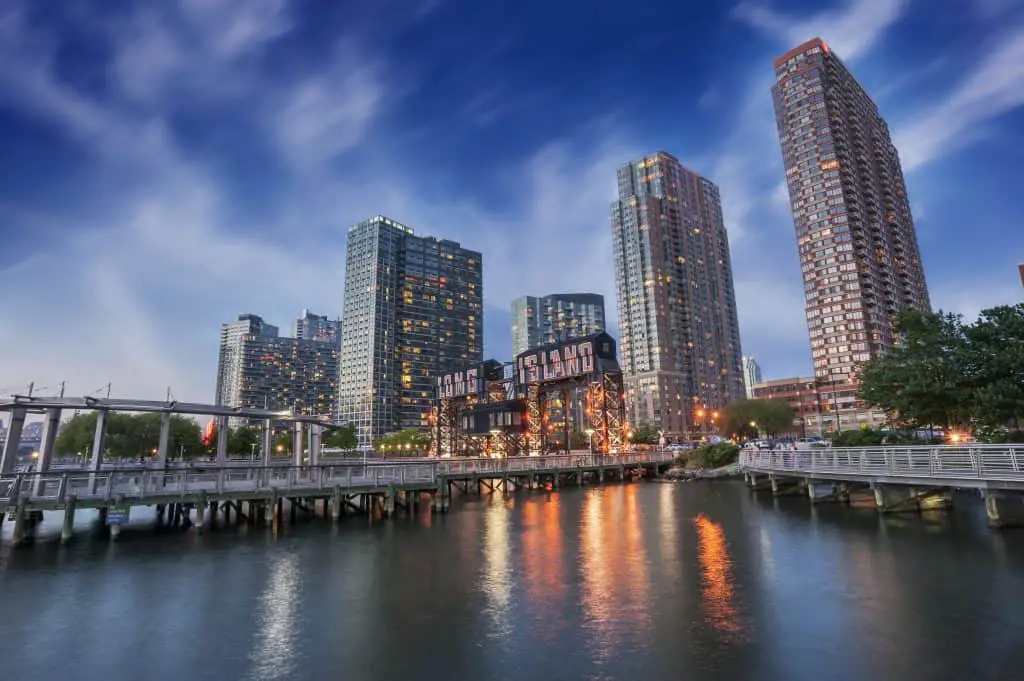 Long Island City is the final destination on this 4-day New York itinerary.
Long Island City has a variety of places to visit such as:
There are also many great restaurants to finish your day with, such as:
Maiella, elegant restaurant selling Italian dishes with a modern flare.
Blend on the water– a Latin Fusion restaurant, taking cuisine inspiration from all Latin countries.
HUPO– a restaurant selling Sichuan Chinese food.
That about sums it up for our 4-day New York Itinerary.  Don't leave yet though, we have a little more information that I know you won't want to miss. 
Other New York City Things To Do 
Washington Square Park
Grand Central Terminal 
New York Public Library 
Radio City Music Hall
Brooklyn Bridge Park 
Chelsea Market 
Museum of Modern Art
New York Stock Exchange on Wall Street in the Financial District
Staten Island Ferry
The Best Time to Visit New York City
Anytime is a great time to visit New York City.  The time you visit though really depends on the activities you want to do and the things that you want to see.
Spring in New York City : Spring is right when the city is starting to warm up.  Events during this time include Macy's Flower Show and The Tribeca Film Festival. It is also a great time to go if you are a baseball fan, so that you can see the Mets or Yankees play. 
Summer in New York City : A summer vacation to NYC is great.  It is also perfect if you don't want to deal with cold weather.  Some events include Shakespeare in the Park and Macy's Fourth of July Fireworks.  Also, you could catch some baseball games during summer too.
Fall in New York City : If you want to venture through Central Park and see the leaves changing color, fall is the perfect time to go.  During this time, there are also major events such as the Macy's Thanksgiving Day Parade. 
Winter in New York City : If you love Christmas, then this is the perfect time to go. You'll love spending Christmas in New York. There are also so many things to do in NYC in December.  The whole city will be decked out for the holiday season, you can visit Santaland at Macy's, and ice skate at the Rockefeller Center under the Rockefeller Christmas tree. 
No matter what time of year you go though, you are guaranteed to have a great time in New York.  There is something for everyone, and it is an adventure that you will not soon forget.
You might also enjoy: 24 Free Things to do in NYC
Final Thoughts For Your 4 Day New York Itinerary 
A vacation to New York City is something that you will never forget. We hope you found this 4-day NYC itinerary helpful.
When you go, as part of your 4-day New York itinerary, make sure to see the major sites such as the Empire State Building and Central Park.  A trip to New York would be incomplete without these. 
On the other side of the coin, make sure you spend time just exploring the city too.  The tourist destinations are great, but make sure you don't spend all of your time there.  Sometimes the best memories come from the places you find off the beaten path.