Kauai, known as The Garden Island, is one of the Hawaiian Islands. It offers some of the most unmatched scenery of any destination on the planet. If you're limited in the amount of time you can spend on the Hawaiian island, and looking for a Kauai itinerary, the following guide can help you make the most of your 3 days in Kauai.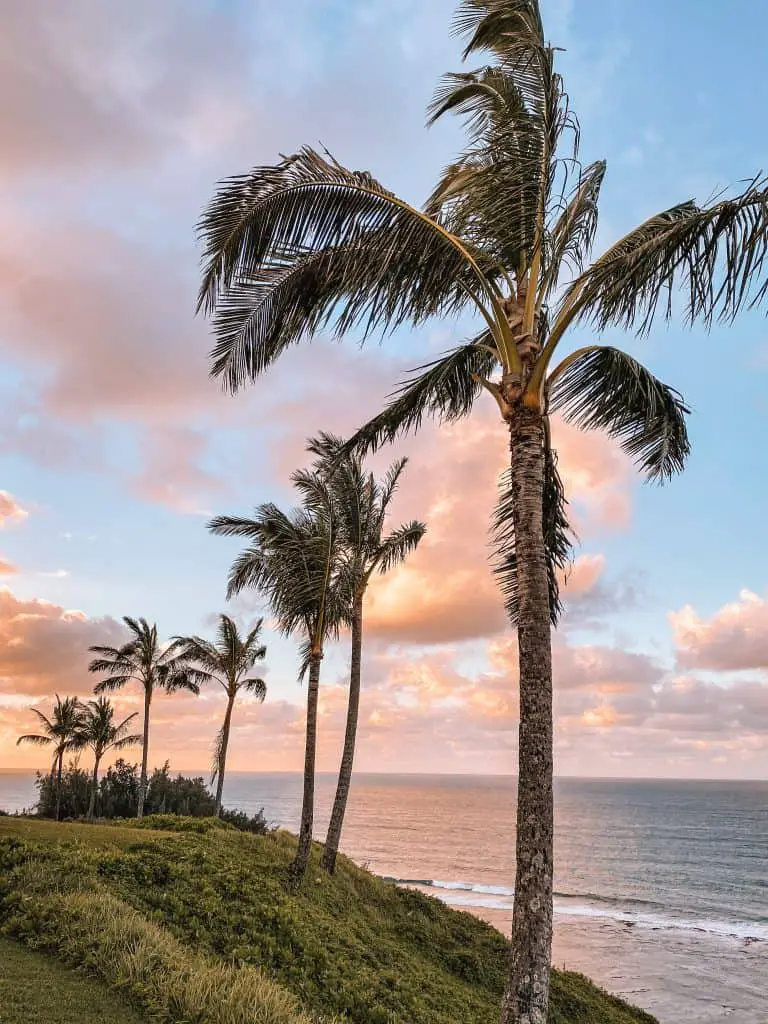 Is island hopping part of your plans after visiting Kauai? You might enjoy these other Hawaiian articles :
One Week in Maui Itinerary
10 Day Hawaii Itinerary – Island Hopping in Hawaii
BaBackPacking Hawaii – Travel Guide to Backpacking Hawaii
How Do People Spend 3 Days in Kauai?
There is no right or wrong way on how to spend 3 days in Kauai. In fact, it can be argued that three days is not enough to visit the garden island to even get started scratching the surface on all that the garden isle has to offer.
However, there are a couple of general ways that people can pass their time in Kauai: sightseeing or dining. While everybody should aim to experience a little something from both of these categories, personal preferences will largely determine how much time you spend taking in Kauai's breathtaking scenery or indulging in the sumptuous island fare.
In addition, location will determine what exactly you can take in. Although it is only about an hour and a half drive to get across the whole island, you definitely don't want to spend all of your time shuttling back and forth between sights. To help you plan, it is important to understand some key geographic terminology in Kauai:
North Shore – this is the northernmost coastline in Kauai
South Shore – the southernmost coastline
East Side – the easternmost coastline
West Side – the westernmost coastline
Furthermore, while there are roads that will go to inland Kauai, the major highway structure hugs the island's periphery, making any one of these locations a convenient starting point for your adventures. 
With this in mind, it is best to try and plan your trip around where you are at, taking advantage of as much as possible in each of these geographic regions before moving on to the next. Let plan your perfect Kauai itinerary.
How Many Days Do You Need in Kauai? Are 3 Days in Kauai Enough? 
There is no right or wrong answer as to how many days you need in Kauai. With an island so diverse in its landscape and with dozens of beaches, there are treasures on the entire island that even the locals have yet to experience.
Three days can be a satisfactory amount of time for those with limited time and willing to commit only a couple of hours to any one spot. This can allow them to get a sampling of all of the big-ticket items on the island.
For those considering extending their stay to allow for more time at the most notable attractions to maximize their experience, a five or even a seven-day trip would be worth considering.
Sights to See Along Kauai's North Shore
This is one of the most robust locations on the island, making it a favorite starting point for many tourists. There is no shortage of breathtaking landscapes that you will want to take in before moving on to your next adventure.
North Shore Beaches
There are several breathtaking beaches that you will want to consider during your Kauai vacation if you plan on making one of your three days a beach day in this area :
Hā'ena State Park/Ke'e Beach – Ke'e Beach is located as far north as you can go. It is protected by a reef, making it a safe place for snorkeling and swimming. A beautiful spot to take in a sunset, the water at Ke'e Beach can be as calm and clear as a swimming pool during the summer months.
Hanalei Beach – Located in Hanalei Bay, this is the picturesque, crescent-shaped beach for which Hawaii is known. Within the crescent ring are four distinct beaches with unique characteristics, although Hanalei Bay with its Hanalei Pier is known as being a favorite beach location for surfers.
Tunnels Beach – Marketed as the ultimate snorkeling and scuba diving beach, Tunnels Beach is just a short trip down the coast from Kee Beach. The golden sand in front of lush jungle and mountains makes Tunnels beach iconic for its views.
Anini Beach – To see Hawaiian green sea turtles, this is the place to go.
Secret Beach – Officially known as Kauapea Beach is a beach on the north shore of Kauai. The seclusion and beauty make this one a must see!
North Shore Coastal Formations
Although Kauai is most notable for its blue waters and sandy beaches, the landforms can be just as essential to experience, with the North Shore offering the following breathtaking views:
Nā Pali Coast – The Napali Coast is the iconic mountainous shoreline that stretches 17 miles along Kauai's North Shore. Blessed with extraordinary natural beauty, this continuous mountain coastline is noted for its emerald cliffs and sharp ridges that tower over the Pacific Ocean. If you feel like splurging, the helicopter tourover the Na Pali Coast could be well worth the investment. If you end up deciding to stay longer than 3 days in Kauai, consider hiking the Kalalau trail. An 11 kilometers hike along the Na Pali Coast, the Kalalau trail has been considered one of the most beautiful and dangerous hikes in the world. Obviously recommended for experienced hikers, note that it can be a very muddy trail on your way to the Kalalau lookout, but worth the experience. Another way to experience Na Pali Coast which is a little less intense is on a boat tour to check out the many sea caves Kauai has to offer.
Queen's Bath – Queen's Bath is a natural tide pool along the North Shore, a popular tourist destination for its swimming. It is a pleasant 10-minute hike past a waterfall and down a trail of lava rock that leads to the hidden pool. It is best to visit Queen's Bath during the summer months, as high tides during the winter season can lead to dangerous conditions.
Wet Cave/Blue Room – A short walk from Ke'e Beach, the Wet Cave/Blue Room is part of a series of wet caves along the North Shore main road. Both caves are great for tourists looking for an icy dip. While the Blue Room can only be reached by swimming, the effort is worth it, as the cave turns blue where the sun shines into the cave. 
Places to Dine Along Kauai's North Shore
Although people typically think of the beaches, scenery, and water activities as the best ways to pass the time in Kauai, the unique island cuisine cannot be overlooked. In addition to the excellent food trucks you'll find along the way, the following are some of the eating establishments that are most authentically Kauai, making them solid choices for a stop during your three days:
Hanalei Taro and Juice Co. A favorite among tourists, this is a restaurant-style lunch wagon resting roadside in Hanalei. They serve traditional Hawaiian food with a modern twist and are your best bet for trying taro, the root crop on which Hawaiians fed for generations.
Kilauea Bakery and Pau Hana Pizza – Known primarily for its baked goods, this establishment finds creative ways to make healthy sweet, and savory offerings. While scones, danishes, and cookies are their calling card, those looking for something more substantial cannot go wrong with their innovative pizzas topped with ingredients from prawns to gorgonzola.
Bar Acudas Tapas and Wine – This is the place to go if you are looking for a romantic evening along the North Shore. With a stylish atmosphere and delicious food, this establishment offers the best combination of Hawaiian-inspired seafood dishes, refreshing cocktails, and a bustling social scene. 
Sights to See Along Kauai's South Shore
Although it can be argued that the North Shore is the go-to destination for people looking to check out Kauai for the first time, the South Shore is not short on attractions in its own right.
South Shore Beaches
For beach time, there are many outstanding beaches along the South Shore, including:
Poipu Beach – The most popular beach in all of Kauai, Poipu Beach is conveniently located near several resorts and golf courses, including Poipu Bay Golf Course. It is famous for its perfect weather and is a haven for snorkeling enthusiasts, thanks to the diverse array of marine life that can be spotted with regularity.
Kiahuna Beach – Sometimes considered an extension of Poipu Beach, Kiahuna Beach is an excellent place for beginners to get their feet wet with a surf lesson, some snorkeling, or boogie boarding.
Shipwreck Beach – The Maha'ulepu heritage trail abuts Shipwreck's Beach, a rocky shore, known for surfing & sunset viewing.
South Shore Coastal Formations – As with the North Shore, it is not all about catching a wave when you are along the southern coastline, as there are plenty of other landforms to admire, such as:
Waimea Canyon: The Grand Canyon of the Pacific – This scenic canyon has been nicknamed "The Grand Canyon of the Pacific" and is absolutely stunning. Located in Waimea Canyon State Park, this breathtaking canyon is extremely colorful with a mix of reds, greens, and blues, this breathtaking Waimea canyon is over ten miles long and over 3,000 feet deep, making it a must-see for your time along the South Shore. The Waimea Canyon was one of my favorite spots to visit during my Kauaui vacation and a must to add to a Kauai itinerary.
Spouting Horn – A natural blowhole that waves have carved into the cliffs along the shoreline, Spouting Horn is one of the most photographed spots in all of Hawaii. Putting on a real show at high tide, the crashing waves that channel into the natural lava tube of the cliff can spout water as high as 50 feet into the air. 
Places to Dine Along Kauai's South Shore
There is a wonderful variety of eateries along Kauai's South Shore that can nourish travelers with a local flair, including:
Anuenue Cafe – This is a family-owned and operated restaurant serving breakfast and lunch, making it a great place to get your day started. This quaint establishment is just off Poipu Road near the Kiahuna Golf Club. 
Dolphin Sushi and Fish Market – This is the place to go if you are looking for local island cuisine. Exotic sushi and fresh fish are the flavors of the day, with live fish available for purchase to take back to your place and cook if you are feeling a bit adventurous with your culinary skills. 
Fresh Shave – It would not be a trip to Hawaii without trying out shave ice, an icy indulgence to cool off from the sun. located in historic Koloa town, Fresh Shave is a family-owned and operated establishment run out of a vintage Aristocrat trailer. Using only all-natural, local, and organic ingredients, this is a great place to get your shave ice.
What Should I Not Miss in Kauai?
As mentioned, it can be difficult to see everything you need to see in Kauai in only three days. However, this is still plenty of time to see some of the attractions the island is most notable for. A few of the places that you should prioritize for the perfect Kauai itinerary include:
Napali Coast
Although this is not the stretch of coastline you will do your relaxing on, the mile after mile of breathtaking mountains along Kauai's North Shore scream "Hawaii" and make it arguably the most memorable image of your time on the island.
Waimea Canyon –  The Grand Canyon of the Pacific
The big-ticket on the south of the island, the "Grand Canyon of the Pacific" gives visitors a beautiful reminder that Hawaii is about more than ocean views, with its endless array of colors leaving visitors with a new understanding of what outdoor scenery can be. You'll want to set aside a few hours to enjoy this attraction. Consider taking part in a short hike with a canyon trail to fully enjoy the many lush valleys. Just north of Waimea you'll find Koke'e State Park, a great park for hiking.
Hanalei Bay
Although there is no shortage of beaches on Kauai from which to choose, Hanalei Beach is the most quintessential, iconic version of what the relaxing Hawaiian beach with soft sand should be. Just inland from the beach, quaint Hanalei town has an appealing selection of local coffee shops, fruit stands, and art.
Although the majority of travelers congregate on either the North or South Shore, there are a few other places worth checking out as you are traveling between these two iconic locations:
Polihale State Park/Barking Sands Beach
Polihale State Park is the primary beach on the West Side of Kauai. It is one of the world's best places to watch a sunset. However, it is accessible only by dirt road, which can be difficult to navigate during the island's rainy season (typically from November to March). 
Royal Coconut Coast
This is the nickname for the East Side of Kauai, thanks to its lush landscape and plentiful coconut groves. If you arrive at Lihue Airport later in the day, it can be a good idea to simply explore the scenery and perhaps check out Kalapaki or Lydgate Beaches in this area before heading to the North or South Shore to check-in for your stay.
Local Street Art
To native Hawaiians, the beach and ocean are not as can't-miss as for tourists. Therefore, some of the best of Hawaiian culture can be found inland. Check out local street art in small communities to get a feel for how local Hawaiians interpret their world. 
Glass Beach
While far from the most beautiful of Kauai's many beaches, Glass Beach is notable for its deposits of multicolored sea glass on the shore. Just be sure to bring some shoes to protect your feet along this rocky beach and a small container to store interesting pieces of glass you find. 
Kilauea Lighthouse
This is a classic site on the island that many visit each year. The lighthouse has been on Kilauea Point since 1913 and visitors can explore the building on one of the biweekly tours that are offered. The lighthouse has been restored and is a great historical trip.
The Perfect 3 Days in Kauai Itinerary
As this is a blog about how to maximize three days in Kauai, let's take a look at what an itinerary could look like for your brief time on the island.
Day One in Kauai
As your plane will land at Lihue Airport on the island's East Side, it is a good idea to use this partial day to check out this area as much as possible.
Grab a local craft beer from the Kauai Beer Company as you leave the airport and spend some time enjoying the scenery and coconut groves in the area. 
Before leaving the area, get your first taste of the Pacific by making a pit stop at Kalapaki or Lydgate Beach.
Drive to the North Shore and check into your lodging, enjoying a meal at Bar Acudas Tapas and Wine before calling it a day.
Day Two in Kauai
Start your day off right with a scone from Kilauea Bakery. 
From there, head to the Napali Coast to take in the breathtaking scenery of 17 miles of mountainous Hawaiian coastline. Be sure to have your phone ready to take lots of pictures of the emerald cliffs and jagged lava protrusions.
To finish the day, it is only appropriate to get your beach on in the true sense of the word. Grab your beach towel and head to Hanalei Bay to experience the quintessential Hawaii Beach, with golden sand and blue waters. This may be the time to try your hand at snorkeling, as well. Bring lots of sunscreen, as this will be a long day in the tropical retreat.
On your way back, make sure to stop at the Hanalei Valley Lookout. Wildlife refuge.
Day Three in Kauai
Your last day in Kauai cannot pass without you getting a chance to soak in the South Shore.
Pack up your lodging early and beat it for the south. Start your day at Glass Beach, being sure to collect your favorite samples of colorful pieces. From there, head on over to Poipu Beach for a more traditional experience of the most well-known beach on the southern coastline.
Finally, be sure to check out Spouting Horn. You'll get great photos when it erupts before heading to catch your flight for the mainland.
You might also enjoy :
Final Thoughts on 3 Days in Kauai Itinerary
Visit Kauai and be absolutely blown away by its beauty and lush scenery. We hope you found this perfect Kauai itinerary helpful.
You won't regret adding a few things to your itinerary. If you have been planning a tropical retreat to end your break from traveling, use this helpful guide to maximize your 3 days in Kauai!
We hope you'll get to enjoy a good beachfront restaurant. If you ever get a chance to stay longer, consider adding a visit to Salt Pond Park and going down a lazy river.